Easy Rice Recipes for Dinner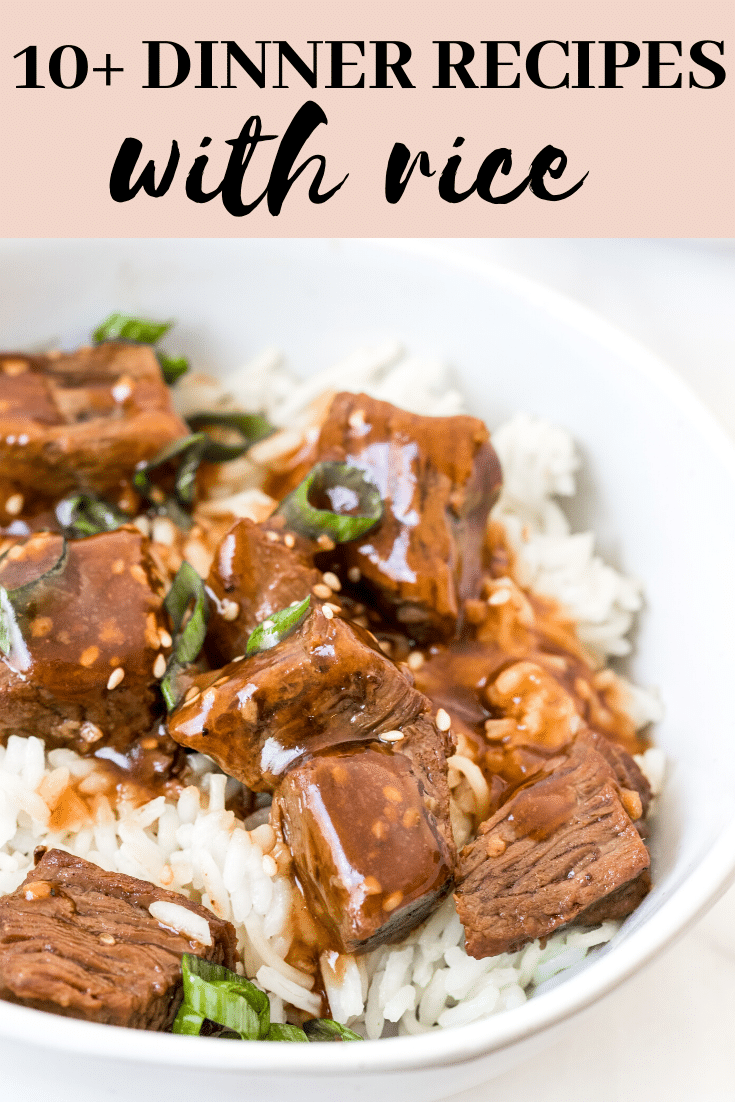 Dinner recipes with rice because you guys know how much I love a good, healthy and comforting meal.
Rice has a place in almost all of our pantries and can be a delicious foundation for healthier eating!
Some of my favorite back pocket recipes always have rice involved to either round out the meal or make it a complete plate.
From pasta recipes to casseroles to all of these easy rice recipes for dinner you'll be sure to find something you love here on Kroll's Korner 🙂
Reasons to fall in love with these dinner recipes with rice
Rice has a long shelf life: Dry goods such as rice (and pasta, beans and oats) are a great foundational ingredient for your pantry. They have long shelf lives, are super easy to store and can be incorporated into a variety of meals as you can see in this post!
Pro tip: keep your grains in an airtight container in a cool, dry place to maintain proper quality and overall taste.
It's inexpensive: Rice, beans and pasta are pantry staples for a reason: they are very cheap!
It's versatile: I think one of the reasons rice is so popular is due to its versatility. From soups to side dishes and main meals, rice can be consumed in a variety of ways.
Speaking of variety, be sure to buy a variety of rice: wild rice, brown rice, red rice, black rice, jasmine rice, etc. Have fun with different varietals!
Rice is satisfying: rice has 100 calories per serving and still provides us with the feeling of fullness!
Rice is nutritious: Rice provides more than 15 necessary vitamins and minerals, including B-vitamins, iron and zinc; and just 1 cup of enriched white rice contains nearly 23% of your daily folic acid requirement!
Rice is gluten free: Both enriched white rice and whole grain brown rice are naturally and completely gluten free.
What can I add to rice to make it a more nutritious meal?
Most of these recipes below you can modify and make your own by adding in different vegetables or spices.
If you are simply only making plain rice, try topping it with an egg, add frozen veggies and some so sauce for a quick fried rice, add in beans, add in cilantro and lime for a cilantro lime rice!
1. Sausage, Peppers and Rice Skillet is one of our favorite dinner recipes with rice!
This meal is a quick and easy family favorite weeknight dinner made with simple, nutritious ingredients. Add in different vegetables to make it your own!
2. Instant Pot Chicken Burrito Bowls
This meal uses pantry staples, is packed with flavor and is a hands off meal since the Instant Pot/Pressure Cooker does the work for you! Boneless, skinless chicken breasts, salsa verde, black beans, rice and green chiles. It's great for meal prep and I love that it's made all in the Instant Pot! A delicious meal for family weeknight dinners.

3. One-Pot Chicken and Rice Casserole
This meal came together after staring into our pantry for about 10 minutes trying to see which ingredients I could mix-and-match together. Now it's one of our favorite back pocket dinner recipes with rice! It's satisfying and delicious with roasted broccoli or a starter salad.
4. Mediterranean Chicken and Rice
Mediterranean Chicken and Rice is a restaurant style dish that is made with fresh Mediterranean flavors. A nutritious dinner made in an hour that the whole family will enjoy.

5. Instant Pot Teriyaki Chicken Rice Bowls
The easiest, most unbelievably delicious Teriyaki Chicken with Rice Bowls made in your Instant Pot. And it'll be on your dinner table in ~30 minutes. It's so much better than takeout!
6. Sriracha Ground Turkey Meatballs with Broccoli & Rice
The classic meaty morsel gets a tasty upgrade in this Spicy Sriracha Teriyaki recipe. No breadcrumbs, gluten free, easy, ground turkey, baked and perfect for meal prep!
7. Crockpot Teriyaki Steak Bites with Rice
Another delicious and hands-off meal. Pair the steak butes with rice and your favorite vegetables. You can customize it too: Add in bell peppers and onions into the crock pot if you have them on hand.

8. Chicken and Sausage Gumbo
I wanted to design a gumbo recipe that is realistic enough for you to make for a weeknight dinner or for meal prep. Gumbo is quite a delicious and comforting meal. It's hearty, warming, nutritious and makes the house smell amazing!


9. Chicken Shawarma Soup
I've found an easy way to make Chicken Shawarma into a soup at home with the same authentic flavors. You can purchase shawarma seasoning at the store, or you can make your own! I think the secret to making this soup is the warm spices added in…they provide so much flavor!
10. Sheet Pan Chicken, Rice and Veggies
Serve dinner on one pan with this Sheet Pan Chicken and Veggies. Dinner should me simple, healthy and delicious without the fuss or dishes. Enjoy this full meal of juicy chicken thighs, rice and vegetables all on one pan!

11. Cranberry Apricot Chicken
Dinner doesn't get much easier than this Cranberry Apricot Chicken! The dried fruit cooks down with fresh orange juice, cranberry juice and white wine which gives the chicken a heavenly sweet glossy coat. Smother the fruit just on top of the chicken & on top of the veggies and rice too!
12. Slow Cooker Pork Tenderloin
We have loved including this slow cooker pork tenderloin into our menu rotation because it's unique in flavor and makes for perfect leftovers for lunch the next day.

13. Ground Turkey Swedish Meatballs
Ground turkey Swedish meatballs for weeknight dinner to the rescue! Swedish meatballs are delicious over brown rice or your favorite pasta.
14. Cilantro Lime Rice
This Cilantro Lime Rice side dish is the perfect addition for your next Taco Tuesday! It is fun making your rice flavorful from fresh ingredients instead of from a box!

15. How to make Rice Pilaf
This post teaches you how to make rice pilaf on the stove in a simple, yet flavorful way.

16. Easy Chicken Fried Rice
This easy chicken fried rice recipe is loaded with veggies and flavor. It's totally better than takeout, this version of chicken fried rice is easy to make, tastes great and perfect for meal prep. Be sure to watch the recipe video too!
I hope you love these dinner recipes with rice!!
These are all of the best rice recipes on my blog. I hope this helps you navigate dinner time with a little less stress and a lot more flavor!
More resources you might appreciate: soups and stews recipes, beef and pork recipes, poultry recipes and meal prep recipes.
If you make any of these dinner recipes with rice be sure to leave a comment and rating on the recipe so I know how you liked it! I really appreciate it – xo!