Chicken and Sausage Gumbo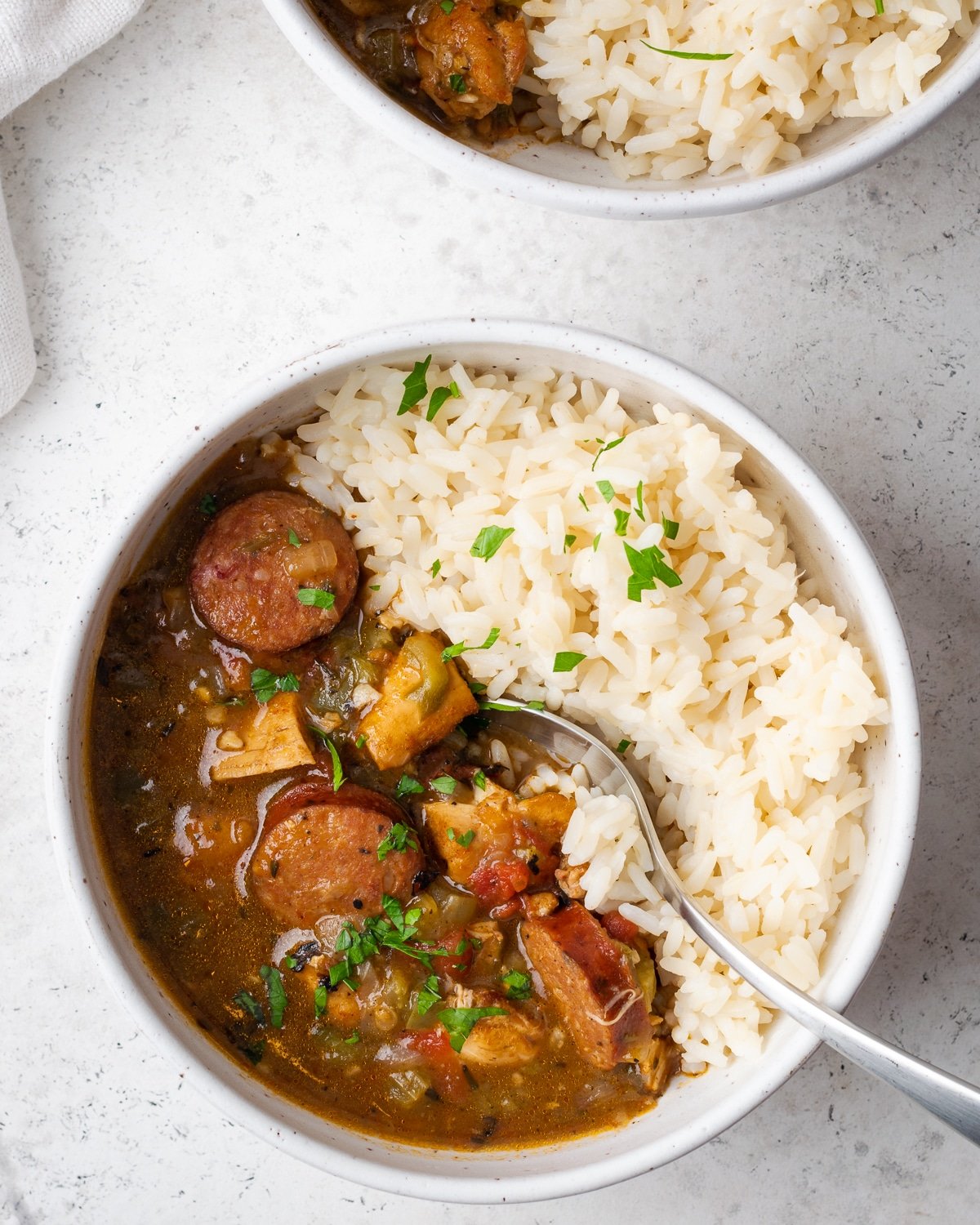 Creating this Chicken and Sausage Gumbo
If you have ever visited New Orleans and tried their authentic New Orleans gumbo, you know how delicious it is!
I did my best to imitate the flavors I remember tasting but am not trying to claim this as an authentic recipe (except for the rice which is authentically U.S.-grown!)
I wanted to design a gumbo recipe that is realistic enough for you to make for a weeknight dinner or for meal prep.
I made a dark roux, added the chicken and sausage and I served it with U.S.-grown brown rice. I didn't use any unique ingredients or include seafood or shellfish in this recipe.
This post was sponsored by USA Rice in Feb. 2020 and was updated in Feb. 2022. All thoughts and opinions are my own. Thank you for supporting the brands that keep Kroll's Korner running!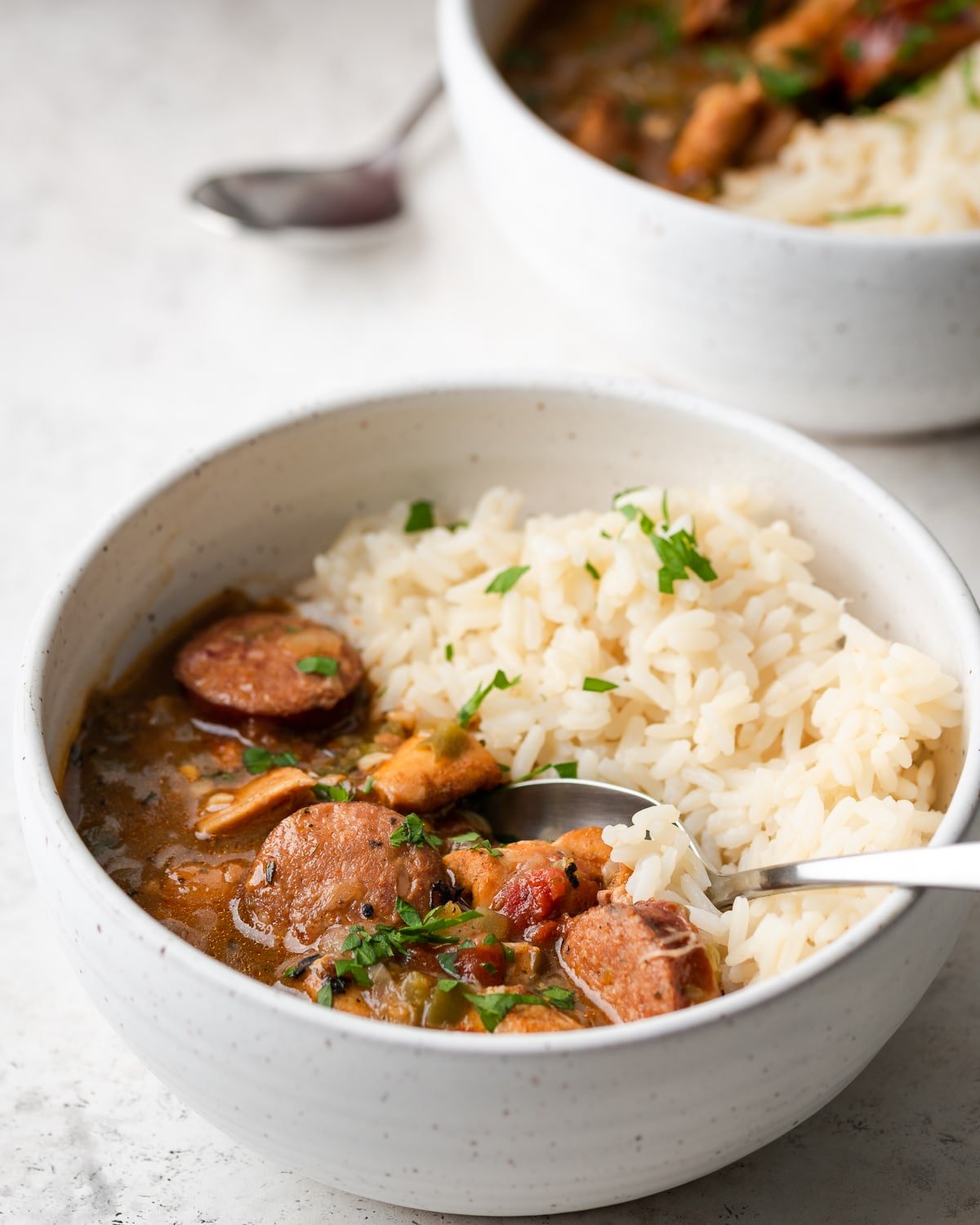 Gumbo is quite a delicious and comforting meal. It's hearty, warming, nutritious and makes the house smell amazing!
Ingredients you will need to make this Chicken and Sausage Gumbo Recipe:
U.S.-grown Rice: Traditionally gumbo is served with plain white rice. I chose to use brown rice!
Chicken thighs: I think chicken thighs offer up the most flavor for gumbo, but depending on what you have on hand you can use chicken breasts too.
Cajun seasoning: I have a recipe for you in the recipe card of this post or you can buy store bought Cajun seasoning.
Olive oil: This is to drizzle on the chicken thighs before baking in the oven.
Andouille sausage: I recommend buying the fully cooked, prepackaged smoked andouille sausage.
All purpose flour: this is for your dark roux.
Grapeseed oil: This is the best for making a dark roux because it has a high smoke point, meaning you can cook it hotter and for longer without burning the oil.
Most roux's are equal parts flour and a fat. Whatever you do not use butter to make this roux because it will burn, taste butter and ruin your gumbo!
Celery: A staple vegetable for gumbo
Jalapeño: optional, but delicious if you like spicy. You can also add in Tabasco or another favorite hot sauce.
Yellow onion: I like to use yellow onions because they have a nice balance of flavor and actually become a bit sweeter as they cook. White onions have a more sharp and pungent flavor than the yellow.
Green bell pepper: This is part of the "holy trinity" in Cajun and Creole dishes. Celery, onion and bell pepper combine to make a delicious aromatic trio. I use green bell peppers but you can also use red. (It's up for debate!)
Chicken broth: This gives more depth and complexity to your final dish.
Fire-roasted tomatoes – In most Cajun versions of gumbo there is not any tomatoes, but I found I really enjoy the flavor with tomatoes added to it.
Spices and seasonings: Dried parsley, minced garlic, Dried basil, Thyme, fresh, Pepper. Paprika, Bay leave, salt.
*If you would like to add shrimp to your gumbo, add it at the very end when you've turned the heat off so the heat cooks the shrimp but not making it overcooked and tough.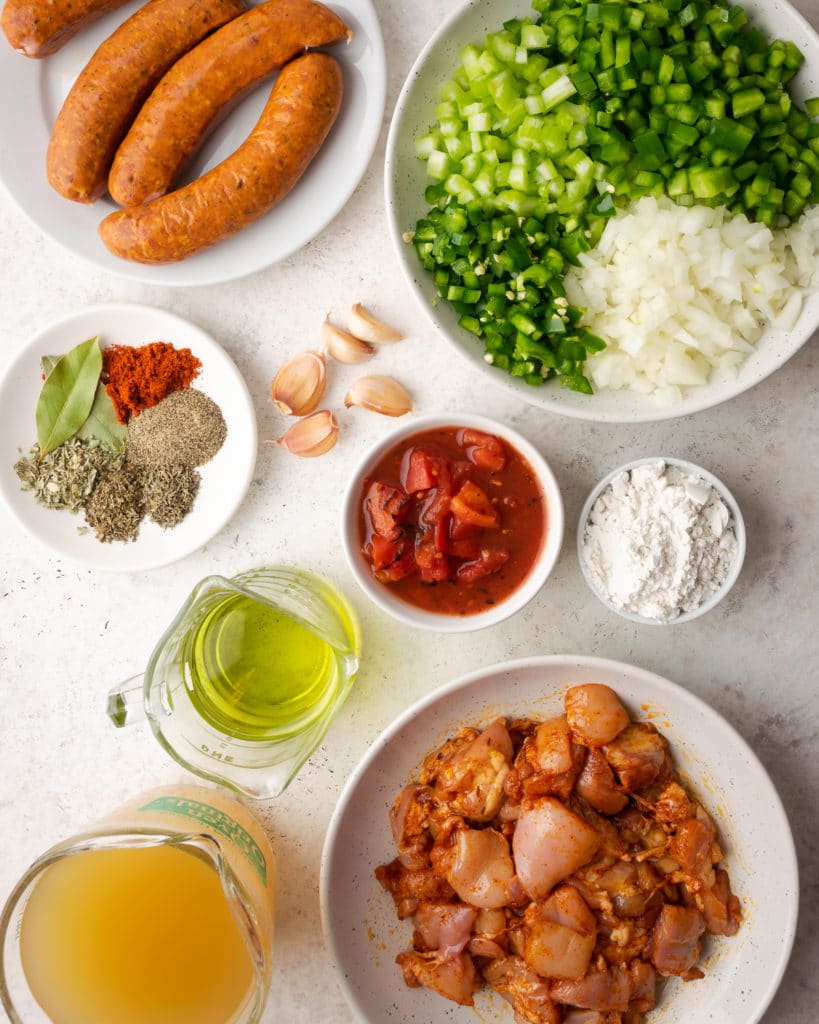 Rice nutrition:
Rice has approximately 100 calories per half-cup cooked serving
U.S.-grown rice is sodium-, cholesterol-, trans fat, and GMO-free and has only a trace of fat and no cholesterol raising trans fats or saturated fat,
Rice is gluten-free (yes, even brown rice) and the least allergenic of all grain.
U.S.-grown rice is nutrient-rich and contributes more than 15 vitamins and minerals, including folic acid and other B-vitamins, as well as iron and zinc.
It is comprised of complex carbohydrates that are more slowly digested and provides energy that fuels the body's physical activity.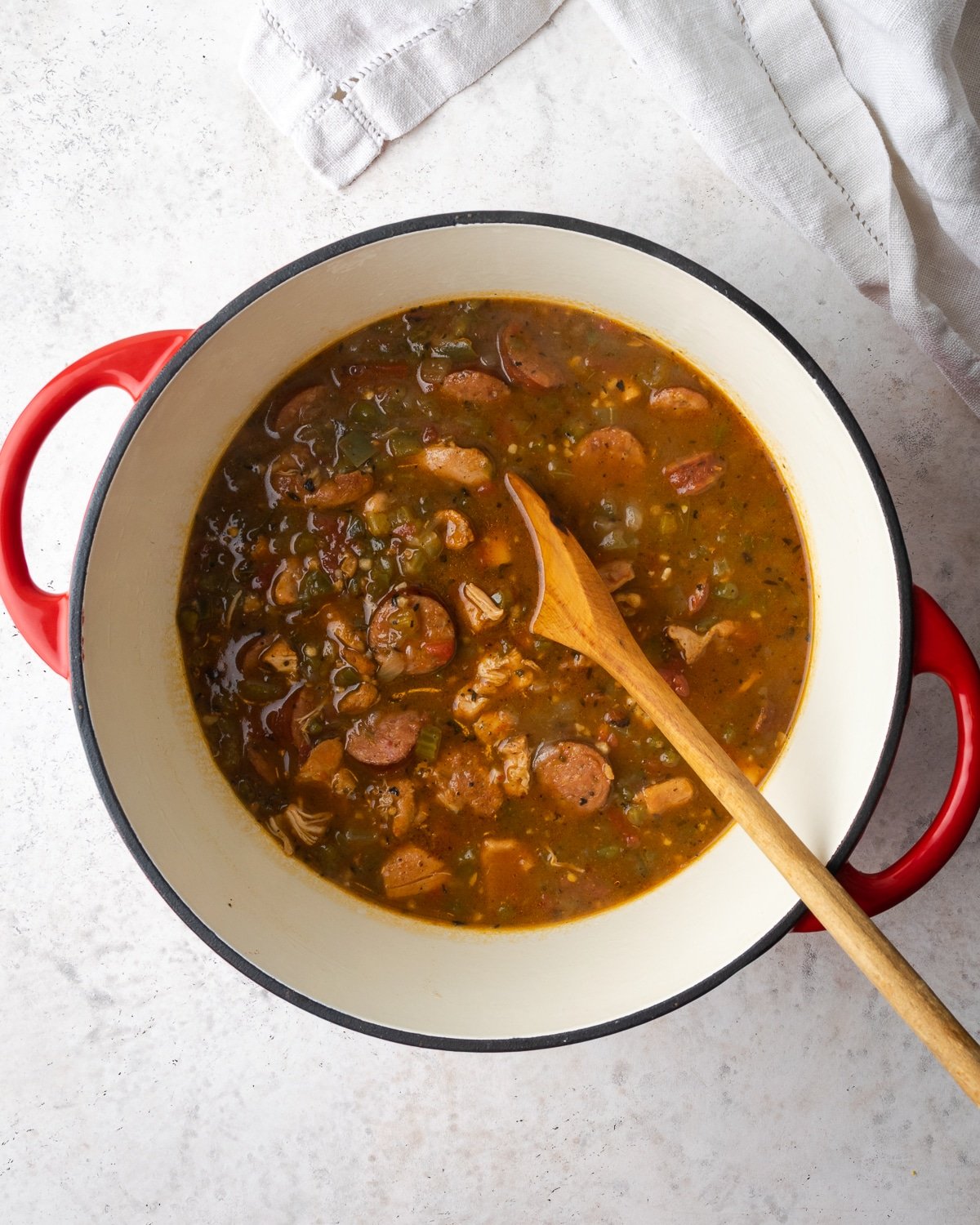 Tips for increasing whole grain consumption:
Try mixing brown and white rice together in your favorite dish for more complex flavor and texture. It's also a great way to encourage kids to eat more whole grains.
Cook a double batch of brown rice and keep it on hand for a quick start to your next meal or bowl of gumbo!
How long does cooked rice last?
Cooked rice can be stored in the refrigerator in a tightly covered container for 3 to 5 days or frozen for up to 6 months.
For more information on U.S.-grown rice be sure to visit USA Rice.
How to make a dark roux for chicken and sausage gumbo:
Patience, and equal parts flour and grapeseed oil. I used ½ cup flour and ½ cup grapeseed oil and the roux took 10-15 minutes to darken into a chocolatey color (Think Hershey chocolate bar).
Grapeseed oil is recommended because it has a high smoke point, meaning you can cook it hotter and for longer without burning the oil. You can use vegetable oil if you don' have grapeseed.
Turn a large, heavy bottom stock pot on moderately low heat. Get the pot hot first, then add in the grapeseed oil. Let the grapeseed oil get warm, 1-2 minutes and then begin to slowly whisk in the flour.
Transfer to a wooden spoon (use a roux spoon if you have one) and stir continuously for 10-15 minutes (without burning the roux) until it becomes a dark brown color. Be sure to have a glass of wine handy because this is a stir fest! It will be a dark mahogany color and have a toasty aroma when finished.
DO NOT WALK AWAY FROM THE ROUX. It can easily burn if you do not stir constantly.
You will notice the roux go through phases from being light in color, medium in color like peanut butter, and then very dark in color like dark chocolate. Dark roux has a deeper taste than lighter a lighter roux.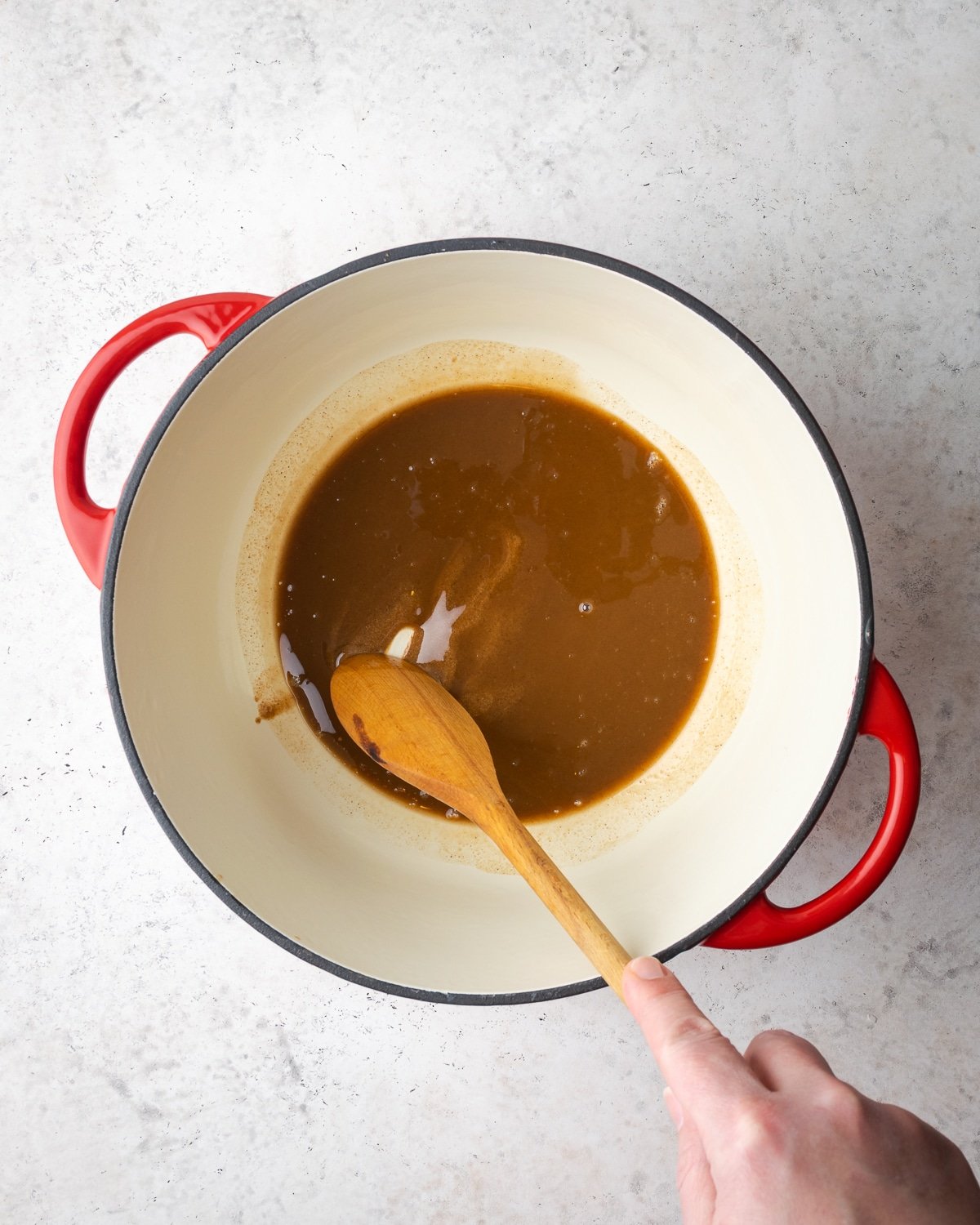 How to make chicken and sausage gumbo recipe:
Cook the chicken thighs in the oven.
While the chicken cooks, dice up all of your veggies and mise en place your spices and other ingredients.
Remove chicken from oven.
Make the dark roux.
When the roux is finished, add in the celery, onion, bell pepper, jalapeño and stir until vegetables are soft and tender ~7 minutes. Then add in the garlic.
Whisk in chicken broth, reduce heat to simmer and add in tomatoes, parsley, thyme, pepper, paprika and lay leaves.
Bring to a simmer and then add in chicken and sausage.
Simmer over low heat, uncovered for 1-3 hours. No need to cook for longer than 3 hours.
Serve with a scoop of brown rice on top.
How to Cook Brown Rice
Combine 2 cups brown rice with 4 cups water in a medium sized saucepan. Bring the water to a boil. Reduce the heat so that the liquid is just barely simmering, then cover the pan. Cook for 45 minutes. Let the rice cook undisturbed for 45 minutes. Do not uncover the pot to check the rice during cooking.
Take the rice off the heat and let the rice sit 10 to 15 minutes. This last step prevents the rice from becoming overly sticky and helps it lose that wet, "just-steamed" texture.
Fluff and serve. Use a fork to fluff the rice, then scoop on top of the gumbo!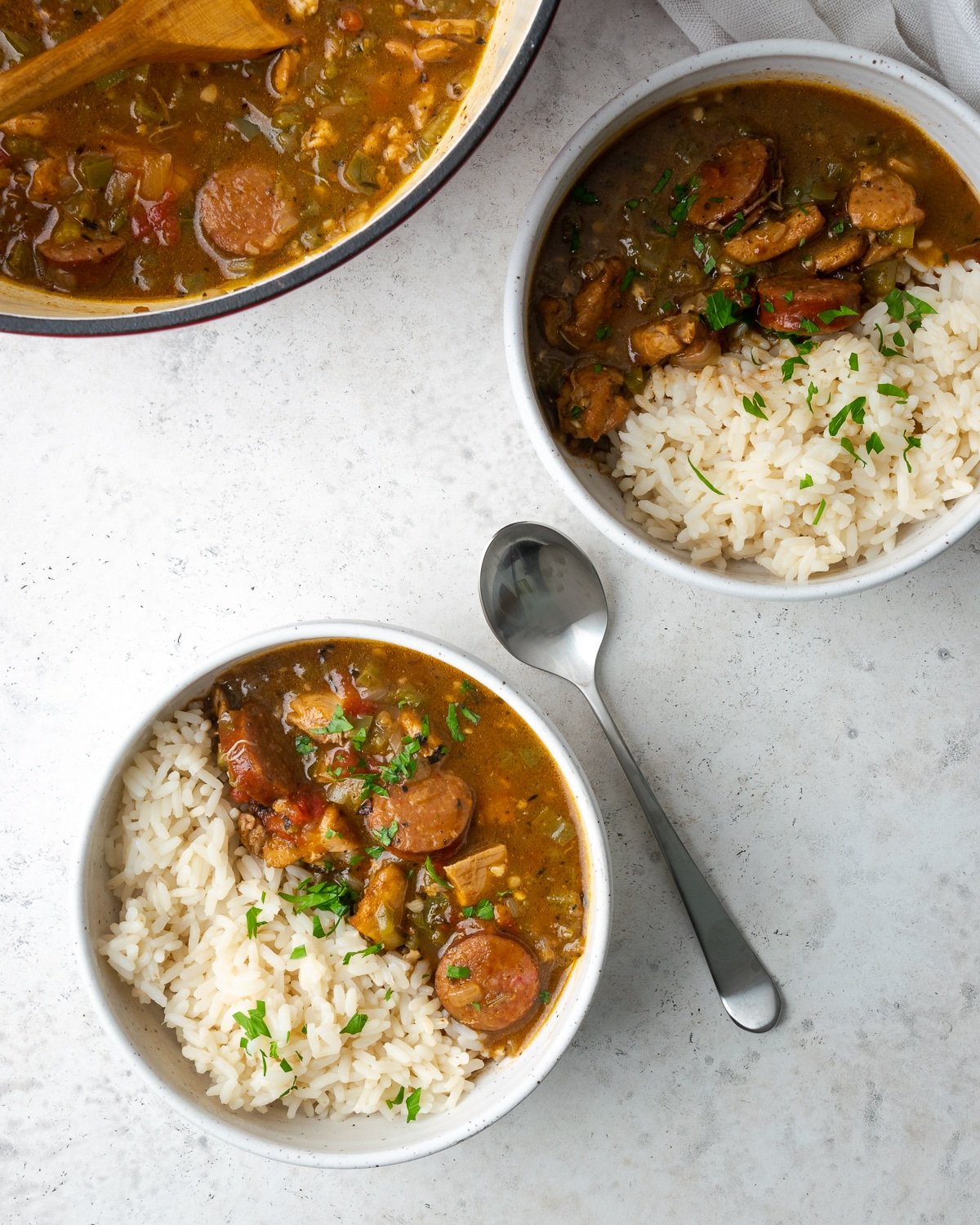 Tips for making the best Chicken and Sausage gumbo recipe:
Use a dark roux: See above directions on how to make a dark roux. Most importantly, never stop stirring your roux. The dark roux is required to achieve the maximum potential flavor for an authentic Louisiana gumbo.
Chop all of your veggies before you get started: Chop and dice the "holy trinity" veggies before you do anything else. Bell pepper, onion and celery. Also, have all of the spices pre-measured and handy so it's easier to dump and stir when it's time to add. All in all, mise en place your ingredients.
File: I did not use file (FEE-lay) to finish off this gumbo but it's typical to see this dish being finished off with it. File is a powder made from sassafras leaves and it will thicken and season your gumbo.
Use a heavy stock pot/Dutch oven: We love using our big cast iron Dutch oven for making gumbo. Try to avoid light weight pots or pans with thin bottoms and use a large enough pan to allow for space at the top. You need volume for your pot because this gumbo serves a crowd!
Go low and slow
Gumbo is a labor of love and not a dish that can be rushed.
It takes at least 10-15 minutes alone to make the roux and another 1-3 hours for the gumbo to simmer before it's ready to be served. The flavors meld together and intensify making it very flavorful.
I actually like to make this a day in advance before we plan to eat it! Like good wine, gumbo gets better with age. You can even store in your freezer.
Have fun with it!
In my research for this recipe there were so many rules to making gumbo that it seemed intimidating. But gumbo is like snowflakes, no two gumbos are exactly alike. Gumbo is flexible and have fun with tweaking flavors.
Gumbo is not hard to make. The "hardest" part of making gumbo is making the roux and that itself isn't even that hard. It just takes time. YOU JUST CANNOT WALK AWAY FROM IT AND YOU HAVE TO KEEP WHISKING.
Can't wait to hear what you think of this recipe! Enjoy!
More Recipes You Will Love
Before You Begin! If you make this, please leave a review and rating letting us know how you liked this recipe! This helps our business thrive & continue providing free recipes.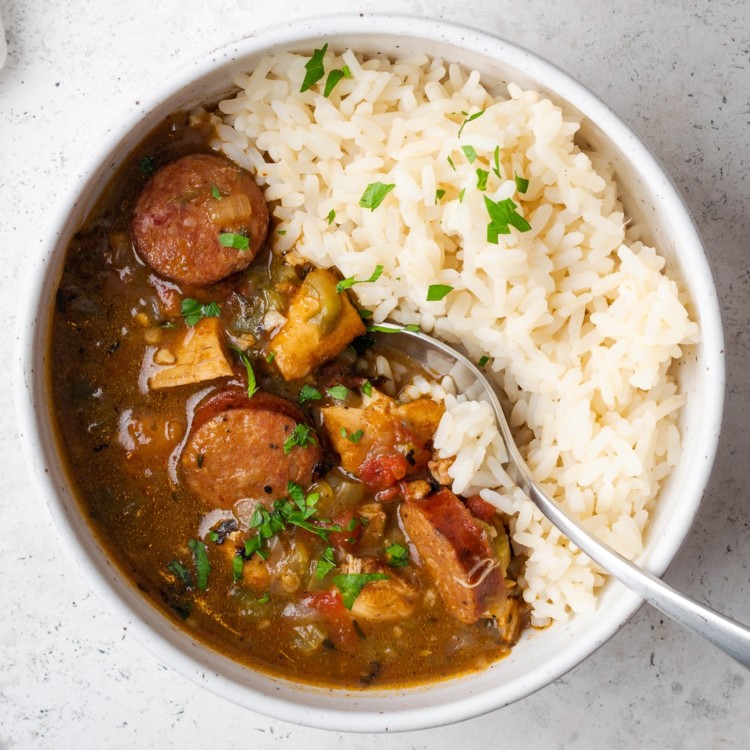 Chicken and Sausage Gumbo
Chicken and Sausage Gumbo recipe: A favorite in New Orleans and soon to be in your house too! This gumbo is made with chicken and andouille sausage, aromatic vegetables and delicious Cajun spices such as paprika and thyme.
Ingredients
1

lb.

chicken thighs, cut into small, bite-sized pieces

2

tsp.

Cajun seasoning*

2

Tbsp.

Olive oil

1

(16oz.)

package Andouille sausage, 1/2 inch sliced into coins or half moons

1/2

cup

All-Purpose Flour

1/2

cup

grapeseed oil

1 1/2

cups

celery, chopped small

1

jalapeño, diced

1

large

yellow onion, diced

2

large

green bell peppers, diced

8

cups

chicken broth

1

(14 oz).

can fire-roasted tomatoes

1

Tbsp.

dried parsley

5

cloves

garlic, minced

1

tsp.

dried basil

1

tsp.

thyme, fresh or dried

1

tsp.

paprika

1/4

tsp.

black pepper

2

bay leaves

2

cups

rice (cooked separately to serve on top)
Last step! If you make this, please leave a review and rating letting us know how you liked this recipe! This helps our business thrive & continue providing free recipes.
Instructions
Preheat oven to 425°F. Cut up chicken thighs into small bite sized pieces. Place in a medium sized bowl and toss with Cajun seasoning and olive oil. Place on a sheet pan lined with foil and place in oven for 20-25 minutes.

While the chicken is cooking, dice up the celery, jalapeño and bell pepper. Place them all in one bowl. It is important to cut and prepare the veggies before making roux so you have these ingredients ready to go.

In a large heavy bottomed pot (preferably a Dutch oven), over medium-low, add in grape seed oil and get the oil warm (~1-2 minutes on the stove). Then, slowly whisk in flour to combine. Switch to a wooden spoon and stir continuously for 15-20 minutes (without burning) or until roux becomes a dark brown color (think chocolate). DO NOT WALK AWAY FROM STOVE. Roux can easily burn.

Remove chicken from the oven and set aside. When roux reaches desired color, add in celery, jalapeño, onion, and pepper into roux. Continuously stir until vegetables are soft and tender (~7 minutes). Add in garlic and stir for 30 seconds.

Whisk in chicken broth, reduce heat to a simmer and add in tomatoes, dried parsley, basil, thyme, pepper, paprika, and bay leaves. Stir and allow mixture to come to a simmer. Add in chicken and sausage.

Simmer over low heat for 1-3 hours. This is a key step so the flavors meld and roux can develop.

Remove bay leaves. taste and adjust seasonings adding more salt or pepper as desired. Serve with cooked rice on top. Garnish with green onions or parsley. Enjoy!
Notes
Cajun Spice Recipe (this makes a lot of seasonings, we like to make extra for chicken for meals throughout the week and just to have it stashed in our pantry. You only need 2 tsp. of the seasoning so adjust/cut recipe in half. OR purchase a cajun seasoning at the store. 😚
2 tablespoons garlic powder
2 tablespoons Italian Seasoning
2 tablespoons paprika
2 tablespoons Salt
1 tablespoon black pepper
1 tablespoon cayenne pepper
1 tablespoon dried thyme
1 tablespoon onion powder
If the roux burns, it is best to start over. Burnt roux will not give a great flavor. Darker roux will a give deeper flavor profile.
Gumbo is a labor of love and not a dish that can be rushed. It takes at least 10-15 minutes alone to make the roux and another 1-3 hours for the gumbo to simmer before it's ready to be served. The flavors meld together and intensify making it very flavorful.
If you don't have a jalapeño you can add in a hot sauce like tabasco, or leave out the spice all together if desired.
If you want to add shrimp, add into gumbo ~ 10 minutes before removing pot from stove.
Nutrition Information
Serving:
1
serving
,
Calories:
416
kcal
(21%)
,
Carbohydrates:
41
g
(14%)
,
Protein:
13
g
(26%)
,
Fat:
22
g
(34%)
,
Saturated Fat:
4
g
(25%)
,
Polyunsaturated Fat:
10
g
,
Monounsaturated Fat:
7
g
,
Trans Fat:
1
g
,
Cholesterol:
45
mg
(15%)
,
Sodium:
748
mg
(33%)
,
Potassium:
499
mg
(14%)
,
Fiber:
3
g
(13%)
,
Sugar:
2
g
(2%)
,
Vitamin A:
780
IU
(16%)
,
Vitamin C:
46
mg
(56%)
,
Calcium:
73
mg
(7%)
,
Iron:
2
mg
(11%)