How To Make Rice Pilaf
How-To's | Published Nov 28, 2021 | Updated Nov 28, 2021 | By Tawnie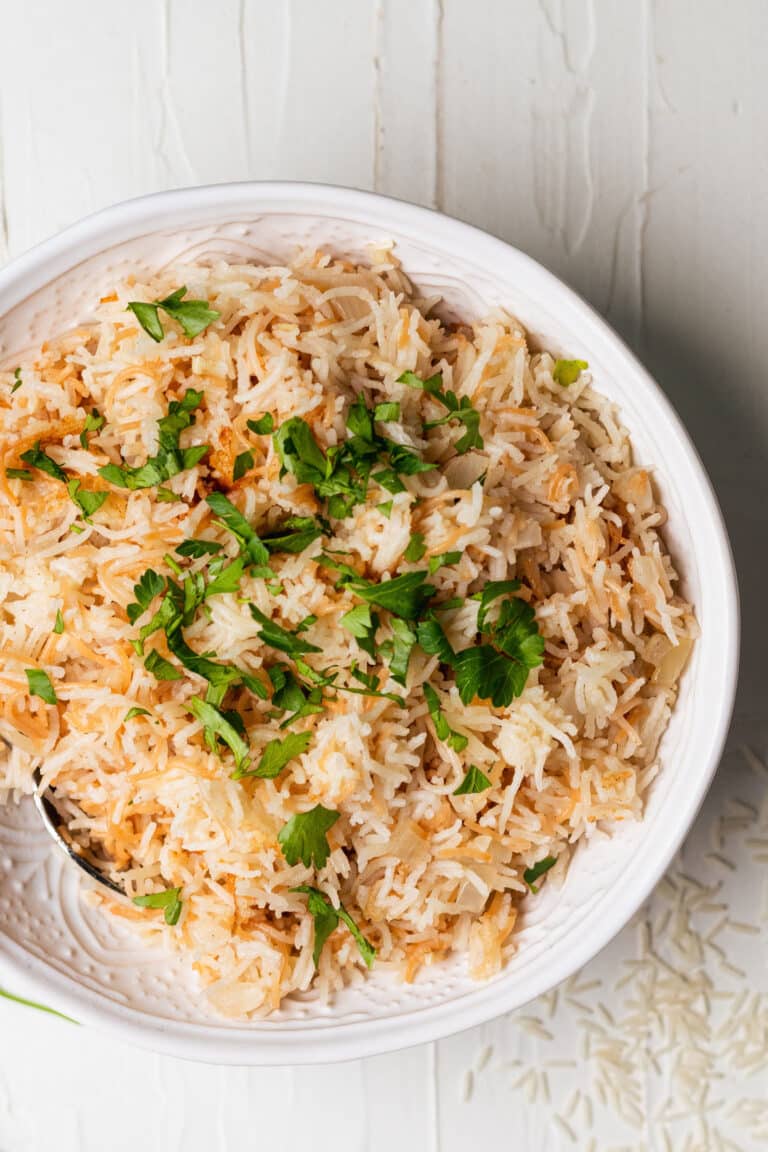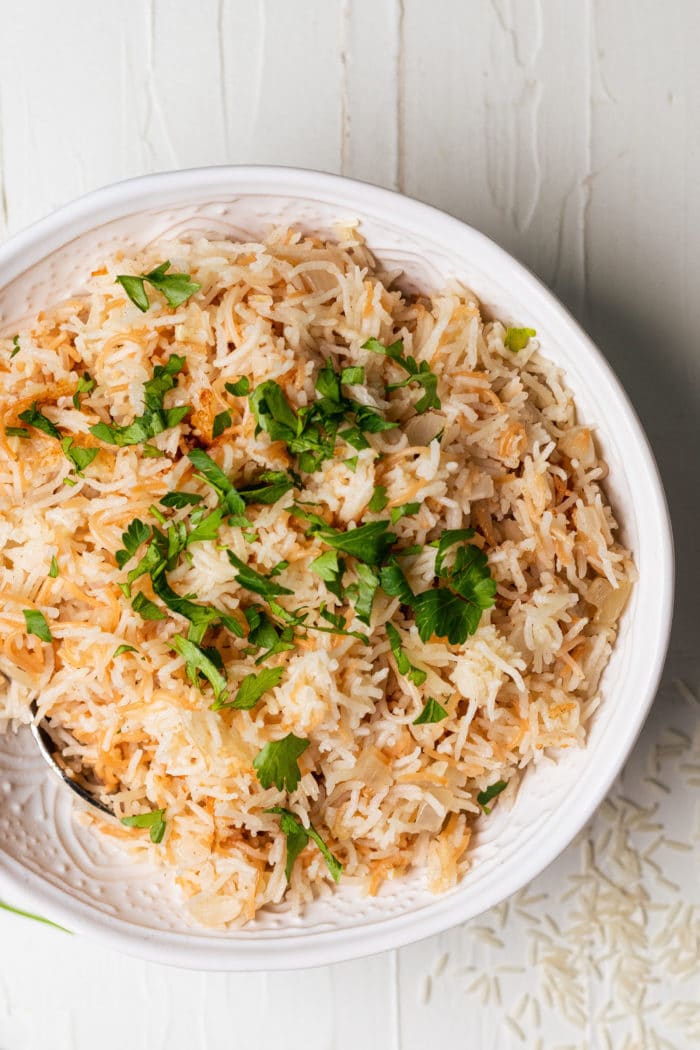 Rice pilaf is one of my favorite side dishes of all time and this post is going to teach you how to make rice pilaf perfectly every time.
This is an easy rice pilaf recipe that takes no longer and 25-30 minutes and it is packed with flavor!
What is rice pilaf?
Rice Pilaf is commonly cooked in chicken broth or wine for more flavor than just water and it pairs deliciously wish protein such as steak bites or Greek yogurt baked chicken.
Rice pilaf also involves aromatics such as onion, garlic, fennel or carrots. In this recipe I show you how to make it with onion, garlic and butter over medium high heat.
Clearly rice pilaf does not have to be a boring or bland side dish that many people typically think it is. This rice pilaf is fluffy, fragrant and much more than your standard white rice.
This recipe for rice pilaf is prepared in a sauté pan (or you can use a saucepan) on the stove top, but you can also make baked rice pilaf by placing it in a covered casserole dish and baking in the oven.
The best type of rice for making rice pilaf
There are several rice varietals that are divided into categories based on grain length, color, aroma, thickness, etc. But which is the best for a delicious rice pilaf?
I prefer basmati white rice or jasmine rice. Through research the best choice is long grain white rice. The individual grains are long and slender, and they contain a type of starch that is more apt to let the grains stay separate and fluffy as they cook.
Step by Step Directions
Rinse the rice before you begin! This will rid the rice of outer starch and give you nicely separated grains in the final dish.
Melt butter & stir in aromatics: melt butter in a saute pan over medium heat. Toast the vermicelli until golden brown and then add in the aromatics such as onions and garlic. This deepens the flavor in your pilaf immensely.
Toast the rice: Add the rice and stir to help separate the rice for about 30 seconds. (this step helps to avoid mushy pilaf).
Add in the liquid and seasonings: Broth is the most preferred liquid for flavor purposes but if you don't have any, water will be OK.
Simmer and cook: Let the rice and liquid come to a small boil, place the lid on and turn to low heat for 15-20 minutes. Remove from heat and let sit for 5 minutes.
Fluff with a fork: Use a fork's narrow tines to gently separate the grains without breaking them to help preserve the perfect texture of the rice you've worked so hard to get!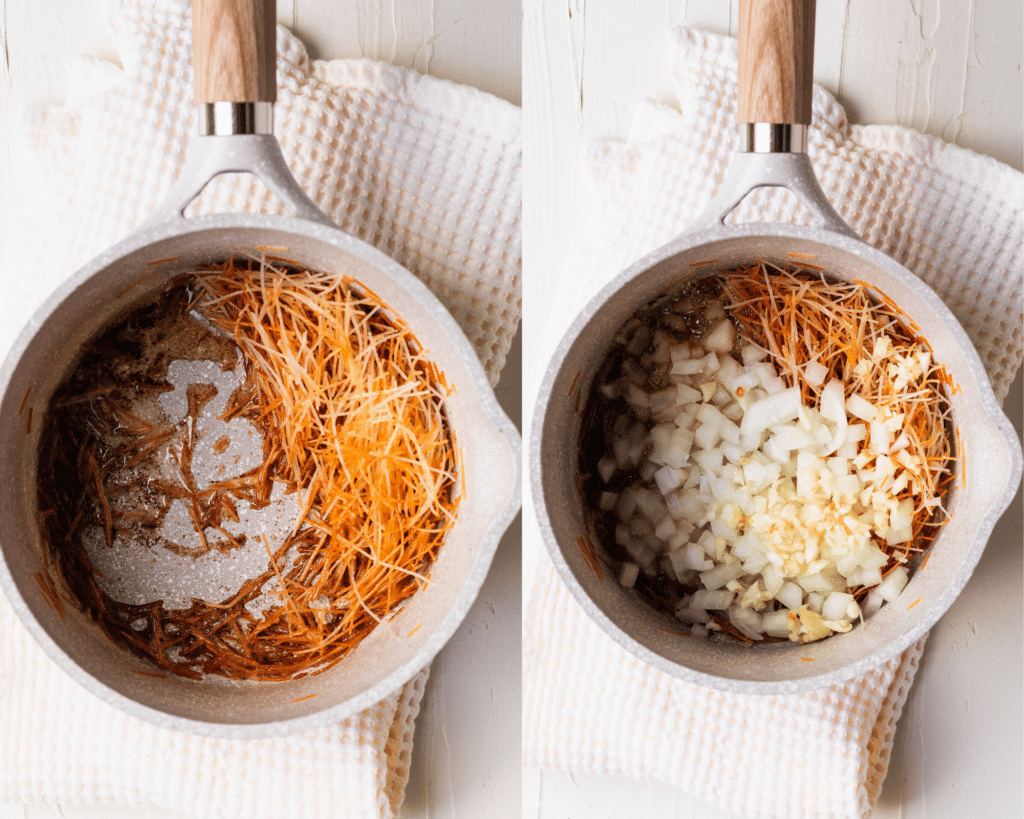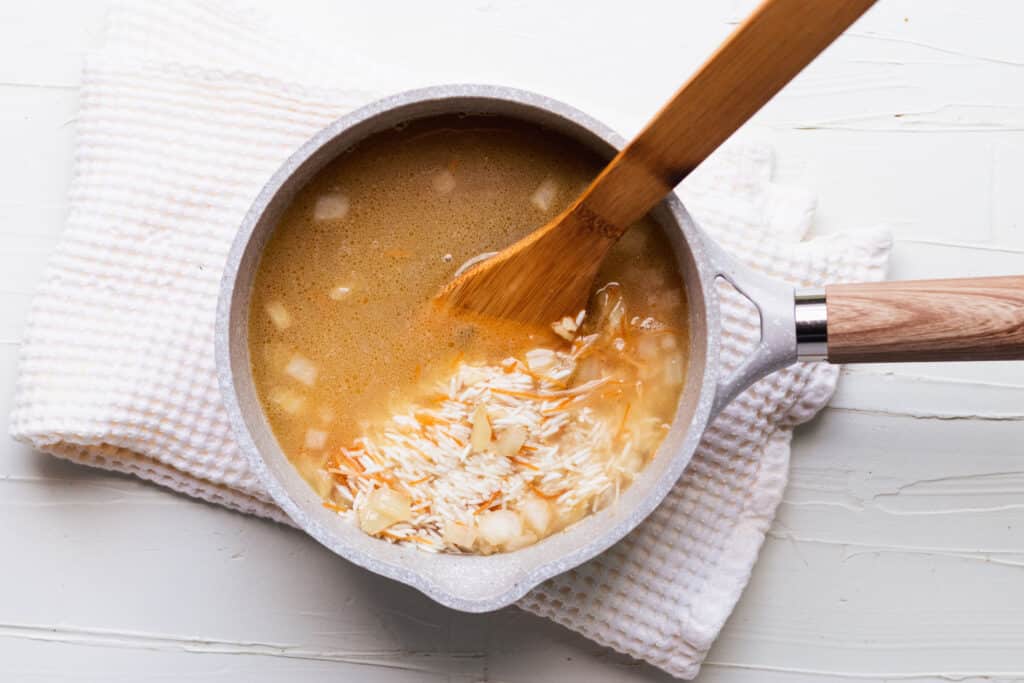 Expert Tips and Tricks
We all want our pilaf fragrant and to taste flavorful. Pilaf also should have a light, fluffy texture and the individual grains of rice should be separated, not mushy and stuck together. Here are some tips to make it perfect every time.
Toast the rice in the butter, onion and vermicelli until each grain is well coated and translucent.
Rinse the rice before you begin! This will rid the rice of outer starch and give you nicely separated grains in the final dish.
If you don't have vermicelli, break up angel hair pasta into small pieces! I do this all the time and it works perfectly.
Use less liquid than usual and simmer gently: The rice to broth/water ratio for rice pilaf is different than what the bag may say.
Use aromatics for a more in depth flavor: Onion, garlic, fennel or carrots are common. In this recipe I show you how to make it with onion, garlic and butter.
Cooking time: Before you put the lid on, give the rice only one quick stir after you bring it to a simmer. Cook it covered on low heat for 15-20 minutes. Let it rest for another 10 minutes and then fluff with your fork!
Orzo pasta is sometimes used in place of vermicelli. I love the rice and orzo combination and it helps give the pilaf extra texture as well.
PS If you try this recipe, why not leave a star rating in the recipe card right below and/or a review in the comment section further down the page? I always appreciate your feedback! You can also follow me on Pinterest or Instagram. Sign up for my email list, too!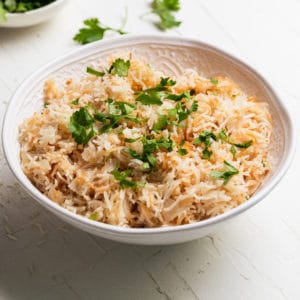 How to Make Rice Pilaf
This rice pilaf turns out perfectly every time and is so simple & full of flavor! Serve with grilled meat and vegetables or as a side dish with your favorite meal.
Ingredients
2

Tbsp.

butter, unsalted

1/3

cup

vermicelli

1/2

cup

white onion, finely diced

2

cloves

garlic, minced

1

cup

long grain white rice (Basmati)

2

cups

chicken broth or water

1/2

tsp.

salt
Instructions
Rinse the rice: Place rice in a mesh strainer and rinse it thoroughly under cool water. The water will appear cloudy at first, then the water will run clear. This helps to remove the surface starch to help yield fluffier, more distinct grains. Set the strainer of rice aside while you cook the onion.

Melt the butter in a saute pan over medium heat.

Add in the vermicelli and toast it gently, stirring often to prevent burning.

Add in the onion and garlic and cook over medium heat to soften, stirring frequently, about 1-2 minutes.

Add rice and stir into the onion/butter until the grains look translucent, about 30 seconds. Then add in the broth and salt and bring to a small boil.

Reduce heat to low, cover and simmer with the lid on for 15-20 minutes.

Remove from the heat and allow to sit covered for 5 minutes. Fluff with a fork and garnish with parsley.
Notes
Rice will last in your fridge for 2-3 days.
Feel free to add in ground spices such as coriander, cumin, or cinnamon. Just a little bit goes a long way in pilaf.
Nutrition
Serving:
0.5
cup
|
Calories:
192
kcal
|
Carbohydrates:
33.1
g
|
Protein:
4.2
g
Hi, I'm 
Tawnie

!

Welcome to my tiny "korner" on the Internet! I am a Registered Dietitian Nutritionist who loves cookies as much as kale. (OK, maybe I like cookies a little bit more but shh, don't tell anyone). I am so glad you're here! Follow along for hassle free, realistic and approachable recipes.

More about Tawnie

I'd love to see what you made!!
Share it with me on Instagram or Facebook and tag me @krolls_korner or use the hashtag #KrollsKorner!