Greek Yogurt Lemon Baked Chicken
Low Carb / Keto | Published on May 24, 2019 | Last modified on Jan 1, 2020
Greek Yogurt Lemon Baked Chicken is a simple dish yet bursting with flavor. All you'll need for the Greek Yogurt marinade is FAGE yogurt, garlic, olive oil, lemon juice, thyme and a few pantry staple seasonings!
This post has been sponsored by FAGE. All thoughts and opinions are my own. Thank you for supporting the brands that keep Kroll's Korner running!
What I love about this Greek Yogurt Lemon Baked Chicken is how the marinade breaks down the chicken resulting in a tender and moist chicken breast.
Dry chicken is the WORST and no one has time for that!
Plus, the FAGE Greek Yogurt add a nutritional punch and you'll feel GOOD eating it!
On Sunday's we always have family dinner at my mom's house. I brought over this chicken for the first time and everyone raved about it! I told them the marinade had Greek Yogurt in it and they were very surprised.
Many of us think of yogurt as a breakfast or snack item only, but it's really great to use for any meal occasion and it's a bonus if you can enjoy it with your family.
Family time has always been an important part of my life and food always seems to bring us together. Some of my fondest memories are around the kitchen table or cooking in the kitchen. I am thankful I can introduce my family (and YOU!) to use new ways of using Greek Yogurt!
What you'll need for this chicken recipe:
FAGE Total Greek Yogurt, plain (0%, 2% or 5%)
Boneless, skinless, chicken breasts
Lemon Juice
Garlic
Olive Oil
Panko Breadcrumbs
Seasonings: salt, pepper, thyme, onion powder
How to make Greek Yogurt Lemon Baked Chicken:
In a large bowl season the chicken breasts with salt and pepper. Then add in the yogurt, lemon juice, minced garlic, olive oil and seasonings. Mix very well and then cover with plastic wrap and let marinate in the fridge for 4-6 hours.
Once chicken is ready to cook preheat oven to 375 degrees F. Spray a baking dish with non-stick cooking spray and place chicken down in baking dish. Sprinkle Panko breadcrumbs on top of chicken and you can also top chicken with lemon slices if you prefer prior to baking for a little extra lemon flavor.
Bake for 40-45 minutes or until chicken reaches an internal temperature of 165 degrees F.
Serve warm with salad/asparagus and rice, quinoa or potatoes.
Can I make this recipe with chicken thighs?
Yes, it's also very good with chicken thighs. Plus, chicken thighs are usually slightly cheaper than chicken breasts.
This recipe is…
An easy weeknight (or weekend!) dinner.
Can be prepped on your lunch break and baked at night!
Great for meal prep to enjoy throughout the week
High in protein
A healthy balanced meal to enjoy with family or friends.
Simply, yet bursting with flavor!
#ad Lemon Greek Yogurt Baked Chicken made with @FAGEUSA yogurt is my new favorite weeknight (or weekend!) dinner. It's a fun way to enjoy yogurt and you can make it & spend quality time with family! #FAGE #LiveLoveEat #Lesssugar…
Click To Tweet
Why I choose FAGE Total Greek Yogurt:
I love to eat food that makes me feed good and FAGE does just that.
It has 100% natural ingredients.
Rich in protein and calcium
It's soo rich and creamy!
It truly has a passion you can taste.
I love to eat food that makes me feed good and FAGE does just that. Many of you know I practice both Pilates and Yoga so self-love is important to me in my daily lifestyle. I nourish my body in a variety of ways and I encourage you to try the same!
If you try FAGE or this recipe, let me know what you think in the comments below!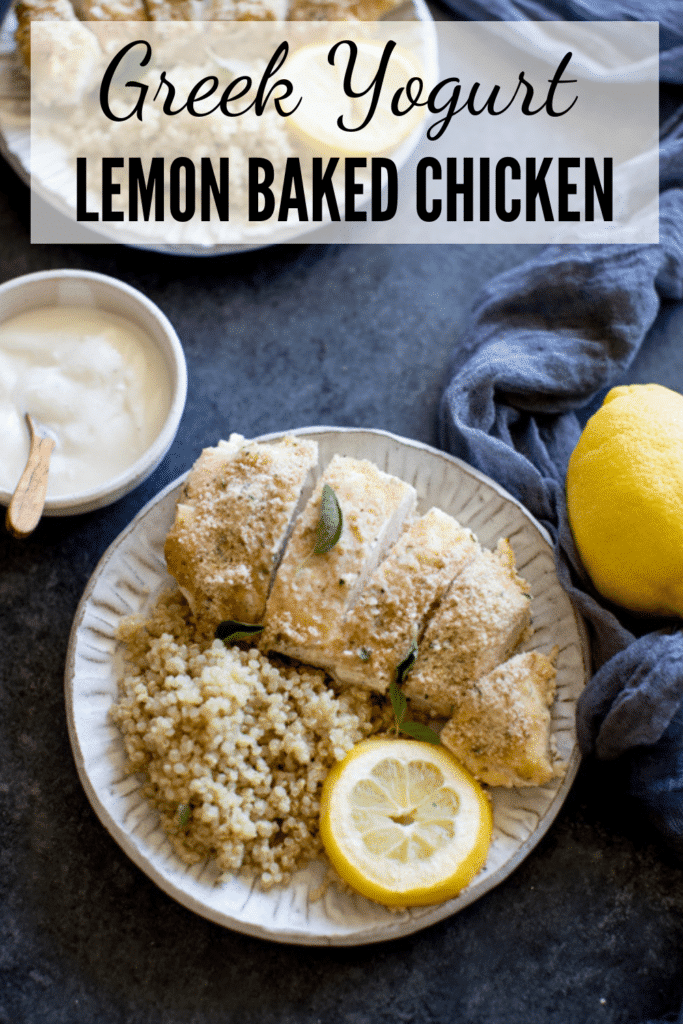 I'd love to see what you made!!
Share it with me on Instagram or Facebook and tag me @krolls_korner or use the hashtag #KrollsKorner!