Cranberry Apricot Chicken
Dairy-Free | Published Jan 29, 2019 | Updated Aug 20, 2019 | By Tawnie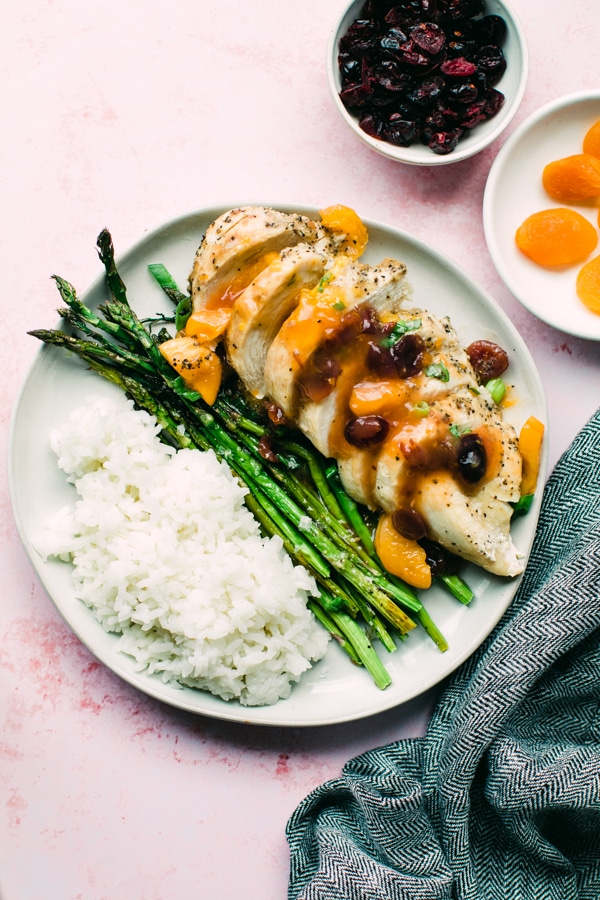 Dinner doesn't get much easier than this Cranberry Apricot Chicken! The dried fruit cooks down with fresh orange juice, cranberry juice and white wine which gives the chicken a heavenly sweet glossy coat. Smother the fruit just on top of the chicken or on top of the veggies and rice too!
This was an all time favorite of mine when I lived at my parents! My mom shared with me that this was a recipe my dad fell in love with one year when she made it for him on Valentines Day. I love it because it is such a satisfying dish yet light and nutritious – perfect for an easy weeknight dinner.
I am a member of the Cranberry Bog Bloggers group through the Cranberry Institute. They shared with me some AWESOME information on cranberries that is too good not to pass on…
The 2015-2020 Dietary Guidelines for Americans Are In…
And Cranberries Get a Special Call Out
For the first time ever, the Dietary Guidelines have advised Americans to consume less than 10 percent of total calories per day from added sugars to help reduce calories from foods that contribute minimally to overall nutrient intake. However, they recognize the value of cranberries – and have made an exception – for nutrient dense fruits and vegetables (like cranberries or rhubarb) that are naturally tart and sweetened to improve palatability. The guidelines say that the American diet has room for nutrient dense foods with added sugars, as long as calories from added sugars do not exceed 10 percent per day.
As you know, cranberry products are usually sweetened because unlike other berries and most fruits, cranberries are naturally low in sugar and high in acidity. Given the low sugar content, once sweetened, the total sugar of dried cranberries is comparable to other dried fruits, like raisins and dried cherries.
[Tweet "Cranberry-Apricot Chicken – easy yet elegant meal to impress your loved ones this Easter! #CranberryBogBlogger #CranberryInstitute"]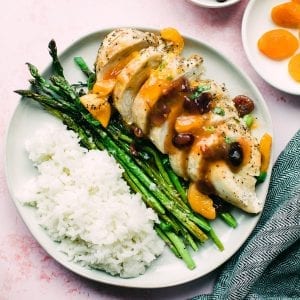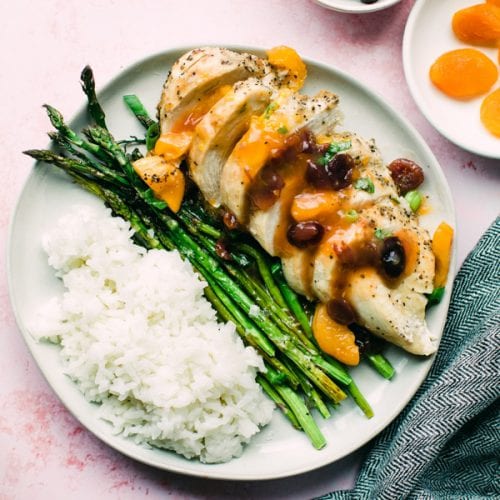 Cranberry-Apricot Chicken
This dish is quick and easy, yet looks elegant so it will impress your guests or loved ones!
Ingredients
1.5

cups

low sodium chicken broth

2

tsp.

grated orange peel

1/4

cup

dry white wine

1/2

cup

slivered dried apricots

1/3

cup

dried cranberries

1/2

cup

fresh orange juice

1/2

cup

Cranberry Juice

4

boneless

skinless chicken breasts

2

tsp.

cornstarch mixed w/ 2 Tbsp. water

Garnish: green onions and slivered orange peel
Instructions
In a large frying pan, combine broth, grated orange peel, orange juice, wine, apricots, dried cranberries, and cranberry juice. Add the chicken to this mixture, cover and bring to a boil. Reduce heat to simmer until the thickest part (the middle usually) of the chicken is no longer pink. (15-20 minutes). Transfer chicken to a platter and cover to keep warm.

Bring the liquid in the pan back to a boil, uncovered so you can let it reduce down to about 1 cup. (About 3 minutes). Next stir in the cornstarch mixture and whisk until thickened. (Season to taste with salt and pepper if desired).

Spoon some of the sauce over the chicken and pour remaining sauce into a bowl. Garnish with green onions and slivered orange peel if desired.
Notes
I like to serve this chicken with couscous or rice and a veggie - like asparagus or broccoli!
Why Cranberries?
The Dietary Guidelines for Americans make an exception for cranberries because they're nutrient dense. Above and beyond, cranberries have been linked to a number of health benefits, such as…
o Cranberry products contain flavonoids (called PACs) that are unique to cranberries and prevent bacteria from sticking to the cell walls. In the urinary tract, they prevent E. coli from sticking to the walls of the bladder to help prevent infections.1-4
o Strong evidence suggests cranberries may reduce the recurrence of urinary tract infections (UTIs), making them an important tool for helping patients rely less on antibiotic treatment.4
o A research review in Advances in Nutrition identified that PACs help improve heart health and reduce inflammation.4
o The bioactive compounds found in cranberries may help maintain cardiovascular health by improving blood cholesterol levels, reducing blood pressure and blunting inflammation and oxidative stress.5
Gut Health

Recent research presented at the 2015 Cranberry Health Research Conference showed that the polyphenols in cranberries may help protect against the negative effects of a high fat diet and promote gut health.6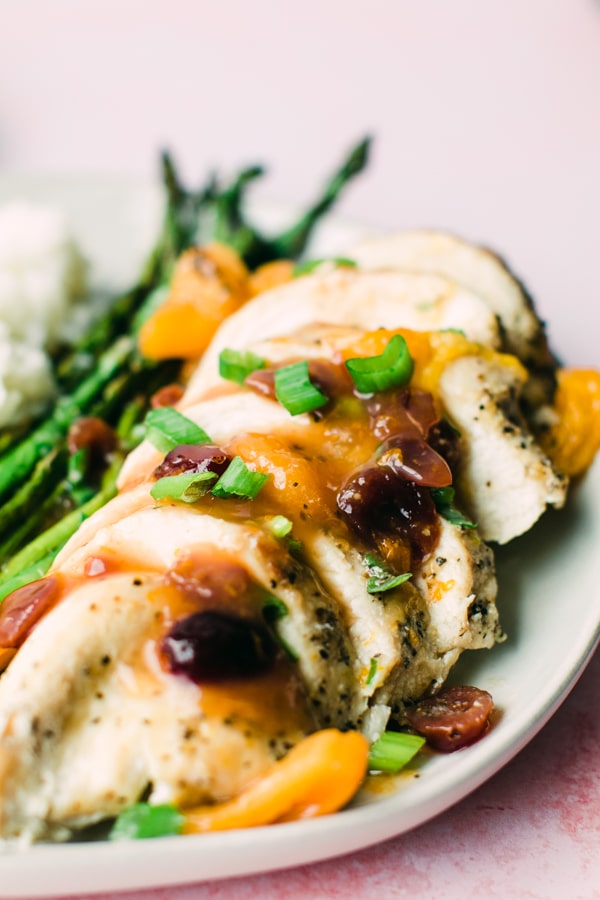 THow do cranberries fit in a healthy eating pattern?
The DGAs recommend a shift to consume more fruits by choosing them as snacks, in salads, as side dishes or as dessert. Here are some ideas to share with your readers on how to include cranberries:
To add ½ cup serving of fruit to a meal, add ¼ cup of cranberries to a favorite salad or whole-grain breakfast cereal, like oatmeal.
Sip on ½ cup of cranberry juice cocktail to provide about 25% of the daily recommended amount of fruit for most Americans.
Spread cranberry sauce as a fruity condiment for turkey and chicken sandwiches; as a topping for pork chops; or add to a slow cooker meatball recipe for a burst of flavor.
Cranberries are a perfect berry for yogurt parfaits. Mix in whole-grain granola and dried cranberries for a satisfying snack, or stir in cranberry sauce for a custom cranberry yogurt.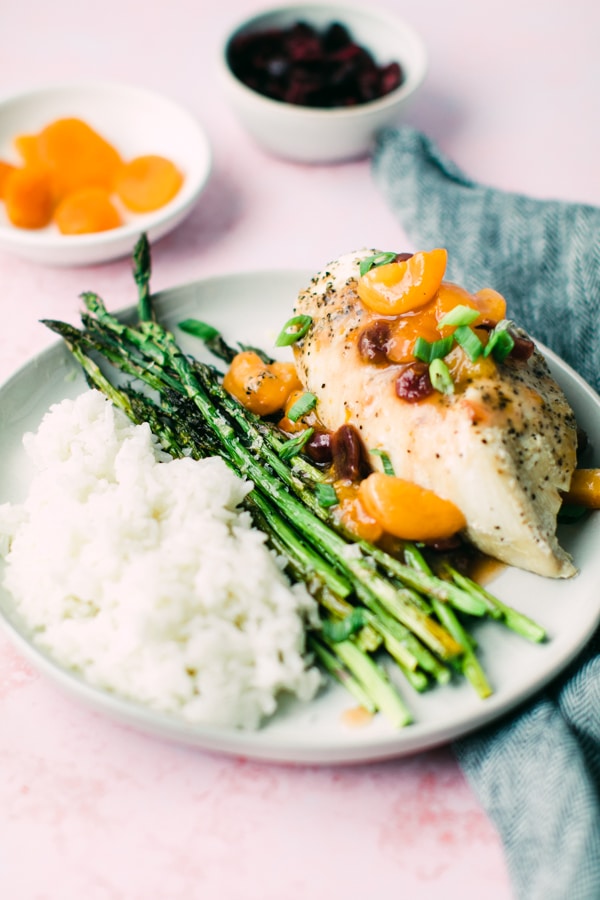 :REFERENCES
Howell AB, Reed J, Krueger C, Winterbottom R, Leahy M. A-type cranberry proanthocyanidins and uropathogenic bacterial anti-adhesion activity. Phytochemistry. 2005; 66 (18): 2281-2291.
Howell AB. Cranberry proanthocyanidins and the maintenance of urinary tract health. Crit Rev Food Sci Nutr. 2002;42(3 Suppl):273-8.
Sobota AE. Inhibition of bacterial adherence by cranberry juice: potential use for the treatment of urinary tract infection. J Urol. 1984;131(5):1013-6.
Blumberg JB, Terri A. Camesano TA, Cassidy A, Kris-Etherton P, Howell A, Manach C, Ostertag LM, Sies H, Skulas-Ray A, Vita J. Cranberries and their bioactive constituents in human health. Adv Nutr. 2013;4:1–15.
McKay DL, Blumberg JB. Cranberries (Vaccinium macrocarpon) and cardiovascular disease risk factors. Nutr Rev. 2007;65:490-502.
Reed, J. (2015, October). Effects of cranberry proanthocyanidins on gram negative bacteria: Implications for gut health and chronic inflammatory disease. Presentation conducted at the Cranberry Health Research Conference, Madison, WI.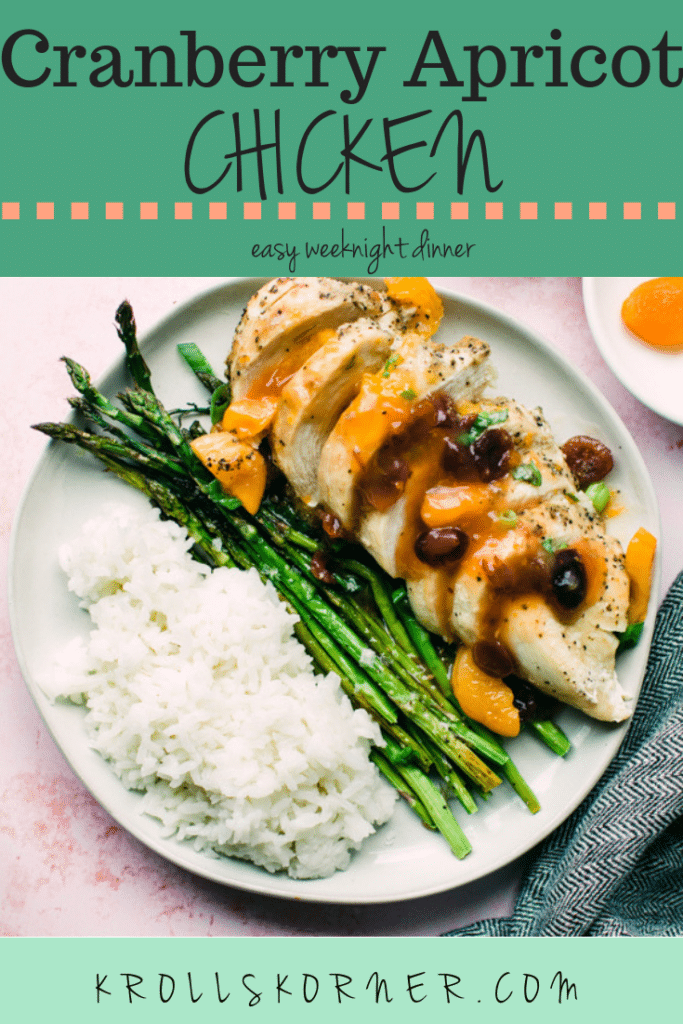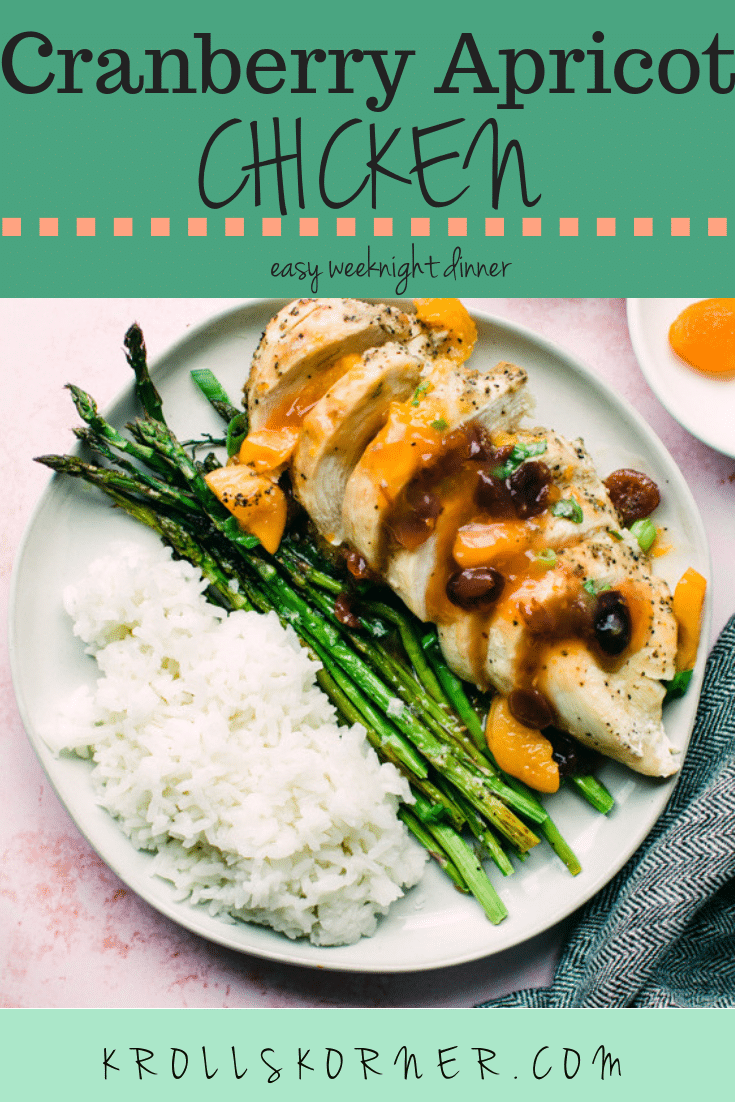 With that…I hope you enjoy this flavorful chicken recipe!
Hi, I'm 
Tawnie

!

Welcome to my tiny "korner" on the Internet! I am a Registered Dietitian Nutritionist who loves cookies as much as kale. (OK, maybe I like cookies a little bit more but shh, don't tell anyone). I am so glad you're here! Follow along for hassle free, realistic and approachable recipes.

More about Tawnie

I'd love to see what you made!!
Share it with me on Instagram or Facebook and tag me @krolls_korner or use the hashtag #KrollsKorner!