Crispy Sesame Chicken with Sesame Sauce
Asian | Published May 19, 2020 | Updated Feb 27, 2023 | By Tawnie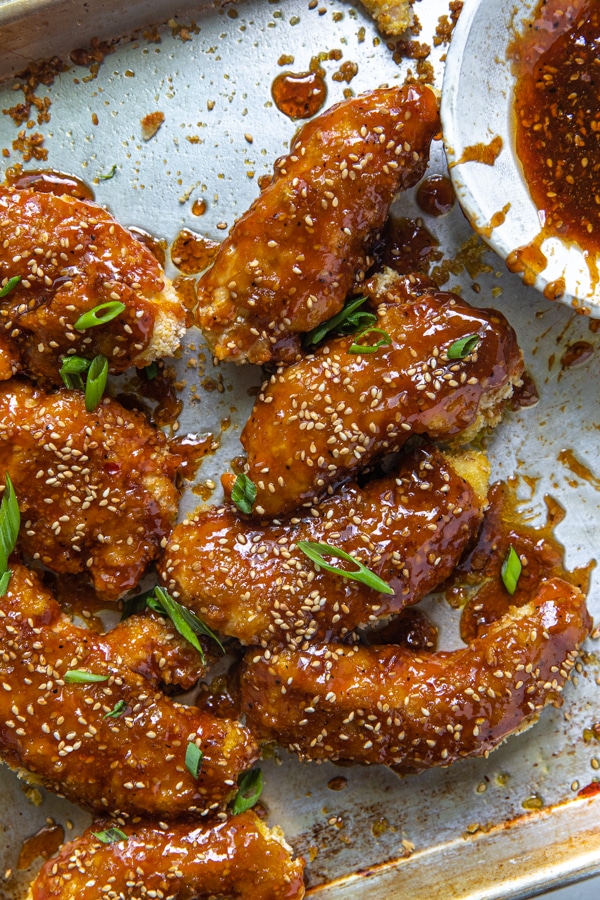 Whenever I make this Crispy Sesame Chicken it disappears almost immediately. It's that good!
This sesame chicken is healthier than any of the deep fried chicken recipes you may get out at Chinese restaurants. What could be better than this homemade chicken goodness with a healthy serving of these sesame udon noodles right now?
Making a meal from scratch is much more satisfying than ordering takeout.
This post will show you how to make sesame chicken using my foolproof, neat, easy method! And like I said, better than takeout!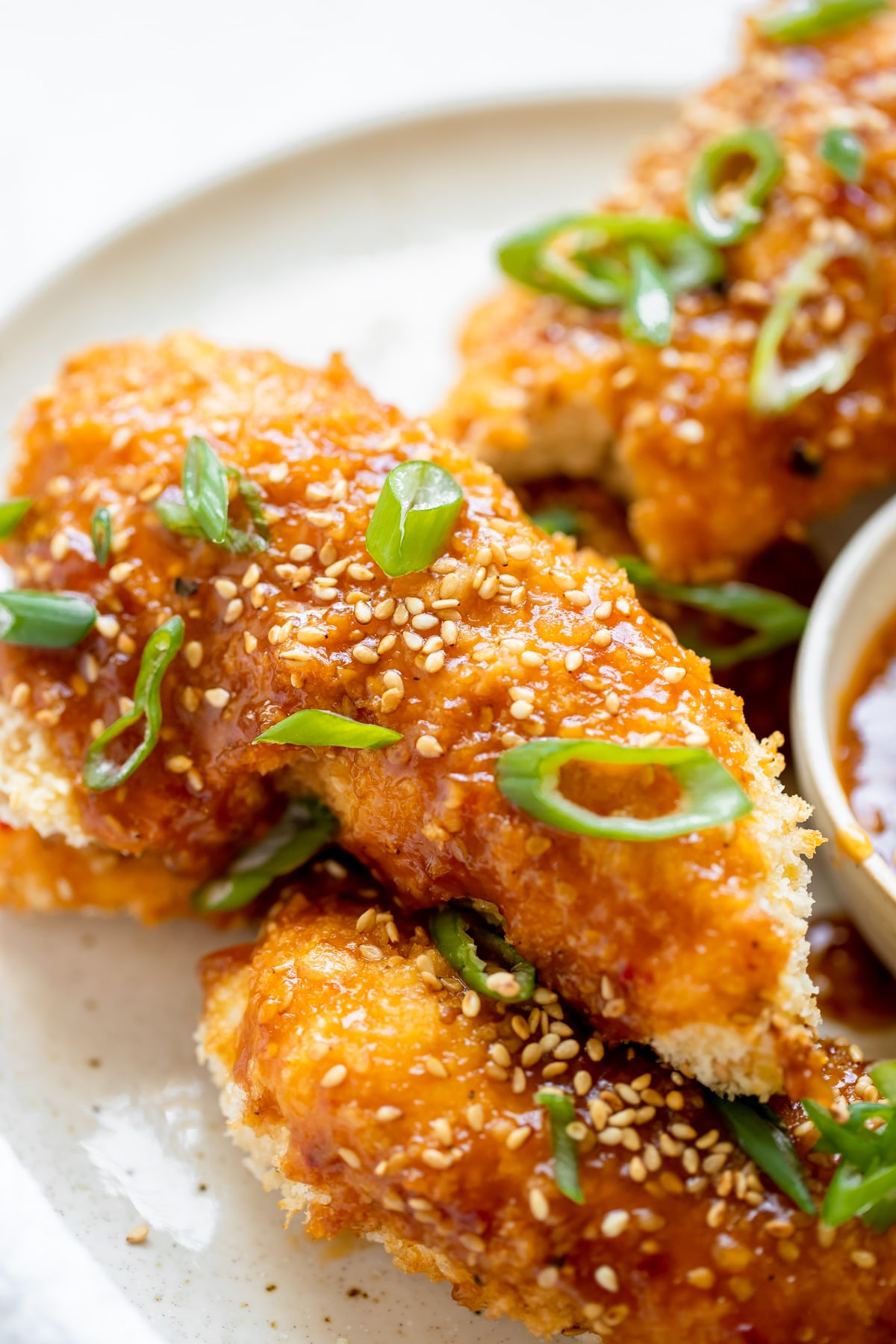 Oh, and I can't forget…
The delectable sesame sauce that gets lathered on the chicken is so good and easy to make too.
You might have most of the ingredients for the sauce in your pantry already. It has some pantry staples like sesame oil, garlic, soy sauce, brown sugar and sesame seeds.
Basically this Crispy Sesame Chicken is all good things we love about a fuss-free weeknight dinner:
Easy to make
Ultra flavorful
Saucy, crispy, crunchy, yummy
Healthyish
Protein-rich
Can be used for rice bowls or sliced for salads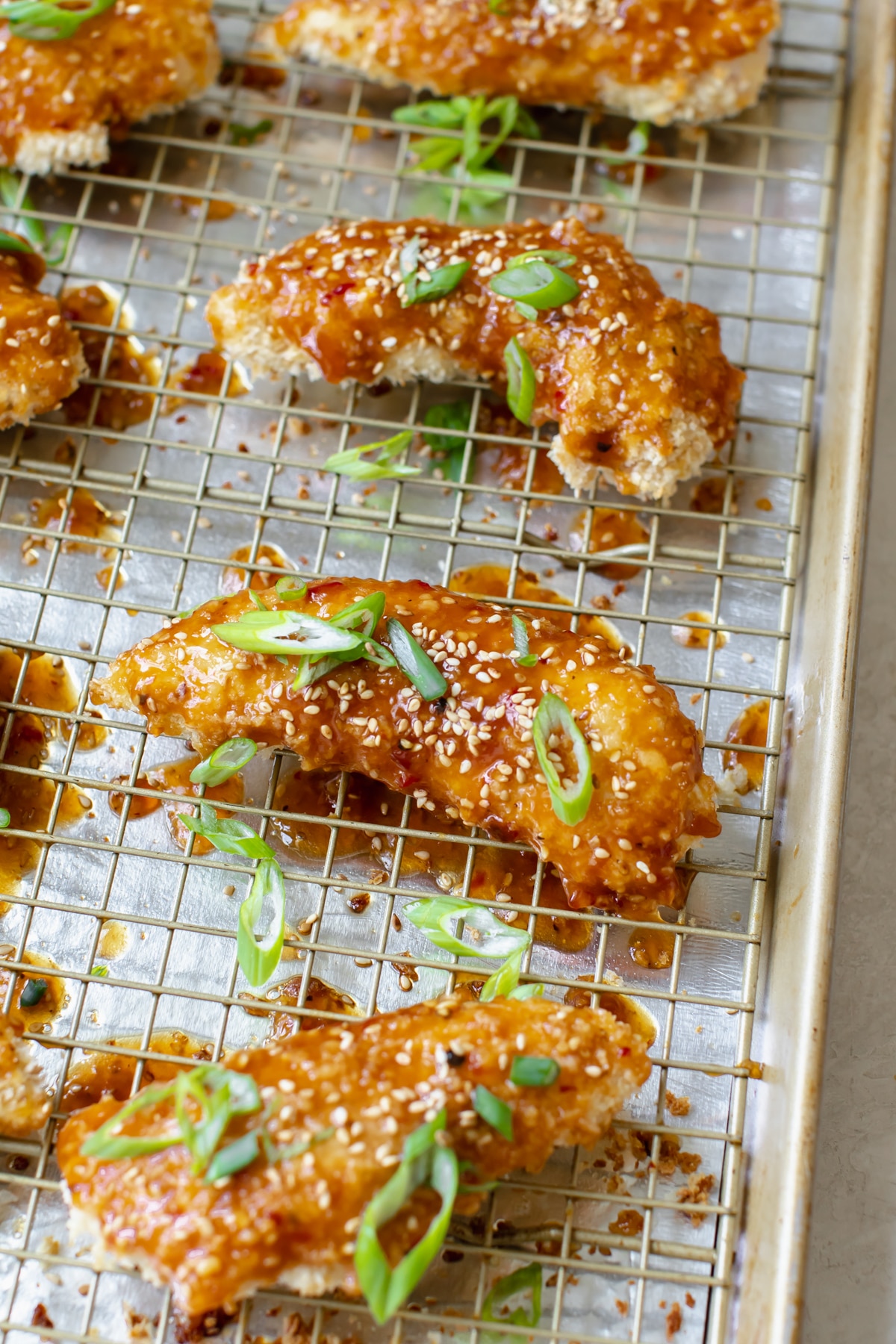 Here's the line up for Crispy Sesame Chicken
Chicken tenders, chicken cutlets or chicken thighs
Flour
Eggs
Japanese Panko Breadcrumbs
Sesame Seeds
Salt and Pepper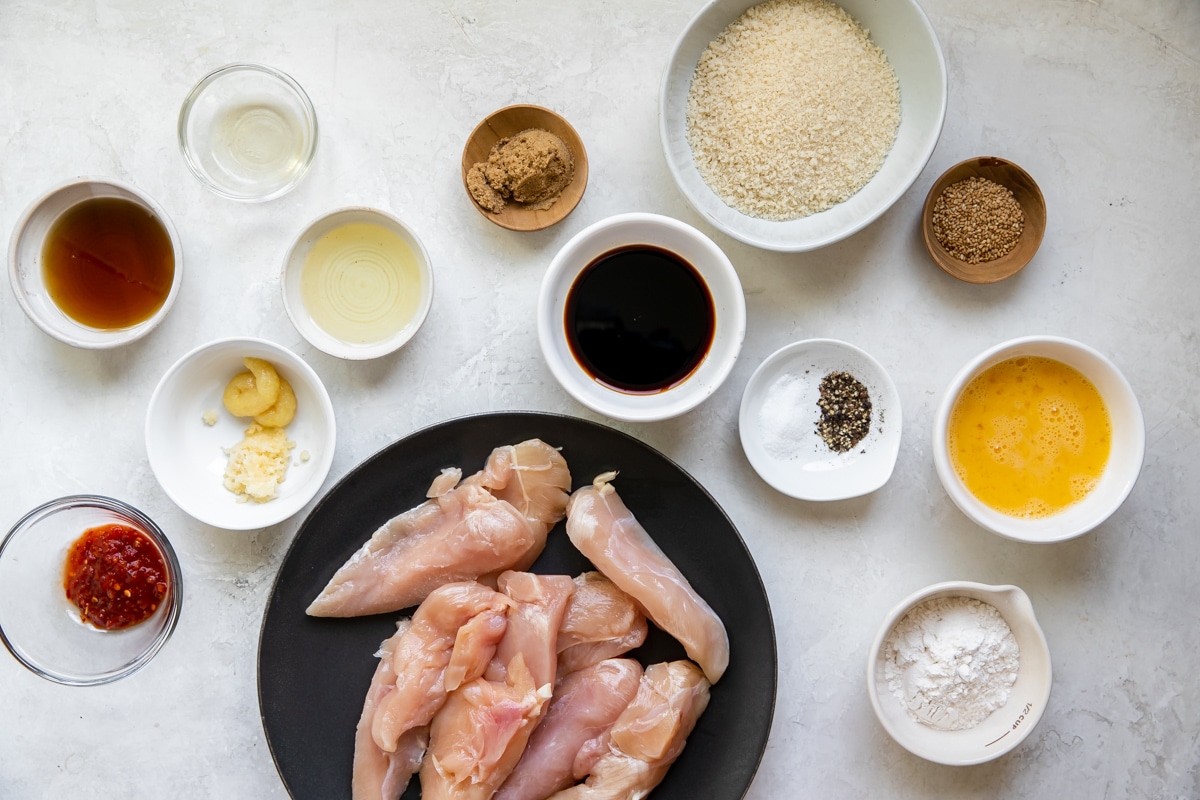 You'll bake until chicken is golden brown, coat the chicken in the sauce and garnish with green onions and sesame seeds.
The result? Tasty, super easy, crispy sesame chicken yumminess ready to be enjoyed!
How to make sesame chicken
Honestly you guys, it's so simple.
Use this foolproof method for the perfect results every time you're breading chicken.
Preheat oven to 400°F.
Line a baking sheet with foil and place a rack on top of the baking sheet. Spray with non-stick spray.
Set up the dredging station: you'll need 3 shallow dishes. (flour, eggs, Panko)
Place the chicken tender in the flour first, flipping from side to side to coat. Then place in the egg wash, then place in the Panko breadcrumbs. Gently press breadcrumbs onto chicken to adhere.
Transfer chicken to prepared baking sheet and repeat with remaining chicken.
Bake chicken and make the sauce while it's in the oven.
Brush sauce over chicken, garnish with green onions and additional sesame seeds if desired and enjoy.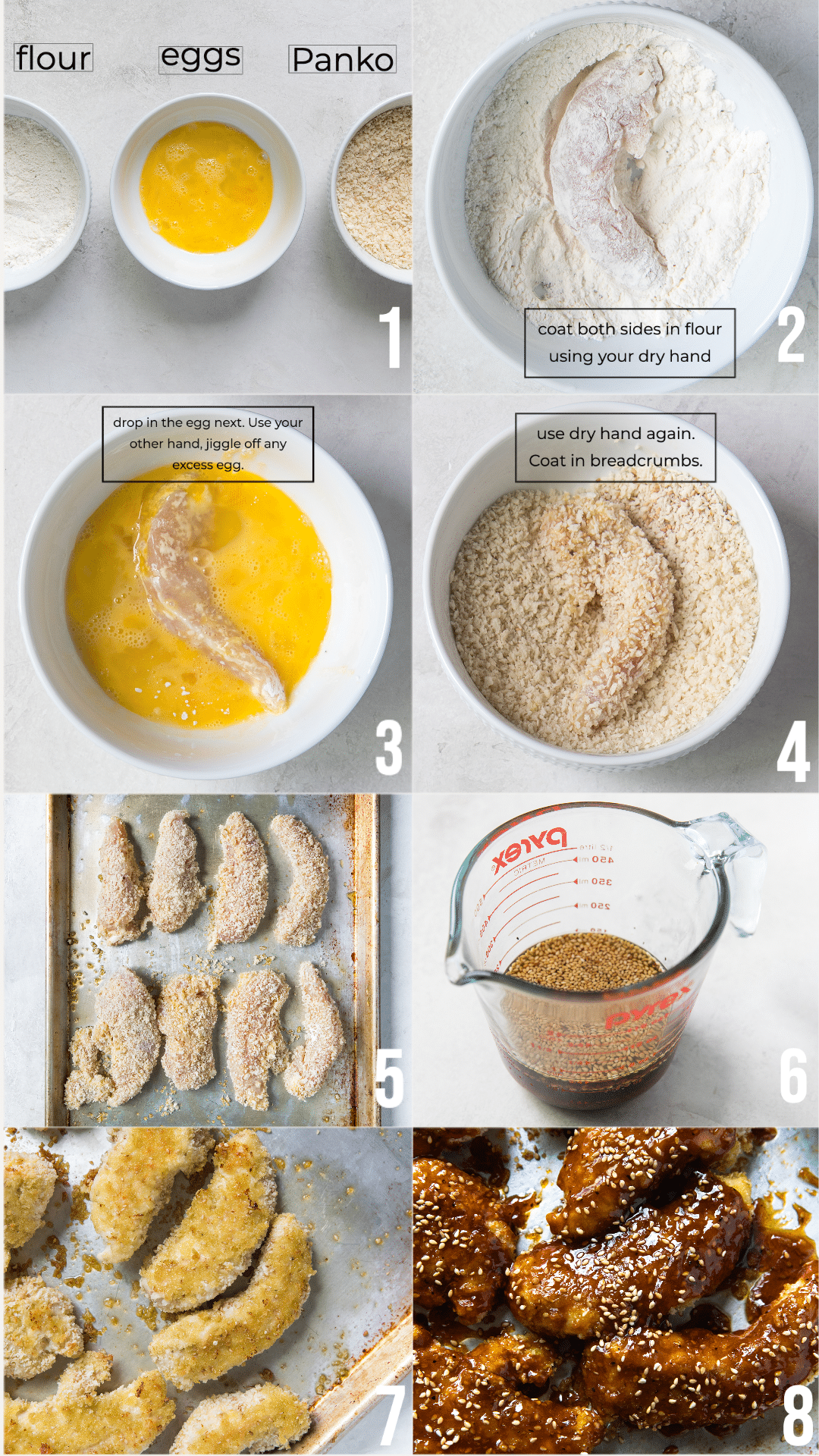 I love baking the sesame chicken instead of frying because
The cooking process is simplified & neat & not as messy compared to frying in hot oil
The chicken is nice and crispy is never gummy
The breading stays on and doesn't fall off!
Tips to making the best crispy sesame chicken
Buy chicken tenderloins (chicken fingers/chicken tenders) so you don't have to fuss with cutting a chicken breast.
Organize your ingredients: Neatly arrange the shallow bowls from left to right: flour, egg, Panko breadcrumbs. Be sure you have the sheet pan prepped. As you bread the chicken you can place them directly on the sheet pan.
Bake the chicken! No need to deal with hot, splashing oil on the stove. Bake them in the oven on a sheet pan and they will still get nice & crispy.
OK – healthy, baked, crispy sesame chicken recipe – GO!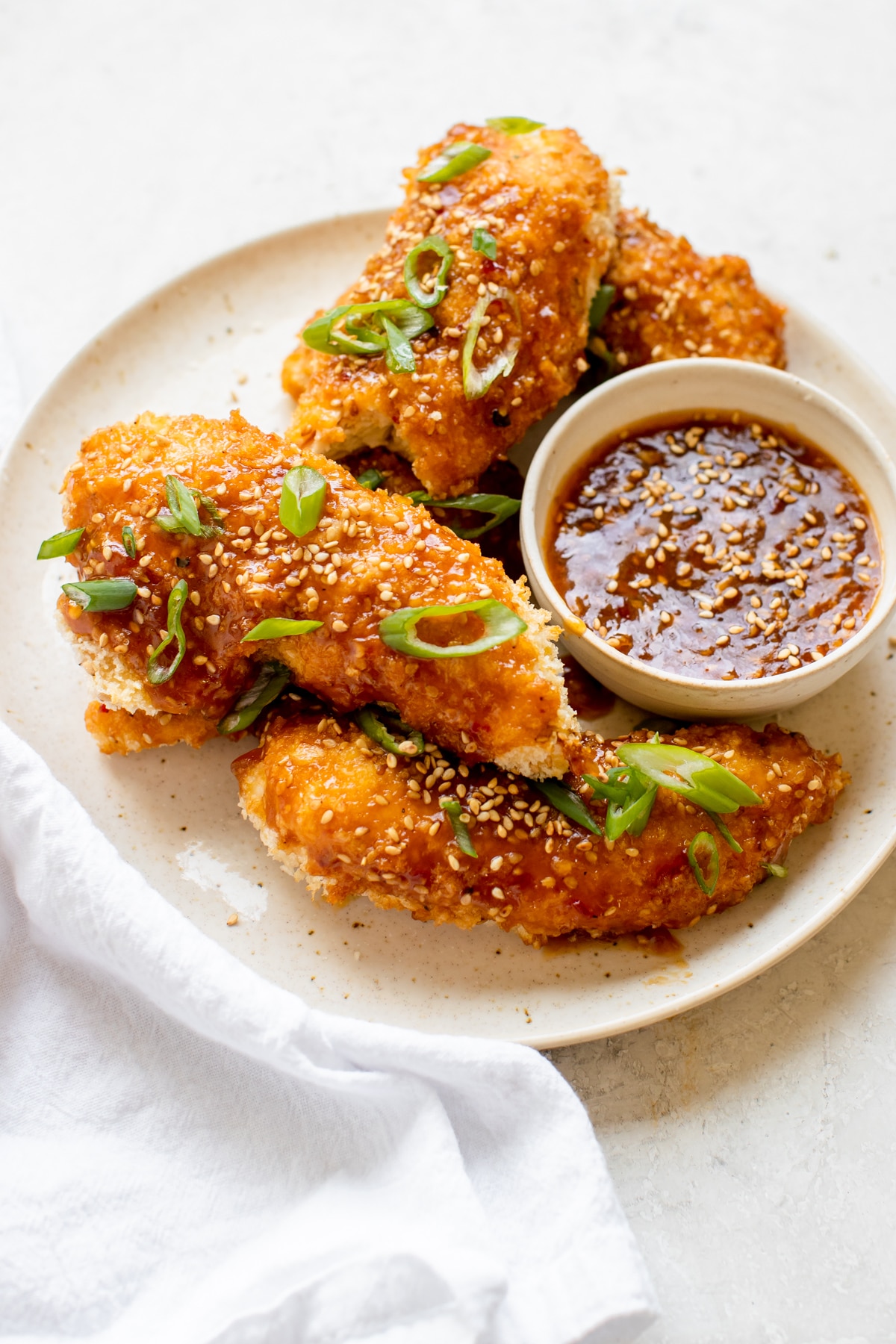 FAQ
What internal temperature should be chicken be cooked at?
Chicken is considered safe to eat at an internal temperature of 165°F

What do you serve with chicken tenders?
We love these sesame chicken tenders with fried rice, steamed rice, roasted veggies, or ramen noodles, potstickers, asparagus.
How do you remove the tendon from the chicken strip?
Simply use a paring knife or hold the tendon with one hand and use the tines of a fork in between the tendon and chicken and pull on the tendon until it's removed.
Can I make these in the air fryer?
I haven't personally tried it out, but I bet it would work perfectly. 400°F for 6-8 minutes per side, flipping halfway through, or until outsides are crispy and golden and chicken reaches an internal temperature of 165°F.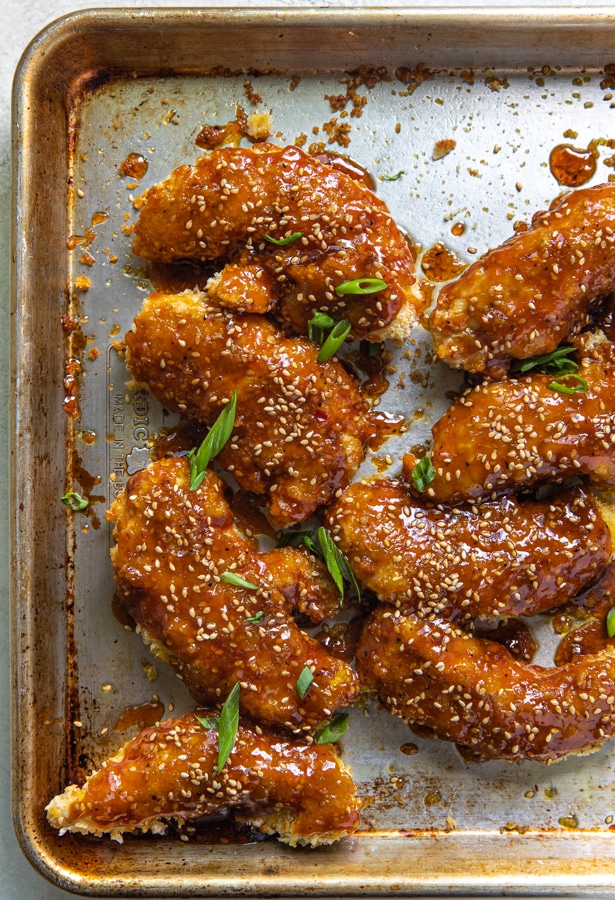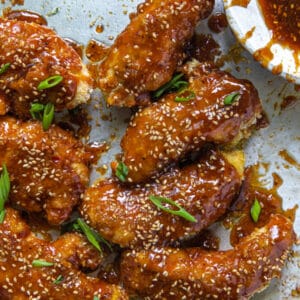 Crispy Sesame Chicken
This Crispy Sesame Chicken is baked, not fried and is slathered in the most delicious sweet yet savory sesame sauce that's studded with sesame seeds. So much better than takeout!
Ingredients
For the chicken
1 1/2

lb.

chicken tenders or chicken cutlets

2

large

eggs, whisked

1/4

cup

All-Purpose Flour

1/2

tsp.

salt

1/2

tsp.

pepper

1

cup

Panko Breadcrumbs

1

Tbsp.

sesame seeds
For the sauce
1/3

cup

soy sauce

2

Tbsp.

canola oil

2

Tbsp.

sesame oil

2

Tbsp.

rice vinegar

1

Tbsp.

brown sugar or honey

1

Tbsp.

sesame seeds

1

tsp.

ginger, minced

1

tsp.

garlic, crushed

1

tsp.

chili garlic sauce

1/4

tsp.

salt and pepper

1

Tbsp.

cornstarch

1

Tbsp.

water
Instructions
Line a baking sheet with foil and place a rack on top of the baking sheet. Spray with non-stick spray.

Set up the dredging station: you'll need 3 shallow dishes or bowls. In the first dish, combine the flour salt and pepper. Beat the eggs in the second dish and in the third dish combine the Panko and sesame seeds.

Dip chicken tender in flour first and coat both sides. Then dunk in the egg and finally in the breadcrumb mix pressing the crumbs to adhere. Place on the prepped baking sheet and repeat process with remaining chicken.

Bake for 20 minutes or until chicken is golden brown and reaches an internal temperature of 165°F.

While the chicken bakes, make the sesame sauce. Whisk all of the ingredients (from soy sauce to salt & pepper) for the sauce together in a measuring cup or large bowl.

Pour sauce in a small saucepan over medium heat, bring the sauce to a simmer. Then in a small ramekin, combine the cornstarch and water. Whisk the cornstarch slurry into the sauce and whisk until sauce thickens. If sauce seems too thick, add filtered water until a desired consistency is desired.

Spread the sauce over the cooked chicken and garnish with more sesame seeds and green onions. Serve as is or with your favorite sides, we love roasted broccoli and rice!
Notes
Can use chicken tenders, some grocery stores like Sprouts sell them this way. Or, use chicken breasts and slice in half horizontally so you have two cutlets.
If you're sensitive to salt, feel free to not add any salt in to the sauce. If you prefer a sweeter sauce, add in a little more honey or brown sugar to it.
You can bake the chicken directly on a baking sheet if you'd like, just be sure to spread an even layer of olive oil down the the baking sheet. Flip chicken tenders halfway through and add more olive oil if any chicken starts to stick to the pan.
Store chicken properly in the fridge for up to 3-4 days.
Nutrition
Serving:
2
chicken tenders
|
Calories:
428
kcal
|
Carbohydrates:
28
g
|
Protein:
36
g
|
Fat:
30
g
|
Saturated Fat:
5
g
|
Polyunsaturated Fat:
9
g
|
Monounsaturated Fat:
14
g
|
Trans Fat:
1
g
|
Cholesterol:
202
mg
|
Potassium:
796
mg
|
Fiber:
2
g
|
Sugar:
5
g
|
Vitamin A:
190
IU
|
Vitamin C:
2
mg
|
Calcium:
134
mg
|
Iron:
4
mg
Hi, I'm 
Tawnie

!

Welcome to my tiny "korner" on the Internet! I am a Registered Dietitian Nutritionist who loves cookies as much as kale. (OK, maybe I like cookies a little bit more but shh, don't tell anyone). I am so glad you're here! Follow along for hassle free, realistic and approachable recipes.

More about Tawnie

I'd love to see what you made!!
Share it with me on Instagram or Facebook and tag me @krolls_korner or use the hashtag #KrollsKorner!