Quick Ground Turkey Recipes
Dinner | Published on Sep 25, 2019 | Last modified on Sep 26, 2019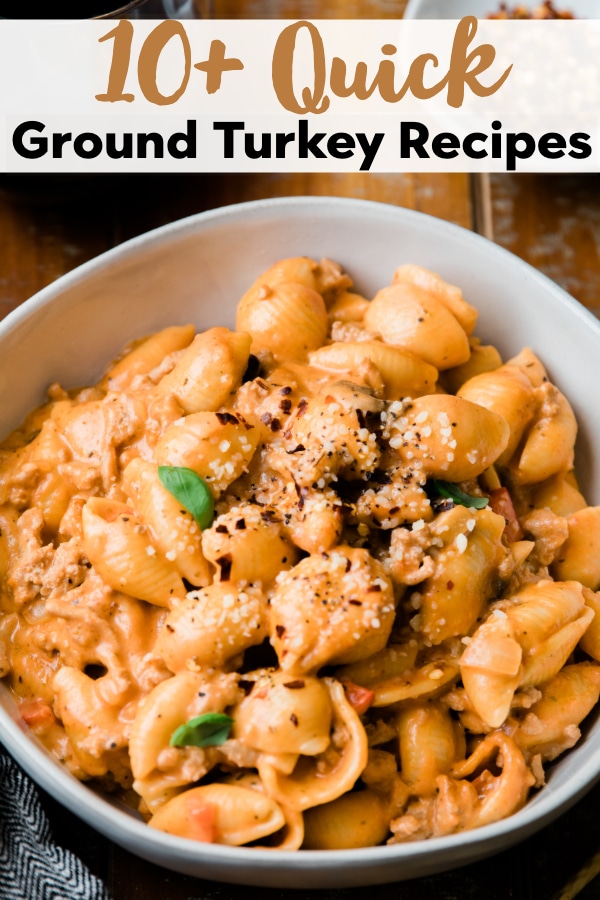 Quick Ground Turkey Recipes: Don't know what to make with that 1lb of ground turkey? These ground turkey recipes solve your dinner problems!
Quick Ground Turkey Recipes, who's in?!
Ground turkey is a staple in our freezer. It doesn't take long to thaw for dinner, it's a versatile ingredient and an easy choice for weeknight dinners.
Here are delicious and easy ground turkey recipes to make with 1lb. of ground turkey. Because we've all been there; wondering what in the heck to make with this ground turkey!
If you appreciate this post, you may also want to visit my "main dishes" category, which I update with recipes often!
For all my vegetarians I have recipes for you too! All of my recipes are organized by dietary preference and categories to make searching for recipes simple for you.
And don't forget, I have an eBook with 14 delicious Instant Pot Dinners if you are an Instant Pot fan like me! Click this link here to subscribe and you will be emailed my Instant Pot eBook!
1. Avocado & Turkey Stuffed Sweet Potato (One of our favs!)
This meal is on regular rotation in our house. It uses staple party items and spices and comes together in one skillet. You can prep the sweet potatoes in advance as well to makes this a 30 minute (or less!) meal. Talk about a quick ground turkey recipe!
2. Easy Shell Pasta with Ground Turkey
Can't decide what to make with ground turkey this week? This ground turkey pasta with creamy tomato sauce will have you begging for seconds! This recipe is the most popular quick ground turkey recipe on Kroll's Korner!
3. Ground Turkey Lettuce Wraps
Turkey Taco Lettuce Wraps are an easy, hassle-free, meal that's rich in nutrients and low in carbohydrates.
4. Spicy Zucchini Taco Boats
These stuffed spicy zucchini boats are filled with a ground turkey mixture, then topped with plenty of cheese and baked to perfection!
5. Turkey Swedish Meatballs
Ground turkey Swedish meatballs for weeknight dinner to the rescue! Swedish meatballs are delicious over brown rice or your favorite pasta.
6. Ground Turkey Sweet Potato Sliders
Sweet Potato Turkey Burger Sliders use sweet potato as the "buns" which will revolutionize the way you make turkey burger sliders!
7. Mom's One Pan Taco Skillet
Mom's One Pan Taco Skillet is one of the easiest weeknight meals and a dinner everyone is sure to love!
10+ Quick Ground Turkey Dinner recipes that are hassle-free, affordable, and are healthy and delicious! #krollskorner
Click To Tweet
8. Sriracha Ground Turkey Meatballs
Sriracha Teriyaki Ground Turkey Meatballs…such an easy & delicious recipe!! Whip these bad boys up with rice & broccoli for an easy weeknight dinner!
9. Cheesy Stuffed Shells
Cheesy Stuffed Shells with Ricotta and Spinach: your weeknight answer to homemade lasagna without the hassle! (I give my tips to add ground turkey within the recipe).
Psssst…by the way while you're here…are you following me on Pinterest yet?! Click below to follow!
10. Sloppy Joe Baked Potatoes
30 min meal with less than 10 ingredients – Sloppy Joe Baked Potato for the win!
11. Asian Style Butter Lettuce Wraps
Asian Style Butter Lettuce Wraps are kind of like low carbohydrate tacos when you're feeling like a light dinner, or even fun for appetizers!
12. Four Bean Spicy Crockpot Chili
Four Bean SPICY Crockpot Chili is a go to recipe for really any holiday or gathering with friends & family! Ps – don't be intimidated by the long list of ingredients; it's mainly seasoning/canned foods/condiments!
13. Chili Lime Turkey Burgers
We have all had a grilled turkey burger that is dry, overcooked, and under-seasoned! Let me save you from that fate ever again with this amazing recipe for Grilled Chili Lime Turkey Burgers. This is a perfectly seasoned and flavorful, juicy turkey burger recipe!
I hope you love these Quick Ground Turkey Recipes! Enjoy!
More resources you might appreciate: soups and stews recipes, beef and pork recipes, poultry recipes and meal prep recipes.

I'd love to see what you made!!
Share it with me on Instagram or Facebook and tag me @krolls_korner or use the hashtag #KrollsKorner!