Parmesan Pesto Over Eggs
Appetizers & Snacks | Published on Apr 18, 2019 | Last modified on Aug 20, 2019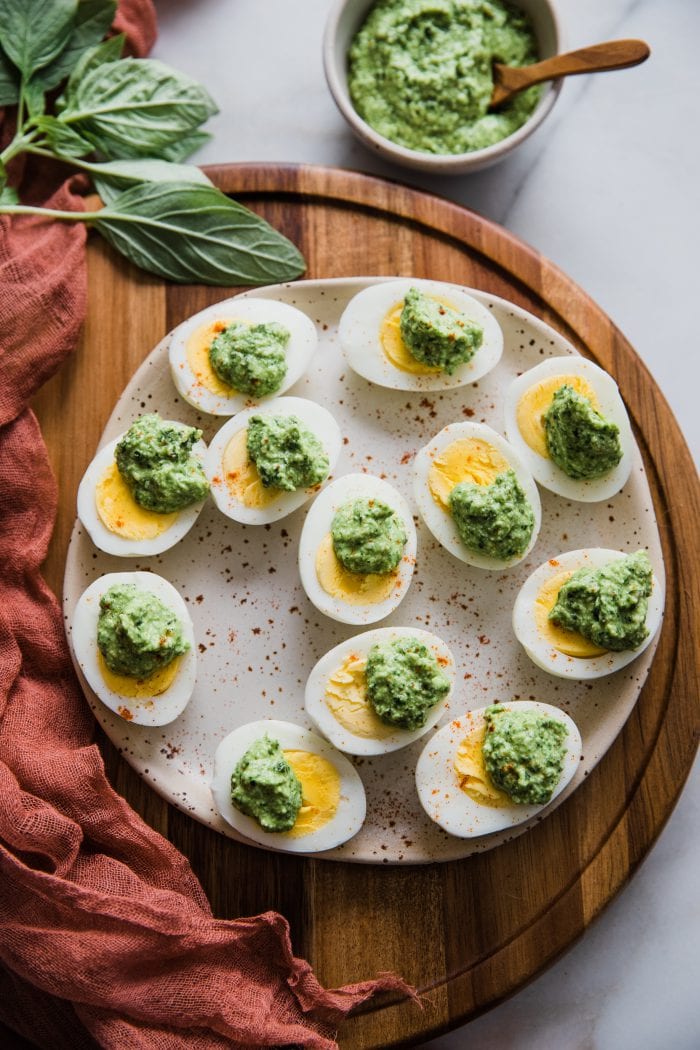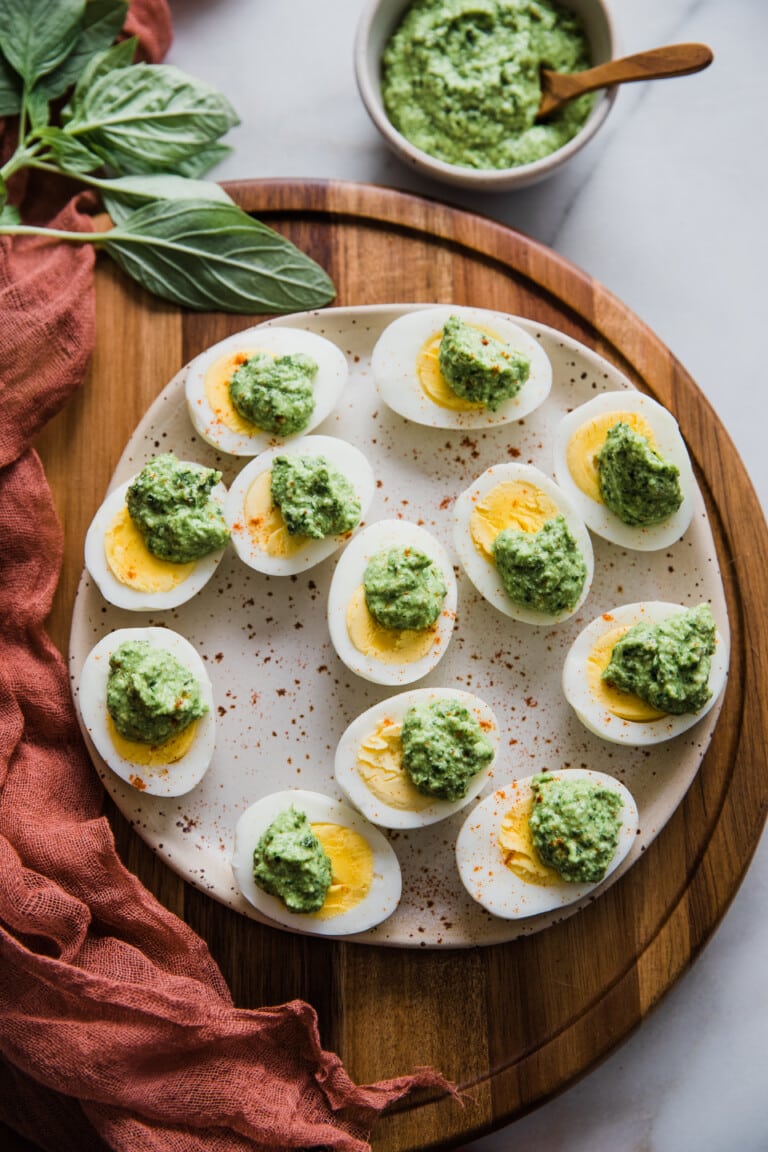 Parmesan Pesto alone is delicious…but paired with hard boiled eggs just takes things up a notch! Perfect for Easter, or any Spring occasion!
This versatile pesto is so delicious and has such a wonderful flavor. You can serve it over boiled eggs like I did in this recipe, or toss with some pasta, zucchini noodles, or even spaghetti squash.
With Easter right around the corner, this could be a perfect addition for a family brunch.
Something new for the kids to venture out and try…and something the adults will drool over! I like these because they are packed with protein and vitamins. The pesto is loaded with fresh herbs and spinach as well for an extra boost of nutrition.
The process is quite simple as well. The most time consuming part is boiling the eggs! 🙂 I hope you get around to making this pesto because it is to.die.for!! Trust me, it's even #fianceapproved.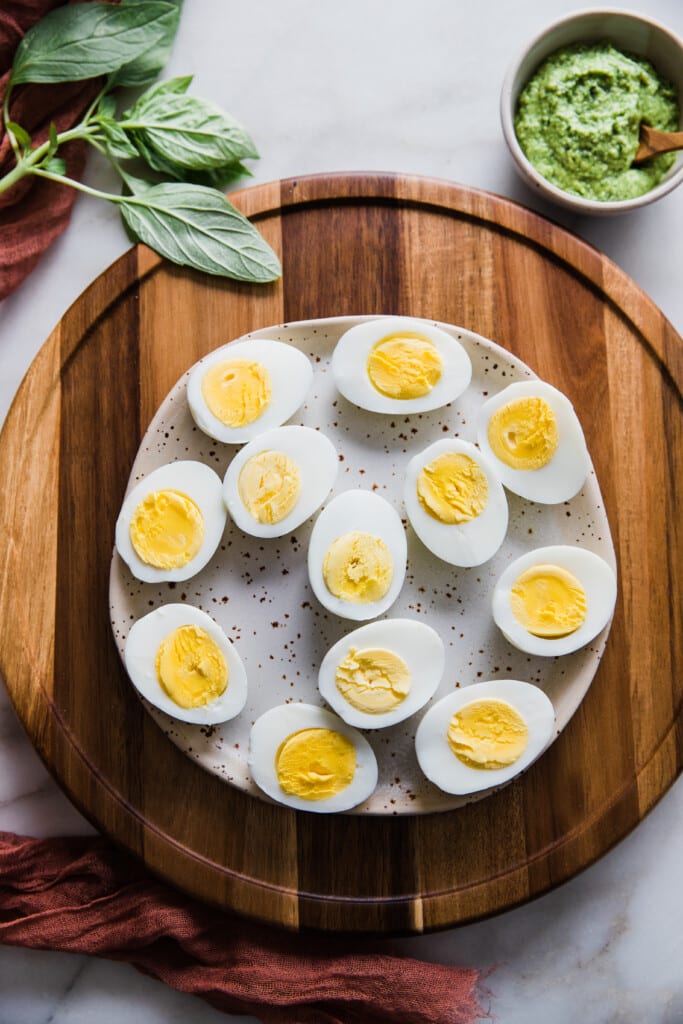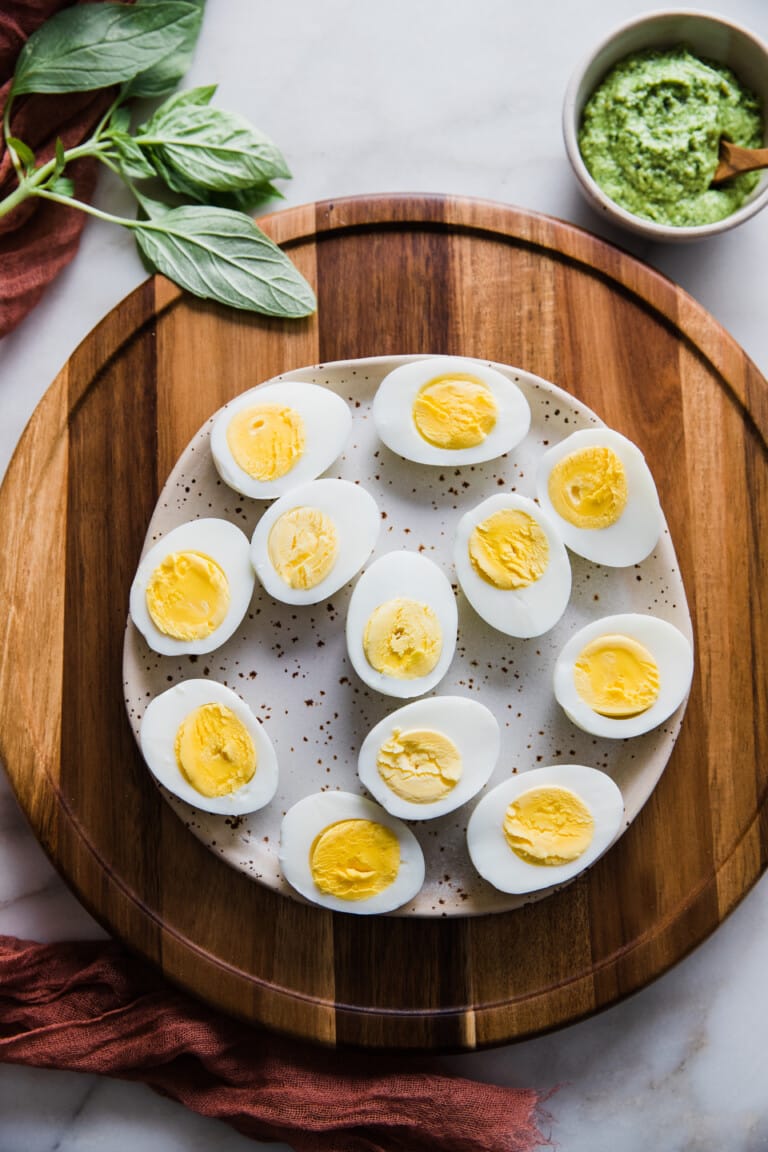 How to make Parmesan Pesto:
The pesto is super easy to make – just whip out the food processor and blend, baby, blend. If you don't have a food processor, a powerful blender will work as well.
This pesto, compared to many traditional pestos, is nut free, high in iron, and rich in flavor.
How to repurpose leftover pesto:
If you have leftover pesto in comparison to how many eggs you have boiled, I recommend tossing it in some pasta with chicken, or top in on salmon!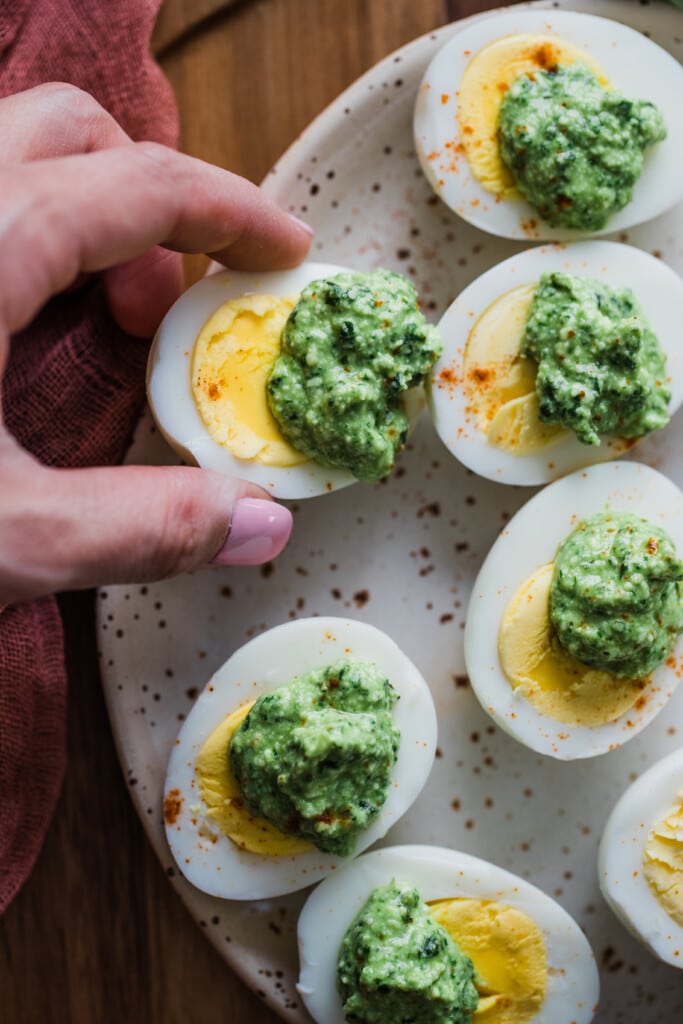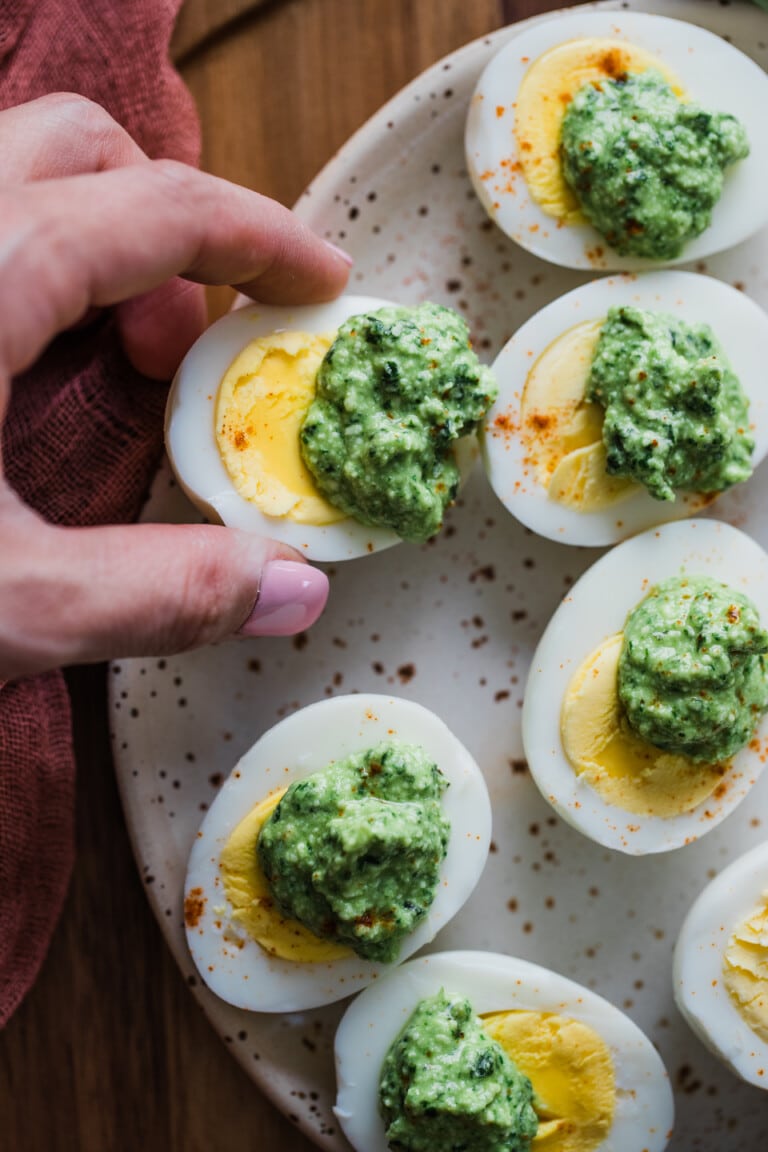 How to make the perfect hard boiled eggs every time:
If you've struggled with making hard boiled eggs, check out this post! I wrote all about how to make the perfect hard boiled eggs every time!
I also love making my hard boiled (and soft boiled) eggs in my Instant Pot! How to make hard boiled eggs in your Instant Pot? IT'S EASY! Pour in 1 cup water and place the trivet at the bottom of your Instant Pot. Carefully place a dozen eggs on the travel in a single layer. Put the lid on, plug in, make the the valve is set to sealing and cook on manual high pressure for 5 minutes.
During the 5 minutes, make an ice water bath by placing ice in a large bowl and filling about half way with water. This is for the eggs once they are done to cool them down/stop the cooking process.
Once the Instant Pot beeps, use a towel to carefully switch the valve from sealing over to venting and let the steam release for about 1 minute. Remove the lid, and place eggs in the ice water bath. Be careful, they will be hot! Use a spoon to remove from the Instant Pot.
Let them chill (literally) and then remove and peel the shells off! Magic!
Parmesan Pesto Over Eggs – perfect for Easter or any Spring time occasion! #krollskorner #spring #easter #pesto
Click To Tweet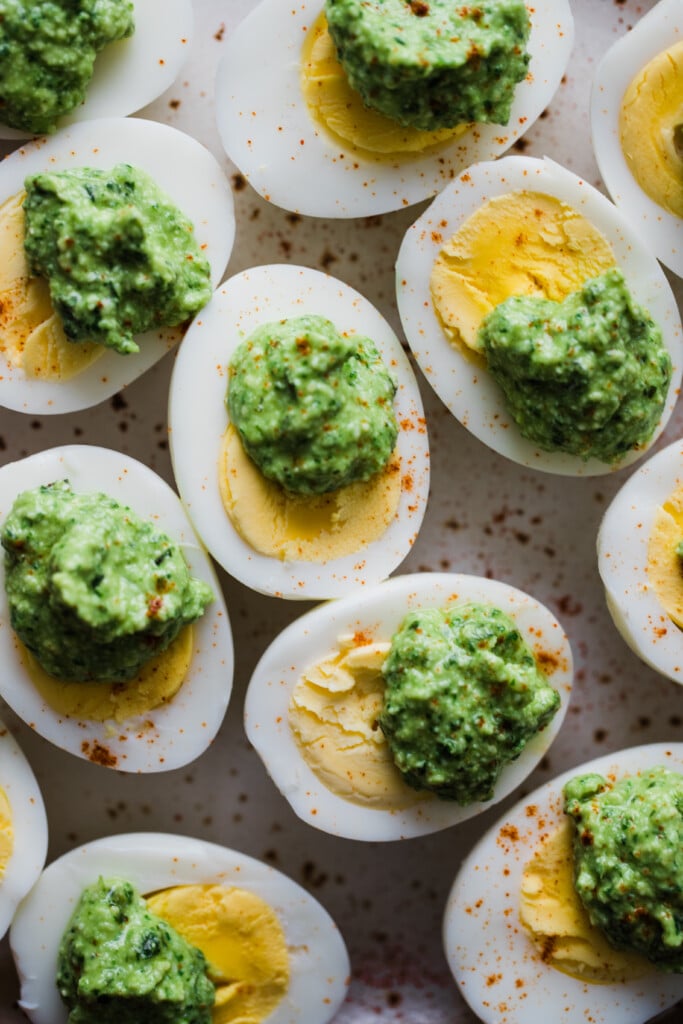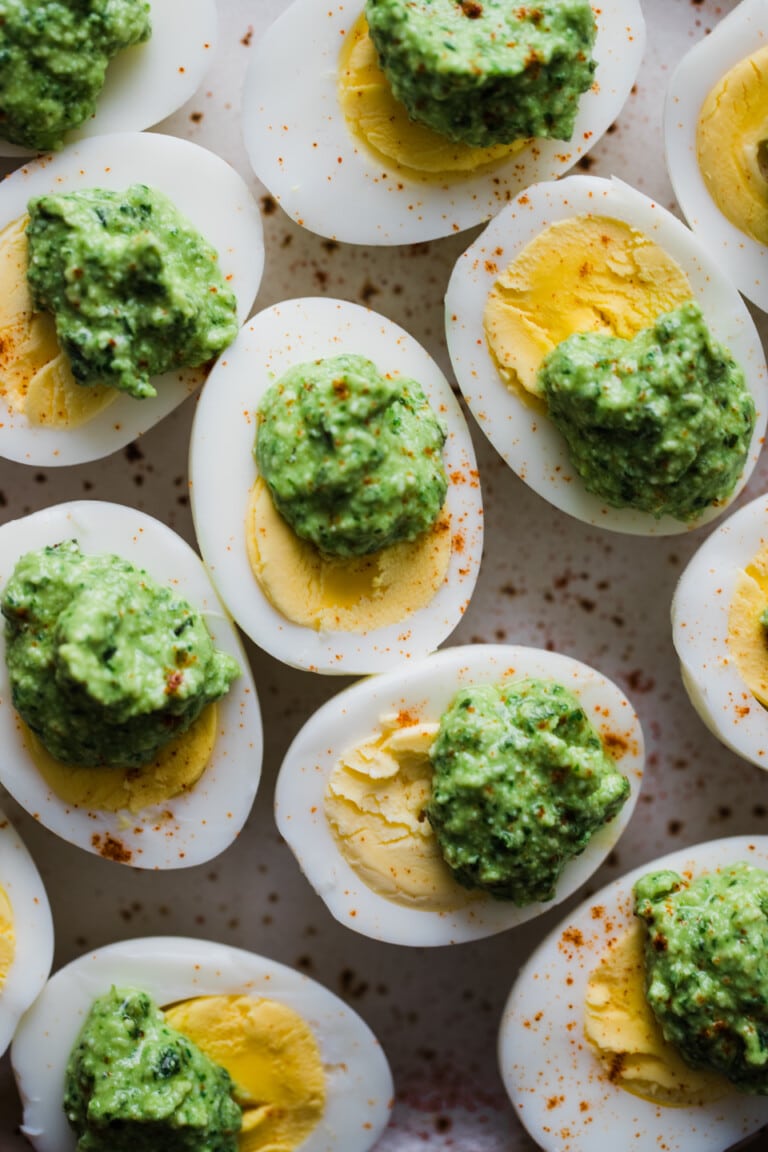 Egg talk…
Eggs have 6-7g of high-quality protein per egg. I LOVE how eggs can be included in a protein packed snack/breakfast/appetizer/ANY meal to help us sustain mental and physical energy.
Don't be afraid of the yolks: Egg yolks contain choline which promotes normal cell activity, liver function and plays a key role in the development of infant's memory functions.
Zero carbs, zero sugar…but who's counting?! (Fun fact: I personally don't count my macros. I practice intuitive eating to the best of my ability, and I just hate numbers!)
Essential amino acids…eggs have all 9! Yep, they are essential! #FoodFirst
I'll be making these on Easter Sunday for my family – what will you all be making!? Let me know in the comments below! 🙂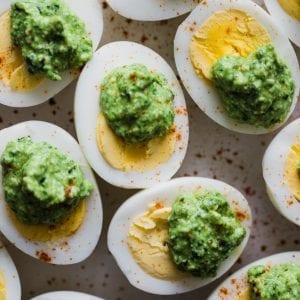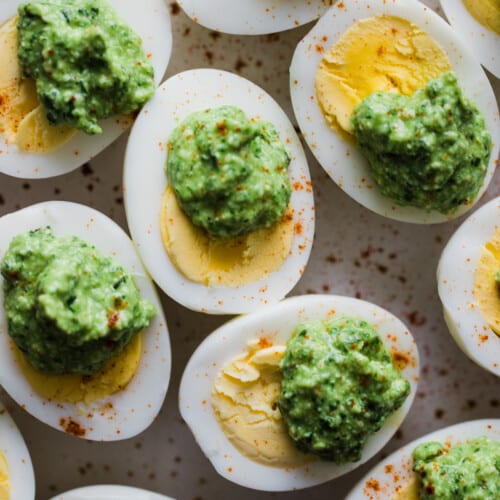 Parmesan Pesto Over Eggs
Pesto with eggs is a flavor combo you won't regret trying!!
Print Recipe
Pin Recipe
Rate
Ingredients
1 1/2

cups

Parmesan cheese, freshly grated

6

eggs

hard boiled

1

cup

Baby spinach, fresh

2/3

cup

Extra Virgin Olive Oil

1/2

cup

Basil, fresh

3

Tbsp.

cold water

1

Tbsp/

fresh lemon juice

1

Tbsp.

tarragon leaves

2

cloves

garlic, minced

1/2

tsp.

salt

pinch red pepper chili flakes
Instructions
Process all ingredients in a food processor or blender until smooth. Scrape down sides as needed. Once blended place a dollop over boiled egg halves an sprinkle with any leftover parmesan and a pinch of pepper.
Notes
Recipe inspired from Southern Living Magazine, April 2015 Edition
Nutrition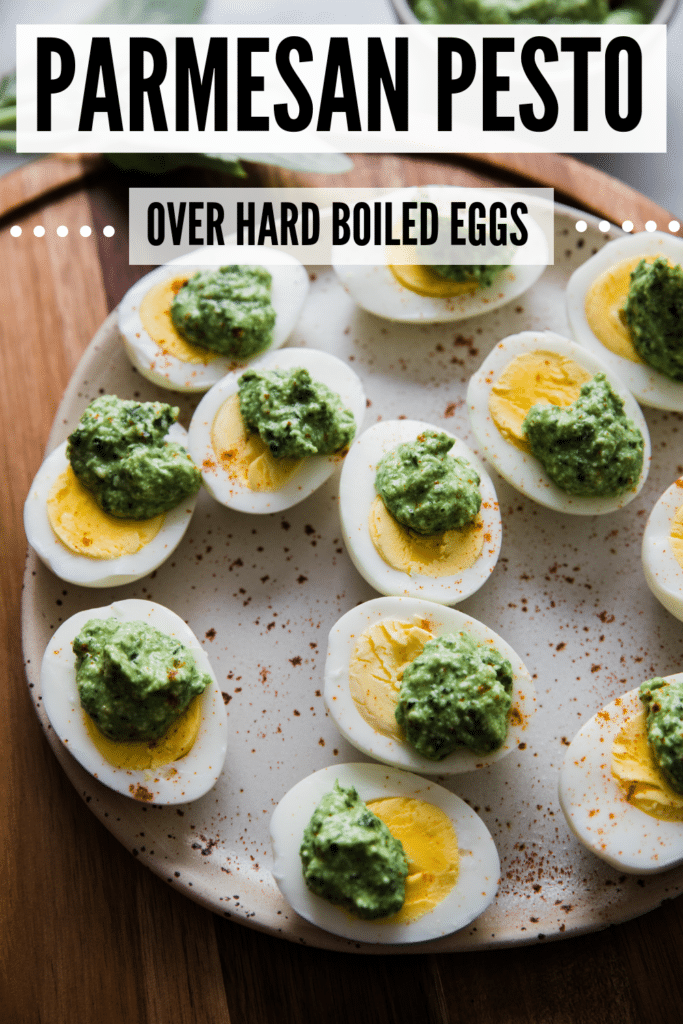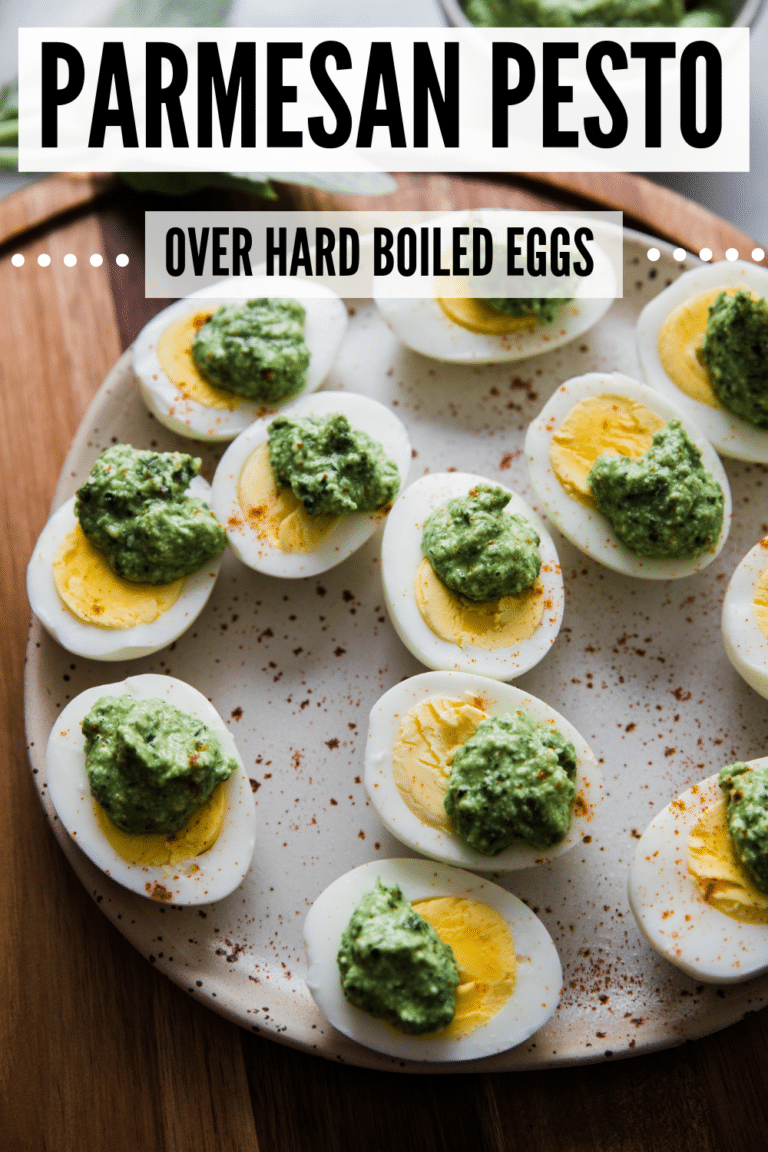 I'd love to see what you made!!
Share it with me on Instagram or Facebook and tag me @krolls_korner or use the hashtag #KrollsKorner!