Pita Pizza with Kale Pesto & Grapes
Appetizers & Snacks | Published on Apr 16, 2019 | Last modified on Aug 20, 2019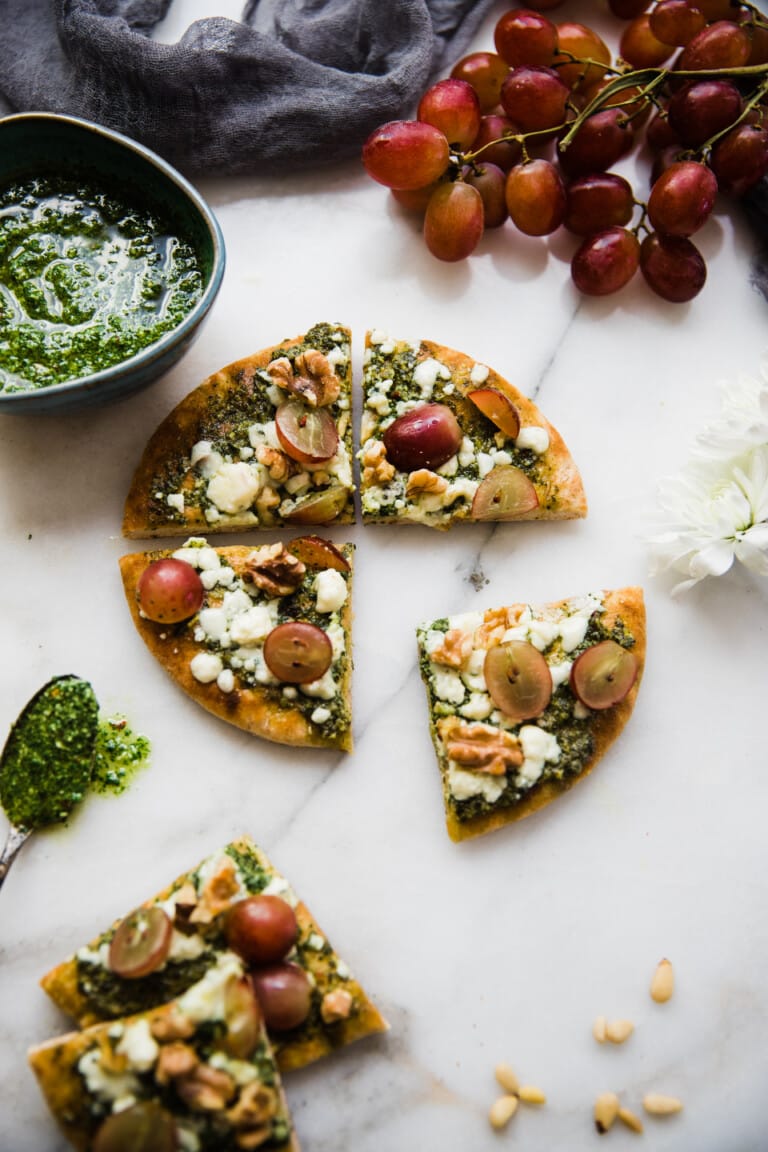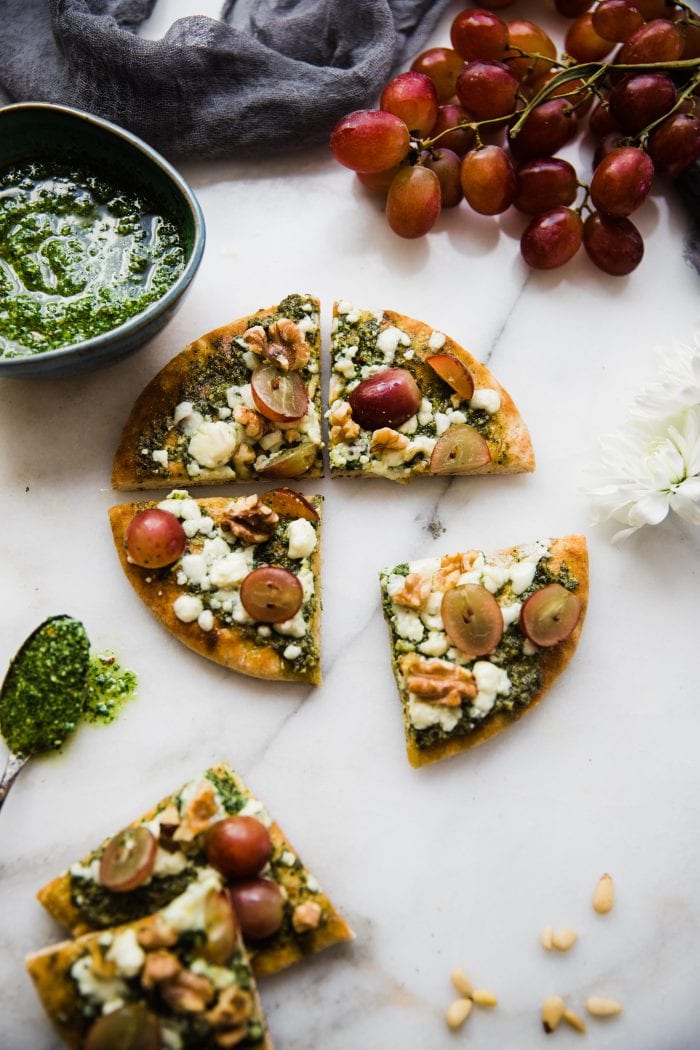 Pita Pizza with Kale Pesto & Grapes is made with a homemade kale pesto on pita bread and is an easy & nutritious appetizer to enjoy with friends or family!
I love creating ways to eat grapes besides just snacking on them!
Plus, they are healthy for us too!
All grapes—red, green and black—contain polyphenols and these polyphenols are found in every part of the grape: the skin, the flesh and the seeds.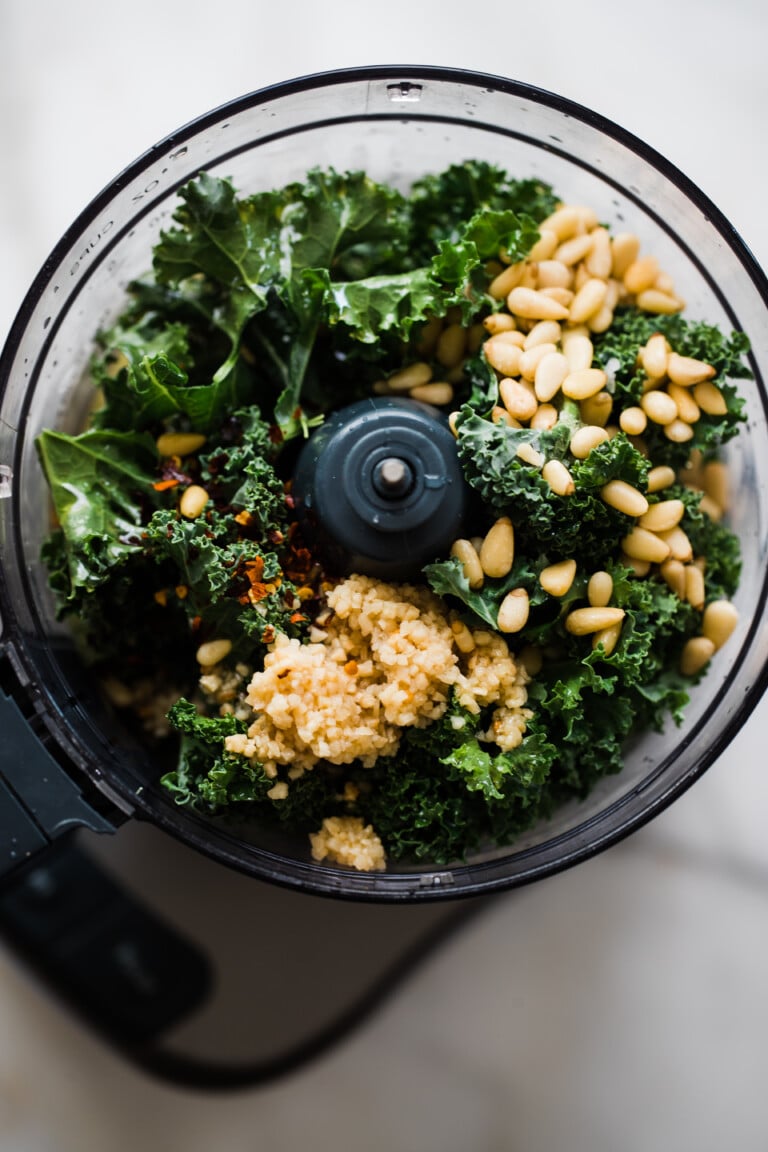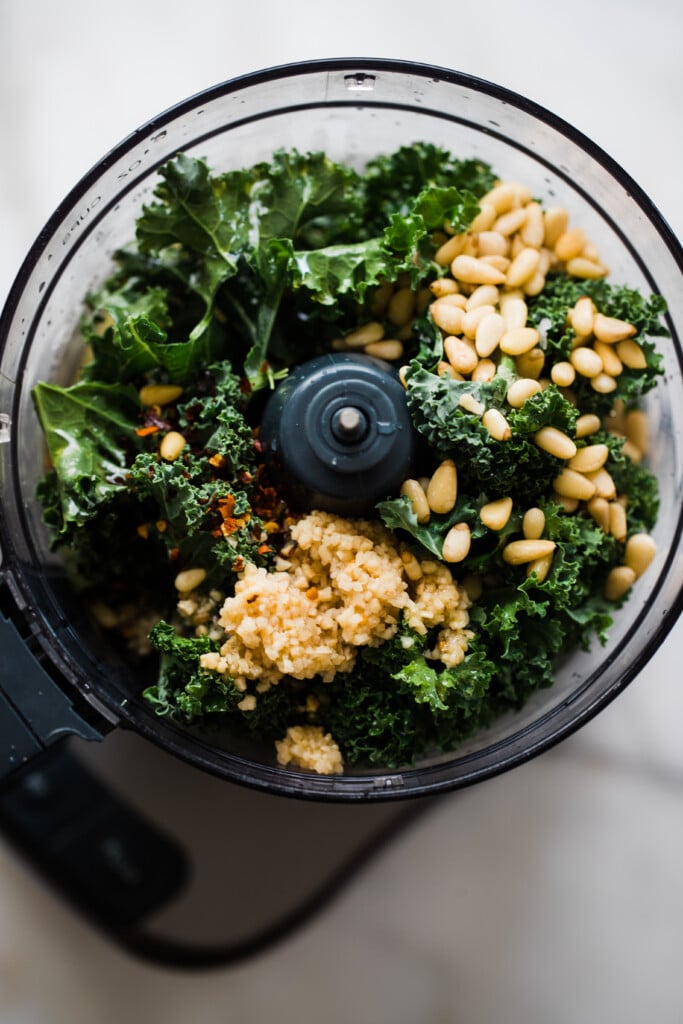 Polyphenols promote antioxidant activity and influence cell-to-cell communications. Numerous studies suggest that polyphenols contribute to heart health, with emerging evidence suggesting that they may also play a role in healthy aging. #GimmeAllTheGrapes
This recipe is so unique but can also be totally customized.
Variations for this recipe:
Not a fan of kale or like the idea of using kale to make a pesto? That's ok. Try my more traditional pesto made with basil and avocado to spread on the pita bread instead!
If you are allergic to nuts, top with prosciutto and arugula.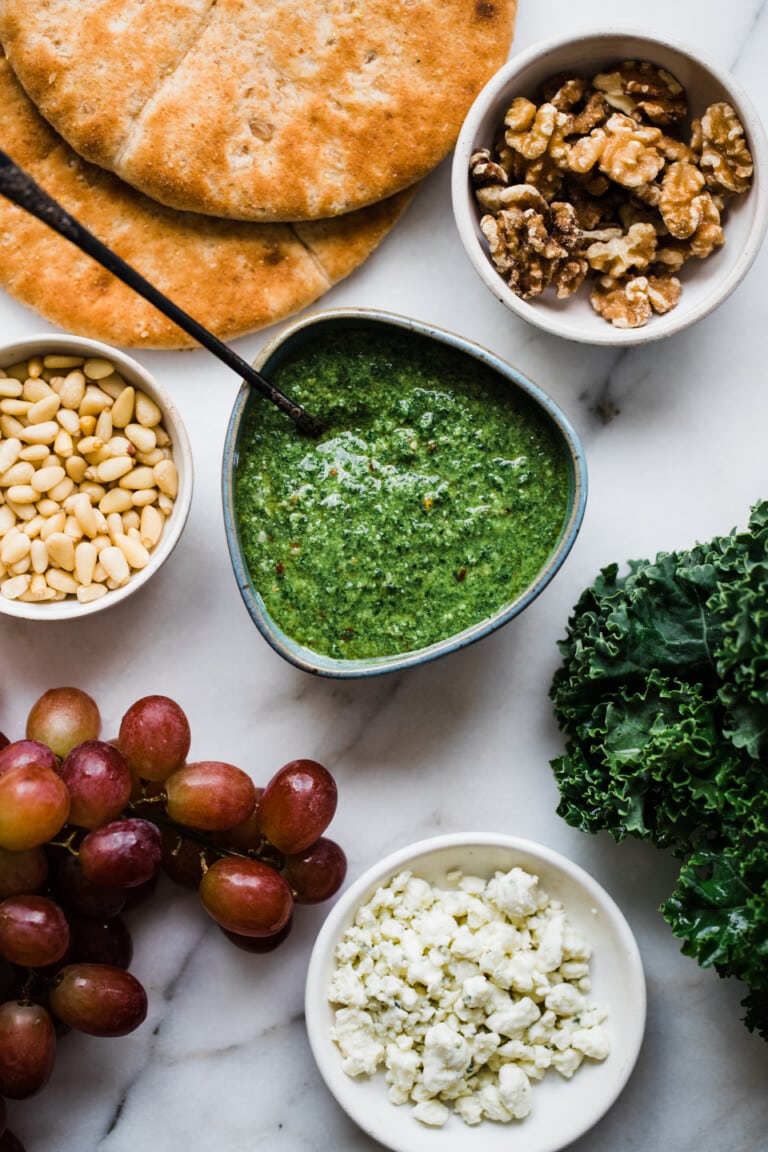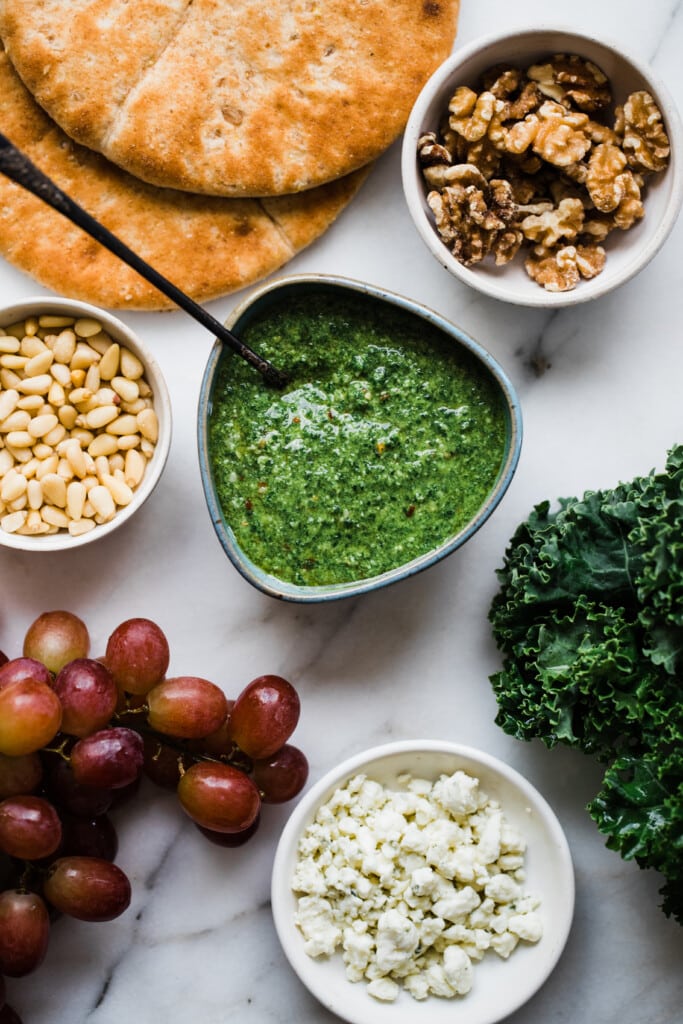 If you feel blue cheese is too strong or just are not a fan, swap it out for pecorino cheese, mozzarella, ricotta, or feta.
One of my favorite combinations for another variation of this grape flatbread is Italian sausage, kale, feta and grapes!
You can use pita bread or naan bread. Or – make this same recipe in crostini form. Slice a French-style baguette bread and follow the same directions.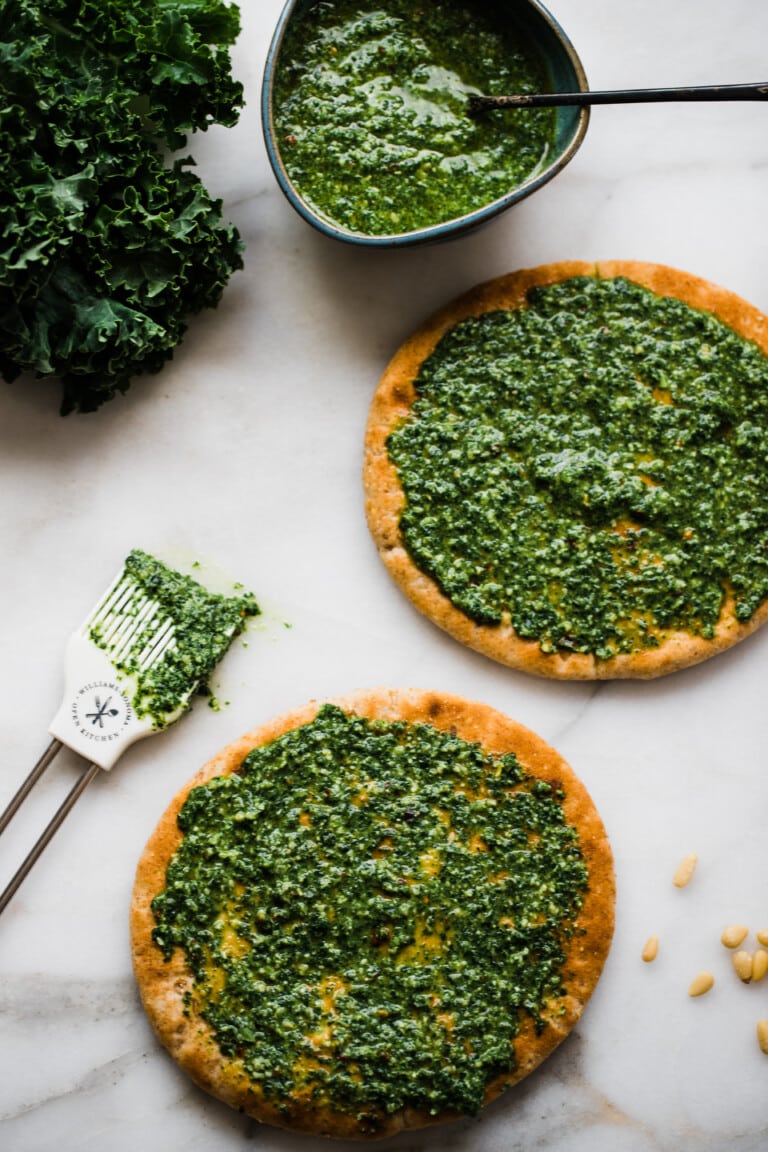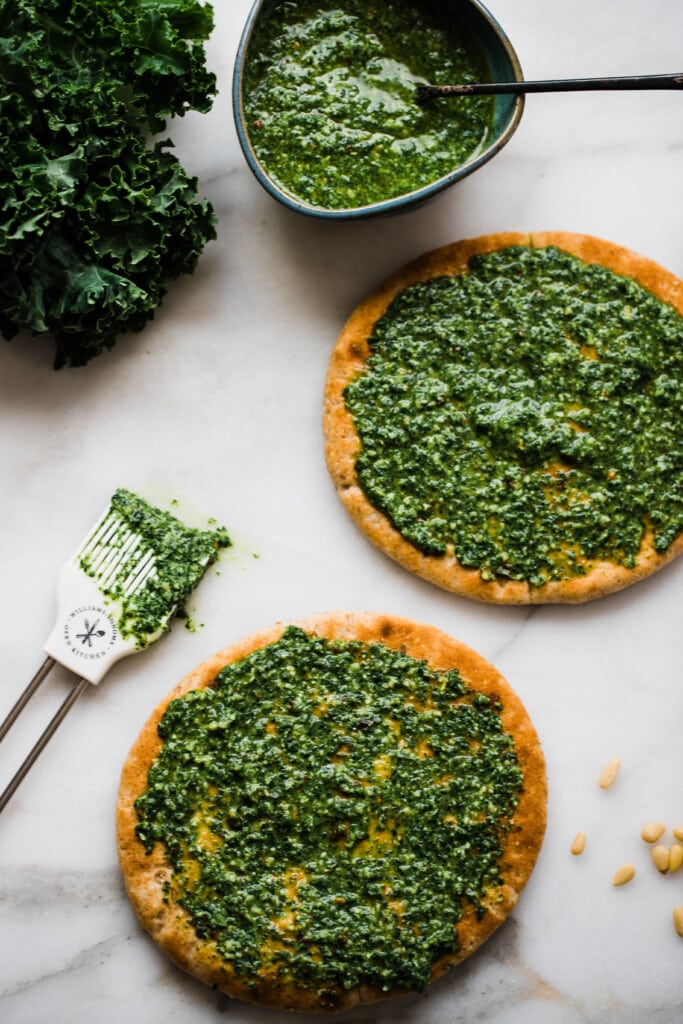 Or make the crostini with gorgonzola cheese, grapes and nut nuts!
Benefits of kale:
Great source of calcium, iron and Vitamin K, A, and C
Lowers blood pressure naturally
Detoxifies organs
Anti-inflammatory food
Loaded with antioxidants
Low in calories, high in fiber, 0g fat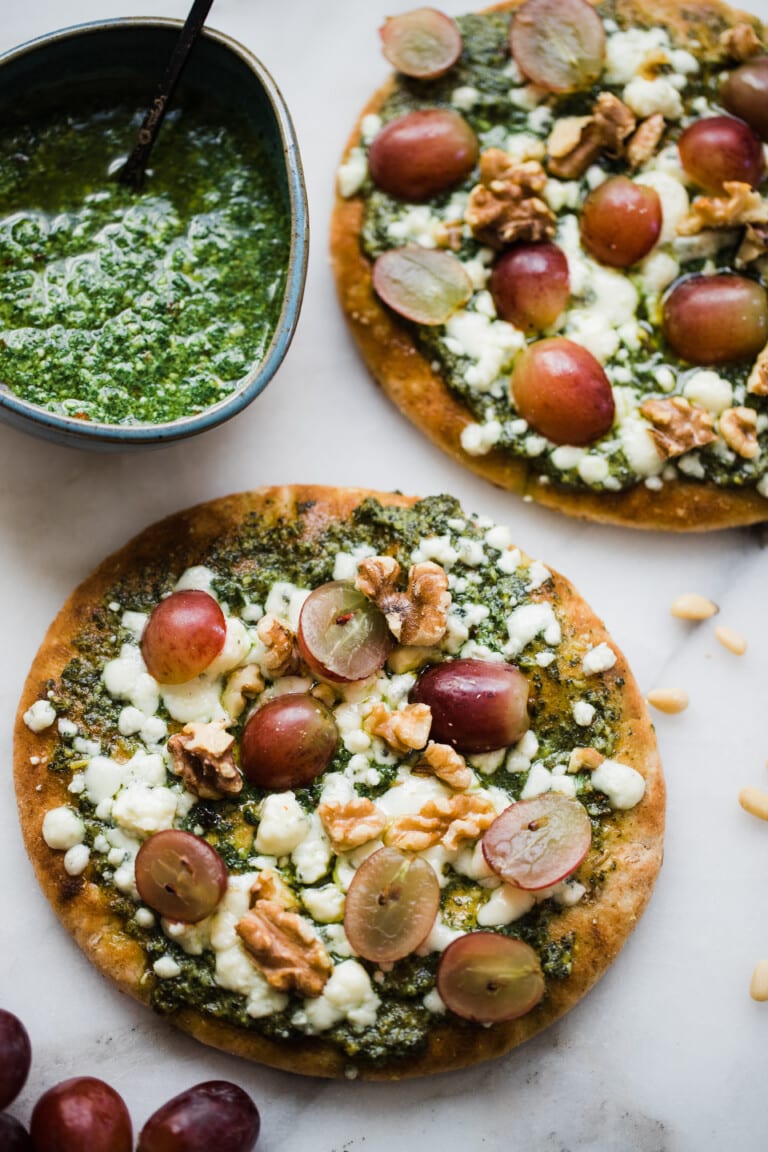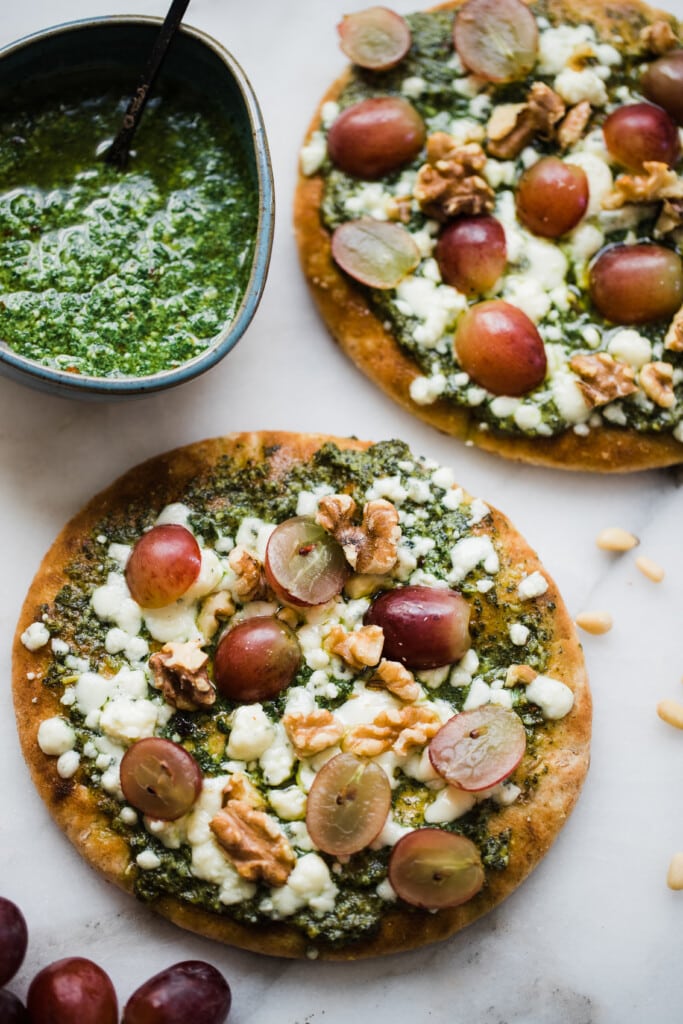 Pita Pizza with Kale Pesto & Grapes is:
Easy to make
A perfect appetizer that is unique and tasty
A fun way to enjoy grapes besides snacking on them!
Customizable
Vegetarian and can be made vegan by ditching the cheese!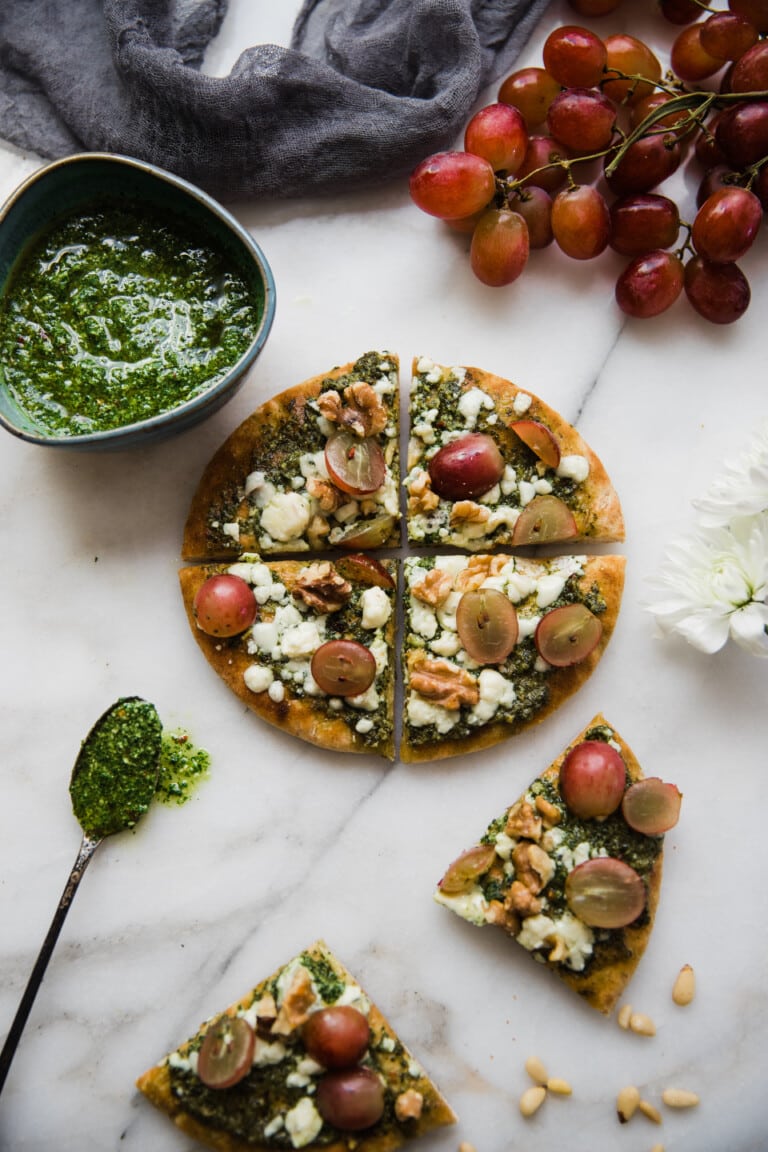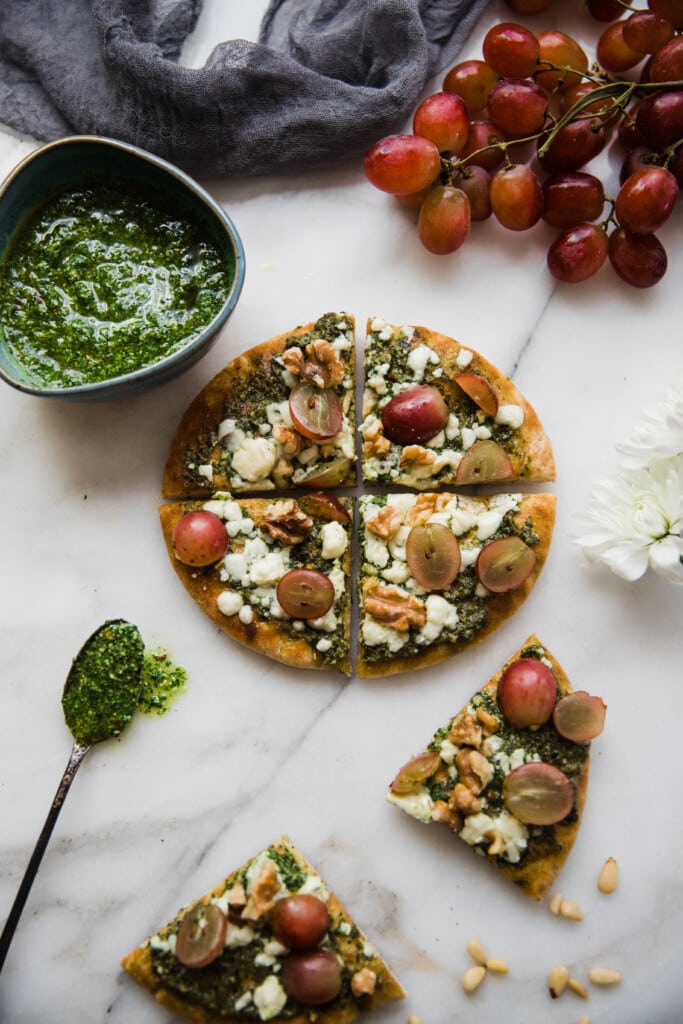 Pita Pizza with Kale Pesto and Grapes is a fun way to utilize grapes and a healthy excuse to eat pizza! #krollskorner
Click To Tweet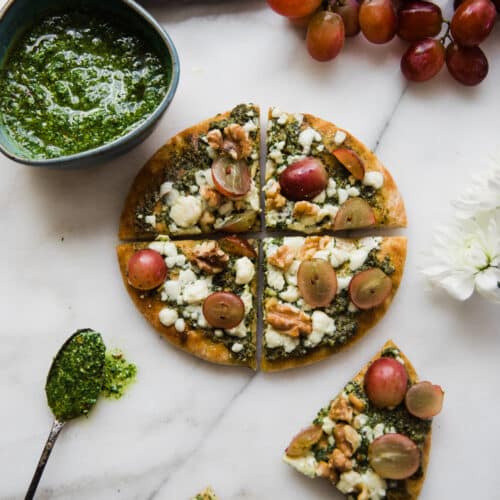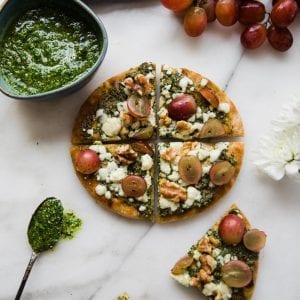 Pita Pizza with Kale Pesto & Grapes
An easy appetizer that is vegetarian and vegan friendly!
Print Recipe
Pin Recipe
Rate
Ingredients
For the kale pesto
1

bunch

kale, stems removed and chopped

1/3

cup

olive oil, avocado oil or flaxseed oil

and extra if needed

1/4

cup

pine nuts, or toasted walnuts

hemp seeds if allergic

1/4

cup

Parmesan cheese, grated

2

cloves

chopped garlic

2

Tbsp.

lemon juice

1

tsp.

red pepper flakes

Pinch

salt
For the flatbread
4

Pita bread rounds

1/2

cup

red grapes

halved

1/3

cup

crumbled blue cheese or gorgonzola

1/4

cup

walnuts, roughly chopped

2

Tbsp.

honey, for drizzling on top
Instructions
To make the kale pesto: In a food processor, pulse kale, garlic, cheese (optional), lemon juice, red pepper flakes, salt, and pine nuts until finely chopped. Add olive oil and process until smooth. Consistency should be thick, yet spreadable.

To make the pita pizzas: Preheat oven to 350 degrees F. Place pita on baking sheet and spread with the kale pesto. Top with the grapes, cheese, and walnuts. Bake 8-10 minutes, cool slightly, drizzle with honey and cut the pizza into 4 pieces. Serve immediately.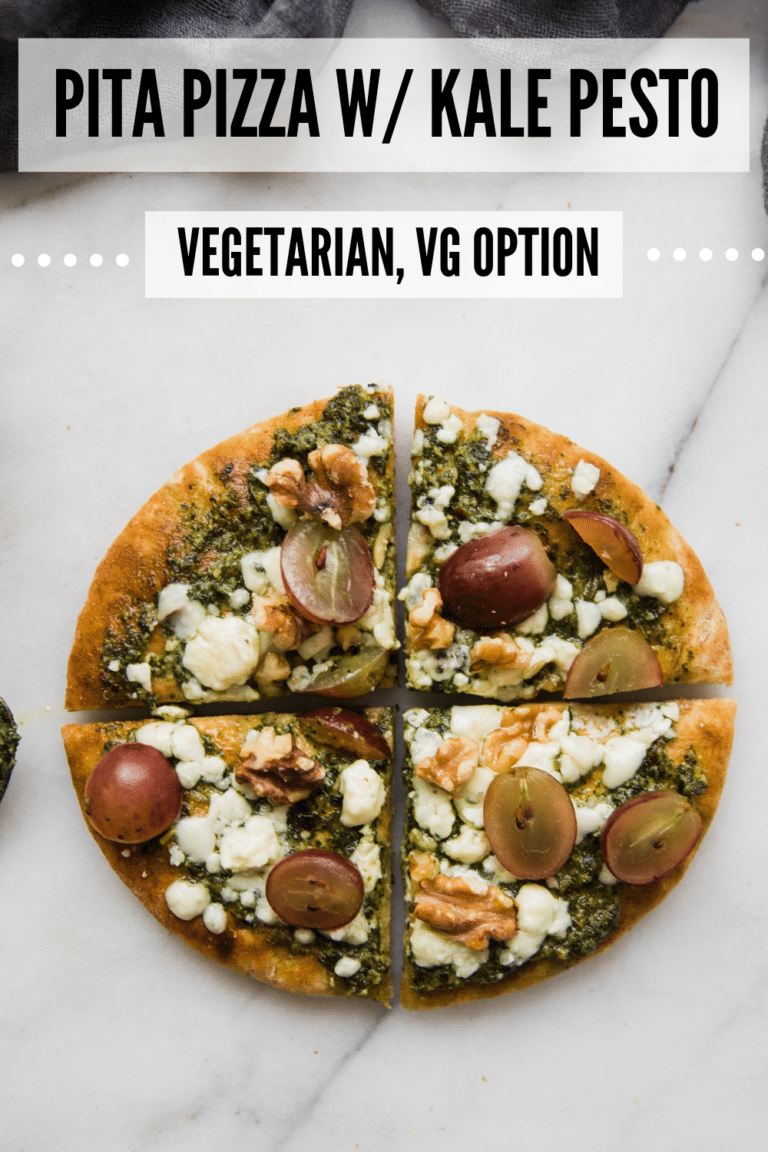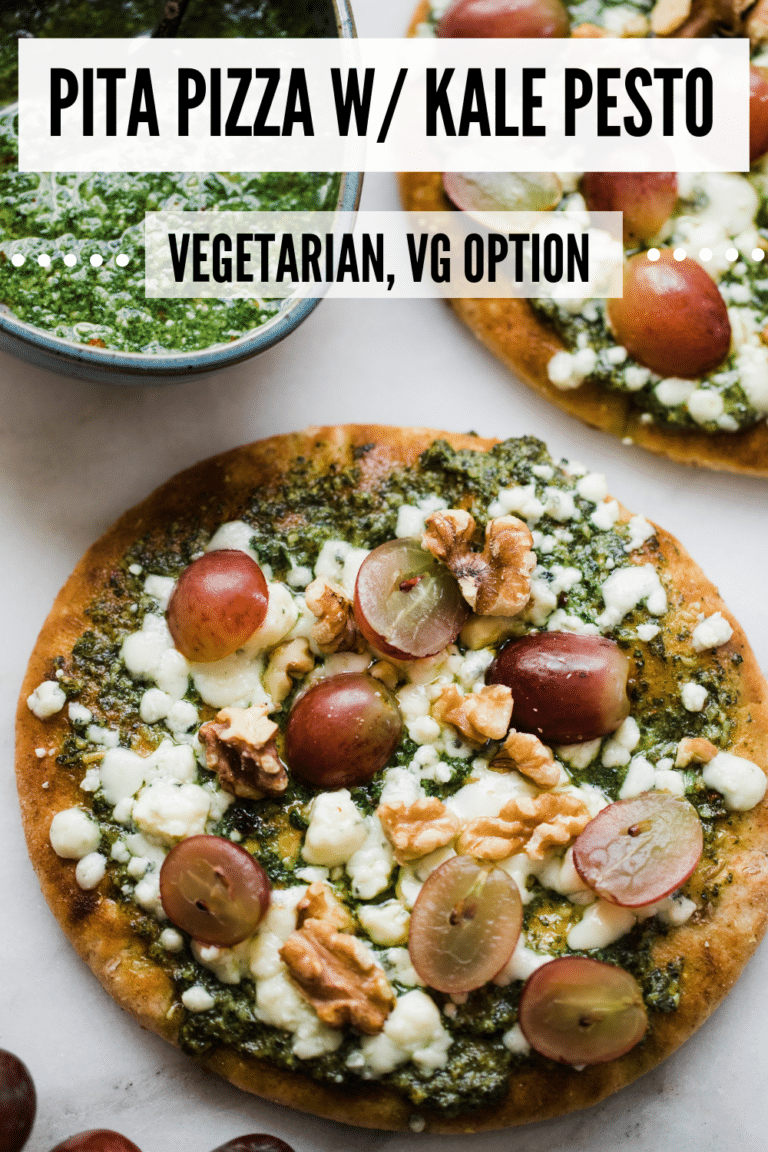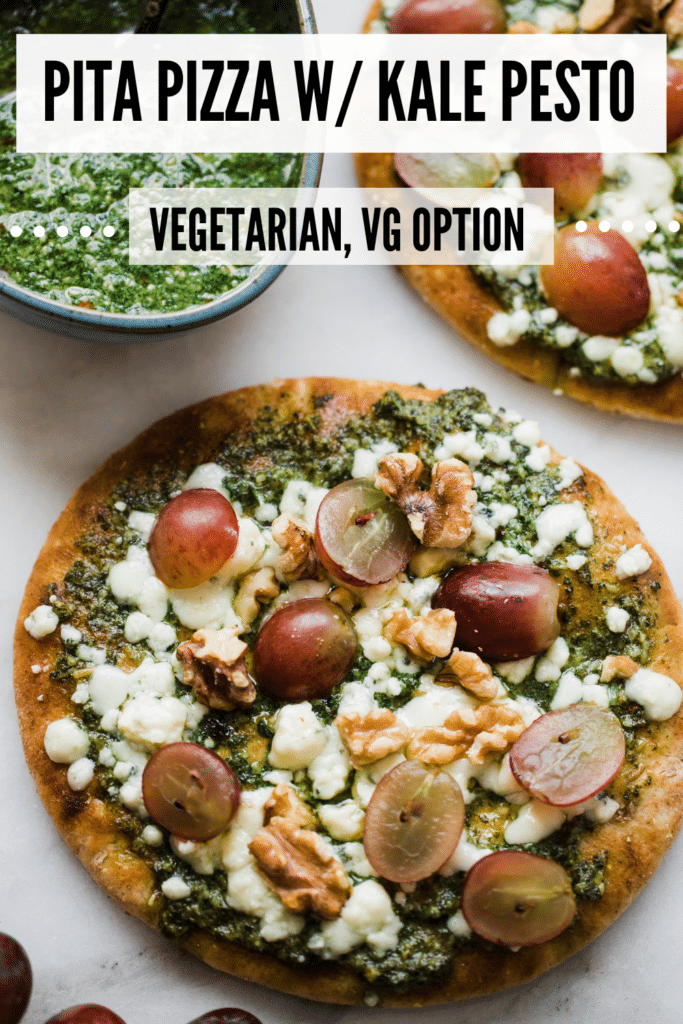 I'd love to see what you made!!
Share it with me on Instagram or Facebook and tag me @krolls_korner or use the hashtag #KrollsKorner!