Avocado Pesto Pasta with Hemp Seeds
Dairy-Free | Published on Jan 5, 2019 | Last modified on Aug 20, 2019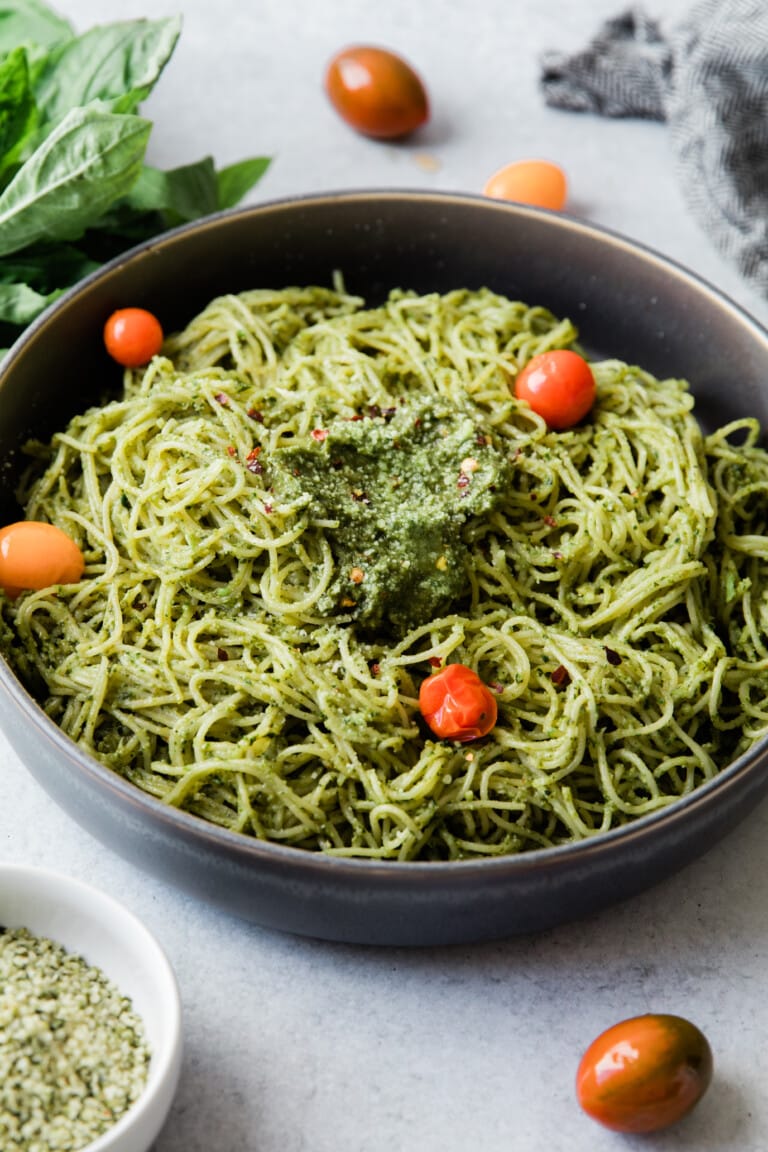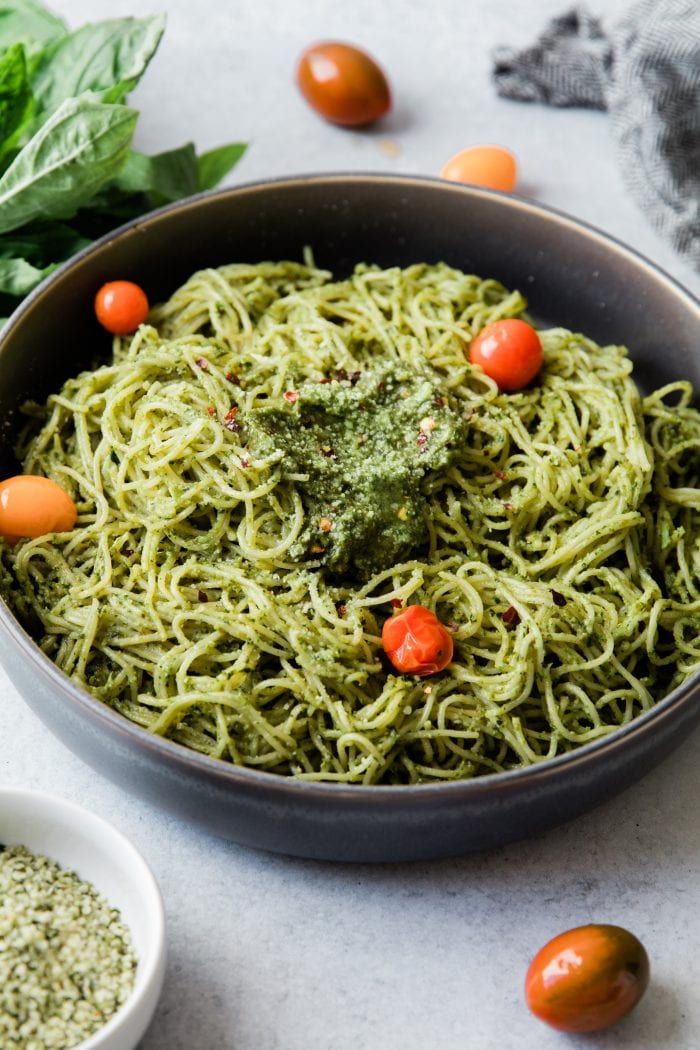 Avocado adds a silky consistency and richness to this amazing dairy-free pesto pasta recipe. You can toss it with pasta but also enjoy as a spread on a sandwich as a mayo substitute, or even use it for a veggie dip!
Happy 2019! My first blog post in the New Year had to be pasta! Especially a pesto pasta since pesto is a stable in my house. We often add avocado to our homemade pesto to give it that extra creaminess factor.
If I wasn't marrying Cameron, I would probably marry pesto! Haha. I love that it is indulgent but not overly-rich thanks to the heart healthy avocados and olive oil.
This recipe also happens to be vegan, but you can also add Parmesan cheese if you'd like! I usually make this for a meal prep on Sunday's to have for dinners throughout the week. It usually lasts 2-4 days in fridge, but I would recommend eating it sooner than later because it does turn a brownish color once it sits for a while due to the avocado.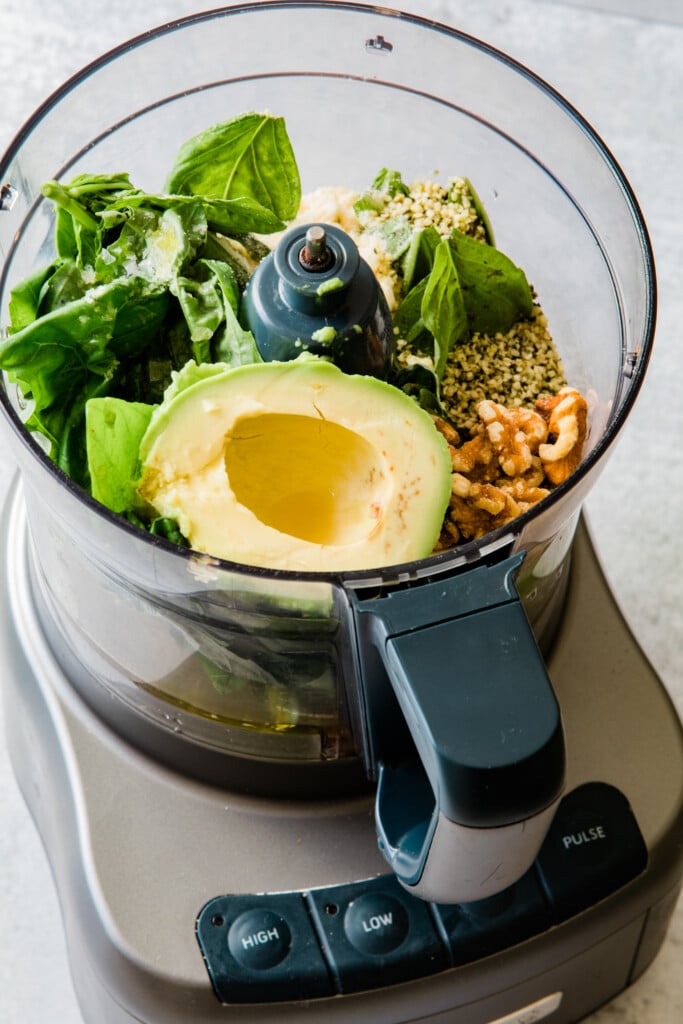 What makes up a traditional pesto?
A tradition pesto usually includes:
Fresh basil
Parmesan
Pine nuts
Olive oil
Garlic
Salt
This avocado pesto recipe is easy, vegan, gluten free and creamy! It's packed with nutrition from the avocado, nuts, olive oil and hemp seeds! #krollskorner
Click To Tweet
How my pesto is different:
I add a few Dietitian tricks that I have up my sleeve to add more nutrients to the pesto.
I love to use walnuts in place of the pine nuts, I add in hemp seeds for a boost of protein, fiber and omegas, and I also use the avocado for more healthy fats!
My pesto has no cheese, but you can add in Parmesan if you would like! It add a nice salty flavor.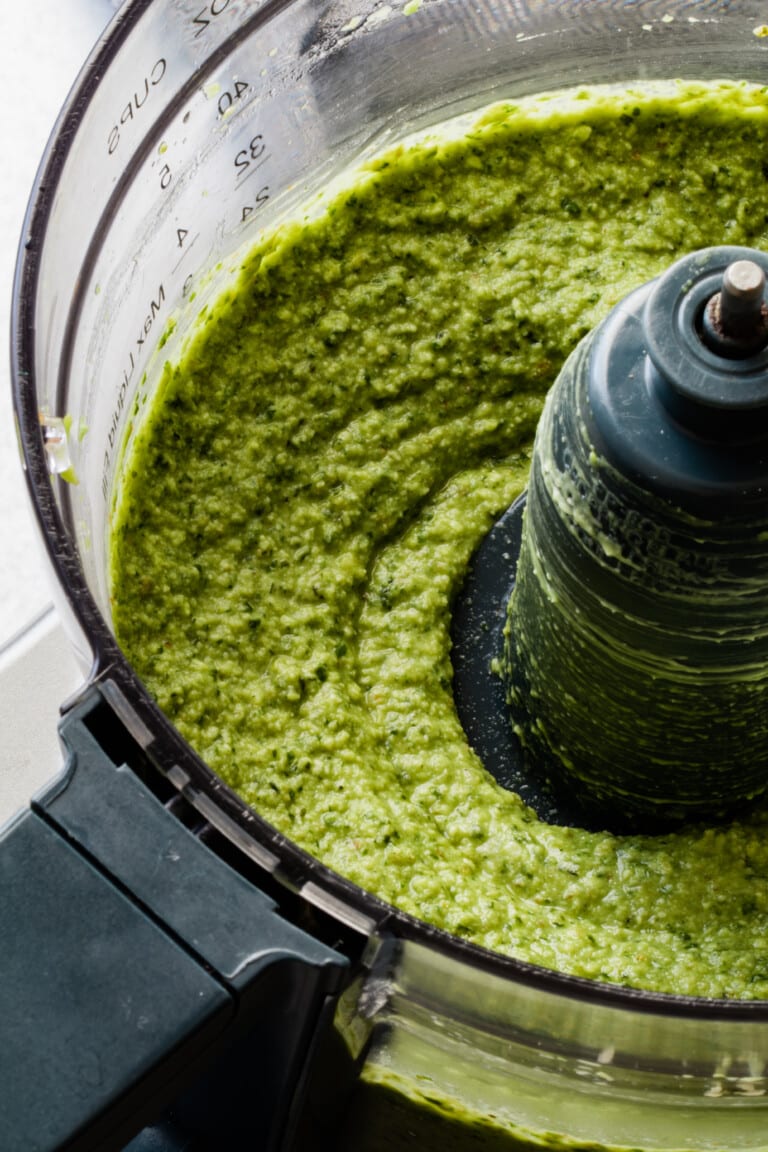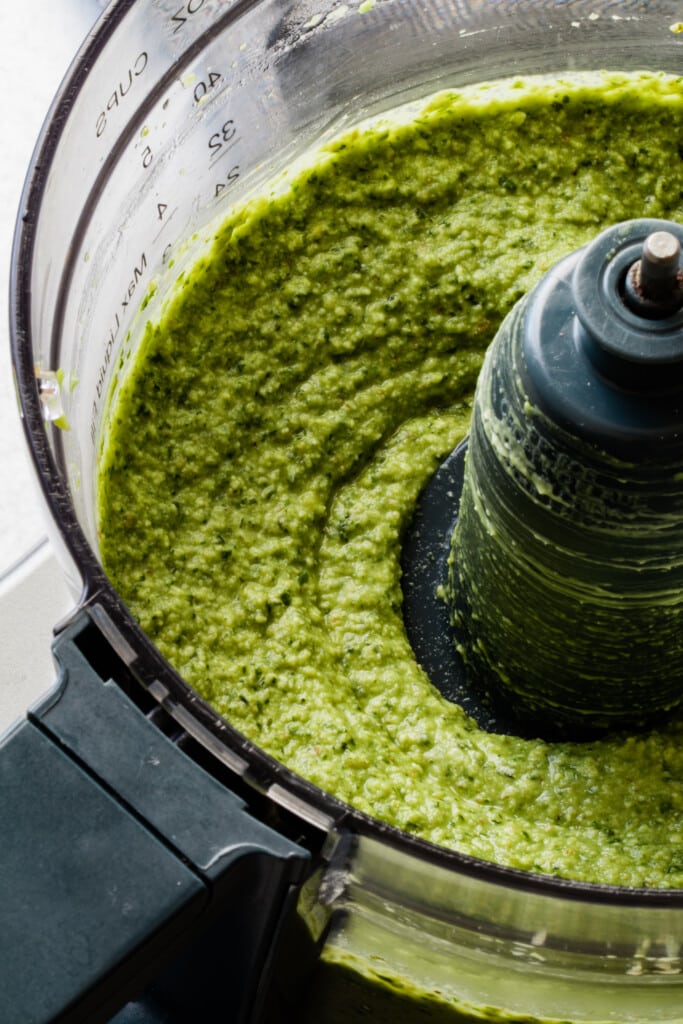 How to make pesto:
I make my pesto typically in the food processor. You can also use a powerful blender to make it nice and smooth as well. I like the food processor or blender run for a few minutes to ensure it's the consistency I prefer. Adjust seasonings and olive oil as you blend.
How to make the BEST PESTO PASTA:
Dietitian Tawnie's Tip: Reserve some of the starchy water from the pasta. When you go to drain your noodles, reserve some of the water. Mix some of this water into the pesto just before you mix it in with the noodles to dilute the sauce and so it can adhere to your noodles.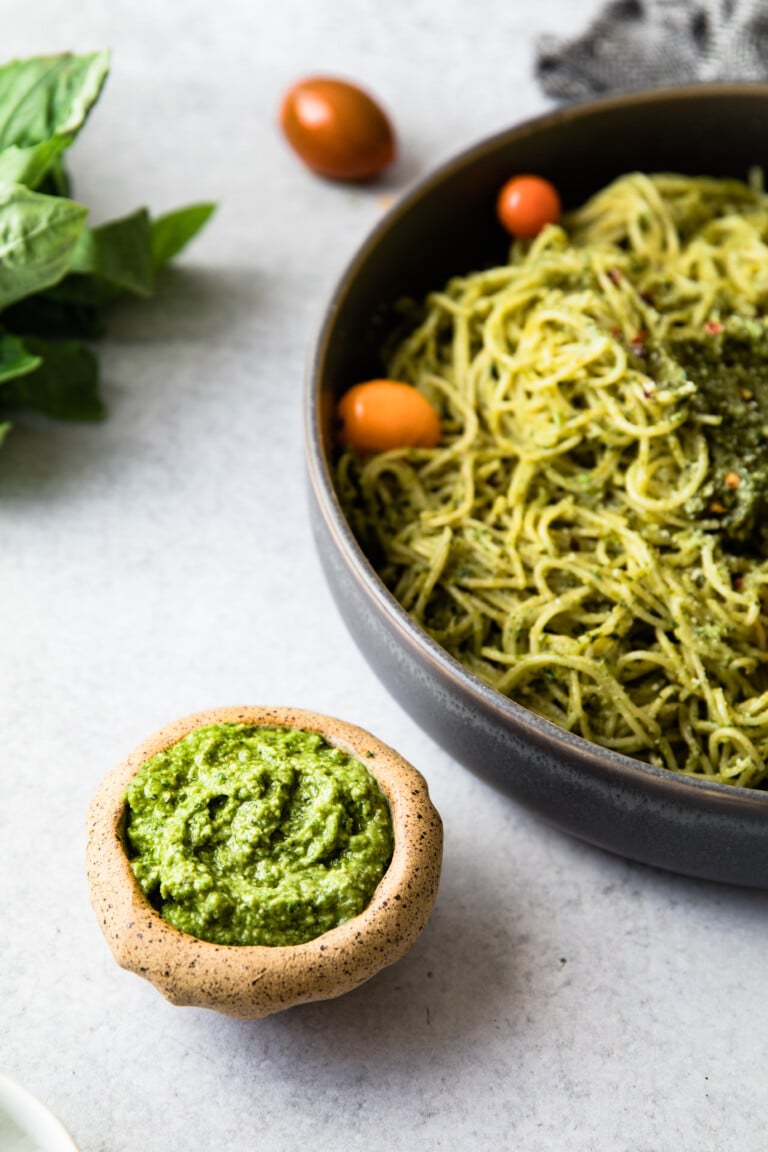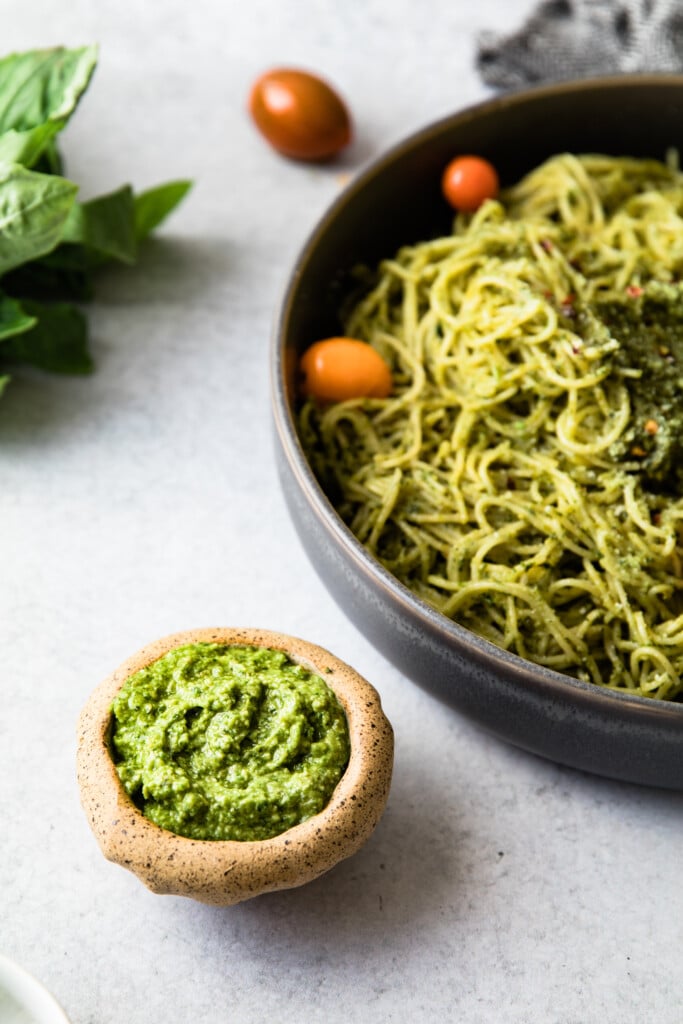 Substitutions for this recipe:
If you don't have walnuts, you can use pine nuts or pistachios. Check out my delicious Pistachio Pesto recipe!
If you want to have Parmesan that's a great addition. If you're vegan and want that cheesy flavor, nutritional yeast is a great option. I love adding nutritional yeast to my recipes!
You can add fresh spinach if you have some on hand as well – I have a great spinach lemon pesto recipe you'd love too!
Cutting down on carbs or on keto diet? Make this recipe with zoodles! Spiralize your zucchini or use on spaghetti squash for a low carbohydrate option.
No olive oil? Avocado oil works well too. Or if you have an additional avocado I would add that and adjust consistency by adding water. I love sneaking in avocado … these black bean avocado brownies are proof!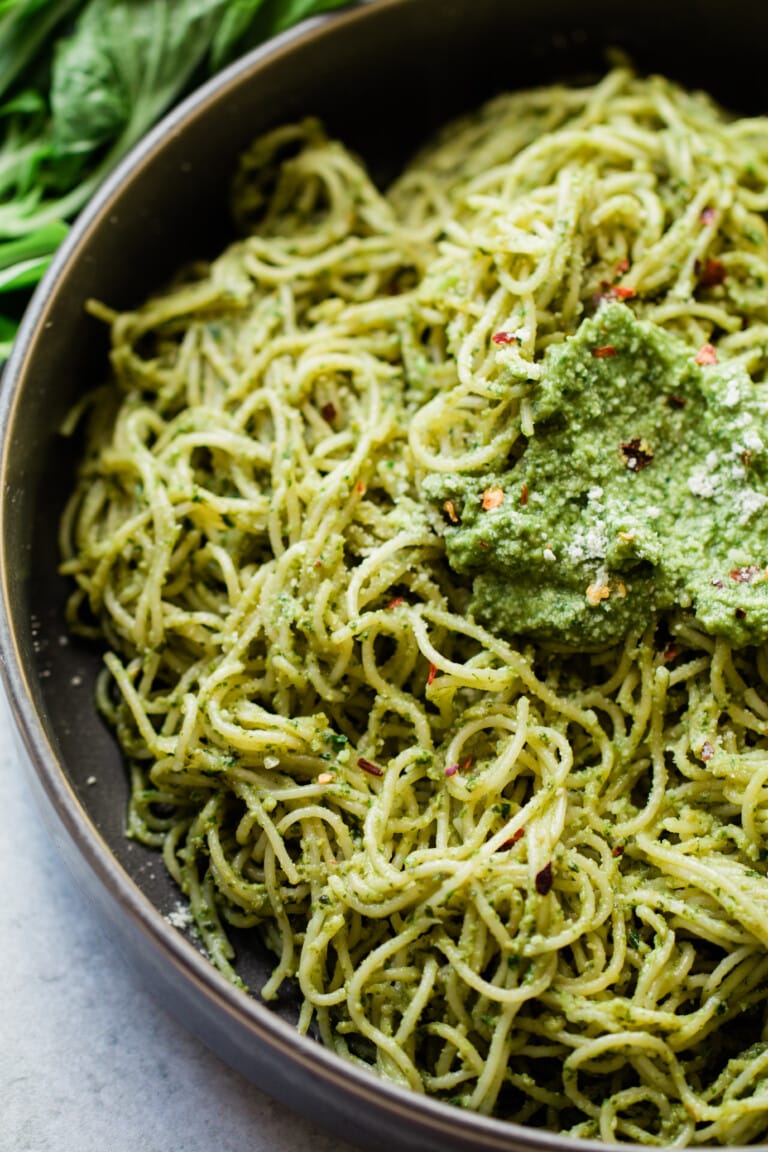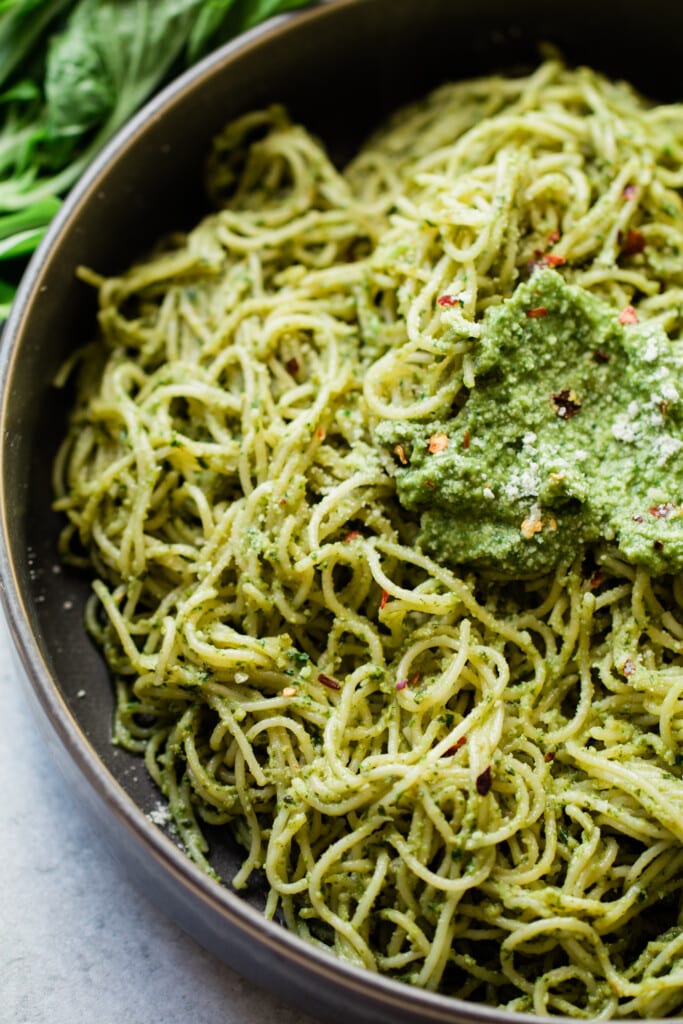 Be mindful of portions:
This pesto does contain a plethora of healthy ingredients – but keep in mind these healthy "good-for-you fats" also add up in calories fast! Balance your plate out with some pasta, chicken and roasted tomatoes for a well rounded meal.
Yes, this pesto is also gluten free too!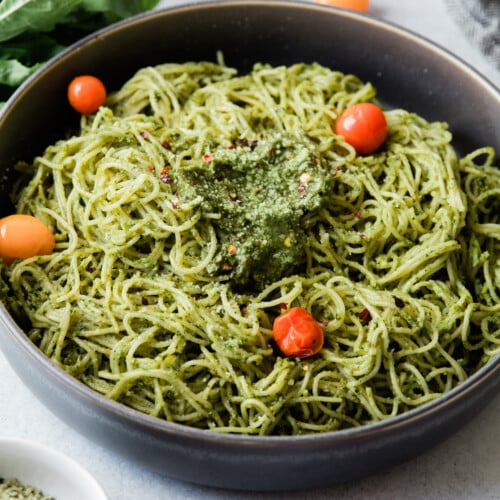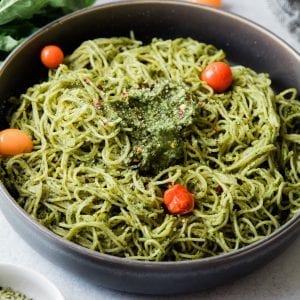 Avocado Pesto Pasta with Hemp Seeds
This pesto is free of gluten and dairy but full of nutrition! This avocado pesto can be enjoyed liberally over pasta, on sandwiches or as a dip for veggies. The ripe avocado lends it's smooth and creamy texture to this healthy pesto and it's complimented with fresh lemon, hemp seeds and crushed garlic. You'll end up with a light, yet nutritionally satisfying pesto pasta everyone will enjoy.
Print Recipe
Pin Recipe
Rate
Ingredients
For the pesto:
1

avocado

4

Tbsp.

extra virgin olive oil

2

bunches

Fresh Basil

1/2

cup

walnuts

2

Tbsp.

lemon juice

1

Tbsp.

hemp seeds

1/2

tsp.

salt
For the pasta:
1

lb.

angle hair or spaghetti

1/2

cup

cherry tomatoes, sliced

pinch of salt

2

Tbsp.

Extra Virgin Olive Oil

1/2

cup

reserved pasta water
Instructions
Boil water for pasta and follow package directions. Be sure to reserve some of your pasta water – this is helpful for a creamy pasta with this pesto! After you drain the pasta, toss the olive oil in the pasta so it doesn't get sticky and add a pinch of salt on top, set aside.

In a food processor or powerful blender, mix all ingredients for pesto together until smooth. Adjust olive oil and seasonings to your preference.

Add in the pasta water to the pasta, mix in the pesto until noodles are coated well, garnish with tomatoes and enjoy!
Notes
Pine nuts or pistachios may be substituted for walnuts.
1/4 cup Nutritional yeast or parmesan cheese can be added to this recipe. You may need to add a Tbsp. or so of water to get proper consistency if you add either of these ingredients in.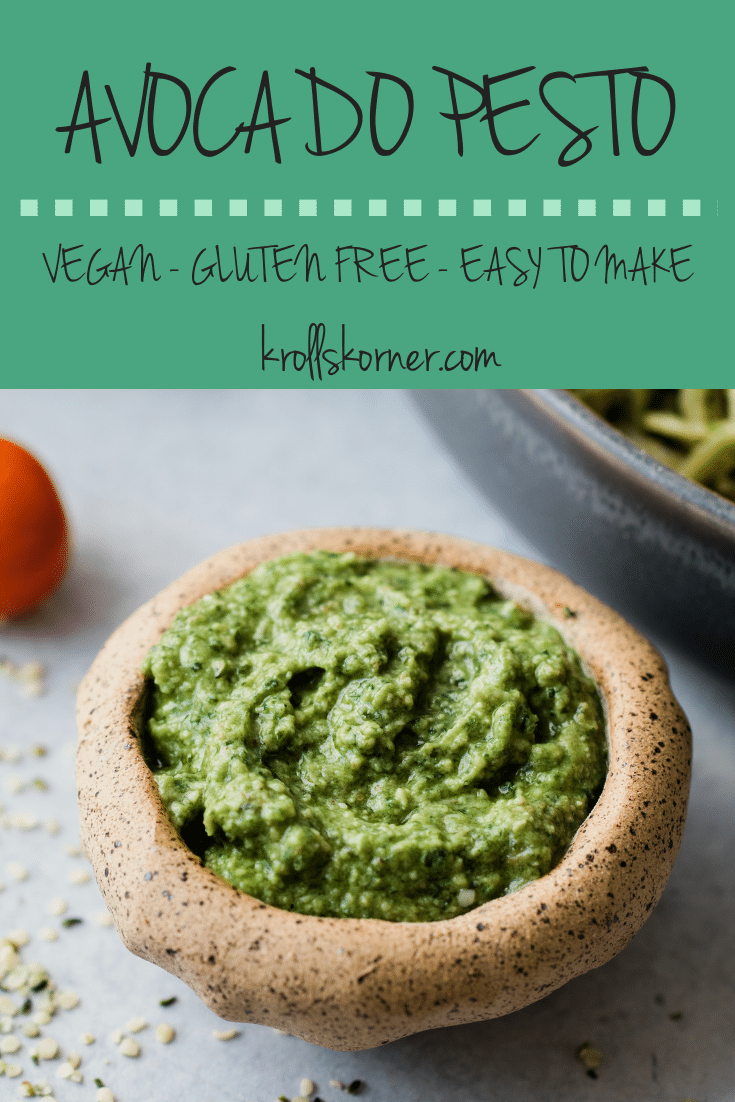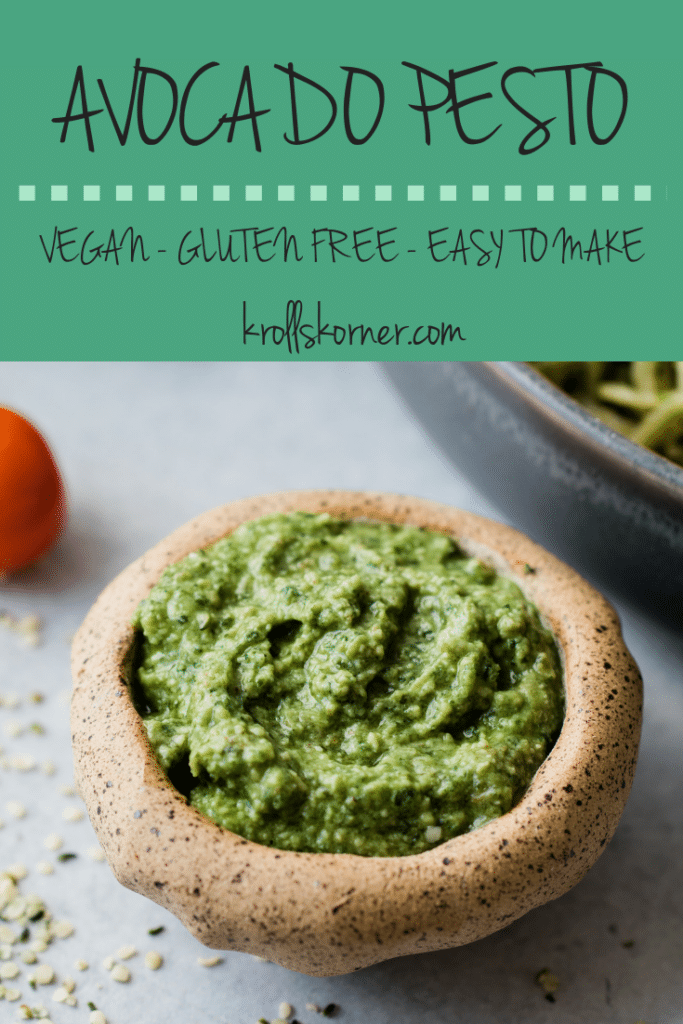 I'd love to see what you made!!
Share it with me on Instagram or Facebook and tag me @krolls_korner or use the hashtag #KrollsKorner!