Tortellini Skewers with Lemon Spinach Pesto
Appetizers & Snacks | Published on Aug 28, 2017 | Last modified on Aug 20, 2019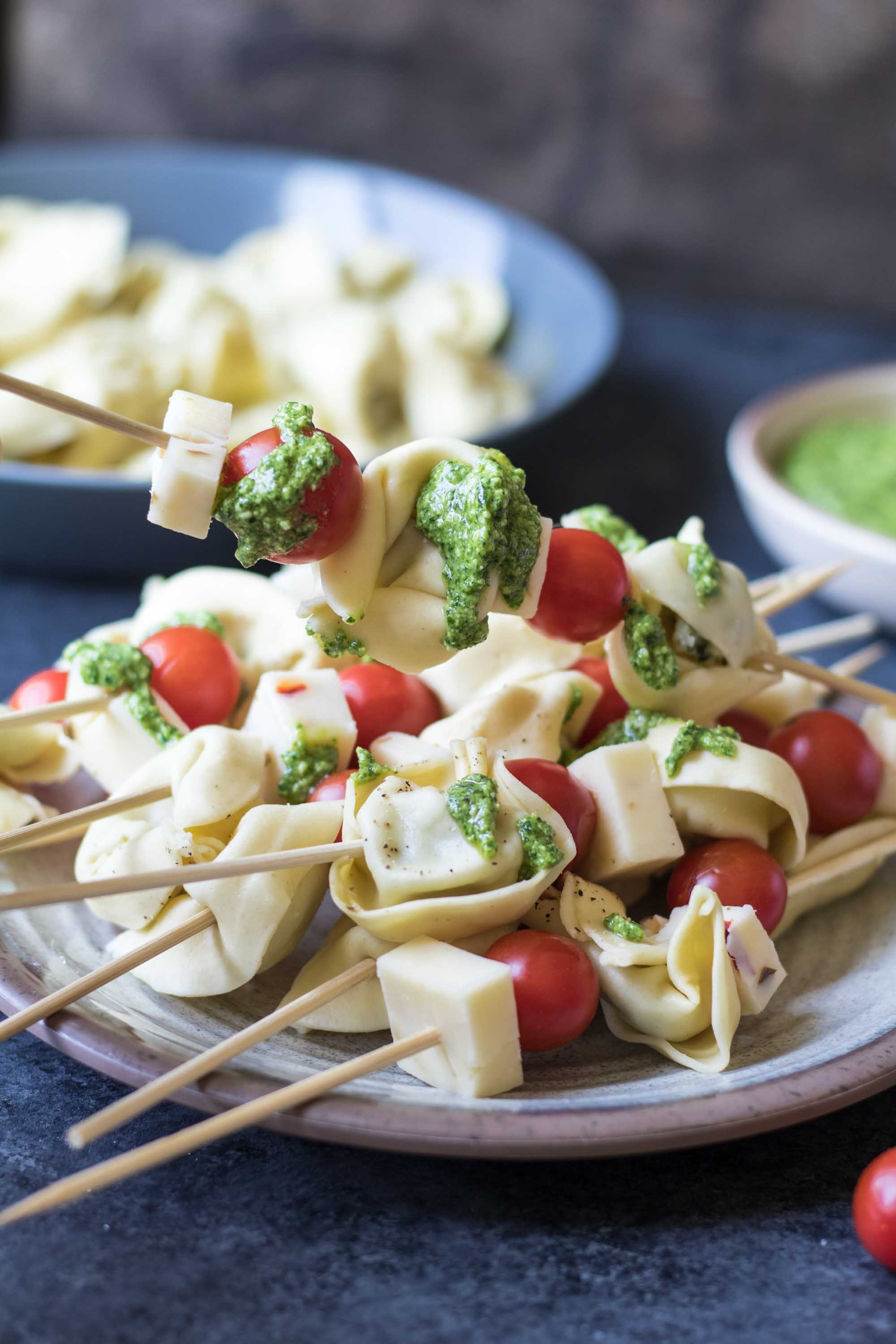 If you ask me, tortellini skewers are such a cute party idea. They help keep portions in check and you can layer so many yummy foods together to create the most delicious combo. How fun would these be for your Memorial Day Weekend?! You can layer salami on these as well too but I kept these vegetarian friendly when making them today. The good thing about this appetizer or side dish is that it is filling! Don't you just hate going to a party or gathering and they have all of these appetizers that you feel you can just mindlessly munch on forever? Like chips and salsa for example (guilty!)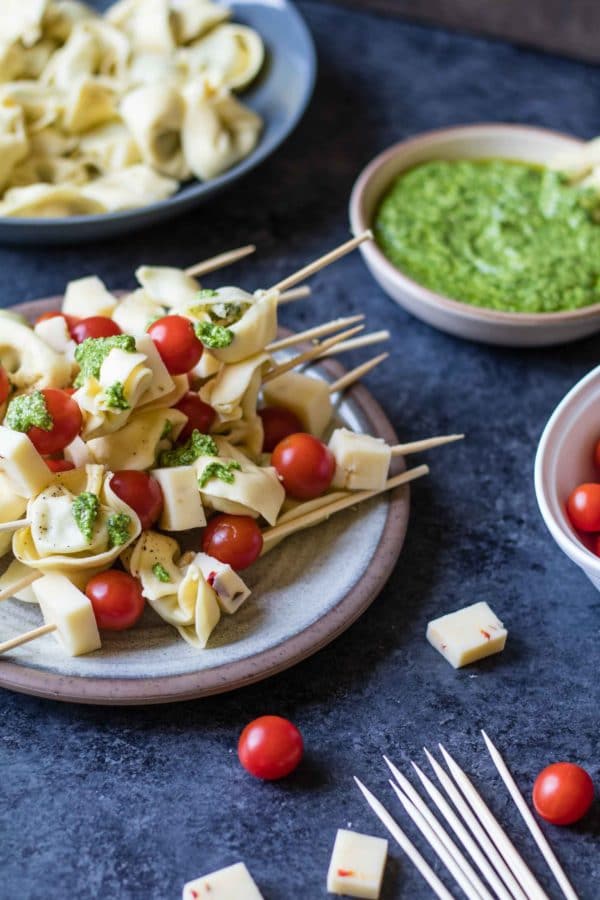 When you host your own party it can be a little overwhelming, especially if you are the one doing all of the cooking and cleaning. These tort skewers will make your life and party planning prep a little easier because you can make the pesto and cook off the torts the night before. On the day of the party an hour or so before your gusts arrive, layer your fixings on the sticks and you'll be good to go! Anything to make things less stressful and I am in! I am a big fan of pesto, and I usually make it with avocados because it gives it such a yummy creamy texture. But today I tried a lemon spinach pesto and it did not disappoint! I hope you and your friends and family can enjoy these as much as mine did! <3
[Tweet "Looking for a fun party appetizer? I've got you covered! Tortellini Skewers w/ Lemon Spinach Pesto! |Krollskorner.com"]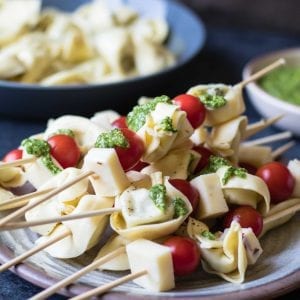 Ingredients
1

package spinach and cheese tortellini

1

cup

cherry tomatoes

1/2

cup

cubed pepper jack cheese

3

cup

packed spinach

1/4

cup

pinenuts

1/4

cup

EVOO

1

bunch of fresh basil

fresh lemon juice from 1 lemon

salt and pepper

to taste

1/3

cup

fresh parmesan cheese

1

Tbsp.

garlic

skewers
Instructions
Bring a pot of water to boil and cook the tortellini according to package. Once cooked, drain and let cold water run over tortellini to stop the cooking process. You do not want your tortellini to be mushy and fall off of the skewers.

In a food processor, combine all ingredients (from spinach to garlic on the list above) and blend until smooth. Add more olive oil or seasonings if desired.

Layer the skewers as you would like: I did tortellini, tomato, cheese, tomato, tortellini. Once completed, place on a serving platter with the lemon spinach pesto in the center for dipping.
I originally posted this recipe back in May 2015 – and retook the photos and made the video Aug. 2017!

I'd love to see what you made!!
Share it with me on Instagram or Facebook and tag me @krolls_korner or use the hashtag #KrollsKorner!