How to Make Perfect Hard Boiled Eggs Every Time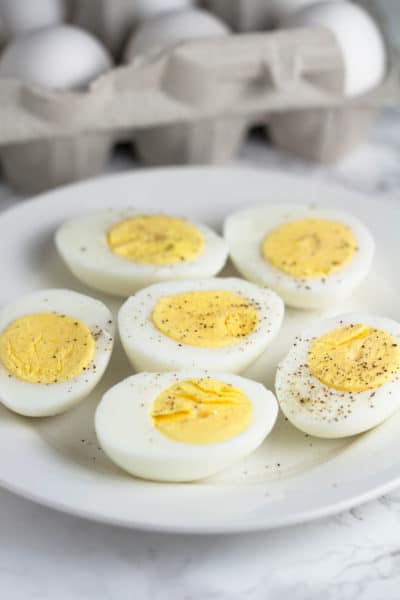 Making hard boiled eggs can be tricky…learn my tips to make the perfect hard boiled egg every time! Hard boiled eggs are a life saver for breakfast during busy mornings!
Since I have lived on my own, hard boiled eggs are a go to for me! The Egg Nutrition Center states "Eggs are an all-natural source of high-quality protein and a number of other nutrients, all for 70 calories an egg. Cost-effective and versatile, the unique nutritional composition of eggs can help meet a variety of nutrient needs of children through older adults. Plus, nutrition research suggests eggs can play a role in weight management, muscle strength, healthy pregnancy, brain function, eye health and more." Sooooo basically eggs are good for us, end of conversation 😉
Click here to pin this recipe for later!


Recently, I have been enjoying 2 hard boiled eggs with cottage cheese. It sounds SO strange but it is a delicious protein packed, low-carb breakfast that keeps me full for most of the morning. And it's minimal labor! Speaking of minimal labor…I am sure most if not all of us have spent WAY too much time taking the shell off of a hard boiled egg before, right? I believe I have mastered the way to make hard boiled eggs now and am excited to share with you my tricks and steps!
Don't use eggs that you JUST purchased: For example, when I buy a dozen eggs in the store, and know I want to make hard boiled eggs with them…I let them sit in the fridge for 1 week before I decide to boil them. This makes the hard boiled eggs easier to peel! Here is what happens when you let the eggs sit for ~1 week: they lose moisture through small pores in the shell, and the air pocket at the tip of the egg gets larger. Also, the pH level of the whites rise as they age, which makes them adhere less strongly to the shell.
First step…place eggs in pot with water with KEY ingredients: Use an appropriate sized pot. Eggs should be in a single layer, covered with about 1-2 inches of water. Try not to cram them in either, they should have space between them. ALWAYS add in salt and white wine vinegar. Depending on how many eggs you are making depicts how much to use. I typically eyeball it. If you are making 6 eggs, I would use 1/2 tsp. salt and 2 Tbsp. white wine vinegar. These ingredients are another step to help pull the skin away from the eggshell so they peel easily.
Bring to rolling boil for 2-3 minutes: Bring the eggs to a rolling boil for 2-3 minutes. After your time is up remove from heat and cover with a lid for 12 minutes. (2-3 minutes depending on how creamy you like your yolk).
Don't forget the ice bath!: After the eggs have been sitting for the 12 minutes, place them directly into a bowl with ice and water. I usually use a slotted spoon to get the eggs out.Let sit in ice bath for 20-30 minutes. (This also helps pull the membrane away from the shell for easy peeling). You can enjoy immediately or keep them in the fridge for later.
Voila! That's it!
HOW TO MAKE HARD BOILED EGGS IN THE INSTANT POT
I also love making my hard boiled (and soft boiled) eggs in my Instant Pot! How to make hard boiled eggs in your Instant Pot? IT'S EASY! Pour in 1 cup water and place the trivet at the bottom of your Instant Pot. Carefully place a dozen eggs on the trivet in a single layer. Put the lid on, plug in, make sure the the valve is set to sealing and cook on manual high pressure for 5 minutes.
During the 5 minutes, make an ice water bath by placing ice in a large bowl and filling about half way with water. This is for the eggs once they are done to cool them down/stop the cooking process.
Once the Instant Pot beeps, use a towel to carefully switch the valve from sealing over to venting and let the steam release for about 1 minute. Remove the lid, and place eggs in the ice water bath. Be careful, they will be hot! Use a spoon to remove from the Instant Pot.
Let them chill (literally) and then remove and peel the shells off! Magic!
What are your tips to making the perfect hard boiled egg? I'd love to hear!