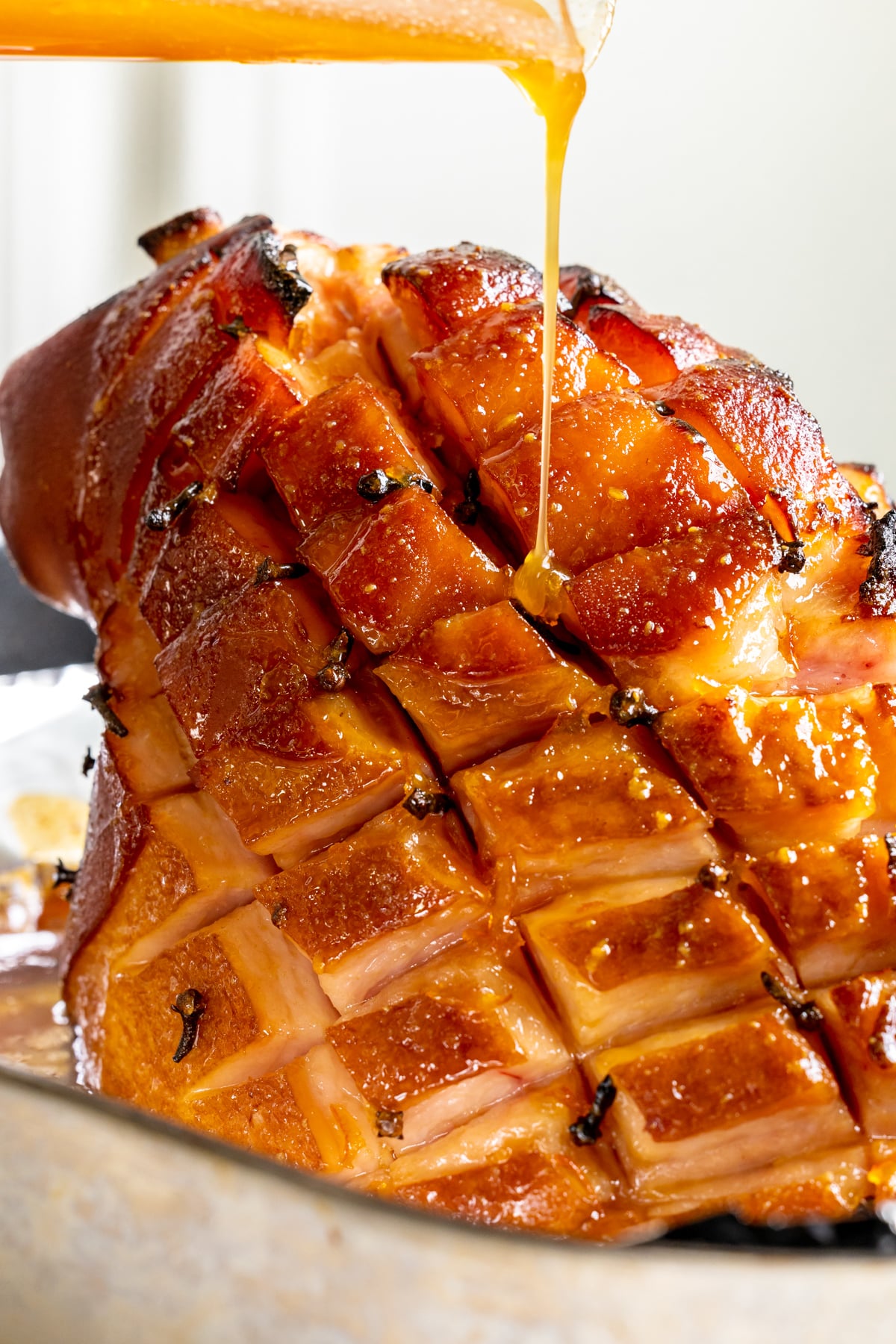 Everybody needs a good ham recipe in their rolodex and this Honey Glazed Ham is a tried and true recipe.
Made with an orange marmalade honey glaze to create a beautiful show-stopping roast for your holiday table whether it's Easter, Thanksgiving or Christmas.
Usually the main course needs lots of time and preparation & that is just not the case with this recipe! Ham may seem intimidating to make, but trust me it's probably one of the easiest things you can offer to bring!
The glaze locks in moisture to create the most delicious ham and creates a gorgeous caramelized exterior. Plus, since we're scoring the ham (more on this below) the glaze seeps into all the crevices to create a tender and juicy flavor packed ham.
So, if you have been shying away from making a ham, make this year your break out year and take on the ham. It really isn't difficult, and the result is so mouthwatering you will be making it more often than just for the holidays.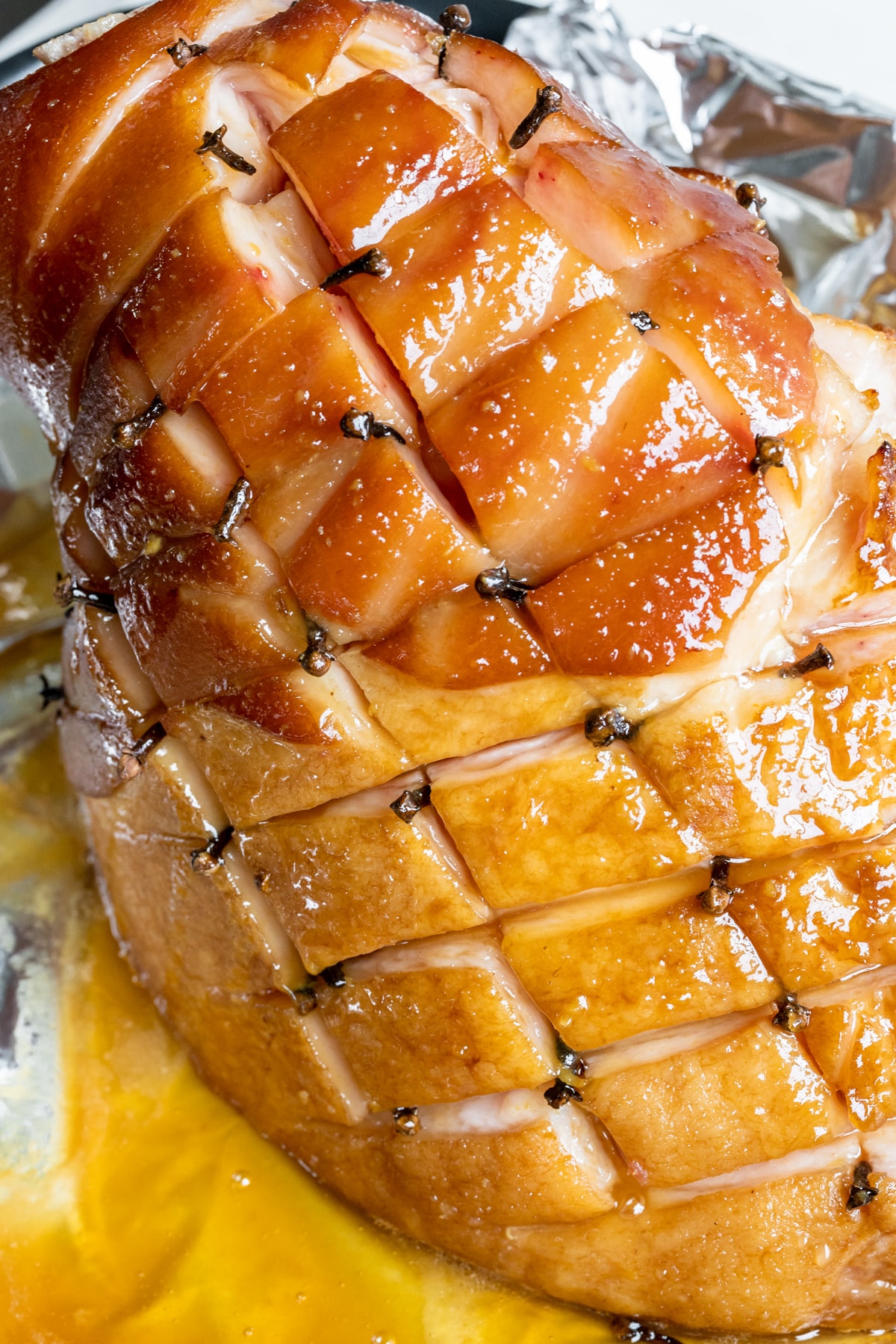 Reasons Why You Will Love My Honey Glazed Ham Recipe
Only 5 ingredients for the perfect honey glaze.
This is an elegant main course that is easy to make.
The ham is pre-cooked so it takes less than 2 hours to get to temperature. (Depending on the size ham you purchase)
Easy prep! Little hands on time.
It's moist, tender, and deliciously sweet.
Ingredient Notes
For the ingredient measurements and entire recipe, be sure to scroll down to the bottom of the blog post where the recipe card is located.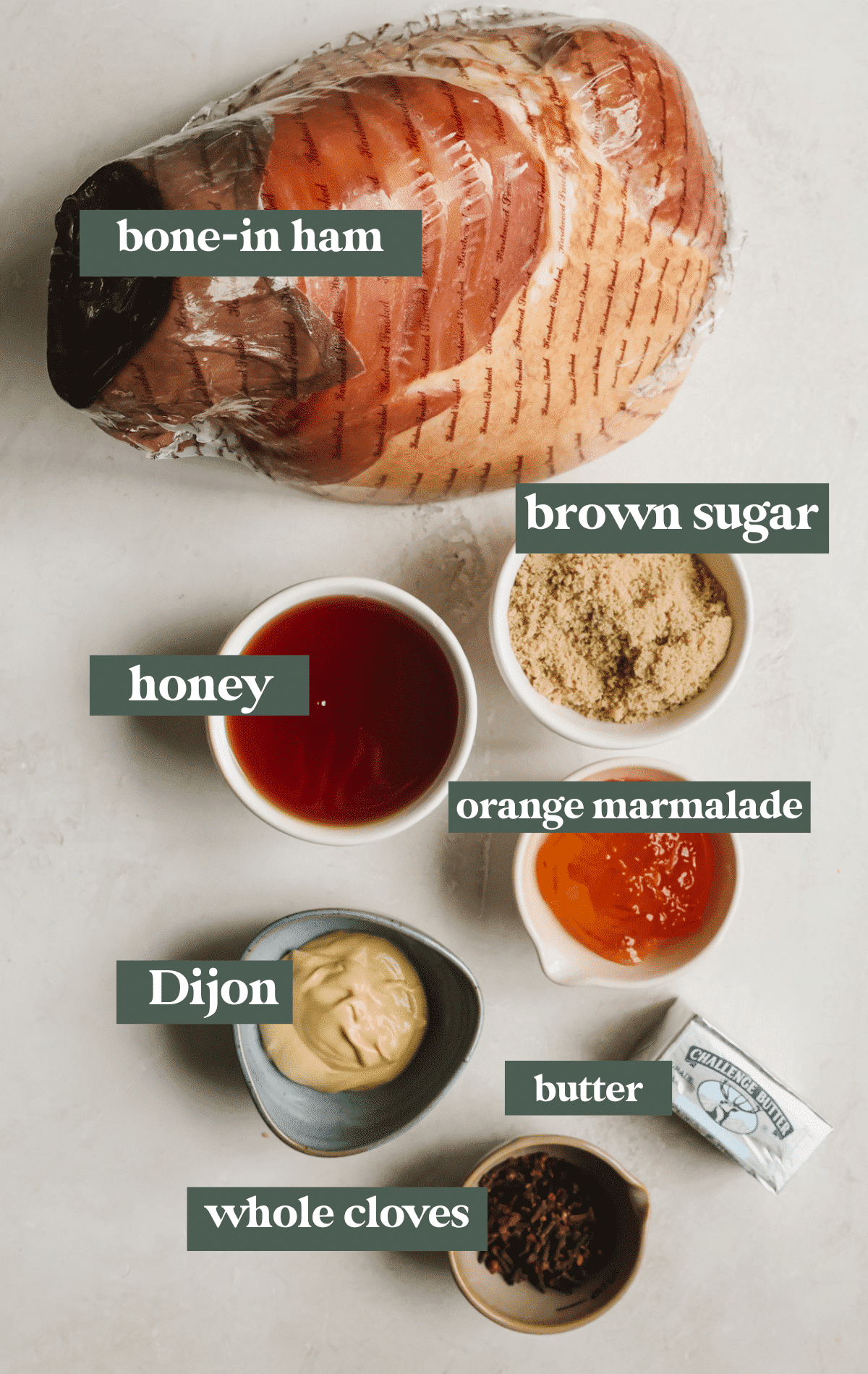 Fully cooked bone in ham : I like using a bone in ham since it produces the absolutely best flavor and it holds moisture better. You can use a spiral ham, I just really prefer the bone in ham that hasn't been cut yet because I find spiral hams can dry out more quickly.
Whole cloves: Not only do the whole cloves dress up the ham, but they also add a unique sweet and spicy flavor. You'll just stick the cloves into the cross sections of where you score the ham and the flavor will infuse into the meat as it cooks.
Orange preserves/marmalade: This is sweet and vibrant much like fresh orange juice. You can also use apricot preserves.
Brown sugar: Brown sugar will give the ham a rich molasses flavor.
Honey: Adds just the right amount of natural sweetness. Depending on the nectar source of honey, flavors can range from floral, fruity, smoky, woody and spicy, to nutty or earthy.
Dijon mustard: The tangy, sharp and spicy flavors of dijon mustard mix together so perfectly with the sweetness of the orange preserves. It also helps the glaze stick to the ham.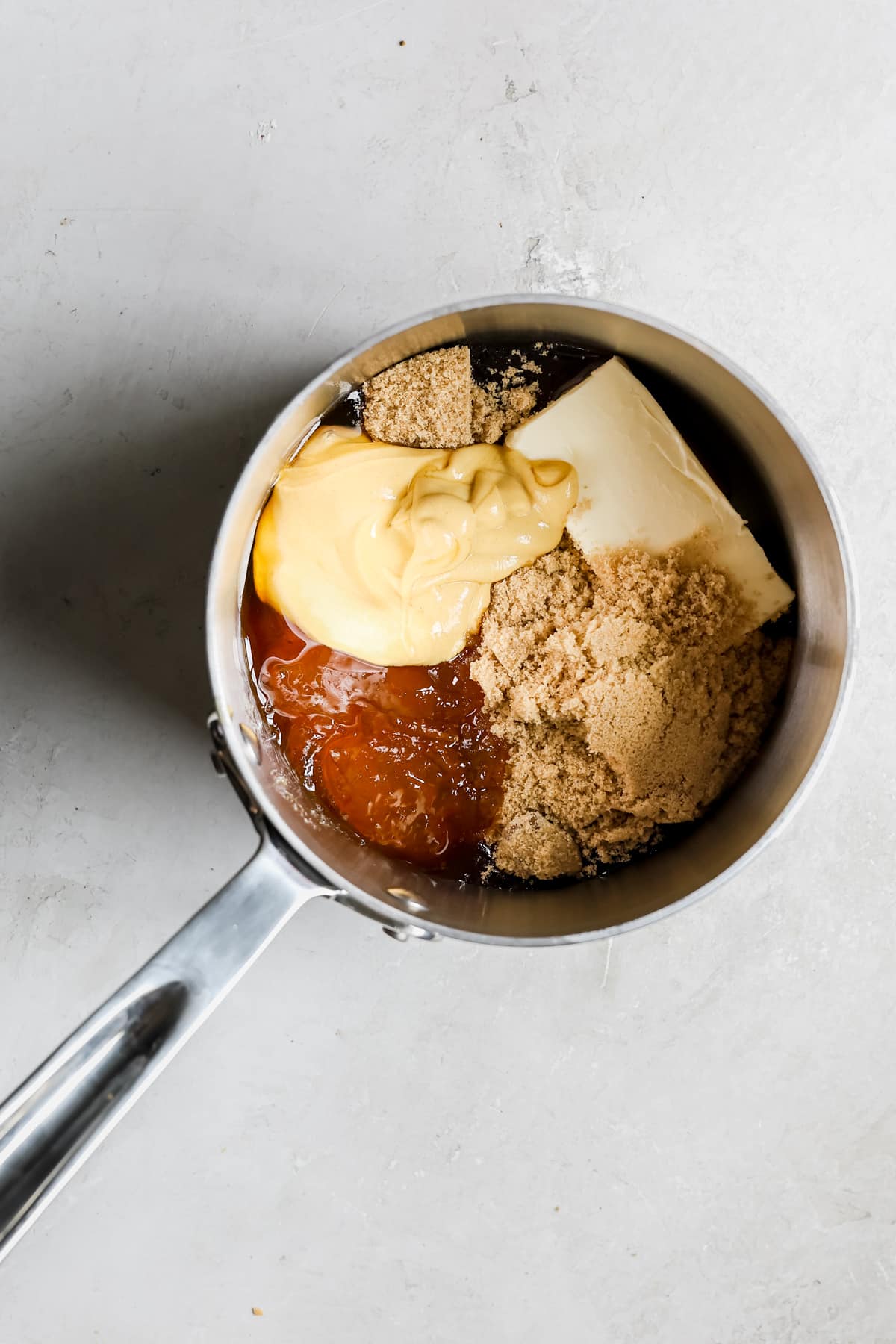 Step by Step Directions
For the full recipe instructions, scroll down to the bottom of the blog post to the recipe card.
Let the ham sit out to room temperature for an hour before removing it from the packaging.
Score ham with a sharp knife in a diagonal pattern. (see photos and guidance below).
Insert whole cloves at the crossings.
Preheat the oven to 325°F.
Place ham in roasting pan.
Make the glaze in a saucepan.
Pour some of the glaze over the ham, cover with foil.
Cook for about 10 minutes per pound of ham. (or until a meat thermometer reaches 140°F into the thickest part of the ham).
Increase the oven temperature to 400°F. Spread or pour a little more glaze on top.
Bake again 15-20 minutes until caramelized. Keep an eye on it so it doesn't burn!
Remove from oven. Pour any remaining glaze over the top.
Let cool 15-20 minutes before slicing.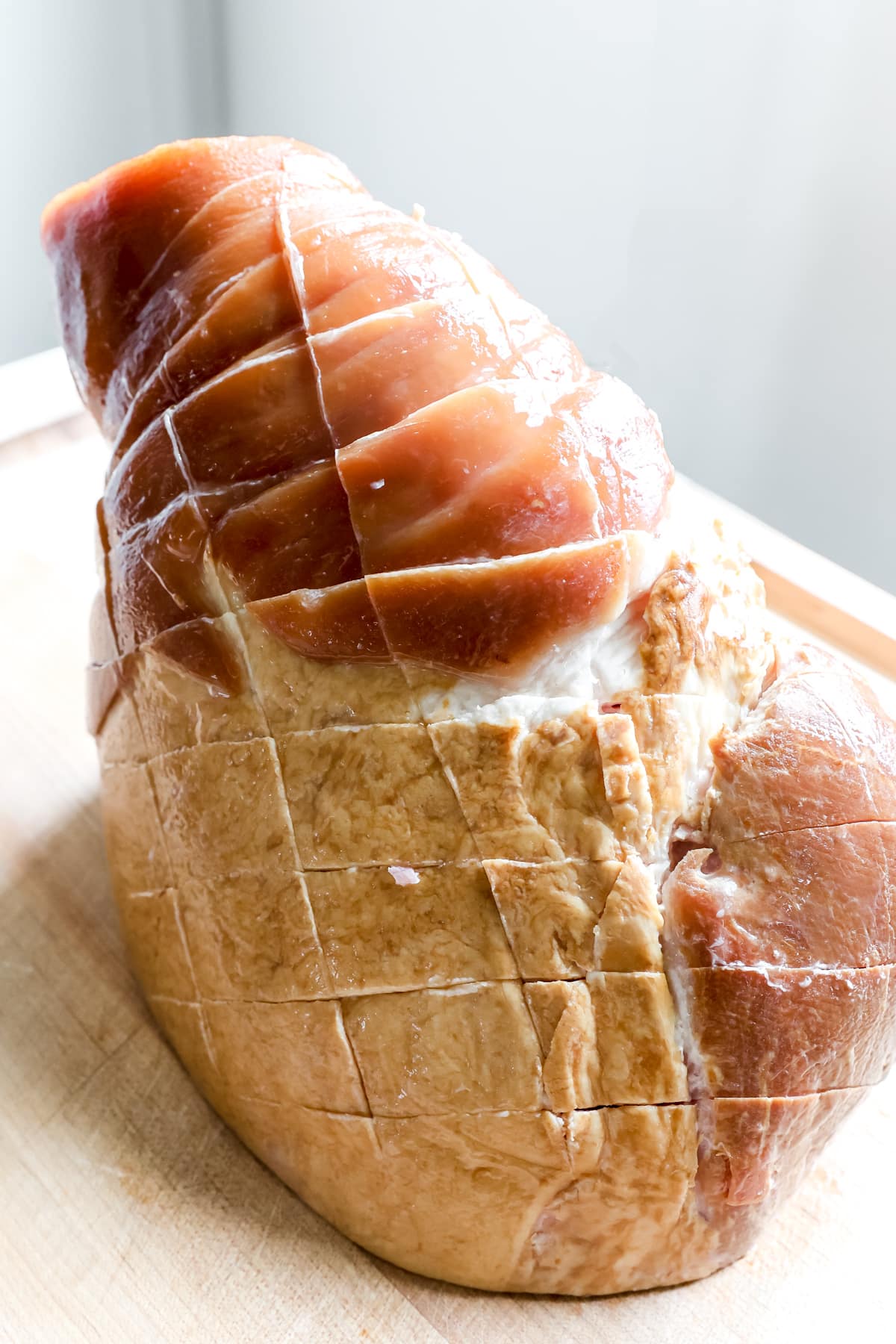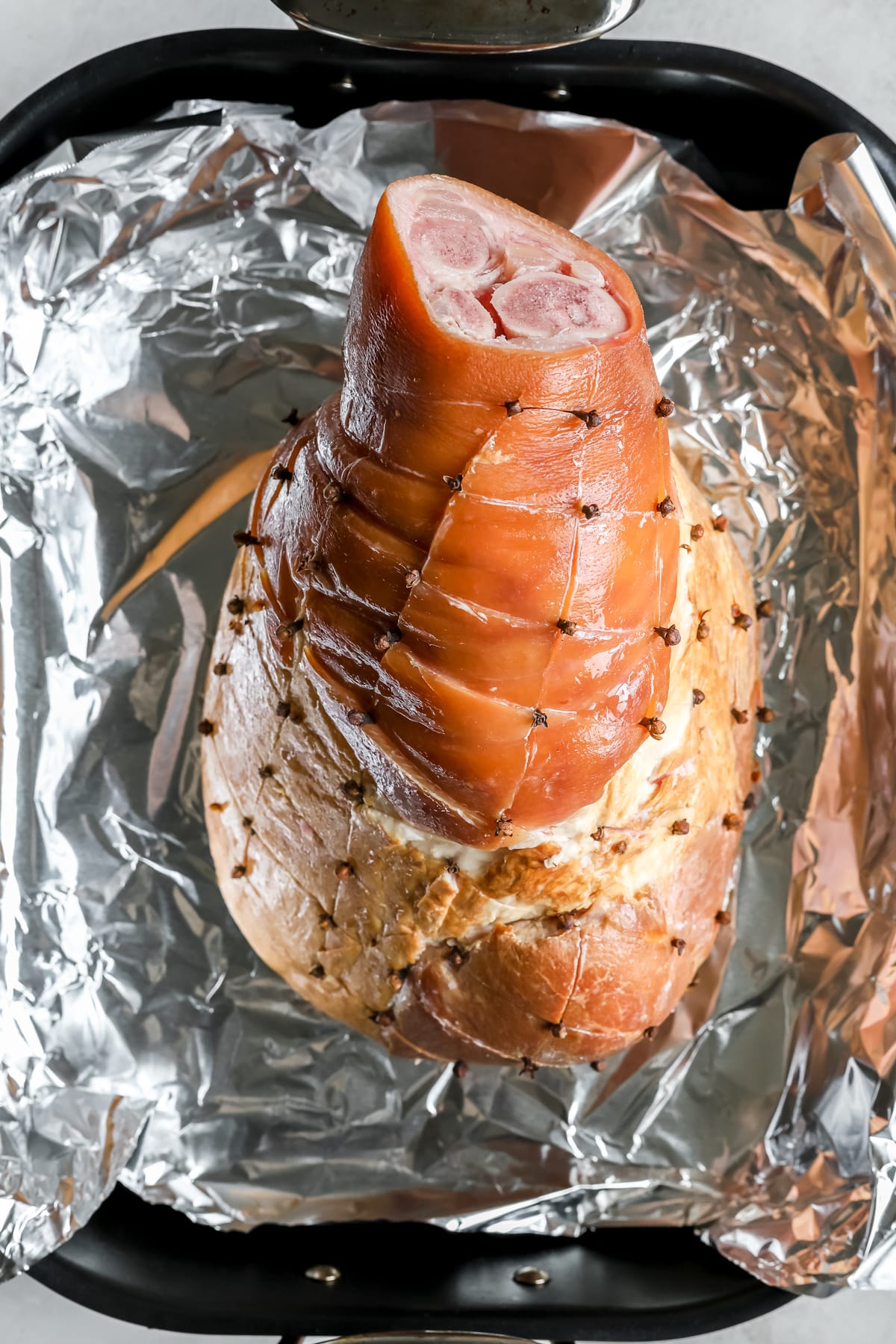 How to Score a Ham
Scoring the ham allows the sweet Honey Glaze to soak into the scored "cracks" giving you a moist and delicious ham that will make a striking presentation on your table.
Place the ham on a cutting board and make sure your surface is stable.
Grab a sharp chef's knife.
Starting at one end of the ham, make shallow cuts into the ham about 1/3 inch deep.
The scores should extend all the way from the bottom to the top of the ham.
Repeat the lines about 1 inch apart, keeping the lines straight.
Now, make diagonal lines in the opposite direction, same depth and spacing of cuts.
Dress the ham with cloves at each diamond intersection.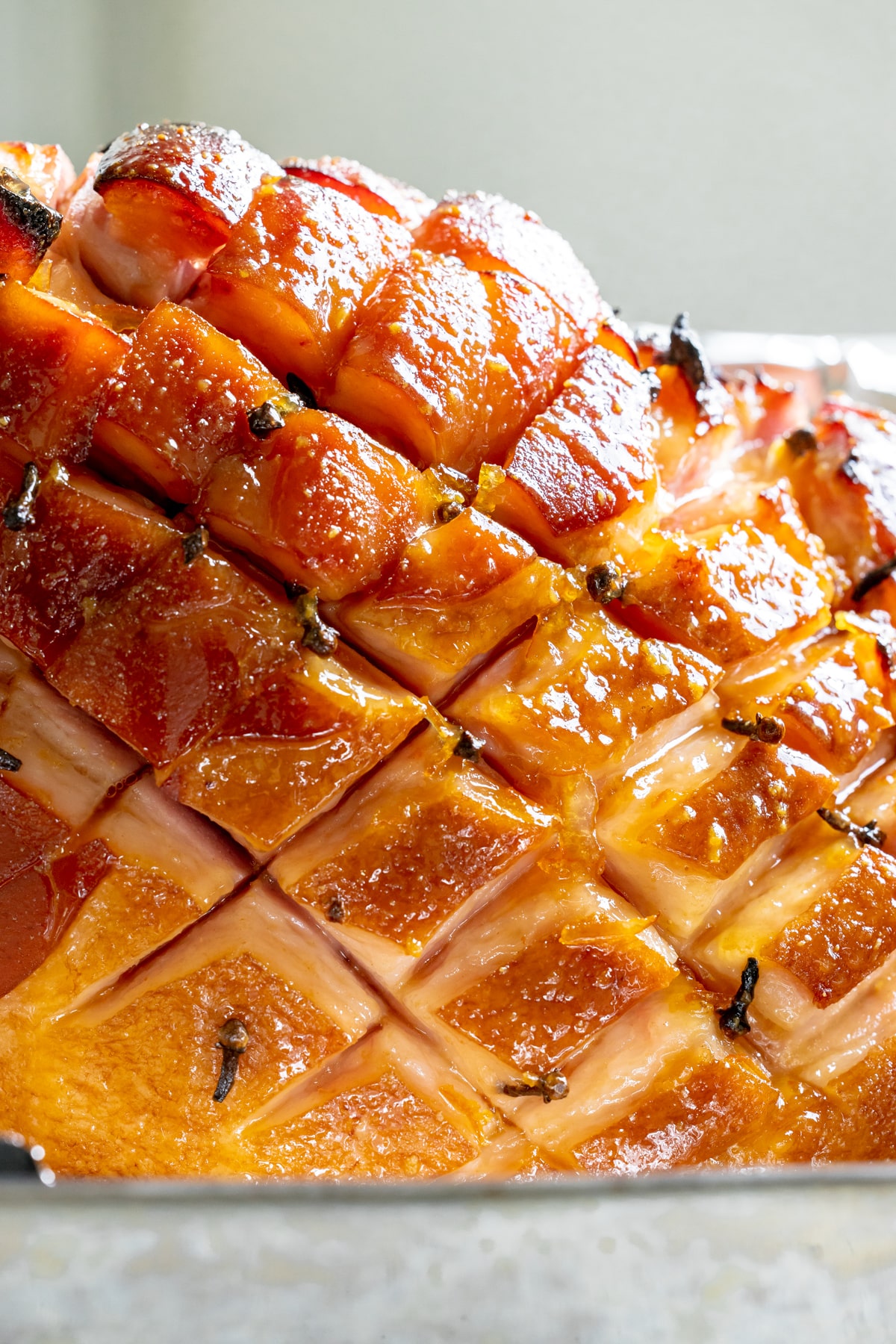 Expert Tips and Variations
Before measuring the honey, spray your measuring cup with a non-stick spray and the honey will slide right out .
Make sure the ham you buy does not already have a glaze on it.
Save the juices and glaze from the roasting pan after the ham cooks by passing it thru a sieve and spooning it back onto the ham.
Always be sure to cover your ham with foil so it stays moist.
Cook the ham low and slow, we don't want to rush it and risk drying it out.
Instead of cloves, feel free to stick pineapple rings into the ham with toothpicks.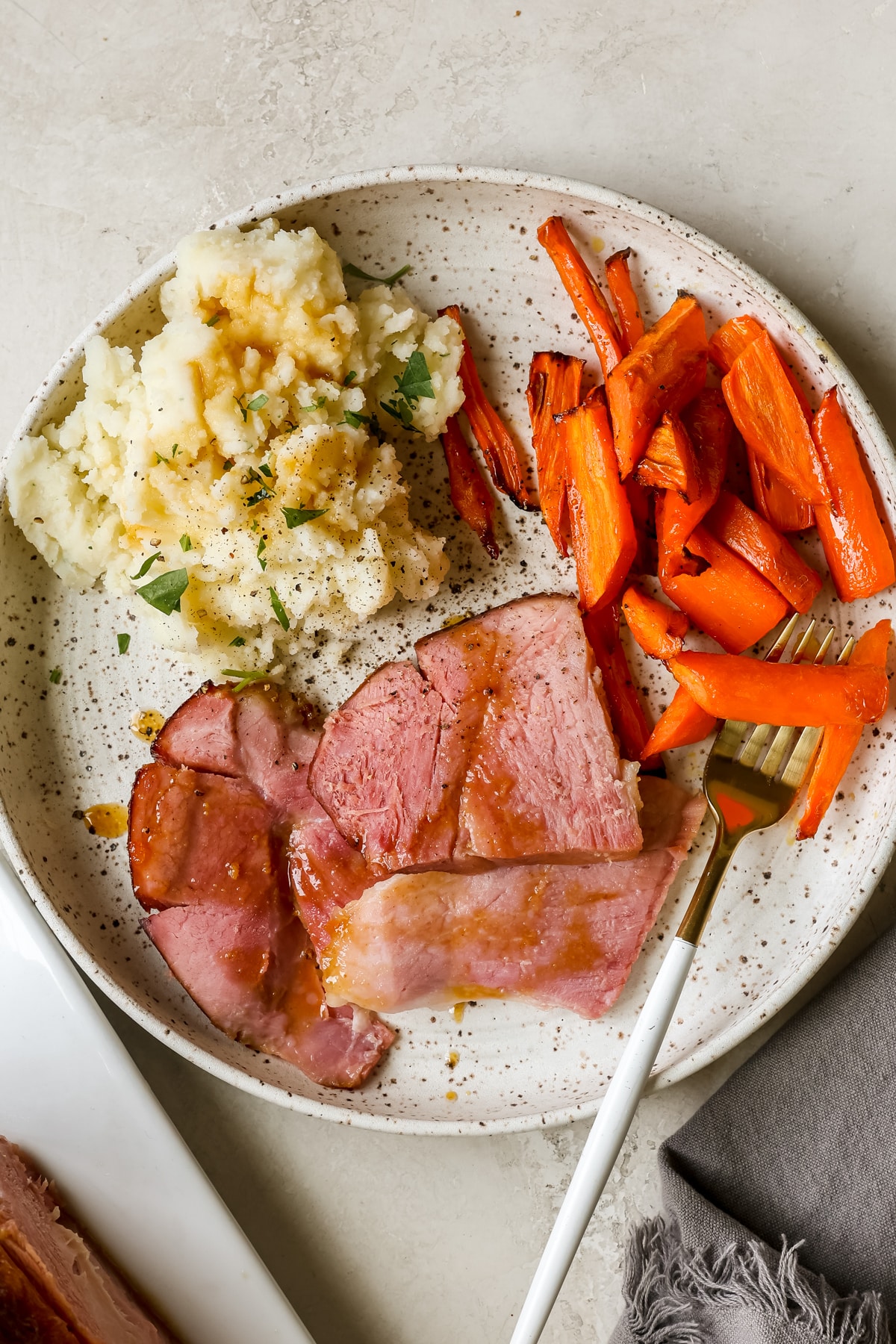 FAQ
How much ham do I need to make per person?

I like to figure about 1/2 of a pound per person for a bone in ham.
What is the best way to heat up left over ham?

If you are just heating one or two servings, I like to use a skillet, over medium heat on the stove. If you are reheating all of your leftovers, I would put the ham in the oven at 350°F for 15 to 20 minutes.
What should I eat honey glazed ham with?

Parmesan mashed potatoes, honey roasted carrots, 4 bean salad, green bean casserole, dinner rolls, sweet potato casserole, scalloped potatoes, or wild rice pilaf.
Do I glaze ham before or after cooking?

I like to pour some of the glaze on to the ham while it cooks and then about 20-30 minutes prior to it being done. You don't want to burn the sugars, but a nice caramelization at the end is perfect!
What should I make with left over ham?

You can add it to this macaroni salad, make a classic sandwich, enjoy it with scrambled eggs, make a ham pot pie, or add it into a breakfast casserole.
Before You Begin! If you make this, please leave a review and rating letting us know how you liked this recipe! This helps our business thrive & continue providing free recipes.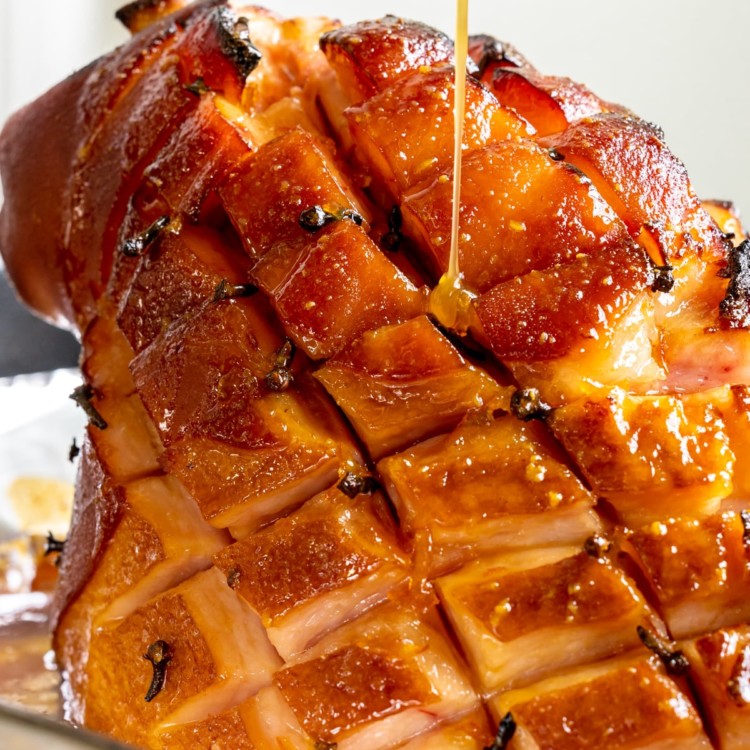 A classic Honey Glazed Ham made with orange marmalade to create the perfect caramelized glaze for a gorgeous holiday main.
Ingredients
1,

6-7 lb.

bone-in, fully cooked ham

1/4

cup

whole cloves (you might not use a full 1/4 cup)

1

cup

honey

1/2

cup

unsalted butter

1/2

cup

brown sugar

1/4

cup

orange preserves or orange marmalade

1/4

cup

Dijon mustard
Last step! If you make this, please leave a review and rating letting us know how you liked this recipe! This helps our business thrive & continue providing free recipes.
Instructions
Let ham sit at room temperature for 1 hour. Then remove the packaging.

Score the ham with a sharp knife in a diagonal pattern. Repeat scoring, diagonally, in the opposite direction to create a crossing pattern. (see video for guidance if needed). Insert whole cloves at the crossings.

Preheat the oven to 325°F.

Place the ham in a roasting pan lined with foil, place ham cut side down.

In a saucepan over medium heat, melt the honey, butter, brown sugar, orange preserves, and Dijon. Cook on medium-low until syrupy, ~4-5 minutes, whisking occasionally. It should be a loose honey consistency.

Pour or brush ¾ cup of the glaze over the ham. Cover with foil.

Bake for ~10-11 minutes per pound of ham.

Increase the oven temp to 400°F. Brush or pour a little more glaze on top and bake again, but this time uncovered. Bake 15-20 minutes or until the glaze begins to caramelize, keeping an eye on it so it doesn't burn.

Transfer the ham to a serving dish, brush with any more remaining glaze and let rest for 20 minutes before cutting and serving. (You can cover it with foil so it stays warm). Discard the cloves before enjoying.
Nutrition Information
Serving:
1
serving
,
Calories:
383
kcal
(19%)
,
Carbohydrates:
13
g
(4%)
,
Protein:
42
g
(84%)
,
Fat:
22
g
(34%)
,
Saturated Fat:
5
g
(31%)
,
Polyunsaturated Fat:
0.3
g
,
Monounsaturated Fat:
2
g
,
Cholesterol:
20
mg
(7%)
,
Potassium:
40
mg
(1%)
,
Sugar:
16
g
(18%)
,
Calcium:
17
mg
(2%)
Nutritional information is provided as a courtesy and is automatically calculated. It should only be construed as an estimate rather than a guarantee. Ingredients can vary and Kroll's Korner can't make any guarantees to the accuracy of this information.