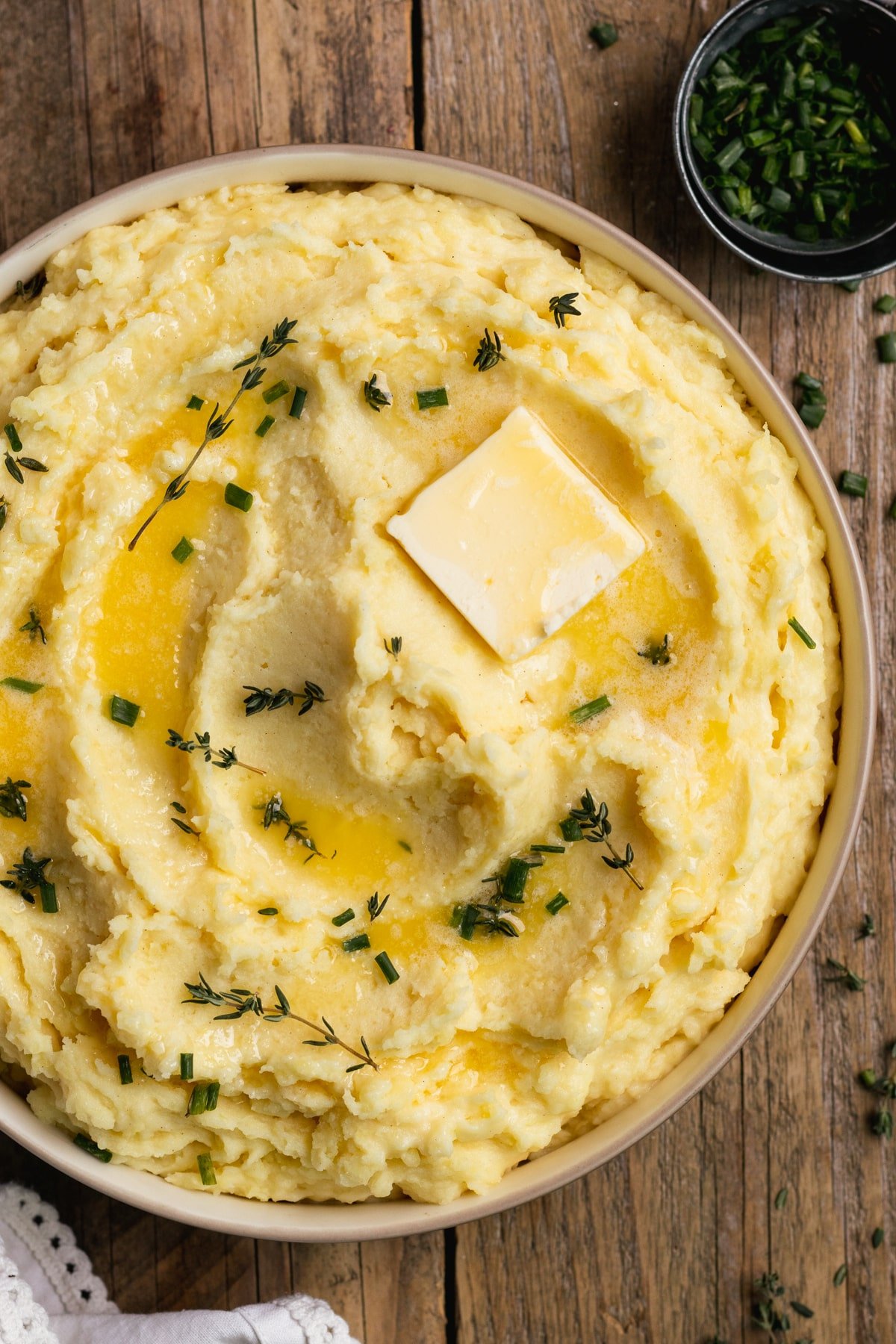 There are a plethora of mashed potato recipes floating around online, but if you want to make the most perfect, fluffy parmesan mashed potatoes, look no further!
The simple combination of heavy cream, whole milk and parmesan cheese creates the creamiest, fluffiest potatoes for your holiday table, or for any weeknight meal.
I know mashed potatoes can be tricky or you can just never get them quite right. Follow this easy to make recipe and you'll be sure to impress.
These Instant Pot Garlic Mashed Potatoes and Cheesy Scalloped Potatoes are also holiday favorites!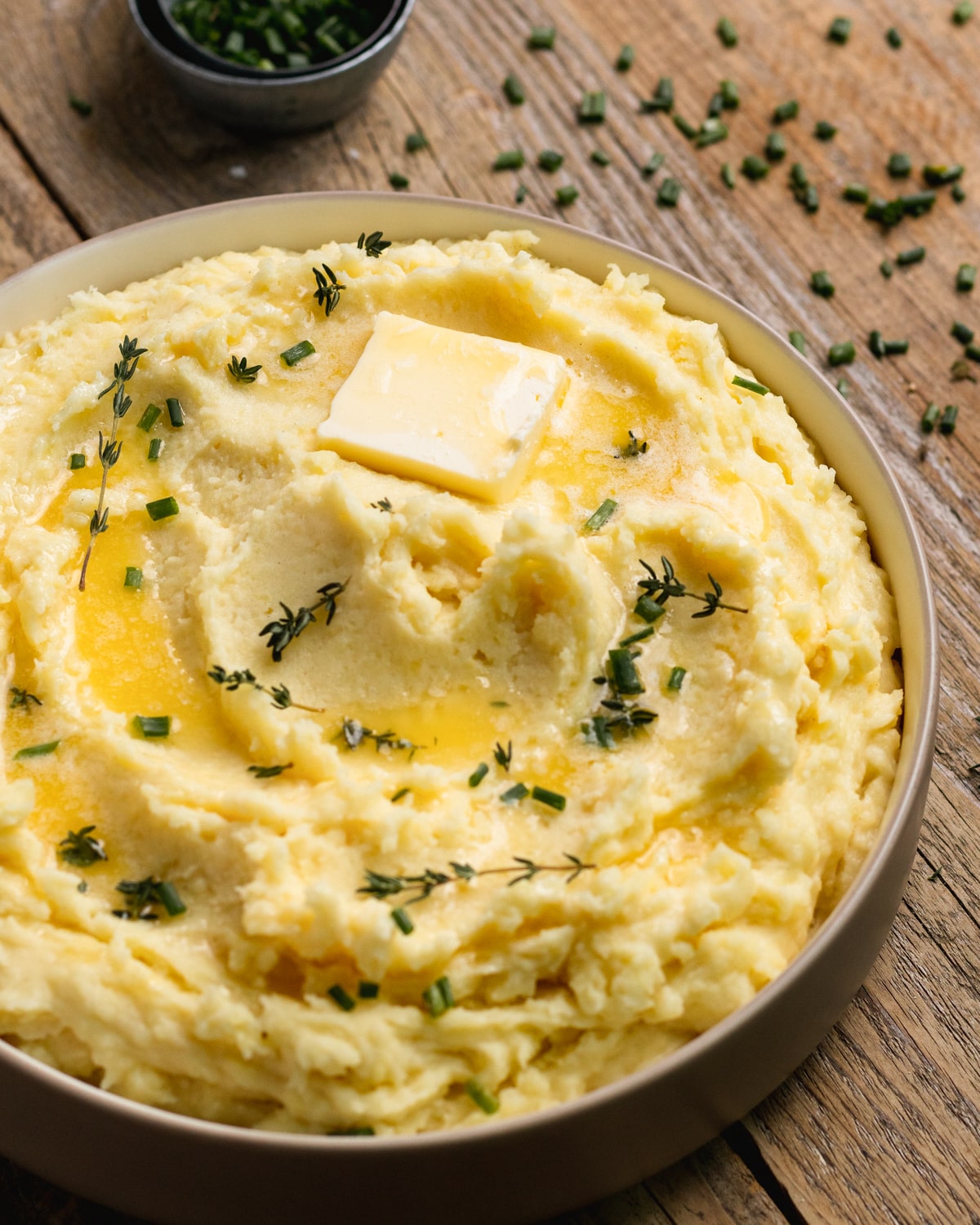 Along with using high quality ingredients, using the right kitchen tools are important, especially when making mashed potatoes.
If there is one thing I can highly recommend for this recipe, it's to use a potato ricer to make exceptional mashed potatoes. You'll simply press the cooked potatoes through it and this creates rice-sized pieces of potato. This does a couple things. It adds air to the potatoes which helps make them really fluffy, and it helps make ultra smooth, uniform potatoes with no lumps.
Plus, over mashing potatoes creates unpleasant, gummy mashed potatoes that you wouldn't be proud of to serve at the table!
This potato ricer is my favorite!
But don't worry if you don't have a potato ricer, a food mill or a good old potato masher will do the job. And if you're still out of luck, a fork will come to rescue!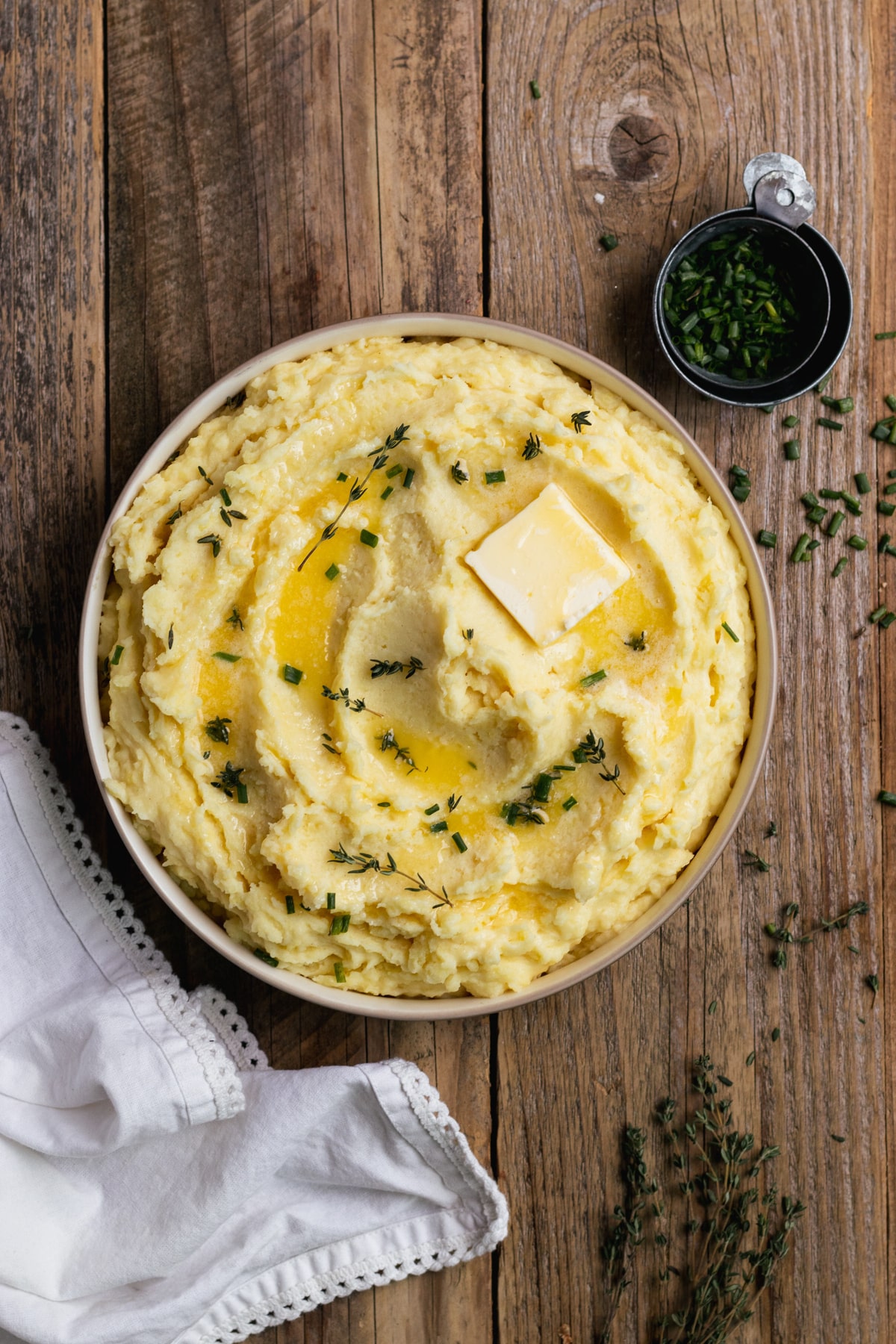 Why This Recipe Works:
They make the creamiest potatoes every time.
They reheat beautifully.
The potato ricer is key to the fluffiness factor.
Even the pickiest of eaters devour these potatoes!
They're comforting, easy to make, and a holiday staple!
When do mashed potatoes not satisfy the soul?!
These potatoes are a staple Thanksgiving side dish and I know you'll love them!
Ingredient Notes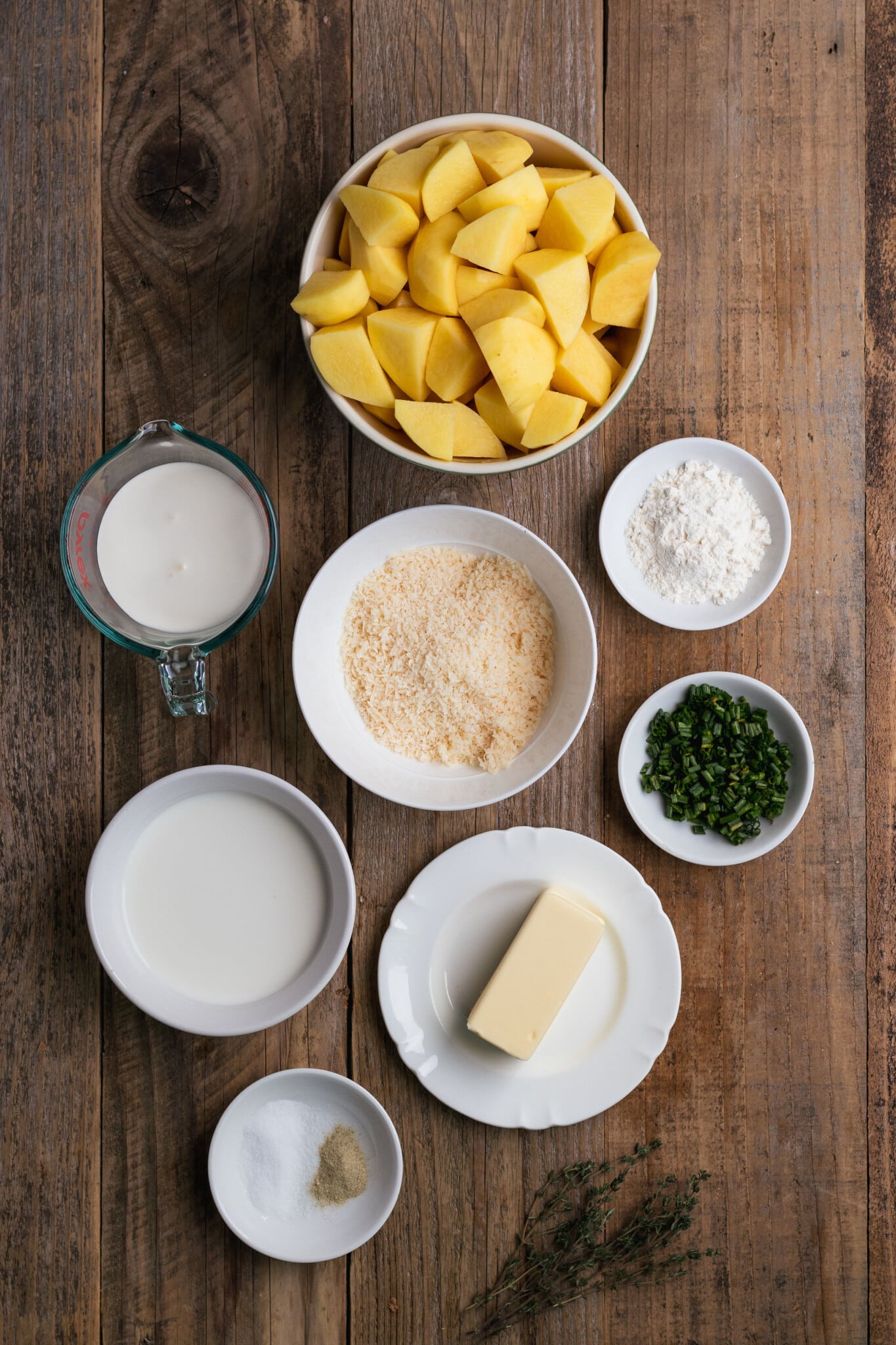 Yukon Gold potatoes: I love using Yukon Gold potatoes for a rich, smooth, buttery mashed potato. They're considered a medium-starch potato so they make an ultra creamy mashed potato. Russet potatoes will work too, they usually make a pillowy, soft mashed potatoes since they have a higher starch content.
Butter: The butter and Parmigiano Reggiano are our two main flavors in these mashed potatoes. Use high quality butter, and choose unsalted. That way, you can control how much salt you want to add.
Heavy cream & whole milk: I'm using a combination of these for the Parmesan cream sauce, I think it adds richness and airiness to the potatoes.
Parmigiano Reggiano: Either Parmigiano Reggiano or cheese labeled "Parmesan" are both great choices. Just be sure to avoid the pre-grated Parmesan. It doesn't compare to the real deal and it also doesn't melt as nicely into the potatoes.
White pepper: I like using white pepper because it adds a subtle spice and earthiness but it also doesn't leave black specs in the potatoes so they stay a pure, creamy white color.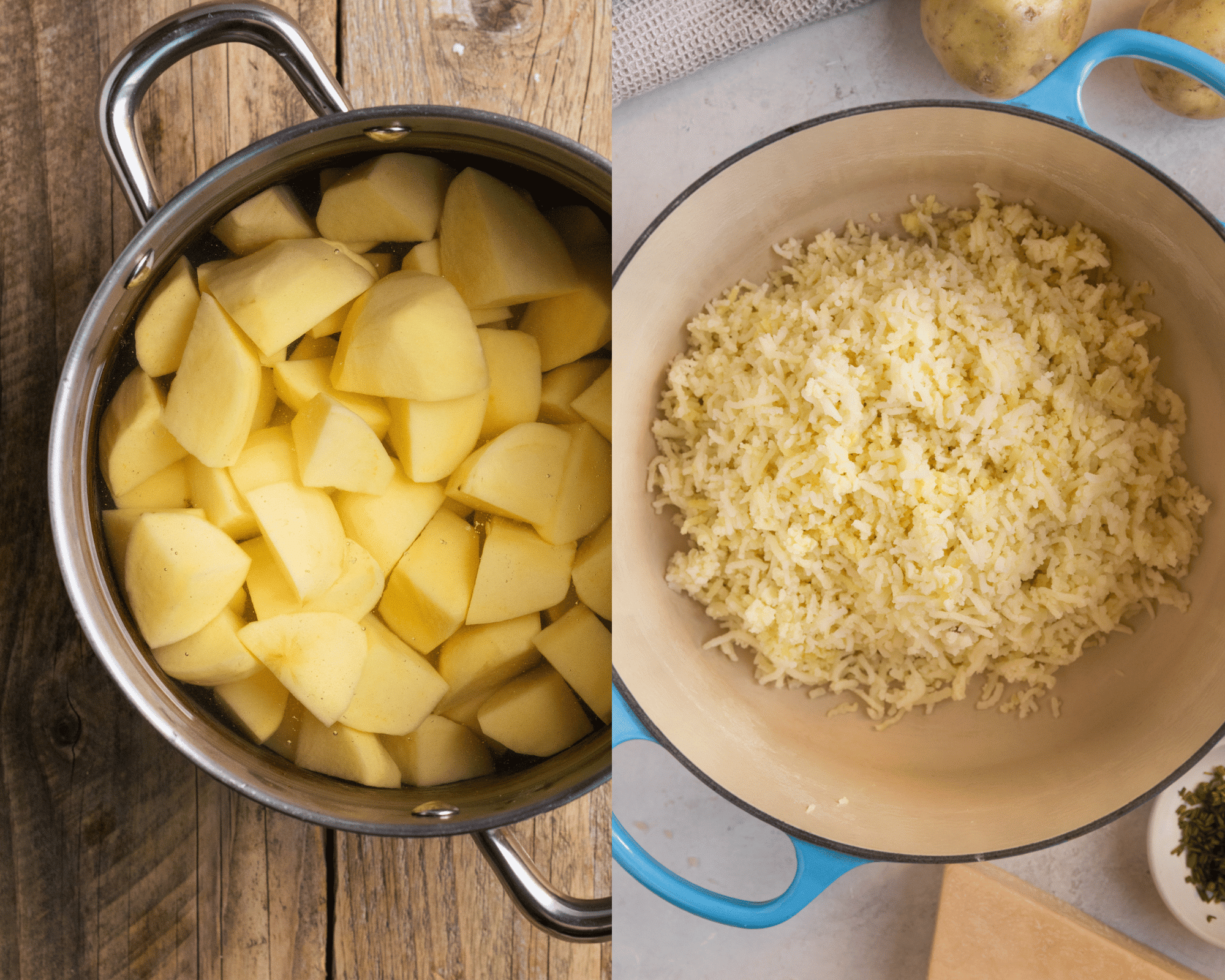 Step by Step Directions
Peel and chop the potatoes into 1-2 inch cubes
Rinse the potatoes under cold water.
Cook the potatoes in a large pot of salted water until tender.
While the potatoes cook, make the Parmesan cream sauce.
Drain and rinse the potatoes under hot water.
Pass the warm potatoes through a potato ricer over the pot.
Fold in the Parmesan sauce, season and serve!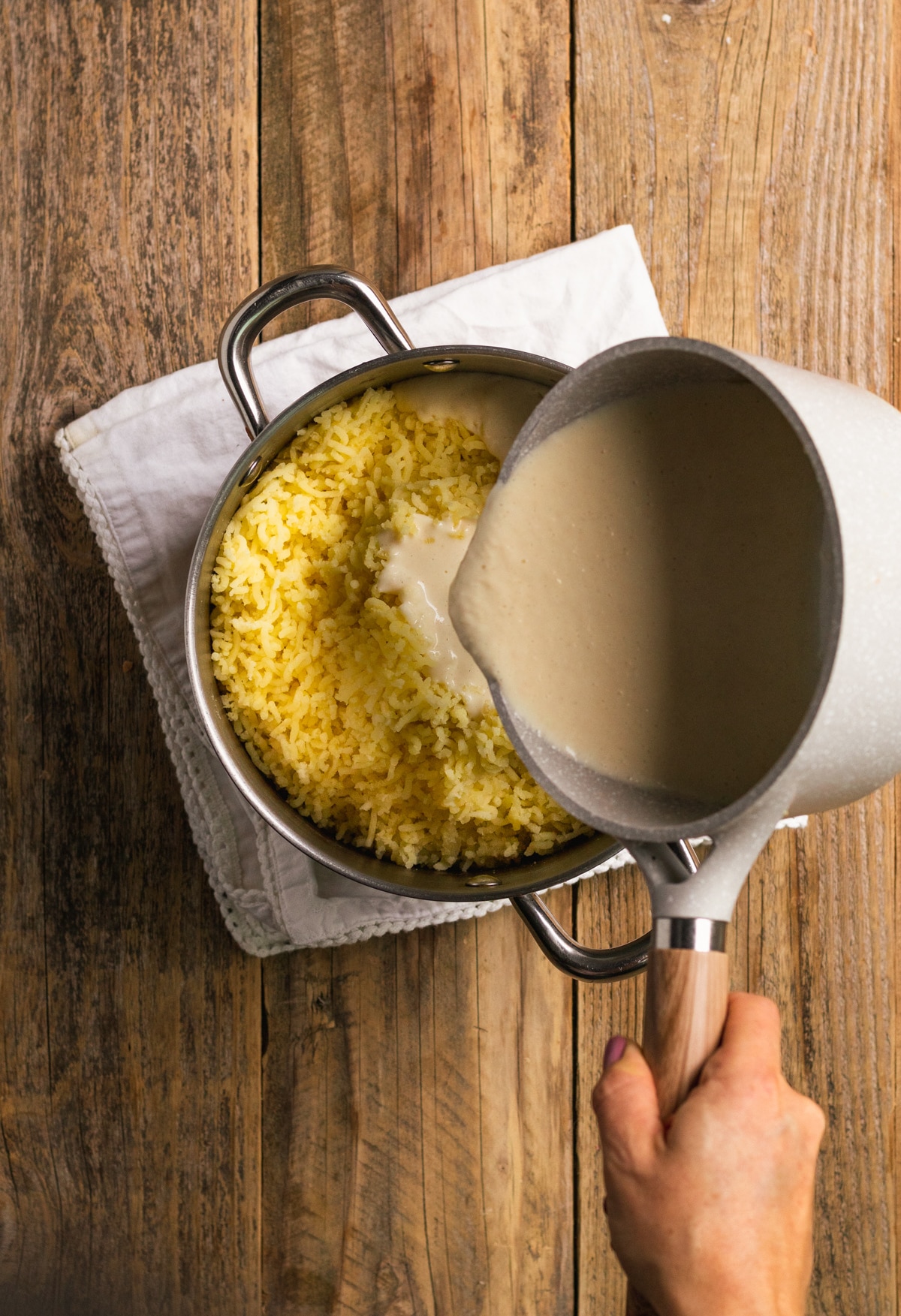 Tips and Variations
Make sure to use a fresh block of parmesan cheese. If you buy pre-grated or shredded parmesan, it doesn't melt as nicely.
Use a potato ricer or food mill for fluffy potatoes.
Use half and half if you don't have heavy cream.
Add pressed garlic to the cream sauce if you want garlic parmesan potatoes.
Don't cut the potato chunks too small or cook them too long. Aim for 1-2 inches in size. Potatoes diced too small will create increased surface area can therefore cause them to soak up more water, and you'll have potatoes that are water logged.
Try not to overwork the potatoes. Stir just until creamy and smooth.
Avoid blending the potatoes in a food processor or blender, you'll end up with a gooey mess!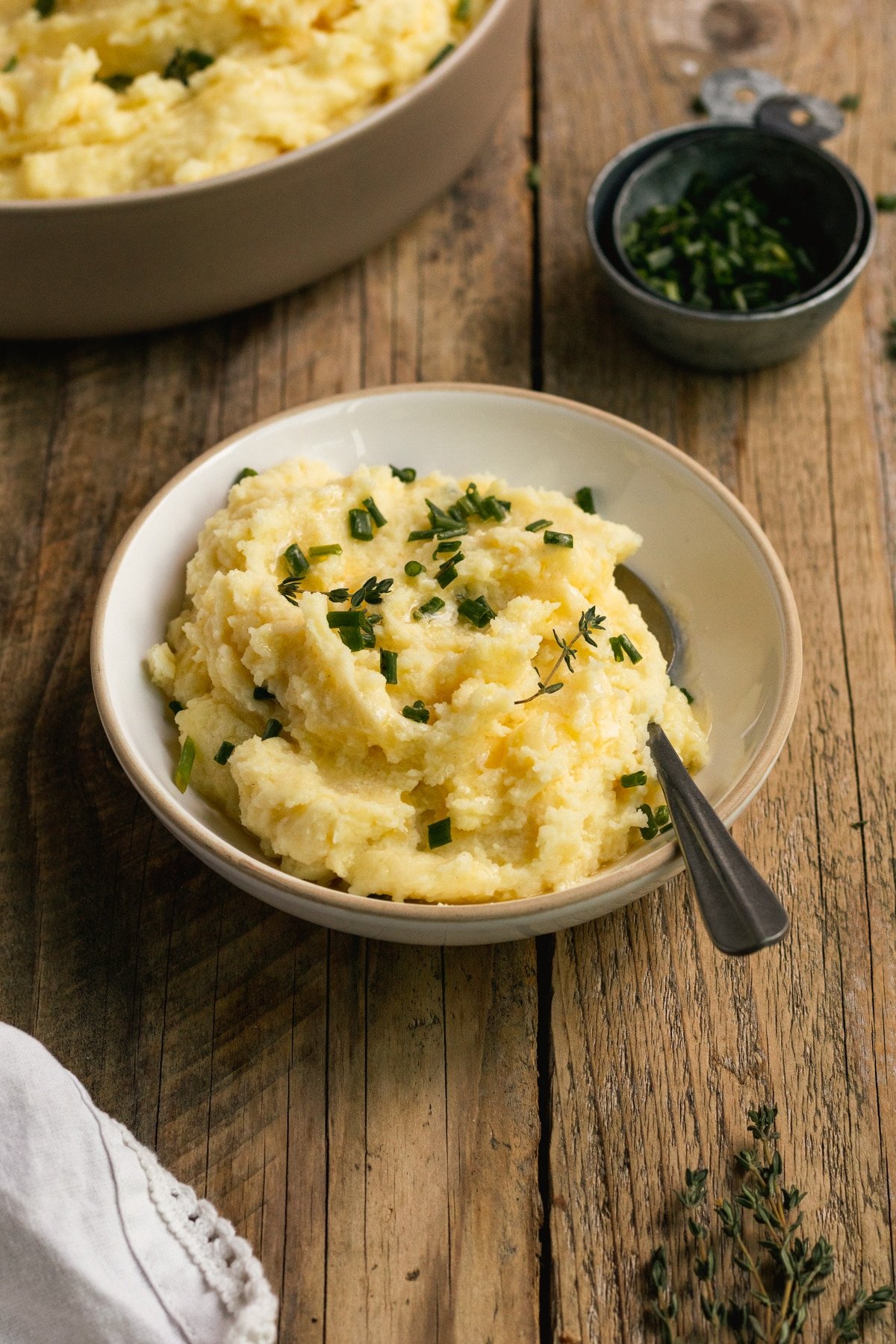 FAQ
What cheese can I substitute for Parmesan?

My top two favorites for substitutions are Asiago or Pecorino Romano.
If I don't have Yukon Gold potatoes, what other potatoes can i use?

Russet potatoes are always a great option. Or you can use half Yukon/half Russets. mashed potatoes.
To peel, or not to peel?

I suppose it's up to you! If you love the texture they add, leave them in. If you're going for the creamy route, peel peel peel!
How do I reheat mashed potatoes?

For the easiest option, you can use the microwave. Or if you have a little more time, pop them in the oven at 350°F with a little cream or milk and bake until heated through.
Before You Begin! If you make this, please leave a review and rating letting us know how you liked this recipe! This helps our business thrive & continue providing free recipes.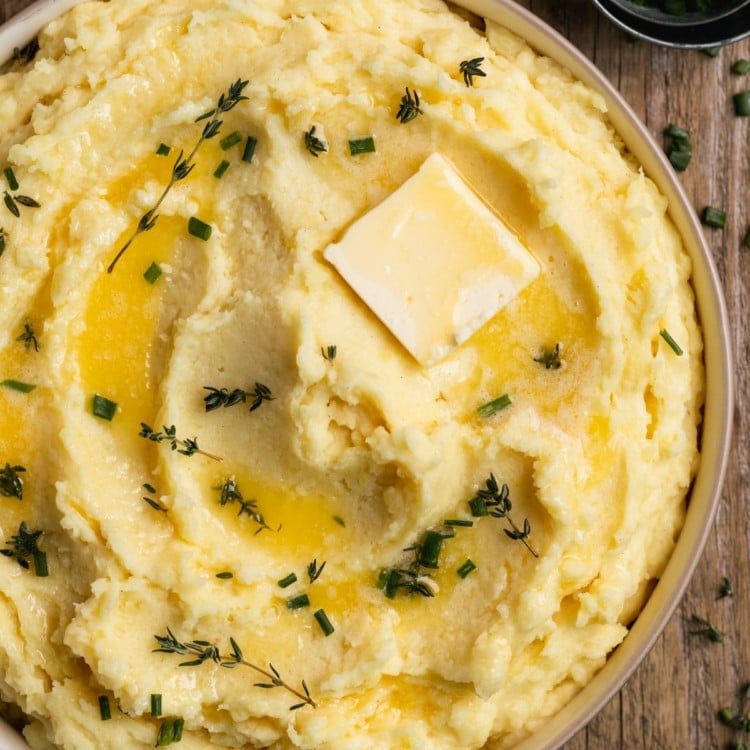 Fluffy Parmesan Mashed Potatoes
Fluffy, creamy, Parmesan mashed potatoes filled with butter, a Parmesan cream sauce, heavy cream, and chives if you're feeling fancy. There is nothing more comforting and they are an indulgence your holiday table needs!
Ingredients
3

lbs.

Yukon gold potatoes, washed, peeled and cut into 1-2 inch cubes (or Russet Potatoes)

Kosher salt, to taste

8

Tbsp.

butter, unsalted

2

Tbsp.

all-purpose flour

3/4

cup

heavy cream

3/4

cup

whole milk

1

cup

Parmigiano Reggiano, finely grated using a micro plane

white pepper, to taste

garnish: fresh chives, thyme, etc.
Last step! If you make this, please leave a review and rating letting us know how you liked this recipe! This helps our business thrive & continue providing free recipes.
Instructions
Add the cubed potatoes to a large pot of cold water, and rinse the potatoes 2 or 3 times until the water runs clear.

Cover the potatoes with fresh cold water and add a generous pinch of kosher salt. Don't be shy here, add a really big pinch(s) of salt!

Bring the potatoes to a boil over medium-high heat, then reduce the heat down to maintain a simmer over moderate heat until the potatoes are tender, about 15-20 minutes.

Meanwhile, make the Parmesan cream sauce. In a saucepan over medium heat, melt the butter. Whisk in the flour and whisk for about a minute to get rid of the floury taste.

Then gradually whisk in the heavy cream and milk in a steady stream.

Bring to a simmer, then add in the Parmesan and whisk until smooth and remove from heat. Sauce will be thick and creamy, similar to an Alfredo sauce texture.

Drain and rinse the potatoes under hot water for 1 minute (this is to rinse excess starch)

Pass the warm potatoes through a potato ricer, or food mill, over the pot. If you don't have either, use a potato masher.

Fold in the Parmesan cream sauce, season generously with more salt, white pepper and chives on top.

If looser potatoes are desired, heat some milk in a sauce pan just until warmed and slowly add to the potatoes and fold until desired consistency is reached.
Notes
This recipe only serves about 6 people, so if serving for a larger crowd for the holidays, I would recommend to double the recipe.
If you don't have a potato ricer, you can use a food mill or a good quality masher to process the potatoes. The ricer is my favorite method for fluffiest potatoes.
Store leftovers in an air-tight container in the fridge for 3-4 days.
Nutrition Information
Serving:
1
serving
,
Calories:
419
kcal
(21%)
,
Carbohydrates:
36
g
(12%)
,
Protein:
13
g
(26%)
,
Fat:
32
g
(49%)
,
Saturated Fat:
20
g
(125%)
,
Polyunsaturated Fat:
1
g
,
Sodium:
427
mg
(19%)
,
Fiber:
5
g
(21%)