Make Ahead Sweet Potato Casserole
Casseroles | Published Nov 8, 2022 | Updated Nov 7, 2022 | By Tawnie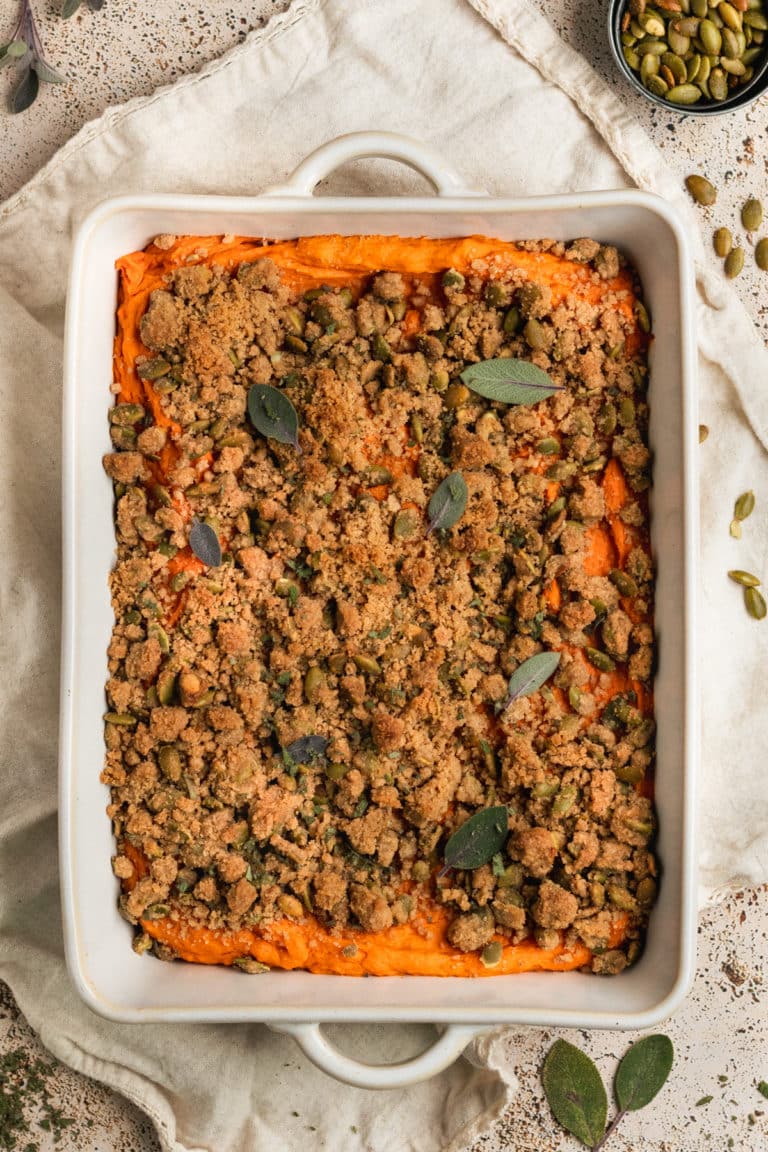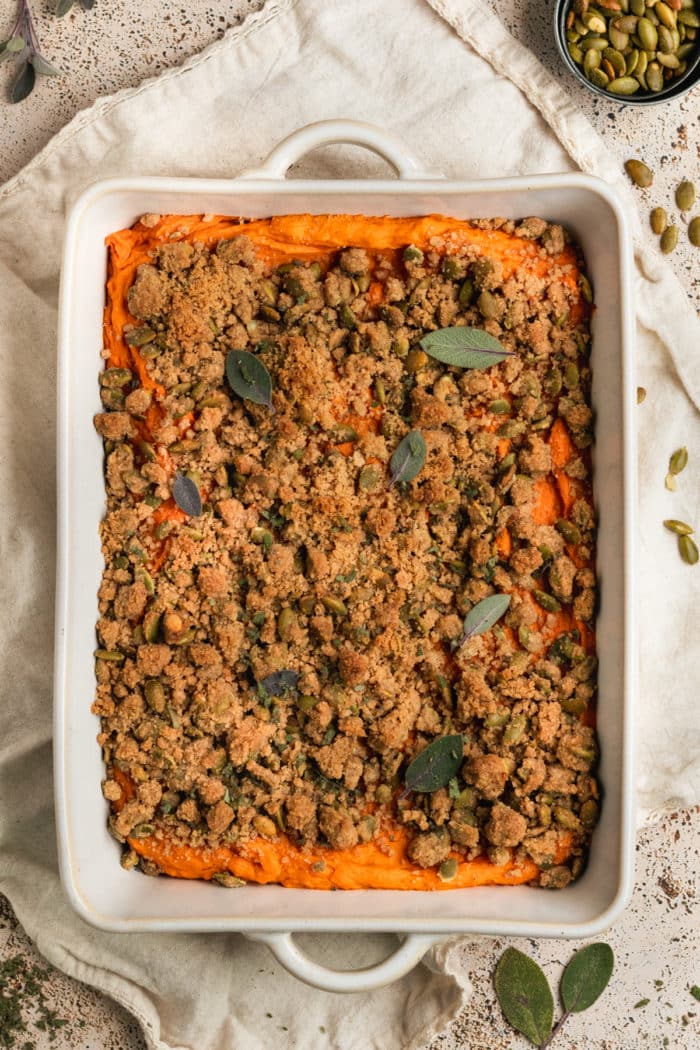 I can't stop swooning over this Make Ahead Sweet Potato Casserole. I mean look at it!
Turkey and ham are delicious but I'm totally the type that gets most excited about the side dishes. If that's you too, you need this sweet potato casserole on your holiday table this year!
If you're looking for more Thanksgiving side dish recipes or holiday sides, you'll have to try this Homemade Green Bean Casserole, Shaved Brussels Sprouts Salad, or this Cornbread Sausage Stuffing!
You just can't resist these creamy, buttery, savory yet sweet fluffy, sweet potatoes. And what makes this recipe so special is the brown butter. It accelerates the wonderful flavors of sweet potatoes, buttermilk, brown sugar, vanilla bean and cinnamon that vastly improves the taste of this classic side.
There is always so much to do on the day of a holiday, so the great about this recipe is that you can make it 1 to 2 days before your holiday dinner to free up some time!
And you might be wondering…is this a side dish or a dessert? It always goes up for debate at the dinner table! I personally love it as a side. I mean, what's better than filling your fork with a bite of casserole, turkey, and cranberry sauce?!
But you do you! This casserole can totally double as an amazing dessert. So move over Apple Pie, there just might be second helpings of my Make Ahead Sweet Potato Casserole for dessert!
Why this recipe works:
As the name says, this can be a make ahead dish! Anything to make the actual Thanksgiving Day in the kitchen less stressful is a lifesaver in my book!
This is an easy recipe, so if you choose to make this the day of it will take you about an hour and a half, including cooking time.
The buttermilk adds a delicious tang to the creamy, sweet potatoes.
It's not overly sweet. I wanted to highlight the sweet potatoes natural sweetness so I didn't overload it with too much brown sugar and I chose to omit marshmallows.
There is something comforting about the smells of warm vanilla and cinnamon spice that gets you in the mood for the holidays. It just screams Fall!
Everyone has a favorite food for the holidays but this make ahead sweet potato casserole will be moved to the top of everyone's fav list.
Ingredient Notes
Sweet potatoes: Look for nice, large sweet potatoes. Allow the sweet potatoes to cool before spooning out the sweet potato, they're hot!
Butter: be sure to use unsalted butter when browning butter. When browning salted butter the salt gets concentrated in the milk solids and can ruin the flavor
Vanilla bean: Vanilla bean or vanilla paste both will give you the forward vanilla flavor, but the paste is easier to work with.
Buttermilk or sour cream or even heavy cream: I love the tanginess and the consistency of buttermilk for this recipe but either of these options will work.
Dark Brown sugar: Dark Brown sugar taste more like molasses syrup and has a slight more complex flavor then light brown sugar. We're not using an excessive amount in this recipe so you can still get lots of sweet potato flavor.
Kosher salt: I always use Kosher salt in my recipes. It has a more pure flavor and does not include additives like iodine.
Eggs: Lightly beat them before adding into the sweet potato.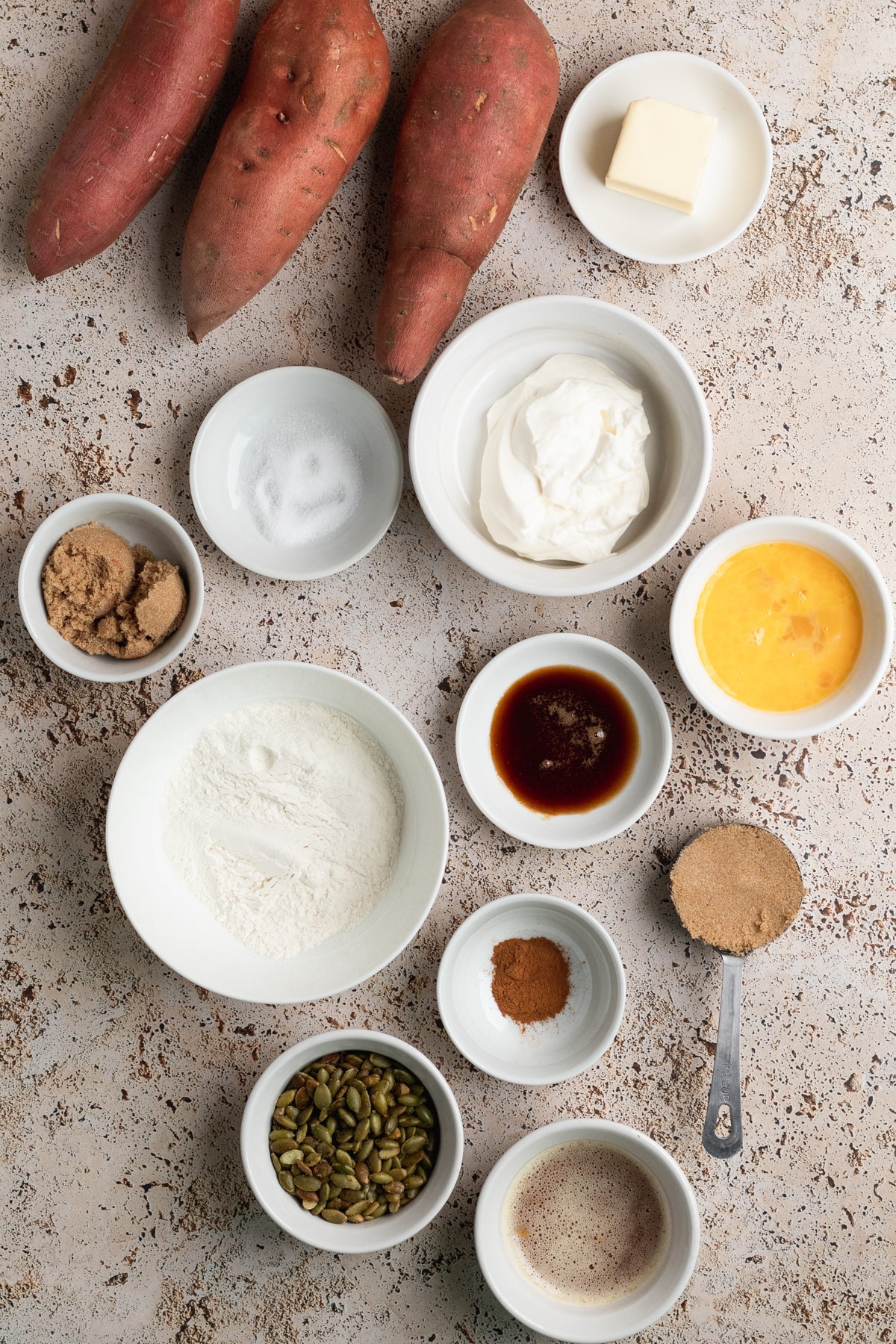 Step by Step Directions
Be sure to scroll down to the recipe card for the full recipe instructions.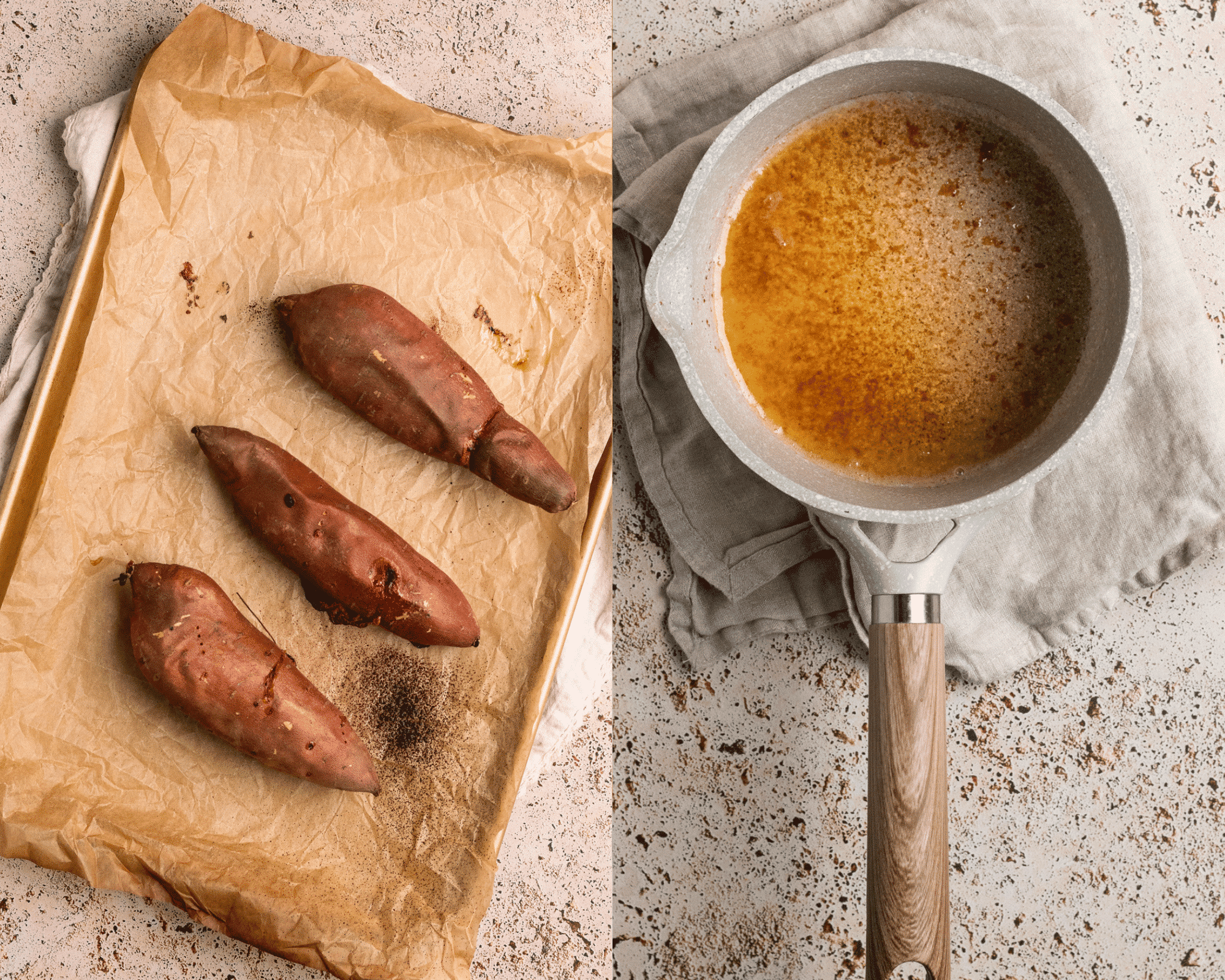 Bake the sweet potatoes in the oven until tender.
Scoop the sweet potato flesh into a bowl and discard the skins.
Brown the butter and add the vanilla bean to it. Set aside.
Beat the sweet potatoes until fluffy. If still warm, let cool a little bit.
Add in the vanilla bean brown butter, eggs, buttermilk/sour cream, brown sugar and salt.
Place in a lightly greased 9×13 pan.
Sprinkle the brown sugar pepita topping over the top and bake until heated through.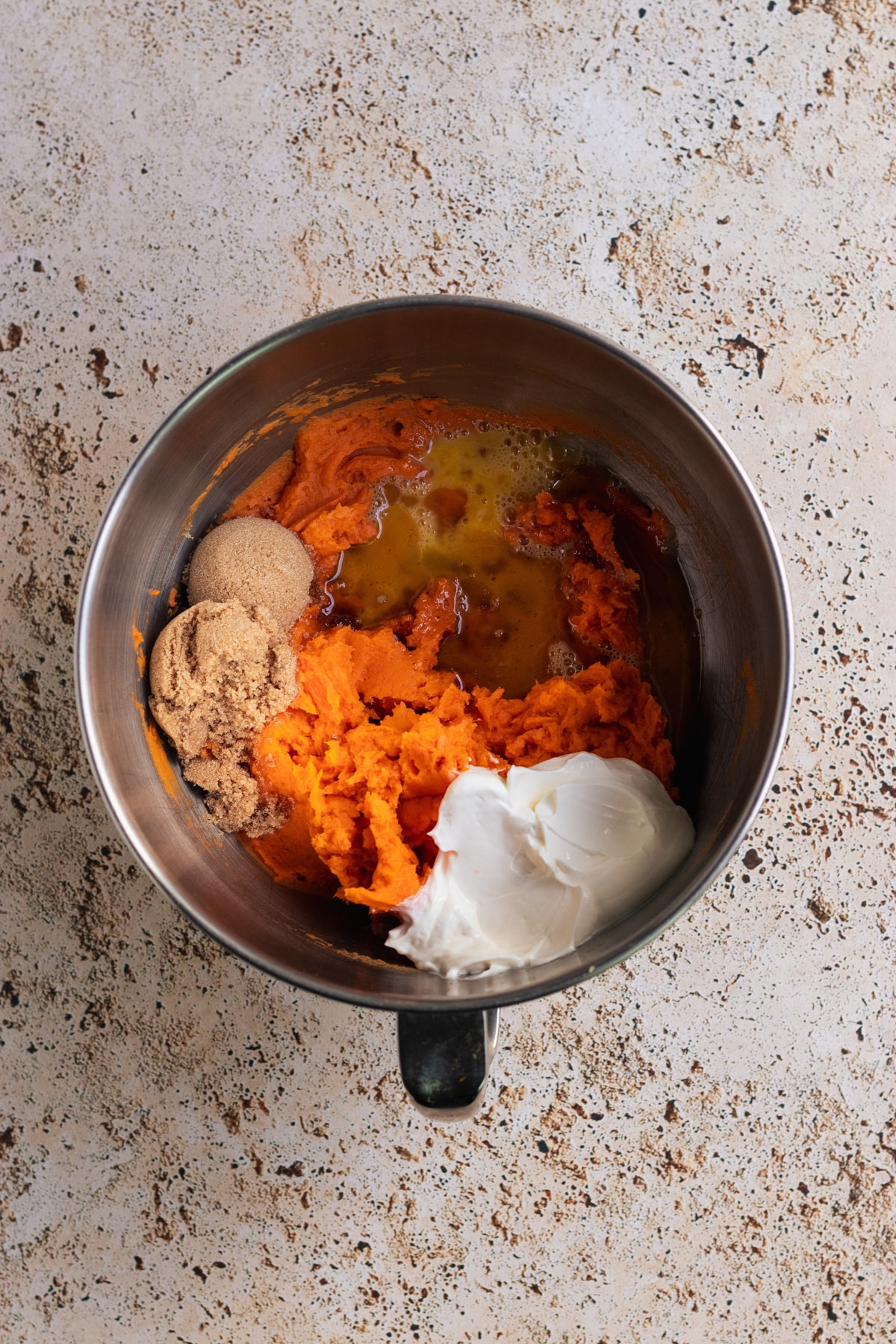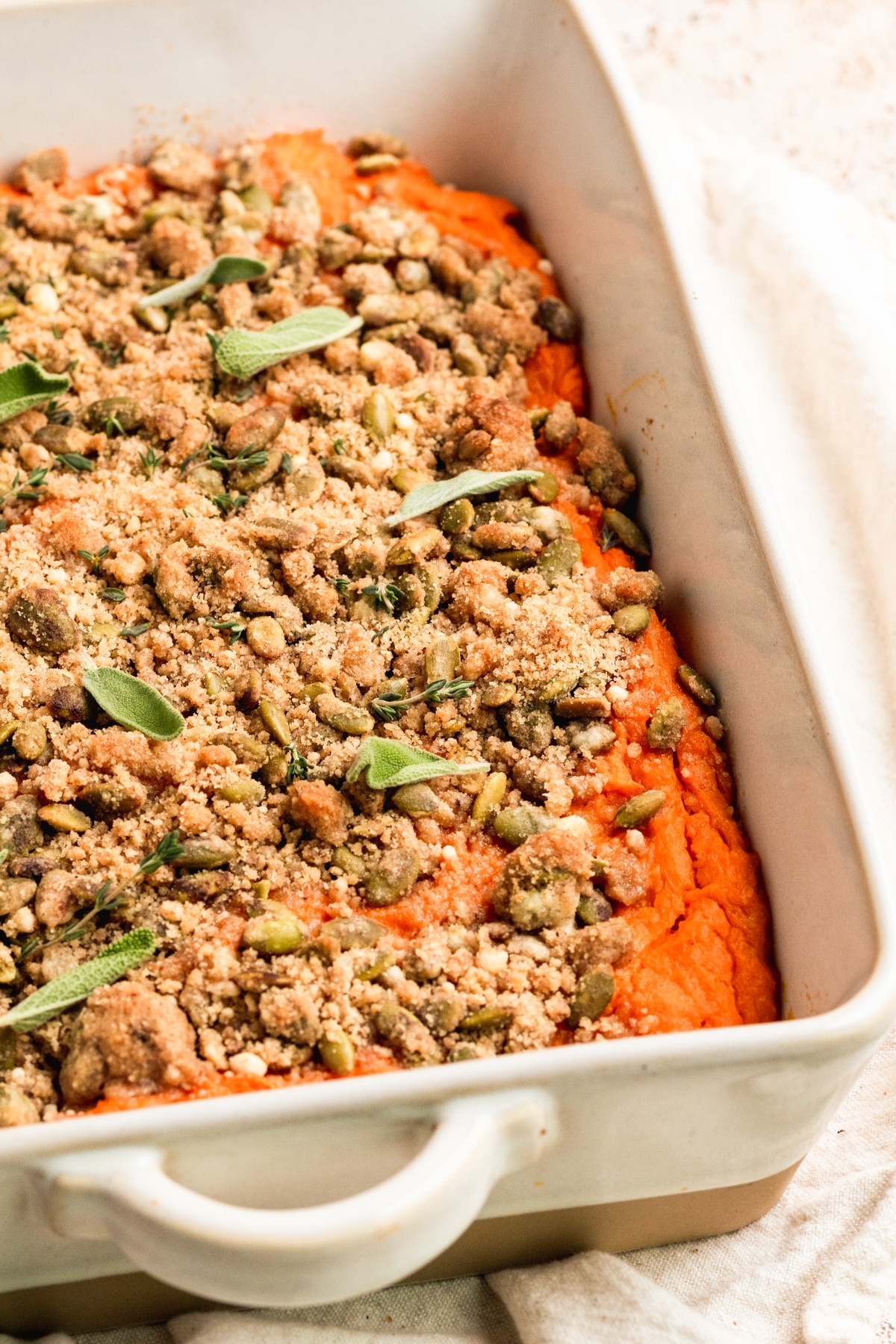 Tips and Variations
If you want more of a traditional streusel topping, substitute pecans for the pepitas.
I like baking the sweet potatoes and if you are looking for an even fluffier potato, try wrapping the potato in foil. This locks in the steam as the potato is baking, making for a fluffier cooked potato.
Add in pumpkin pie spice to the streusel topping for even more Fall vibes.
When making the brown butter I recommend that you cook slowly, and have patience . Use a light colored pan with shorter sides, like a skillet, to help with the evaporation of the water in the butter. Once the water has evaporated the milk solids will caramelize and your butter will be any where from a pale golden to a deep mahogany color. Just don't over cook , as it will burn.
For a different flavor profile, substitute rosemary, thyme or sage and a sprinkle of flaky sea salt for the pepitas.
You can also boil the sweet potatoes until soft, I just prefer the flavor roasting gives this side dish. If you want to boil the potatoes, peel and chop them and then boil until fork tender.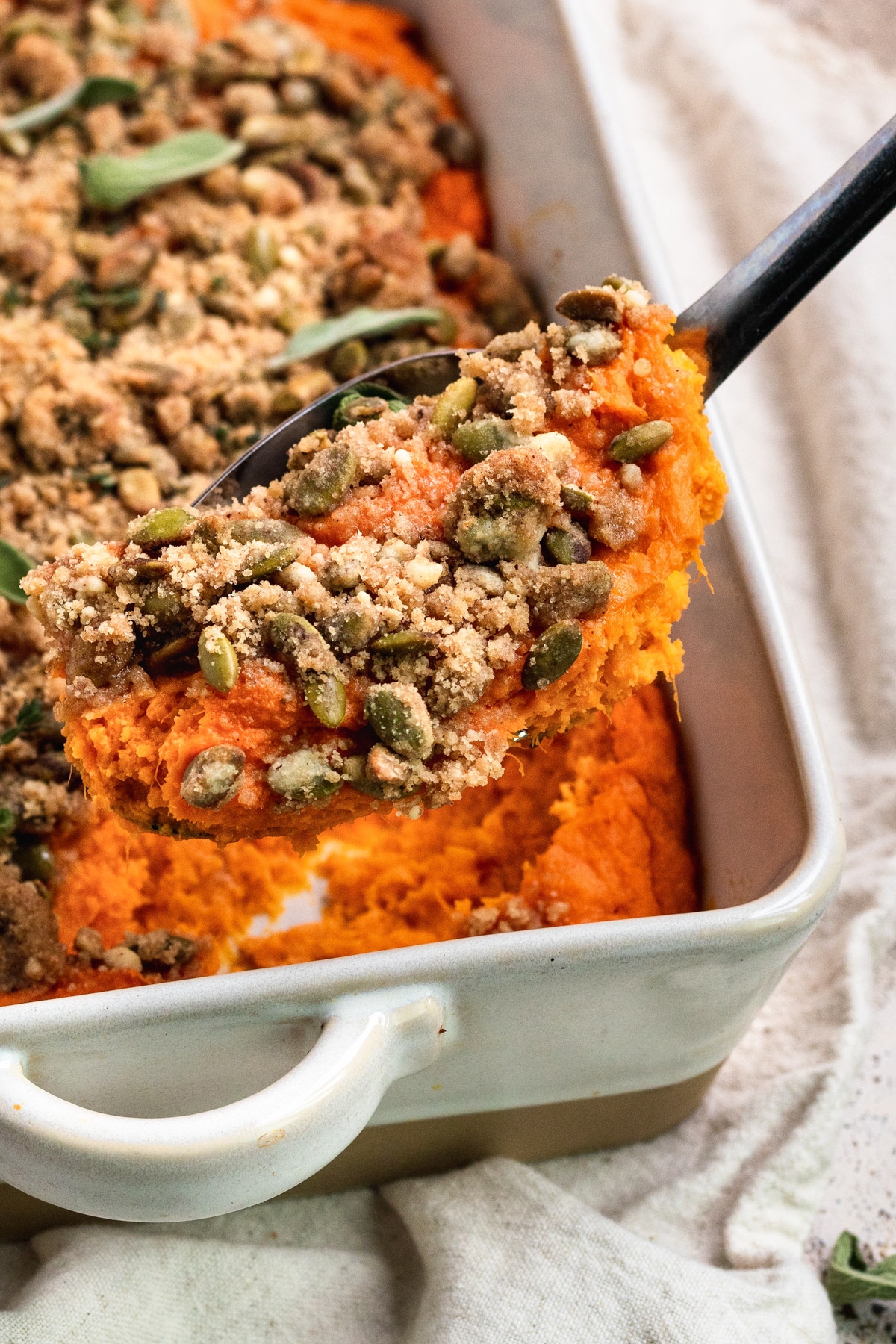 FAQ
Can I substitute vanilla extract for the vanilla bean, or vanilla bean paste?
Yes you can, but the vanilla bean has a slightly more distinct flavor.
Can I freeze the sweet potato casserole?
Yes! You can for up to 2 months, but I suggest leaving off the toppings. When you are ready to cook the casserole, thaw it over night in the refrigerator. When you are ready to bake it, that is the time to add the toppings.
Can I boil the potatoes instead of baking them?
Yes you can. Just make sure you cut the potatoes the same size so that they cook at the same rate.
What is the difference between sweet potatoes and yams?
A sweet potato has tapered ends and smooth skin, and the flesh of the sweet potato is typically orange. A yam has thicker, dark skin and is usually white fleshed. The sweet potato is also sweeter, and creamier in taste and the yam is more similar to the neutral flavor of a white potato.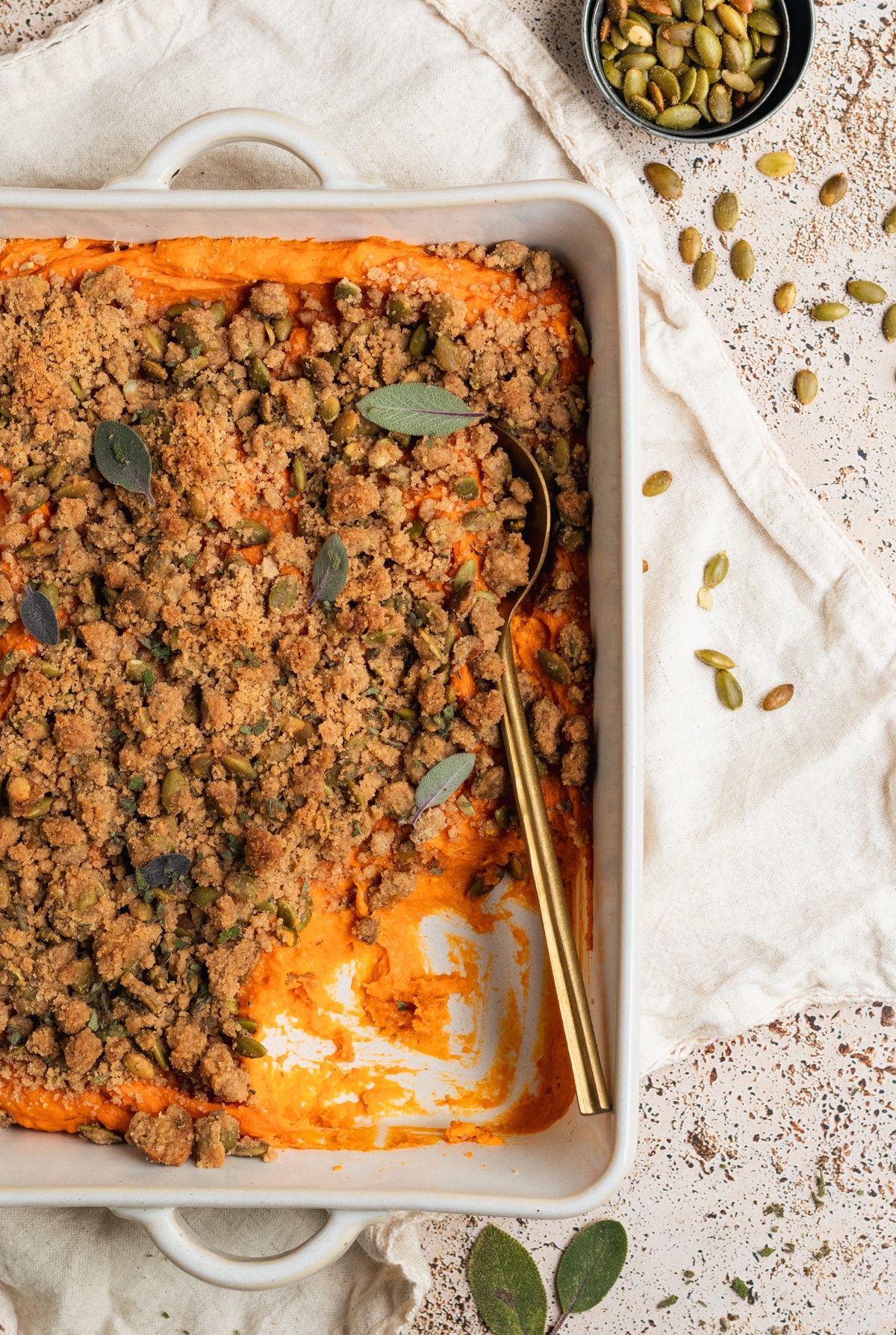 HUNGRY FOR MORE? If you try this recipe, why not leave a star rating in the recipe card right below and/or a review in the comment section further down the page? I always appreciate your feedback! You can also follow me on Pinterest or Instagram. Sign up for my email list, too!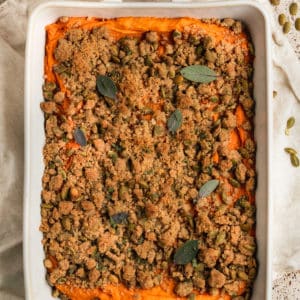 Make Ahead Sweet Potato Casserole
This Make Ahead Sweet Potato Casserole is made with roasted sweet potatoes, a vanilla bean brown butter, a hint of cinnamon and the best brown sugar streusel topping. You won't even miss the marshmallows. Plus, are the holidays even the holidays without this classic side dish?!
Ingredients
For the sweet potatoes
3

lbs.

sweet potatoes (~ 3 large sweet potatoes)

4

Tbsp.

unsalted butter

1/2

vanilla bean pod, or 1 tsp. vanilla bean paste

1/2

cup

buttermilk or sour cream

2

Tbsp.

dark brown sugar

1

tsp.

kosher salt

2

large

eggs, lightly beaten
For the topping
1/2

cup

dark brown sugar, packed

1/2

tsp.

ground cinnamon

pinch of salt

4

Tbsp.

unsalted butter, melted

2/3

cup

all purpose flour

1/2

cup

pepitas
Instructions
Bake the sweet potatoes: Preheat the oven to 425°F. Line a rimmed baking sheet with foil. Poke holes all over sweet potatoes using the tines of a fork. Place on the baking sheet and bake for 45-60 minutes or until soft and tender. Reduce oven temperature to 375°F.

Grease an oven safe 9×13 pan lightly with softened butter or baking spray. Set aside.

Brown the butter: In a stainless steel skillet over medium heat, melt the butter. Swirl the pan occasionally to help the butter melt evenly. The butter will begin to foam, and then the foam will begin to subside and you'll start to see tiny specks at the bottom of the pan, stir with a heat resistant spatula or wooden spoon and constantly stir and scrape so milk solids that are browning don't stick. (These are what give brown butter it's yummy flavor.) As soon as the butter turns chestnut brown and omits a nutty aroma, remove the pan from the heat and scrape the brown butter and all of the delish brown bits into a heat proof bowl. It's important to remove to a bowl immediately so the residual heat from the pan doesn't burn the butter. Add the vanilla bean to the brown butter, stir and set aside.

Peel the sweet potatoes once cool enough to handle, discard the skins and place the sweet potato into a large bowl.

Beat the sweet potato in a stand mixer fitted with the whisk attachment, or use a hand mixer, for 1-2 minutes on medium speed, until nice and fluffy.

If the potatoes are still very hot, let cool down for a few minutes so the eggs dont cook. Once cooled, add the vanilla bean brown butter, eggs, buttermilk/sour cream, brown sugar and salt. Mix again until combined and then spread evenly in prepared baking dish.

Make the topping: mix the brown sugar, salt and cinnamon together in a medium sized bowl. Pour in the melted butter and stir. Add in the flour and pepitas. Stir until combined to form crumbs. The dough will hydrate to form those crumbs and then you can spoon this over the sweet potatoes.

Bake at 375°F for 30 minutes or until heated through. Serve hot and enjoy!

TO MAKE AHEAD: make the recipe as directed all the way up to step 6. Make the topping but keep the topping on the side, store in the fridge. Place the casserole in the fridge, covered, overnight until you're ready to bake. Prior to baking, place the topping on and bake for an additional 10 minutes or until hot since the casserole is now cold. Enjoy!
Notes
Feel free to use pecans, walnuts, almonds or even candied nuts instead of pepitas in the brown sugar topping.
Store the casserole in an air tight container in the fridge for up to 5 days.
Reheat: pop it in the microwave until warm.
Nutrition
Serving:
1
serving
|
Calories:
408
kcal
|
Carbohydrates:
61
g
|
Protein:
7
g
|
Trans Fat:
0.3
g
|
Fiber:
6
g
|
Vitamin C:
4
mg
|
Calcium:
1
mg
Hi, I'm 
Tawnie

!

Welcome to my tiny "korner" on the Internet! I am a Registered Dietitian Nutritionist who loves cookies as much as kale. (OK, maybe I like cookies a little bit more but shh, don't tell anyone). I am so glad you're here! Follow along for hassle free, realistic and approachable recipes.

More about Tawnie

I'd love to see what you made!!
Share it with me on Instagram or Facebook and tag me @krolls_korner or use the hashtag #KrollsKorner!