Wild Rice Pilaf
Dairy-Free | Published Nov 9, 2022 | Updated Nov 8, 2022 | By Tawnie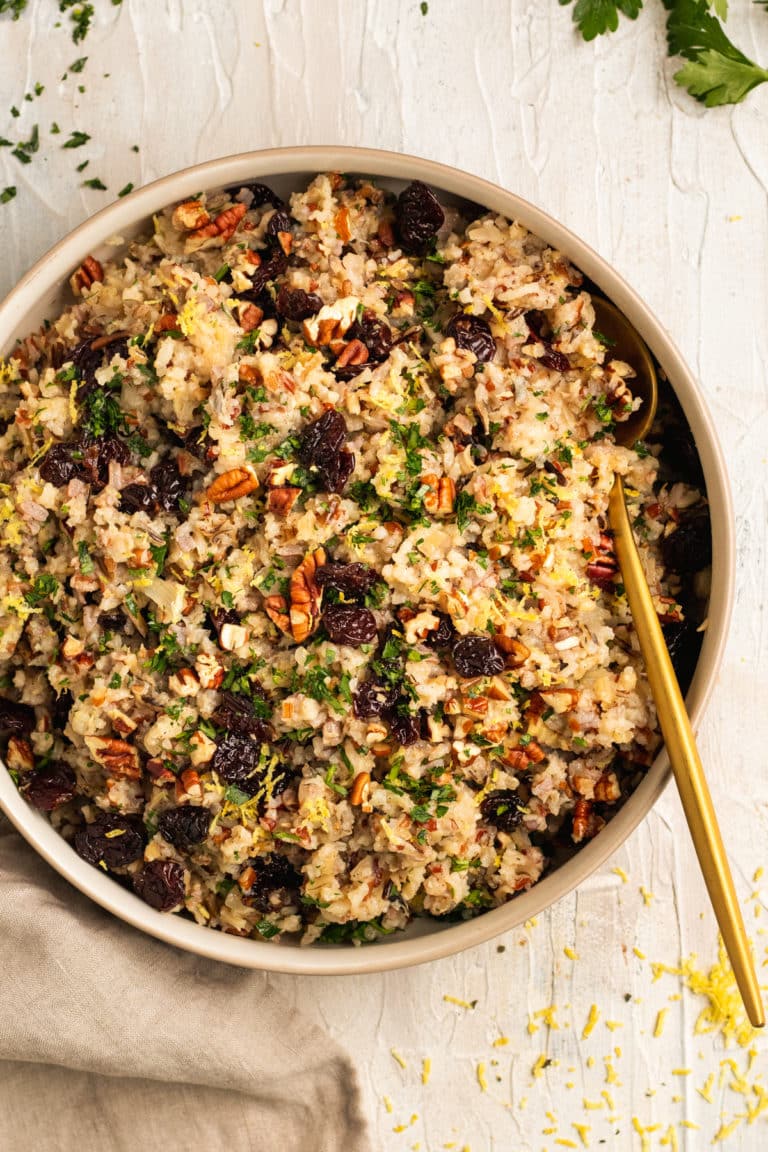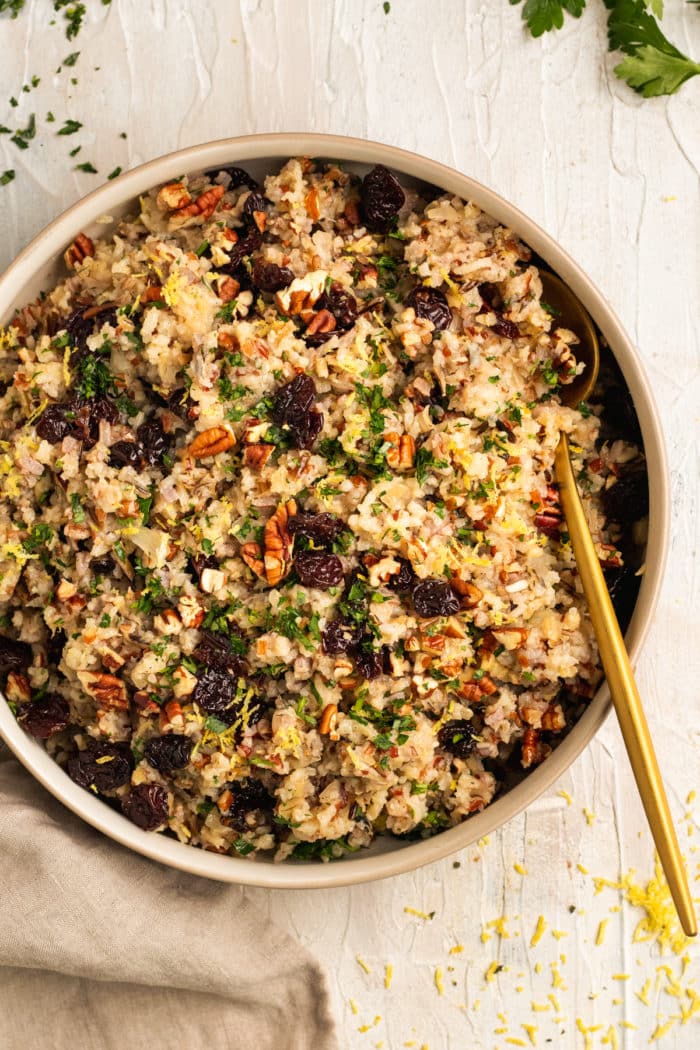 The rich color and full-bodied flavor of this Wild Rice Pilaf is the perfect side dish to get you into the holiday spirit!
The flavors of the nutty, earthy wild rice combined with the sweet onion and sweet-tart cherries makes this wild rice pilaf the perfect alternative to rice pilaf when you're feeling like something a little more festive.
Top it with lemon zest to enhance the flavors of the season in this easy-to-make side dish that pairs so well with the main attraction on your table.
I don't know about you, but for me I am all about the sides on the holidays! From cornbread and sausage stuffing to cheesy scalloped potatoes there's so much to look forward to!
In this recipe I am using a gorgeous wild rice blend. It combines black rice, brown rice, red rice and wild rice to make this nutrient dense dish. While it's perfect for the holiday season, you can also make it and serve year-round.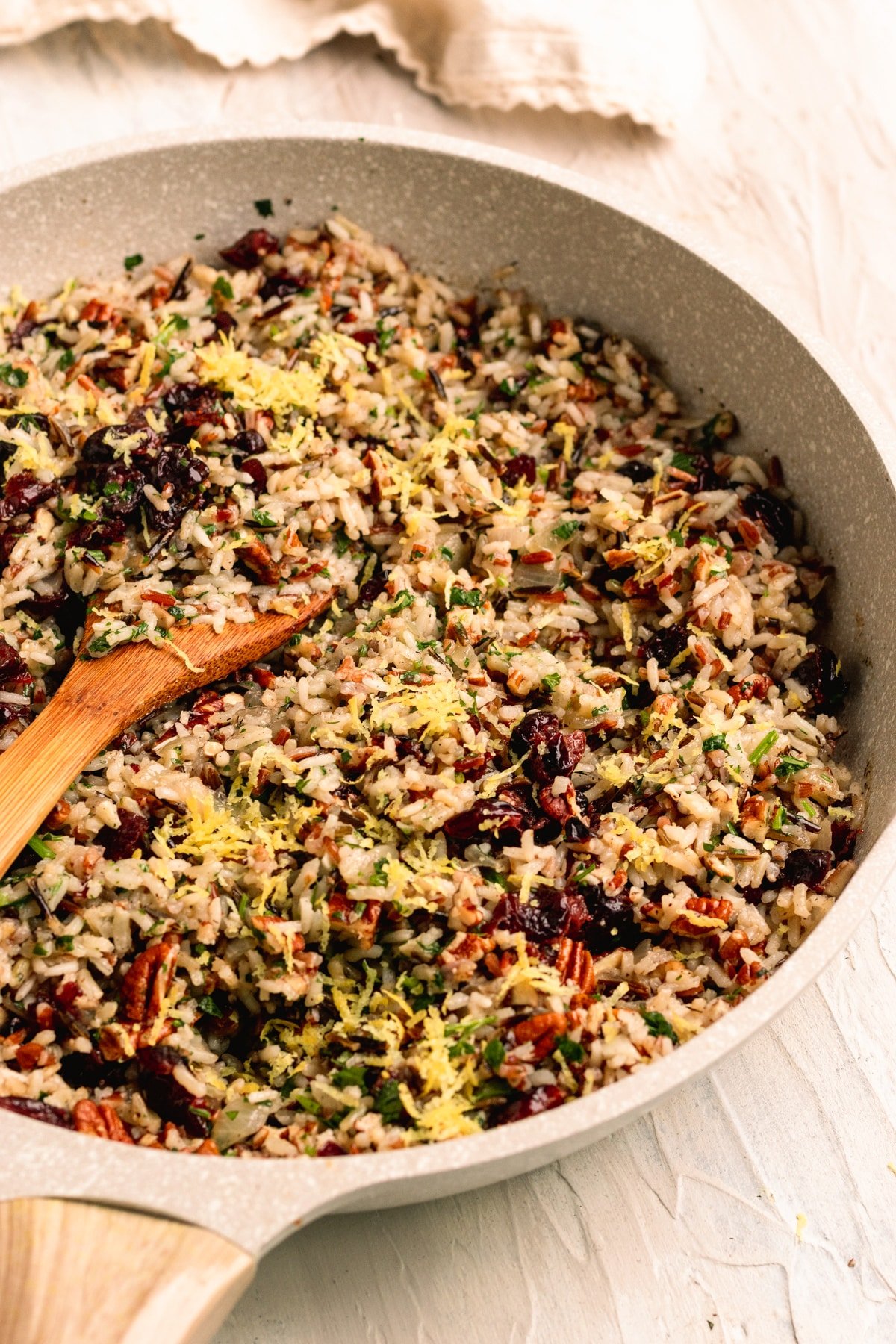 Growing up with rice pilaf being a standard side dish for so many meals, I was so excited to add this wild rice pilaf to my list of any-time-of-the-year side dishes. Don't get me wrong, I love traditional pilaf. I can eat a big bowl just about any time of the day! But there is so much texture in this wild rice pilaf and the infusion of flavors is so intoxicating that I can't even think about rice pilaf when I can indulge in this yummy rice.
Why this recipe works
It makes fluffy, perfectly cooked rice every time
You can make it on the stove or in the slow cooker!
It's an easy holiday side dish with minimal prep.
You can make it ahead of time and it reheats really well.
It's a fun switch up from your usual rice dishes
Full of fresh flavor and a gorgeous addition to your holiday spread!
Ingredient Notes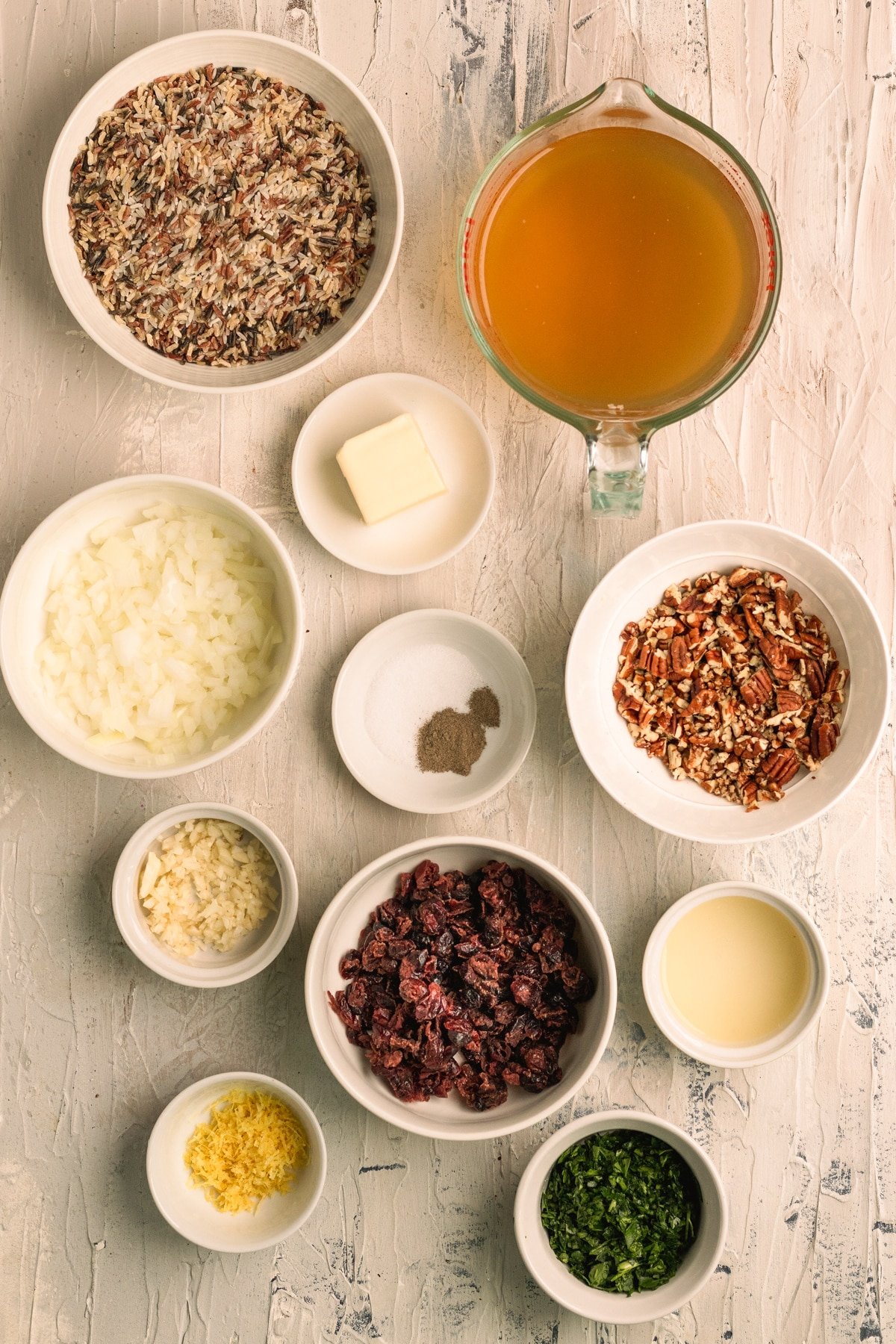 Wild rice blend: using a wild rice blend is both beautiful and versatile so you can serve it all year long. My favorite blend is the Lundberg Family Farms brand.
Unsalted butter: I love using unsalted butter in my recipes because it gives me complete control over the flavors in my recipes.
Onion: slightly caramelized sweet onions add a wonderful depth of flavor to the wild rice pilaf.
Garlic: Freshly minced garlic will have add a potent flavor and aroma. The onion and garlic a must have aromatics in any rice pilaf in my opinion!
Kosher Salt: I like cooking with Kosher Salt because it is made solely of sodium chloride. Unlike other salt, It usually doesn't contain any trace minerals, iodine, or anti-clumping or anti-caking agents.
Black pepper: There's nothing better than freshly cracked black peppercorns. It's a control thing for me, as you can control the texture (by selecting your grind) and flavor. It's just all around a better, more flavorful option.
Chicken broth: use your favorite, or low-sodium option.
Fresh lemon juice & lemon zest for garnish: Lemon juice and zest adds a bright, citrusy flavor.
Dried cherries: I love mixing things up during the holidays by tossing in sweet-tart dried cherries. Dried cranberries are commonly used but the cherries add a special touch.
Pecans: Toasting pecans releases their natural oils and brings out a more robust nutty flavor which pairs perfectly with the nuttiness of the wild rice blend.
Fresh parsley: Fresh parsley is clean and peppery and slightly understated which makes it the perfect topping to my very flavorful Wild Rice Pilaf.
Step by Step Directions
Be sure to scroll to the bottom of this post to the recipe card for the full recipe instructions.
Rinse the rice under cold water.
Melt the butter in a skillet over medium heat.
Saute the onion.
Add the garlic, salt and pepper.
Add the rice and stir to coat the grains, then pour in the broth.
Bring to a boil, then turn heat down to low and simmer, covered with a tight fitted lid for 40-45 or until the rice is cooked.
Remove from heat and let sit, covered for 10 more minutes.
Remove the lid, squeeze fresh lemon juice over the top. Stir in dried cherries pecans and parsley and garnish.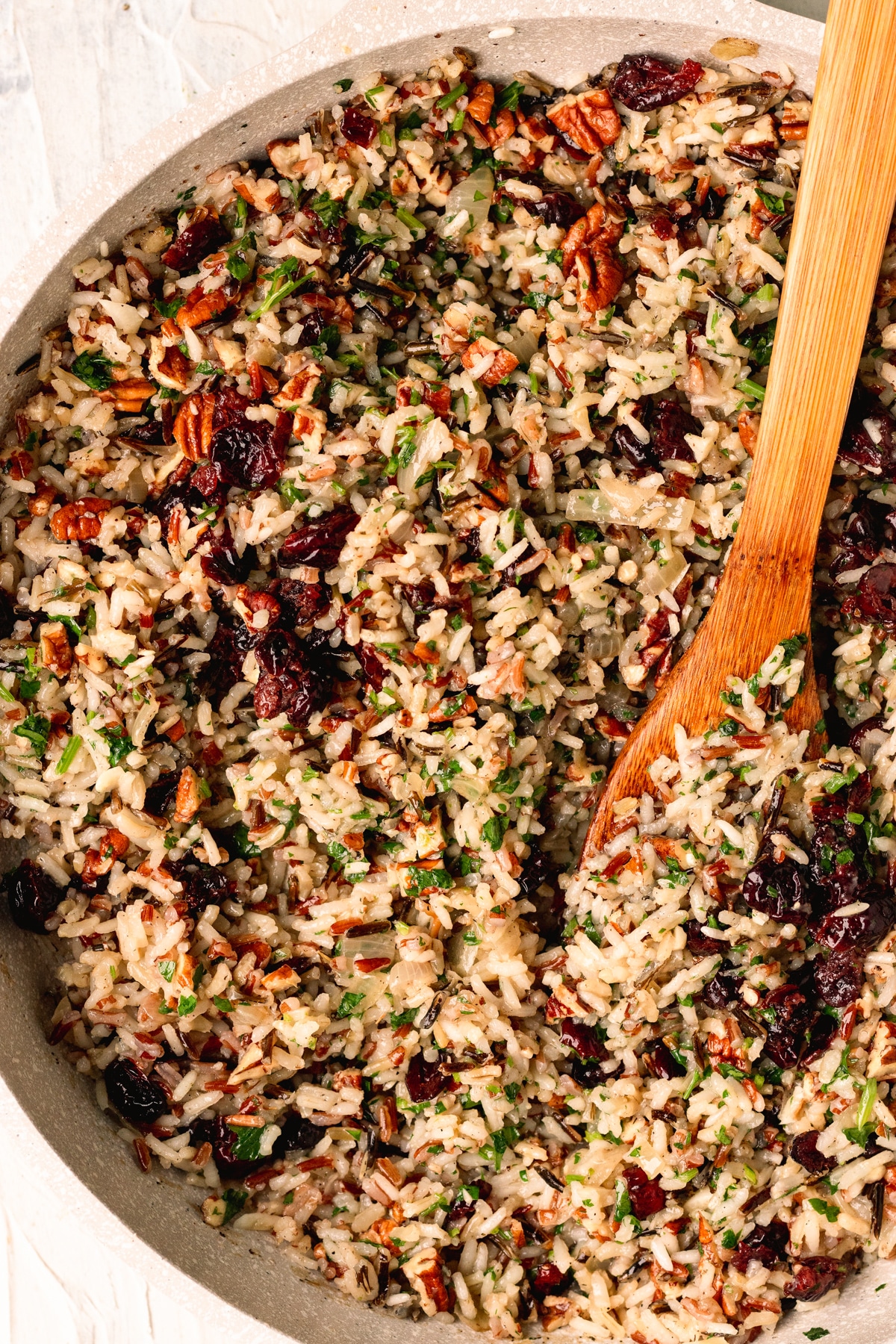 Tips and Variations
Add veggies or a protein: With so many side dishes on our American Holiday tables, I wanted to keep the ingredients somewhat minimal in this recipe. But if you are looking to add more ingredients in your pilaf, or have some left over veggies or protein like turkey or ham, toss them in and make this a full meal in itself.
Keep the lid on: For the fluffiest rice, remember to leave the lid on after cooking, and let the pan sit for 10 minutes before removing the lid and fluffing the rice with a fork.
Rinse the rise: The outer layer of brown, whole-grain, wild, or red rice is still attached and it doesn't allow water to penetrate as well as white rice. But it is still important to rinse the rice before cooking to remove any bits of starch that linger. Just pour the uncooked wild rice blend in a colander or mesh strainer. Then run cold water over it and shake it just a little until the water runs clear. This just takes a few minutes but helps to give a more fluffy rice once cooked.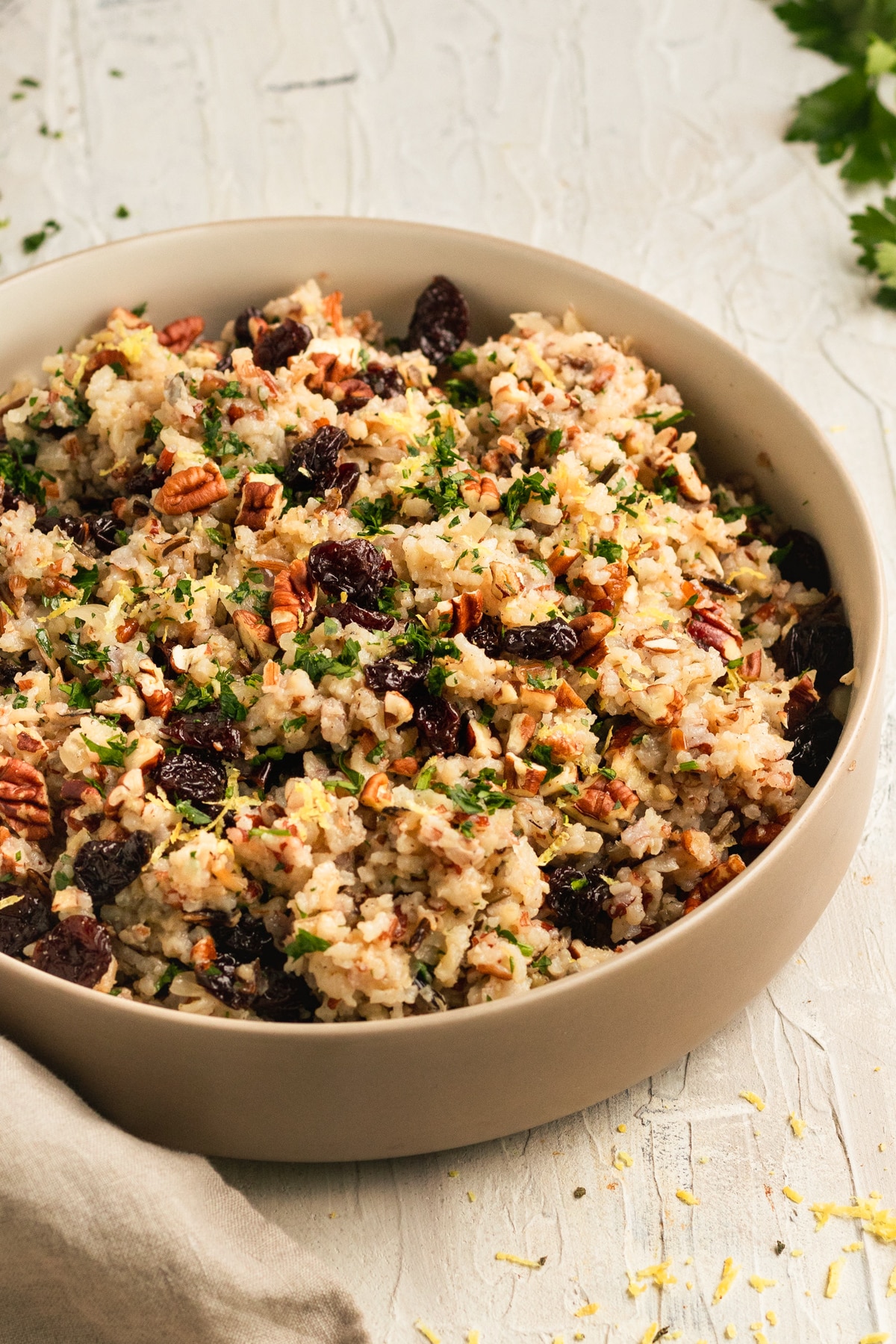 FAQ
Do I need to soak the wild rice blend before cooking?
No you don't. Soaking the rice for 15 minutes will cut down on the cooking time, but it will also change the texture. The chewy texture is one of my favorite features of wild rice, so I would not recommend soaking it.
What is the difference between Wild Rice and a Wild Rice Blend?
A Wild Rice Blend usually has a blend of whole grain rice that includes black, brown, white and red mixed in with wild rice. We're using a blend for this pilaf.
Can I make the Wild Rice Pilaf in the slow cooker?
Yes you can! The cook time is between 3 and 4 hours. It's a very easy recipe. See my slow cooker instructions in the recipe card below.
What can I do if I can't find a wild rice blend?
If you can't find a blend, then it's easy to make your own. I like to start with 2 ½ cups long grain brown rice and then add a ¼ cup each of wild rice, red rice and black rice.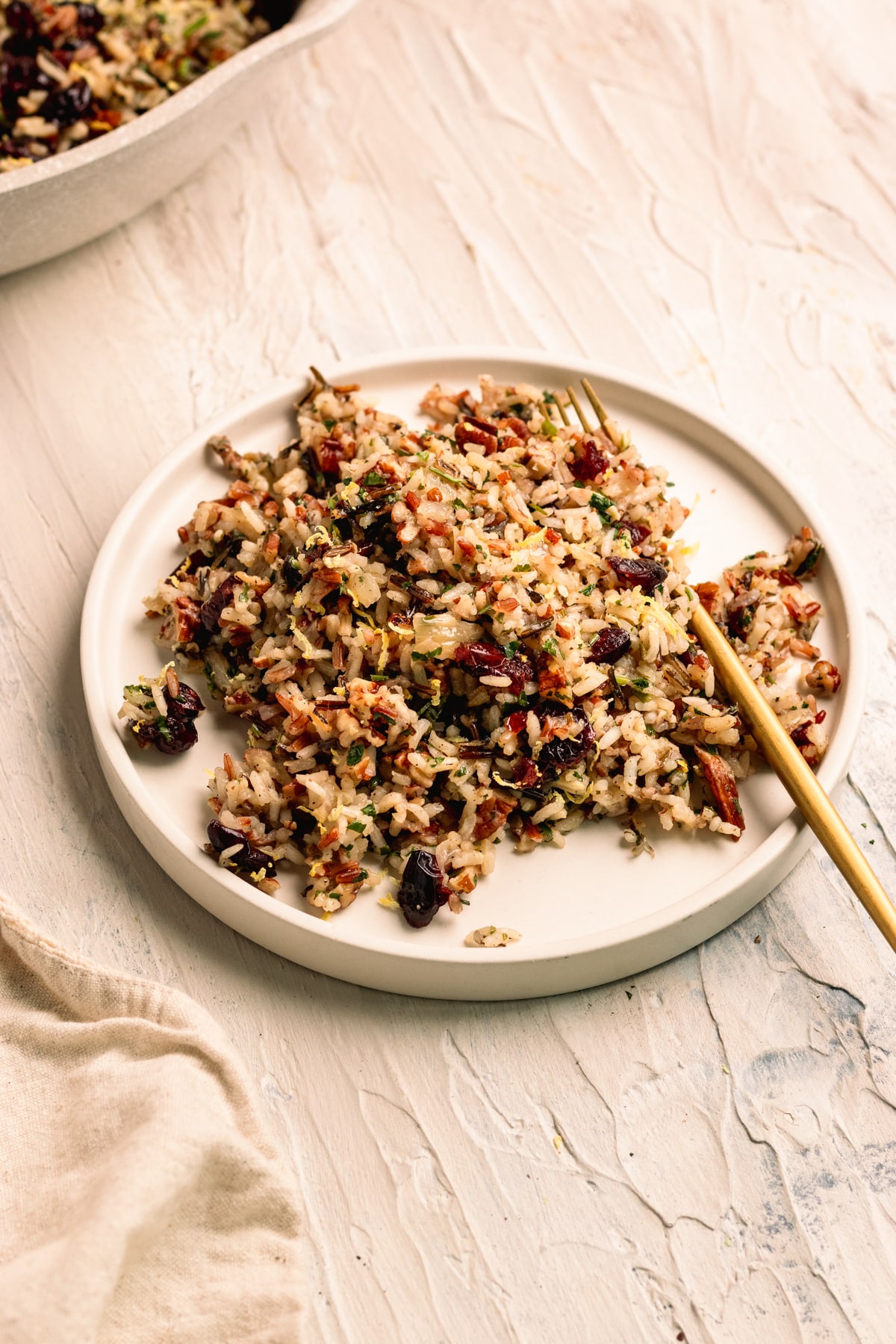 HUNGRY FOR MORE? If you try this recipe, why not leave a star rating in the recipe card right below and/or a review in the comment section further down the page? I always appreciate your feedback! You can also follow me on Pinterest or Instagram. Sign up for my email list, too!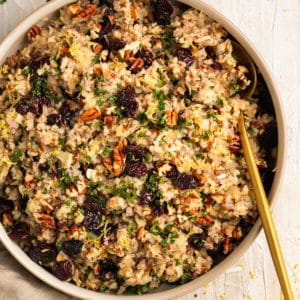 Wild Rice Pilaf
This Wild Rice Pilaf is full of flavor from the perfectly cooked wild rice blend, lemon zest, dried cherries, toasted pecans and fresh parsley. It's a low maintenance, festive dish with a melody of flavors and textures for the holiday season but also delicious enough to serve year round!
Ingredients
2

cups

wild rice blend

4

Tbsp.

unsalted butter

1

cup

sweet onion, diced (1 small onion or 1/2 large)

3

cloves

garlic, minced

1

tsp.

kosher salt

1/4

tsp.

black pepper

3 1/2

cups

chicken broth

1

Tbsp.

fresh lemon juice

1

cup

dried cherries

1

cup

toasted pecans

1/4

cup

fresh parsley, chopped
garnish: lemon zest and more parsley
Instructions
Rinse the wild rice blend in a fine mesh strainer under cold water. Set aside.

Melt the butter in a skillet over medium heat.

Add the onion and cook for 6-7 minutes, stirring occasionally. We want the onion to caramelize slightly.

Add the garlic, salt and pepper. Stir.

Add the rice and stir to coat the grains for 1-2 minutes. Then pour in the broth.

Bring to a boil, then turn the heat down to low and simmer, covered with a tight fitted lid for 45-50 minutes or until the rice is cooked. It should be tender and the liquid will be absorbed.

Remove from heat and let sit, covered for 10 more minutes.

Remove the lid, squeeze fresh lemon juice over the top.

Stir in the dried cherries, pecans and parsley with a fork just and garnish with more fresh parsley and lemon zest as desired. Taste and adjust the seasonings, adding more salt, pepper, lemon juice, etc. Serve and enjoy warm!
Notes
Store in the fridge for up to 4-5 days in an air tight container.
Use part apple juice/part chicken broth for more of a savory sweet flavor.
Use dried cranberries if you prefer instead of dried cherries.
Depending on what wild rice blend you use, you may need a little more broth. The kind I use only needs 3 1/2 cups of broth for 2 cups rice, others may need 4 cups liquid for 2 cups rice. Look at the back of the package you're using for guidance.
SLOW COOKER INSTRUCTIONS:
Melt the butter in the microwave, ~30 seconds.

Stir the rice and melted butter together in the slow cooker.

Then pour in the broth, onion, garlic, salt and pepper

Cover and cook on high for 3-4 hours or until rice is tender.

Stir in the lemon juice, dried cherries, pecans and parsley with a fork and replace the lid for a few more minutes.

Garnish with more parsley and lemon zest and enjoy!
Nutrition
Serving:
1
serving
|
Calories:
337
kcal
|
Carbohydrates:
50
g
|
Protein:
9
g
|
Fat:
12
g
|
Potassium:
241
mg
|
Fiber:
5
g
|
Vitamin C:
5
mg
|
Iron:
1
mg
Hi, I'm 
Tawnie

!

Welcome to my tiny "korner" on the Internet! I am a Registered Dietitian Nutritionist who loves cookies as much as kale. (OK, maybe I like cookies a little bit more but shh, don't tell anyone). I am so glad you're here! Follow along for hassle free, realistic and approachable recipes.

More about Tawnie

I'd love to see what you made!!
Share it with me on Instagram or Facebook and tag me @krolls_korner or use the hashtag #KrollsKorner!