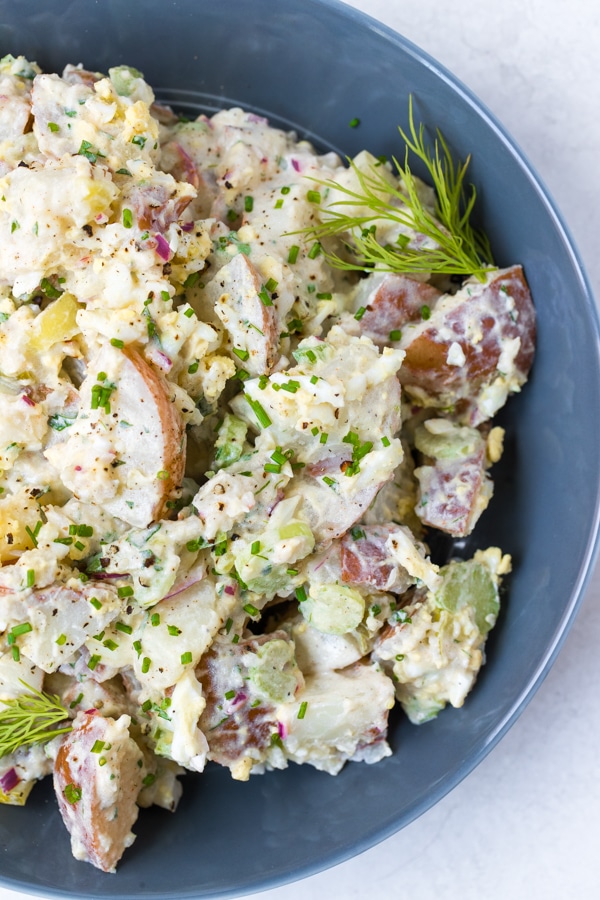 This healthy potato salad recipe is great because not only does it have a great creamy texture, it is also super herby, tangy, and the best part – it's made with lightened up ingredients.
It's mayo free so is lower in fat by using Greek yogurt instead, and packed with veggies like celery and bell peppers.
It's a hit with people of all ages (including kids) and packs a punch from the herbs, mustard, pickles, and lemon to give it a bright, tangy flavor.
It's super customizable, you can use mayo instead of yogurt if you want, add in whatever crunchy veggies you like (cucumber and radish work really well here), and mix and match with whatever herbs suit you.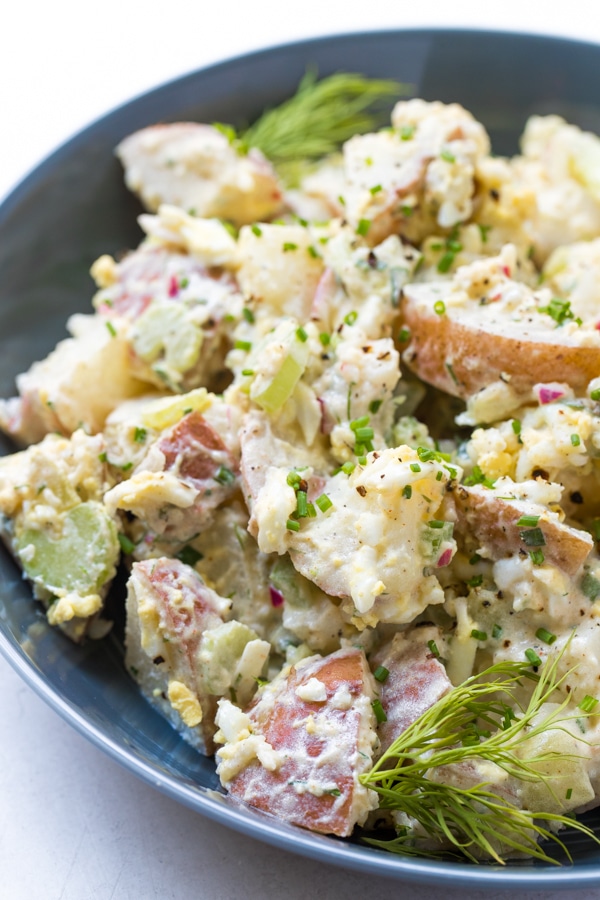 For those who aren't a big fan of eggs in their potato salad but still like the extra protein, I have found grating my eggs (using a cheese grater) into the salad helps "hide" them while still giving a little extra something to the salad that even the pickiest of eaters won't object to.
Potato salad is usually creamy, like this one, but some have oil based dressings too (creamy is better in my opinion!)
This healthy potato salad is common with barbecue foods, and goes really well with anything grilled! It's a cold salad so it's a nice refreshing side dish on a hot day.
Healthy Potato Salad Ingredients:
Potatoes: The main component of a potato salad is always of course potatoes! I love using red potatoes for this potato salad.
Hard boiled eggs: Grated or chopped hard boiled eggs. You can hard boil the eggs directly with the potatoes! (see recipe). Total time saver!
Veggies: In this recipe I use red onion, pepper, and celery to add some crunch with a little bit of pickle for some acidity and dill-y flavor.

In classic potato salad recipes onion and pickle are considered a must so I encourage you to try it out! If you have other crunchy veggies you would like to substitute or add in, go for it!

Herbs: Fresh dill, Parsley and Chives. Other herbs you can always include tarragon, mint, even basil could be added as well.
Dressing: The dressing of this healthy potato salad uses yogurt instead of mayo for a creamy texture with additional protein and less fat.
I like to use olive oil for a boost of healthy fats and antioxidants, as well as grainy mustard and lemon for some brightness and acidity.
The cumin and paprika are a kind of secret help give some depth of flavor to make it super delicious!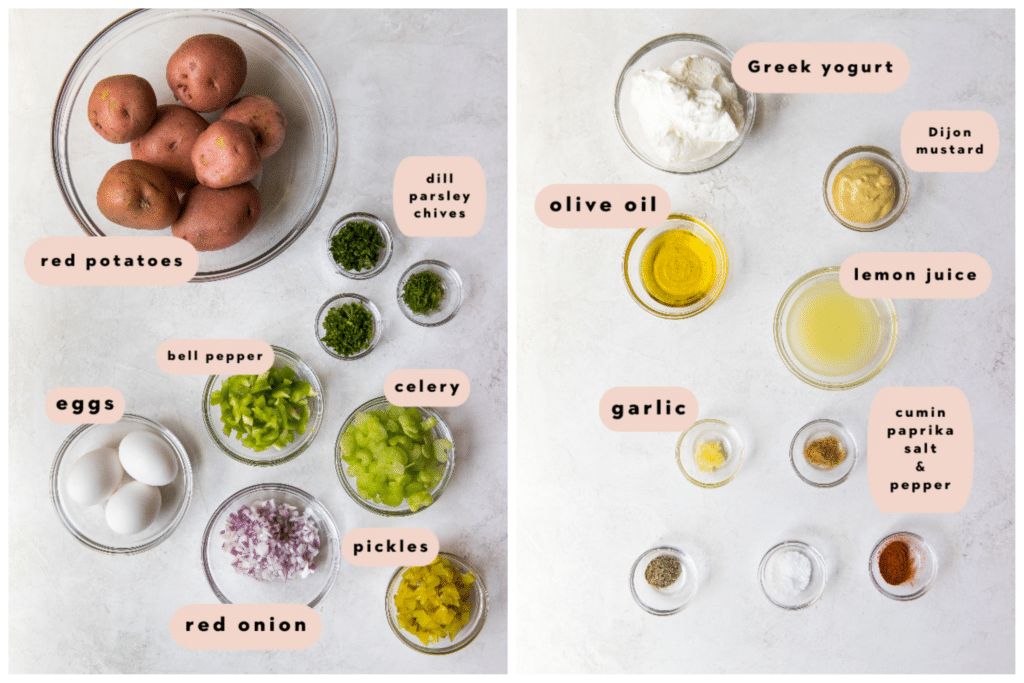 What are the Best Potatoes for a Potato Salad?
While there are lots of different opinions on the best potatoes for a potato salad, I really like using red skin potatoes, especially since this is a skin on potato salad.
The skins of these potatoes give a pop of color and a boost of nutrition and fibre, while the texture of the potato is firm but fluffy.
When warm, they also easily absorb the flavors from the salad, making them taste even better the next day! Other potatoes you can use: Yukon gold or Russet potatoes.
How to Make Healthy Potato Salad:
Making potato salad is super simple! It's just a matter of chopping, cooking, and combining your ingredients.
Boil the chopped potatoes and eggs together (yes, together!) You will remove the eggs a few minutes before the potatoes are fork tender.
Make the dressing in a large measuring cup or bowl.
Remove the eggs from the pan and place in a cold ice water bath.
Drain the potatoes and rinse with cold water.
While potatoes cool, chop veggies and place in a large bowl.
Add potatoes to the veggies, along with the dressing and stir to combine.
Chop or grate the eggs and add them to the salad, gently stir in.
Eat as is or refrigerate for a cold salad.
Frequently Asked Questions
How Long Do You Boil Potatoes For?

About 20 minutes, at which point they were fork-tender, but still a little firm. Start checking them at the 15-minute mark and then again every couple of minutes to ensure they are done but don't get mushy. I find that cooking until fork-tender but still firm makes the salad hold up better over time (especially if it's not being served until the next day), but it is personal preference!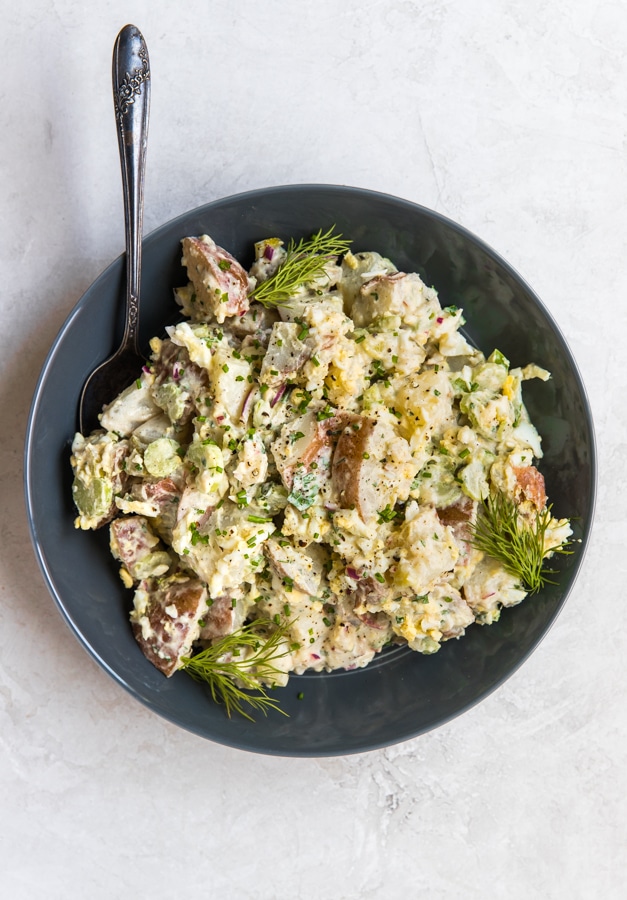 How Long Does Potato Salad Last?
When stored properly in the fridge this salad will keep for 3-5 days.
If the salad is left at room temperature for over 2 hours, it should be discarded, as by that point, bacteria will have grown rapidly in the dish and it is no longer considered safe to eat.
If you are serving it at a party, I recommend serving part of the salad and refilling the dish as necessary in order to prevent it sitting out too long.
Can You Freeze Potato Salad?
Yes, potato salad can be frozen! If you are freezing leftover potato salad, ensure you freeze it in an airtight container or freezer bag, to prevent freezer burn.
In addition, when thawing the potato salad, ensure you thaw it in the fridge, in order to maintain a temperature cold enough to prevent bacterial growth.
Thawing it in the fridge also helps it maintain its consistency better once thawed, as thawing it on the counter can make it go mushy.
Adding some fresh herbs and veggies to brighten the salad up a little once thawed can help make it taste more like it did before it was frozen.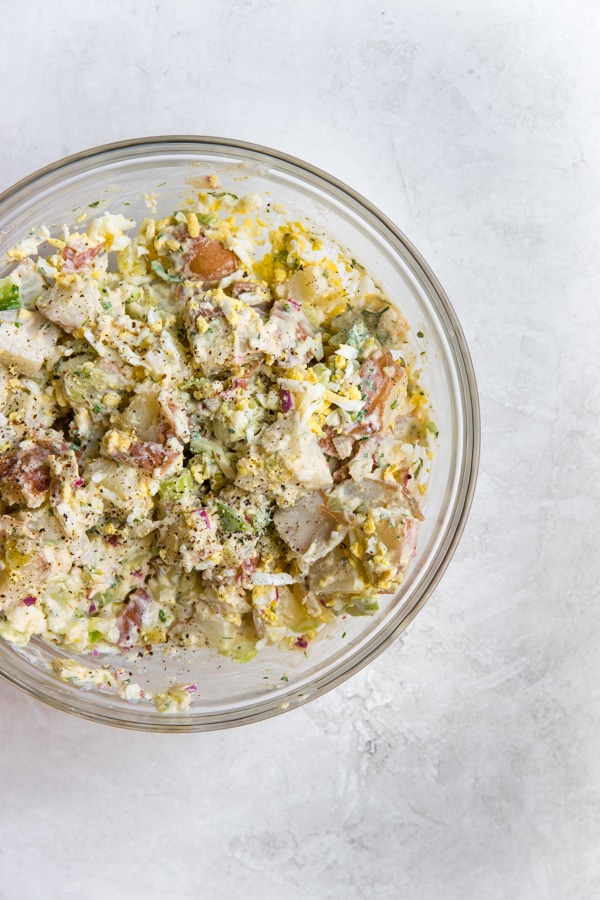 Tips for Making Healthy Potato Salad:
Add really any veggies to the salad you have on hand, they always offer up a nice crunch!
To make your hard boiled eggs, toss the eggs in with the potatoes while they boil. They do take longer than if you were to boil them on their own, about 15 mins, but it creates less dishes and hassle in the long run!
Chop the veggies fairly small! This can help both with picky eaters and hiding certain ingredients, as well as for better mouth-feel when eating the salad.
Adding the dressing while the potatoes are still somewhat warm is important, as it helps the potatoes absorb some of the flavors and helps the flavors blend better.
Many people prefer using a vinegar to lemon juice in potato salad, and if that is the case, I recommend apple cider or white wine vinegar for this recipe.
I prefer to let this salad chill and serve it cold, as I find the flavor is better once it has had time to sit.
More Healthy Potluck Side Dishes
Before You Begin! If you make this, please leave a review and rating letting us know how you liked this recipe! This helps our business thrive & continue providing free recipes.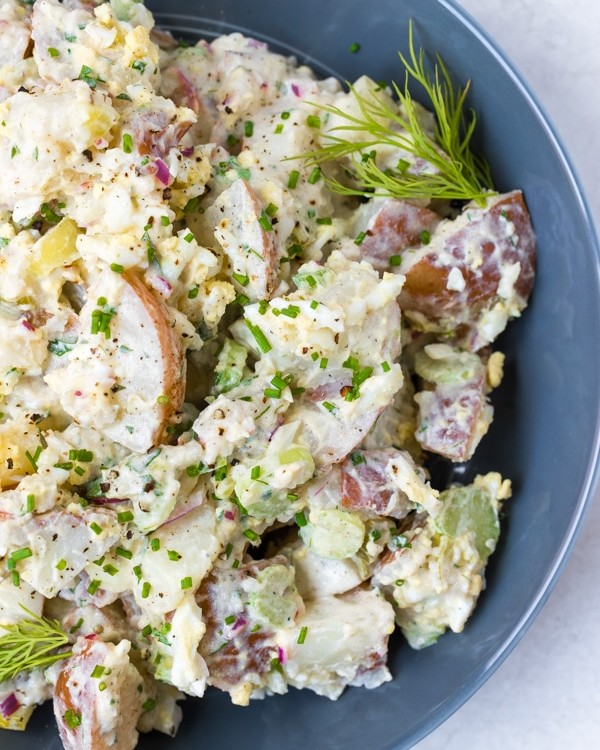 This potato salad is great for summer parties and potlucks as it is such a crowd pleaser! It's crunchy, creamy, tangy and herby and so delicious without being too heavy. Since this is a Greek yogurt-based dressing and has hard boiled eggs, it's also full of protein, so you can feel good about serving it.
Ingredients
2

lbs.

red potatoes, skin on, chopped (~6-7 potatoes)

3

large

hard boiled eggs, grated or chopped (see recipe*)

1/2

cup

celery, diced ( ~2 ribs)

1/2

cup

green bell peppers, diced (~1/2 bell pepper)

1/3

cup

pickles, or relish, diced

1/3

cup

red onion, diced

2

Tbsp.

fresh dill, chopped

2

Tbsp.

parsley, chopped

2

Tbsp.

chives, chopped
For the dressing:
1

cup

Greek yogurt

2

Tbsp.

extra virgin olive oil

2

Tbsp.

Dijon mustard

1/4

cup

lemon juice, fresh

1

clove

garlic, minced

1/2

tsp.

paprika

1/2

tsp.

cumin

3/4

tsp.

salt

1/2

tsp.

black pepper
Last step! If you make this, please leave a review and rating letting us know how you liked this recipe! This helps our business thrive & continue providing free recipes.
Instructions
Boil potatoes and eggs together: Add chopped potatoes and eggs to a large pot and cover with enough water to have an inch of water covering everything. Remove the eggs after boiling for 15 minutes place in a bowl with water and ice. Check potatoes to see if they are fork tender. If not, let them cook for about 5ish minutes.

Make the dressing next: combine all the dressing ingredients in a medium sized bowl or large measuring cup, and stir until combined.

Drain the potatoes and rinse with cold water. Cool slightly.

While potatoes are cooling, gather your chopped veggies and herbs and place in a large bowl. Peel the eggs and either grate them using a cheese grater or chop them. (I like to grate them!)

Add the veggies, herbs, eggs, potatoes and dressing into a large bowl and gently stir.

You can serve immediately, or chill for a minimum of 1 hour for a cold potato salad.
Notes
You can chop the potatoes into even smaller pieces after they have boiled if you prefer.
How to grate the eggs: cut hard boiled egg in half. Place the egg yolk side on the large grate holes and grate.
Nutrition Information
Serving:
1
serving
,
Calories:
170
kcal
(9%)
,
Carbohydrates:
22
g
(7%)
,
Protein:
8
g
(16%)
,
Fat:
6
g
(9%)
,
Saturated Fat:
1
g
(6%)
,
Cholesterol:
71
mg
(24%)
,
Sodium:
335
mg
(15%)
,
Potassium:
668
mg
(19%)
,
Fiber:
3
g
(13%)
,
Sugar:
3
g
(3%)
,
Vitamin A:
474
IU
(9%)
,
Vitamin C:
25
mg
(30%)
,
Calcium:
69
mg
(7%)
,
Iron:
2
mg
(11%)
Nutritional information is provided as a courtesy and is automatically calculated. It should only be construed as an estimate rather than a guarantee. Ingredients can vary and Kroll's Korner can't make any guarantees to the accuracy of this information.