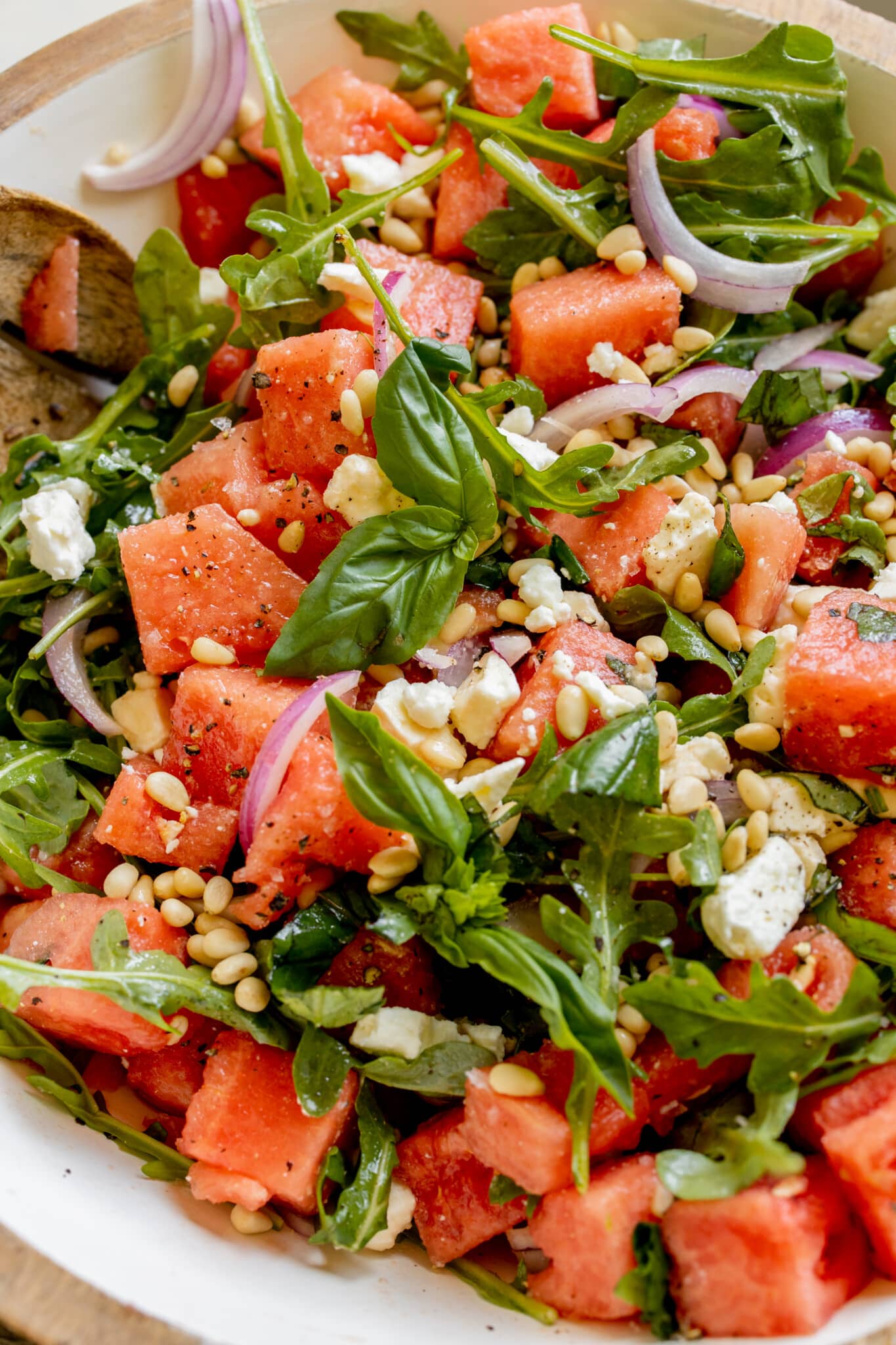 Taking a bite of my Watermelon Basil Salad is like jumping into a glistening swimming pool on a hot summer day! Refreshing, invigorating, and thirst quenching are just a few words to describe how my Watermelon Basil Salad will dance on your taste buds.
Let's face it. Watermelon is really an amazing, yummy tasting fruit. Sweet, fresh, fruity, with cucumber notes. But when you mix in sweet and spicy fresh basil, crisp red onions, salty feta, peppery arugula, crunchy, buttery pine nuts and the sweet and tangy red wine and honey vinaigrette the explosion of flavor is like a pool emptying cannon ball splash!
This summer salad will easily replace all other fruit salad options especially since it takes less than 15 minutes to put together.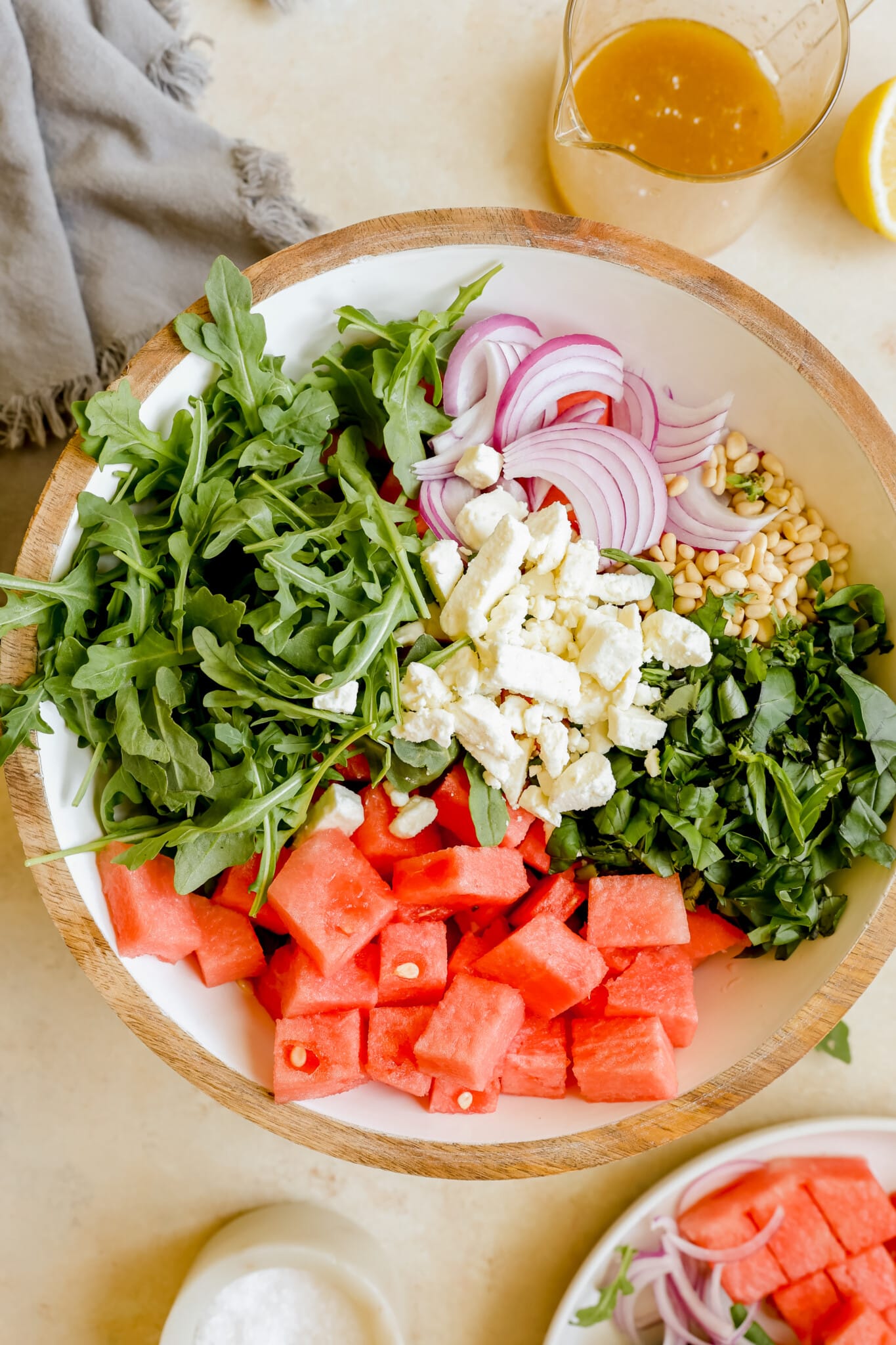 But if you are looking for more options, my Peach Salad and Strawberry Poppyseed Salad are always a hit too!
Why This Recipe Works
It is thirst quenching!
No cooking required for this side dish.
Less than 15 minutes of prep time.
My Watrmelon Basil Salad satisfies those sweet and salty cravings every time!
You can serve it in a watermelon bowl and there is minimal clean up.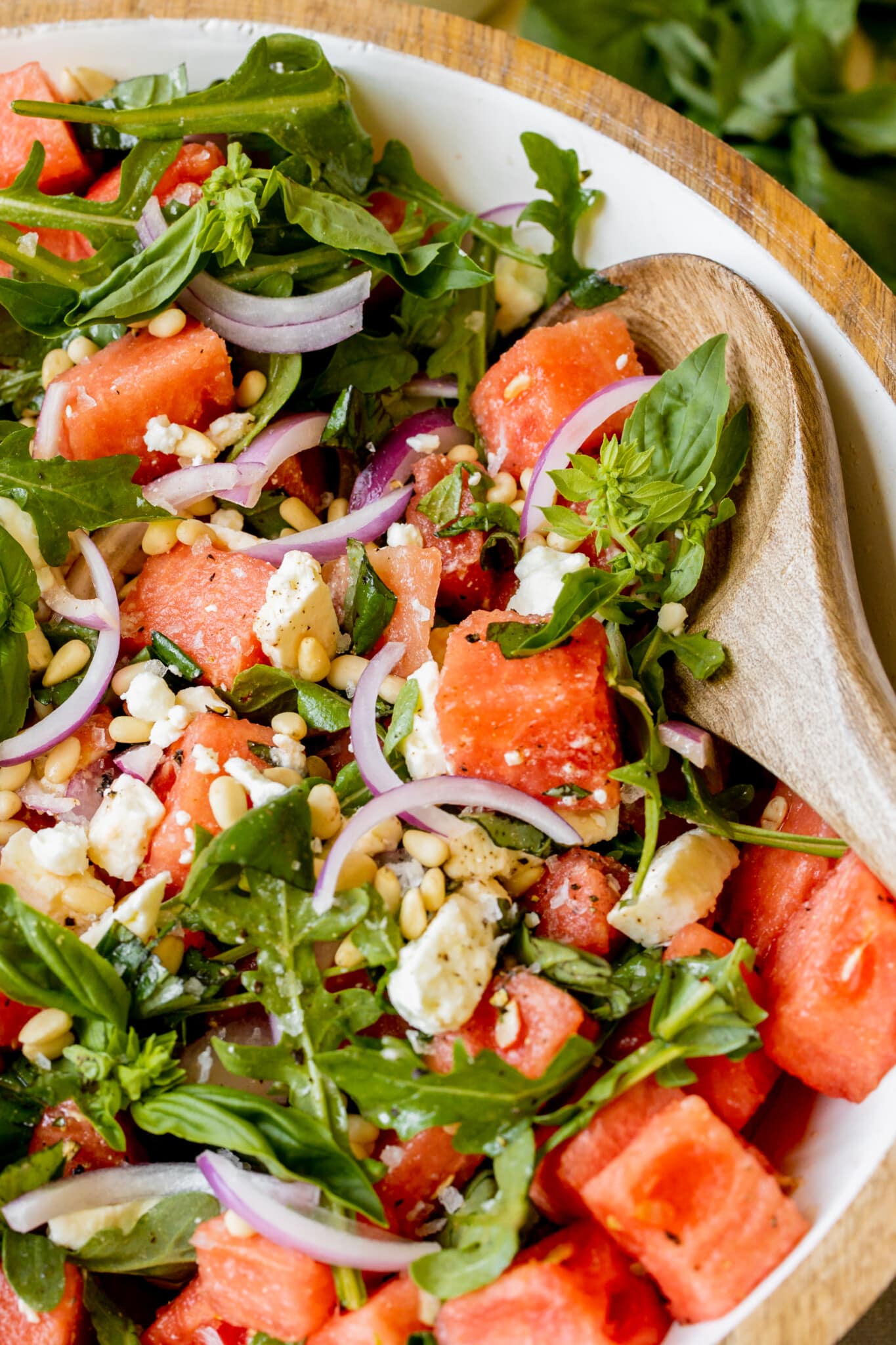 How to Pick A Perfect Watermelon
Start by selecting a watermelon that is uniform in size. It will be the heavy and you know it will be sweet.
Look for an orange field spot. This is an indication that the watermelon will be sweet because it spent more time on the vine. A white field spot indicates little to no taste. If there isn't a spot, don't waste your time and money on that one.
On rattlesnake watermelons, the wider the webbing, the sweeter the watermelon.
Look for a dark dull color. This lets you know that the watermelon is ripe. A shiny watermelon means that the watermelon is not ripe.
Check the stem. If it is green the watermelon was not given time to ripen, it should be more of a brown color.
If you thump a watermelon and hear a ping, the watermelon isn't ripe yet. If you hear a thud, the watermelon is overripe. A perfectly ripe watermelon will give you a hallow sound what you tump or tap it.
If the outer rind is soft the watermelon is not good. Also if there are patches of discoloration the watermelon has gone bad.
Finally press on the watermelon. A good melon will be firm.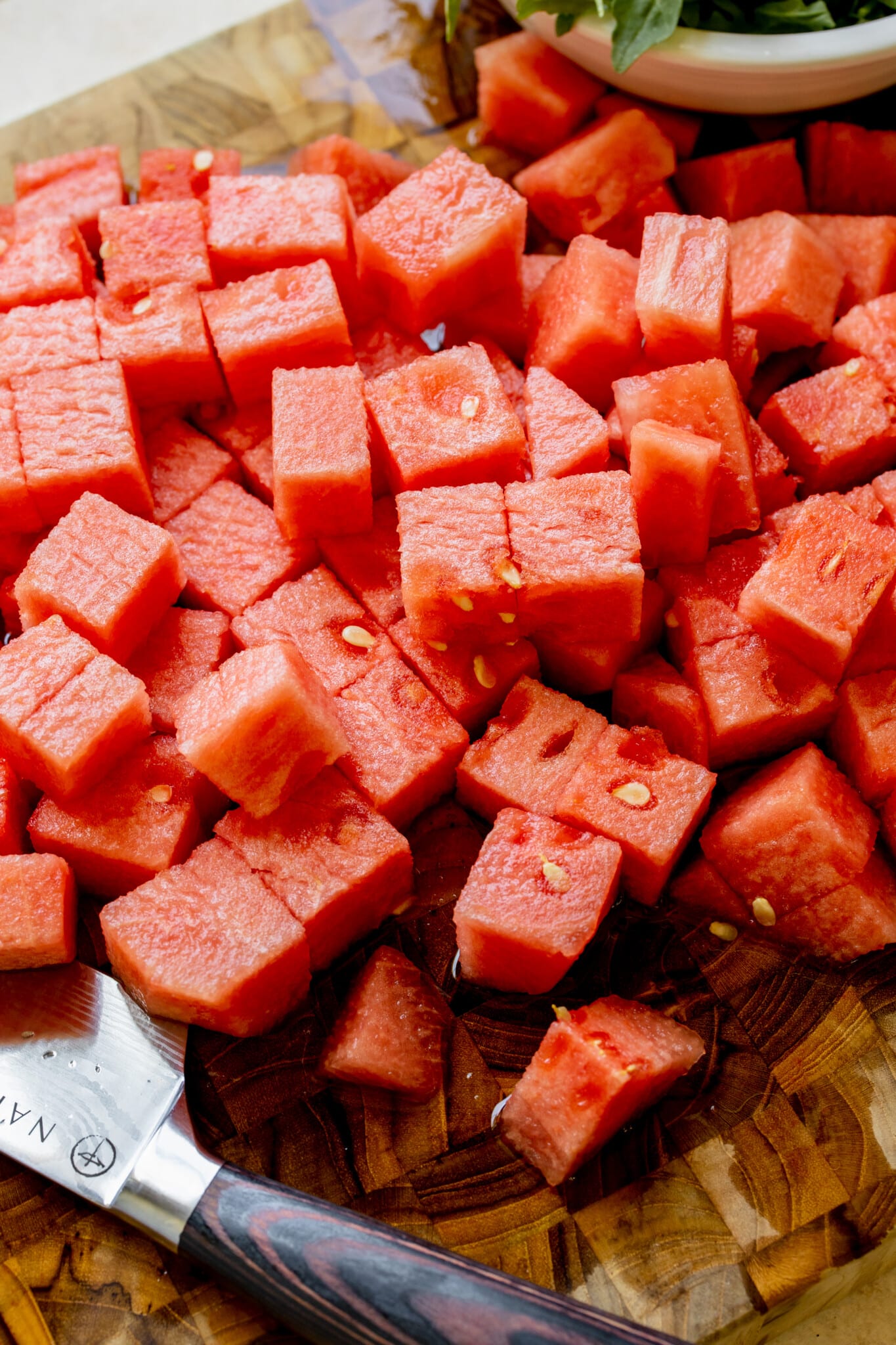 How to Cut A Watermelon
There are a lot of different ways to do this. Here are 2 of my go-to methods:
Method 1: Cut the ends off of the watermelon so you have a stable working surface. Cut off the rind. Then cut the watermelon in half. Next slice into 1 inch wide slices and then dice each slice.
Method 2: Start by cutting the watermelon in half lengthwise. Then place your knife right between the rind and the redish-pink flesh and cut deeply around the entire half of the watermelon. Then cut straight lines horizontally about 1 inch apart, and then make the same cuts vertically until you have cubbed the full half of the watermelon. You can dump the watermelon cubes into a bowl to mix in all the salad ingredients, and then reuse the now empty watermelon half as your serving bowl!
Ingredient Notes
For the ingredient measurements and entire recipe, be sure to scroll down to the bottom of the blog post where the recipe card is located.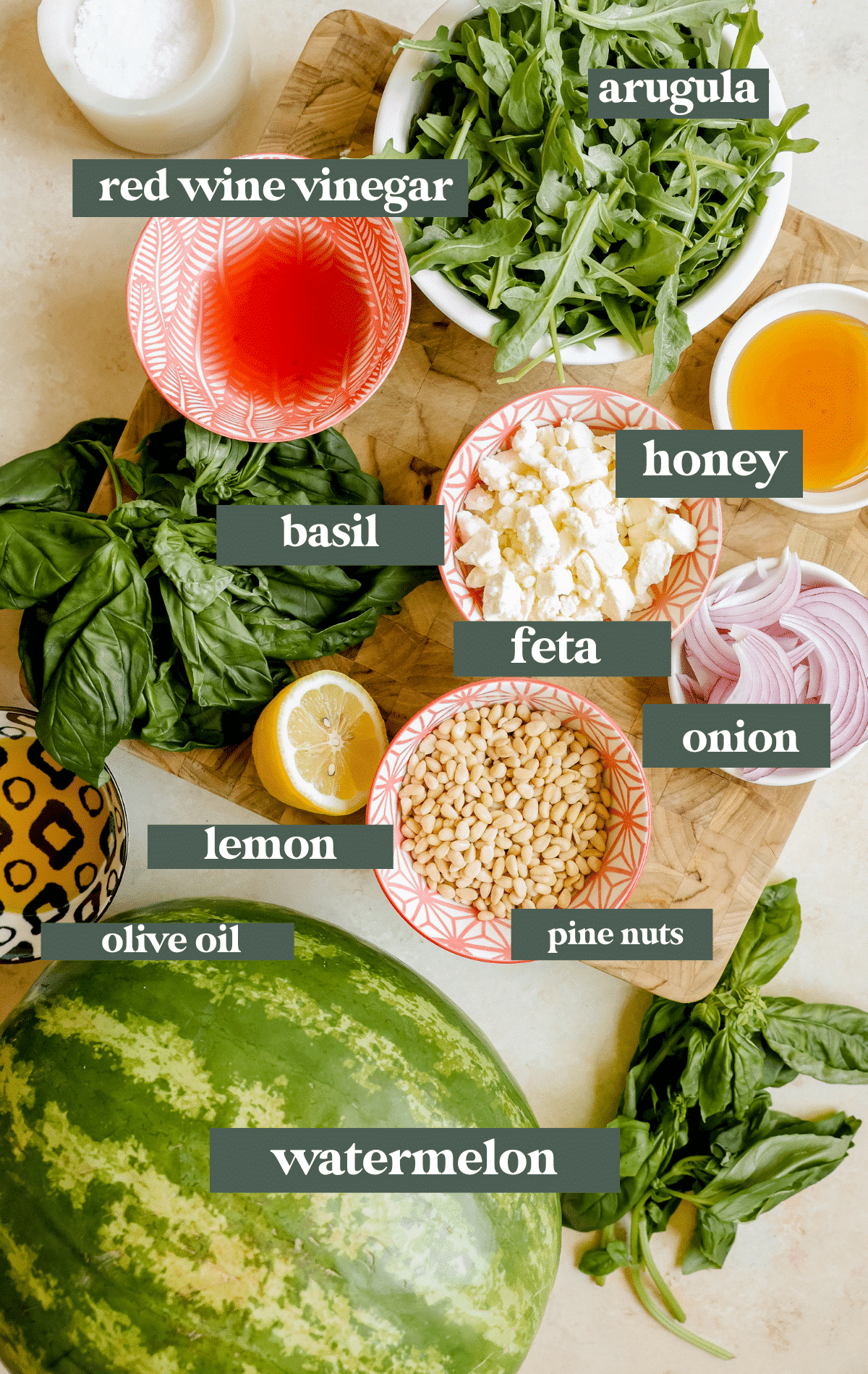 Watermelon: A ripe and sweet watermelon is key. See my notes below on picking the perfect watermelon!
Fresh basil: this sweet, slightly spicy herb pairs perfectly with watermelon. If you don't have fresh basil, you can also substitute fresh mint.
Red onion: The bright color and sweet and spicy flavor also add a nice crunch to the watermelon salad.
Feta or ricotta salata: The saltiness and creamy texture of feta mixes so well with the sweetness of the watermelon. And if you can get your hands on ricotta salata, it's sweet and salty
Arugula: The peppery and spicy flavors of arugula make this a must to add to this flavorful salad. Don't substitute other salad greens because you will be disappointed in their lack of flavor.
Pine nuts: Pine nuts have a mild, buttery taste, and their light crunch adds a nice surprise to this salad.
Flaky sea salt and freshly ground black pepper: Bring out the full sweet and salty flavors of this salad with sea salt and freshly ground black pepper.
Dressing: you will need olive oil, lemon juice, red wine vinegar, Dijon mustard, and honey.
Step by Step Directions
For the full recipe instructions, scroll down to the bottom of the blog post to the recipe card.
Cut and cube the watermelon into 1-inch cubes.
Add the watermelon and remaining salad ingredients to a large bowl and gently toss to combine.
Whisk together the ingredients for the dressing.
Pour the dressing over the watermelon salad.
Serve right away or chill for 1 hour then serve.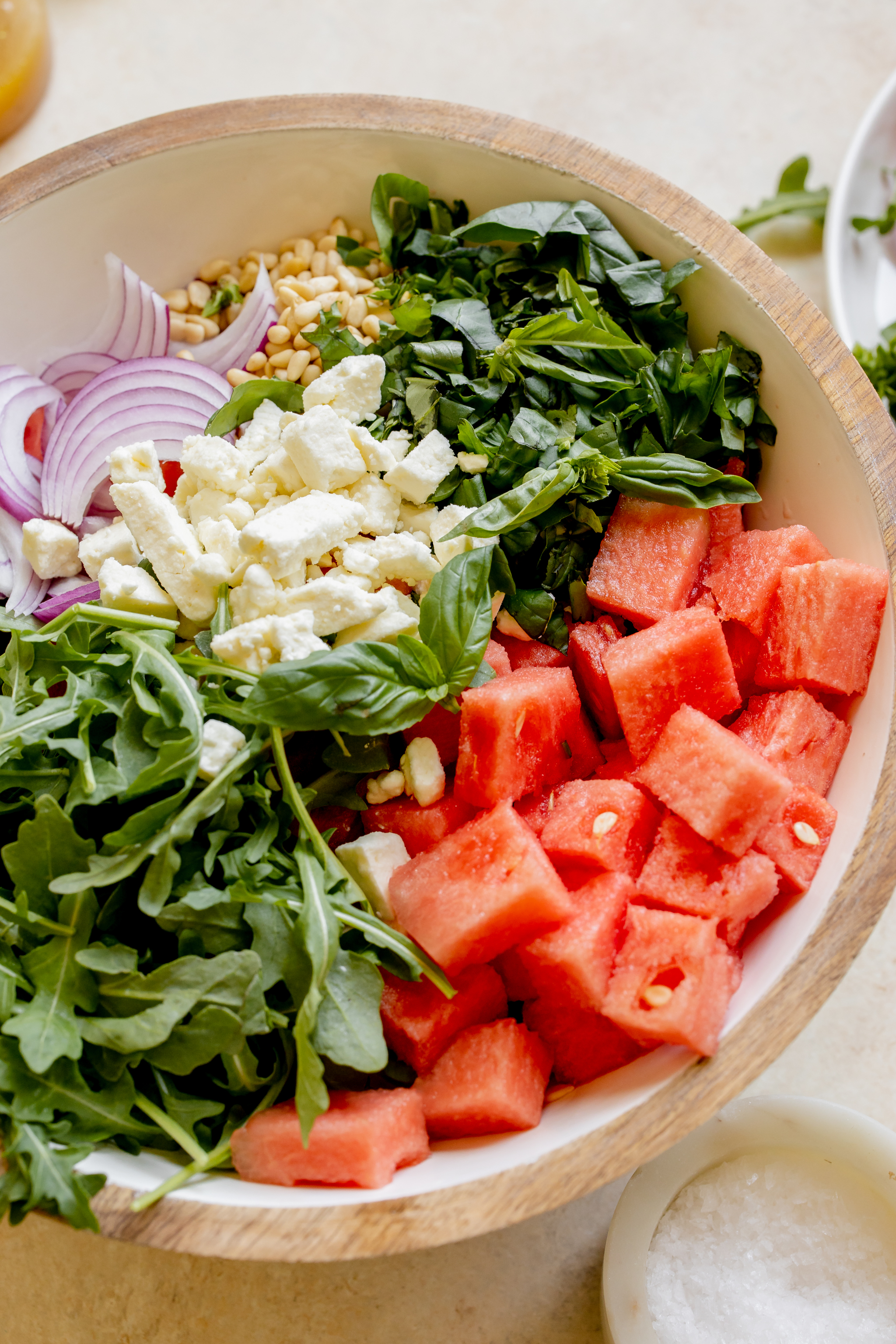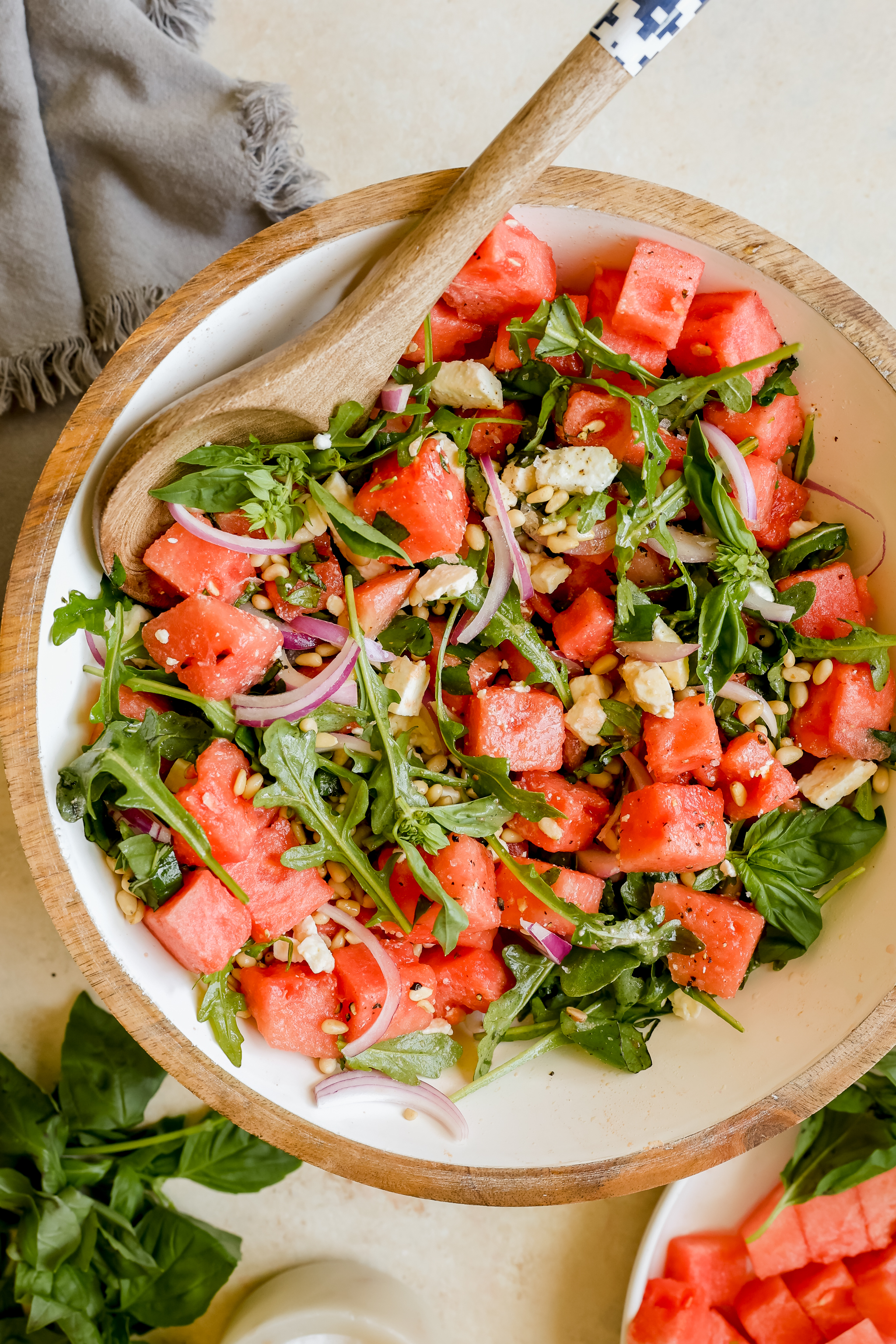 Expert Tips and Variations
Since watermelon doesn't last long, I would suggest prepping this salad right before you serve it.
I love adding Tajin for a little spice which is a combination of dried chili peppers, dehydrated lime juice and sea salt.
Another flavor packed herb to add to this salad is fresh mint. You can either substitute the fresh mint for the fresh basil, or use equal amount of both.
Other cheese options: ricotta salata, Cotija cheese, or Halloumi cheese for it salty flavor.
Change up the dressing! Try a white balsamic instead of the red wine vinegar, or a if you are looking for a sweeter dressing, you can use a traditional balsamic.
To add more fresh fruity flavors to your salad you can add fresh blueberries or fresh boysenberries or for more tropical flair use fresh mango, pineapple and papaya.
Cucumber is another great addition to this salad and pairs so well with watermelon.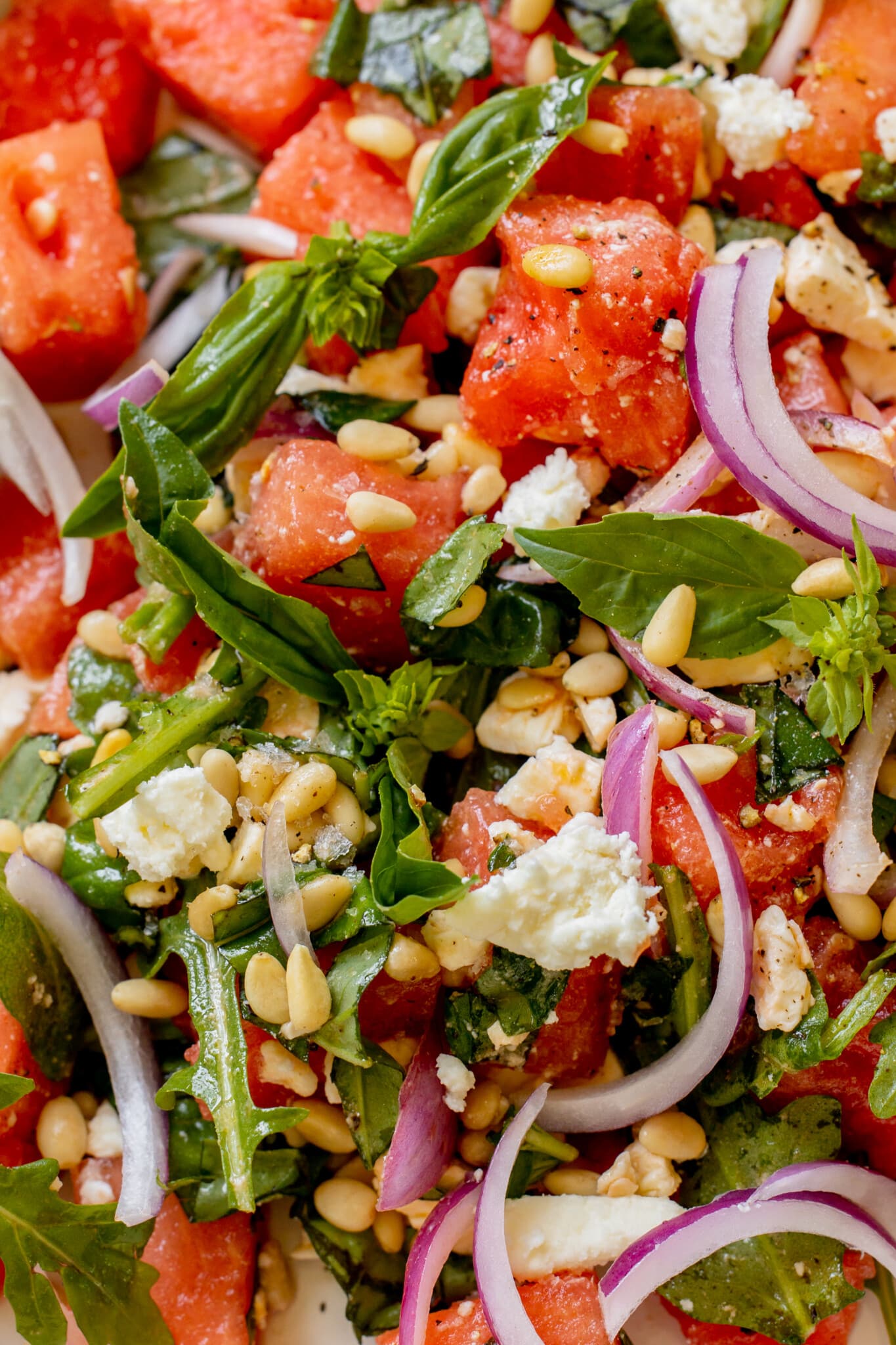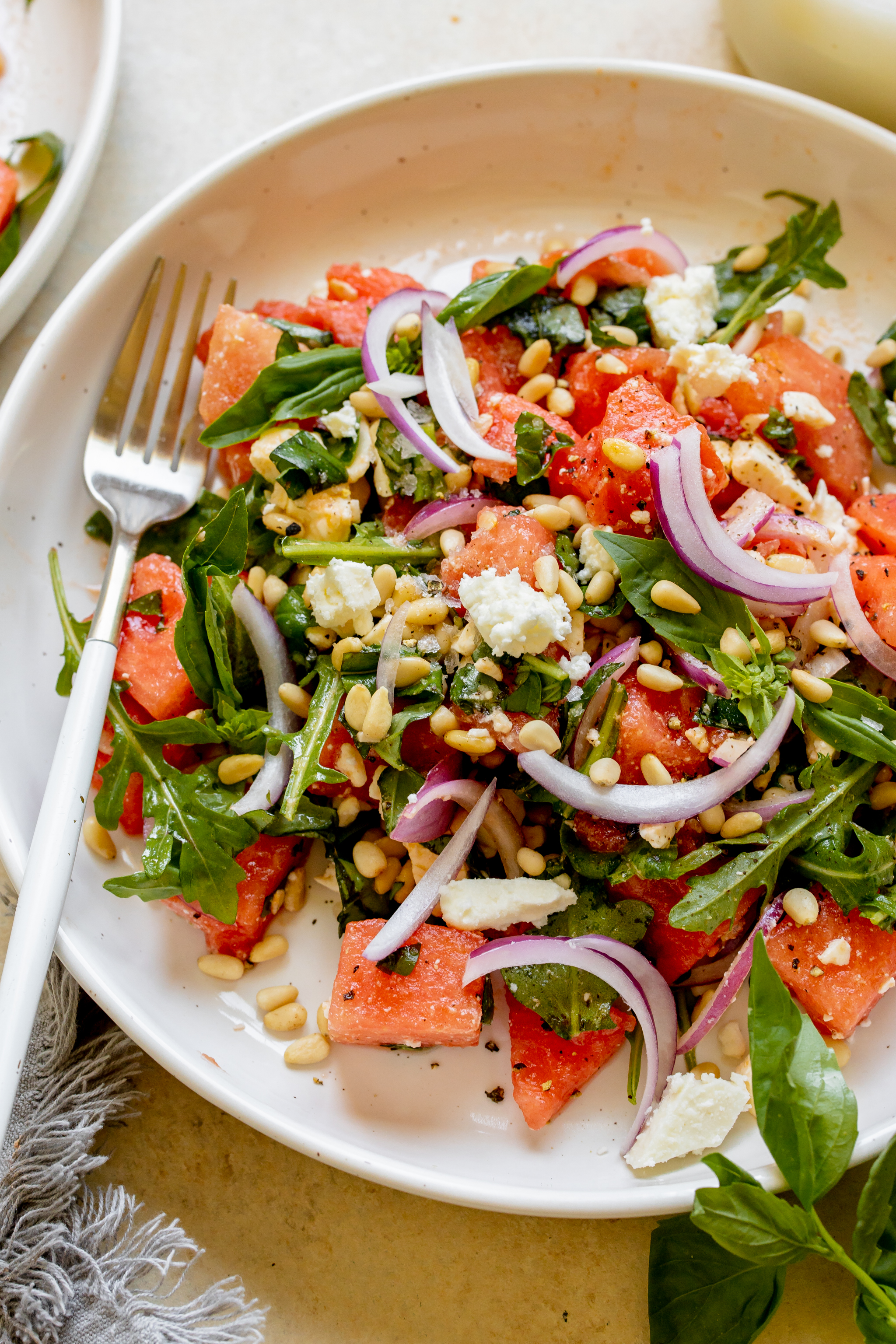 FAQ
What can I serve with Watermelon Basil Salad?

Burgers, hot dogs, chicken and steaks go well. Anything that will keep you out of the kitchen on these hot summer days and nights!
How long can I store Watermelon Basil Salad?

I like to make this salad right before serving or ~1 hour prior. It will only last up to 1 day. If you have left over watermelon, I would store it separately, and then build the salad again right before serving. Cut up watermelon will last 3-5 days stored in an air tight container in the fridge.
I don't have pine nuts, what other options do I have?

Cashews or sun flower seeds are good choices!
Before You Begin! If you make this, please leave a review and rating letting us know how you liked this recipe! This helps our business thrive & continue providing free recipes.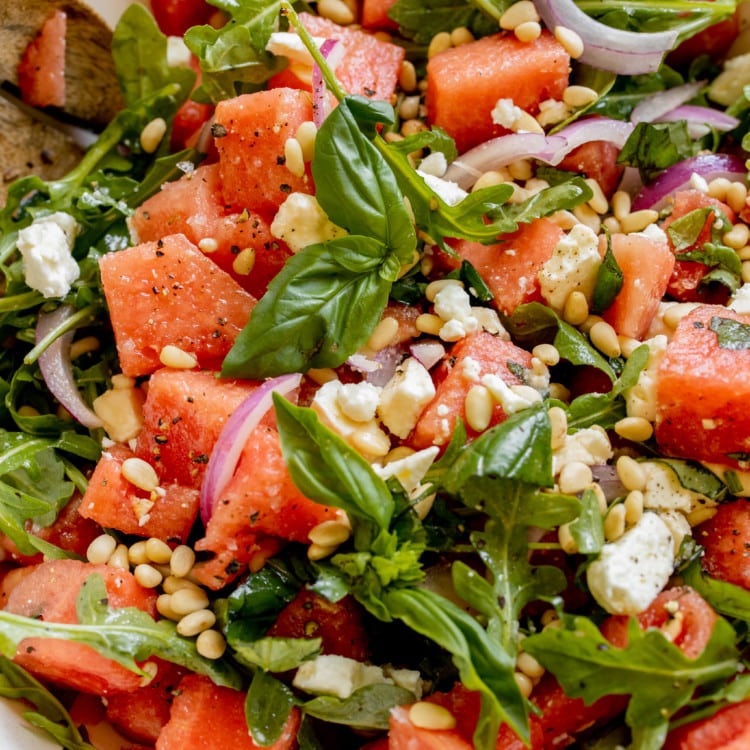 This Watermelon Basil Salad is fresh, light and comes together in less than 15 minutes! It's filled with juicy, sweet watermelon, fresh basil, feta cheese, red onion and dressed with a simple vinaigrette dressing. It's a quintessential summer salad and the perfect addition to any BBQ party or backyard hangout.
Ingredients
6-8

cups

watermelon, cubed

2

cups

arugula

1

heaping cup

fresh basil, chopped

2/3

cup

feta cheese, or more as desired

1/2

large

red onion, thinly sliced

1/4

cup

pine nuts

flaky sea salt and freshly cracked black pepper
Dressing
1/4

cup

olive oil

2

Tbsp.

red wine vinegar

2

Tbsp.

lemon juice, freshly squeezed

1-2

Tbsp.

honey

1

Tbsp.

Dijon mustard

salt and pepper, to taste
Last step! If you make this, please leave a review and rating letting us know how you liked this recipe! This helps our business thrive & continue providing free recipes.
Instructions
Place the watermelon in a large bowl. Add the remaining salad ingredients and gently toss.

Shake all salad dressing ingredients in a sealed mason jar or bottle until combined. Or whisk until emulsified in a bowl. Taste and adjust.

Drizzle the dressing over the watermelon salad and serve right away, or chill 1 hour prior to serving.
Notes
Storage: due to the nature of this salad, it doesn't hold up very well. Leftovers will last for up to 1 day in the fridge, maybe 2!
Add more fruit: blueberries or blackberries are yummy options (and make it look patriotic!)
Use mint instead of basil if preferred or cilantro for more of a Mexican flare.
Nutrition Information
Serving:
1
serving
,
Calories:
167
kcal
(8%)
,
Carbohydrates:
12
g
(4%)
,
Protein:
3
g
(6%)
,
Fat:
13
g
(20%)
,
Saturated Fat:
3
g
(19%)
,
Polyunsaturated Fat:
2
g
,
Monounsaturated Fat:
6
g
,
Cholesterol:
11
mg
(4%)
,
Sodium:
166
mg
(7%)
,
Potassium:
195
mg
(6%)
,
Fiber:
1
g
(4%)
,
Sugar:
9
g
(10%)
,
Vitamin A:
829
IU
(17%)
,
Vitamin C:
11
mg
(13%)
,
Calcium:
82
mg
(8%)
,
Iron:
1
mg
(6%)