Strawberry Poppyseed Salad (with Goat Cheese Croutons)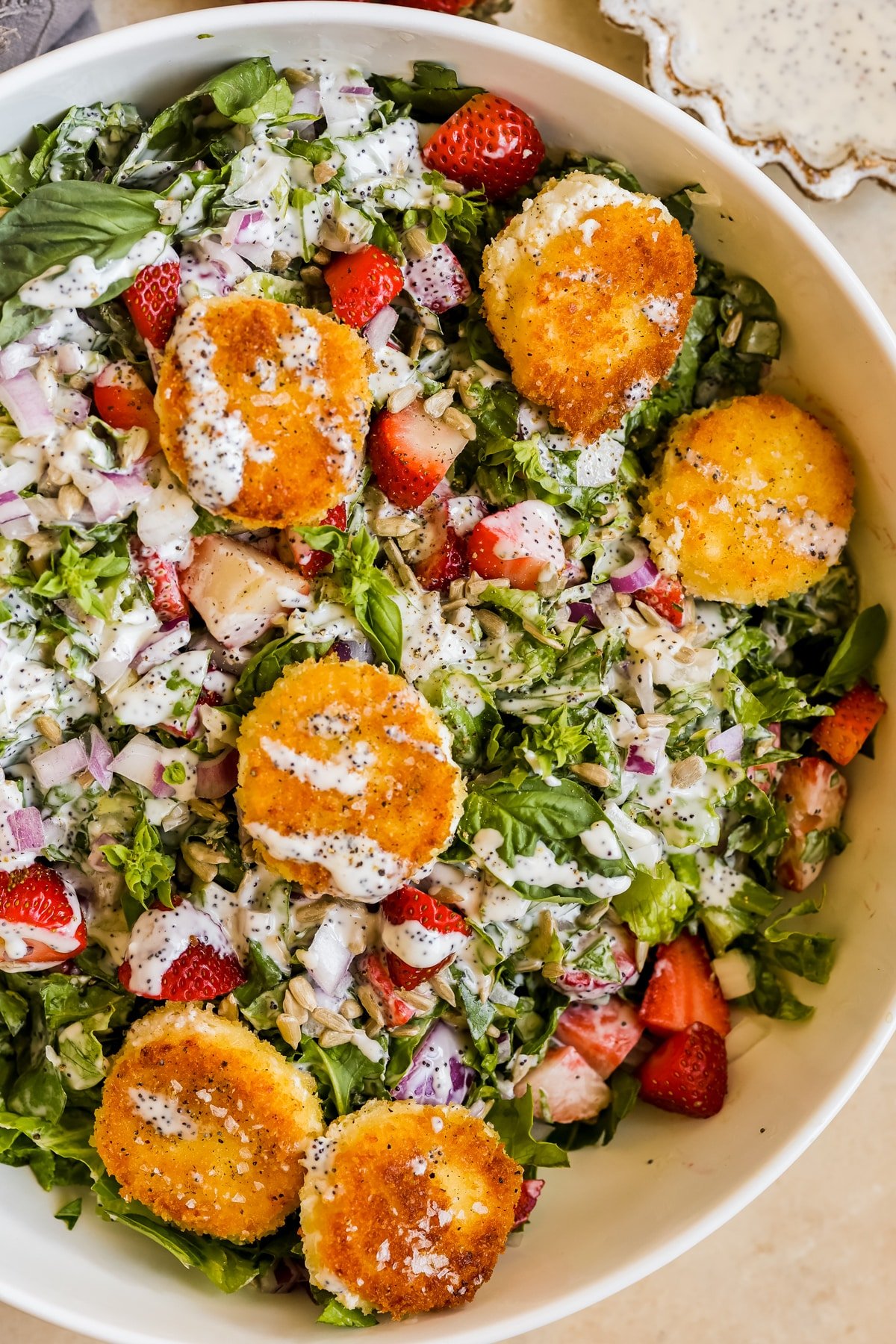 My Strawberry Poppyseed Salad is a Spring and Summer must-make and I mean, look at how gorgeous it is!
We are now at the best time of the year to enjoy the sweet and juicy natural flavors of fresh strawberries and I am soo excited!
But this just isn't any old salad that you dump out of a bag. And also no judgement towards store-bought salads because I 100% believe they definitely have their time and place! But, I absolutely love making a good homemade salad that's full of fresh ingredients and a homemade salad dressing.
More Reader-Favorite Salads: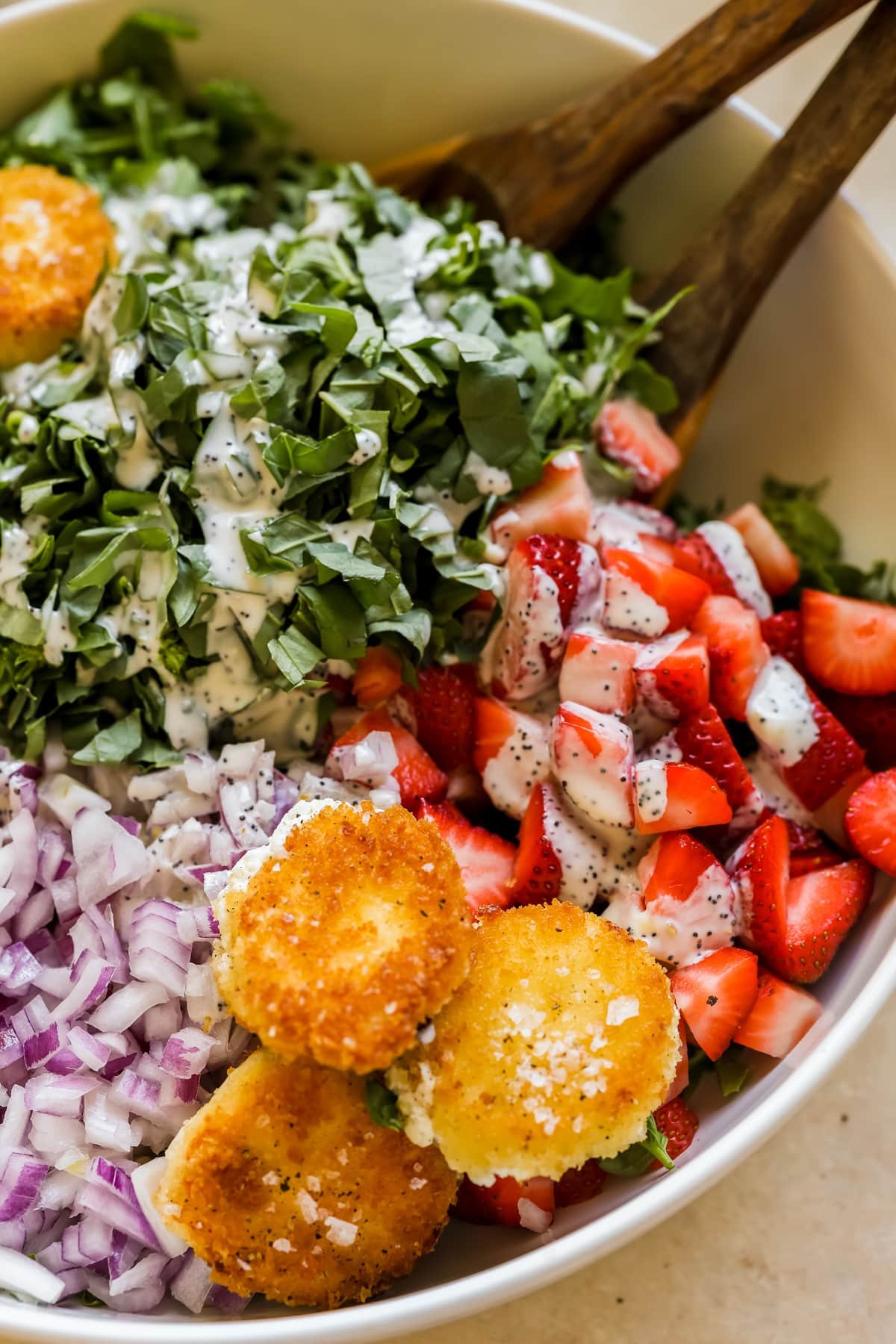 This chopped salad utilizes crispy romaine, peppery arugula and fresh, fragrant basil. And not just a teaspoon of basil, but a large handful of basil! The lettuce cradles the sweet strawberries as they gently spar with the assertive and spicy flavors of the red onions. Why is that strawberry and red onion combination so heavenly?! There are so many layers of flavors and textures to this salad that make it anything but ordinary!
The other fun flavor and texture surprise is the fried goat cheese croutons. When I tell you I am obsessed, I am OBSESSED. I love the creamy and crispy combination the warm goat cheese brings to this vibrant salad.
The final step to finish off these bold Summertime flavors is to dress them with a tangy-sweet homemade poppyseed dressing. It tastes a lot better than any store bought version, it only requires 7 ingredients and only takes minutes to make. The extra creamy dressing and the crisp and creamy fried goat cheese are the winning ingredients that make this salad recipe so special!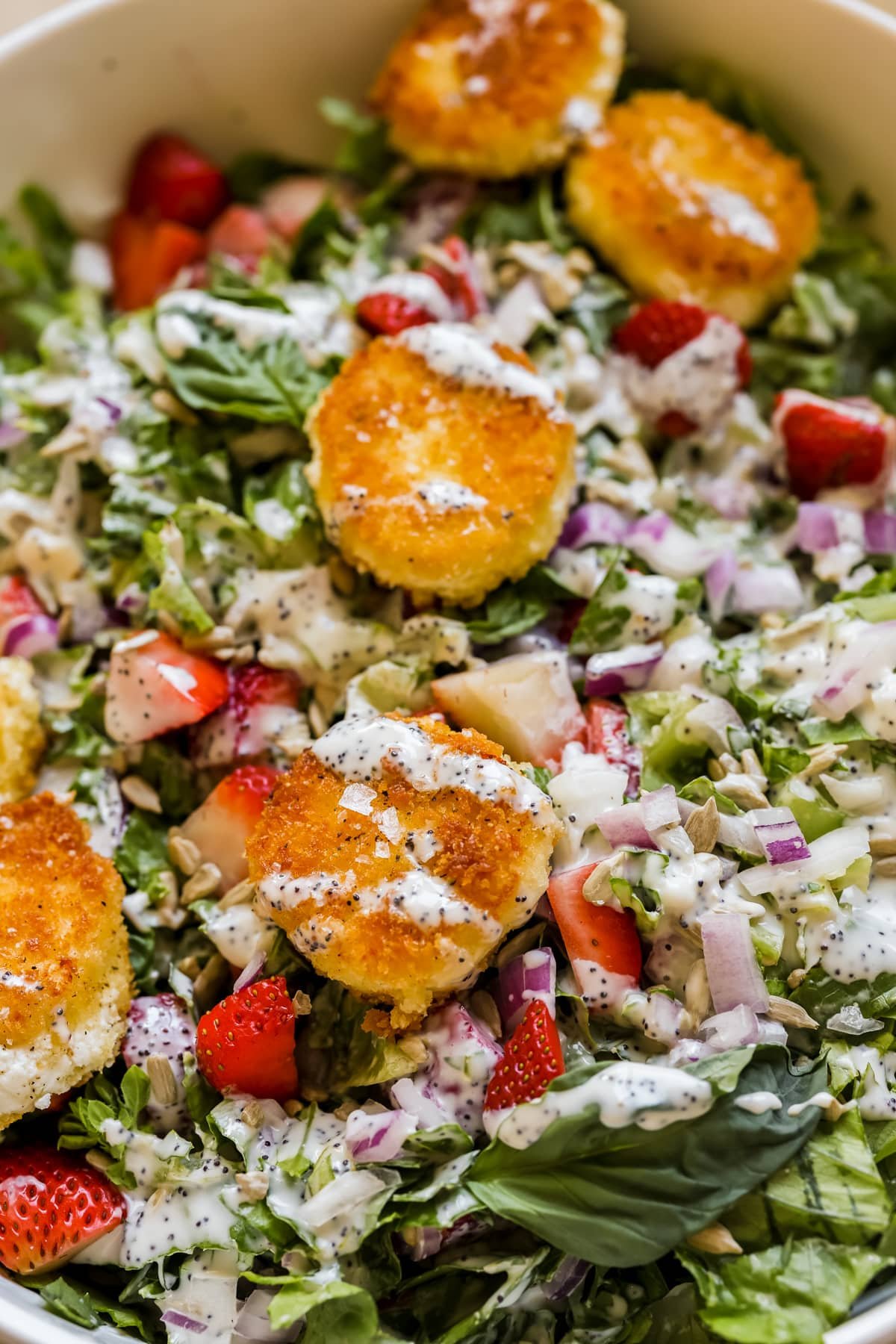 This slaad is great for lunch, dinner or brunch and it travels well for a pack-and-go lunch, too! (Just keep the dressing on the side before you're ready to dive in). Chicken or fish pair really well with all of these fresh flavors too if you want to add some protein!
Why This Recipe Works
Flavor packed!
Easy to make
The crispy goat cheese makes this a show-stopping salad
Add some protein and you have a complete meal for lunch or dinner
So colorful, that it makes a beautiful addition to any table.
It's a great go-to salad. You will find your are making it often!
Ingredient Notes
For the ingredient measurements and entire recipe, be sure to scroll down to the bottom of the blog post where the recipe card is located.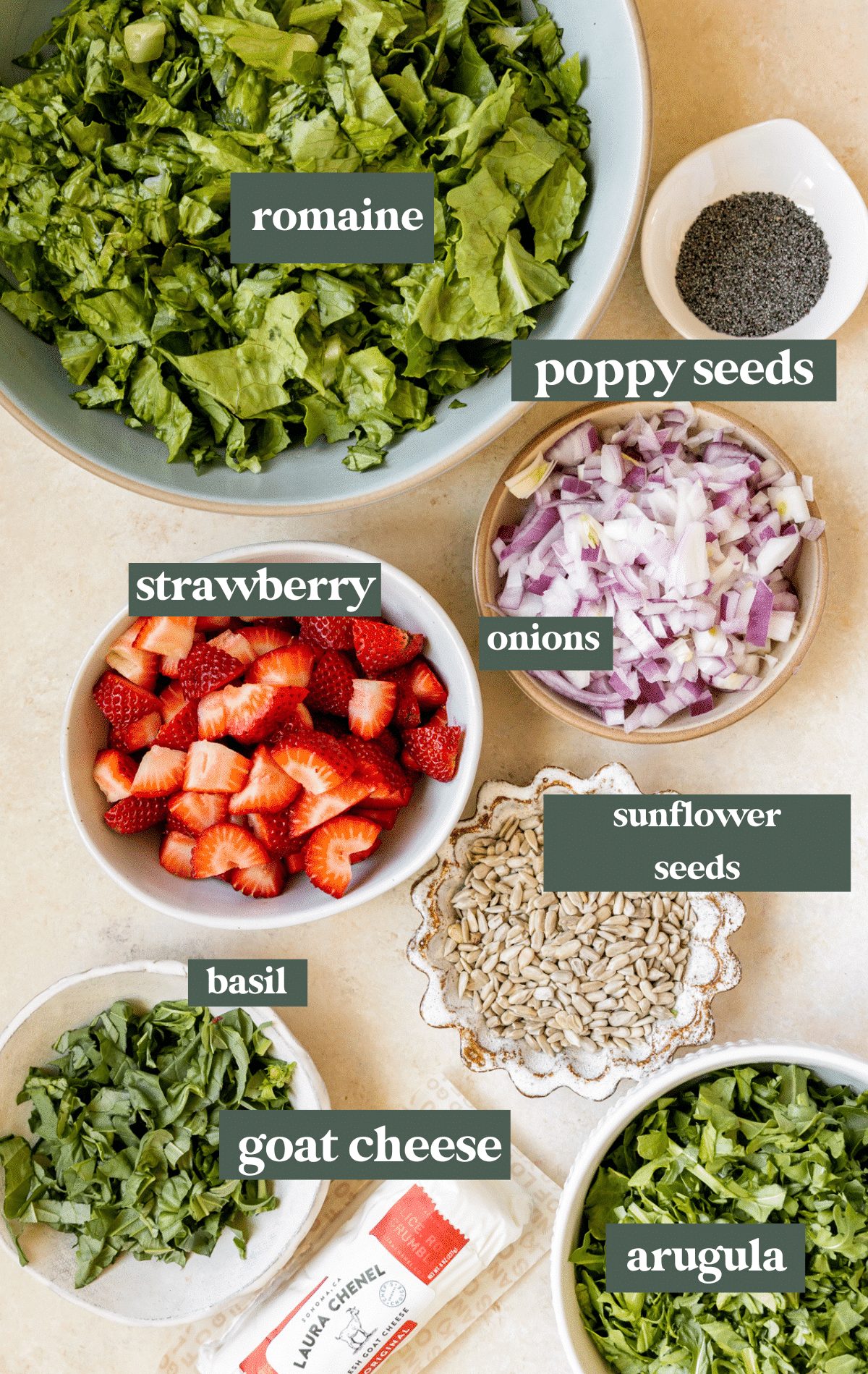 Romaine: Romaine is refreshing, juicy and crisp. Be sure to wash and rinse it well, romaine can be very dirty!
Arugula: arugula is peppery, a little spicy and nutty and love how it's flavors play in this salad. Feel free to omit or add spinach instead!
Basil: I love the surprise taste of fresh basil this salad. It's sweet and slightly spicy. Always use fresh.
Red onion: I love the strong flavor of fresh, red onions. Dice them small but just thick enough to still get a good crunch with every bite.
Strawberries: Remove the stem and the hull, then dice the strawberry. Be sure to find fresh, juicy strawberries for the best flavor!
Sunflower seeds: I love the subtle crunch they add to this yummy salad.
Fried goat cheese: This is one of my favorite ingredients in this salad. The warm , creamy crispness is such a contrast to the sweet and fresh flavors of the summertime greens and sweet strawberries.
Poppyseed Dressing: you'll need mayonnaise, half and half, sour cream, apple cider vinegar, sugar and poppy seeds.
Step by Step Directions
For the full recipe instructions, scroll down to the bottom of the blog post to the recipe card.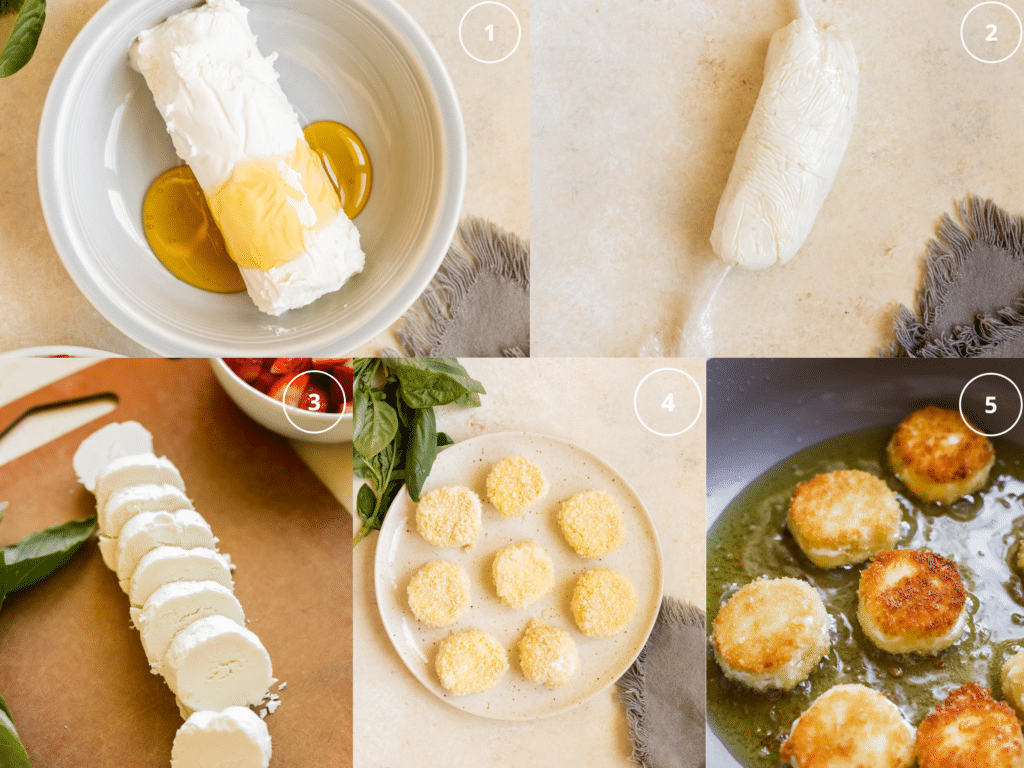 Make the dressing and set in the fridge.
Prepare the fried goat cheese.
Assemble all of the salad ingredients in a large salad bowl.
Add the dressing and goat cheese croutons on top and enjoy!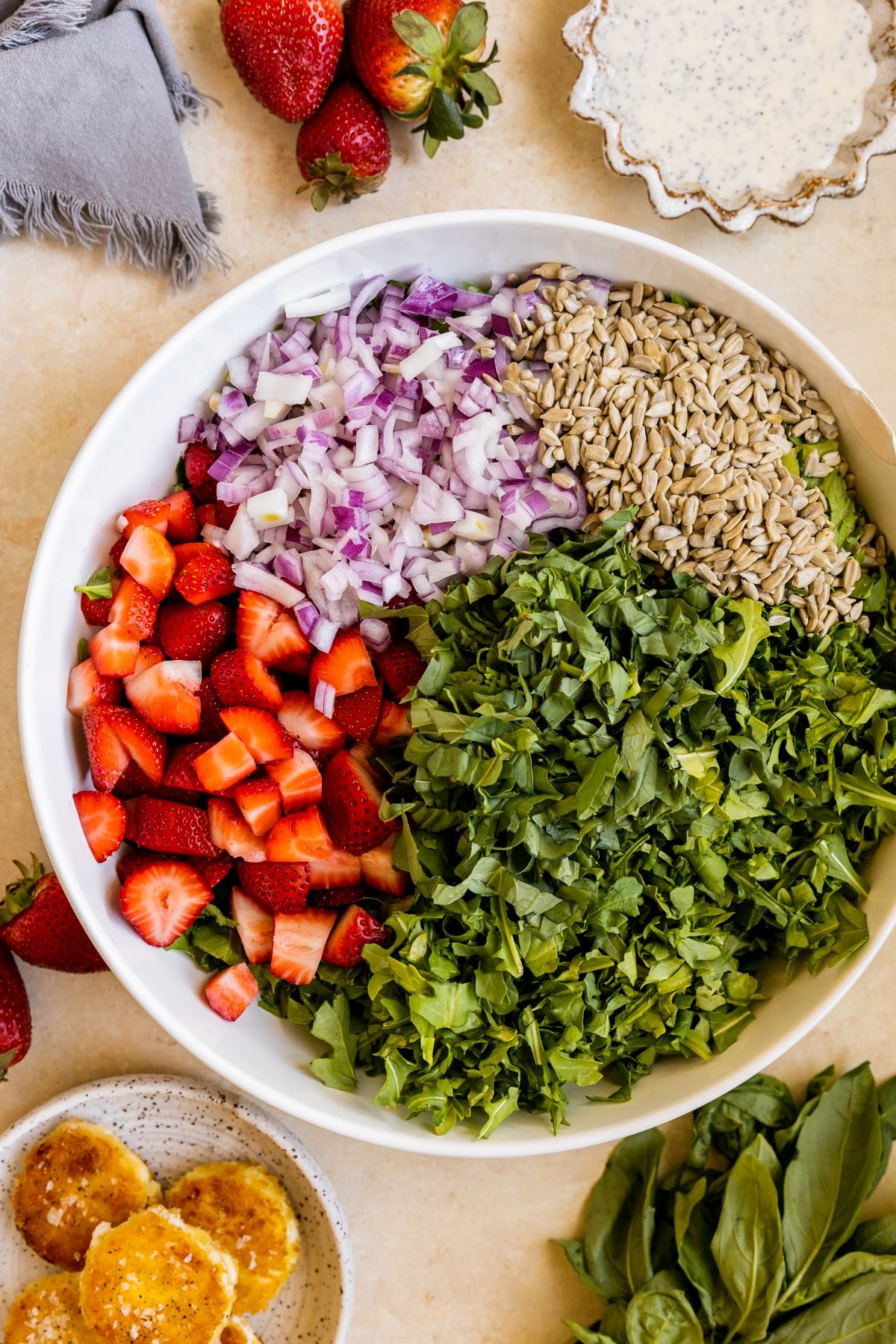 Expert Tips and Variations
One of my favorite things about salads is that you can always come up with tons of variations because salads are just so accommodating!
To make this salad a full meal, try topping it off with some chicken. A quick option would be to pick up a rotisserie chicken from the grocery store, or if you have chicken breasts you could pop them in a skillet or even on the BBQ while you are putting the salad together.
You can also use other greens in this salad. I love the crispness of the romaine, but you can also substitute spinach, kale, Spring mix, butter leaf lettuce, etc.
Use a salad spinner to dry the lettuce completely. If you don't have one, lay paper towels or dish towels over a baking sheet and lay out a single layer of the romaine leaves so they dry.
To completely coat the salad greens with the delicious dressing, I like to pour a little bit at a time, toss and pour and toss again. I also like to save some dressing to serve along side, in case someone wants more.
Serve the goat cheese warm for the best creamy texture in each bite. If you don't want to fuss with making fried goat cheese, you can simply crumble the goat cheese over the top.
If the goat cheese isn't your thing, add feta cheese, mini mozzarella balls or gorgonzola.
Instead of sunflower seeds, try walnuts, pine nuts, almonds, or toasted pecans.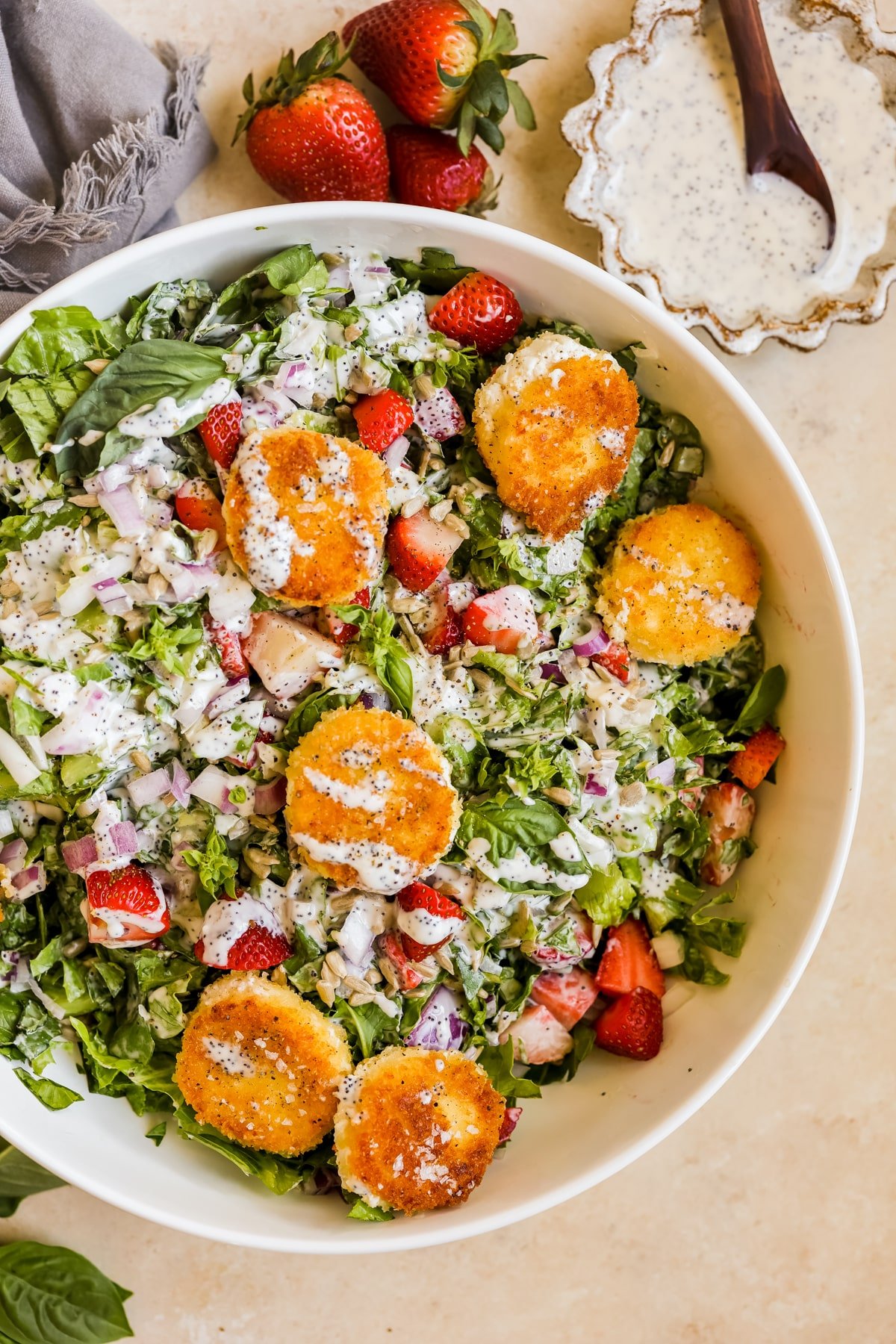 FAQ
What fruit can I substitute for strawberries?

Since this is a strawberry poppyseed salad, I would recommend using the strawberries but other fruit options that pair well are blueberries, raspberries, peaches, dried cranberries, kiwi, mandarin oranges, and avocado.
Can I make this salad ahead?

Yes! Just don't add the salad dressing until ready to serve. Make the dressing and keep in a jar or container. For the goat cheese you can keep the goat cheese log refrigerated and cold until you are ready to fry it.
How long does poppy seed dressing last?

Stored in a jar in the fridge for up to 5 days.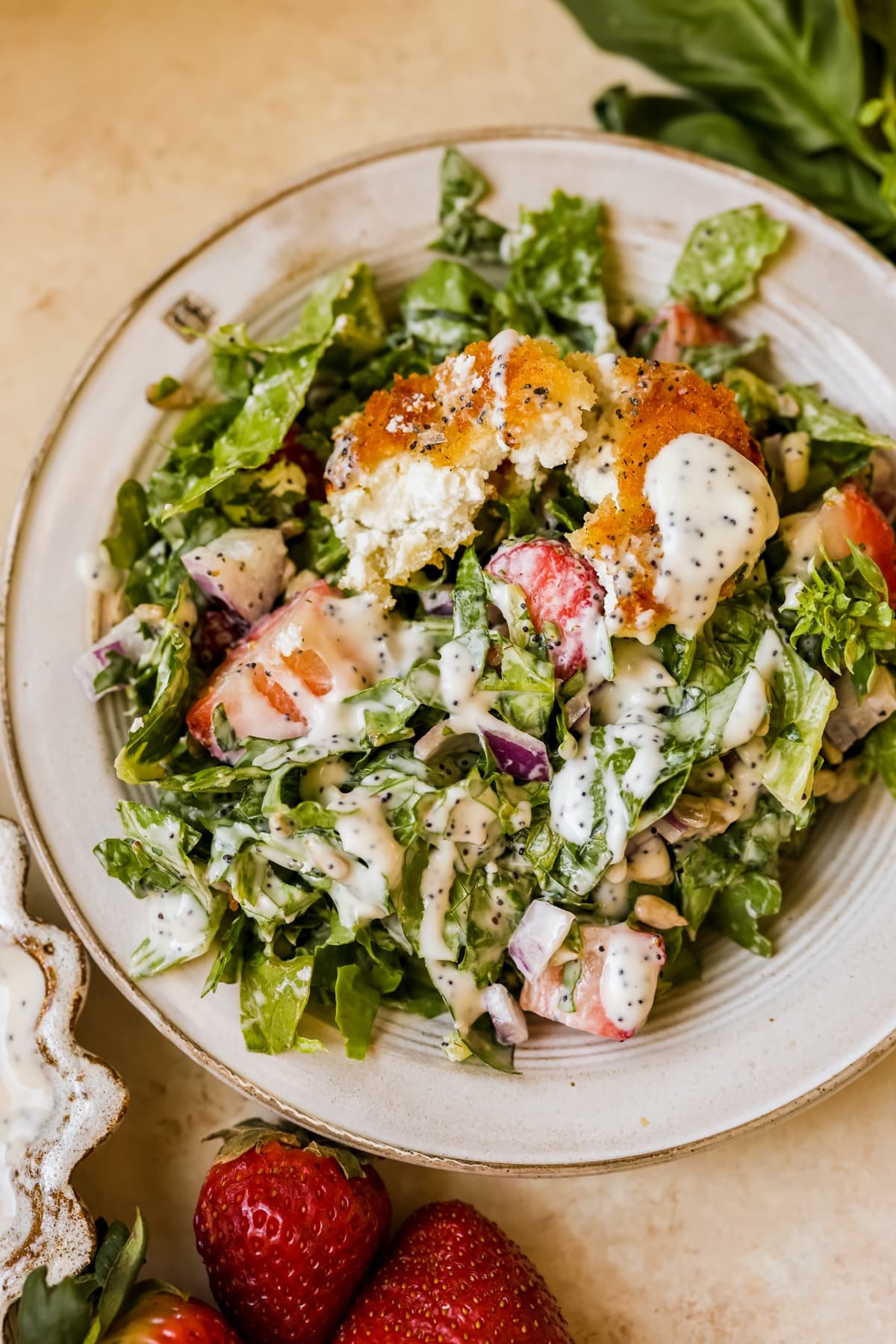 Before You Begin! If you make this, please leave a review and rating letting us know how you liked this recipe! This helps our business thrive & continue providing free recipes.
Strawberry Poppyseed Salad with Goat Cheese Croutons
This chopped Strawberry Poppyseed Salad is loaded with fresh, juicy strawberries, red onion, sunflower seeds, lots of romaine lettuce and peppery arugula. What makes it special is the lightly breaded, warm goat cheese croutons on top! Everything gets coated in a tangy-sweet, creamy poppyseed dressing.
Ingredients
For the salad
6-8

cups

romaine, washed and chopped

2

cups

arugula, washed and chopped

1

large bunch

fresh basil, roughly chopped or torn

1

red onion, diced

16

oz.

strawberries, diced

1/2

cup

sunflower seeds
For the dressing
1/4

cup

mayonnaise

3

Tbsp.

half and half

2

Tbsp.

sugar

1

Tbsp.

sour cream

1

Tbsp.

poppy seeds

1

tsp.

apple cider vinegar

salt and pepper to taste
For the fried goat cheese
8

oz.

goat cheese, softened

1

Tbsp.

honey

3

Tbsp.

flour

salt and pepper

1

large

egg

1

Tbsp.

whole milk

1/3

cup

Panko breadcrumbs

2

Tbsp.

avocado oil
Last step! If you make this, please leave a review and rating letting us know how you liked this recipe! This helps our business thrive & continue providing free recipes.
Instructions
In small mixing bowl or large liquid measuring cup, whisk together all of the dressing ingredients—mayo, half and half, sugar, sour cream, poppy seeds, apple cider vinegar, salt and pepper—until well combined. (Or, you can shake the ingredients together in a mason jar with a tight-fitting lid). Set in the fridge.

Prepare the goat cheese. Place the softened goat cheese and honey in a bowl and mix together. Place the goat cheese on a piece plastic wrap or parchment paper and roll into a log. (see video for guidance). Freeze for 30 minutes-1 hour. It just needs to harden a bit to make it easy to cut.

Cut with a sharp knife into 8 portions. Pat the goat cheese together so it's nicely packed. If you feel the goat cheese got too warm, pop it back in the freezer for a little to get cold again.

Set up the dredging station. Grab 3 shallow bowls. In the first bowl, combine the flour with a pinch of salt and pepper. In the second bowl, whisk together the egg and milk. And in the third bowl, the Panko breadcrumbs. Dip the goat cheese first in the flour, shaking ff excess, then in the egg wash, and lastly coat in the Panko. Repeat with remaining medallions.

Heat the avocado oil in a large skillet until shimmering. Once hot, add the goat cheese and cook for about 2-3 minutes on each side or until golden brown in color. Remove to a paper towel lined plate. Sprinkle goat cheese with pepper, flaky salt or even a drizzle of honey. The fried goat cheese is best eaten warm so I like to have everything mostly ready for the salad so you can serve the goat cheese pretty much straight away. Set aside while you prepare the salad.

Assemble the salad: Add the romaine lettuce, arugula, basil, onion, strawberries and sunflower seeds in a large salad bowl. Add a drizzle of the dressing and toss. Then add the warm fried goat cheese "croutons" on top. Serve with more poppy seed dressing and enjoy!
Notes
If you don't plan to enjoy the salad right away, keep the dressing on the salad. Only dress the salad right before serving to prevent it from becoming soggy.
Refrigerate any leftover salad dressing in a jar for up to 5 days. Give it a good shake again prior to using.
I like using avocado oil for frying the goat cheese thanks to the high smoke point but vegetable or canola oil works well, too.
Prep the goat cheese log in advance! Freeze the goat cheese log the day before and then place in the fridge the next day so it's not rock solid. When you're ready to make the salad, you'll just now have to dredge and fry the medallions without waiting for the goat cheese to harden!
Nutritional information is provided as a courtesy and is automatically calculated. It should only be construed as an estimate rather than a guarantee. Ingredients can vary and Kroll's Korner can't make any guarantees to the accuracy of this information.