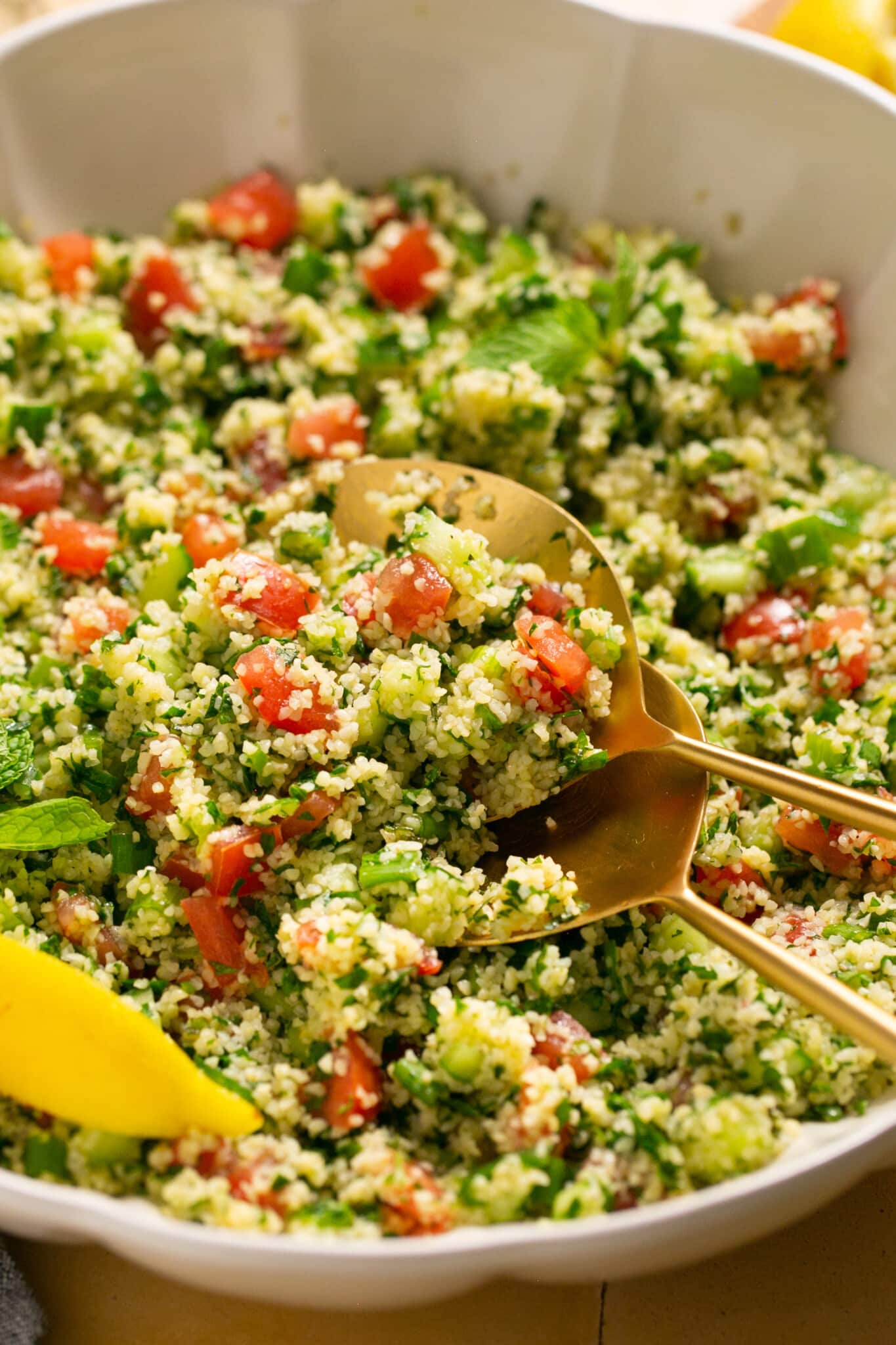 The light and refreshing taste of my Tabbouleh Salad just makes me think of warmer weather because the ingredients are so fresh and flavorful.
The peppery and earthy flavor of the the finely chopped fresh parsley creates the perfect foundation for this salad. It's packed with finely diced fresh tomatoes, cucumbers, green onions and the sweet, and cooling flavor of fresh mint leaves.
When you toss these veggies with the fine bulgur it gives the salad a light and nutty flavor with a chewy texture. Finally, it all comes together when the salad is dressed with fresh lemon juice, olive oil and a pinch of cinnamon to add just a hint of warmth.
Too often we purchase parsley and only use a little of it, and the rest wilts at the bottom of our produce drawer. Put your parsley to use with tabbouleh salad because you need a lot of it! I love that this salad has more herbs than grains and it's surprisingly simple to bring together. Just a bit of chopping and you're good to go!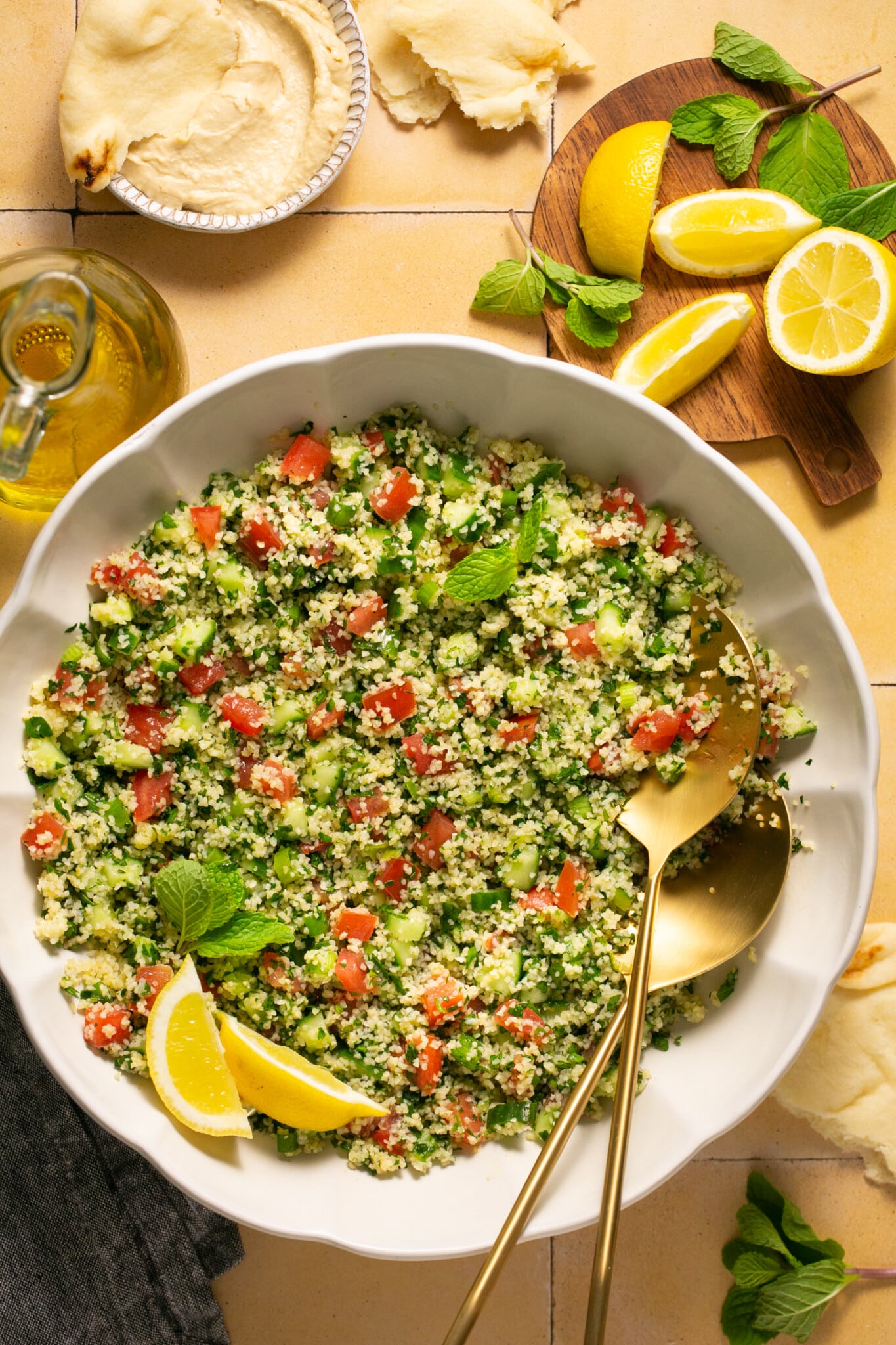 Tabbouleh is a wonderful traditional salad from Lebanon, but it has become a salad that is loved world wide. Tabbouleh comes from the Arabic word 'taabil', and it means to season or spice. I always love learning about the history of the foods, and I think that tabbouleh might be the oldest known food that I have cooked. It is thought to have been first eaten in the mountains of Lebanon and Syria more than 4,000 years ago.
Why This Recipe Works
It's light and fresh!
Tabbouleh is a flavorful vegetarian dish
It's surprisingly easy to make
Tabbouleh Salad can be served as an appetizer too, with pita Bread or romaine leaves.
The presentation is so colorful that it stands out on every table.
Ingredient Notes
For the ingredient measurements and entire recipe, be sure to scroll down to the bottom of the blog post where the recipe card is located.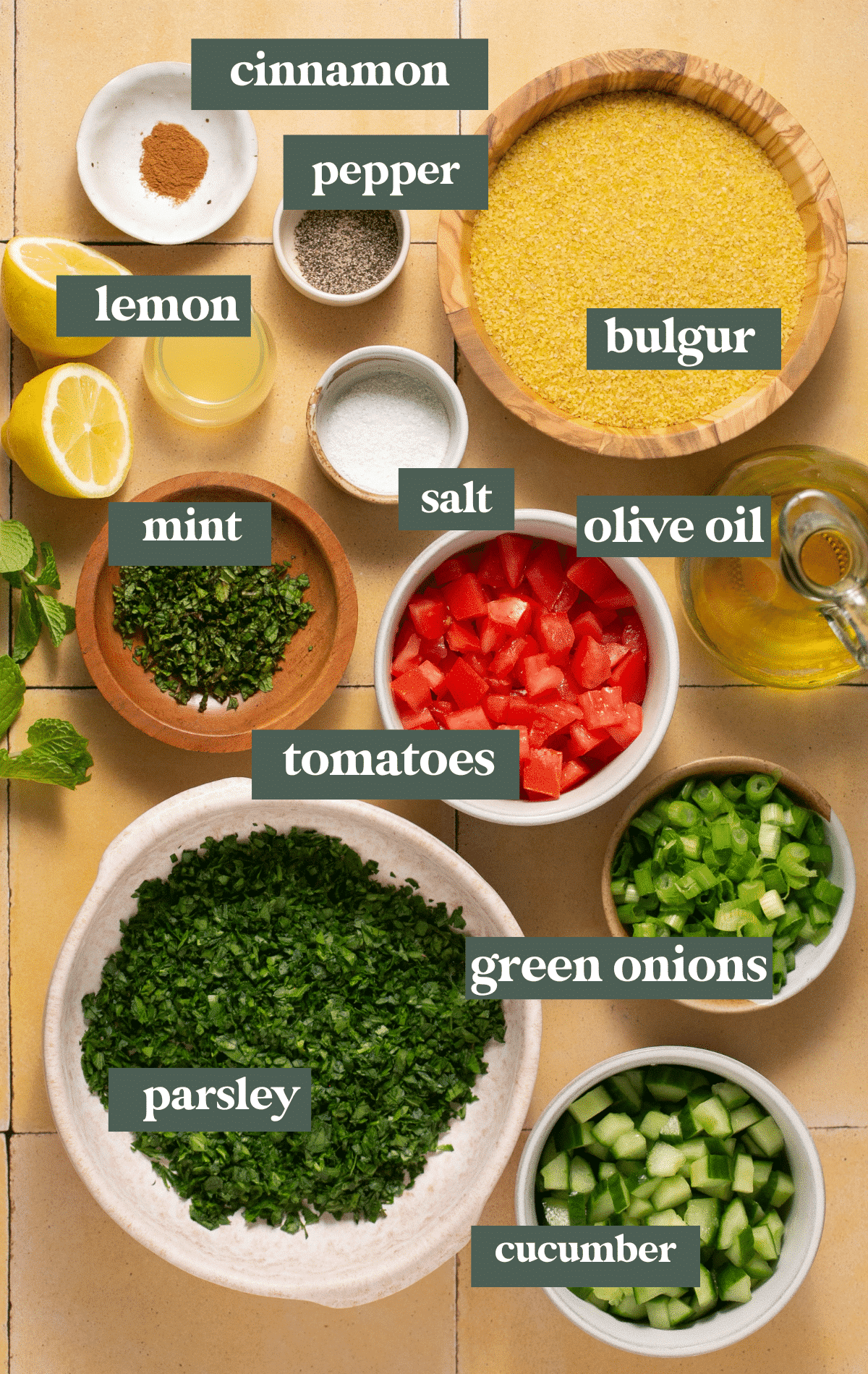 Fresh parsley: The clean and peppery taste of fresh parsley has an earthy flavor that works so well with bulgur. You can use flat-leaf or curly parsley, up to you! You'll need a lot of parsley, grab 2 bunches at the store! Parsley is king in this recipe!
Fine bulgur: Fine bulgur (#1) is the best choice for this salad. But I know it can be hard to find. Use whatever your store has and soak or cook according to the package directions.
Fresh mint: Fresh mint is such a versatile herb. It is fragrant and comforting and adds the perfect cooling touch to this salad. Some people like to omit it, but I think it adds such great flavor to the salad.
Roma tomatoes: Adds a pop of color to the salad. Be sure to pick a ripe tomato for maximum flavor.
Cucumber: The refreshing sweetness and crispness of cucumbers adds additional texture to this. Tabbouleh Salad. To make it entirely traditional Lebanese, omit the cucumber.
Green onions (use both whites and green parts): By using both the white and green parts of the onion you add additional flavors to your salad. The green part is more mild and works an a colorful garish to the salad. The white part has more of an onion-y flavor and is sharper tasting.
Lemon juice: Always use fresh lemon juice. The moderate lemony flavor has a nice zing that pairs well with olive oil.
Olive oil: I recommend extra virgin olive oil for the dressing. Since it is the least processed of all olive oils it retains its' natural antioxidants and vitamins making it a more healthful olive oil. Because of it's heabal and peppery flavor it is a great partner for the zesty lemon juice.
Kosher salt: Kosher salt is so different from other types of salt because it is made of only sodium chloride and it isn't iodized.The flavor is clean and fresh unlike iodized salt which can have a bitter after taste
Allspice or cinnamon: the warmth from either one of these spices, even though the portion is just a pinch, is a nice underlying flavor.
Serve with: lemon slices, pita bread, hummus, romaine leaves, falafel, grilled fish, etc.
Step by Step Directions
For the full recipe instructions, scroll down to the bottom of the blog post to the recipe card.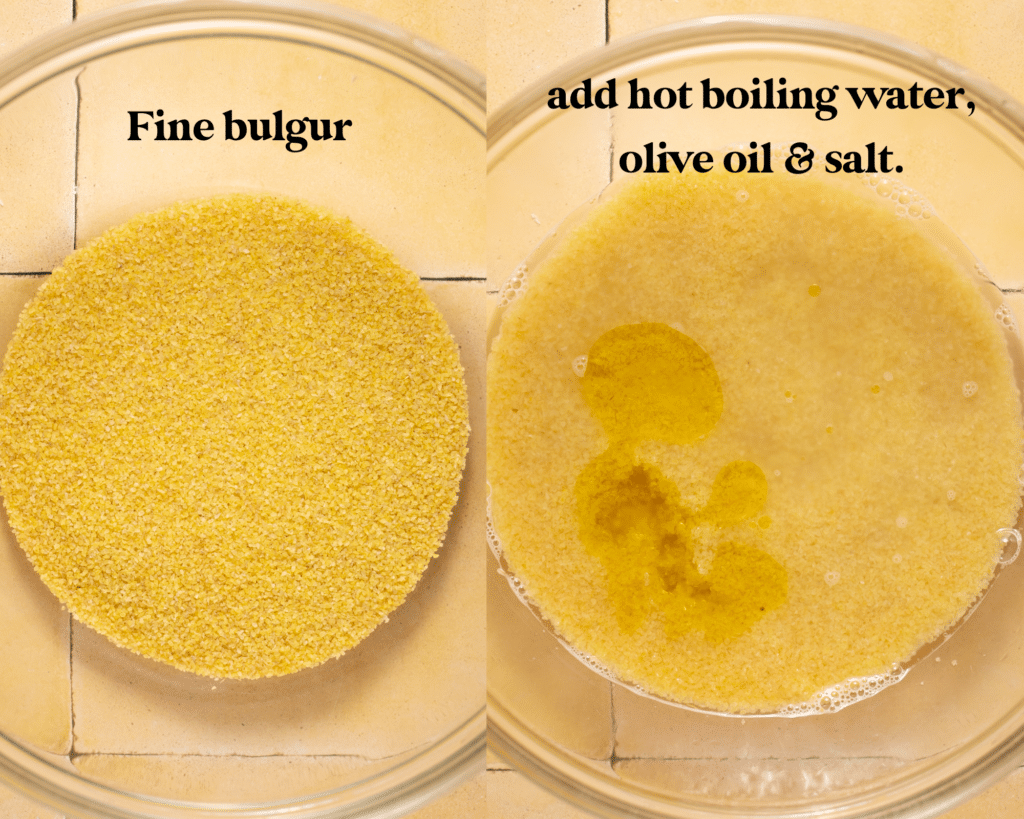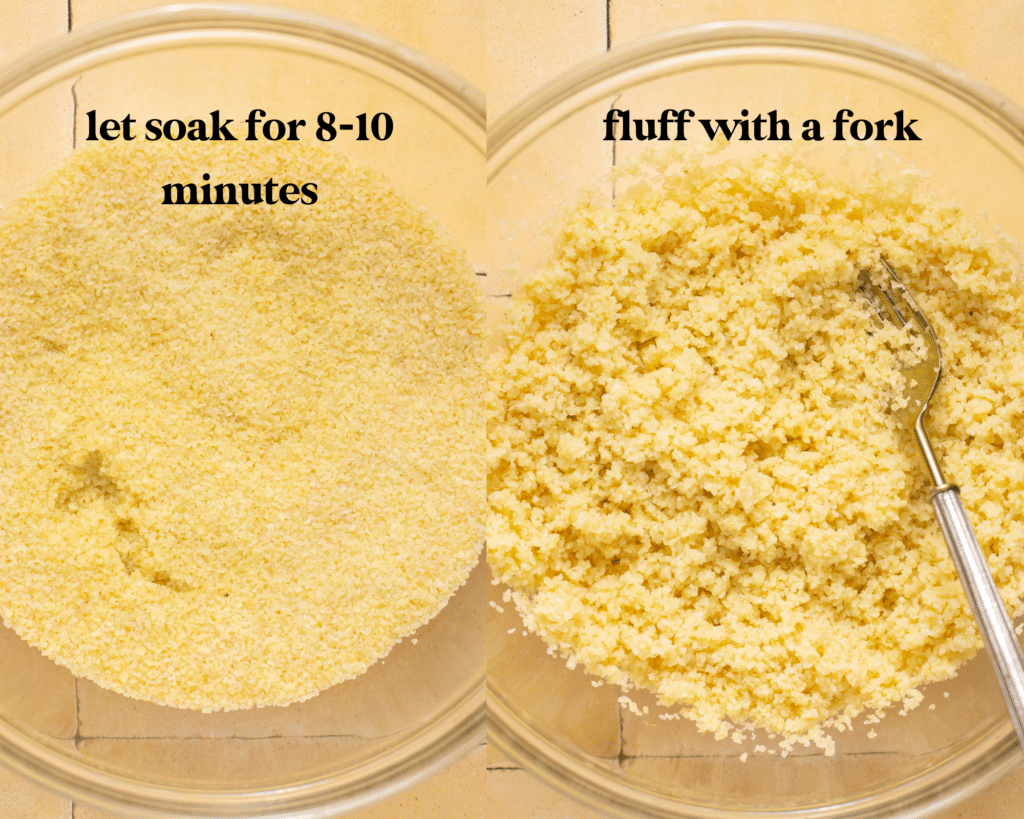 Season the diced tomatoes with salt and let them soak. Discard or repurpose liquid.
Soak the fine bulgur.
Wash herbs and pat dry.
Chop all herbs.
Combine all ingredients in a bowl, add the olive oil and lemon juice and season to taste with salt and pepper.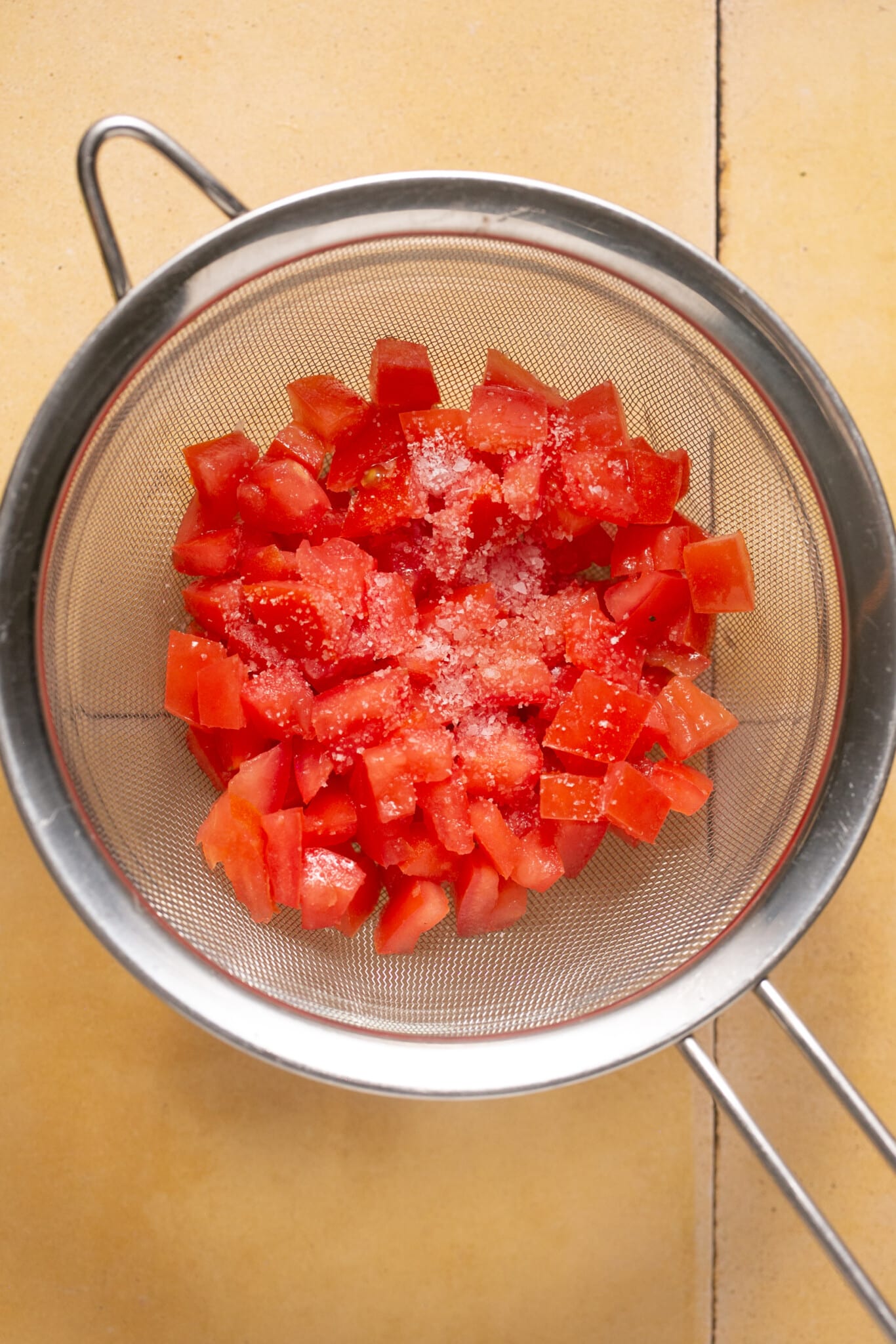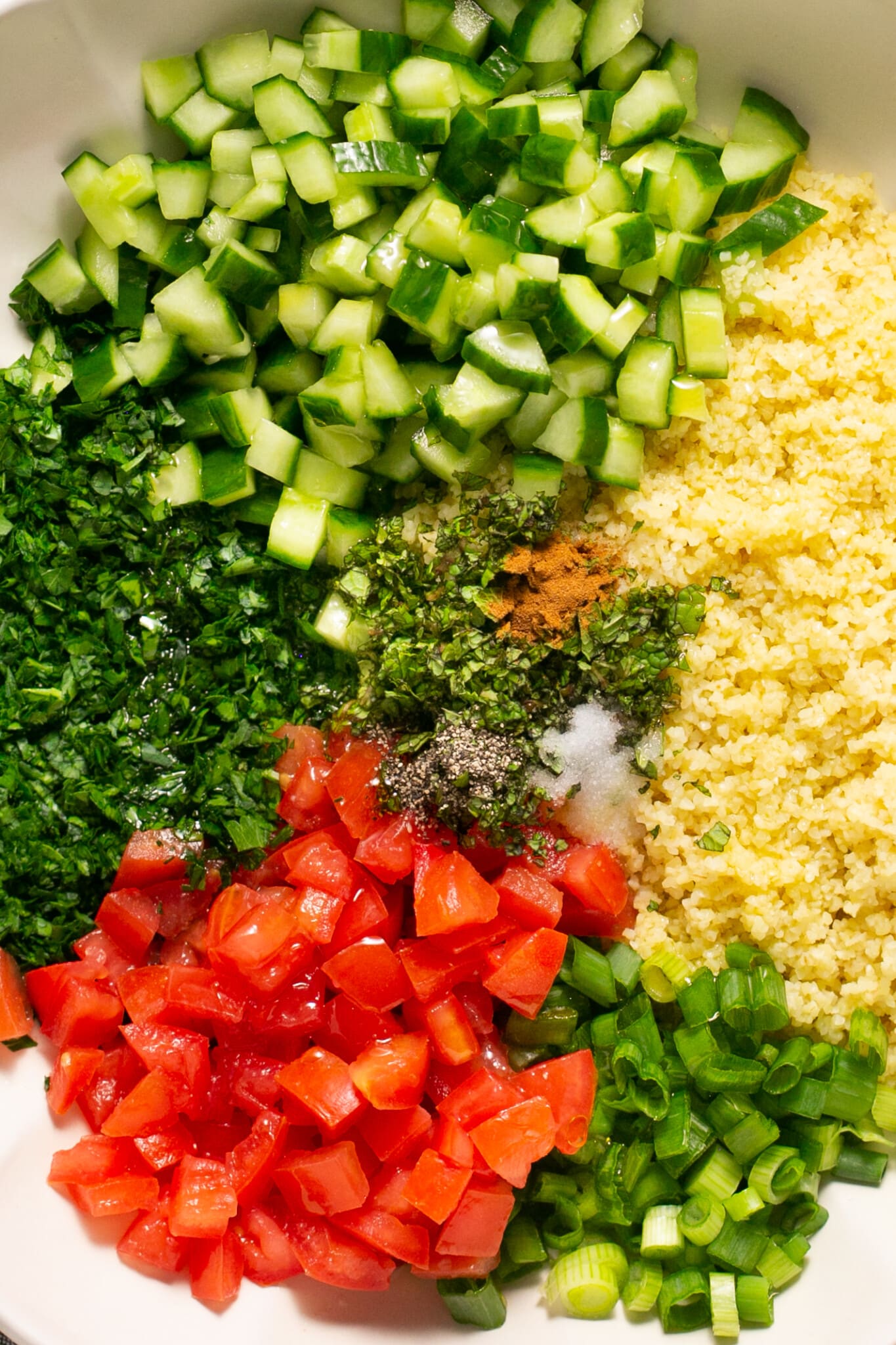 Expert Tips and Variations
Don't go overboard on adding a lot of cucumber or tomatoes, the parsley is the main attraction!
Traditionally, this is a parsley salad with some grain in it. Feel free to use less or more bulgur than what I've instructed. It's a flexible salad!
Splurge on some really nice extra virgin olive oil for this salad. Since it has a simple olive oil and lemon juice dressing, it makes all the difference.
Use freshly squeezed lemon juice. Bottled lemon juice won't do this salad justice.
Adjust the bulgur to parsley ratio based on your preferences. Some people prefer just a small quantity of grain dotted among the parsley but I find the 2 bunches of parsley (~2 cups) to the 1 cup of bulgur is a perfect combination.
To save 'day of' prep-time, wash the parsley the day before and place it in a salad spinner to let it drain and dry off over night. Either way, washing and drying all of the herbs really well is key to preventing a wet soggy salad.
I love giving the bulgur and parsley time to absorb the flavors of the extra virgin olive oil and lemon. So, if you have the time, I like to let the salad rest in the refrigerator for at least 30 minutes and up to 2 to 3 hours before serving.
Fine bulgur has a texture similar to couscous, it is a quick-cooking grain that does not need to be boiled. Just soak it for a few minutes in hot water. If you are using a coarse bulgur wheat you will need to increase the soaking time or follow the package directions for cooking.
For added texture and creaminess, top the salad with feta crumbles.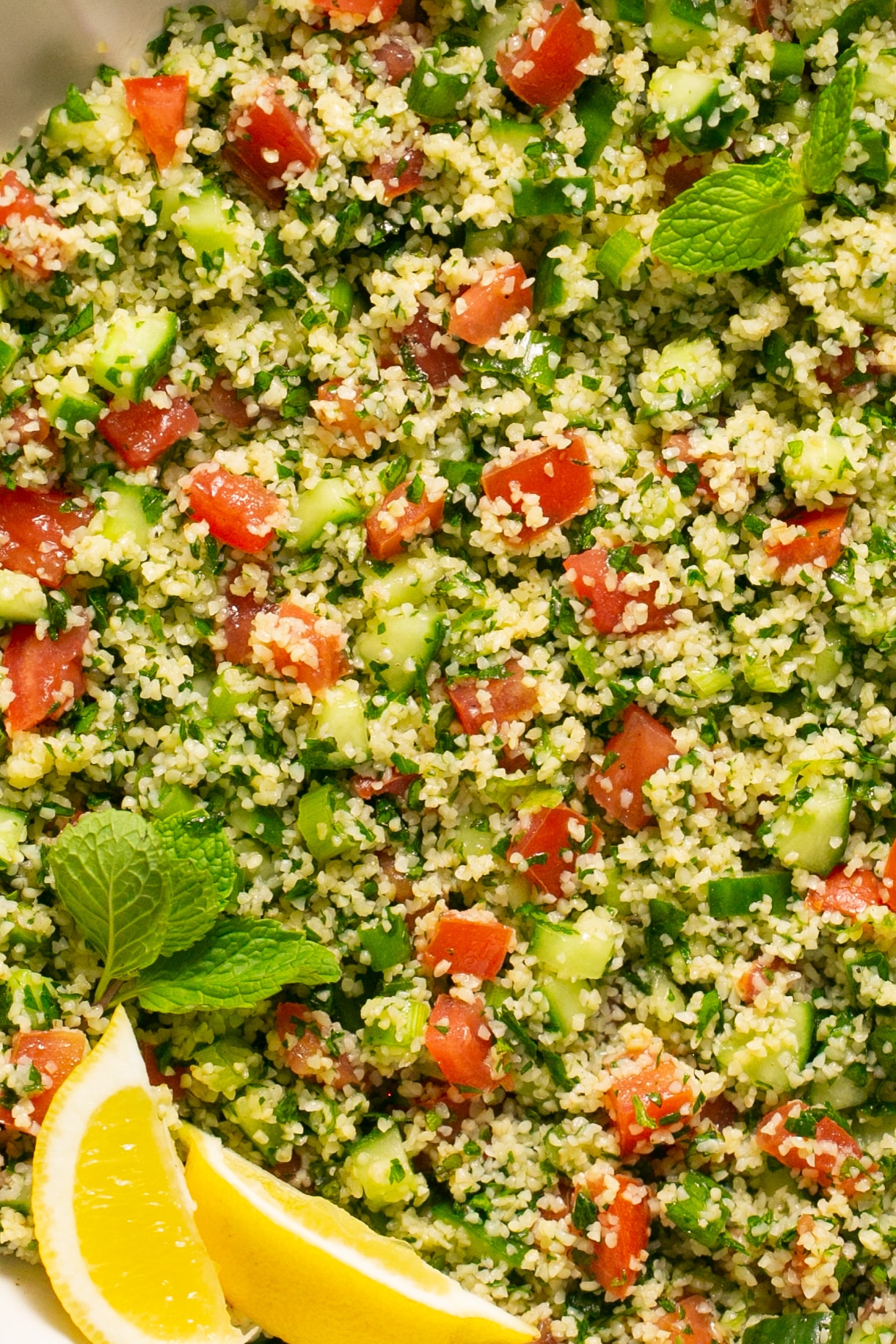 FAQ
If the tomatoes are firm do I still need to season with salt?

I would! Giving the tomatoes time to rest in the strainer with the salt helps draw out excessive water that keeps your salad from becoming soggy or overly wet with a pool of moisture at the bottom. You can also toss the cucumber in with the tomatoes too. Don't worry, it won't dry out your salad!
I can't find fine bulger, what can I substitute for it?

There are several brands and tyles of bulgur that you can usually buy at most grocery stores. Whatever you can find will work just fine, soak or cook according to package directions. But, if you have the time, you can also order bulgur on line. I've seem some people use couscous, farro or quinoa.
How can I make Tabbouleh Salad gluten free?

The best gluten free option is to substitute quinoa for the bulgur wheat. There are several color choices for quinoa, but I like to use the light colors as they have have the moist mild flavors. Just follow the package directions for cooking the quinoa and after cooking, remove the pot from the stove and let the quinoa rest for 10 minutes before removing the lid to fluff the quinoa.
Can I use curly parsley?

Yes, that is the traditional way. In my recipe I used flat-leaf Italian parsley.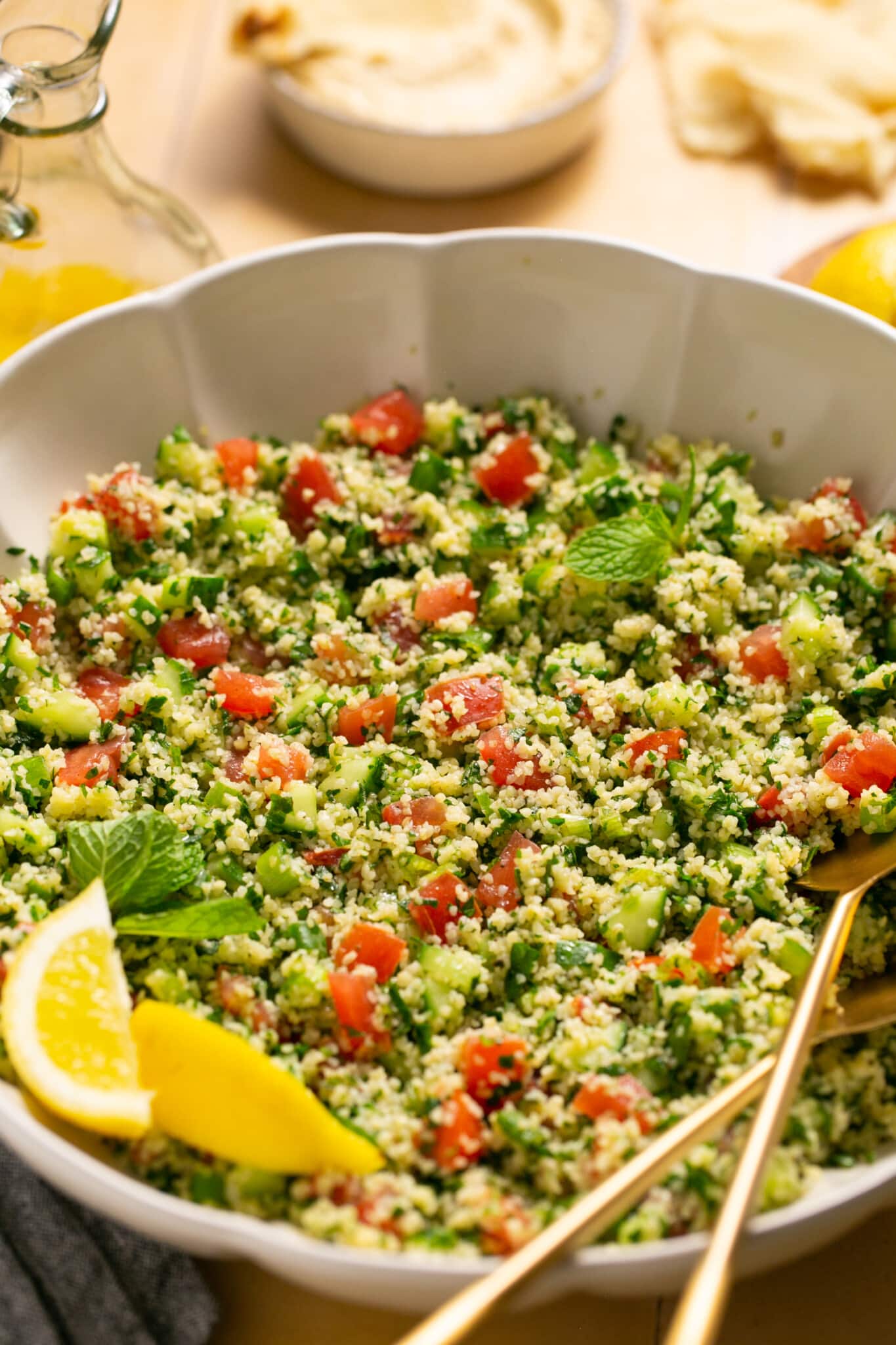 Before You Begin! If you make this, please leave a review and rating letting us know how you liked this recipe! This helps our business thrive & continue providing free recipes.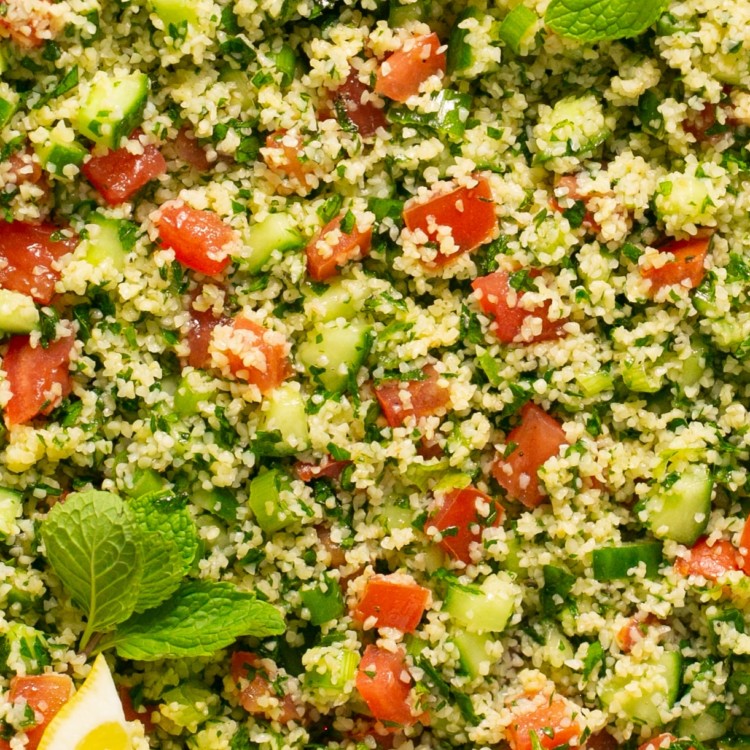 This Tabbouleh Salad has the perfect parsley to bulgur ratio, is refreshing, light and full of delicious flavors. Filled with mint, tomatoes, cucumber, lots of chopped parsley and lemon juice. It's a Spring and Summer favorite!
Ingredients
2

cups

fresh, flat-leaf or curly parsley, finely chopped (I always grab 2 bunches!)

1

cup

fine bulgur (#1)

1/4

cup

fresh mint, finely chopped

2

roma or plum tomatoes, seeded and finely diced

1/2

large

cucumber, seeded finely diced

3

green onions, thinly sliced (use both green and white parts)

1

lemon, juiced (or more lemon based on preferences)

1/2

cup

olive oil, start with 1/4 cup and add more as desired

1/2

tsp.

kosher salt

1/4

tsp.

black pepper

pinch of cinnamon or allspice (optional)

serve with: lemon slices, pita bread, hummus, romaine leaves, falafel, grilled fish, etc.
Last step! If you make this, please leave a review and rating letting us know how you liked this recipe! This helps our business thrive & continue providing free recipes.
Instructions
Add the diced tomatoes to a bowl and set over a strainer. Season the tomatoes with a heavy pinch of kosher salt and toss to combine. Let the tomatoes soak for 20 minutes. You can reserve the juices for salad dressings or add into a bloody mary. (The salt concentrates the tomatoes flavors by drawing out excess water. You can add the cucumber to the tomatoes too to drain excess water from them too if you'd like!)

For the bulgur: Be sure to use a fine grain. If using any other bulgur, follow package directions for cooking. Add 1 cup of bulgur to a heatproof bowl, add 2 cups of boiling water, ½ tsp. salt and 1 tbsp. olive oil. Let the bulgur sit and soak for 8-10 minutes, it will double in size. Fluff with a fork.

If you prefer less bulgur in your salad, add less. If not, feel free to add it all!

In a large mixing bowl, stir together the parsley, cooked bulgur, tomatoes, mint, cucumber, green onions, lemon juice and olive oil. Add a pinch of allspice or cinnamon if using. Taste and season with salt and pepper as desired and add more olive oil or lemon juice as needed.

Let rest for a few minutes prior to serving, then enjoy with your pita bread, romaine leaves, hummus, or whatever you like!
Notes
Salad will keep up to 4-5 days in an air-tight container in the fridge.
Nutrition Information
Calories:
196
kcal
(10%)
,
Carbohydrates:
17
g
(6%)
,
Protein:
3
g
(6%)
,
Fat:
14
g
(22%)
,
Saturated Fat:
2
g
(13%)
,
Polyunsaturated Fat:
2
g
,
Monounsaturated Fat:
10
g
,
Sodium:
134
mg
(6%)
,
Potassium:
257
mg
(7%)
,
Fiber:
5
g
(21%)
,
Sugar:
1
g
(1%)
,
Vitamin C:
31
mg
(38%)
,
Calcium:
42
mg
(4%)
,
Iron:
2
mg
(11%)
Nutritional information is provided as a courtesy and is automatically calculated. It should only be construed as an estimate rather than a guarantee. Ingredients can vary and Kroll's Korner can't make any guarantees to the accuracy of this information.