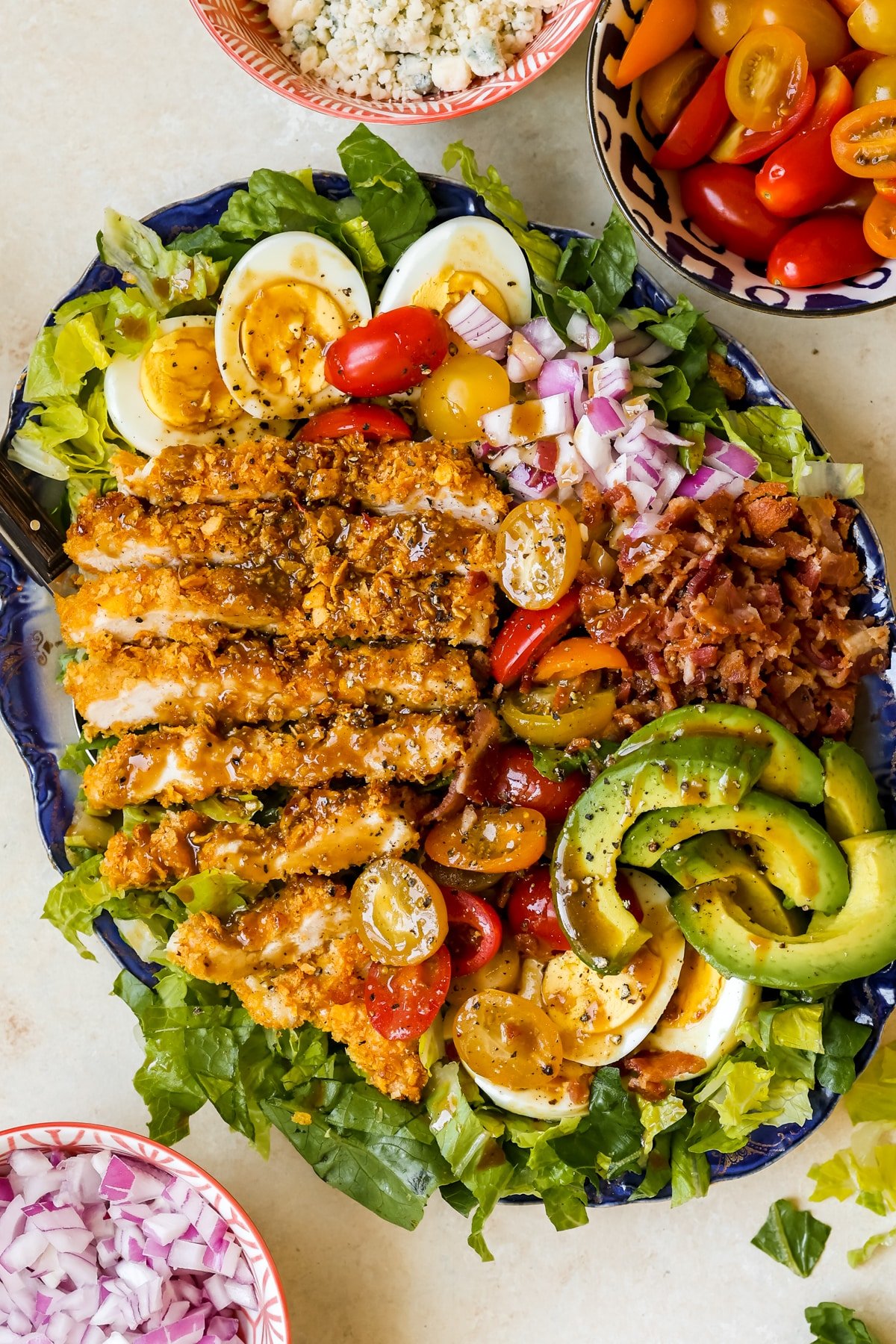 This Chicken Cobb Salad is filled with all of the usual, scrumptious suspects: crispy romaine lettuce, thick-cut bacon bits, hard-boiled eggs, juicy tomatoes, sweet red onions and the best crispy oven-baked chicken.
Dress the top of the salad with my homemade balsamic vinaigrette and sprinkle on bleu cheese too if you're feeling up to it! This salad hits the spot every.single.time!
Chicken salads are a favorite of mine, I am equally as obsessed with this buffalo chicken salad, chicken macaroni salad, and this chopped chicken salad with sesame dressing.
There is an abundance of fresh ingredients in this salad, plus lots of protein which I love for a satisfying lunch or dinner.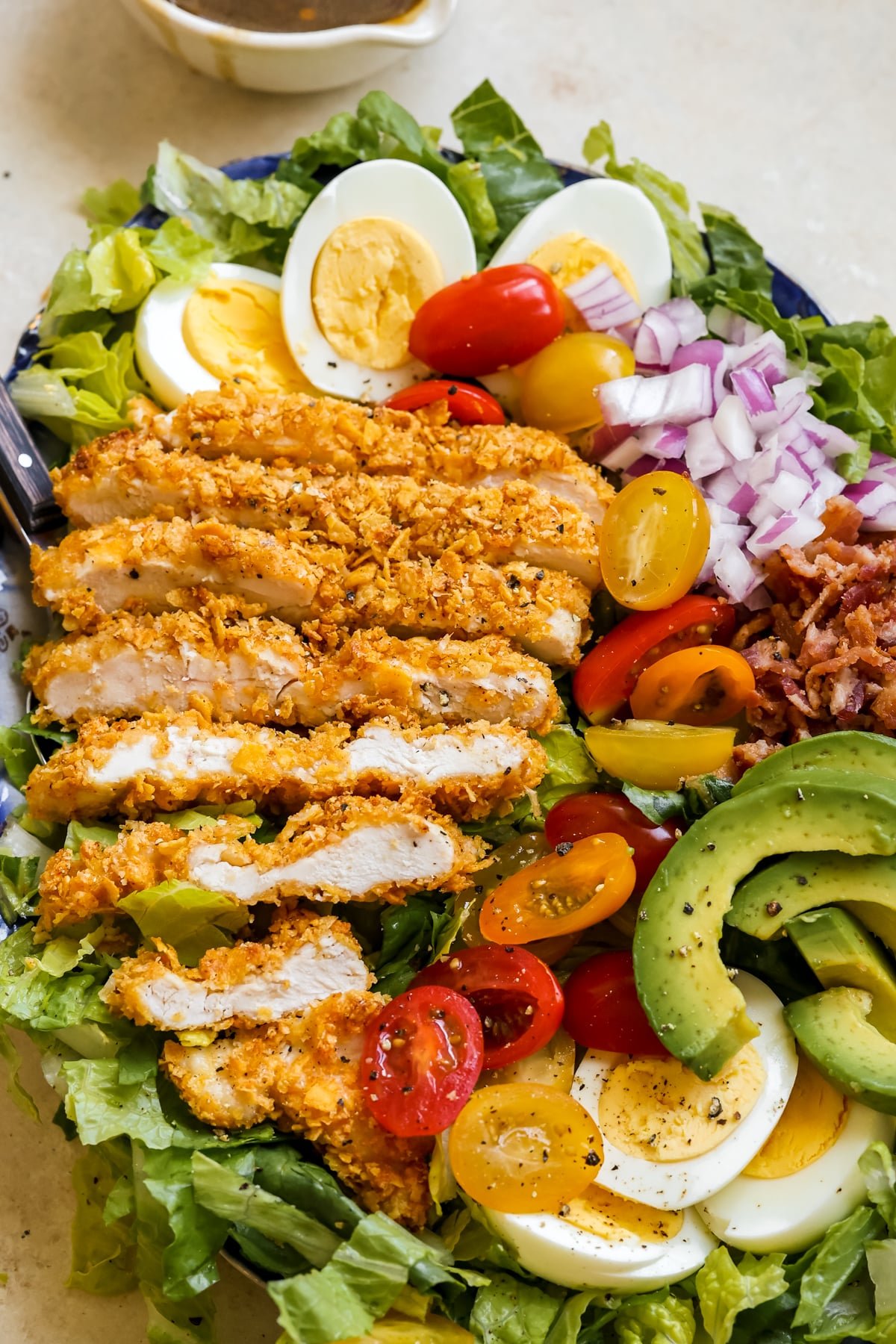 It's the perfect summer salad when I am craving lots of flavor, texture, and something cool and crisp. I love how all of the ingredients play together from the creamy hard boiled eggs to the crunchy romaine lettuce.
The salad is enough to serve as is or with some crusty bread and your favorite summer cocktail!
Why this recipe works
Can be made ahead of time (keep dressing on the side)
Uses plenty of fresh produce
Packed with protein for a filling meal!
Great for meal prep during warmer months
Easy to customize with different proteins or dressings
Ingredients
For the ingredient measurements and entire recipe, be sure to scroll down to the bottom of the blog post where the recipe card is located.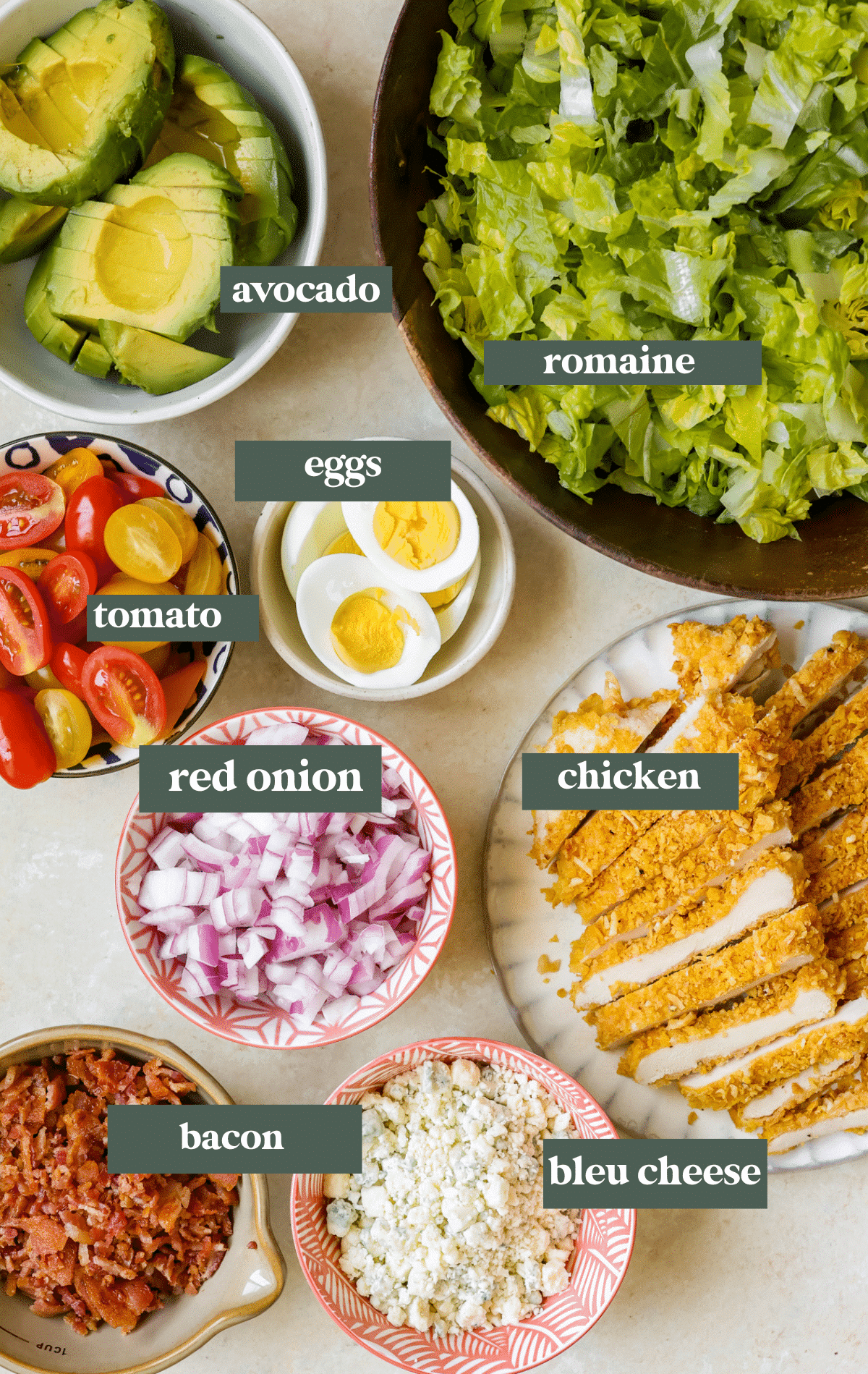 Chicken: I love this recipe with my crispy cornflake chicken (recipe is below). But feel free to use grilled chicken or any leftover baked or roasted chicken you have.
Lettuce: I'm using romaine lettuce, I love its crunch and how it holds up in the salad with all of the other layers of ingredients.
Tomatoes: cherry tomatoes or juicy Roma tomatoes are both great options. Make sure they are nice and ripe!
Eggs: hard boiled or a medium-set jammy yolk, whichever you prefer.
Bacon: thick-cut bacon is a non-negotiable!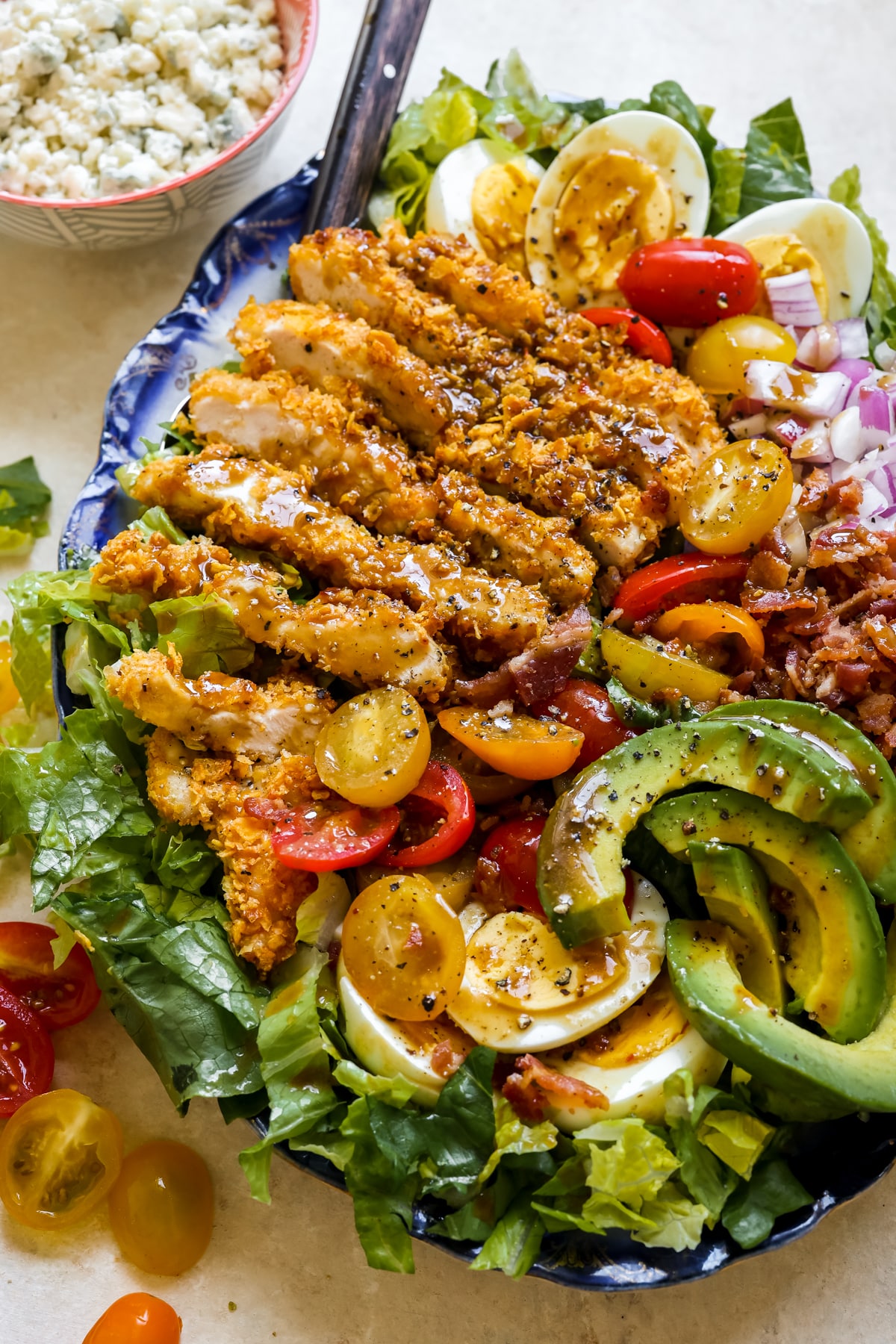 Red onion: you can also use green onions or shallots. I love the color and flavor the red onion adds!
Avocado: make sure the avocado is nice and ripe. I like to not only feel the avocado (it should yield to firm gentle pressure) but also check under the stem. If you peel off the stem and it comes off easily and is green, it's a good avocado. If it's brown you have an overripe avocado that most likely has spots of brown within it.
Dressing: you'll need balsamic vinegar, olive oil, Dijon, honey, garlic powder, salt, pepper and chili flakes (optional).
Step by Step Directions
For the full recipe instructions, scroll down to the bottom of the blog post to the recipe card.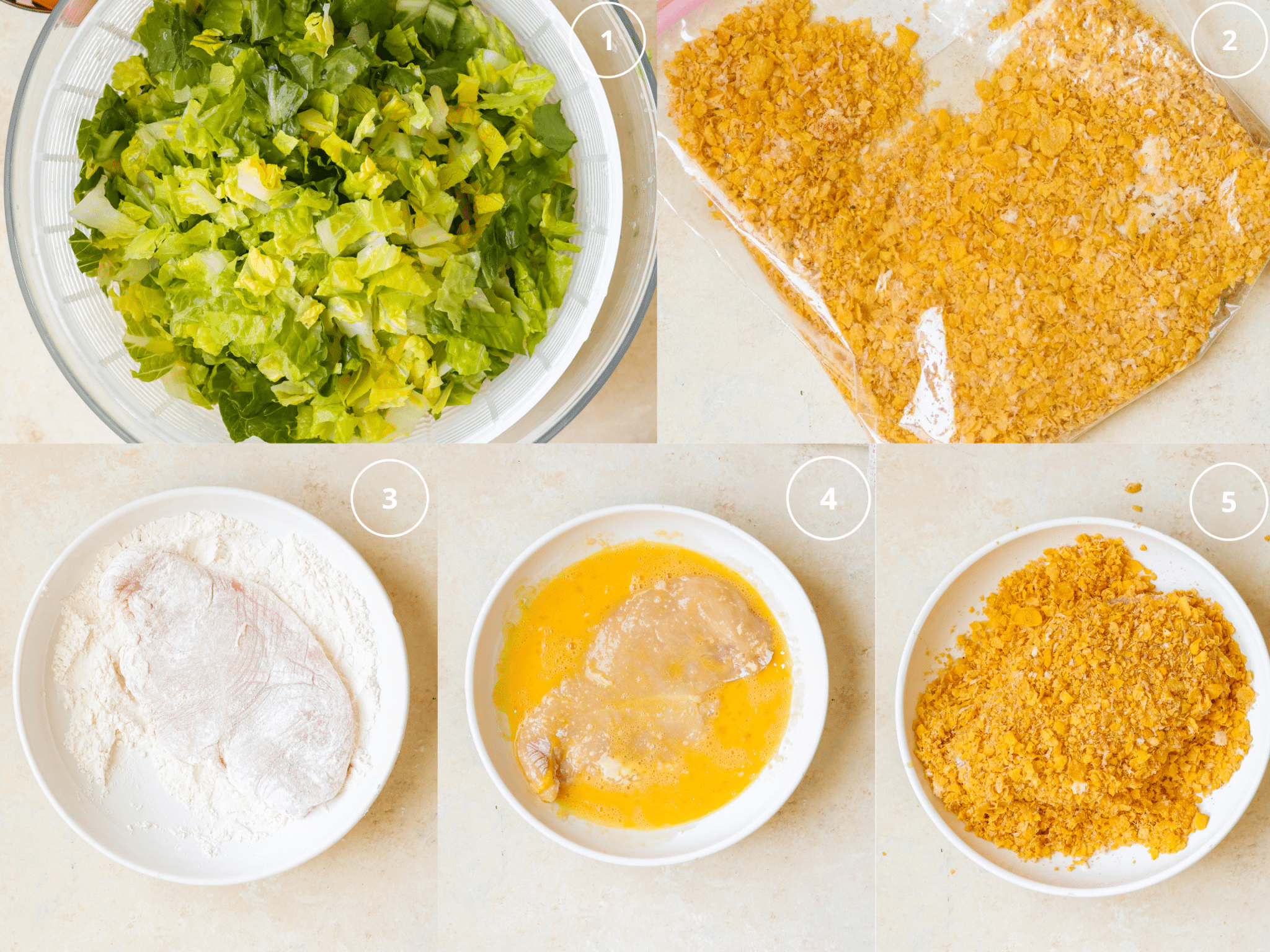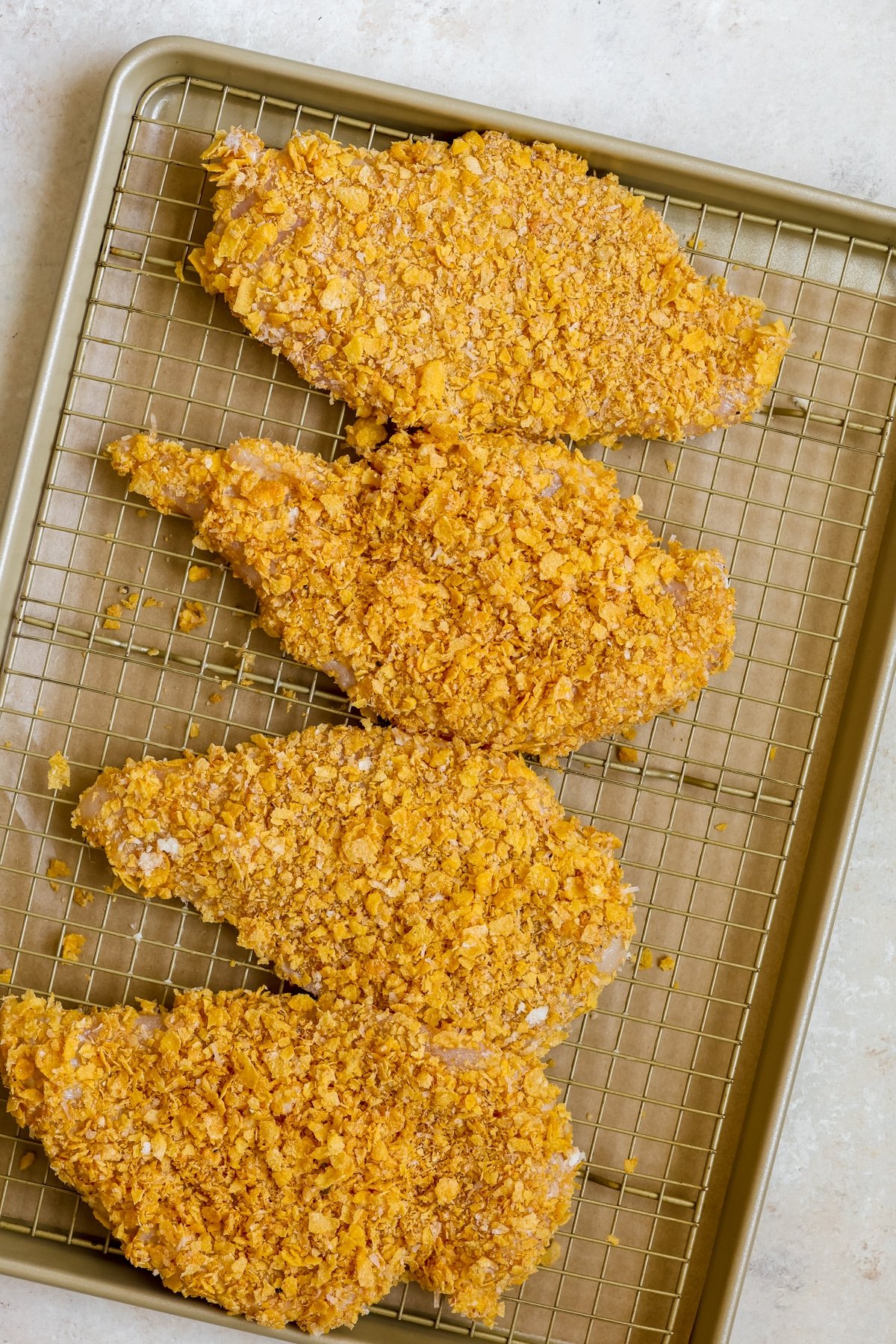 In a jar, shake together the salad dressing ingredients. Or you can whisk them together in a bowl until emulsified.
Cook the chicken. Bread the chicken in cornflakes and bake in the oven until crispy (full directions for this are below in the recipe card).
On a large plate or platter, spread out the chopped romaine lettuce and add on the red onion, hard boiled eggs, cherry tomatoes, and avocado. Add bleu cheese as well, if using.
Slice the chicken and add the chicken on top, season with more salt and pepper if desired, drizzle with balsamic vinaigrette dressing and enjoy.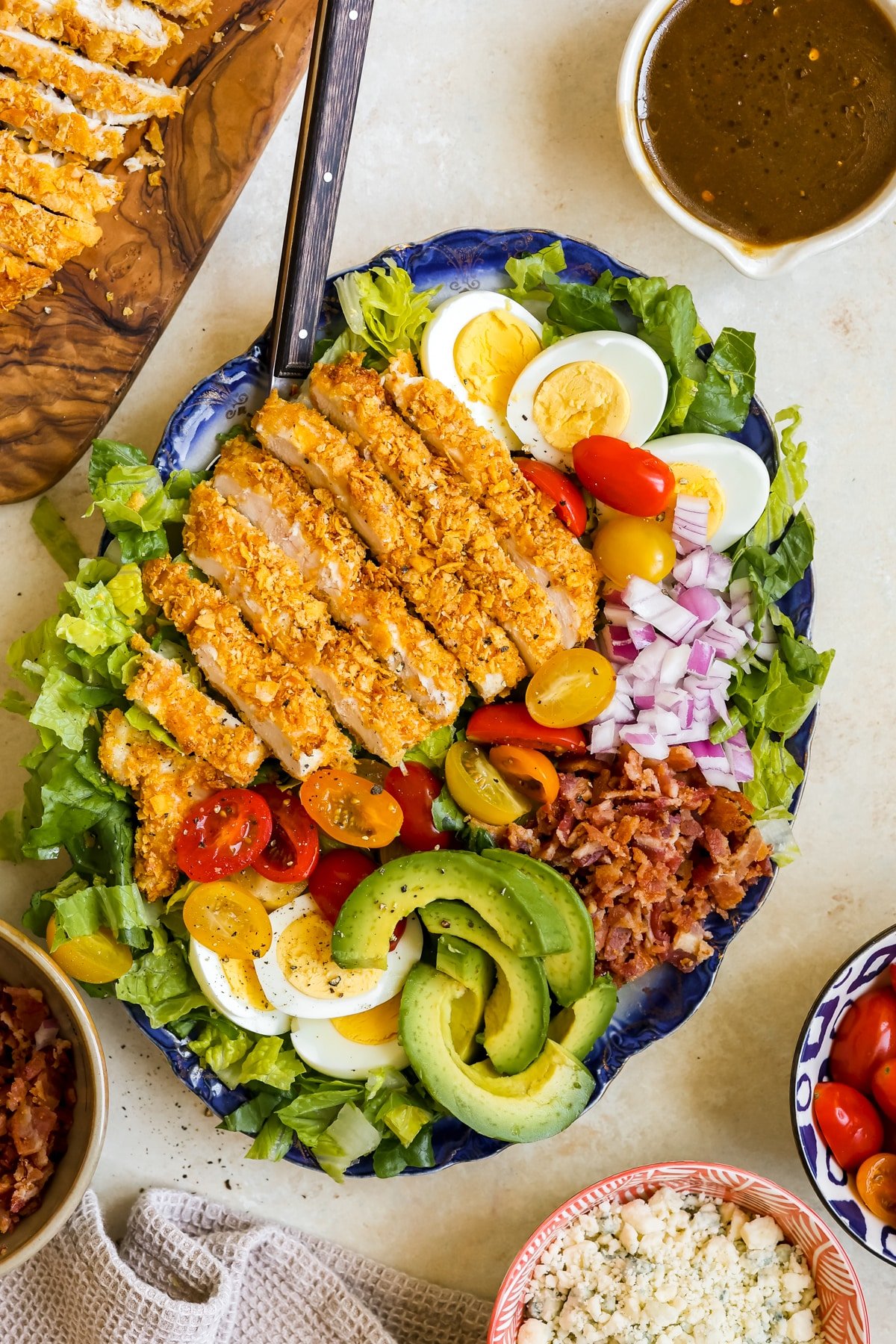 Expert Tips and Variations
If you don't care for the balsamic vinaigrette dressing, you can use a creamy dressing like a Caesar or Ranch, something sweet like honey mustard or another vinaigrette of your choice.
Instead of the crispy cornflake chicken (which I am obsessed with) you can always keep it simple and use grilled chicken, a rotisserie chicken, or leftover baked chicken.
Swap out the chicken for a different protein. Grilled steak, shrimp, ham, or salmon.
Use a salad spinner to throughly wash the romaine lettuce.
Use a mix of greens: baby red lettuce, endive, watercress, chickory, spinach, or a spring mix.
Add some croutons for some more crunch!
The purists cobb salad has tomato, avocado red onion, etc. but feel free to add in cucumber, radish, summer corn, or whatever is yummy and in season!
Swap out the bacon for some crisp pancetta for a different spin.
You can make the dressing several days in advance so when you're ready to enjoy your salad, that step is already done!
The entire salad can be chopped and prepped in advance too. Just keep the dressing on the side and add the avocado right before serving.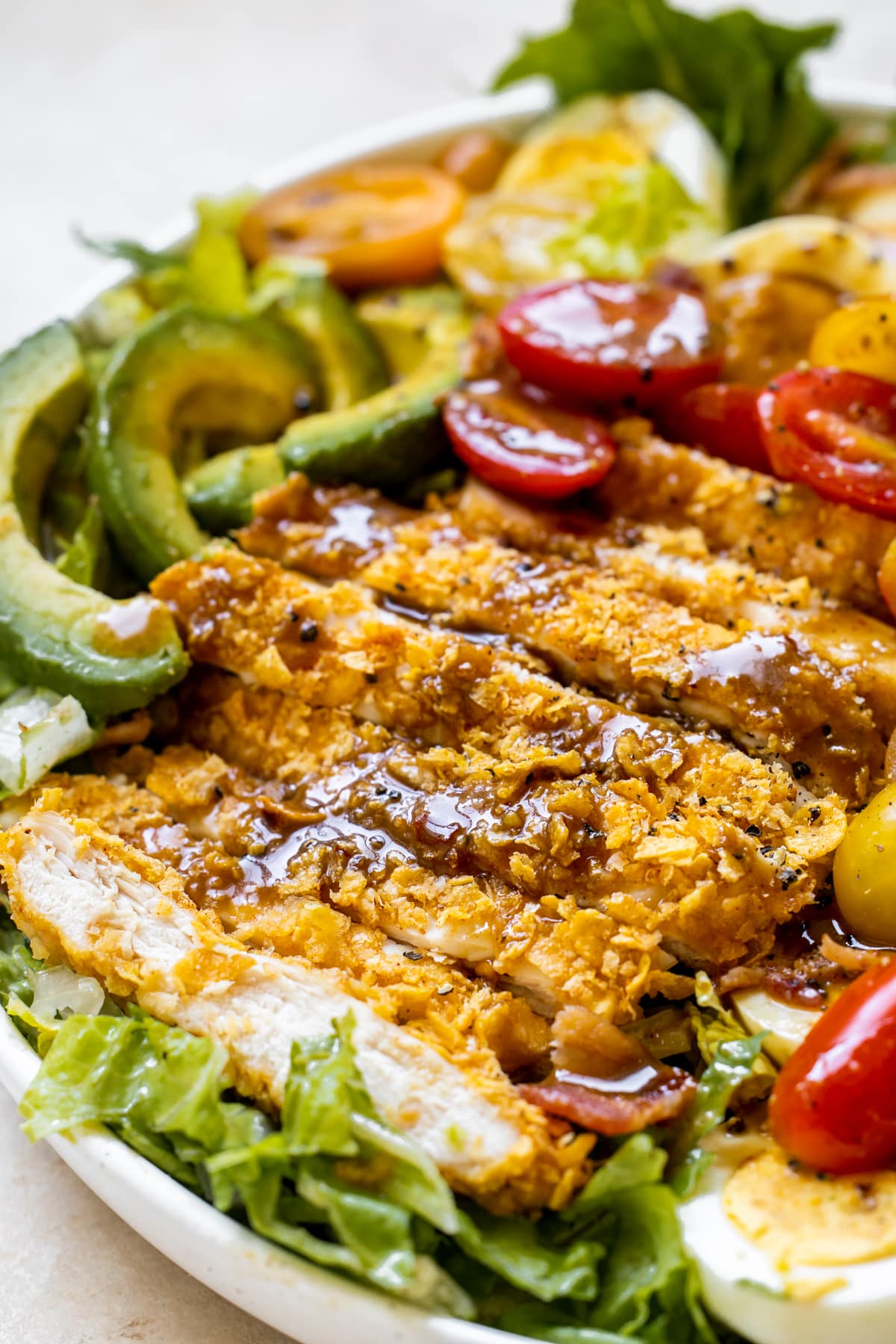 FAQ
What is the best way to make hard boiled eggs?

I like to make mine in the Instant Pot! Add 1 cup of water to the Instant Pot, add the trivet and set 6-12 eggs on the trivet. Cook at high pressure for 5 minutes, natural release for 5 minutes and then add to an ice water bath for another 5 minutes. Or, make on the stove: gently lower eggs into boiling water and boil for 7-8 minutes for medium-set jammy eggs or 10 minutes for hard boiled. Transfer to ice water and chill for 5 minutes.
What's the difference between a cobb salad and a chef's salad?

A cobb salad usually has lettuce, tomato, bacon, avocado, hard boiled eggs, onions and bleu cheese while a chef's salad is more basic with ingredients like cucumber, carrots, ham, and usually cheddar cheese.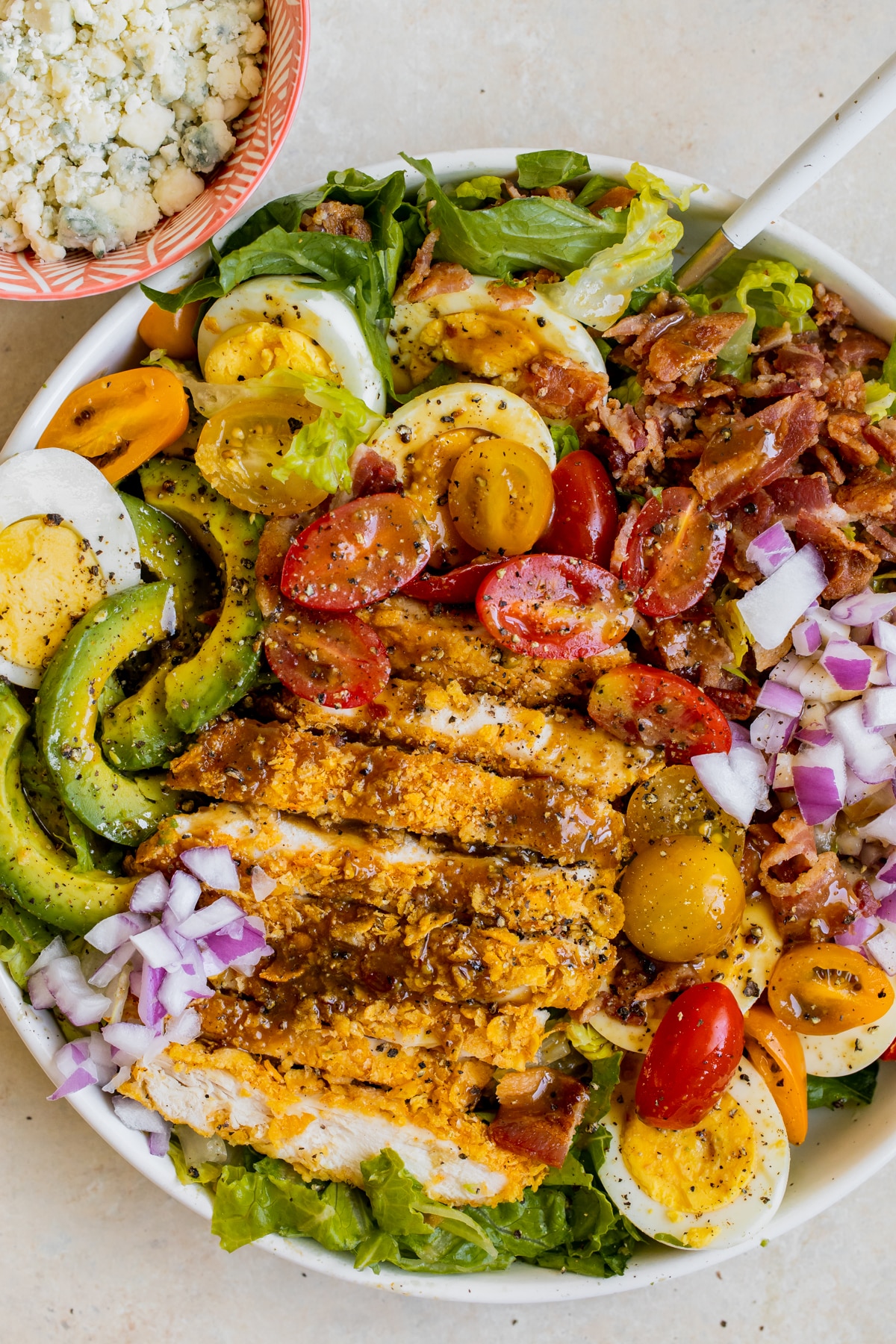 Before You Begin! If you make this, please leave a review and rating letting us know how you liked this recipe! This helps our business thrive & continue providing free recipes.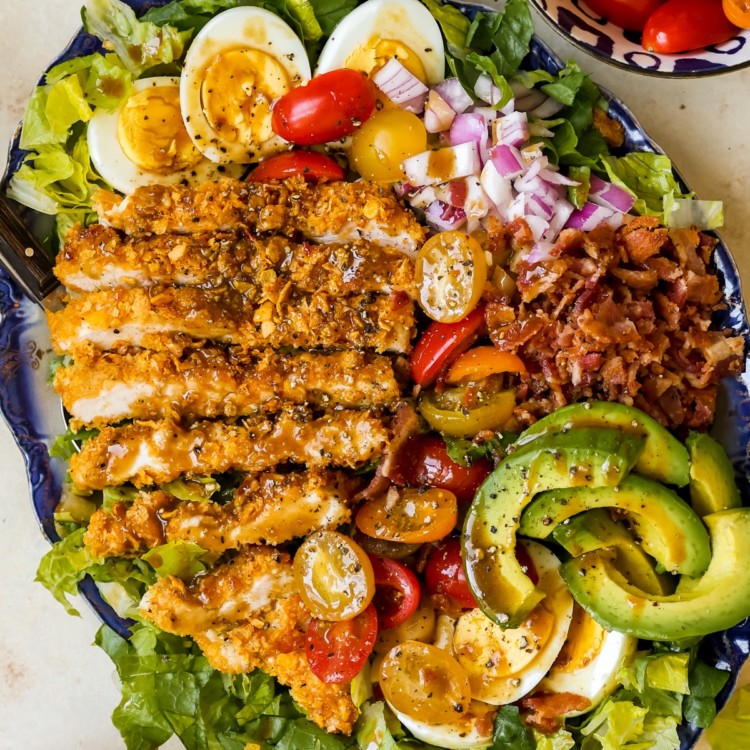 Chicken Cobb Salad is all about the layers and this salad is filled with the classic goodies like romaine lettuce, bacon, avocado, cherry tomatoes, red onion and hard boiled eggs. My recipe is made with the best oven-baked juicy, crispy chicken and dressed with a simple (but awesome) homemade balsamic vinaigrette dressing. It's a hearty, summertime favorite!
Ingredients
For the crispy chicken
2

large

boneless, skinless chicken breasts, sliced in half and pounded to about 1-inch thick pieces

3

cups

cornflakes

1/2

cup

Parmesan cheese, finely grated

1

tsp.

kosher salt

1/2

tsp.

garlic powder

1/2

tsp.

onion powder

1/4

tsp.

paprika

black pepper

1/4

cup

all purpose flour

2

eggs, whisked
For the dressing
1/4

cup

olive oil

1-2

Tbsp.

Dijon mustard

1-2

Tbsp.

honey

1

Tbsp.

balsamic vinegar

1/4

tsp.

garlic powder

salt, pepper, chili flakes to taste
For the salad
8-10

cups

romaine lettuce, washed and chopped

4

hard boiled eggs, halved or quartered

8

slices

thick cut bacon, cooked and chopped

1

cup

cherry tomatoes, halved

1/2

large

red onion, diced

1

large

avocado, sliced or cubed

1/2

cup

bleu cheese, crumbed
Last step! If you make this, please leave a review and rating letting us know how you liked this recipe! This helps our business thrive & continue providing free recipes.
Instructions
Make the crispy chicken: Preheat the oven to 425°F. Line a baking sheet with parchment paper. Spray a cooling rack with non stick spray and set on the parchment paper. Slice chicken breasts horizontally into 2 even pieces. Place chicken on a cutting board, cover with plastic wrap and pound with a rolling pin or meat tenderizer tool until 1/2-inch thick.

In a gallon sized baggie, add the cornflakes, Parmesan and seasonings. Crush until you have fine crumbs (I usually use a rolling pin for this). Grab 3 shallow bowls. Pour the cornflake mixture into 1 shallow bowl, add the flour to another, and the eggs in the last bowl.

Dredge the chicken in the flour first, shaking off any excess. Then using your other hand, dip in the egg, then with your dry hand dip the chicken into the cornflake mixture coating each side. Place chicken on the prepared baking sheet and repeat with remaining chicken. Bake for 15-20 minutes or until chicken is crispy and reaches an internal temperature of 165°F. Slice the chicken into thin strips.

Make the dressing: whisk together the ingredients in a small bowl or shake them all together in a mason jar. Taste and adjust seasonings as desired.

Assemble the salad: on a large platter, arrange the lettuce, eggs, bacon, cherry tomatoes, onion, avocado and bleu cheese. Top with the crispy chicken and serve with the balsamic vinaigrette. Season with salt and pepper. Enjoy!
Notes
I love this salad with the crispy chicken, but feel free to using any cooked, diced chicken you have on hand, or even a rotisserie chicken!
Storage: if you plan to have leftovers, keep the dressing on the side and don't cut the avocado until you're ready to eat. You can chop and prep everything and keep it seperated and it will stay good in the fridge for up to 3 days.