Banana Split Ice Cream Pie
Chocolate | Published on Apr 17, 2019 | Last modified on Aug 20, 2019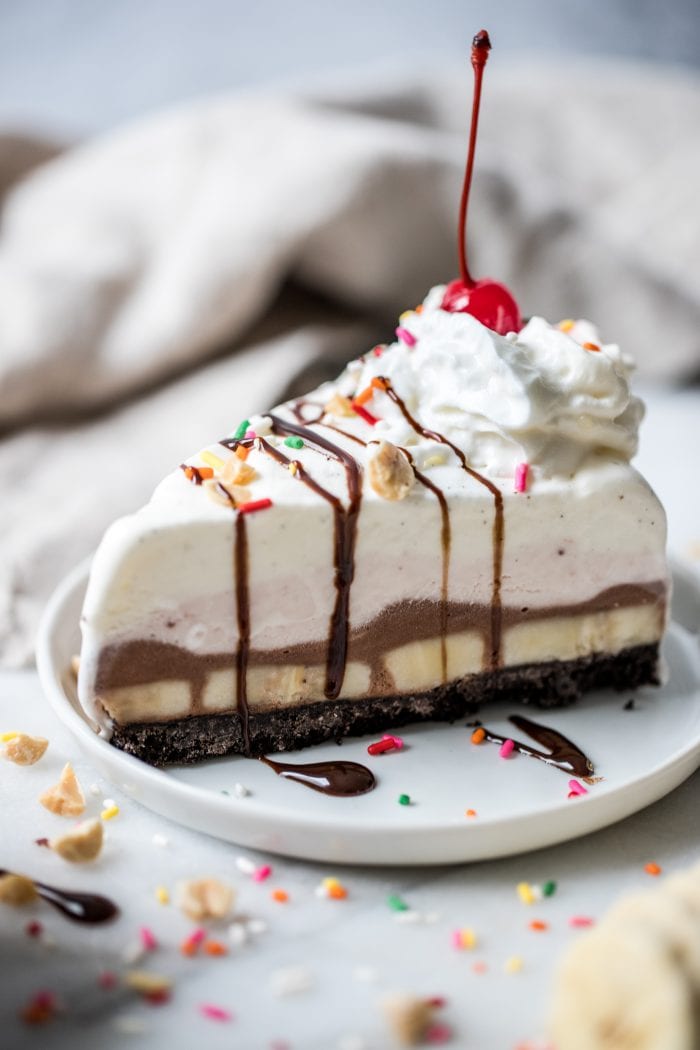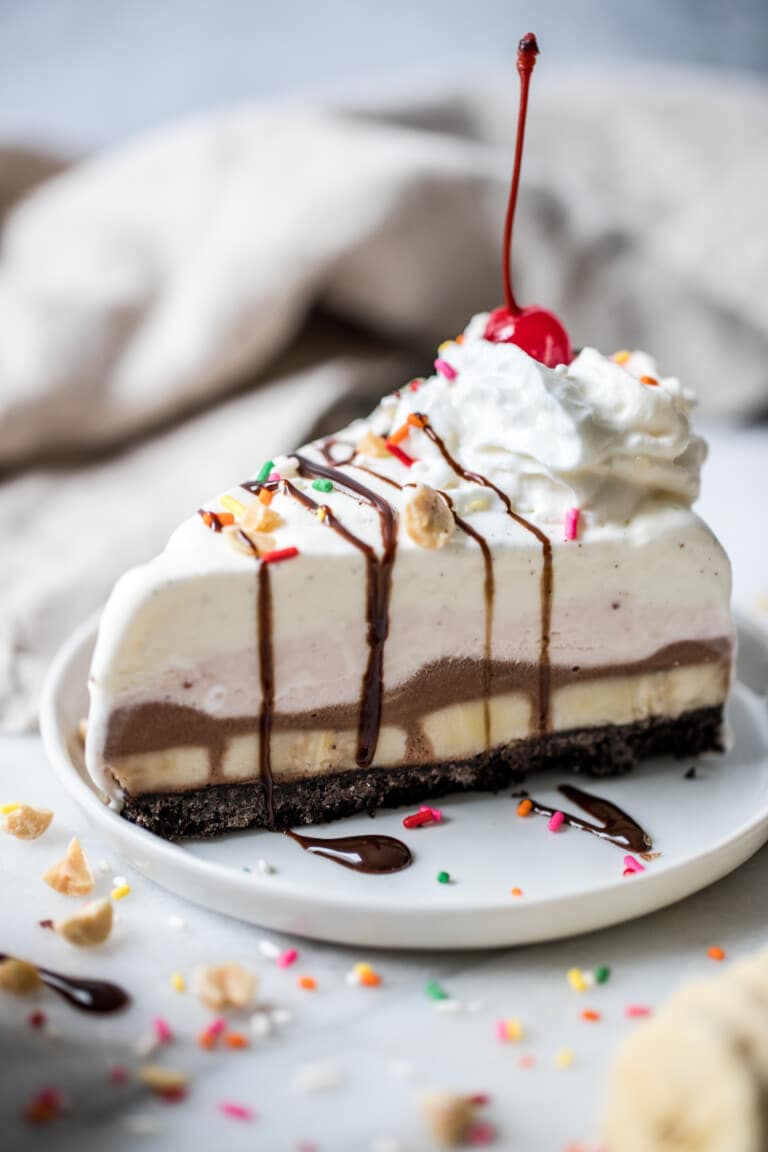 Banana Split Ice Cream Pie contains layers of strawberry, chocolate and vanilla bean ice cream all on top of an Oreo cookie crust! (No bake!)
Celebrating National Banana Day with this Banana Split Ice Cream Pie!
Confession: I have never had a traditional banana split. You know, the one served in a boat with the banana cut in half lengthwise with all the toppings. As a kid, they just never appealed to me. But this ice cream pie on the other hand…game changer.
What is a Banana Split?
A banana-split is an ice cream based dessert. It's traditionally served in a boat with the banana sliced in half, topped with vanilla, chocolate and strawberry ice cream.
Toppings include a sauce of some sort: chocolate, caramel or strawberry. Also crushed pecans, walnuts or peanuts, sprinkles, whipped cream and a maraschino cherry.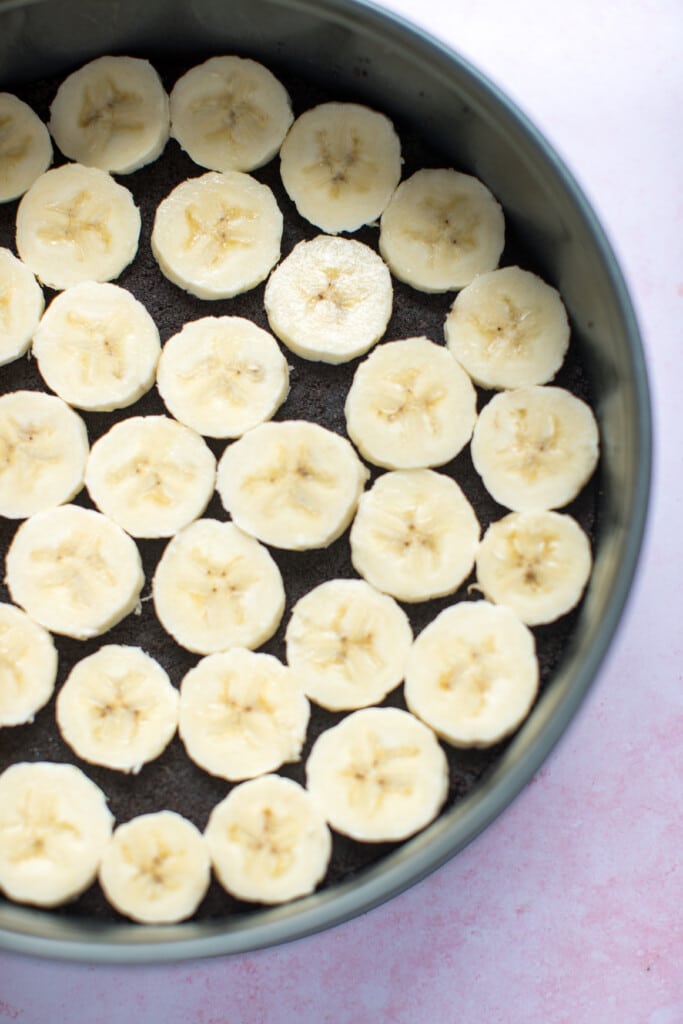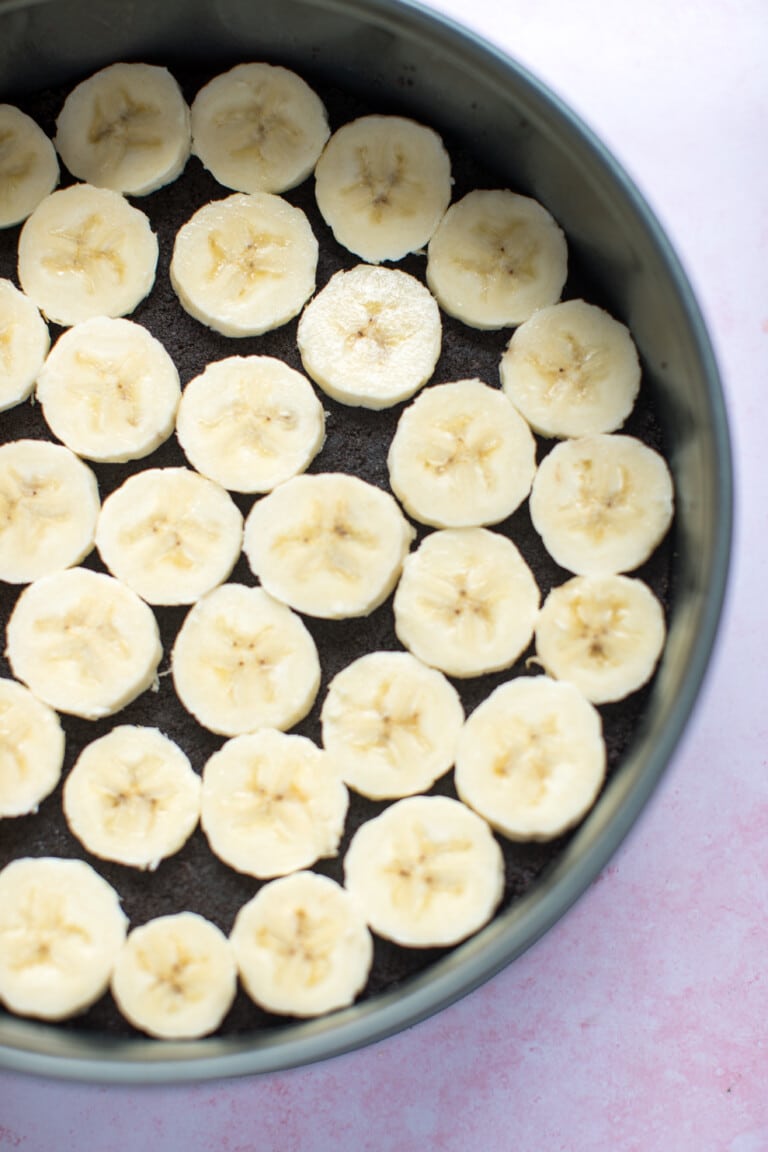 How do I make the Oreo crust?
For this pie, I chose to make an Oreo crust!
In a food processor, process 24 Oreos (the entire Oreo!) until they become crumbly. Then add in 4 Tbsp. unsalted melted butter and process again.
Press this into your springform pan and freeze for 10 minutes.
Crust alternatives:
If you don't want to make the Oreo crust, you can use graham crackers or Nilla wafers and follow the same directions as above. You'll want to use about 12 sheets for the graham crackers and about 60 Nilla wafers.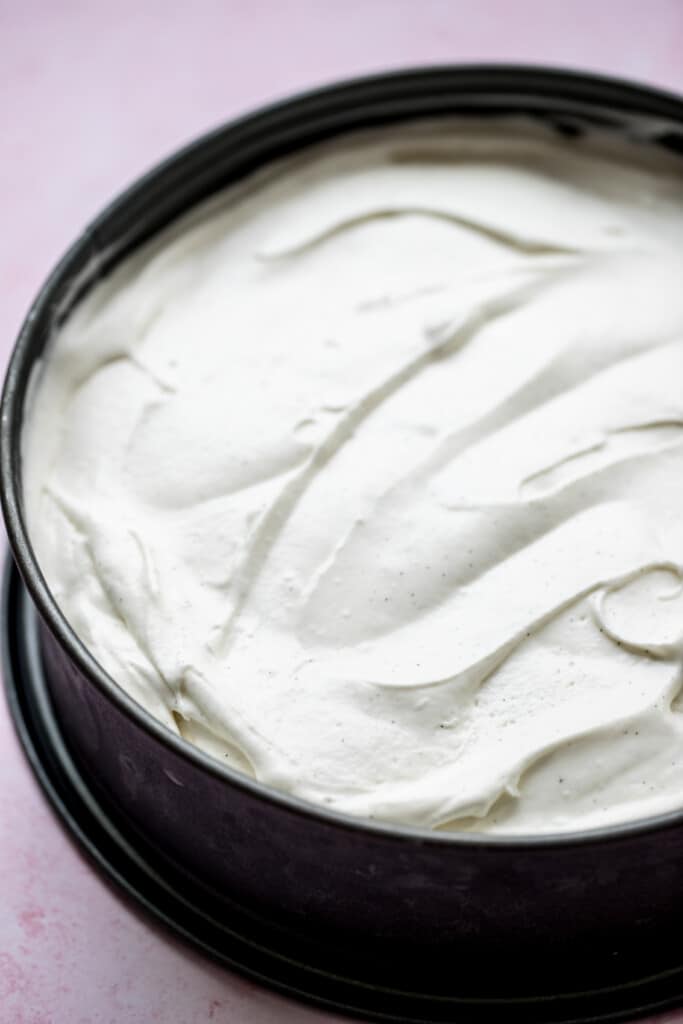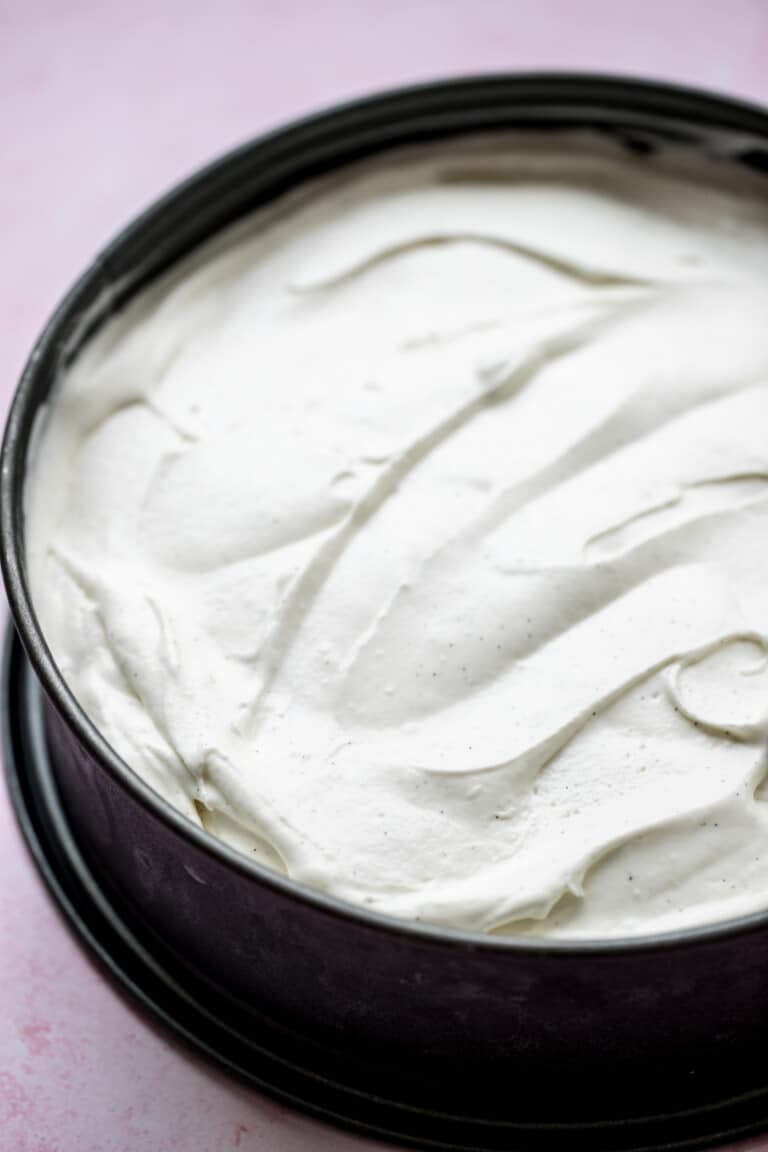 What ingredients will I need?
Oreos
Butter
Bananas!
Ice cream: chocolate, vanilla, strawberry
Toppings: favorite sauce (I love chocolate sauce!), whipped cream (or cool whip or coconut cream), nuts (such as peanut or walnuts), maraschino cherries and sprinkles!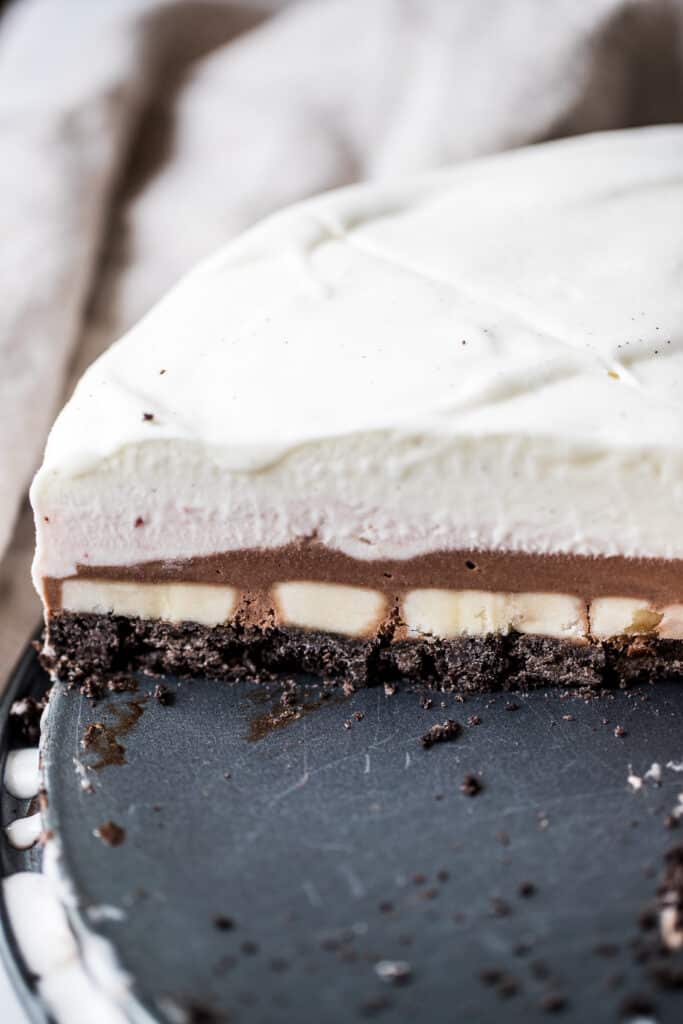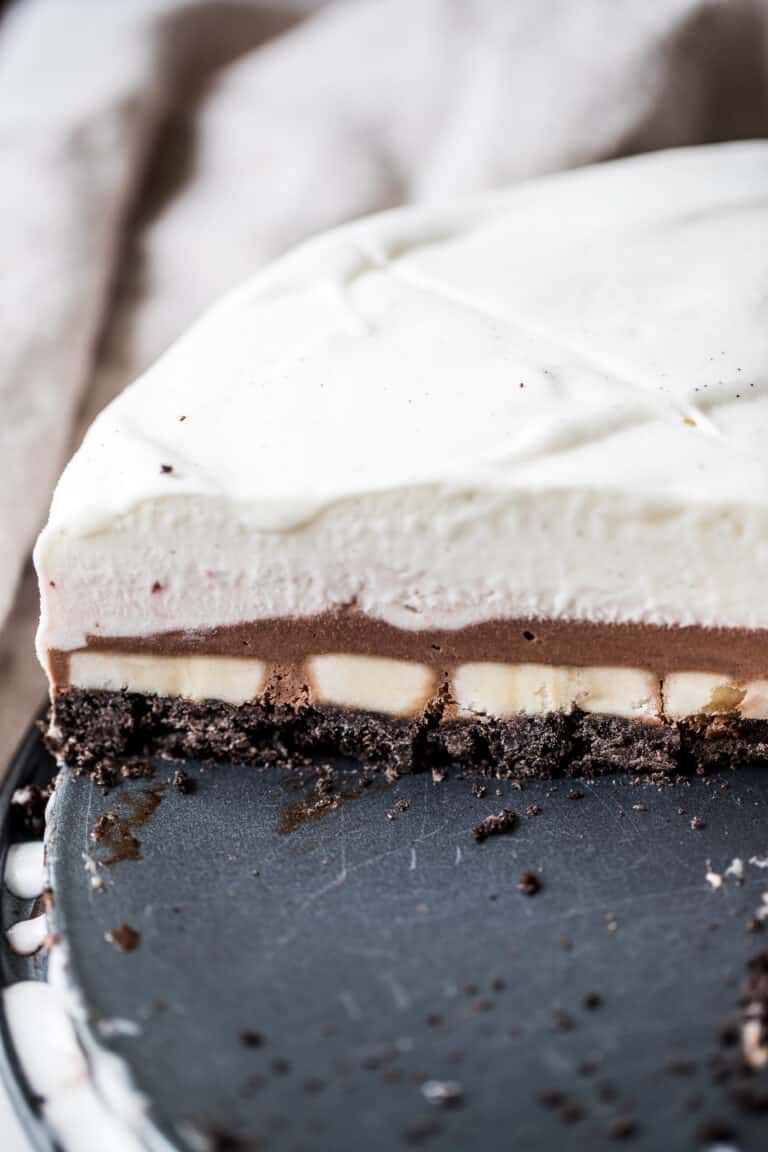 Pro tip: Use 2 cups of each ice cream per layer!
Do I need any specific kitchen tools for this recipe?
You will need a Springform pan – I used a 9-inch springform pan. You can get one just about anywhere…Walmart has them for about $12.00 or you can get a professional one from Sur La Table for around $45.00
You will need your freezer of course – and the bonus…no need for an oven!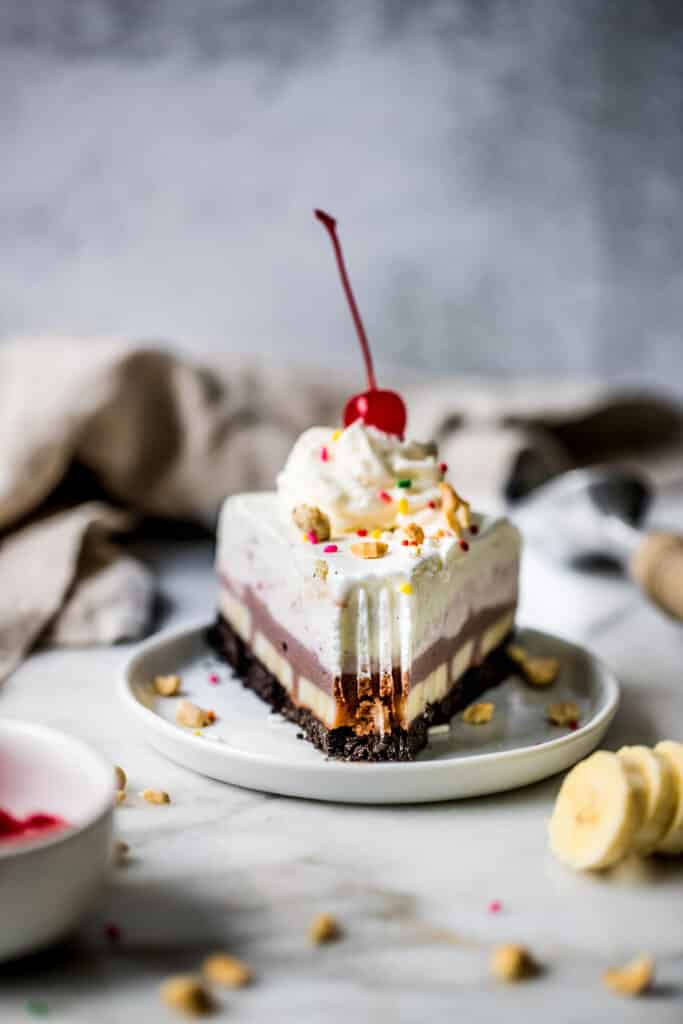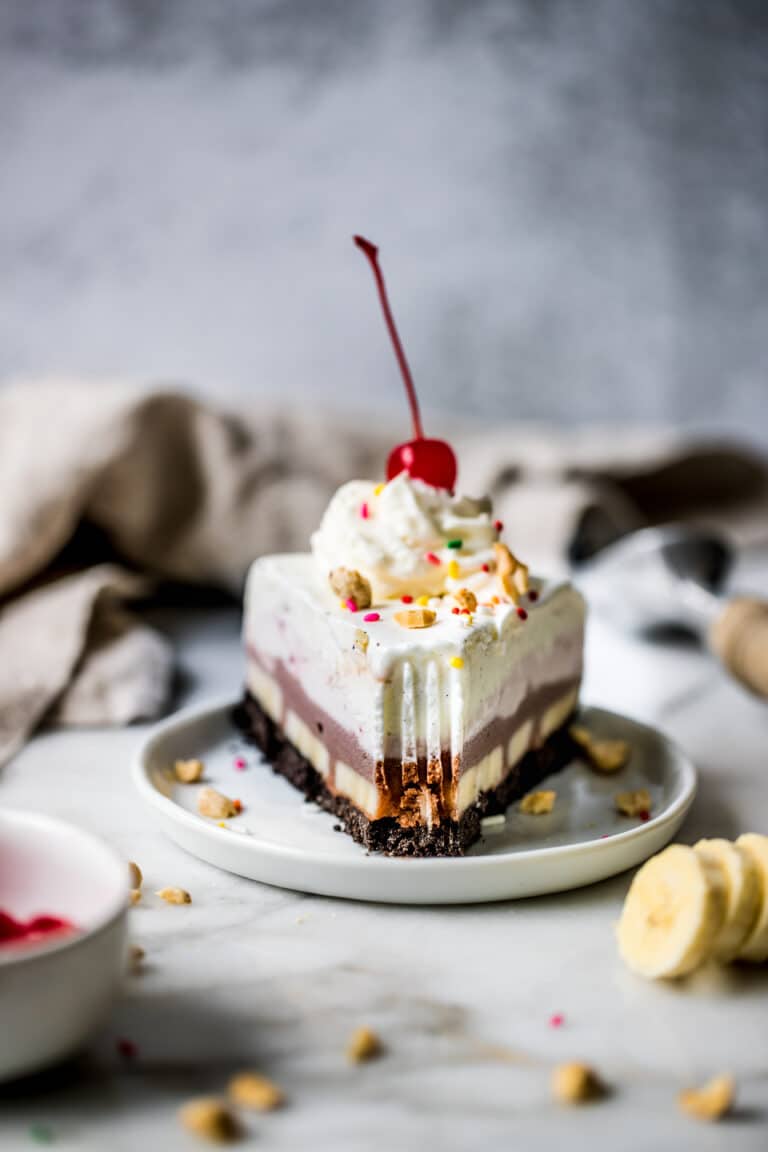 Pro tip: Let the ice cream sit on the counter to get soft (not all the way melted) but SOFT so it's easy to spread around.
How long does the ice cream need to sit in the freezer in between spreading on ice cream layers?
At least 1 hour for the ice cream to set up. If you try to cut corners and spread on ice cream layers before then, the layers will begin to mix and you won't have clean layers!
Yes – you will need to PLAN when you make this ice cream pie, it is not a "quick" pie!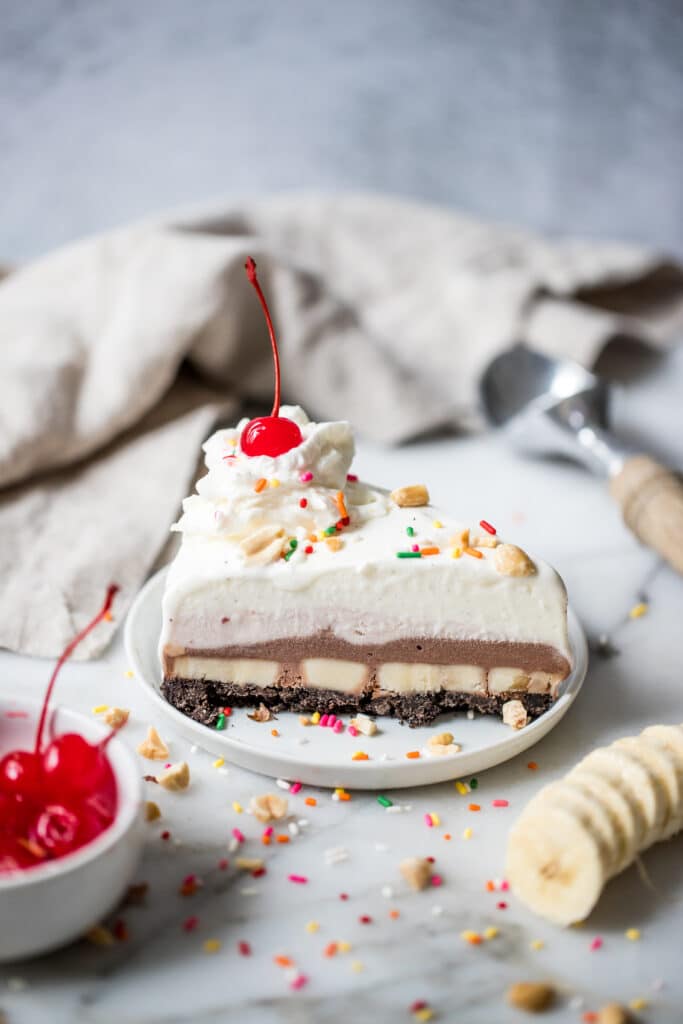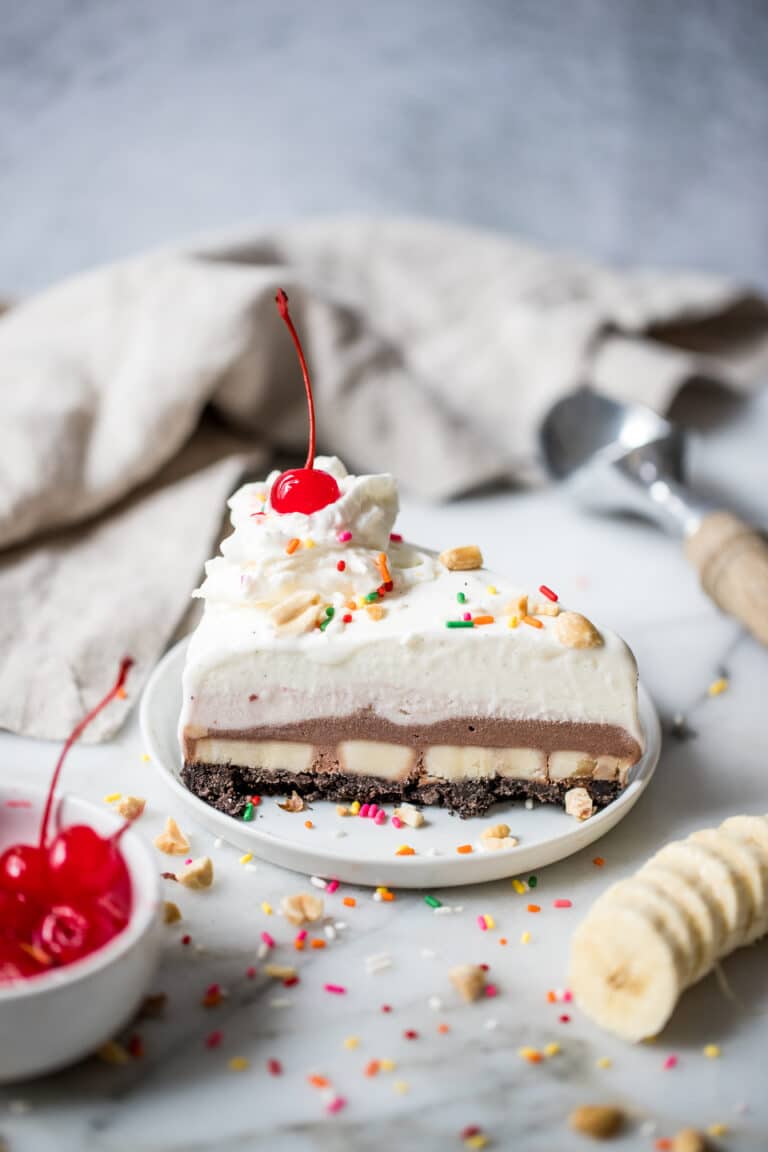 What if I don't like strawberry ice cream?
Sub it with mint ice cream!
Pro tip: Make a boozy chocolate bourbon sauce by adding whisky into your chocolate sauce before drizzling over! (adults only!)
Banana Split Ice Cream Pie is a perfect treat for parties, warm days or just because! #NationalBananaDay #KrollsKorner
Click To Tweet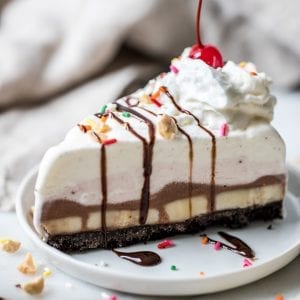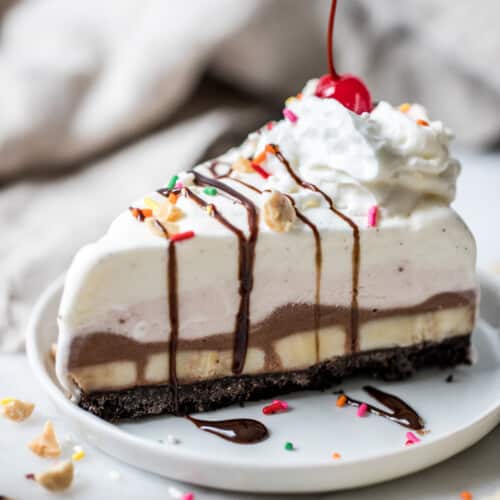 Banana Split Ice Cream Pie
Layers of chocolate, vanilla and strawberry ice cream make up this incredible no bake banana split ice cream pie. Serve with your favorite banana split toppings!
Print Recipe
Pin Recipe
Rate
Ingredients
For the Oreo Crust
24

Oreos

4

Tbsp.

butter, melted
For the filling
4

cups

chocolate ice cream

4

cups

strawberry ice cream

4

cups

vanilla ice cream

3

large

bananas, sliced
For the toppings:
nuts, chocolate sauce, caramel sauce, rainbow sprinkles, whipped cream, cherries
Instructions
In a food processor, process the Oreos until crumbly. The add in the melted butter and process again for a few seconds until mixed. Press this mixture into the bottom of a 9 inch springform pan. Freeze for 10-15 minutes.

Place the sliced bananas in a single layer on top of the crust. Then start with the chocolate ice cream layer. Be sure the ice cream is softened before trying to spread it on the crust. Spread the chocolate layer evenly on top, and then freeze for 1 hour. Repeat with the strawberry layer and then vanilla layer, freezing an hour in between layers.

Once completely frozen, add on your toppings and enjoy!!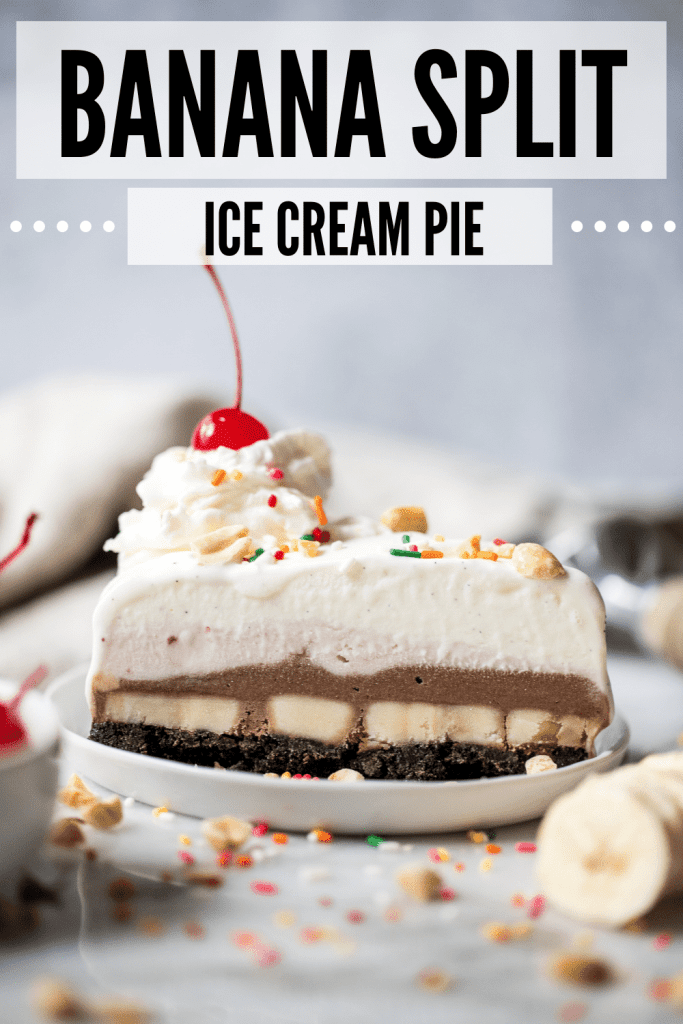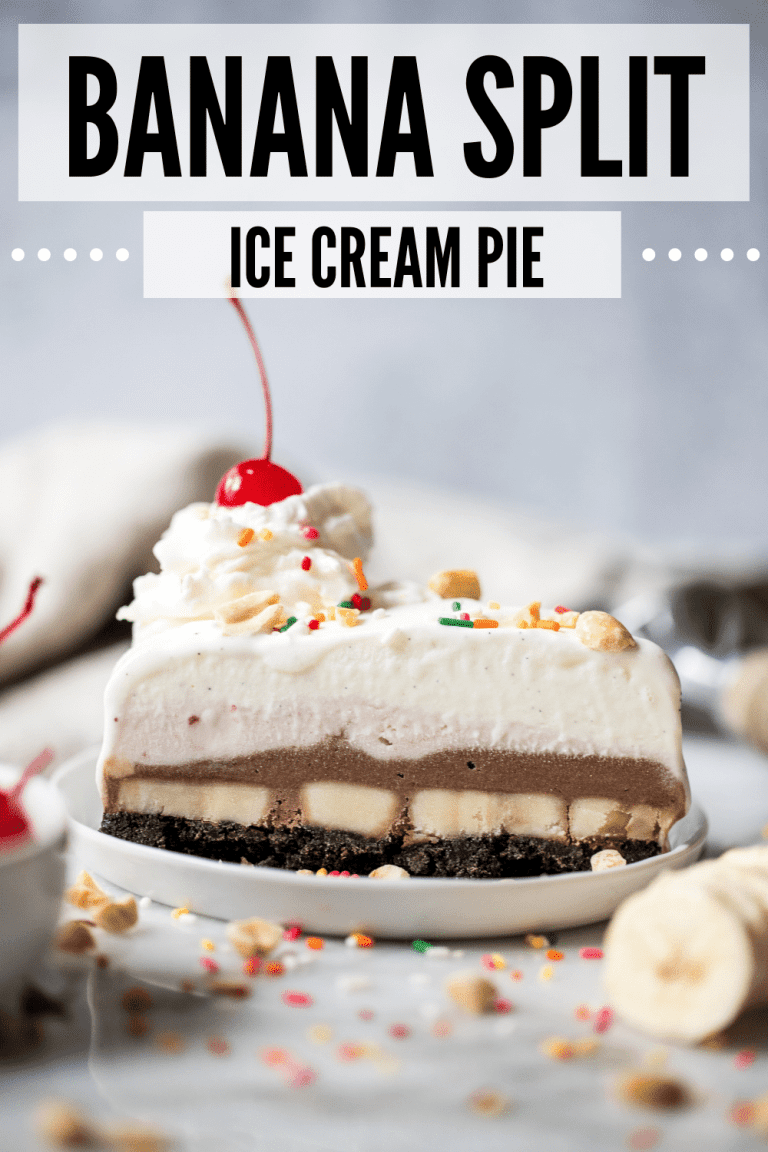 I'd love to see what you made!!
Share it with me on Instagram or Facebook and tag me @krolls_korner or use the hashtag #KrollsKorner!