Cookie Ice Cream Sandwiches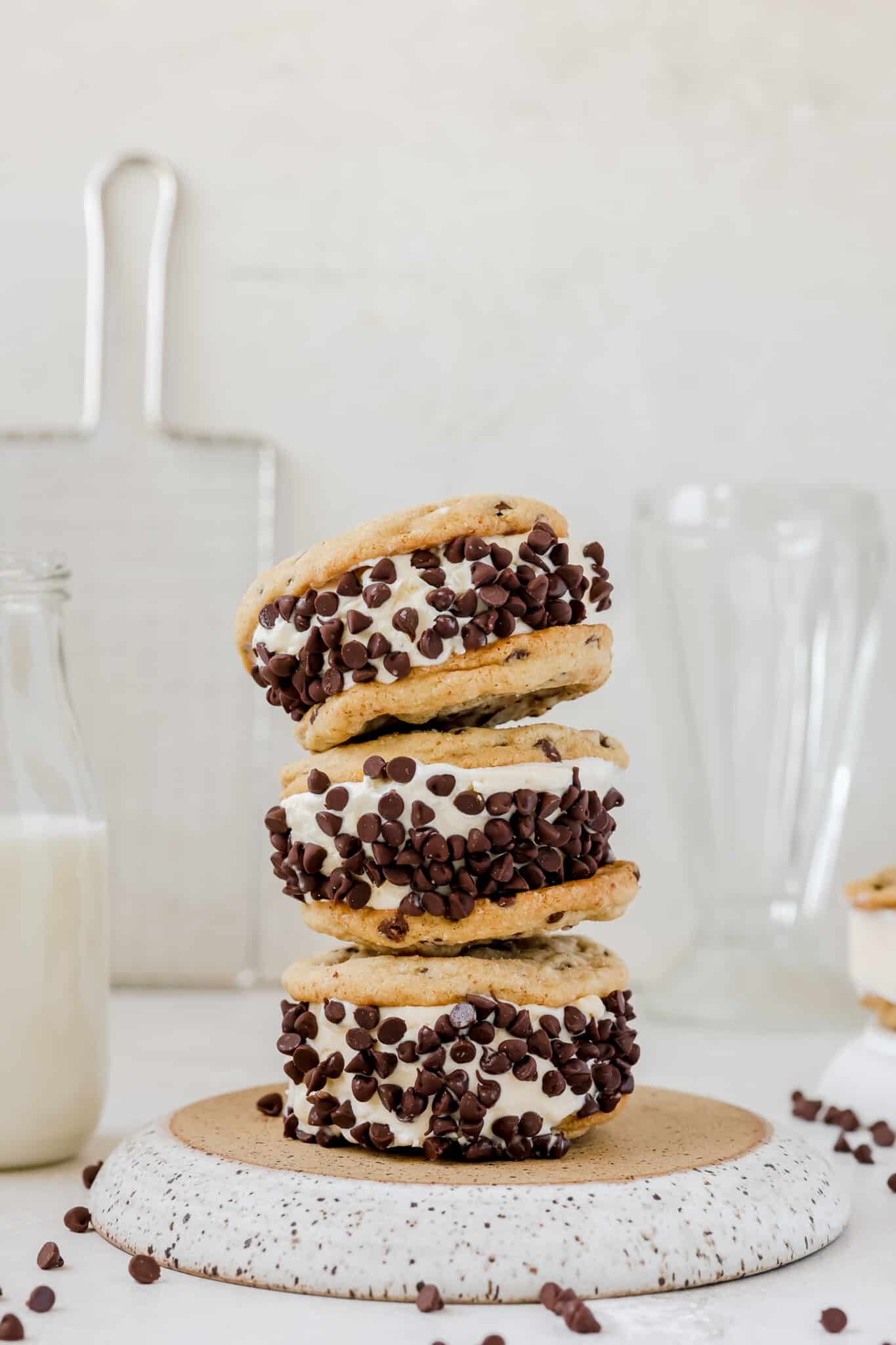 What's better than a really good Cookie Ice Cream Sandwich in the middle of summer!?
My Cookie Ice Cream Sandwich is made with your favorite ice cream flavor (I love classic vanilla or vanilla bean) and two of my soft and chewy brown butter mini chocolate chip cookies. And then it gets even better and more delicious because you roll them in additional mini chocolate chips or fun sprinkles!
One of the most frustrating parts about cookie ice cream sandwiches is when the cookies become too frozen too solid to bite and the ice cream is too soft to hold its shape. I mean lets be honest, nothing is worse than the ice cream squeezing out the sides with each bite of a rock solid cookie. I've perfected this recipe to make sure the cookies stay beautifully soft (yet still structured) even when frozen!
My cookie recipe uses nutty brown butter to create a thin, chewy and flavorful cookie. It's the perfect cookie for a cookie sandwich to optimize the eating experience. The cookies in this recipe are super soft and suitable for freezing. You can't just make any ordinary cookie recipe and scoop ice cream in the middle and call it a day. Crisp or thicker cookies will not work as well and there is some science behind a really good ice cream cookie sandwich.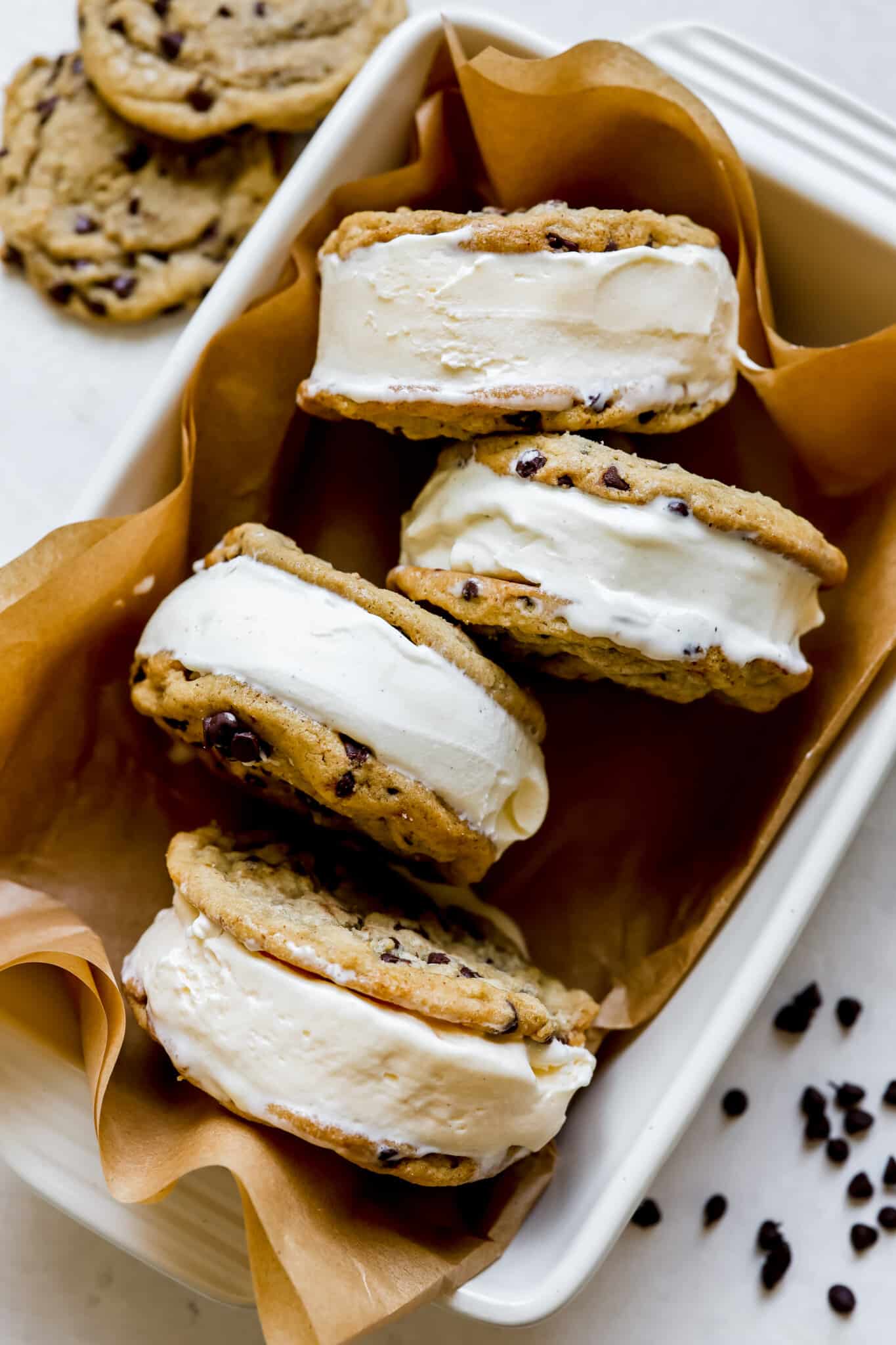 I absolutely love including brown butter in my cookie recipes, like in these Salted Caramel Chocolate Chip Cookies and my Butterscotch Chocolate Chip Cookies. The rich, caramel notes add such an incredible flavor to these cookies that will totally impress every Cookie Ice Cream Sandwich lover. Plus, using the melted brown brown as opposed to softened butter helps the cookies stay chewy and fudgy which is perfect for these sandwiches.
My grandpa worked for a dairy, and my mom tells stories of how their garage freezer was always filled will ice cream and yummy ice cream sandwiches. Once he retired, I remember my grandma would always bring her favorite Klondike bars to the house, but I have to tell you…homemade beats a store bought ice cream sandwich any day…especially when you surround your favorite ice cream with my brown butter cookie recipe!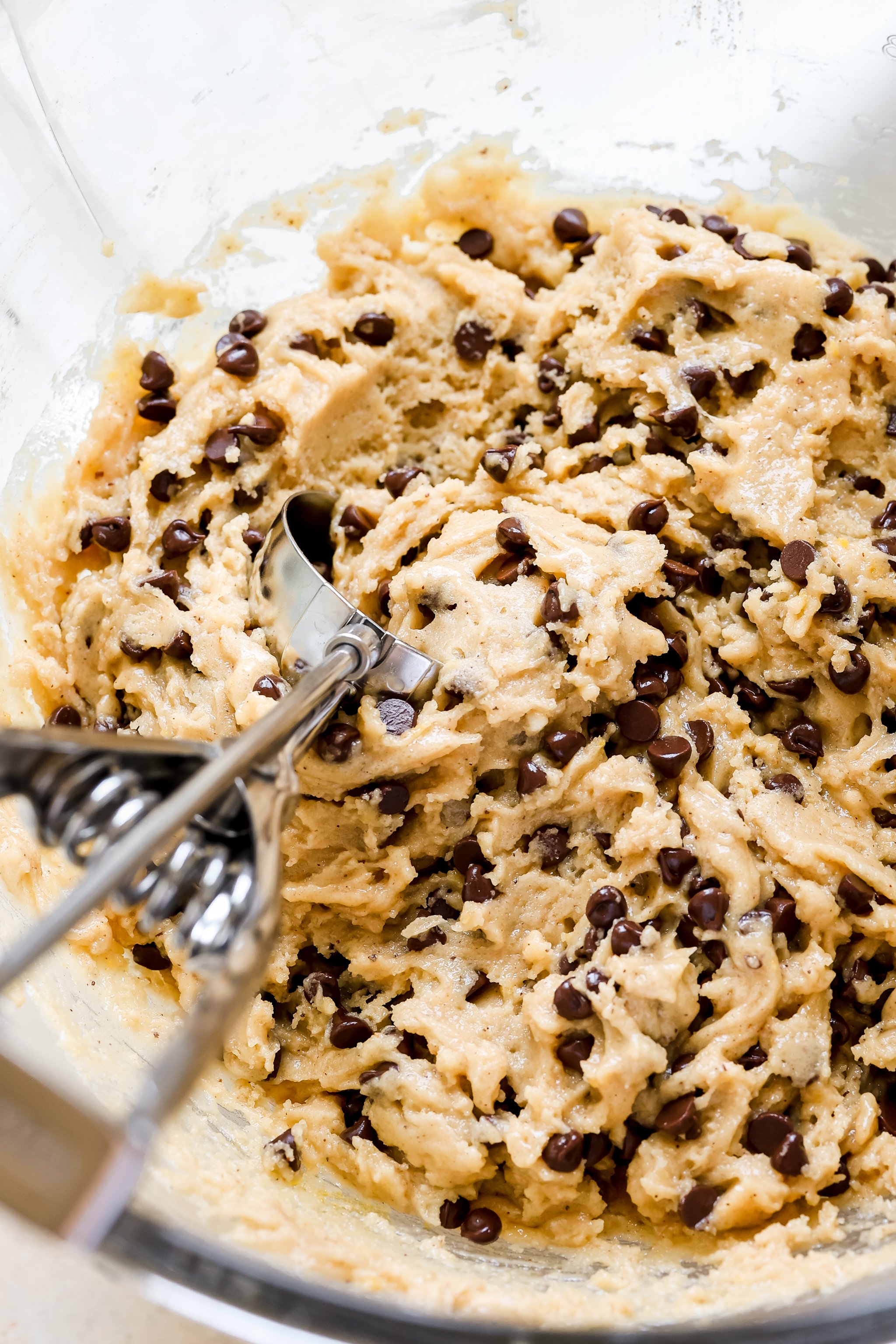 Why This Recipe Works:
Cookie Ice Cream Sandwiches are a great treat to make ahead and keep in the freezer all summer long.
They are fun and easy to make.
I developed the cookie to be easy to bite into; it's thin, super soft and chewy!
The cookie is a no-chill recipe, so it saves you time.
They're absolutely DELICIOUS!
And pssst, this is the July 2023 Kroll's Korner Baking Challenge recipe of the month! 🤗
Ingredient Notes
For the ingredient measurements and entire recipe, be sure to scroll down to the bottom of the blog post where the recipe card is located.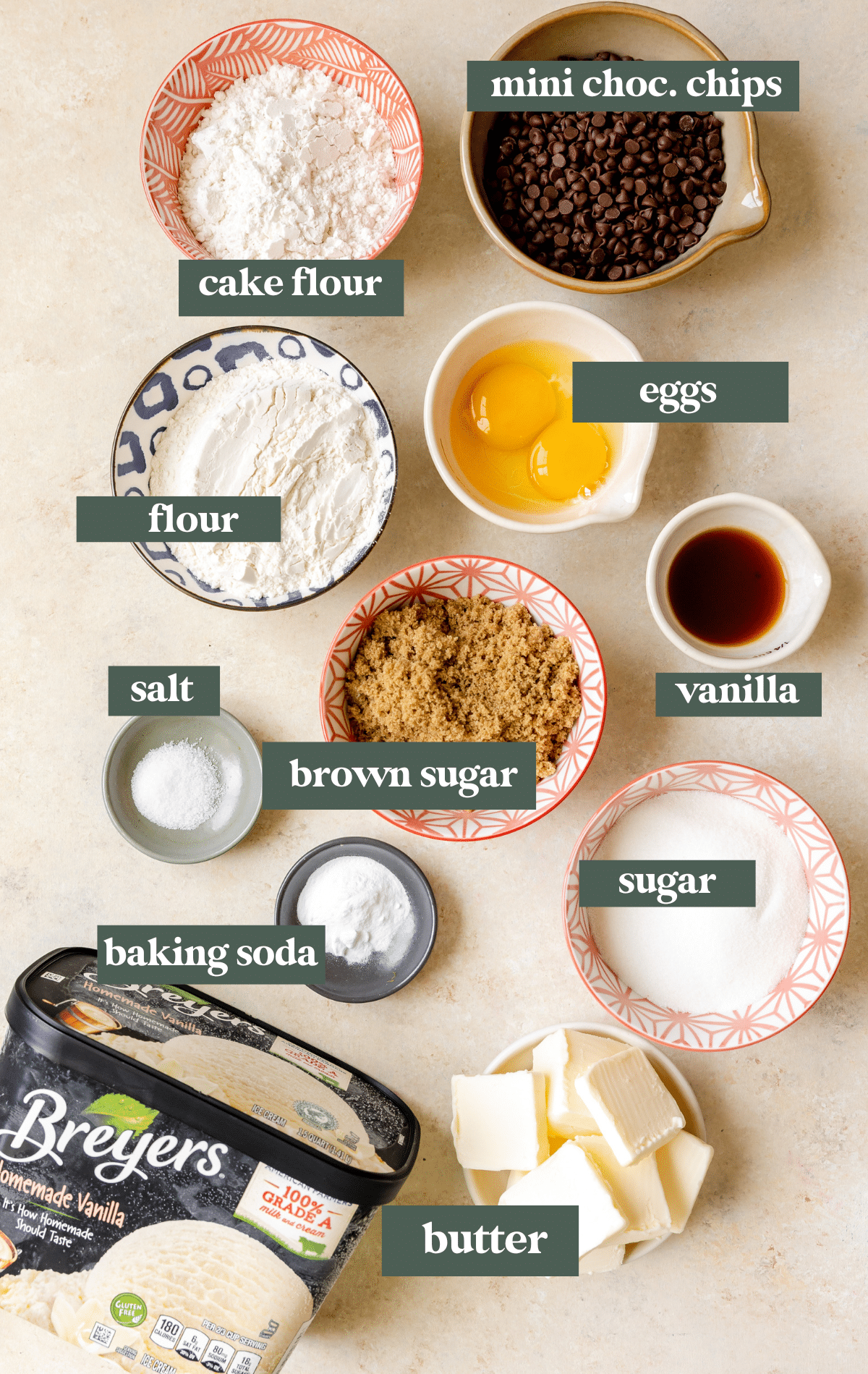 Flour and Cake flour: By using a mix of all-purpose flour and cake flour, you will end up with a softer more pliable cookie that will not break or crumble when assembling the cookie ice cream sandwich.
Baking soda: Baking soda adds the chewiness to the cookie. Which is the perfect texture with rich and creamy ice cream. In most all of my cookie recipes I use baking powder as well, but baking powder usually results in a cookie that has a cakey texture and I wanted a chewy, more dense cookie for this recipe.
Salt: Adding salt helps bring forward the wonderful flavors in this brown butter cookie by helping balance the flavor of the caramelized sugars.
Butter: be sure to use unsalted. You will brown the butter and let it cool completely. More tips on browning butter can be found below.
Brown sugar & White Sugar: To create the best flavor, color and texture and provide balance to the cookies, use a combination of both dark brown and white sugar.
Egg and egg yolk: Don't skip on adding in the extra egg yolk as it adds to the chewiness and soft texture.
Vanilla: Pure vanilla extract. The sweet and smooth vanilla flavor that comes from soaking vanilla beans is absolutely worth it.
Mini chocolate chips: Be sure to use the mini chips. The standard chocolate chip can be too large to bite in to. Plus, the mini chips are too cute!
Step by Step Directions
For the full recipe instructions, scroll down to the bottom of the blog post to the recipe card.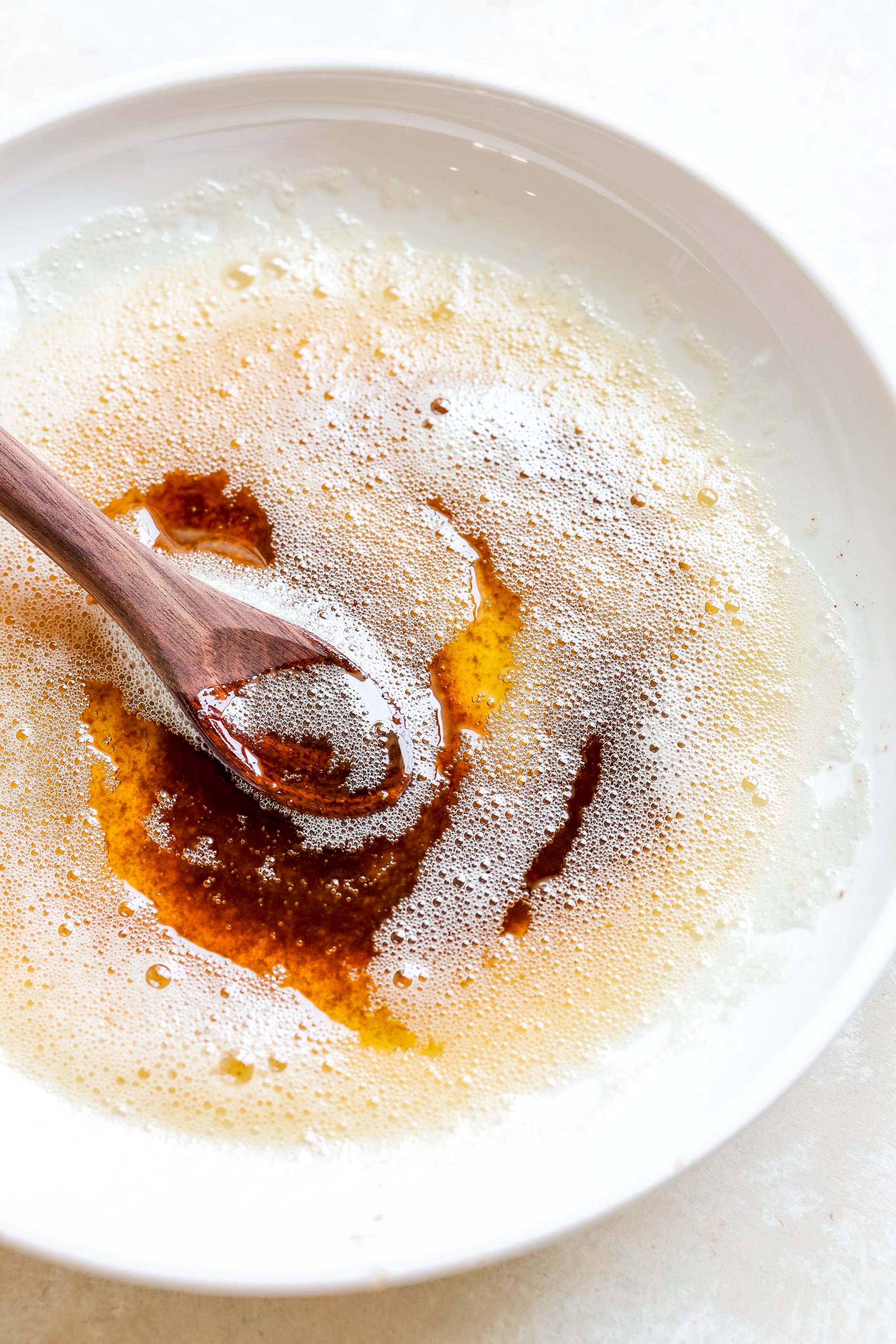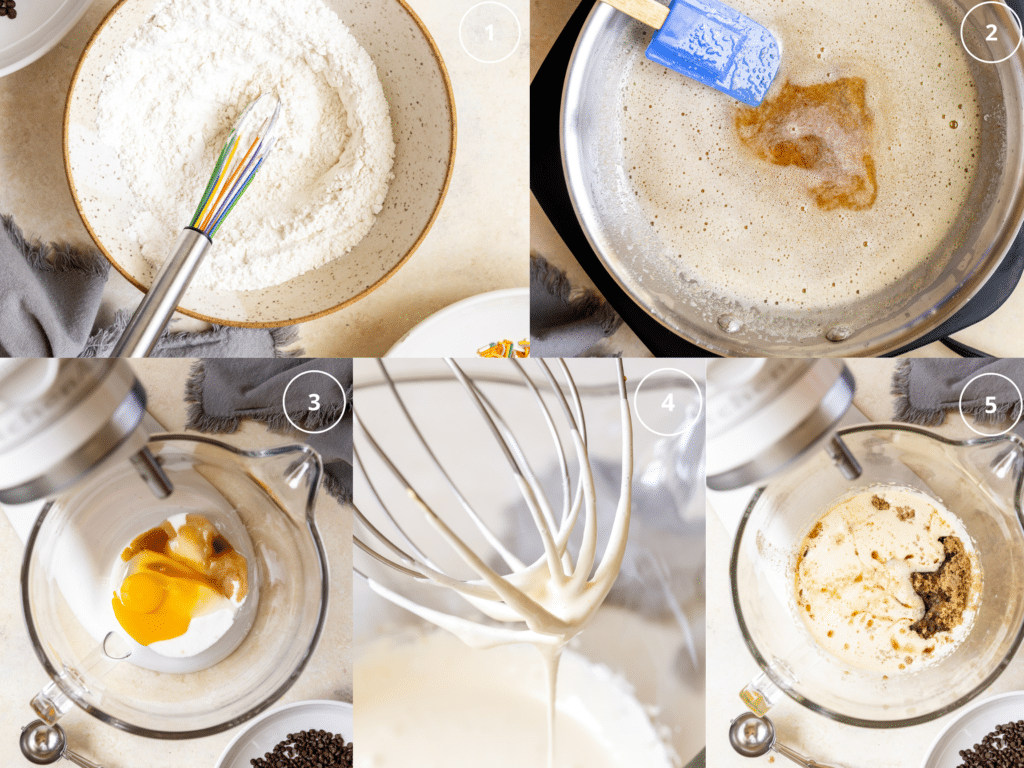 Make the cookie dough and bake cookies.
Allow the cookies to cool completely.
Take one cookie and place a scoop of ice cream on the flat side, top with the flat side of another cookie to assemble the sandwich.
Roll ice cream side of the sandwich in mini chocolate chips or sprinkles.
Freeze at least 3-6 hours then enjoy!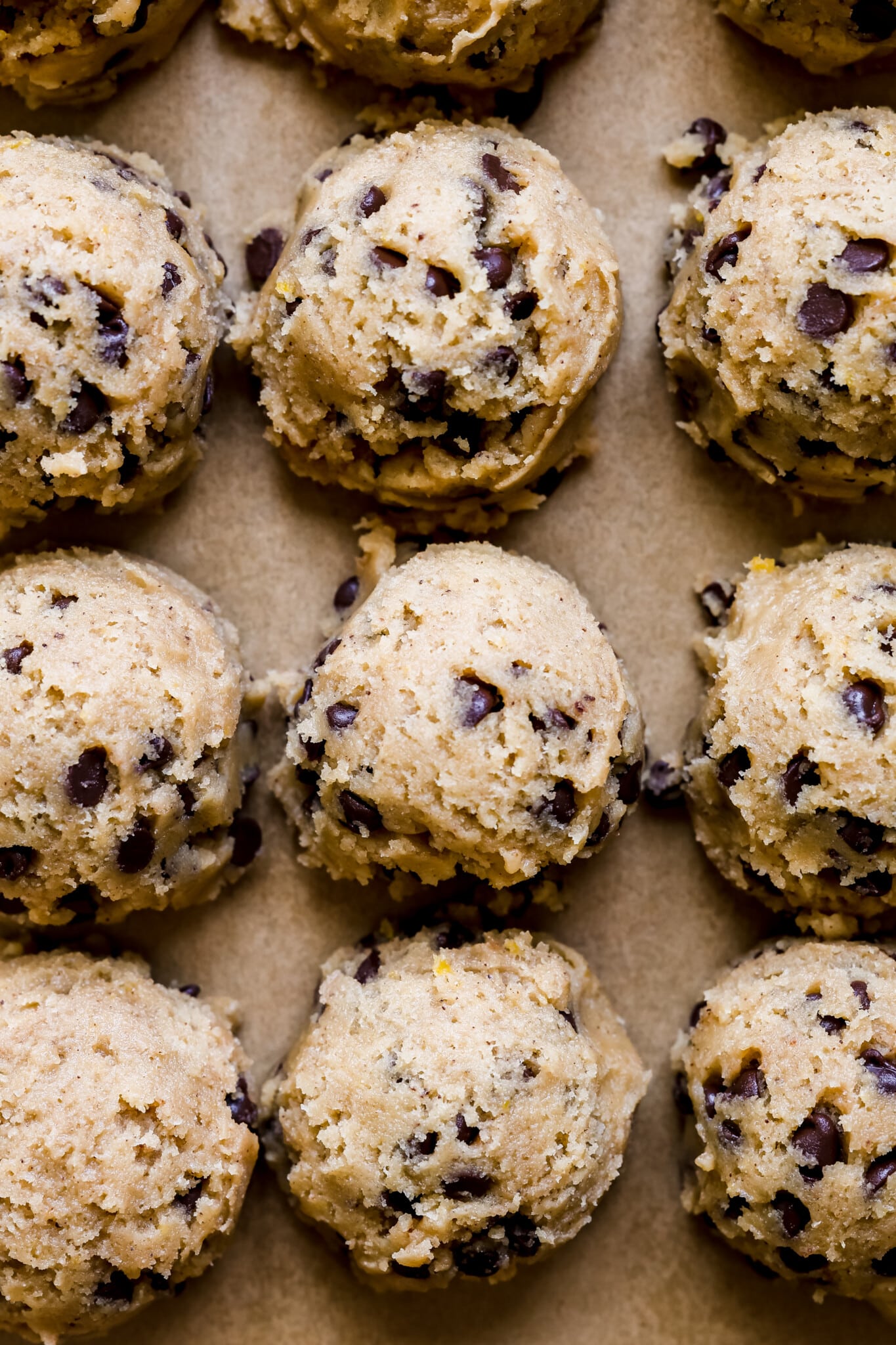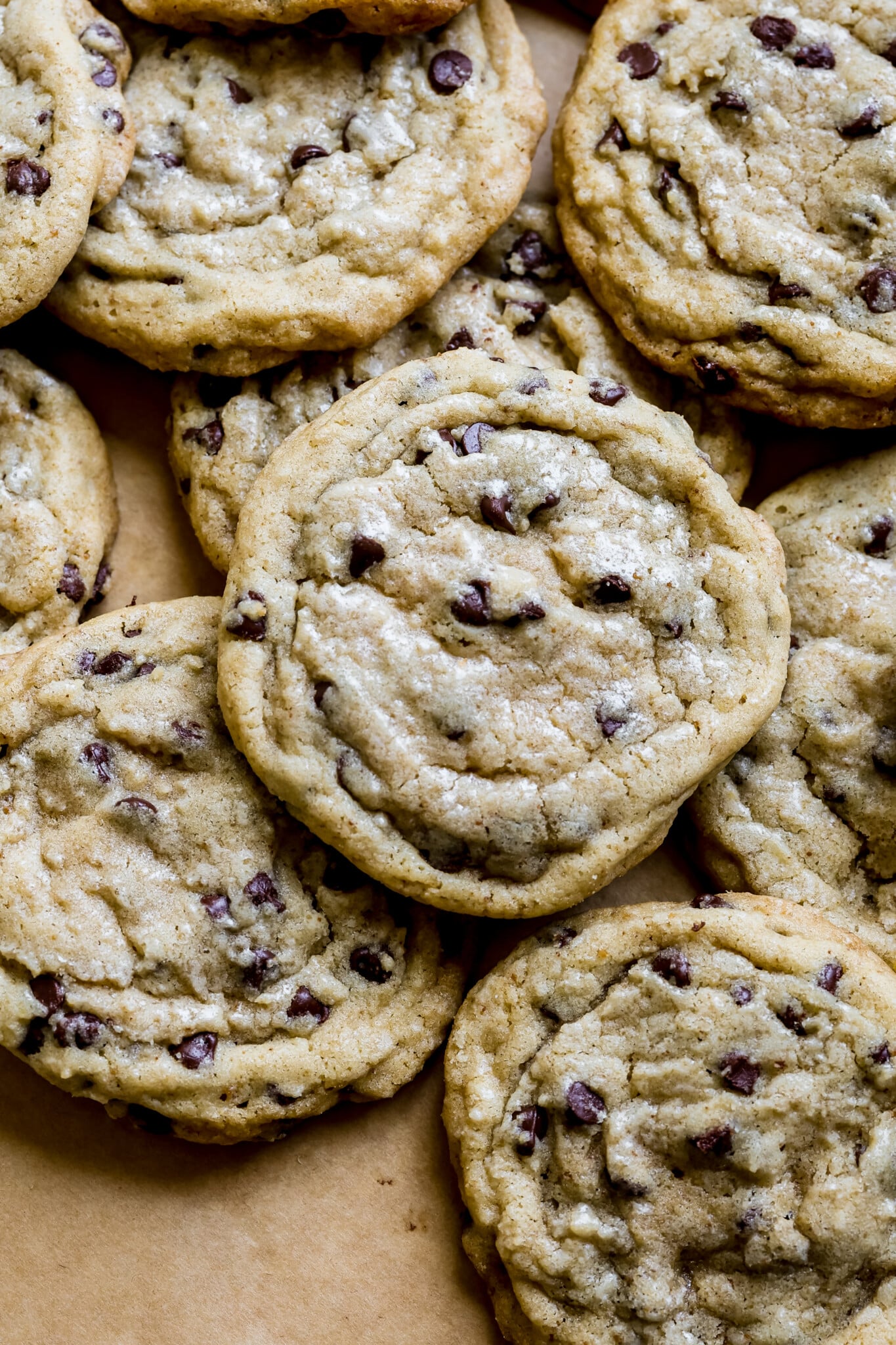 Expert Tips and Variations
To cool brown butter quickly, whisk an ice cube into it! Just a small, standard ice cube.
Since the ice cream cookie sandwiches need a chewy cookie, be careful not to over bake the cookies.
Allow the cookies to cool completely before assembling the sandwiches. You can pop the cookies in the freezer for 15-30 minutes to make them easier to work with.
Use an offset spatula to smooth out the edges of the ice cream.
Roll the edge of your ice cream sandwiches in your favorite ice cream toppings (such a sprinkles, nuts, shredded coconut, or mini chocolate chips) to create a homemade Chipwich.
Be sure to freeze the cookies after assembling because the ice cream will probably slip out the sides when you bite into it when enjoyed straight away. I recommend at least 3-6 hours of freeze time or preferably overnight (12 hours).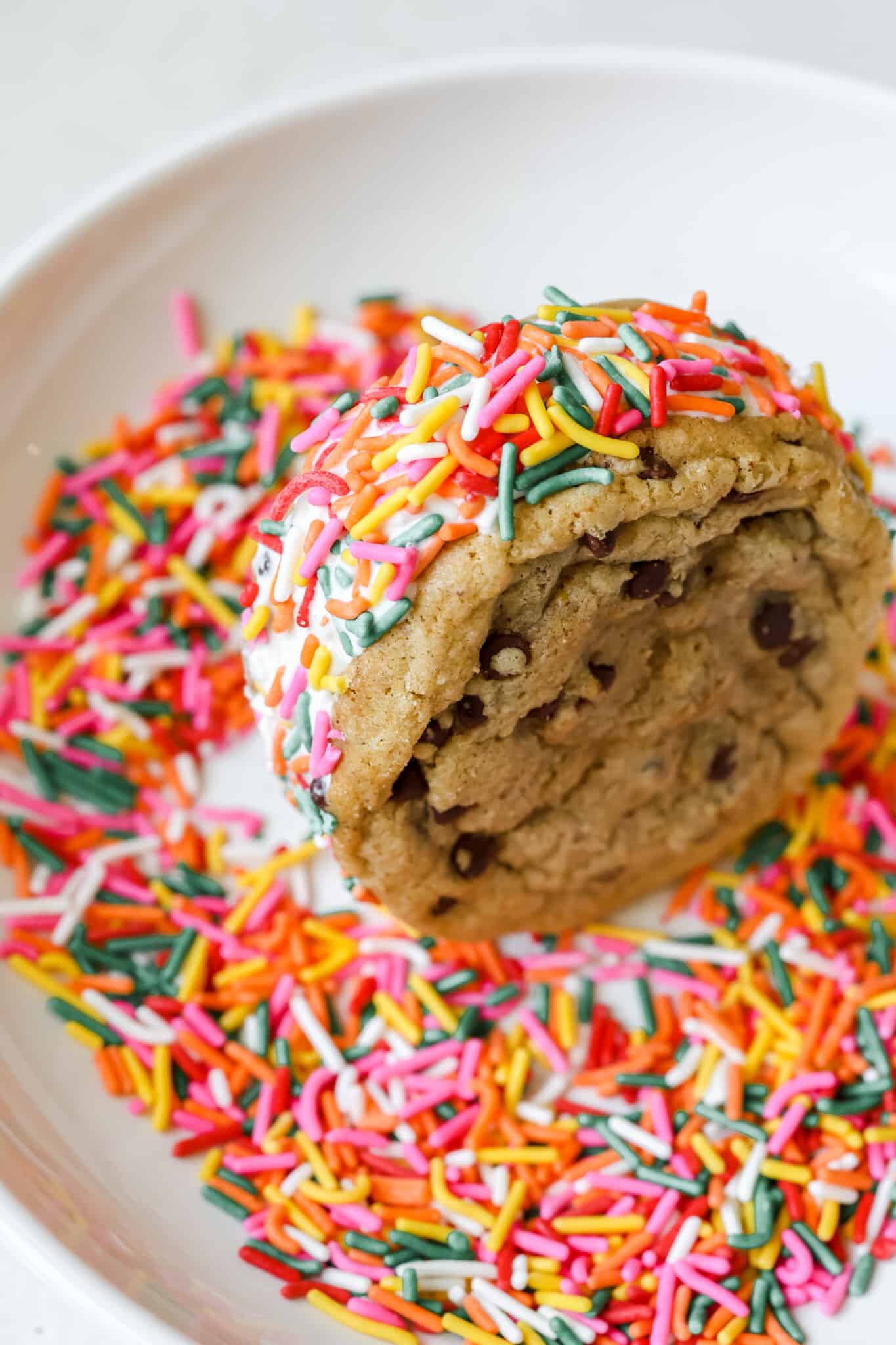 The variety of ice cream that you can fill these cookies with is endless. Vanilla is always a favorite, but chocolate, mint chocolate chip, strawberry and chocolate chip cookie dough are all delicious options!
I love using this ice cream scoop for convenience when making ice cream sandwiches. It's so handy!
Ice cream sandwich hack: Slice a pint of ice cream into 4 rounds, peel the ice cream carton away and discard, and place the ice cream circles in between 2 cookies to make your sandwich.
Since there are not many ingredients involved in cookie ice cream sandwiches, be sure to use a good quality vanilla ice cream for your sandwiches for best taste.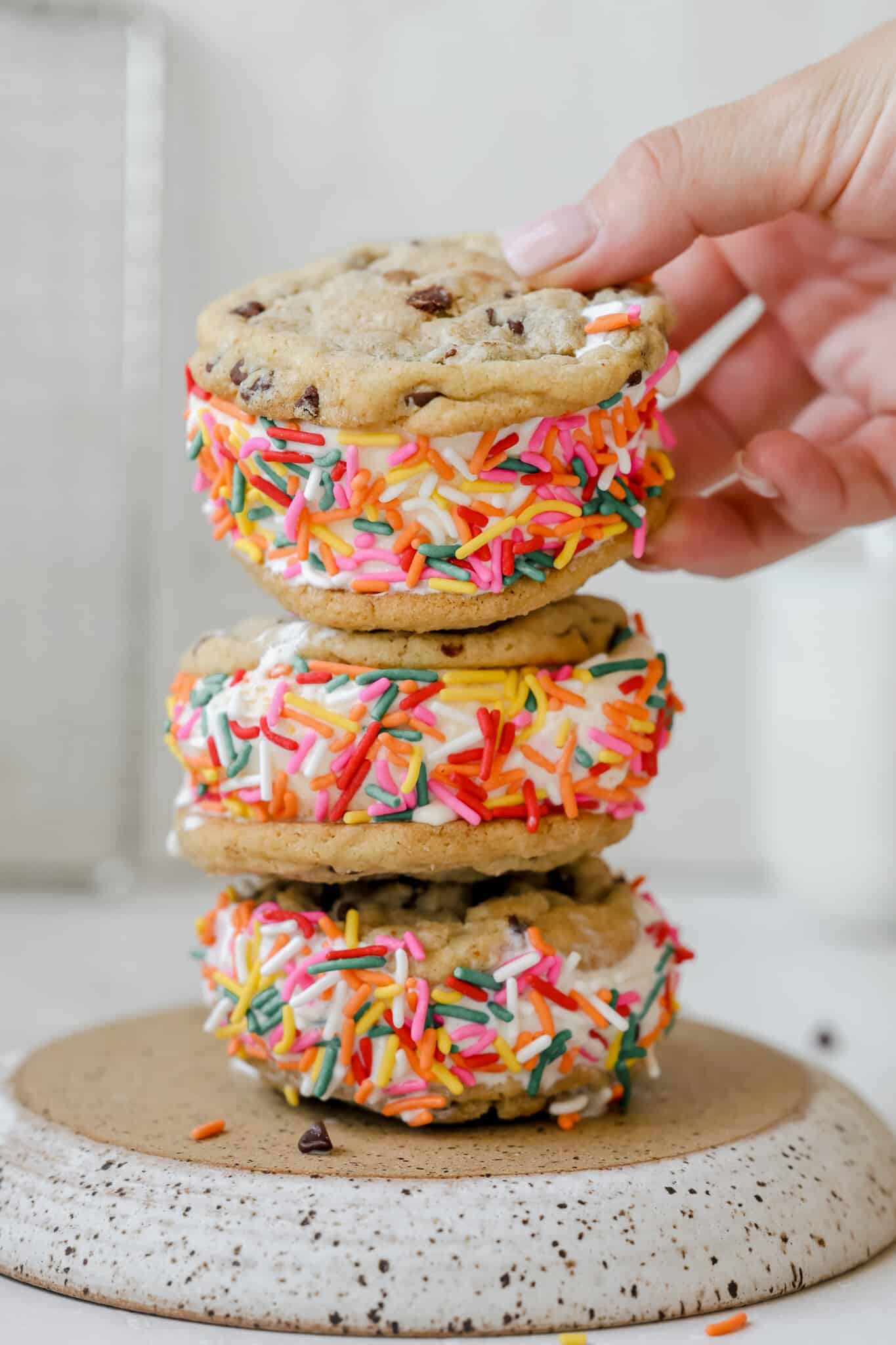 FAQ
I like to wrap the individual cookies in plastic wrap, and then store them in an airtight container or baggie.
Up to 3 months.
I personally haven't tried, but if you have a favorite store bought cookie dough, and you know it bakes into a soft and chewy cookie that is not too thick, than I would give it a try. If you aren't familiar with the store bought cookie, I would suggest staying with my recipe.
Can I use homemade ice cream?

Absolutely! It's just another step, but if you have the time and ingredients, why not!? You can try my homemade ice cream recipe!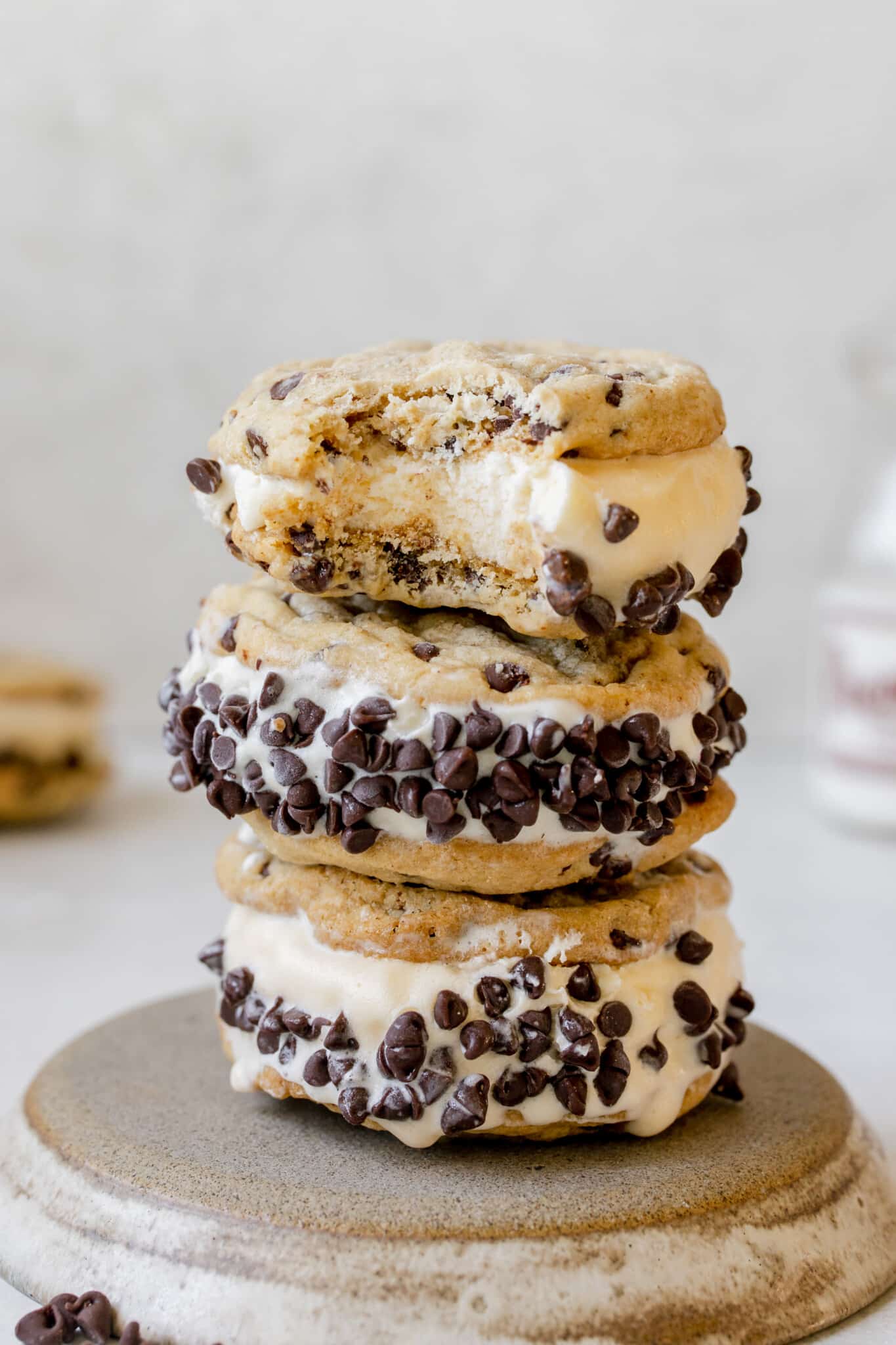 Before You Begin! If you make this, please leave a review and rating letting us know how you liked this recipe! This helps our business thrive & continue providing free recipes.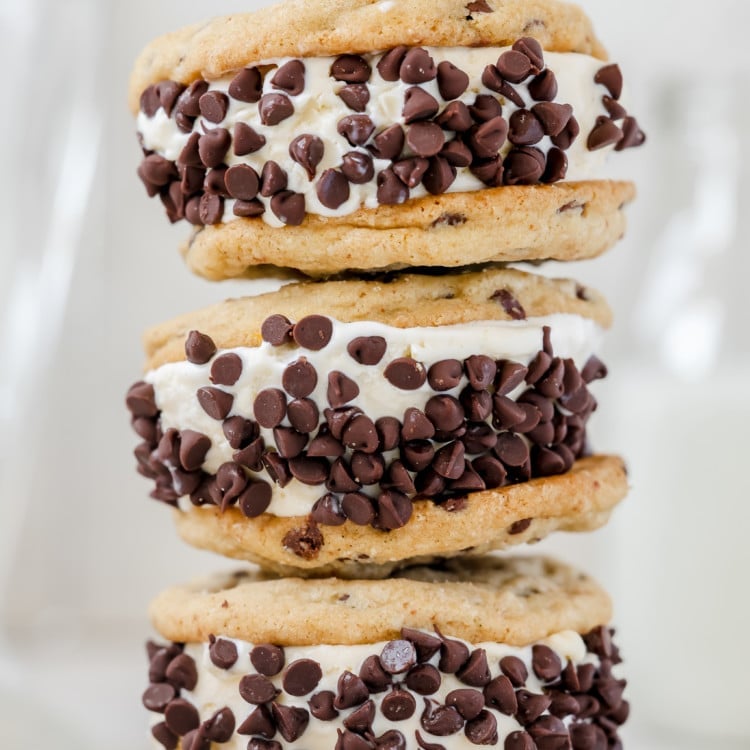 These Cookie Ice Cream Sandwiches are perfect on a hot summer day and feature vanilla ice cream nestled between two of the most delicious soft and chewy chocolate chip cookies. Roll them in your favorite toppings like mini chocolate chips, crushed Oreos, or sprinkles!
Ingredients
12

Tbsp.

unsalted butter

1

cup

all purpose flour

3/4

cup

cake flour

3/4

tsp.

baking soda

1/2

tsp.

salt

1/2

cup

granulated sugar

1

large

egg

1

large

egg yolk (no white, just the yolk)

1

Tbsp.

vanilla extract

1/2

cup

dark brown sugar, packed

1

cup

mini chocolate chips
1 1/2

quarts

vanilla ice cream (or your favorite flavor)

for rolling: sprinkles, mini chocolate chips, crushed Oreos, chopped nuts, etc.
Last step! If you make this, please leave a review and rating letting us know how you liked this recipe! This helps our business thrive & continue providing free recipes.
Instructions
Brown the butter: In a stainless steel skillet over medium heat, melt the butter. Swirl the pan occasionally to help the butter melt evenly. The butter will begin to foam, and then the foam will begin to subside and you'll start to see tiny specks at the bottom of the pan, stir with a heat resistant spatula or wooden spoon and constantly stir and scrape so milk solids that are browning don't stick. (These are what give brown butter it's yummy flavor.) As soon as the butter turns chestnut brown and omits a nutty aroma, remove the pan from the heat and scrape the brown butter and all of the delish brown bits into a heat proof bowl. It's important to remove to a bowl immediately so the residual heat from the pan doesn't burn the butter. Set aside or in the fridge to cool completely OR you can whisk a small ice cube into the brown butter to speed up this cooling process.

Preheat the oven to 325°F. Line 2 baking sheets with parchment paper and set aside.

Whisk together the flours, baking soda, and salt.

Pour the granulated sugar, egg, egg yolk and vanilla extract into the bowl of a stand mixer fitted with the whisk attachment. Beat on medium-high speed for 8-10 minutes or until the mixture falls off the beater in thick ribbons. If it still looks watery, keep beating.

Fit the paddle attachment on the mixer now and add the cooled brown butter and the brown sugar and mix on medium speed just until combined. 10-15 seconds.

Add in the dry ingredients just until combined, another 10-15 seconds. Then add in the mini chocolate chips on low speed just until the dough comes together.

Using a 2 Tbsp. cookie scoop, scoop out the dough (level the dough in the scoop) and place on prepared baking sheets, 6 cookies on each sheet. (You should get 20 cookies total to make 10 sandwiches).

Bake for 10 minutes or just until the edges start to look golden brown (oven times may vary). They might not look done yet and that's OK. Remove from the oven and allow the cookies to continue to bake on the pan for another 7-10 minutes. If the cookies aren't perfectly circular, you can place a circular cookie cutter or a circular drinking glass around one of the cookies while the cookies are still warm, (it should be larger than the cookie so you don't cut off any edges) and give the cookies a spin. Swirling the cookie should help to smooth out any uneven edges and make the cookies a uniform size for the sandwiches.

Transfer to a cooling rack and cool cookies completely, about 1 hour. If the chocolate is still melty and cookies are very soft, place cookies in the freezer for about 20 minutes to get them nice & cold.

Assemble the cookie sandwiches: scoop about 1/2 cup of ice cream onto the bottom of one cookie, then sandwich another cookie on top of it. Gently press the cookies together so the ice cream is even along the edges of the cookies.

Pour your favorite toppings into a shallow dish (mini chocolate chips, sprinkles, nuts, crushed Oreos) and roll the ice cream into the toppings. Gently press toppings into the ice cream so it sticks. Repeat with remaining sandwiches.

Tightly wrap each cookie sandwich individually in plastic wrap and freeze until the ice cream is firm, 3-6 hours or ideally up to overnight. If you enjoy the cookies right away without freezing, the ice cream will squeeze out the sides and it becomes very messy.

You can enjoy the ice cream sandwiches straight from the freezer, or I like to wait just a few minutes before I take my first bite!
Notes
Storage: individually wrap cookie sandwiches with plastic wrap and store in an air-tight container or large stasher bag in the freezer for up to 3 months.
The cookie dough can be made and refrigerated up to 3 days in advance.
The cookies can be baked 1 day in advance. Keep them at room temperature and assemble when ready. If cookies are too soft, freeze them for 15-20 minute to make them easier to work with.
Cookie recipe inspired by Kenji's chocolate chip cookie recipe.
Nutrition Information
Serving:
1
cookie sandwich
,
Calories:
651
kcal
(33%)
,
Carbohydrates:
83
g
(28%)
,
Protein:
9
g
(18%)
,
Fat:
35
g
(54%)
,
Saturated Fat:
22
g
(138%)
,
Polyunsaturated Fat:
1
g
,
Monounsaturated Fat:
8
g
,
Trans Fat:
1
g
,
Cholesterol:
140
mg
(47%)
,
Sodium:
336
mg
(15%)
,
Potassium:
335
mg
(10%)
,
Fiber:
2
g
(8%)
,
Sugar:
62
g
(69%)
,
Vitamin A:
1133
IU
(23%)
,
Vitamin C:
1
mg
(1%)
,
Calcium:
225
mg
(23%)
,
Iron:
1
mg
(6%)