A Day In the Life of a Media Dietitian and Food Blogger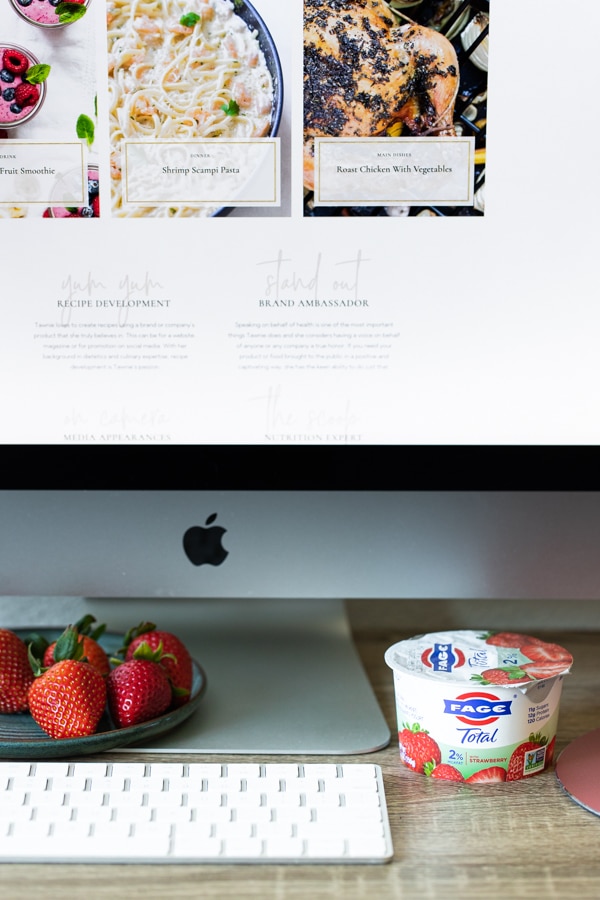 This post is sponsored by FAGE; however, all thoughts and opinions are my own.

Having a routine as an entrepreneur is so critical.
Almost two years ago I left my full time 8-5 job and when I started working from home, I felt a little lost.
There was no longer a boss to tell me what to do and no one over my shoulder making sure I am doing what I am supposed to be doing. It felt freeing, yet I wanted structure back in my life.
Currently, my days are more organized but also, everyday looks a little different.
Monday I could be working on a recipe and photoshoot for a client and Tuesday I could be editing photos and a video for a blog post I've been putting off.
Keep in mind I am a solopreneur – I set up and run my own business alone.
I currently do not have anyone else taking my photos or editing my videos, no one writes my blog posts, keeps track of my expenses or cleans the dishes after a long recipe development day. It's all me! (OK, sometimes my husband helps with the dishes, but you get the point).
There is a lot to do, and somehow always such little time. Ah…life.
This is why a schedule or routine is very beneficial in my position.
I also still need to keep in mind staying physically active and save time for socializing with friends and family.
6AM – Wake up! Brush my teeth, wash my face and put on workout clothes. I find if I don't put my workout clothes on right away, I'll get sucked into work and put off my workout.
6:30 AM – Post on Instagram and engage on other posts. I post so early because engagement rate is good at that time for me (Mon-Thurs). I post in the PM as well but usually by the end of the day, I don't feel like being attached to my phone any longer.
Workout 7AM – We recently invested in an exercise bike and it's been amazing. I typically do a 30 min or 45 minute ride followed by yoga and a core workout.
8AM – Breakfast, COFFEE, and shower – For breakfast I typically have an oatmeal bowl, toast (either with avocado & eggs or peanut butter) or cereal. Easy options for quick fuel!
9AM – Get to my desk (with a 2nd cup of coffee) to answer emails, schedule out pins for Pinterest, reply back to comments on blog posts or social or whatever other computer work needing to be done at the moment.
10AM – Start recipe development for the day. I either order my groceries on Instacart (sooo convenient) or run to the store to get my groceries if I have extra time.
Around this time of day I also start to get hungry for a snack. My go to mid-morning snack is FAGE yogurt. I have been loving the FAGE Total 2% Split Cups lately since they have 12 grams of protein and no artificial sweeteners.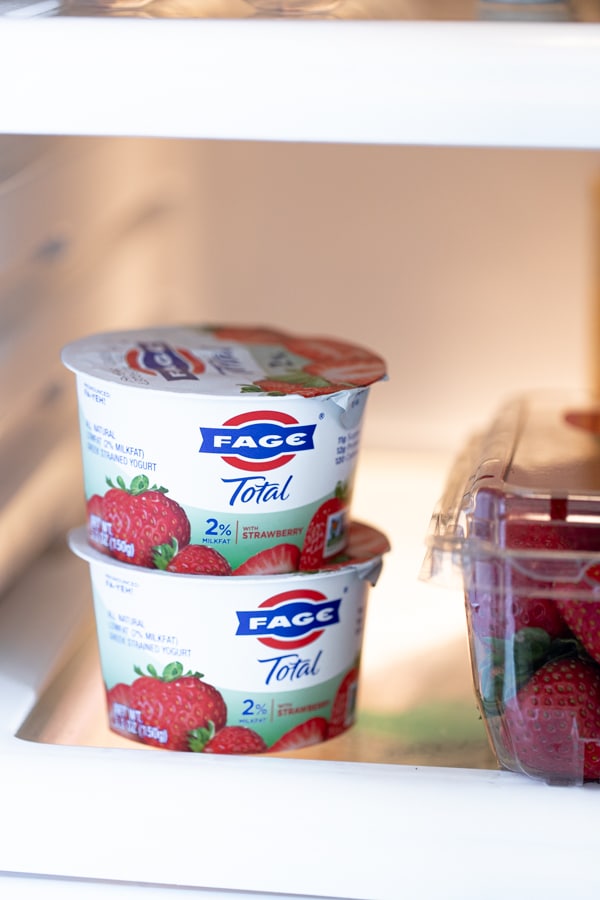 You guys know I am cooking all the time for my blog and sometimes I don't like having to dirty up the kitchen when making myself a snack.
That's why I love having these FAGE Total Split Cups on hand – they are convenient, satisfying and you can control how sweet you'd like them since the fruit is separate.
FAGE Split Cups comes in 0%, 2% and 5% milkfat – the strawberry is my favorite!! So creamy and delicious.
11am-12:30 – Cook, style and shoot the recipe I just created. This is a rough time window. This really could look like 10 am – 4 pm just depending on what I am doing. I shoot all of my photos and videos in my dining room and/or living room.
I shoot my photos in the afternoon because that's usually when we get the best light. Cloudy days are best to give the photos a soft look, but since I live in California we rarely have cloudy days. I'll hang up a sheet in front of the window to diffuse the light. (I use a South facing window).
12:30PM – lunch is typically the food I just made for the blog or leftovers from dinner the night before. I rarely take a formal lunch, they are typically working lunches. Bad habit maybe but I'll check social media again, reply to any direct messages or comments and engage while having lunch. Sometimes I get caught up and scroll too long. Oops!
1PM (?) – clean up the kitchen and then head back to my desk to work. Time blocking has made a huge difference in my work flow. I'll work in 30 minute increments and take 5 minute breaks in-between to stand up, clear my head, make a cup of tea, and then get back to work.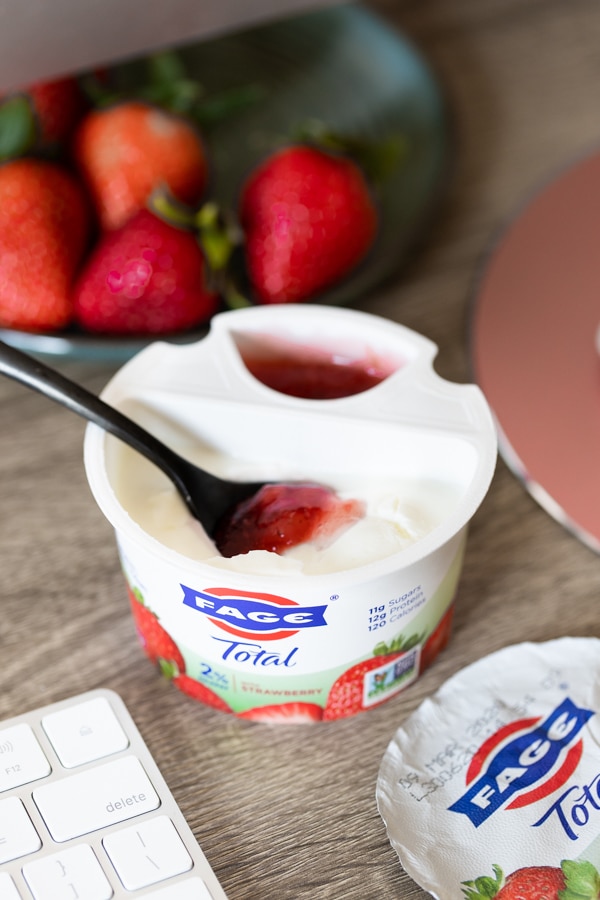 Here is an idea of the type of computer work I do:
SEO research
Write blog posts and make sure they are fully optimized, spell checked, etc.
Transfer photos from my camera to my external hard drives so they are backed up and "safe".
Edit food videos
Edit food photos
Write out Instagram or Facebook captions for sponsored posts
Make new pins for Pinterest
Update old blog posts (adding new photos, making the post SEO friendly)
Check my Google Analytics – see what's working or trending and assess what's not working.
Answer emails
Pitch to brands I love & use for sponsored work and schedule collaborations
Schedule pins
Issue invoices
Track down payments
Send out project proposals and send any digital content to current brand partners.
Send out recaps of the content I've created
3:30 – I usually like to have another mid-afternoon snack at this time and take the dogs on a walk, run an errand or just do something to clear my mind from work. (Calling a friend, my mom or husband usually helps!).
5PM – Cameron comes home around this time and we like to take some time to chat and catch up about our days. I let him get settled in and usually do a little more work until we start to make dinner.
6-7PM – Dinner and relax. We usually watch our favorite shows and cuddle on the couch with the dogs.
7-9PM – I usually get a little more work done in the evening as well if my brain isn't fried. Even if it's something small, such as writing out Pinterest descriptions or adding alt tags to photos.
9-10 PM is when we head to bed!
There is a lot to do, and it often feels never ending. But I wouldn't trade this for anything. I love what I do and I love helping others feel confident in the kitchen and share easy, healthy and approachable meals.
Other things I do as a Media Dietitian:
Broadcast media: As a nutrition expert, I appear regularly on local media outlets and also travel for tv segments as well. The days I am on TV usually take a lot of energy out of me!
YouTube: I am working on building my YouTube channel as well. Hands and pans videos are great, but getting in front of the camera and showing people how to cook is a big passion of mine as well.
Email marketing: I send out a weekly email to my subscribers with new recipes and what I've been up to.
Plan and schedule my content: Currently, I plan out all of the recipes I want to make based on quarters. For example, in Q1 (Jan-March) I planned out 1 new recipe I was going to make each week. So that's 4-5 new recipes per month.
Then, I work ahead so I am not scrambling. For instance in a perfect world in December, I should have most of January's content ready. Usually, I am 2-3 weeks ahead.
So there you have it. A typical day in the life of a Media Dietitian and Food Blogger.
It may look one way online, but the behind the scenes is long hours, long to do lists and lots of dishes!!
I hope you enjoyed this blog post and learning a little more about what we do. Thank you for reading and being a fan of Kroll's Korner! You are all my reason why!
Xo,
Tawnie
Other posts you may be interested in:
How to find balance as a Millennial
Tasty Food Photography Workshop
Why I gave up ice cream for a month
My top 8 favorite kitchen gadgets