My Top 8 Favorite Kitchen Gadgets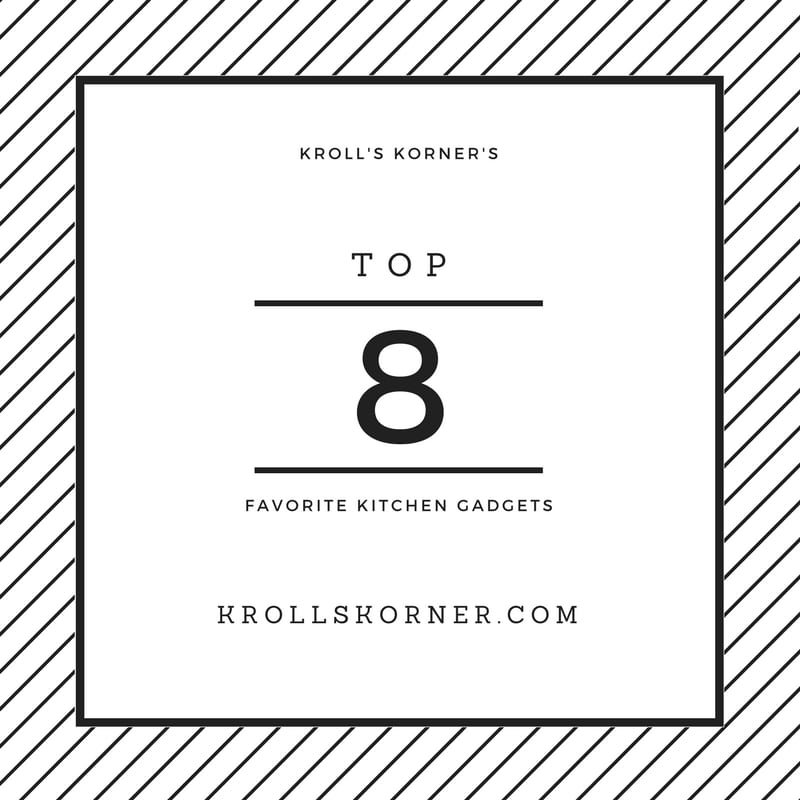 As a foodie and lover of all things cooking and baking I felt compelled to share some of my favorite or most used kitchen gadgets with you today!
These "gadgets" are by no means anything new to the market, they are just some of my go-to items in the kitchen. This post is also not sponsored, just a girl wanting to blog about something semi interesting with you 🙂
Here we go:
No time to look now? Pin this to read later!
Vitamix

I finally purchased my first Vitamix in February of this year! Yes, it was a Valentine's Day gift to myself and yes, I LOVE it. Up until using the Vitamix I had only used the NutriBullet…and oh.my.god. I have been missing out on a whole new world of blending. So far I have been using my Vitamix for smoothies or an afternoon iced coffee…but you can make soups, nut butters, dips, pancake batter…pretty much anything you need to blend up this bad boy will and can do. Or should I say bad girl because I named my Vitamix Trixy. LOL! **judge me** While this is quite a hefty purchase, it is totally worth it in my opinion!

Onion Goggles

Some people…meh…most people…probably think onion goggles are a complete joke. But these were gifted to me and I am low key obsessed with them. I cannot stand getting all teary eyed when cutting onions and these really help. Yeah, I may look like a snowboarder while in my kitchen making you dinner but hey, it's going to taste good and be tear free.

Poach Pods

I do love cooking and learning how to cook things "the right way." Buuut these are like training wheels for making poached eggs. Especially if you're having a busy morning and still want poached eggs these guys come in handy. Love love love them, only like 10 bucks too!

Instant Pot

My mom gifted this to me for Christmas and to be honest…I was really intimidated of it at first. I was really excited that it could make so many things but I was like…omg, so many buttons what do I do?! Want to know what I did? I actually read the manual. AND I HIGHLY RECOMMEND YOU DO THE SAME. Little tips and tricks you want to know are in that fine print y'all. After reading some of that, I did what any millennial would do and hopped on YouTube to see how some other people are using the Instant Pot. One of my favorite things to cook in it has been Spaghetti Squash. 20 minutes people, 20 minutes!! This Spaghetti Squash Chicken Alfredo is one of my all time favorites. Love it. Brown rice, 22 minutes. WHAT?! Very reasonable price as well…I think they are less than $100 now. Who owns an Instant Pot and what is your favorite thing to cook in it?!

[Tweet "Check out what Kroll's Korner's top 8 favorite kitchen gadgets are! 🙂 "]

Chefs Knife


This is the knife I have and I use it if not daily every other day. I really like this Miyabi brand because if you're left handed or right handed, you can use it comfortably…when many other nice knives are only made for righties. (Yes, I am a lefty!). A good chef's knife in your kitchen is a staple. 🙂

Food Processor

You want to know what I did before I had a food processor? I made pesto in my NutriBullet. LOL. This food processor has brought me so much happiness. I've made so many things using this but what comes to mind is mainly hummus, my black bean avocado brownies, and 10-Minute pistachio pesto. Oh yes, cannot forget one of my more recent recipes – my N0-Bake Protein Energy Bites were created quickly using my food processor too. Also – another kitchen staple!

Spiralizer Attachment for Kitchen-Aid

I know this picture of the attachment makes it look kind of crazy and complicated. But this has been one of the best $100 I've spent!! If you know me at all, you know I use this A LOT for making zoodles specifically. One of my favorite ways to enjoy zoodles is simply with a ground turkey mixed with red sauce…or something on the lighter side with it being Spring and Summer coming up you can try my Skinny Chicken Picataa w/ Zoodles recipe! Yum yum yummm!

Crock Pot

One must own a crock pot! This is one of my favorite gadgets of all. Soups in the winter, chicken, pork…anything really. And it makes the house smell so so yummy. Have you tried my Crock Pot Minestrone Soup? It's one of my favs!
I hope this was a fun read for you all, and maybe if yo birthday is coming up you can add one of these gadgets to your list if you don't already have it yet! 🙂
What are some of your favorite kitchen gadgets?! I'd love to hear!