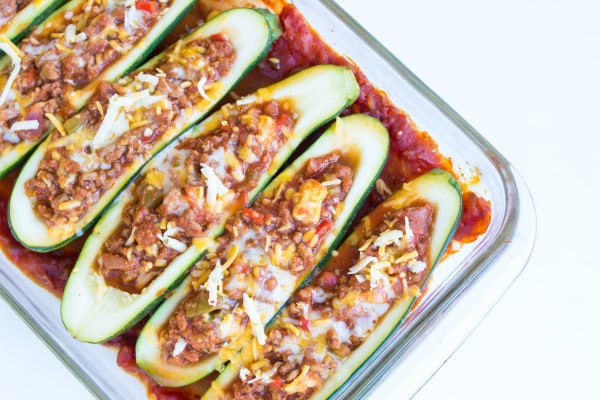 Happy Taco Tuesday! How was everyone's Memorial Day Weekend?! For me, I got to spend time with my family in the Monterey area wine tasting at the Hahn vineyards…watch my brothers play golf while my brothers fiance and I recklessly drove the golf cart around…followed by a nice wood-oven pizza lunch and cocktails and a live band at The Grove. Needless to say, it was certainly a weekend filled with making memories with the ones I love most. If you live in California and ever have the chance to make it to the Hollister area, The Grove is a great place to stop and grab a bit to eat. It is right by Casa de Fruta, you can't miss it!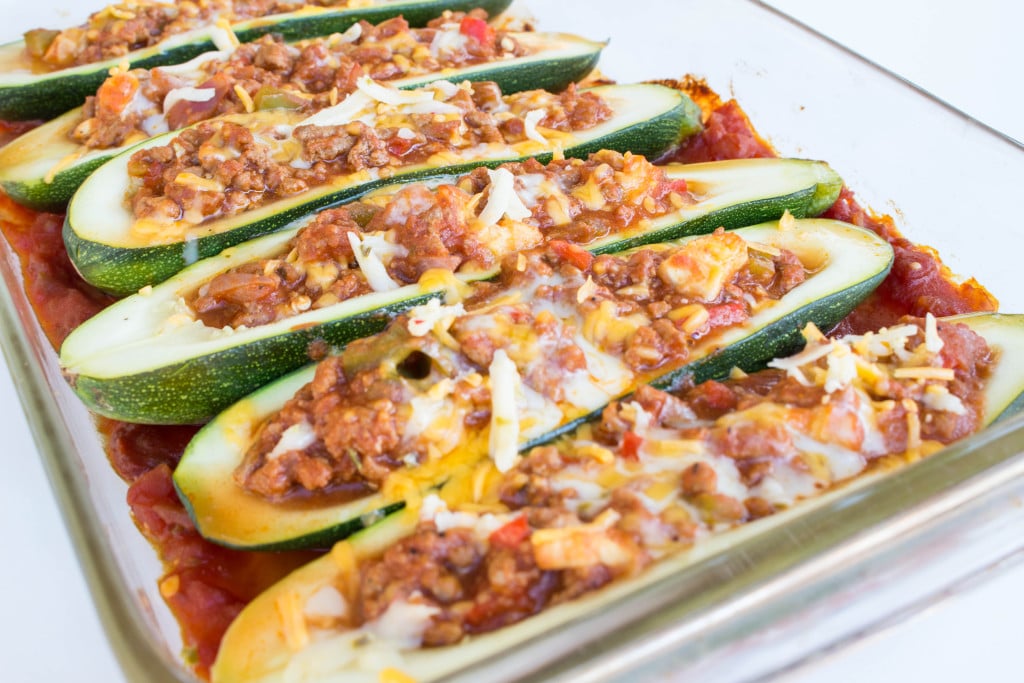 For the Bar Method Fresno Bikini Challenge this week, I am focusing on low-carb meals. I love these zucchini taco boats because it is such a healthy alternative to the typical greasy, high-fat meat taco with an oversized tortilla. Sometimes I feel like I bash on the "unhealthy" foods, but I love putting more emphasis on ways to occasionally have the "unhealthy" foods while more often consuming healthy options like these zucchini taco boats 🙂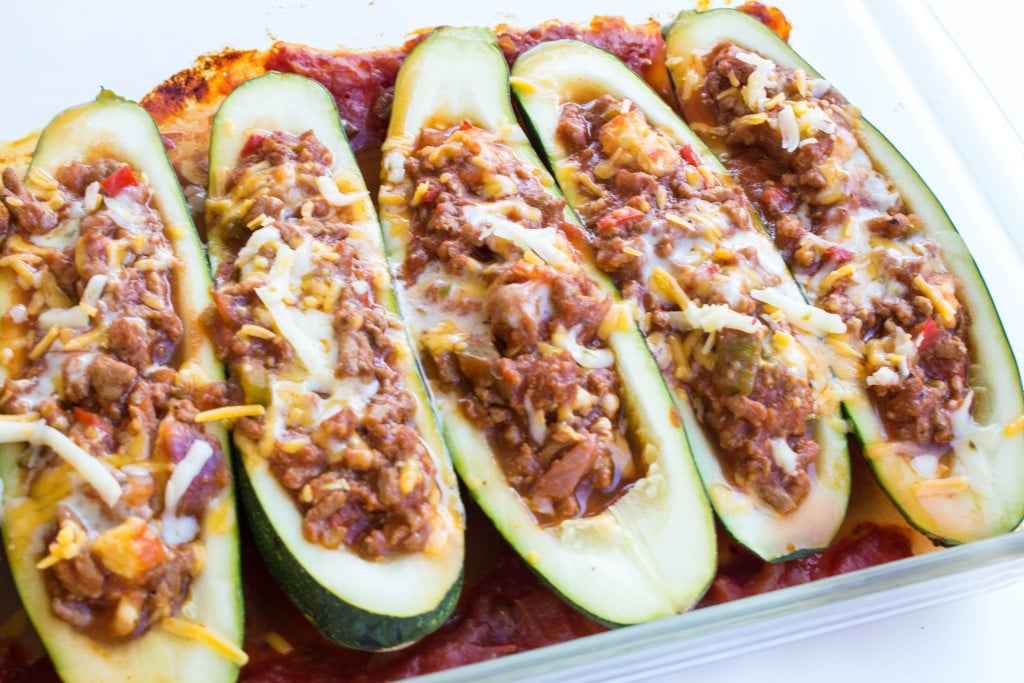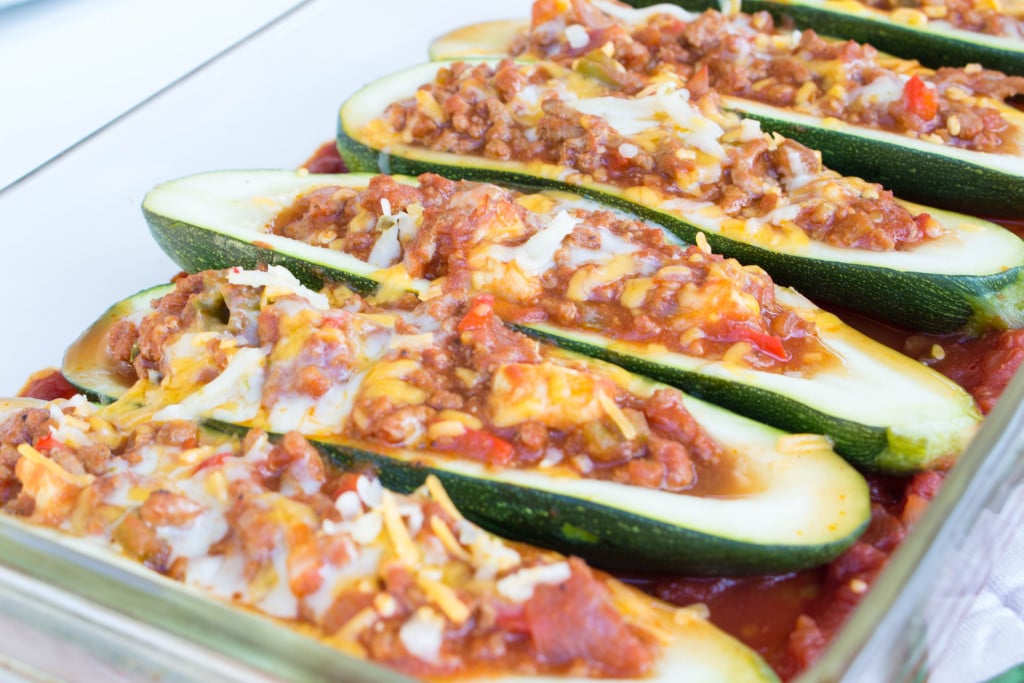 I love spending time in the kitchen creating something I know people will appreciate, or at least I hope they will appreciate. haha. For me, cooking and baking are both stress relievers. When cooking I have freedom…the freedom to add extra garlic if I want or add different vegetables to a soup…the creativity and imagination is endless with cooking. And when I am baking it is a time to be somewhat of a perfectionist while also testing my patience…remembering not to over mix the dough or adding in only 1 teaspoon of salt and not mistaking it for 1 tablespoon. The specifics that go in to baking takes my mind off of everything else going on in my world due to the intense focus baking requires. When cooking this today I had so much fun looking at the spice rack and thinking…ok what else can I add? And that is the beauty of cooking.
Lets chat: What are some of your favorite things to cook that are low-carb dishes?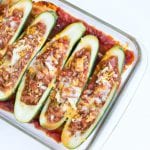 Spicy Taco Zucchini Boats
Perfect for a summer night!
Print
Ingredients
4

zucchinis

cut in half lengthwise

1

cup

spicy salsa

1

lb

lean ground turkey

1/2

taco seasoning packet

1

tsp

garlic powder

1/2

tsp

cumin

1/2

tsp

chili powder

1/2

tsp

paprika

1/2

tsp

oregano

1/2

small red onion

minced

4

mini bell pepper

diced

2 4

oz

cans tomato sauce

1

jalapeno

1

tsp.

red pepper chili flakes

1

avocado

1/4

cup

water

1/2

cup

reduced fat cheddar and pepper jack cheeses

1/4

cup

chopped scallions for topping
Instructions
Preheat oven to 400 degrees F. Bring a large pot of salted water to boil, and place 1 cup of salsa on the bottom of a large baking dish. Once the water comes to a boil, drop the zucchini halves in the water for 1 minutes, drain and set halves in the prepared baking dish.

Take cut zucchini and scoop of the seeds and middle with a spoon. Place the inside of the zucchini in a bowl until all are scooped out. Take the insides and roughly chop the zucchini. Place zucchini pieces in a paper towel and squeeze out excess water in them. Place zucchini bites back in bowl.

Cook the ground turkey in a large skillet, breaking up while it cooks. When no longer pink add the spices and mix well. Add the onion, jalapeno, bell pepper, reserved zucchini, tomato sauce and water. Stir and cover, simmer on low for about 10-15 minutes.

Using a spoon, fill the hollowed zucchini boats dividing the taco meat equally. Sprinkle cheese on top. Cover with foil and bake 35 minutes until zucchini is cooked through. Top with scallion, avocado or any other fixings you like.
Recipe Notes
Recipe inspired by: Gina's Skinny Recipes