Spicy Zucchini Taco Boats
Dinner | Published on Jul 27, 2019 | Last modified on Aug 20, 2019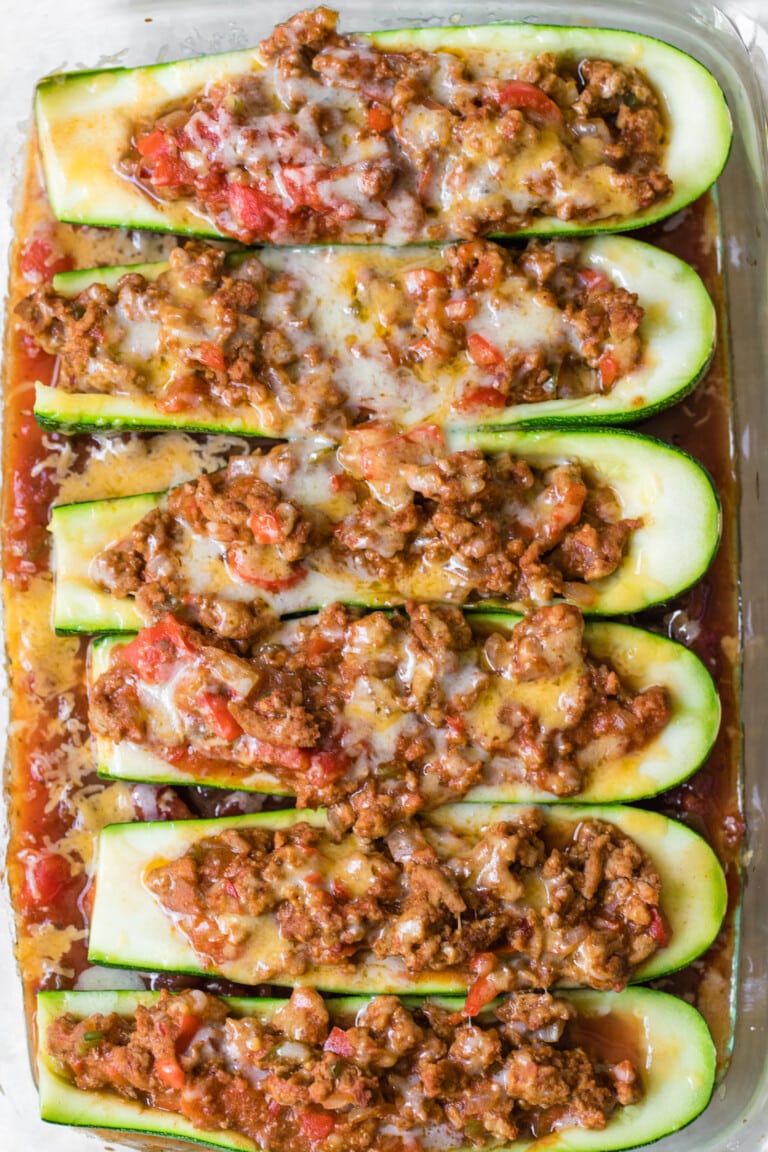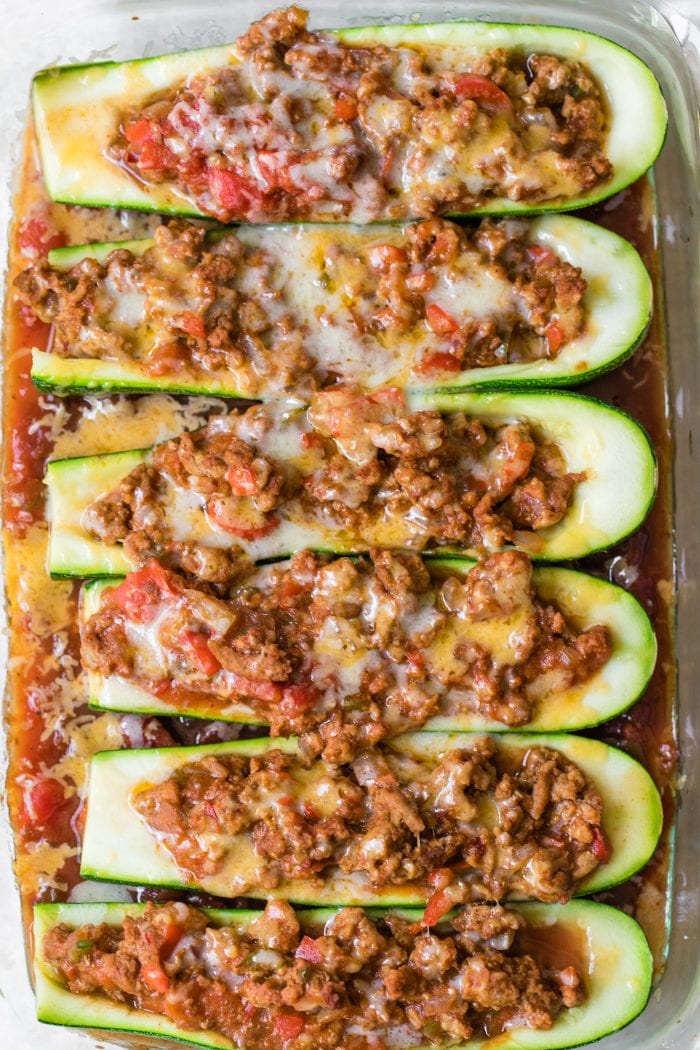 These zucchini taco boats are stuffed with a spicy ground turkey taco filling. Top your taco boats with diced avocado, cheese, and tomatoes!
Creating these zucchini taco boats
Happy Taco Tuesday!
Before zucchini season is over I wanted to share another healthy and tasty zucchini recipe!
You will love these zucchini taco boats because they are a healthy alternative to a typical taco with a tortilla.
As a Dietitian, I love putting an emphasis on ways to consume traditional foods we love (tacos) by butting a fun twist on the recipe; like tacos and zucchini taco boats.
For me, cooking and baking are both stress relievers. With cooking I have freedom — the freedom to add extra garlic if I want or add different vegetables to a soup. The creativity and imagination is endless with cooking!
And when I am baking it's a time to be somewhat of a perfectionist while also testing my patience; remembering not to over mix the dough or adding in only 1 teaspoon of salt and not mistaking it for 1 tablespoon. (Hence why I created my "Shut Up, I'm Baking" apron! haha
The specifics that go in to baking takes my mind off of everything else going on in my world due to the intense focus baking requires.
When cooking these stuffed zucchini boats today I had so much fun looking at the spice rack and thinking, ok what else can I add? And that is the beauty of cooking.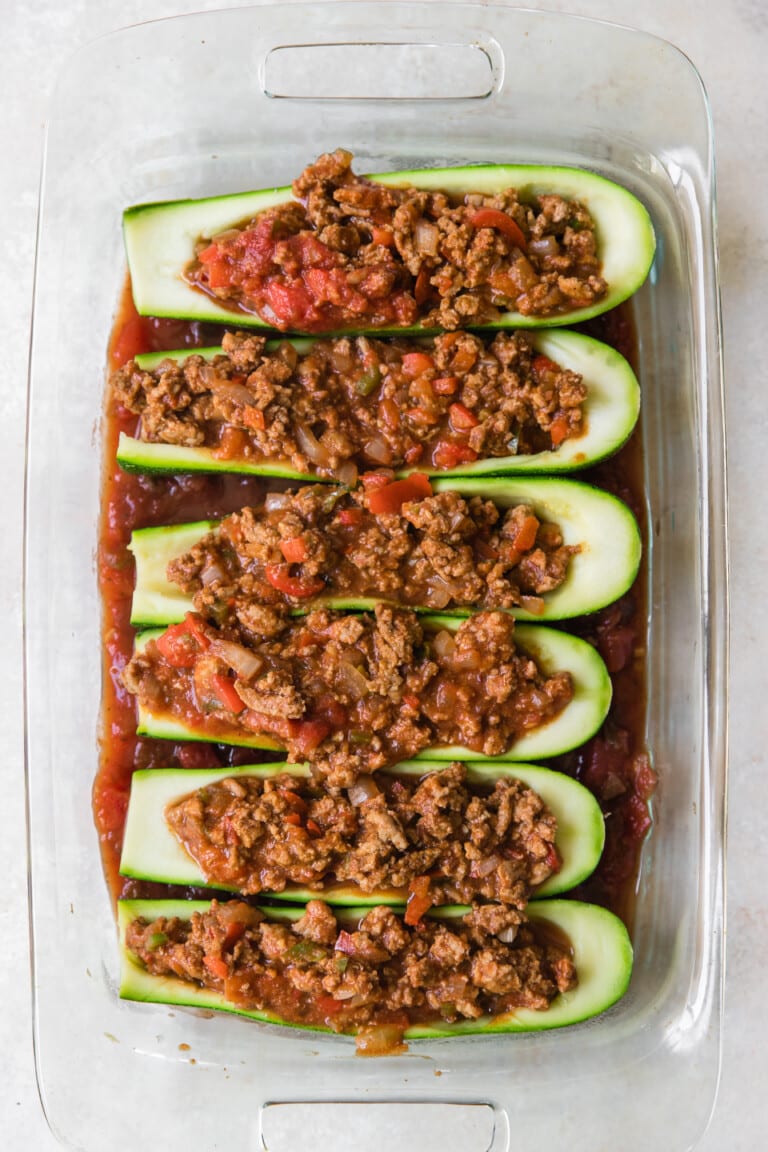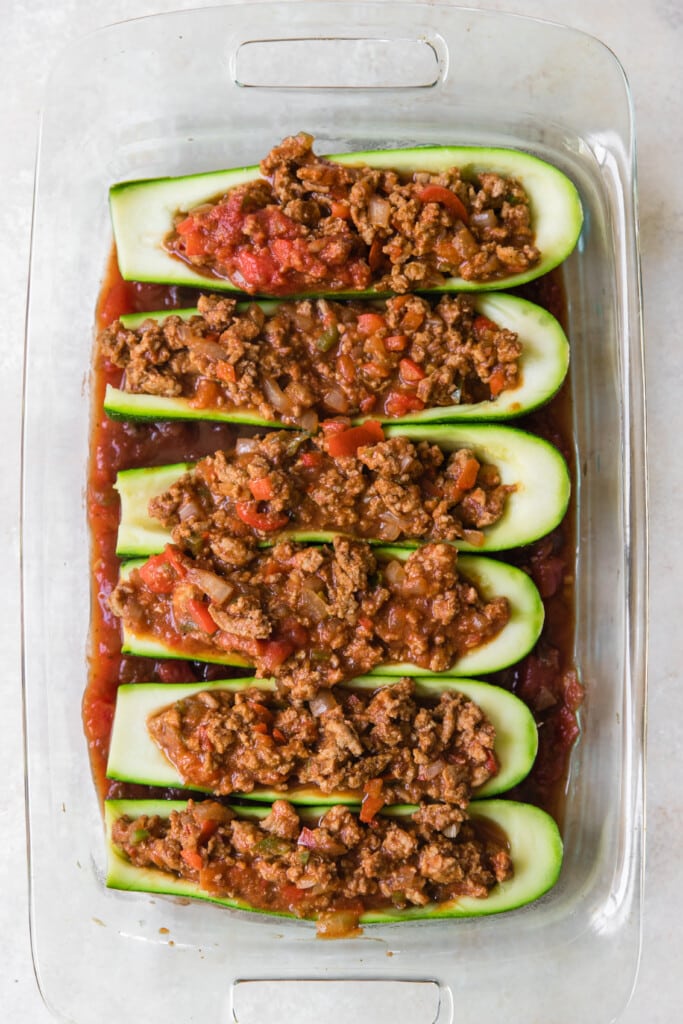 Zucchini taco boats ingredients
Don't let the lengthy ingredient list fool you, most of what you'll need for these Mexican zucchini boats are spices! For this zucchini taco boat recipe, you'll need:
Zucchini
Salsa
Ground turkey
Taco seasoning packet
Spices
Red onion
Bell pepper
Tomato sauce
Jalapeño
Shredded cheese
Toppings of choice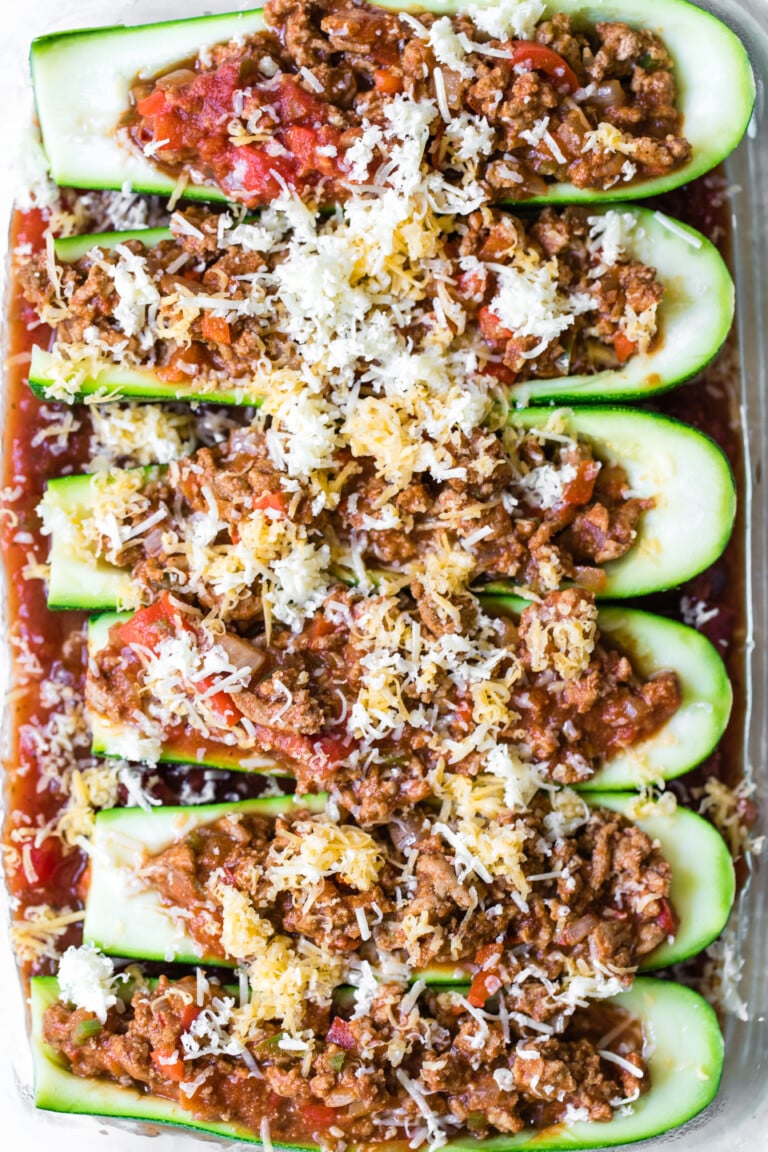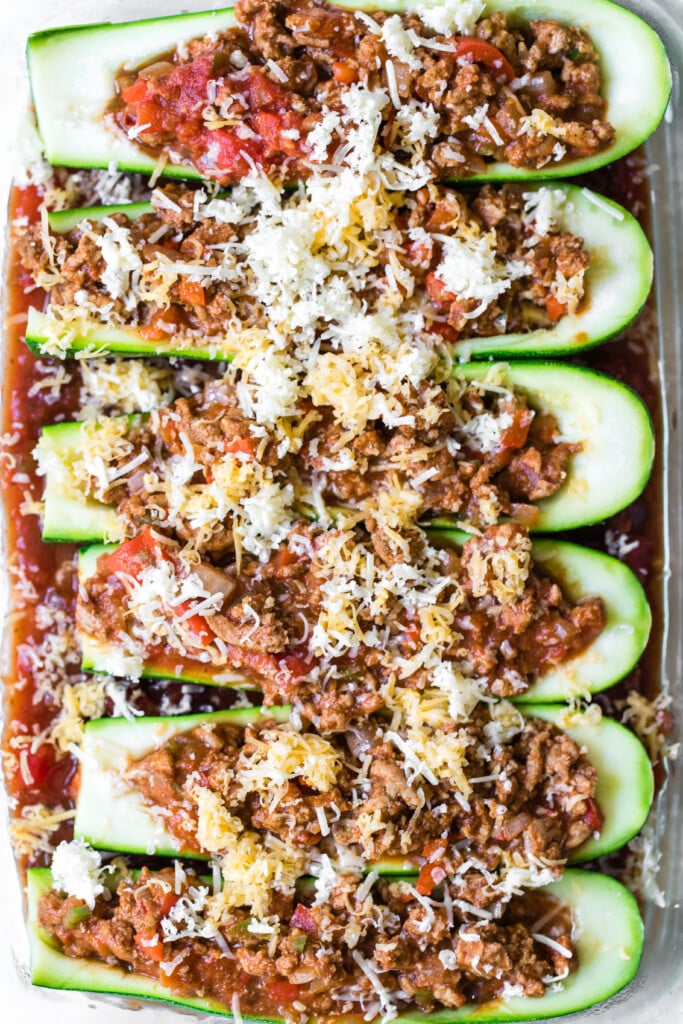 How to make zucchini taco boats
To make these stuffed zucchini boats, you'll first need to cut the zucchinis in half length-wise and cook for 1 minute in boiling water. Then scoop out the seeds from the zucchini and place inside a baking dish that has a thin layer of salsa spread over the bottom.
Once you've prepped the zucchini halves, make the taco filling. You'll first need to brown the ground turkey, then add in the chopped veggies, spices, tomato sauce, and water. Scoop the taco filling into the zucchini boats, then sprinkle with cheese and bake until the zucchini is tender.
I like to top my zucchini taco boats with diced avocado and chopped scallions, but you can enjoy yours however you'd like!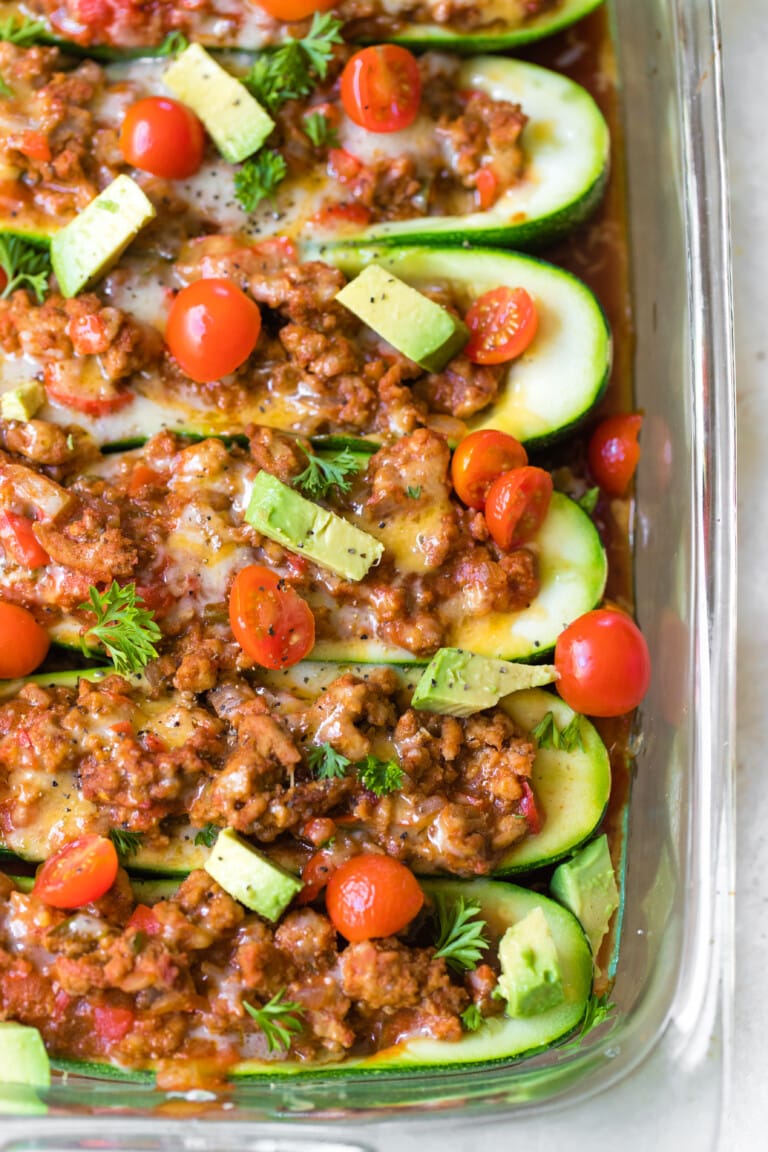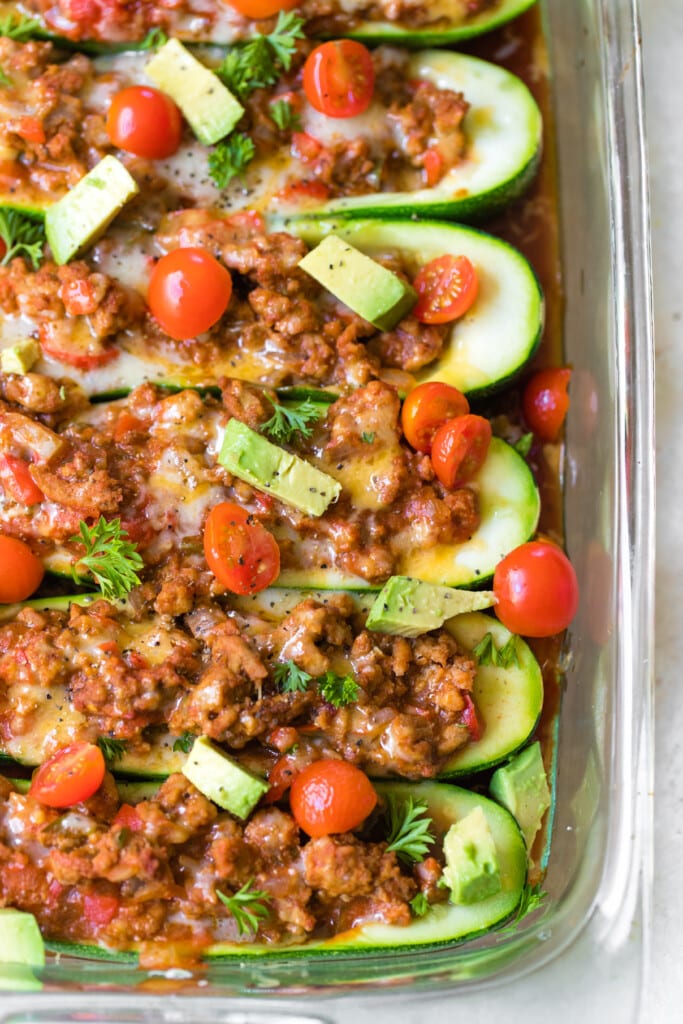 Can I use another type of meat?
Of course! Any ground meat can be used in these Mexican zucchini boats. Ground beef, Italian sausage, or ground chicken would all work here.
Can I make these vegetarian?
If you don't eat meat, you can substitute canned black beans for the turkey. Make sure to drain and rinse the beans before adding them to the filling. You'll also want to sauté the veggies before adding the beans to the skillet (since the beans are already cooked).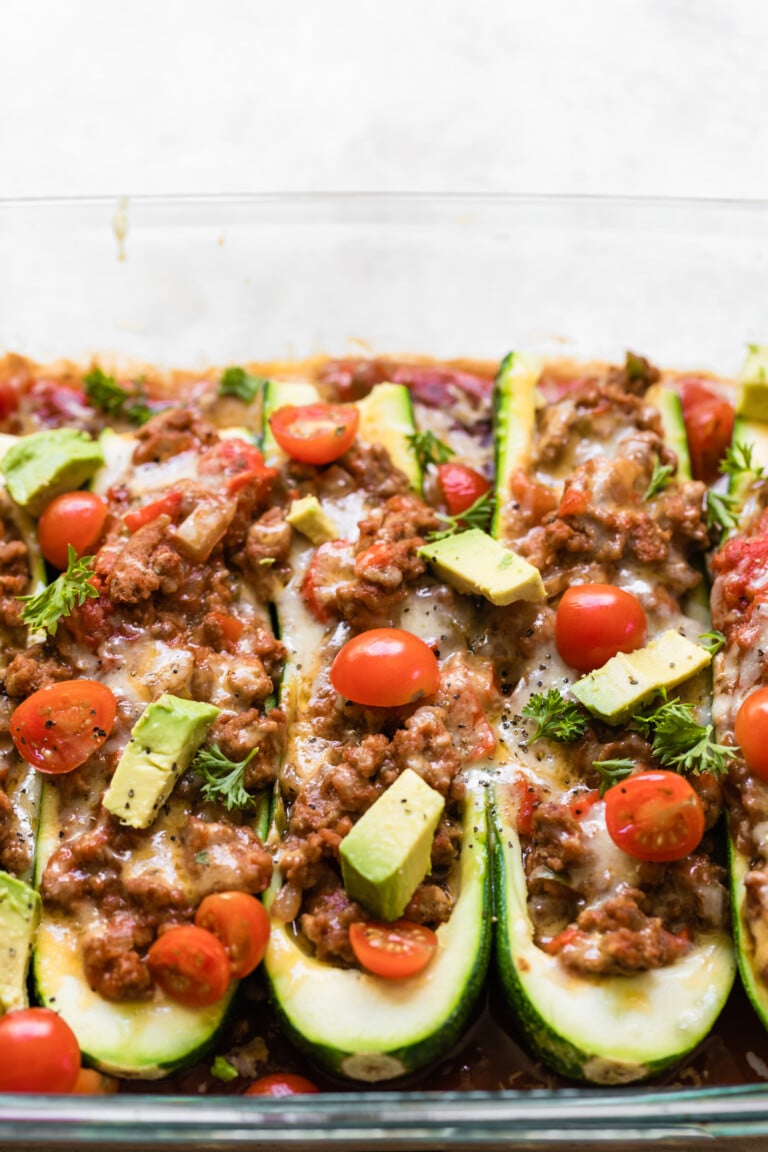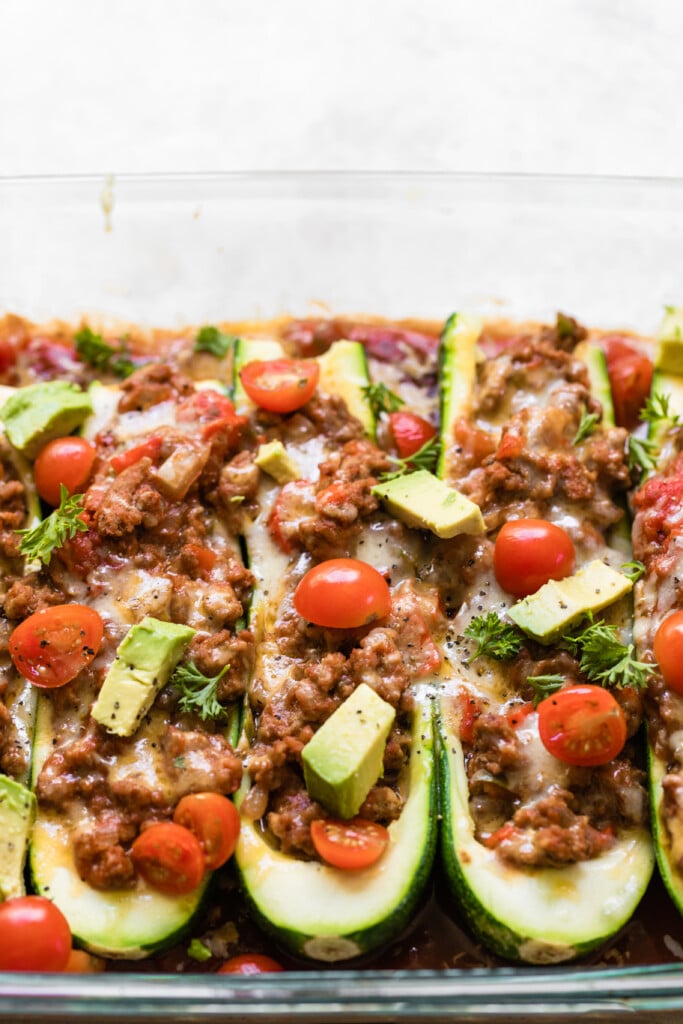 Tips for making zucchini taco boats
Don't throw out the insides you've scooped from zucchini boats! Chop up the bits of zucchini you've removed to make the boats and add it back into the taco filling.
If possible, buy relatively fat zucchini for this recipe. Skinny zucchini can't hold as much filling, and you'll want lots of filling!
If you prefer spicier zucchini taco boats, leave the jalapeño seeds in the filling. Just be careful not to touch your eyes after slicing the jalapeño because the juice from the pepper really stings.
More easy zucchini recipes: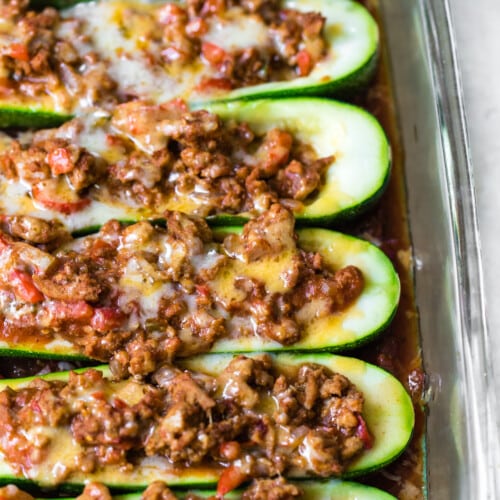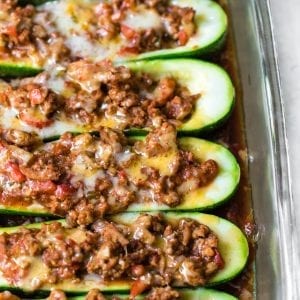 Spicy Zucchini Taco Boats
These zucchini taco boats are stuffed with a spicy ground turkey taco filling. Top your taco boats with diced avocado, cheese, and tomatoes!
Print Recipe
Pin Recipe
Rate
Ingredients
4

zucchini, cut in half lengthwise and seeded

1

cup

spicy salsa

1

lb.

lean ground turkey

1

oz.

taco seasoning packet (1 packet)

1

tsp.

garlic powder

1/2

tsp.

cumin

1/2

tsp.

chili powder

1/2

tsp

paprika

1/2

small white or yellow onion, minced

1

large

red bell pepper, diced

8

oz.

can tomato sauce (unsalted)

1

small

jalapeno

1

tsp.

red pepper chili flakes

1/4

cup

water

1/2

cup

shredded cheese (I like a cheddar and jack)
Toppings (Optional)
1

medium

avocado, cubed

1/4

cup

chopped scallions for topping

1/2

cup

cherry tomatoes

parsley for garnish
Instructions
Preheat oven to 400 degrees F. Place 1 cup of spicy salsa on the bottom of a large 9×13 inch baking dish

Then, blanch the zucchini halves. Bring a large pot of salted water to boil. Place the zucchini halves (seeds removed) in the boiling water for 1 minute. Drain and set halves in the prepared baking dish.

Cook the ground turkey over medium heat in a large skillet, breaking it up up while it cooks. If sticking to pan, add in 1-2 Tbsp. olive oil. When meat is almost fully cooked add the spices, onion, jalapeno, bell pepper, tomato sauce and water and mix well. Let this some to a simmer.

Using a spoon, fill the hollowed zucchini boats dividing the taco meat equally. Sprinkle cheese on top. Cover with foil and bake for 10-15 minutes or until zucchini is cooked through. Top with avocado, tomatoes, parsley or any other fixings you like!

I'd love to see what you made!!
Share it with me on Instagram or Facebook and tag me @krolls_korner or use the hashtag #KrollsKorner!