Meatless Monday
Zucchini & Avocado Mac & Cheese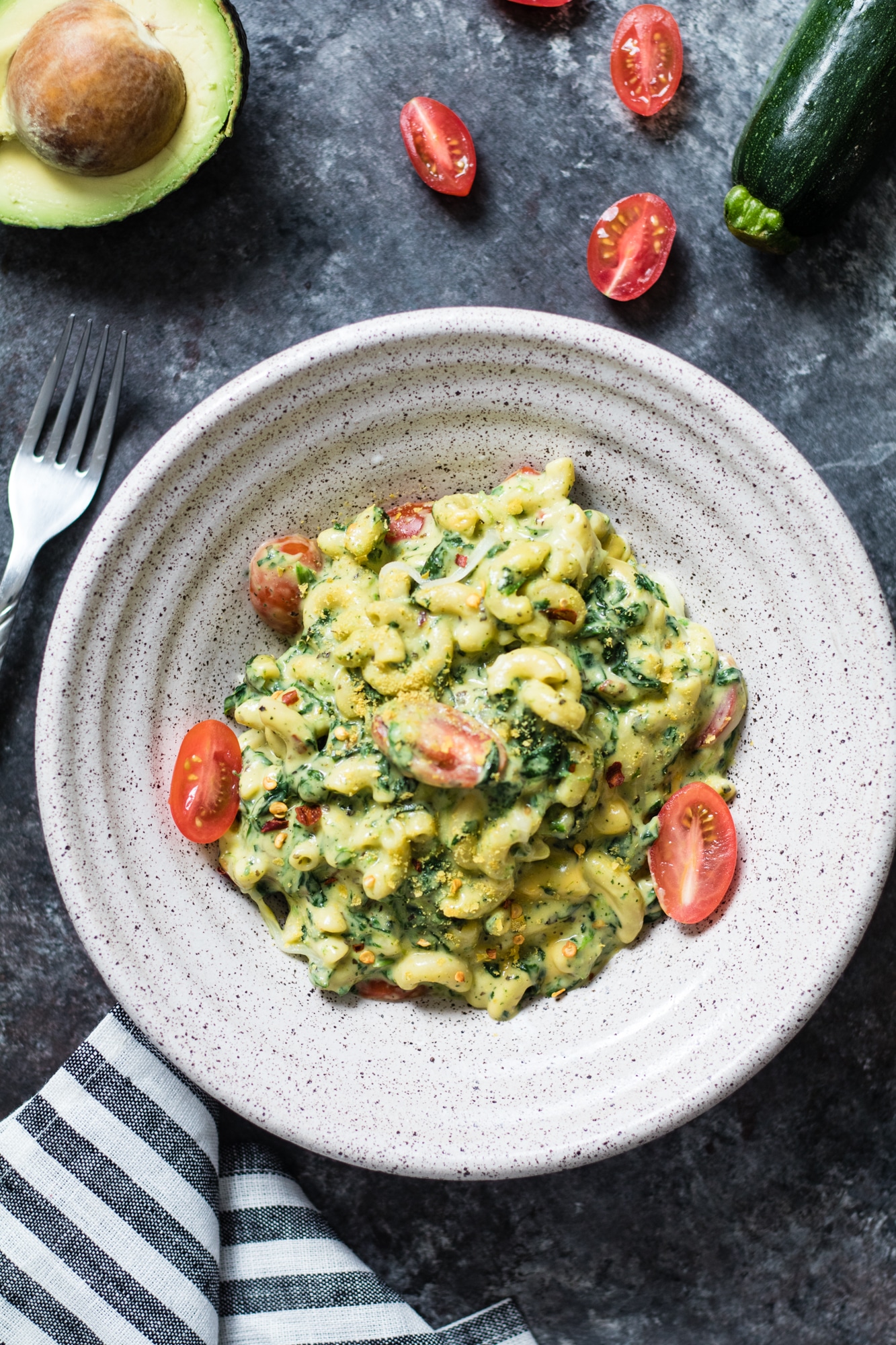 The tastiest macaroni and cheese I have made yet…
When I heard about "green mac" I was instantly intrigued. I found out about this craze from The Scarlet Pepper's Green Mac & Cheese recipe. She said it is a recipe her kids totally love…so I guess I am a kid at heart still because I was drooling simply reading the ingredients!
I am a fam of finding ways to sneak veggies into foods that seem 'unhealthy.' (The dietitian in me can't help it). I have made a sweet potato mac and a butternut squash mac as well so I am super excited to be sharing this macaroni and cheese recipe with you now!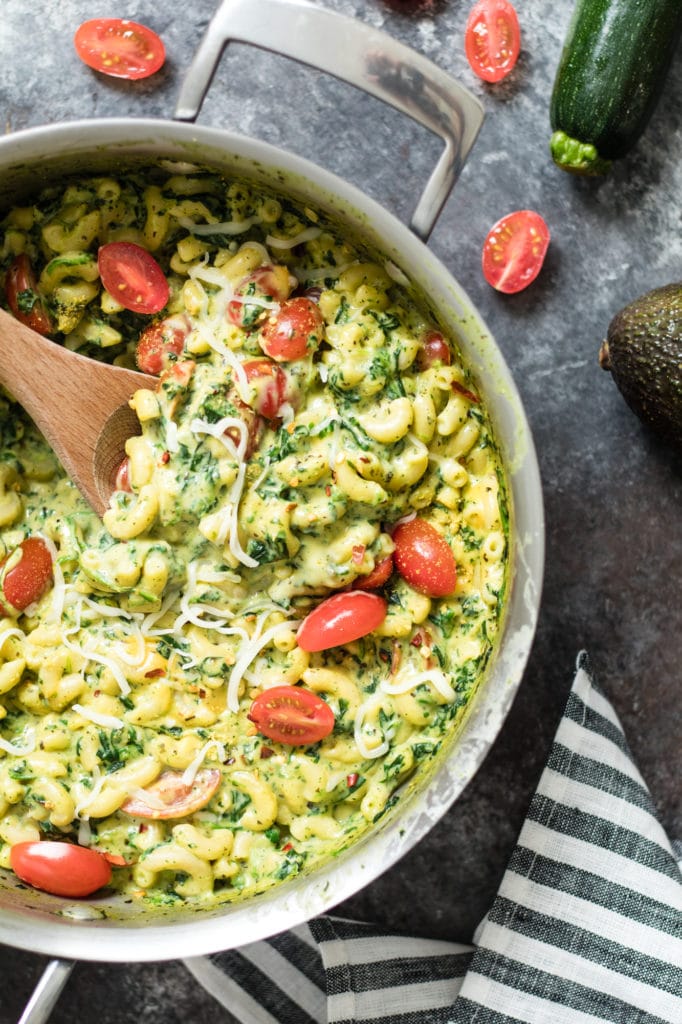 In addition to the zucchini, avocado, and frozen spinach, I used nutritional yeast.
Information on nutritional yeast:
Rich in B vitamins
High in protein (great source for vegans)
2 Tbsp. = 8-10g protein and 5-9 carbohydrates, 4-5 g fiber
Strong flavor – some saw it is similar to actual cheddar cheese
It does make for a great substitute for cheese if you live a vegan/vegetarian lifestyle!
Ways to use it: Sprinkled on salads, mixed with quinoa, rice, potatoes, popcorn, roasted veggies, or in this recipe!
OK ok okaaaay, so if you read the ingredients below you WILL see that I used Velveeta. Yep. Sue me. It takes any macaroni and cheese recipe to the next level and I know you know it!! Only 1/2 cup is used. It's OK to splurge. After all, this is macaroni and CHEESE!

[Tweet "Green macaroni and cheese made with zucchini and avocado…kid-friendly…and adults are welcomed too! |Krollskorner.com"]
How do you amp up the nutrition in your favorite go to foods? And tell me – do you like nutritional yeast?!
Let's make some mac and cheese…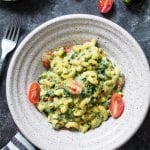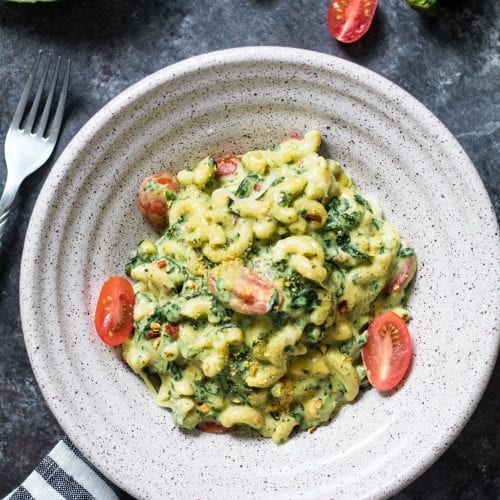 Zucchini and Avocado Mac & Cheese
The best green mac you'll ever have! Zucchini, avocado, spinach, and all the cheese!
Print
Ingredients
1

zucchini, fresh

2

cup

elbow macaroni

1/2

cup

fresh cherry tomatoes

halved

1

cup

frozen spinach

1

bunch fresh basil

1

large avocado

2

Tbsp.

unsalted butter

1

Tbsp.

All-Purpose flour

1/2

cup

skim milk

1/2

cup

Velveeta shredded cheddar cheese

2

Tbsp.

shredded mozzarella cheese

2

Tbsp.

Nutritional Yeast

2

tsp.

red pepper chili flakes

salt and pepper TT
Instructions
Cook the macaroni according to package directions.

Chop zucchini into small pieces. Bring a medium pot of water to boil, boil for 15 minutes. Once boiled, drain water and puree in a food processor. Add in avocado and basil and blend again.

In a skillet over medium heat, mix 1 Tbsp. butter and flour to make a roux. Then add in the milk, zucchini/avocado mixture, spinach, and another Tbsp. butter. Stir until mixed well.

Add in the cooked macaroni, halved cherry tomatoes, Velveeta, nutritional yeast, and seasonings. Mix well. Serve warm and top with mozzarella cheese.
Recipe Notes
If you are totally against Velveeta, you can make a basic white sauce instead:
Makes 1 cup:
2 tablespoons butter
2 tablespoons all-purpose flour
Pinch of salt
1 cup 2 % milk
pinch of turmeric for "cheese" color
Melt butter over medium heat in a small saucepan. Whisk in the flour, salt, and turmeric until smooth. Gradually whisk in the milk, adding it slowly, until the mixture just comes to a boil. Cook and stir for 2 minutes or until thickened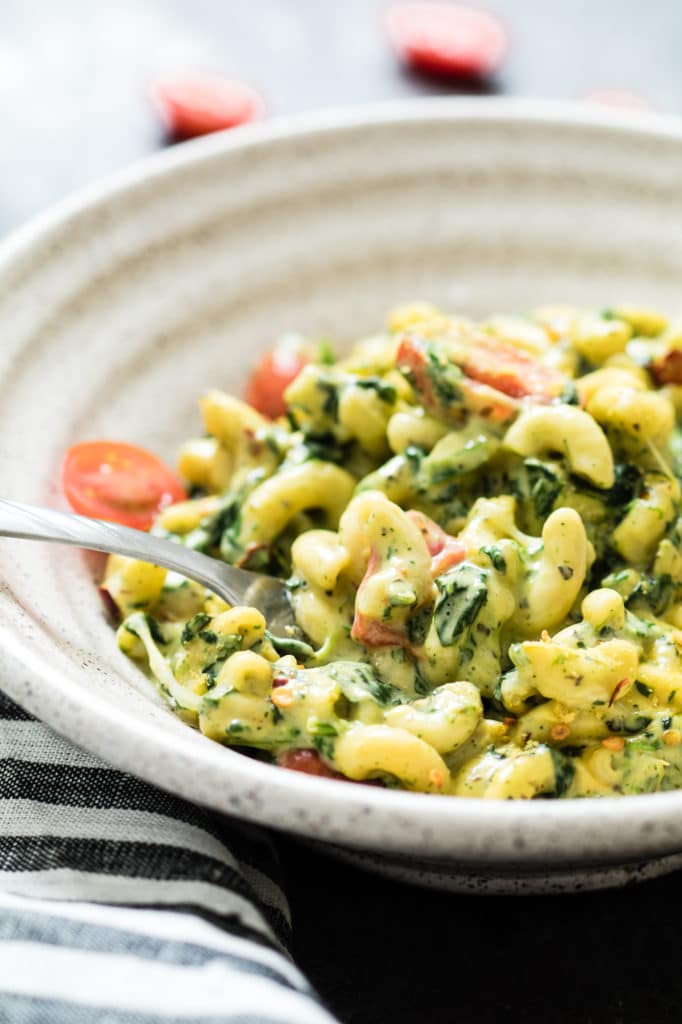 I'd love to see what you made!!
Share it with me on Instagram or Facebook and tag me @krolls_korner or use the hashtag #KrollsKorner!