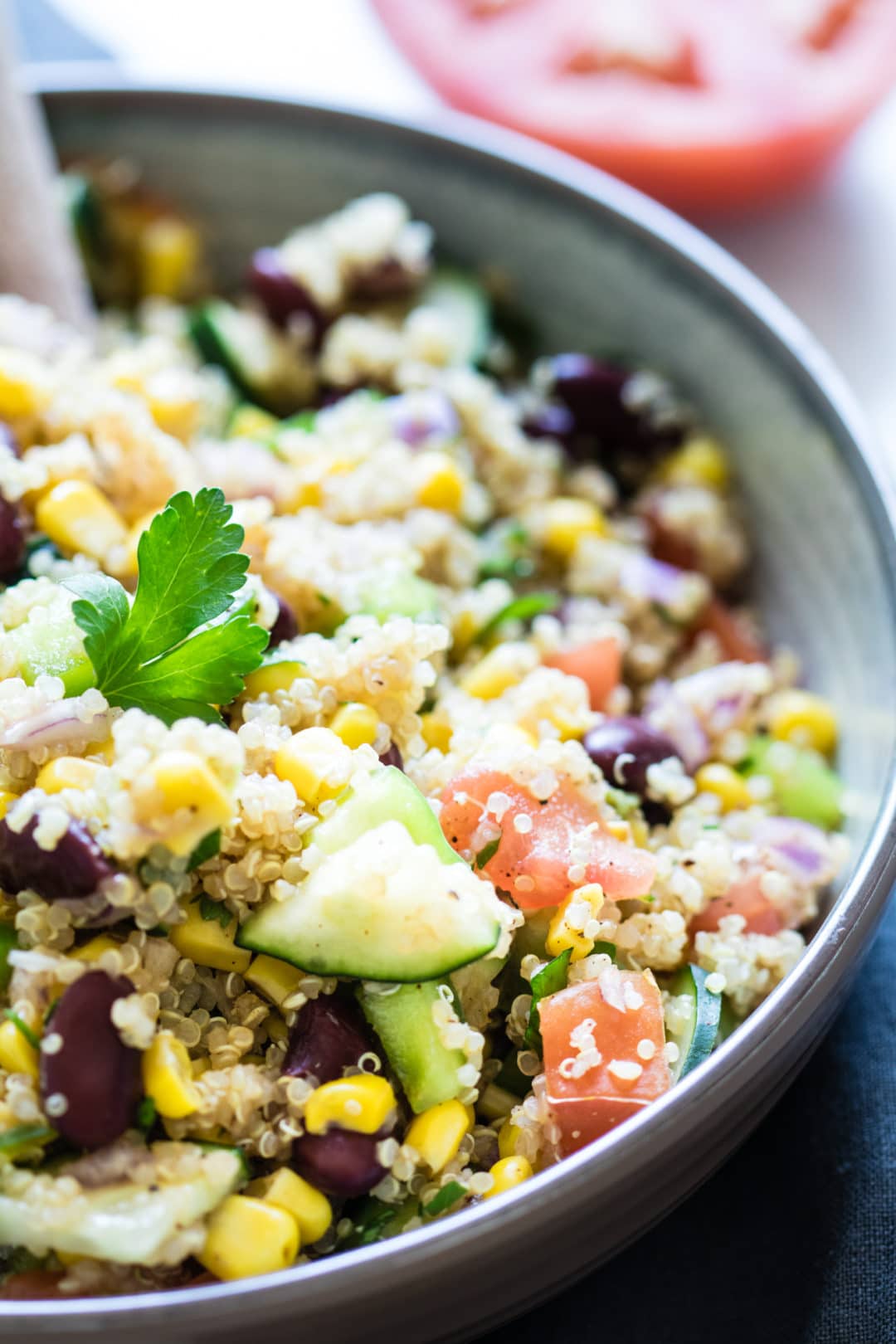 If you haven't given quinoa a try yet (which I don't know how you could avoid it these days) this Vegetarian Quinoa Power Salad is a great place to start!
Whether you are searching for a salad to make for lunches or just really wanting a new way to cook with quinoa you've found the right recipe. I love this vegetarian option because quinoa is high in protein and is such a great addition to salads (which usually are lacking protein, right!?) You can add nuts to this as well too – walnuts or pecans would be a great option!
Are you like, totally over quinoa?!
People might be moving on to other ancient grains like teff, spelt, or amaranth… but I still really enjoy this ancient grain. Quinoa is a complete protein since it has all nine essential amino acids. A 1-cup serving also provides about 20% of the iron and phosphorous needed on a daily basis. It cooks in about 15-20 minutes just like white rice – so it does not require that much labor. It's also best made a few hours in advance (or the day before is perfectly fine too) so it has time to sit in the fridge to let the flavors mix and so you can serve it nice & cold!
This post is for The Recipe Redux and our April 2018 Theme is Ready for Picnics! Picnic Day is April 23, so we are getting ready to eat al fresco. This Vegetarian Quinoa salad is a healthy recipe to bring to a picnic or to serve outside!
[Tweet "Picnicking or just love quinoa?! Power up with this Vegetarian Quinoa Power Salad! #TheRecipeRedux"]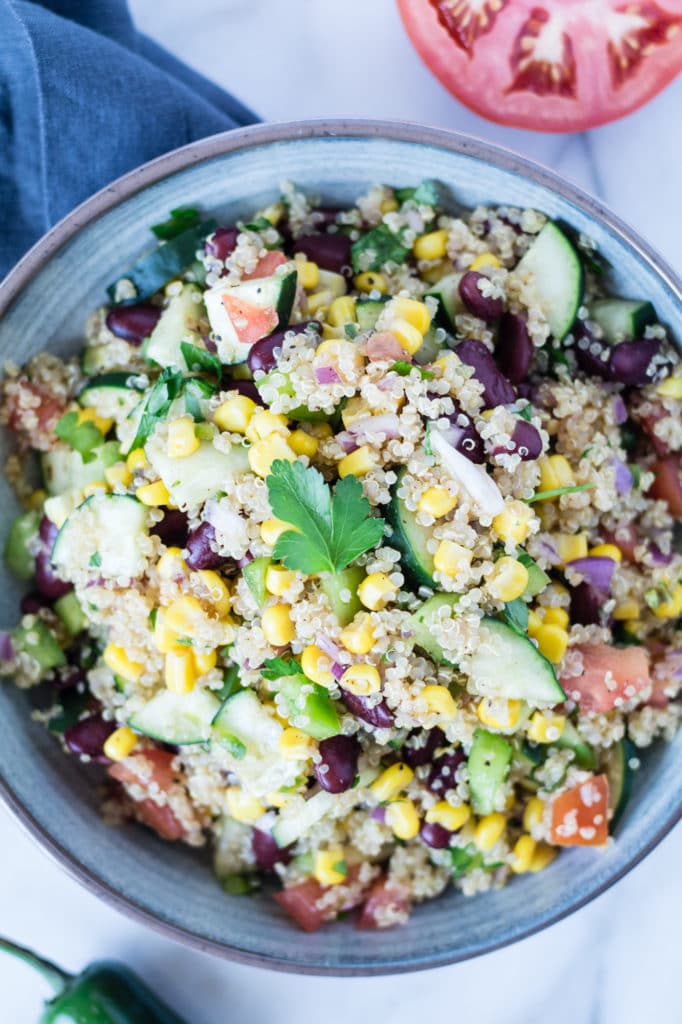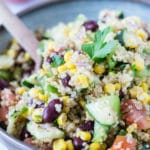 Vegetarian Quinoa Power Salad
Print
Ingredients
Ingredients
1

cup

quinoa - cook according to package

2

cups

vegetable broth

1

can

kidney beans (low sodium)

drained and rinsed

1

cucumber

chopped in quarters

3

roma tomatoes

seeds removed, diced

1

green bell pepper

seeds removed, diced

1

can

yellow corn

drained and rinsed

1/2

red onion

diced

1

jalapeno, fresh

diced

1/4

cup

chopped parsley

1

tsp.

chili powder

1/2

tsp.

cumin

salt and pepper to taste
Instructions
Cook quinoa according to package (except using vegetable broth, not water).

While quinoa is cooking, chop all veggies. In a large bowl, place cooked quinoa, veggies and seasonings and stir together. Place in fridge to get cool, and enjoy cold! EASY PEASY!
This weekend I am up to something pretty exciting…I am going through PILATES TRAINING! We have a new studio opening in June here in Clovis and and I am soo stoked for it! Training is Saturday and Sunday – I am anxious to learn something new and keep challenging myself with something different. I'm happy I made this quinoa salad because this girl is going to need some energy after 2 full days of training!


What are some of your favorite ways to eat quinoa?! Let me know in the comments and don't forget to tag @krolls_korner on Instagram so I can see all of the recipes you make!