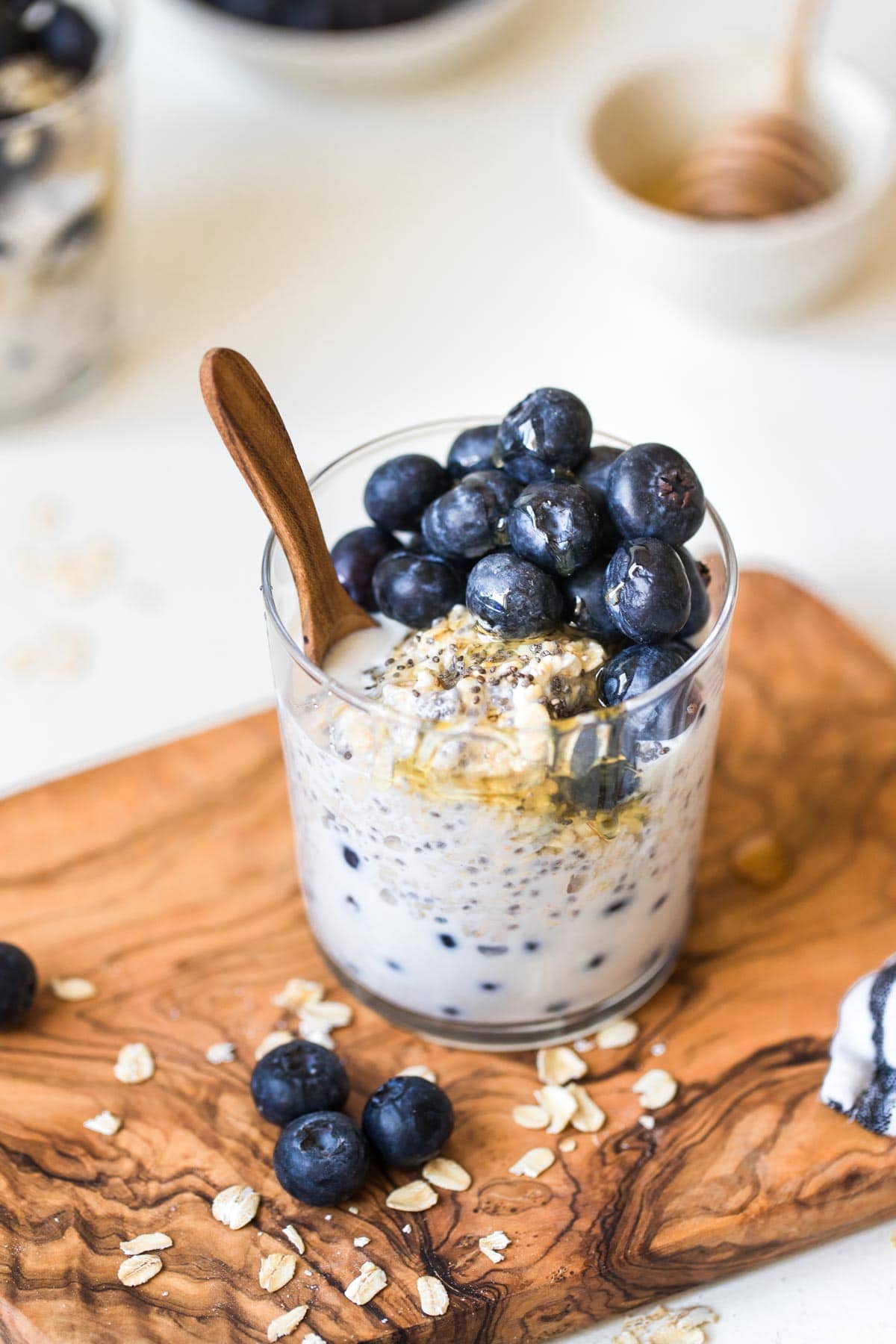 These no cook blueberry overnight oats satisfy all of my oatmeal cravings without having to cook over a hot stove.
In Fresno, it gets REALLY hot during the summer months. With summer inching closer and closer I do not want to have to give up oatmeal for breakfast!
Why I love overnight oats:
They are convenient – take with you on the go.
Easy to prep before bed, and easy clean up!
Provide fiber and can be heart healthy
SUPER delicious!
Can be eaten cold, or warmed up.
Flavor and varieties are endless!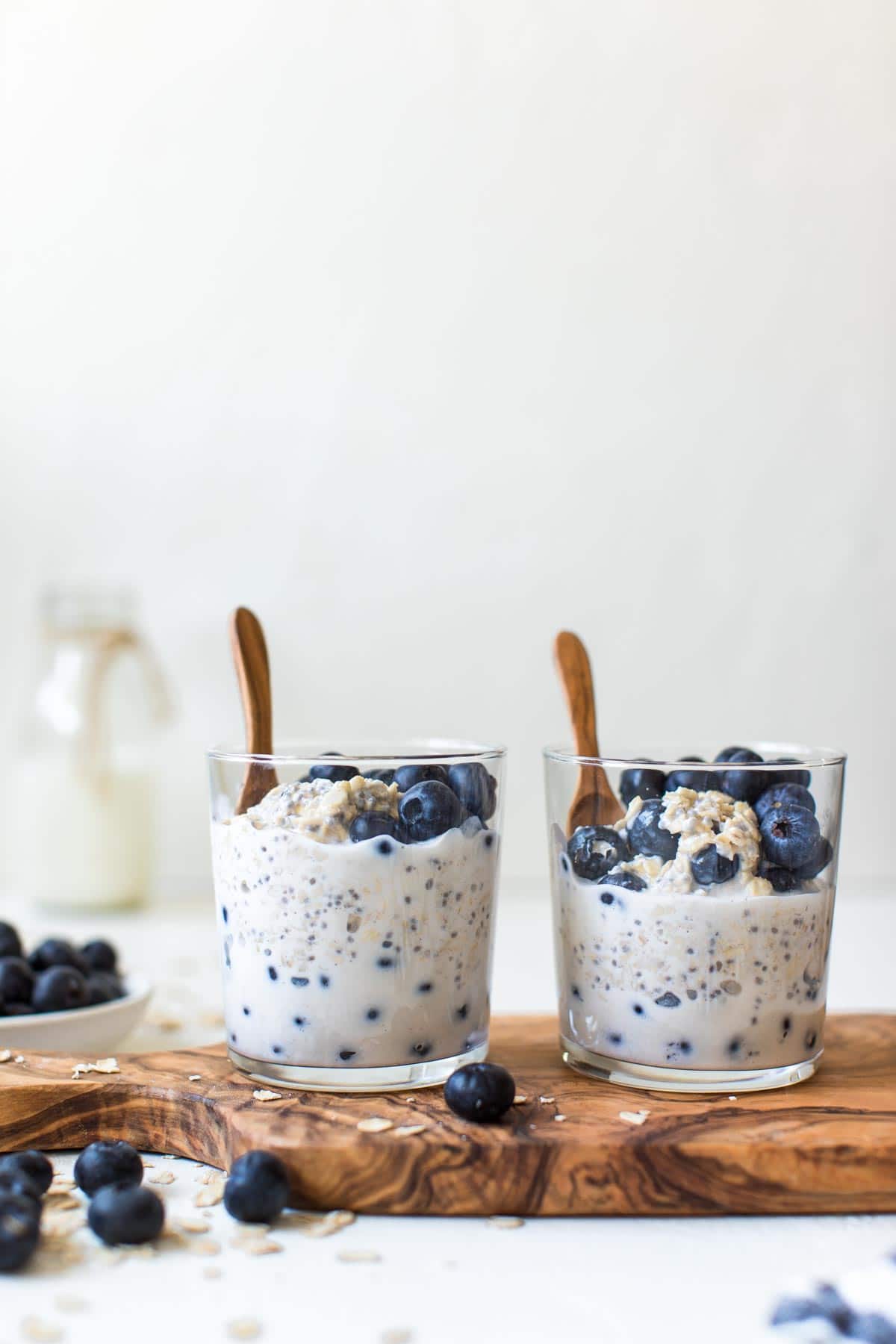 What you'll need:
Oats: You can make them with either the old-fashioned rolled oats or the quick oats. I have made them both ways for this recipe and love both. It comes down to preference (most recipes use old-fashioned rolled oats NOT the quick 1 minute).
Milk: Any milk! Cows milk, soy milk, almond milk, etc. Use non-dairy for vegan option.
Greek yogurt: helps to make these oats nice and creamy. Also adds a boost of protein. Feel free to use a flavored yogurt if you prefer. We usually opt for plain!
Blueberries, of course. You can use frozen, too!
Honey or maple syrup: It adds a yummy touch of sweetness but you can leave out if you prefer. Use maple syrup for vegan option.
Chia seeds: I love how the chia seeds thicken the texture of the oats. You can also use flaxseed if you don't have chia, or add in both!
Vanilla extract: I always add a teaspoon in my overnight oats because I love the hint of vanilla flavor.
Cinnamon and salt: a dash of cinnamon and salt for a little extra flavor.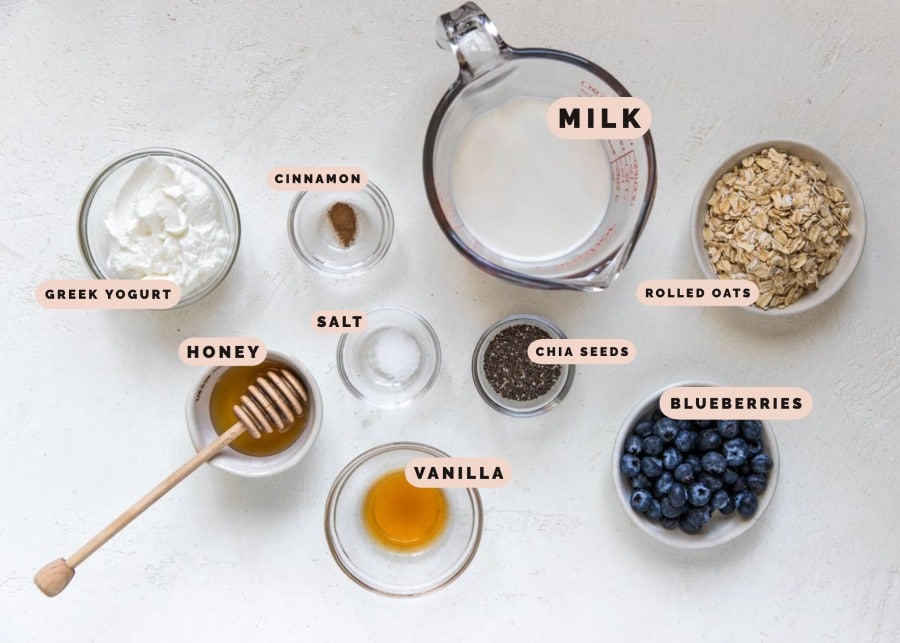 My overnight oats formula:
3/4 cup milk
1/2 heaping cup old fashioned oats
1/3 cup Greek yogurt
2 tsp chia seeds
1 tsp. honey and vanilla
pinch cinnamon and salt
(+ any mix ins you want!) In this case, blueberries!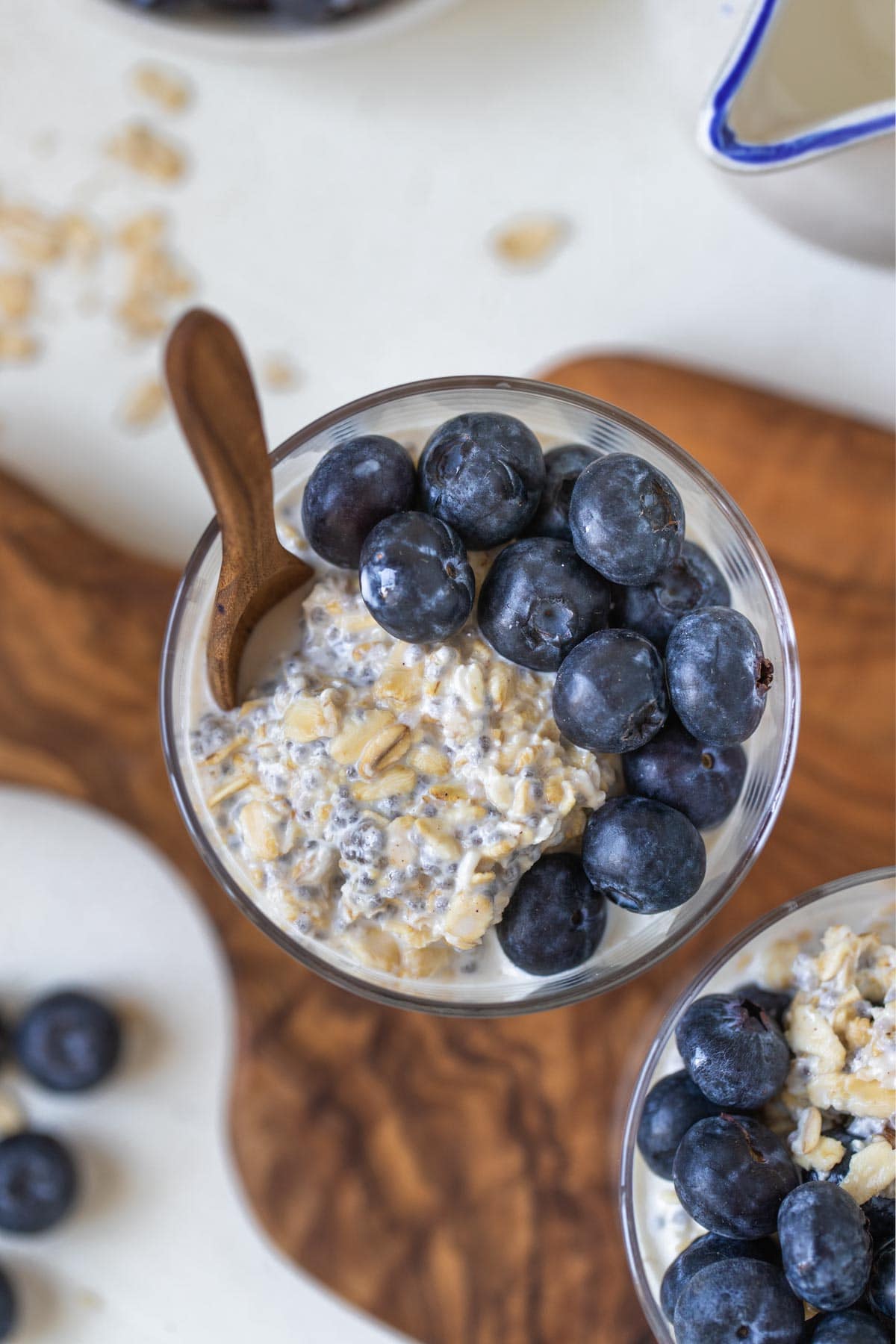 Step by Step directions:
It's really simple:
Pour all of the ingredients into a mason jar or small bowl.
Stir to combine and pop a lid on.
Place in the fridge for at least 3 hours or overnight!
Frequently Asked Questions
What type of oats are the best oats to use for overnight oats?

The best oats to use, in my opinion and many other overnight oat aficionados, are old-fashioned rolled oats.

Steel cut oats can be used but be prepared for a chewier texture and you may want to add a few tablespoons more milk. The steel cut oats won't break down as much as the rolled oats which is why you don't see them used in many recipes.

Instant oats however will break down very fast and after sitting overnight in the fridge they tend to disintegrate completely into the milk. They work, but result in a less creamy overnight oatmeal texture.

Do I really have to wait overnight until I can eat the oats?

Not necessarily! I have personally found at least 3 hours of fridge time is plenty.
Do I have to use plain Greek yogurt?

Nope! This recipe would be great with a blueberry yogurt or vanilla yogurt. This recipe is flexible, choose your favorite brand and flavor.
Do I have to use a jar?

Any bowl or container works well. I find a wide mouth jar works really well for preparing and eating the oats.
Topping ideas:
You can top with nuts, nut butter, more chia seeds, ground flaxseed, more honey, more blueberries or even other fruit like strawberries or bananas.
I love the versatility of the product and how it is an easy swap for dairy – I have enjoyed putting it in my coffee, smoothies and in overnight oats!
Pro Tip!
In the morning when you are ready to enjoy your oats – add in more milk if you feel like the oats soaked up all of the liquid! Add your additional toppings and you're set!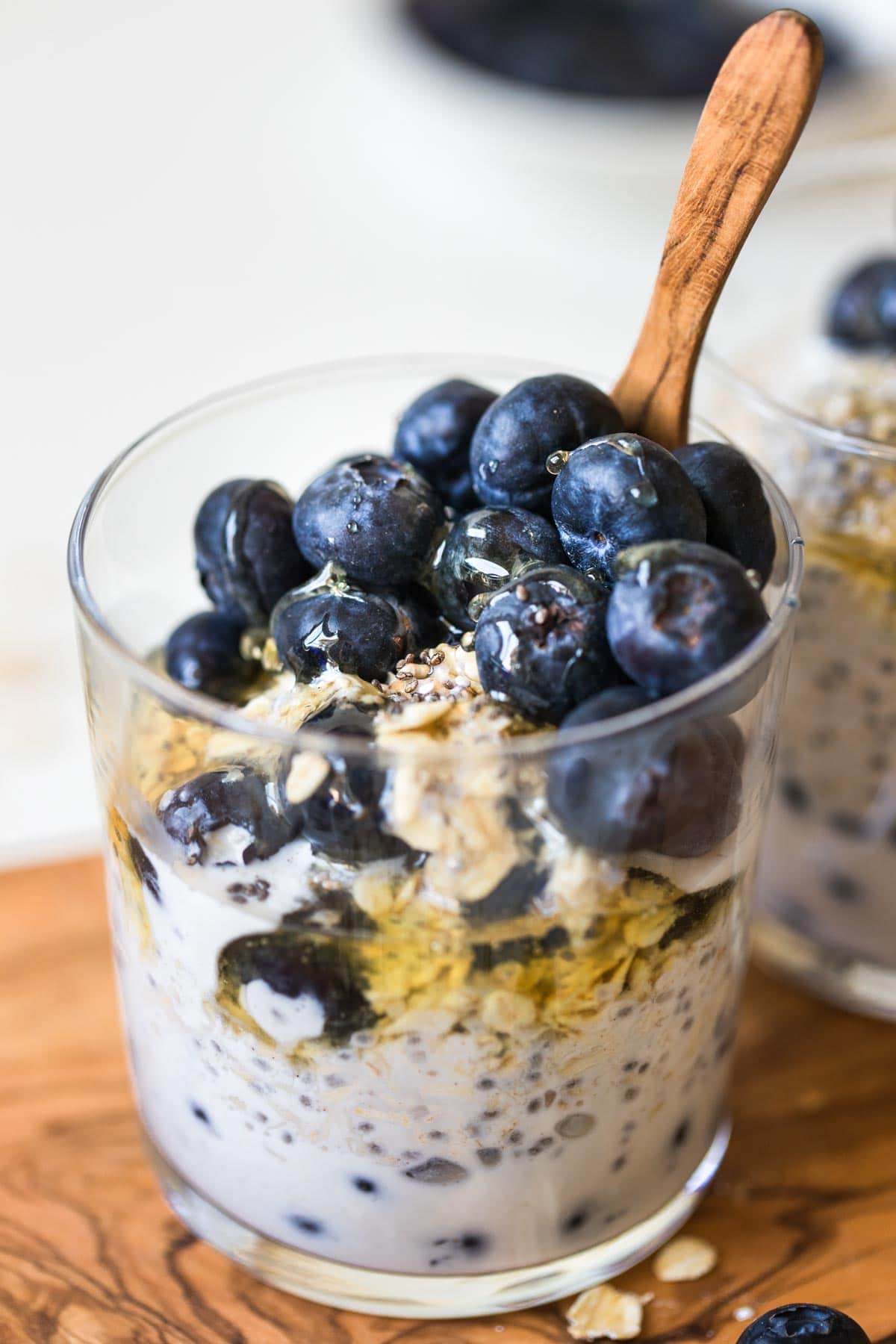 More Oatmeal Recipes You Will Love
Before You Begin! If you make this, please leave a review and rating letting us know how you liked this recipe! This helps our business thrive & continue providing free recipes.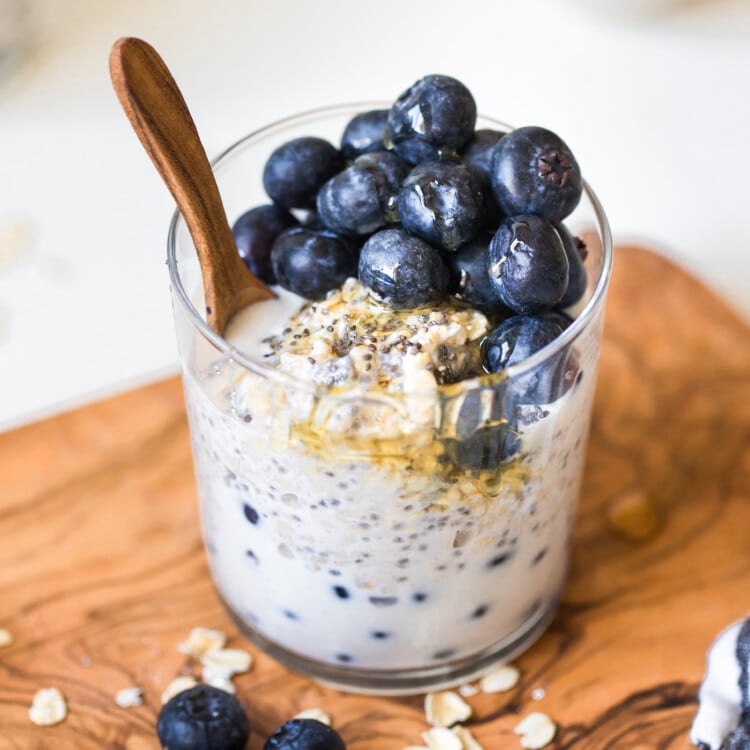 Blueberry Overnight Oats are great for busy mornings and this recipe is heart healthy, vegan friendly and super satisfying!
Ingredients
3/4

cup

Milk (I use cows milk but almond or other non-dairy milks work great too!).

1/2

heaping cup

old-fashioned rolled oats

1/3

cup

Greek yogurt

1/3

cup

fresh blueberries (frozen works too), plus more for topping

2

tsp.

chia seeds

1

tsp.

honey (add more for sweeter oats)

1

tsp.

vanilla extract

Dash of cinnamon

Dash of salt
Last step! If you make this, please leave a review and rating letting us know how you liked this recipe! This helps our business thrive & continue providing free recipes.
Instructions
In a large mason jar or small bowl, mix all of the ingredients together. Stir well with a spoon, secure lid on the jar and place in the fridge for at least 3 hours or overnight.

Enjoy the next morning with your favorite toppings: honey, more blueberries, nuts, or nut butter are a few of my favorite options.
Notes
Alter the recipe as needed by adding more milk for wetter oats, or adding more chia seeds or ground flaxseed for thicker, more pudding like oats. Add 1-2 Tbsp. protein powder or collagen for a protein boost!
Nutrition Information
Serving:
1
jar
,
Calories:
273
kcal
(14%)
,
Protein:
11.8
g
(24%)
Wanting a few other variations of this recipe?
Here are some of my favorites that I love to prepare for breakfast too!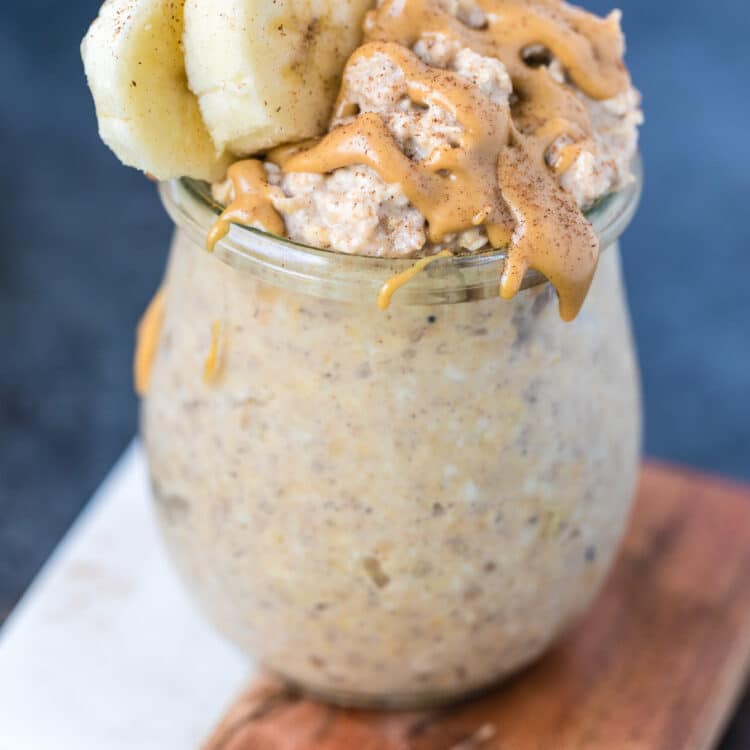 Peanut Butter Overnight Oats
Peanut butter overnight oats have essentially the same ingredients as above but without the blueberries: 1/2 cup cup oats, 3/4 cup milk of choice, 2 tsp. chia seeds, 1 tsp. vanilla extract, 2 Tbsp. peanut butter (or nut butter of choice), 1 Tsp. honey (but I always like to add a little extra for sweetness).
When ready to enjoy the next morning top with cinnamon, banana, and more nut butter.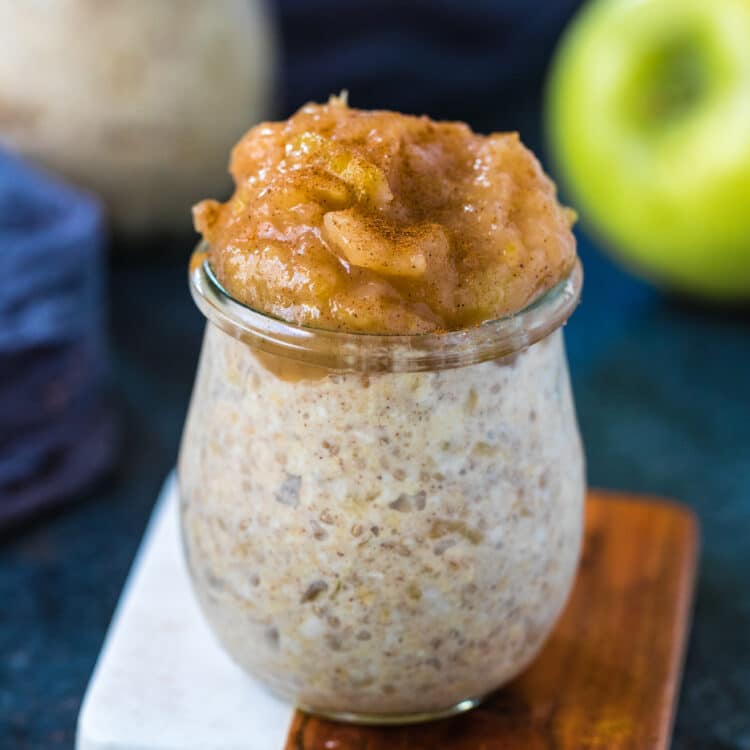 Applesauce Overnight Oats
Make my no sugar added homemade applesauce and used it in these applesauce overnight oats. SO good.
Mix together 1/2 cup cup oats, 3/4 cup milk of choice, 1/2 cup applesauce, 1/2 tsp. cinnamon or apple pie spice, 2 tsp. chia seeds, 1 tsp. vanilla extract, pinch of salt.
When ready to enjoy the next morning, top with more homemade applesauce.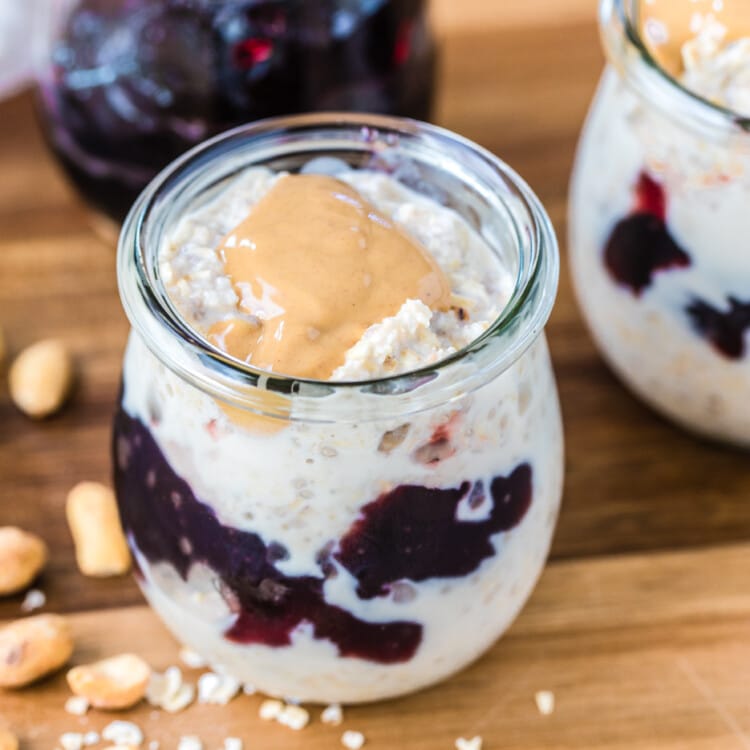 Peanut Butter and Jelly Overnight Oats
Make the same recipe as the peanut butter overnight oats (recipe above) but layer in strawberry or raspberry jam! Yum.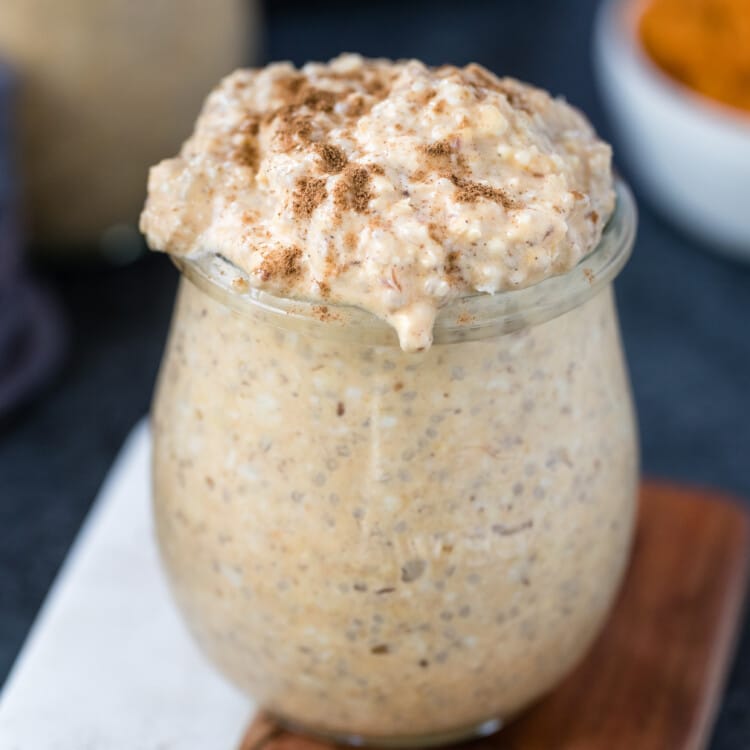 Pumpkin Pie Protein Overnight Oats