Overnight Blueberry Oats
Breakfast | Published on Sep 3, 2019 | Last modified on Sep 4, 2019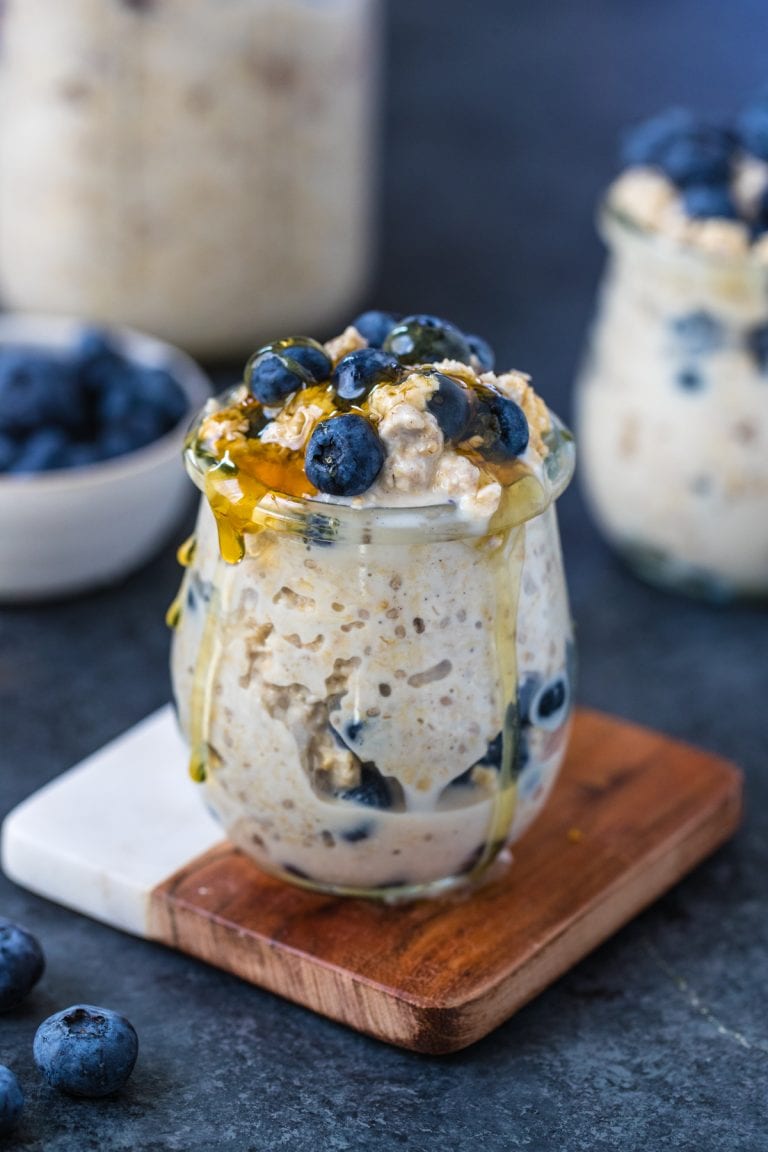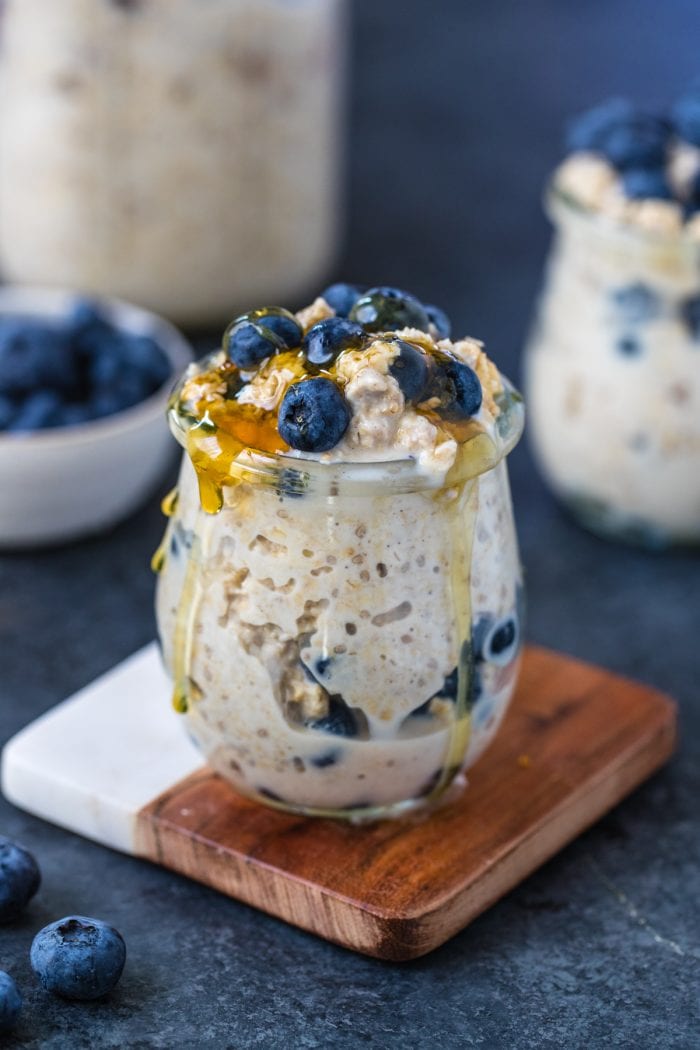 Overnight Blueberry Oats made are the perfect make ahead breakfast. With your milk of choice, fresh blueberries, oats, and a touch of honey, it's a delicious breakfast you'll be sure to make time and time again.
In Fresno, it gets REALLY hot during the summer months. With summer inching closer and closer I do not want to have to give up my oats!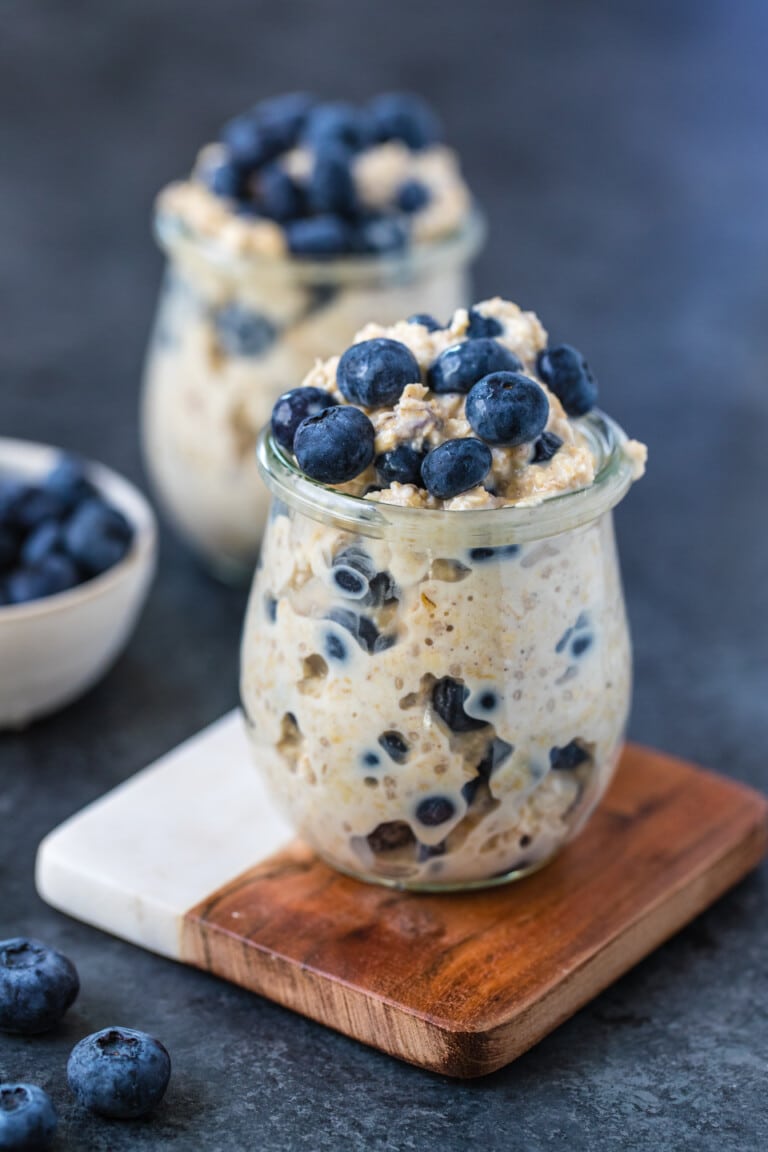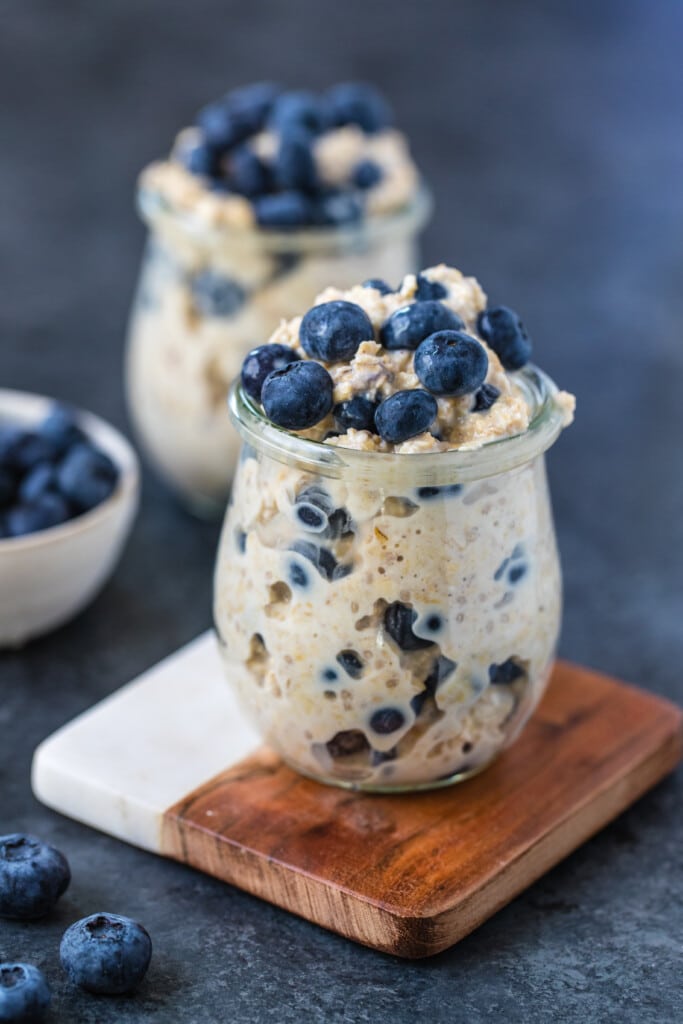 These no cook overnight blueberry oats satisfy all of my oatmeal cravings without having to cook over a hot stove.
What you'll need to make overnight oats:
Oats: You can make them with either the old-fashioned rolled oats or the quick oats. I made them both ways for this recipe and loved both. It comes down to preference!
But what type of oats are the best oats to use for overnight oats?
First off, do not use steel-cut, they won't break down and will be hard and unpleasant. Instant oats however will break down very fast and after sitting overnight in the fridge the tend to disintegrate completely into the milk, etc.
The best oats to use for the best results are old-fashioned regular or thick rolled oats.
Milk: Any milk! Cows milk, soy milk, almond milk, etc. Use non-dairy for vegan option.
Blueberries, of course.
Honey or maple syrup: It adds a yummy touch of sweetness but you can leave out if you prefer! Use maple syrup for vegan option.
Chia seeds: I love how the chia seeds thicken the texture of the oats.
Vanilla extract: I always add a tsp. in my overnight oats because I love the hint of vanilla flavor.
Cinnamon: a dash of cinnamon for a little extra flavor.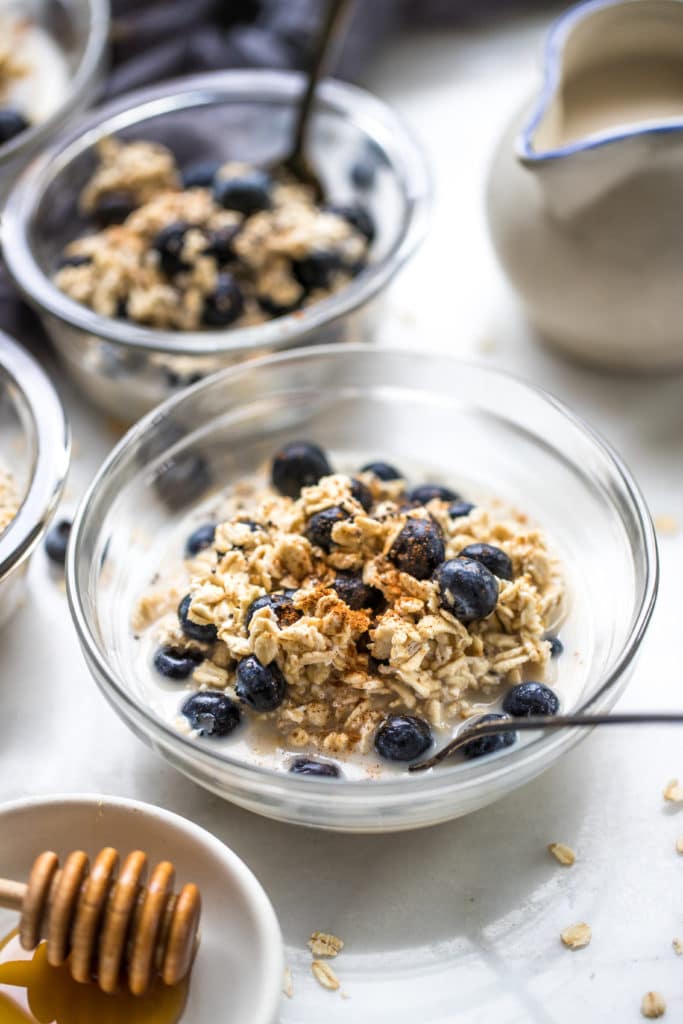 What kind of toppings go best with these overnight blueberry oats?
You can top with nuts, nut butter, more chia seeds, ground flaxseed, more honey, etc.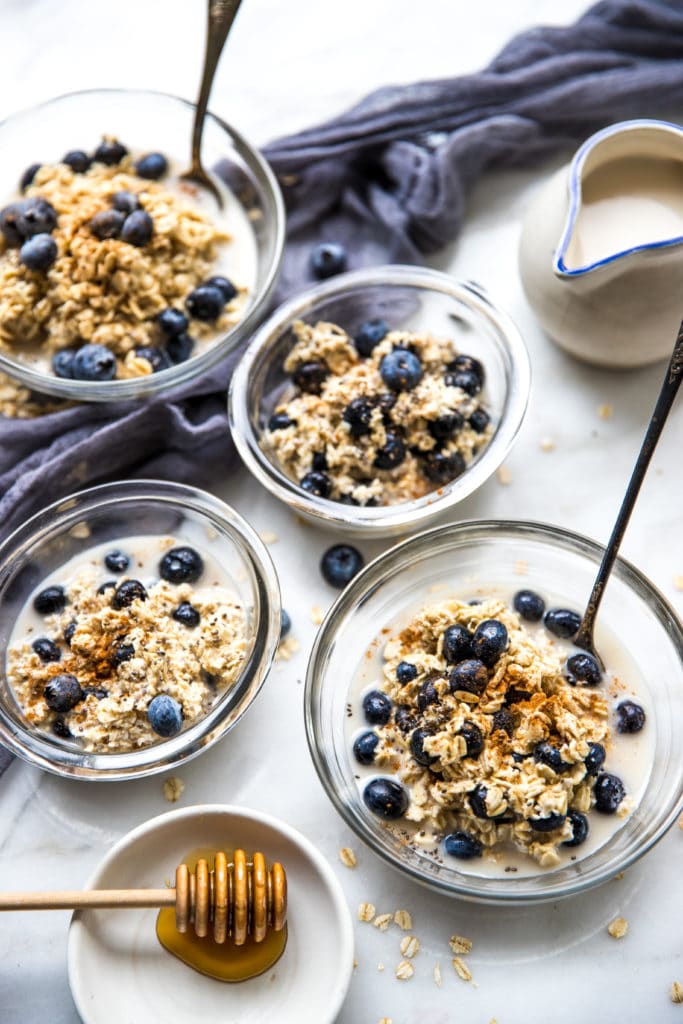 I love the versatility of the product and how it is an easy swap for dairy – I have enjoyed putting it in my coffee, smoothies and in overnight oats!
Why I love overnight oats
They are convenient – take with you on the go.
Easy to prep before bed, and easy clean up!
Provide fiber and can be heart healthy
And they are a fantastic reason to use Quaker's Oat Beverage!! If you like oats already, you'll be sure to love this recipe!
Pro tip: In the morning when you are ready to enjoy your oats – add in more milk if you feel like the oats soaked up all of the liquid! Add your additional toppings and you're set!
Overnight Blueberry Oats are NEW on the blog and are made with the your milk of choice, oats, blueberries and a touch of honey! #krollskorner Full recipe –> krollskorner.com
Click To Tweet
If you love this recipe be sure to tag @krolls_korner so I can see your picture on Instagram!
A heart healthy diet should include whole grains, fresh fruits and vegetables, low fat dairy, lean protein and legumes, and should limit fat, saturated fat and cholesterol and sodium. This recipe per 1 serving provides at least 1g soluble fiber. Experts recommend that to maintain good health, no more than 10% of your calories should come from saturated fat, and no more than 20-35% of daily calories should come from total fat.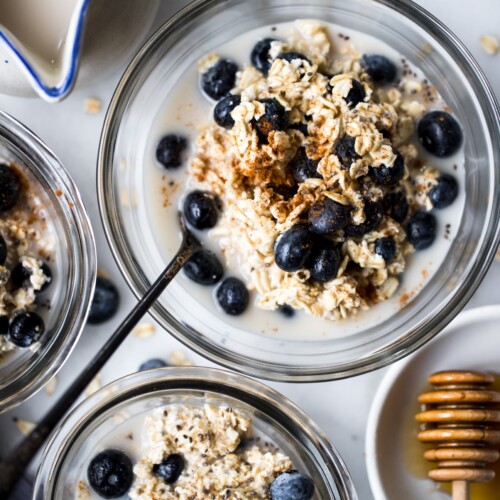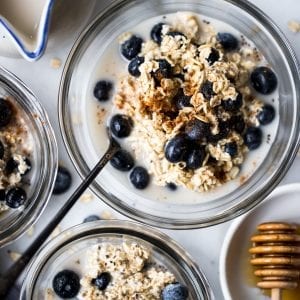 Overnight Blueberry Oats
Overnight oats are great for busy mornings and this recipe is heart healthy, vegan friendly and super satisfying!
Print Recipe
Pin Recipe
Rate
Let sit overnight:
3
hours
Equipment
Mason jar

Measuring spoons
Ingredients
1

cup

Milk of choice

1

cup

old-fashioned rolled oats

1

cup

fresh blueberries (frozen works too)

2

tsp.

chia seeds

1

tsp.

honey

1

tsp.

vanilla extract

Dash of cinnamon
Instructions
In 1 large mason mix all ingredients together. Stir well with a spoon, secure lid on jar and place

in fridge for 3 hours or overnight. Enjoy the next morning with your favorite toppings: honey, more blueberries, nuts, or nut butter are a few of my favorite options.
PIN THESE OVERNIGHT BLUEBERRY OATS FOR LATER!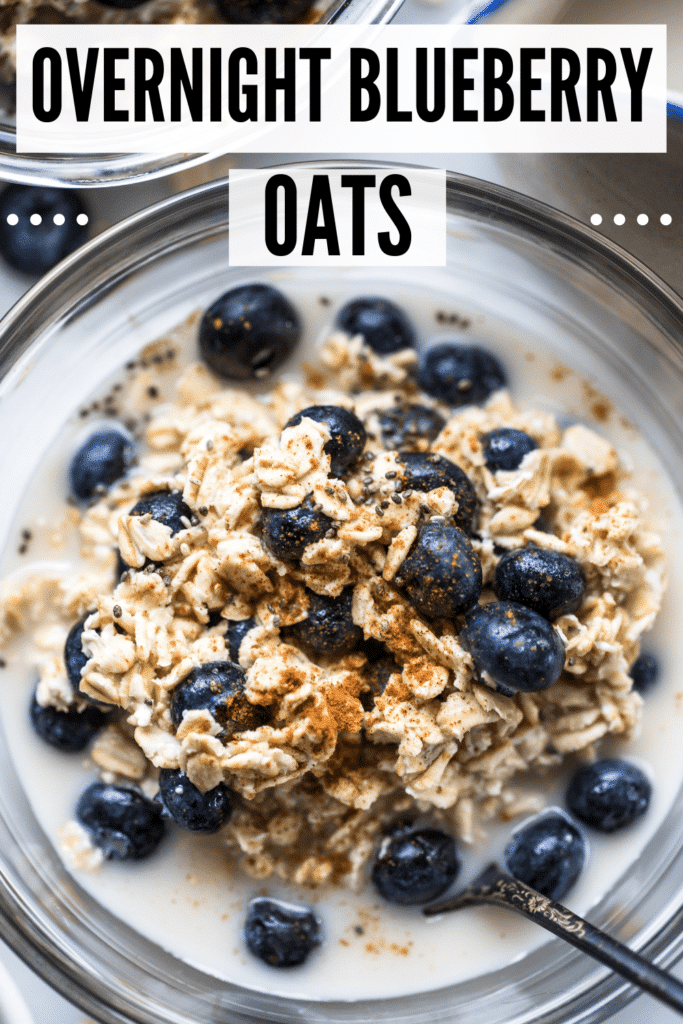 Wanting a few other variations of this recipe? Here are some of my favorites that I love to prepare for breakfast too!
Peanut Butter Overnight Oats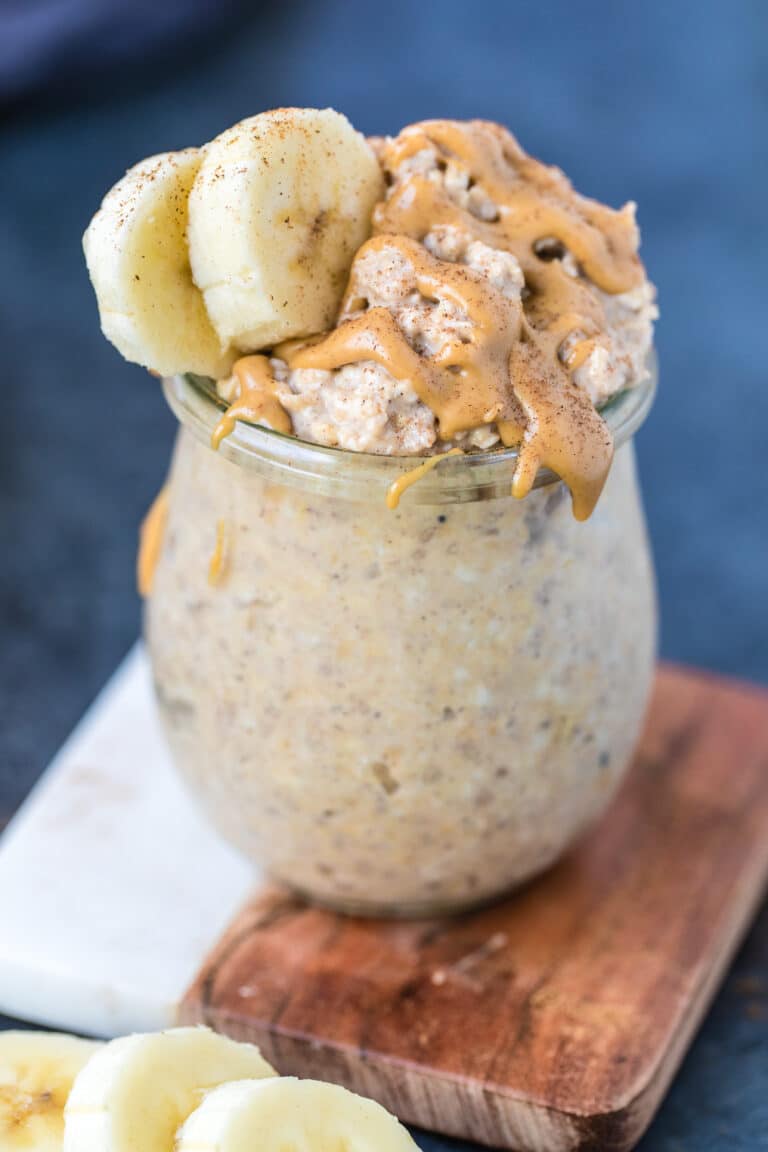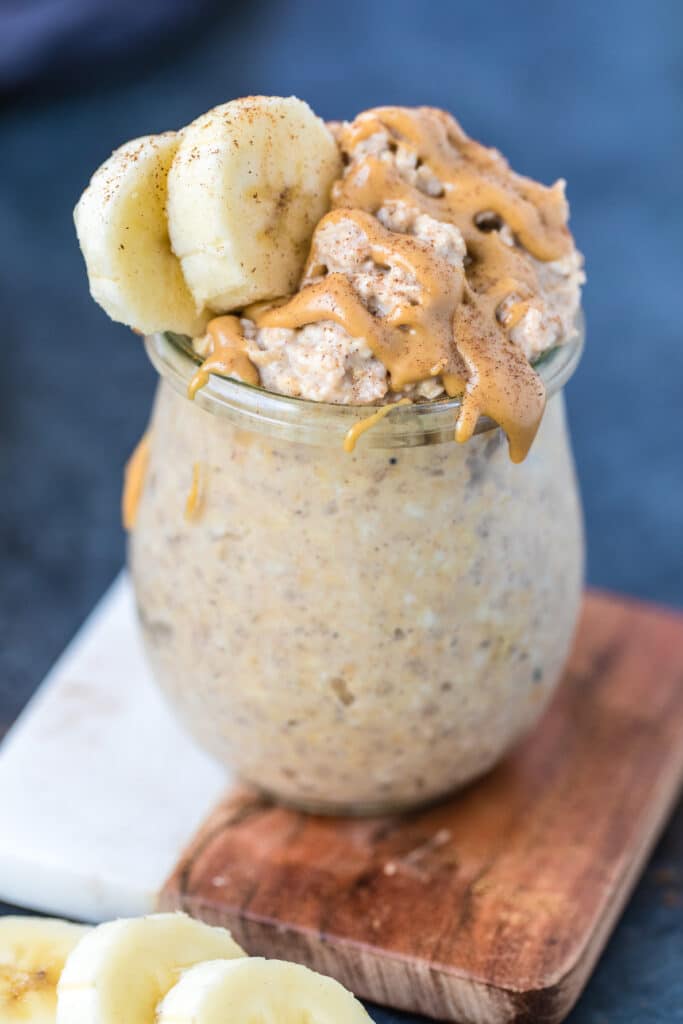 Peanut butter overnight oats have essentially the same ingredients as above but without the blueberries: 1 cup oats, 1 cup milk of choice, 2 tsp. chia seeds, 1 tsp. vanilla extract, 2 Tbsp. peanut butter (or nut butter of choice), 1 Tsp. honey (but I always like to add a little extra for sweetness).
When ready to enjoy the next morning top with cinnamon, banana, and more nut butter.
Applesauce Overnight Oats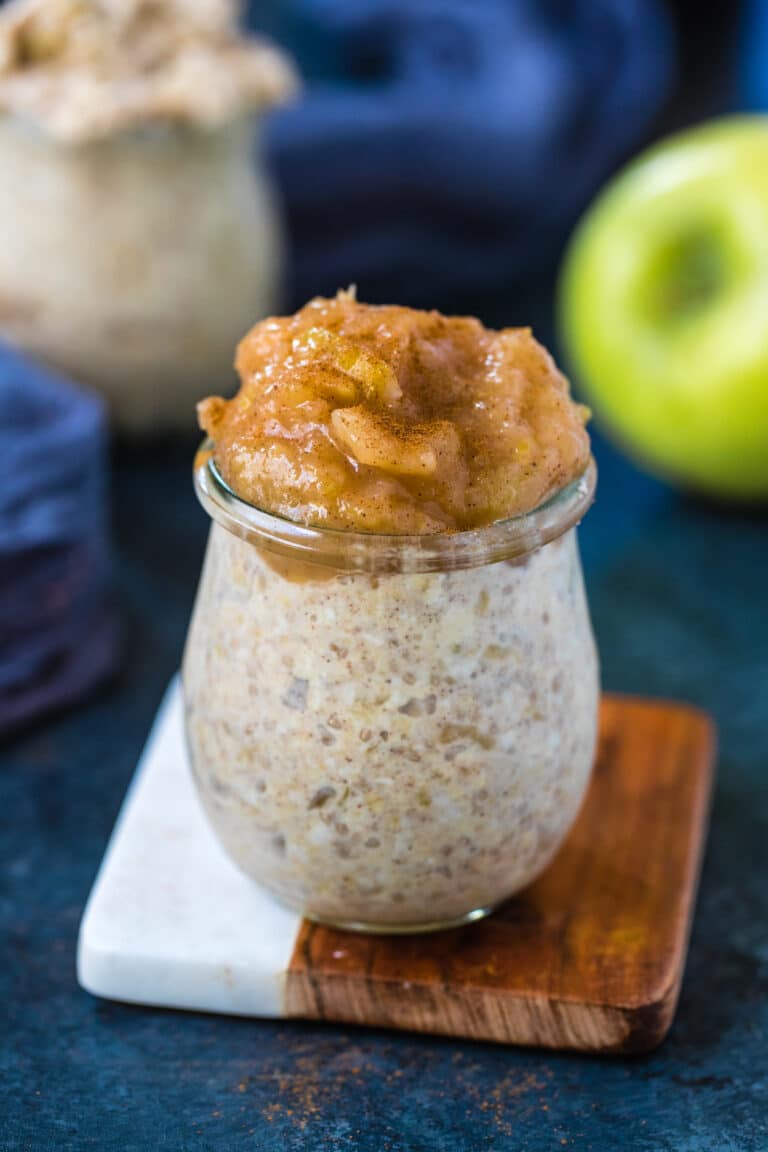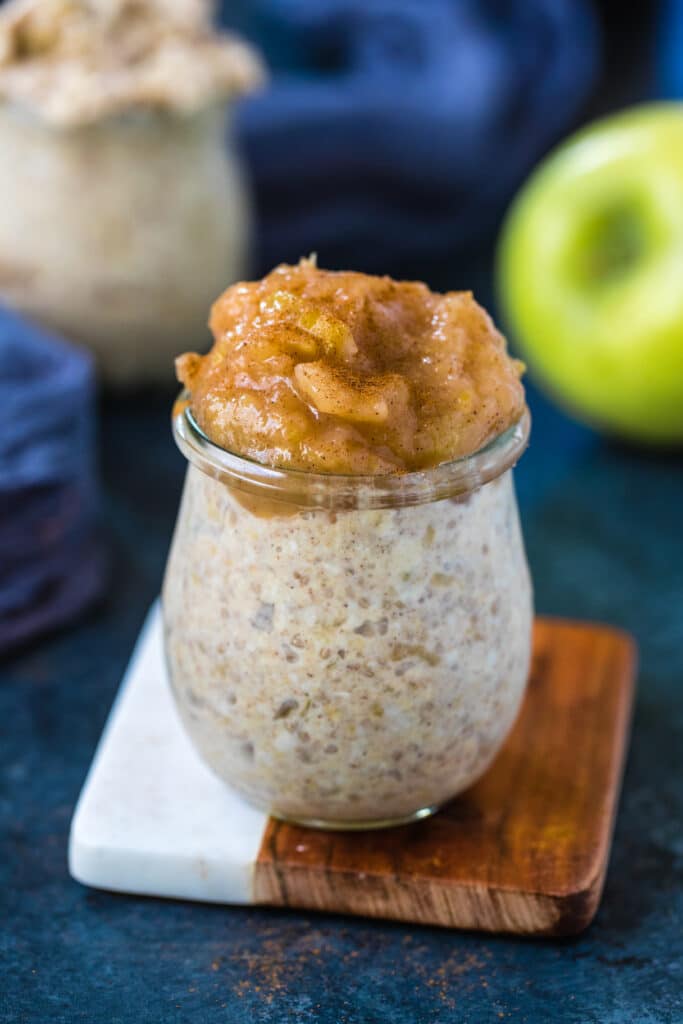 Make my no sugar added homemade applesauce and used it in these applesauce overnight oats. SO good.
Mix together 1 cup oats, 1 cup milk of choice, 1/2 cup applesauce, 1/2 tsp. cinnamon or apple pie spice, 2 tsp. chia seeds, 1 tsp. vanilla extract, pinch of salt.
When ready to enjoy the next morning, top with more homemade applesauce.
Peanut Butter and Jelly Overnight Oats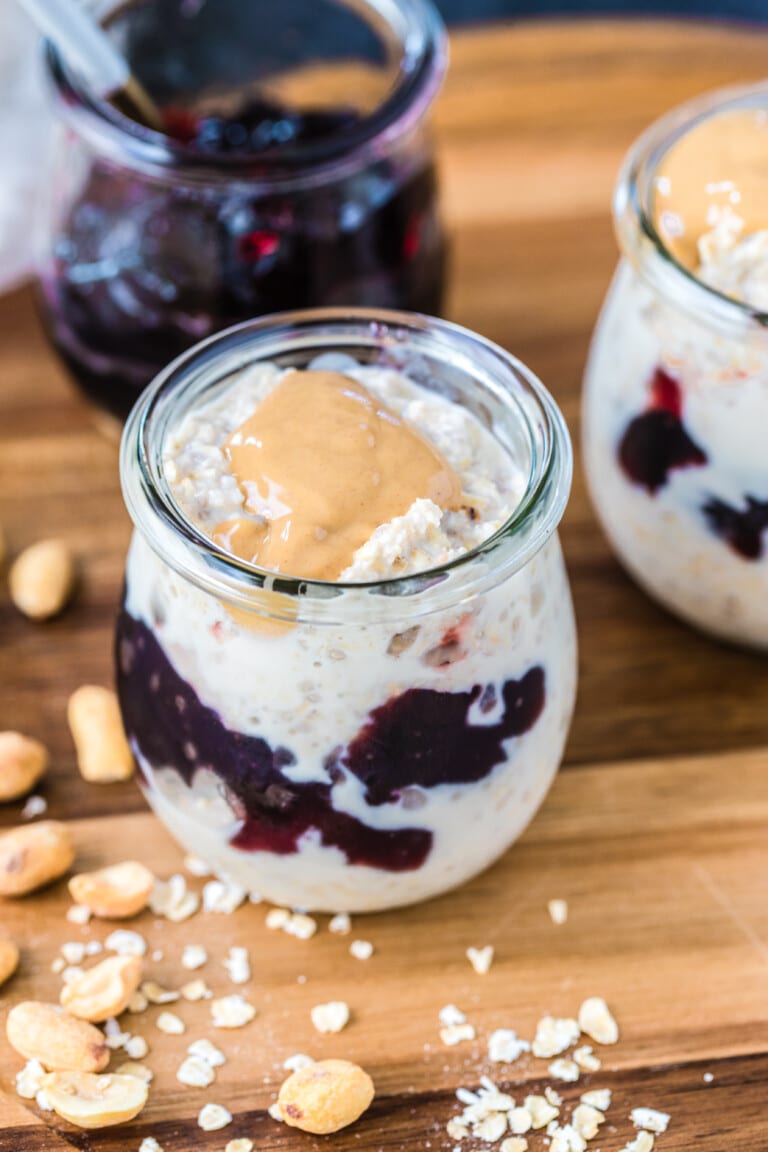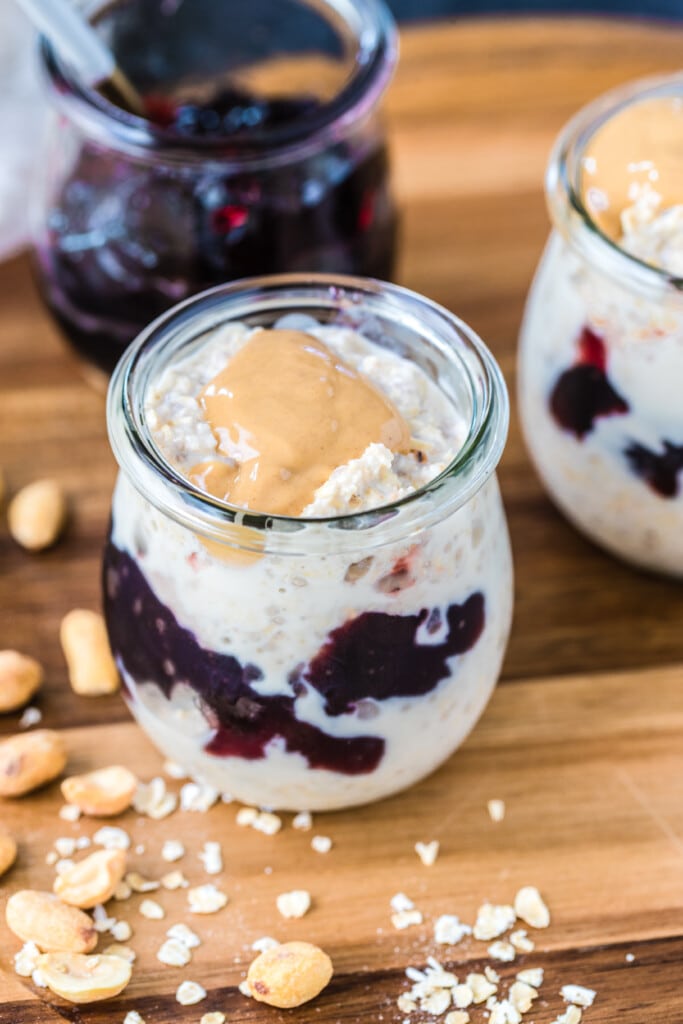 Make the same recipe as the peanut butter overnight oats (recipe above) but layer in strawberry or raspberry jam! Yum.
Pumpkin Pie Protein Overnight Oats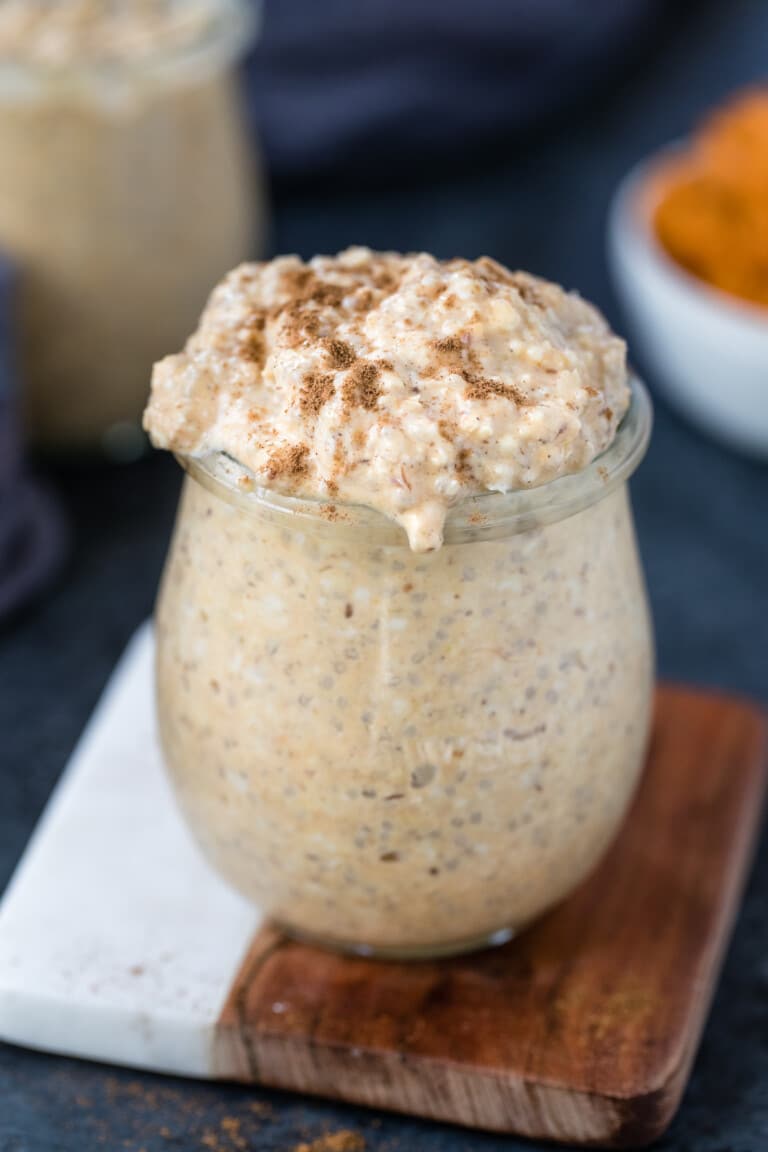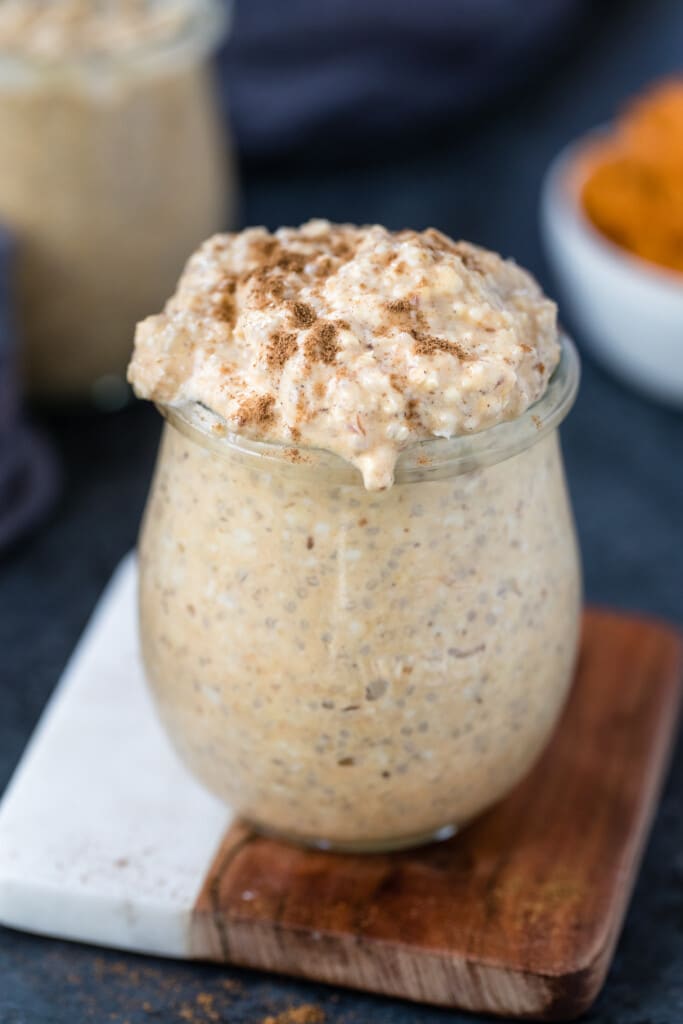 These Pumpkin Pie Protein oats are one of my favorites to make for the Fall.

I'd love to see what you made!!
Share it with me on Instagram or Facebook and tag me @krolls_korner or use the hashtag #KrollsKorner!