Breakfast
Overnight Blueberry Oats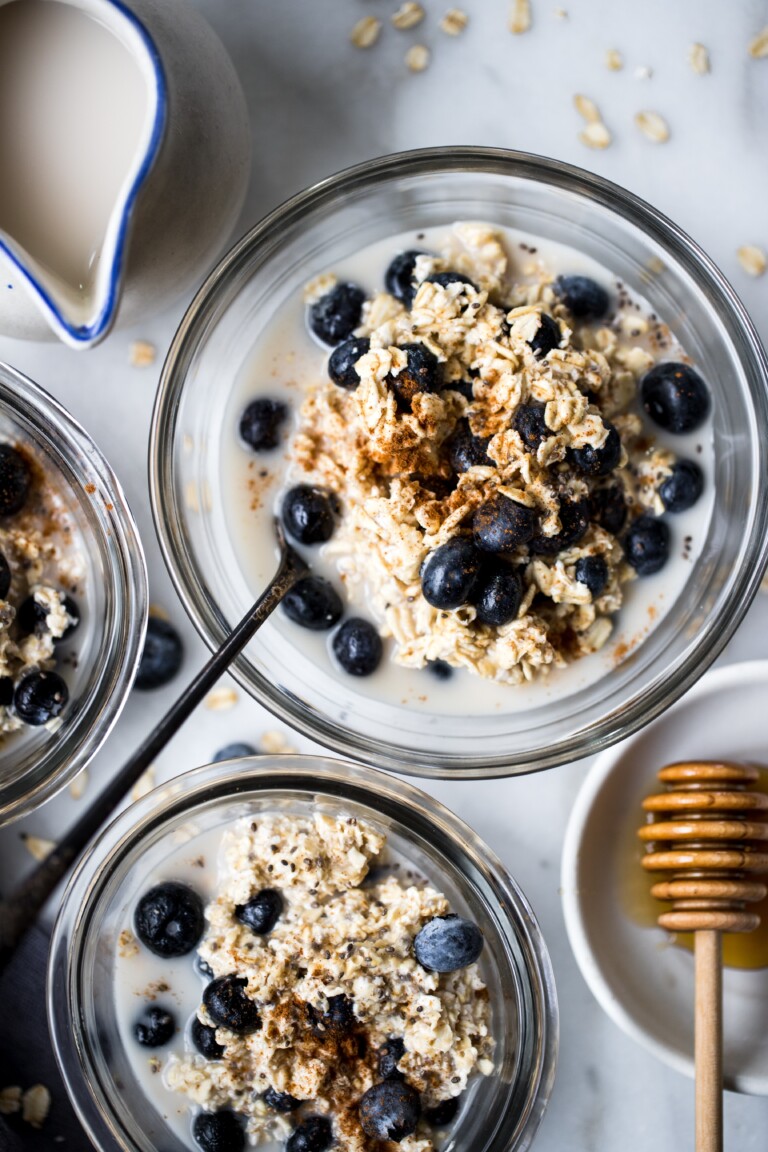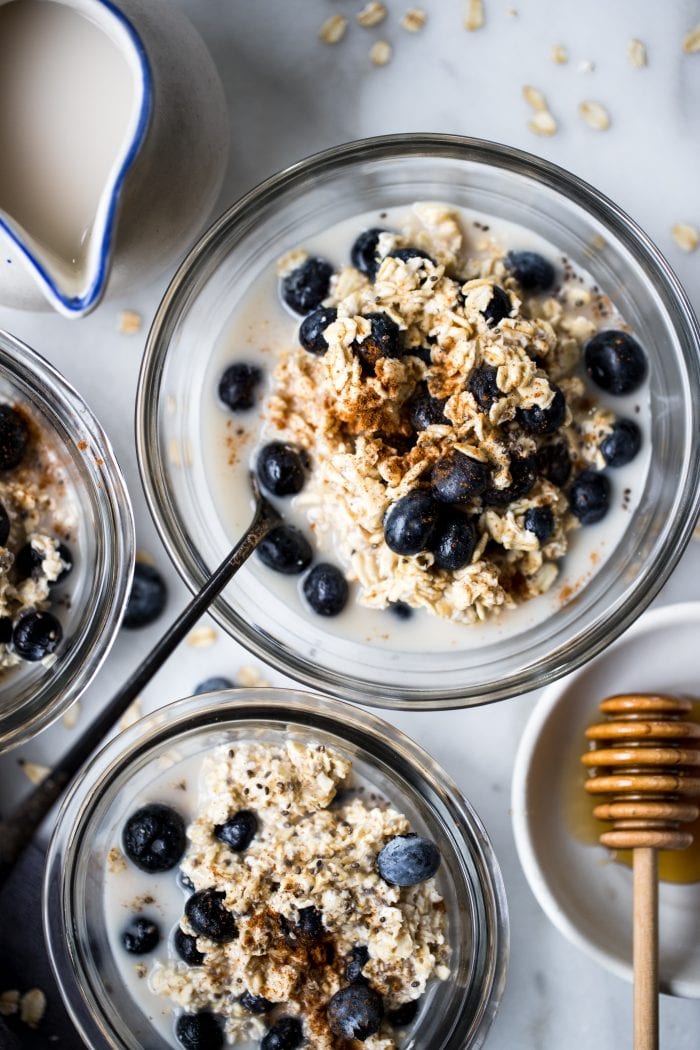 Overnight Blueberry Oats made with Quaker's NEW Oat Beverage is the perfect make ahead breakfast. With oat milk, fresh blueberries, oats, and a touch of honey, it's a delicious breakfast you'll be sure to make time and time again.
This post has been sponsored by The Quaker Oats Company. All thoughts and opinions are my own. Thank you for supporting the brands that keep Kroll's Korner running!
In Fresno, it gets REALLY hot during the summer months. With summer inching closer and closer I do not want to have to give up my oats!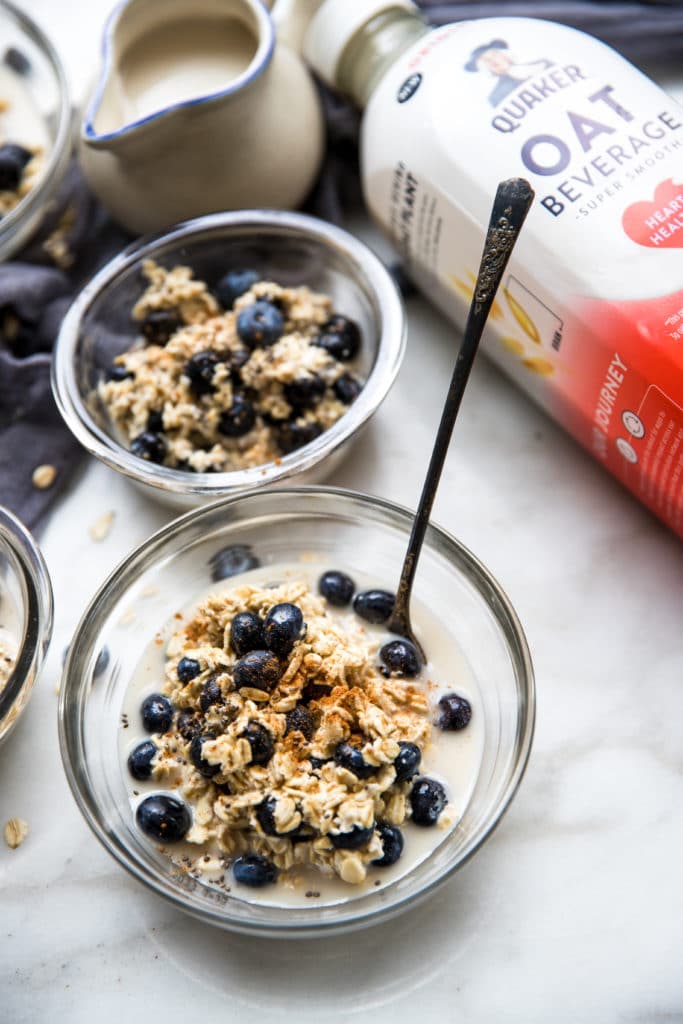 These no cook overnight blueberry oats satisfy all of my oatmeal cravings without having to cook over a hot stove.
What you'll need to make overnight oats:
Oats: You can make them with either the old-fashioned rolled oats or the quick oats. I made them both ways for this recipe and loved both. It comes down to preference!
Oat milk: Yes – oat milk! My new favorite in the stores. I'll tell you more about Quaker's Oat Beverage below.
Blueberries, of course.
Honey or maple syrup: It adds a yummy touch of sweetness but you can leave out if you prefer!
Chia seeds: I love how the chia seeds thicken the texture of the oats.
Vanilla extract: I always add a tsp. in my overnight oats because I love the hint of vanilla flavor.
Cinnamon: a dash of cinnamon for a little extra flavor.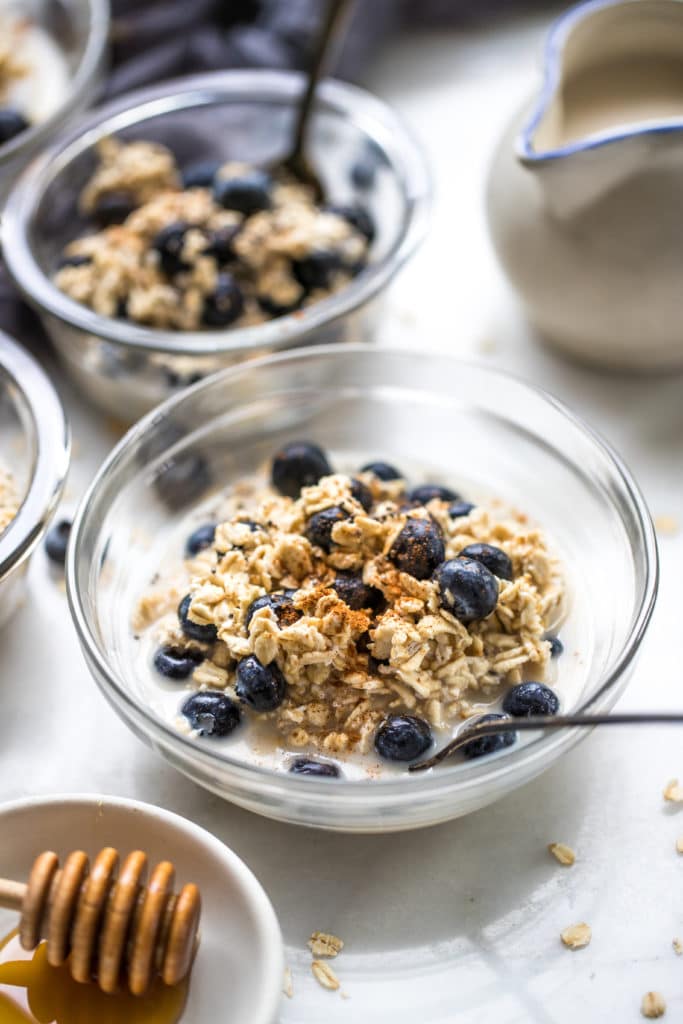 What kind of toppings go best with these overnight blueberry oats?
You can top with nuts, nut butter, more chia seeds, ground flaxseed, more honey, etc.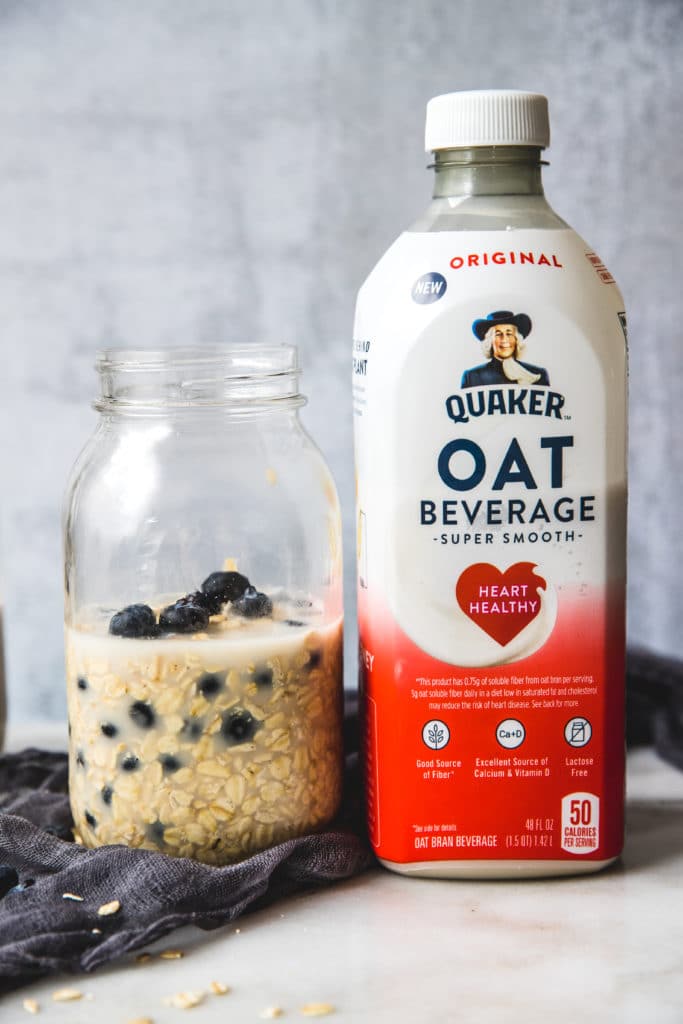 Oat Beverage? Tell me more!
Quaker's Oat Beverage is a heart-healthy, super smooth, plant-based beverage. Each 8 oz. serving offers .75 grams of soluble fiber called beta-glucan from oat bran.
Studies have shown 3 grams of soluble fiber daily from oat bran, as part of a diet low in saturated fat and cholesterol, may reduce the risk of heart disease.
Each 8 oz. serving also offers an excellent source of calcium and vitamin D, is a good source of fiber (from oat bran and chicory root), 30-50 calories and is a lactose free option!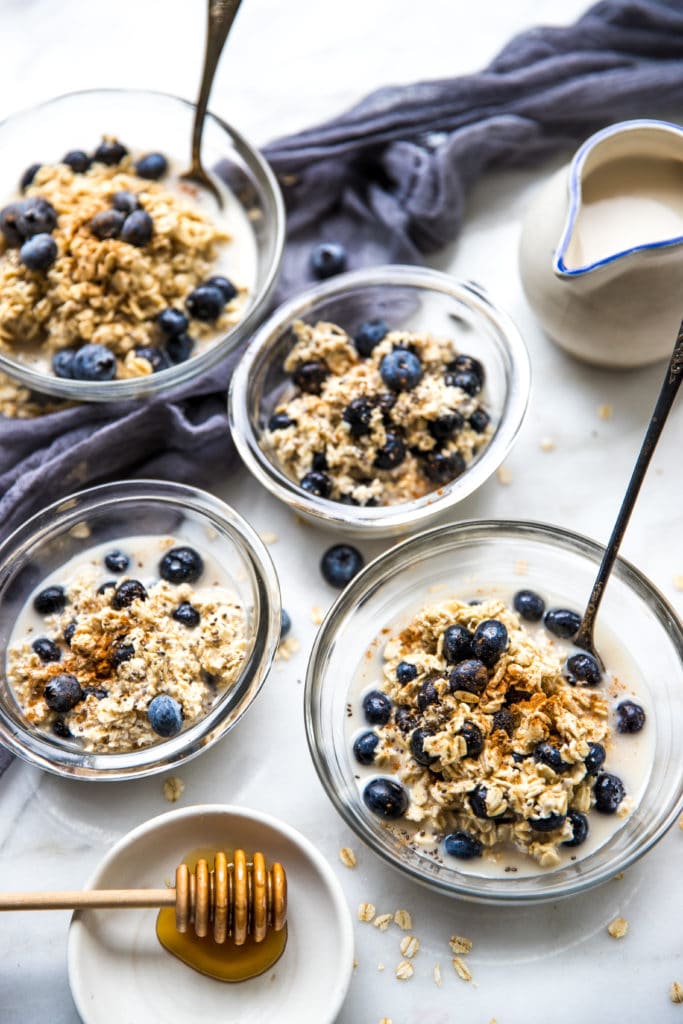 I used the Original flavor for this recipe, but the product is also available in Original Unsweetened and Vanilla in the refrigerated dairy section at your local grocery stores.
I love the versatility of the product and how it is an easy swap for dairy – I have enjoyed putting it in my coffee, smoothies and in overnight oats!
Why I love overnight oats
They are convenient – take with you on the go.
Easy to prep before bed, and easy clean up!
Provide fiber and can be heart healthy
And they are a fantastic reason to use Quaker's Oat Beverage!! If you like oats already, you'll be sure to love this recipe!
Pro tip: In the morning when you are ready to enjoy your oats – add in more oat milk if you feel like the oats soaked up all of the liquid! Add your additional toppings and you're set!
#ad – Overnight Blueberry Oats are NEW on the blog and are made with the new super-smooth, heart-healthy, plant based Oat Beverage from @Quaker! krollskorner.com
Click To Tweet
If you love this recipe be sure to tag @krolls_korner so I can see your picture on Instagram!
To find out more about Quaker's NEW Oat Beverage be sure to visit their website.
A heart healthy diet should include whole grains, fresh fruits and vegetables, low fat dairy, lean protein and legumes, and should limit fat, saturated fat and cholesterol and sodium. This recipe per 1 serving provides at least 1g soluble fiber. Experts recommend that to maintain good health, no more than 10% of your calories should come from saturated fat, and no more than 20-35% of daily calories should come from total fat.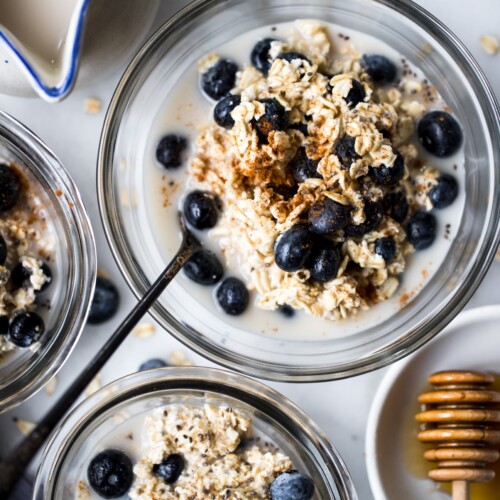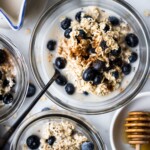 Overnight Blueberry Oats
Overnight oats are great for busy mornings and this recipe is heart healthy, vegan and super satisfying!
Print
Ingredients
1

cup

Quaker's Oat Milk

1

cup

old-fashioned rolled oats

1

cup

fresh blueberries (frozen works too)

2

tsp.

chia seeds

1

tsp.

honey

1

tsp.

vanilla extract

Dash of cinnamon
Instructions
In 1 large mason mix all ingredients together. Stir well with a spoon, secure lid on jar and place

in fridge for 3 hours or overnight. Enjoy the next morning with your favorite toppings: honey,

more blueberries, nuts, or nut butter are a few of my favorite options.
PIN THESE OVERNIGHT BLUEBERRY OATS FOR LATER!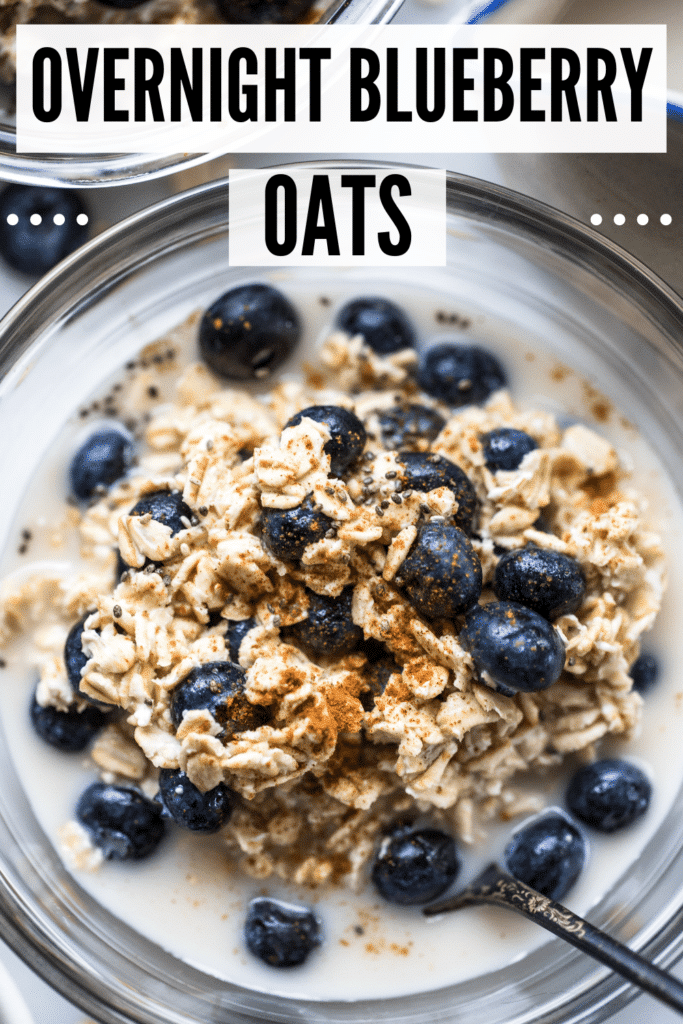 I'd love to see what you made!!
Share it with me on Instagram or Facebook and tag me @krolls_korner or use the hashtag #KrollsKorner!