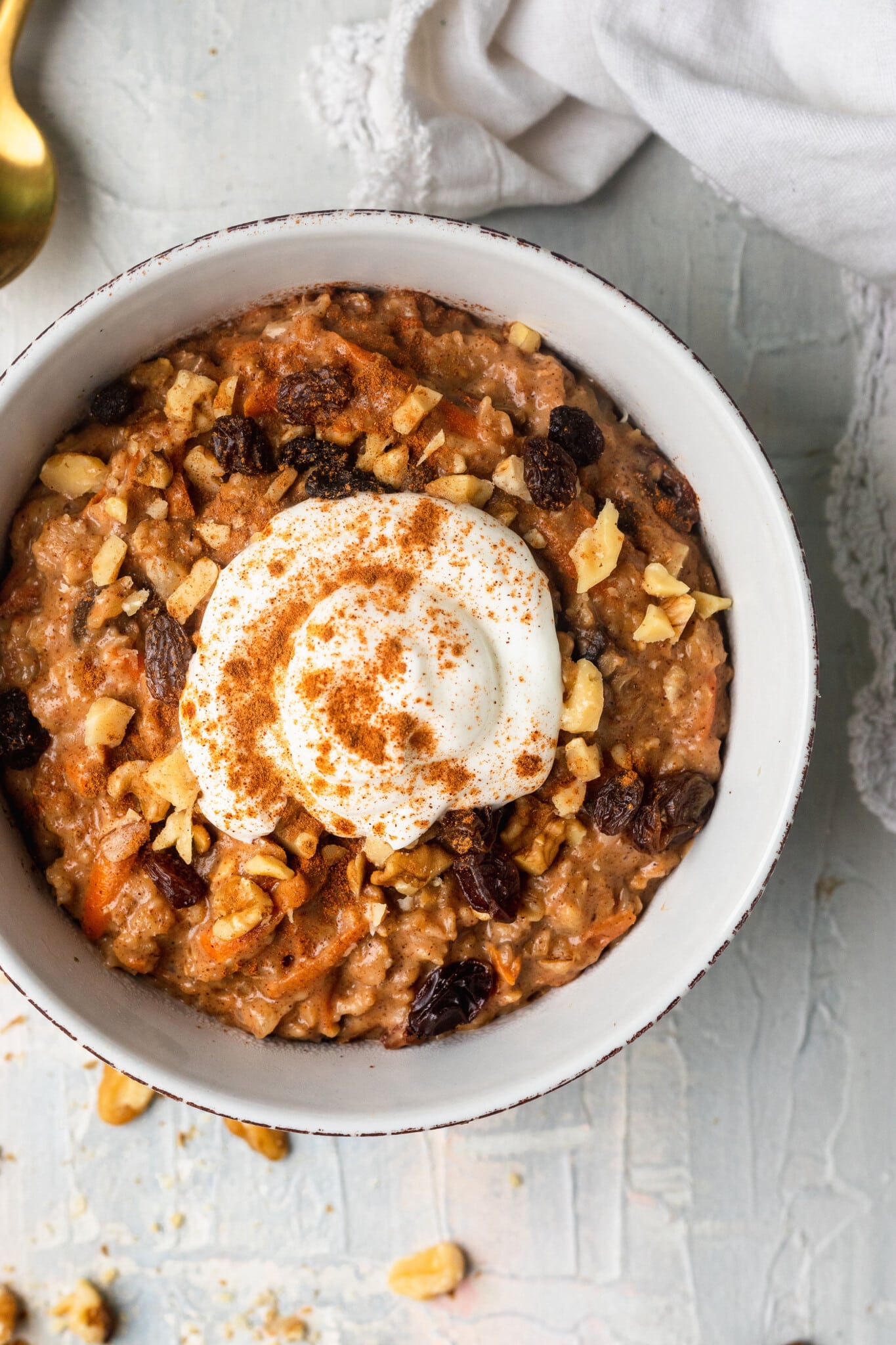 You may be thinking Carrot Cake Oatmeal sounds like an interesting breakfast idea.
This post has been sponsored by Sprouts. All thoughts and opinions are my own. Thank you for supporting the brands that keep Kroll's Korner running!
Well, I am here to tell you it's a healthy, easy, and a quick way to make old fashioned oats taste good! Plus, they are a perfect way to fill you up and for busy mornings.
Who knew getting vegetables in at breakfast would be so easy? These oats are made on your stovetop but don't worry, I have an overnight oat version of carrot cake oats below!
Carrots are a great source of beta carotene, vitamin K, and potassium. Beta carotene give carrots their orange color and has many benefits like maintaining eye and skin health.
Carrot Cake Oatmeal is the perfect balanced breakfast that will leave you feeling content. Don't you hate when you eat breakfast and are hungry 1 hour later?! The worst!
This recipe takes about 10 minutes so it's great for busy mornings.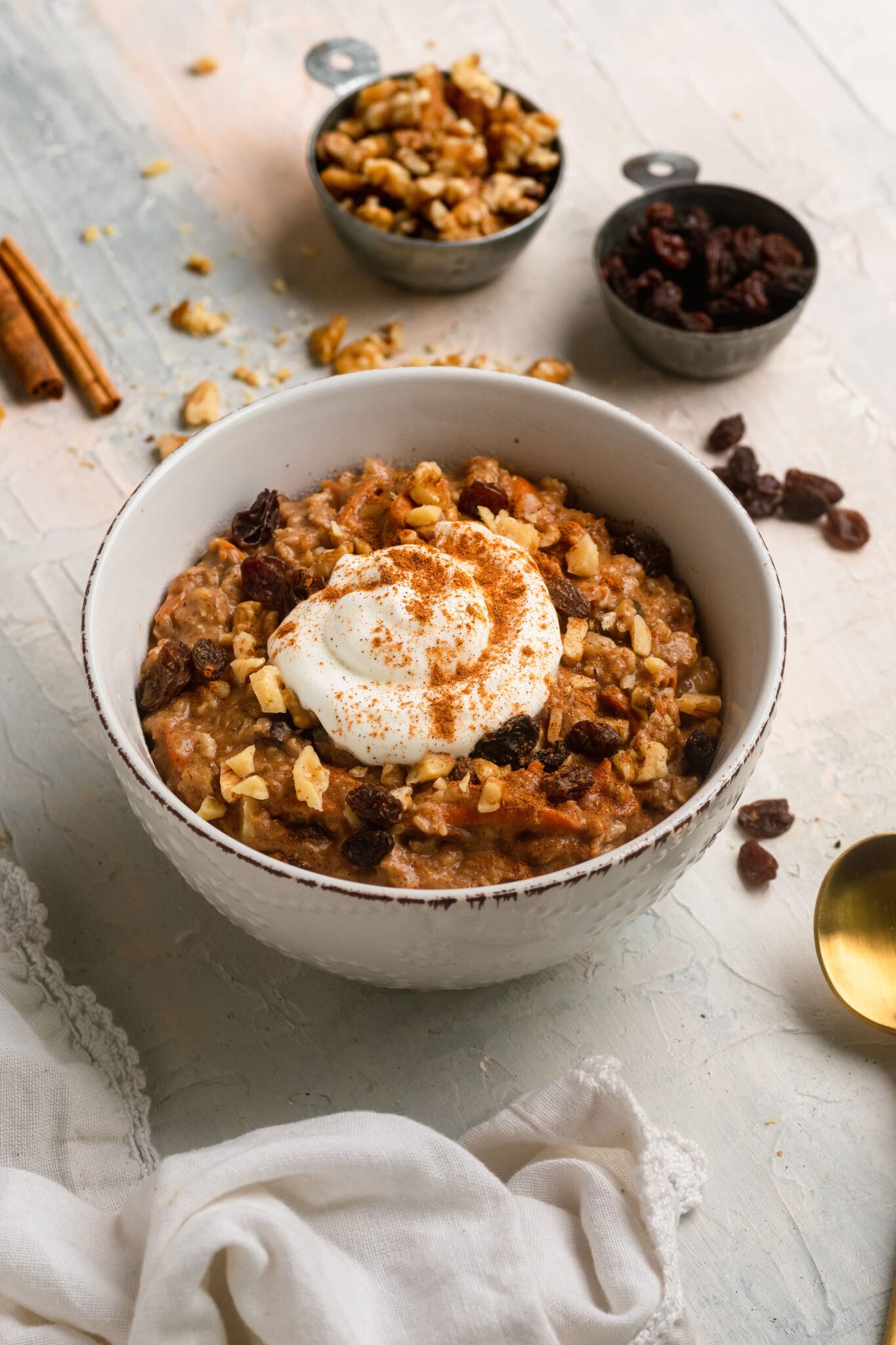 I also have some recipes you can make in advance that have that same yummy carrot cake taste. Check out my Zucchini Carrot Muffins or these Overnight Oats that are easy on the go options!
I love finishing off these carrot cake oats with a dollop of yogurt, a drizzle of maple syrup, and some more walnuts!
February is heart health month and walnuts are so great for our hearts.
Did you know walnuts help maintain healthy cholesterol levels and decrease blood pressure? Those are two major risk factors for heart disease. So eating walnuts as part of a healthy diet may decrease your risk of heart disease!
I purchase my walnuts from the bulk section at Sprouts.
I love that I can scoop out exactly what I need. I am constantly making grocery store trips when developing recipes, so this option is so convenient!
The bulk section has everything from snack choices, pantry staples like rice, and even spices! It is affordable and money saving as nothing goes to waste.
They offer a variety of organic products at amazing prices (I feel like something is always on sale). Definitely worth making a trip to explore all the options…& to grab the ingredients for this recipe!
Carrot Cake Oatmeal Ingredients: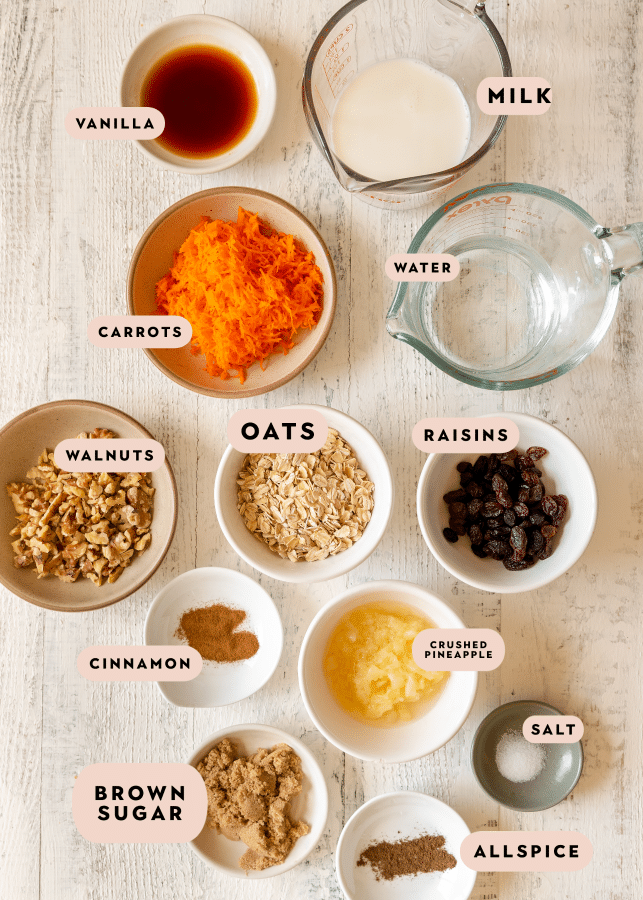 Carrots: Carrot are great source of beta carotene to add to your breakfast. Be sure to use your cheese grater to grate your carrots. Use the finest grate on the box grater. OR pro tip: use the grating tool on a food processor to speed things up!
Rolled oats: I have found that the old fashioned rolled oats work best for this recipe. I have not tested it with steel cut or quick 1-minute oats.
Salt: Salt is great for bringing out subtle flavors in oats.
Water: This is used to cook the carrots so they are softer when eating the oatmeal.
Raisins: A great source of fiber and iron, and a popular carrot cake ingredient!
Cinnamon and Allspice: Classic spices for carrot cake.
Vanilla extract: I love the flavor vanilla extract brings to this recipe, and I use it when I make my overnight oats as well.
Walnuts: Like I mentioned above, I buy my walnuts at Sprouts and they are heart healthy and loaded with healthy fats. They are high in omega-3 ALA and a great addition to these oats.
Canned crushed pineapple: Adding in pineapple adds some natural sweetness to this oatmeal and carrots combined with pineapple is so delicious. Many Carrot Cake recipes actually call for pineapple because it's a tenderizer and carrots are sweet, but the pineapple adds that extra yummy sweetness.
Brown sugar: Optional but adds a nice touch of sweetness. You can also add in maple syrup or honey instead or just garnish your oats with a sprinkle or drizzle if you feel like you want it sweeter,
Milk: Cow's milk is what I used but a non dairy option such as almond milk or coconut milk will work as well.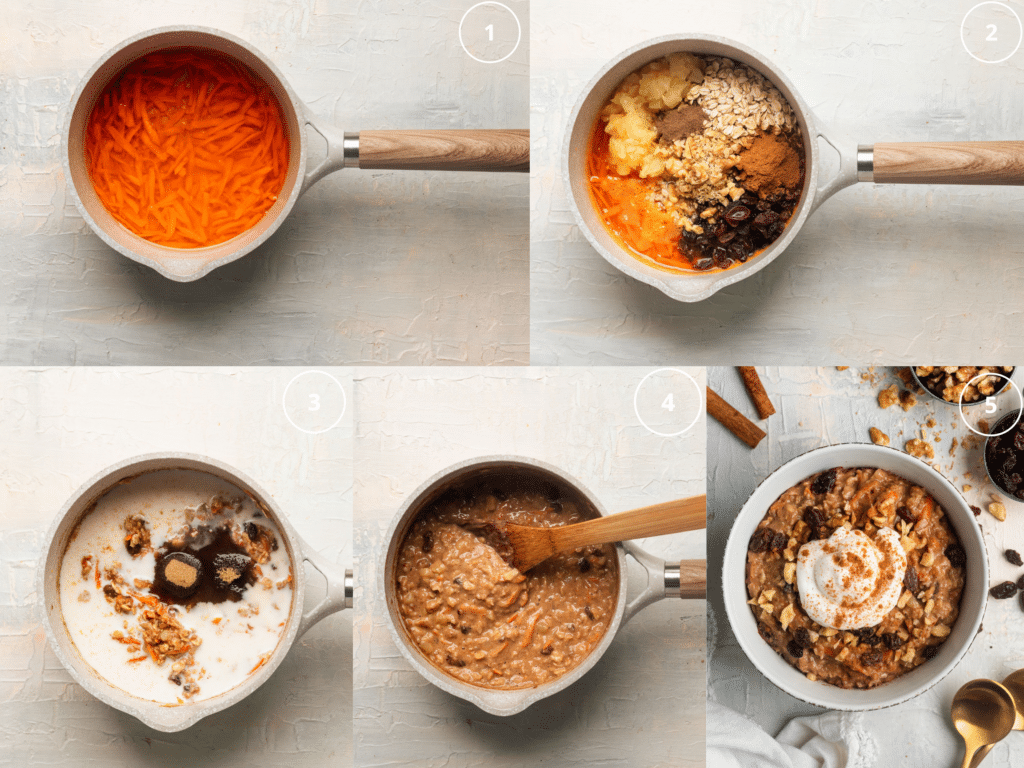 How to Make Carrot Cake Oatmeal:
Add water, finely grated carrots, and salt into a medium pot. Turn on stove to high heat and bring to a boil.
Once water is boiling, stir in oats, raisins, cinnamon, allspice, vanilla, walnuts, and crushed pineapple
Reduce heat (~medium-low) and simmer the oats for 3-4 minutes, stirring frequently.
Stir in brown sugar and milk until oats are creamy and consistency desired is reached.
Serve and add desired toppings like more walnuts, coconut shavings, Greek yogurt.
How to Make Carrot Cake Oatmeal for One:
This recipe makes two servings of hearty oatmeal! Making for just one? Simply cut the ingredients in half and enjoy.
You can also make the full recipe and refrigerate leftovers for the next morning.
This makes for a quick, on the go breakfast. Just pop in the microwave for a couple minutes or warm on the stove top. You can even eat cold them cold if you are into that 🙂
PRO TIP: *Oatmeal will thicken in the refrigerator. Adding milk (cow's or nondairy option) can help loosen the oats when reheating.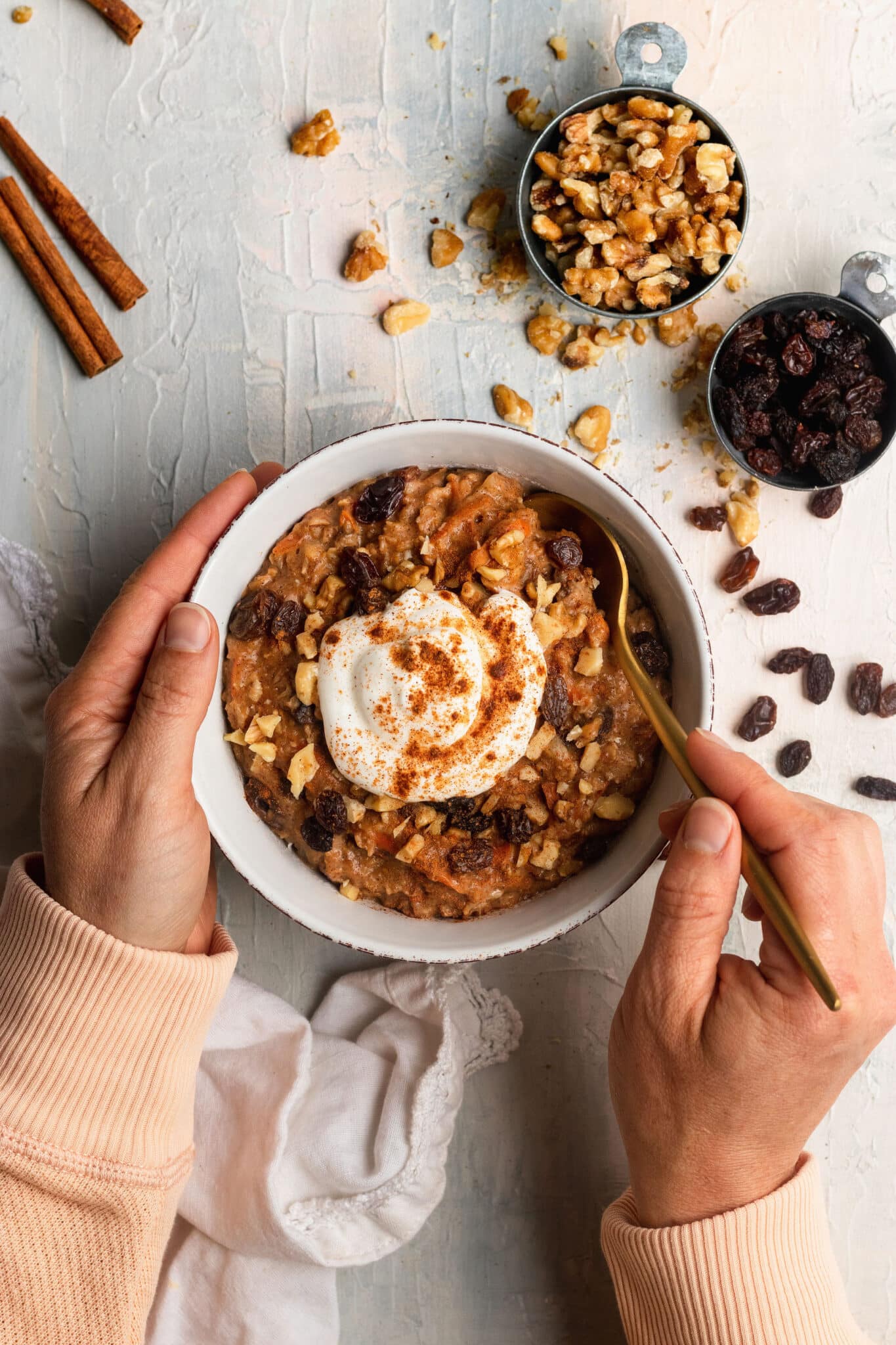 Tips for Making the BEST Carrot Cake Oatmeal
Picking the best oats: I used rolled oats (old-fashioned) as they keep their shape and don't have a long cooking time.
Instant oatmeal may not work as well. The ingredients simmer with the oats in this recipe, leaving instant oats on the stove for that long will overcook them and ruin the oatmeal's texture.
Add yummy toppings! This oatmeal taste great, but the toppings just tie it all together. You can make your bowl creamier or introduce a different texture depending on what you choose to throw in there. Some great additions include:

Greek yogurt (plain or vanilla)
Nuts: walnuts, pecans, almonds.
Shaved or shredded coconut,
A drizzle of maple syrup/honey to add more of a sweet taste.
Nut butter: almond, peanut, cashew.
How to make Carrot Cake Overnight Oats
Mix 1 cup rolled oats, ½ cup carrots finely grated, salt, 1/3 cup raisins, 1/4 cup walnuts, 1/2 tsp. cinnamon, 1/4 tsp. allspice, and 1 Tbsp. chia seeds in a bowl.
Then add in vanilla extract, 1 ¼ cup milk, 1/4 cup crushed pineapple and 2 Tbsp. brown sugar or maple syrup and mix again.
Pour into a jar and place in the refrigerator, covered for 3 hours or overnight and garnish with ideas listed below in the recipe card. (Alternatively, you can mix everything together in a large mason jar, stir or shake and then refrigerate).
How to make this into a Carrot Cake Oatmeal Bake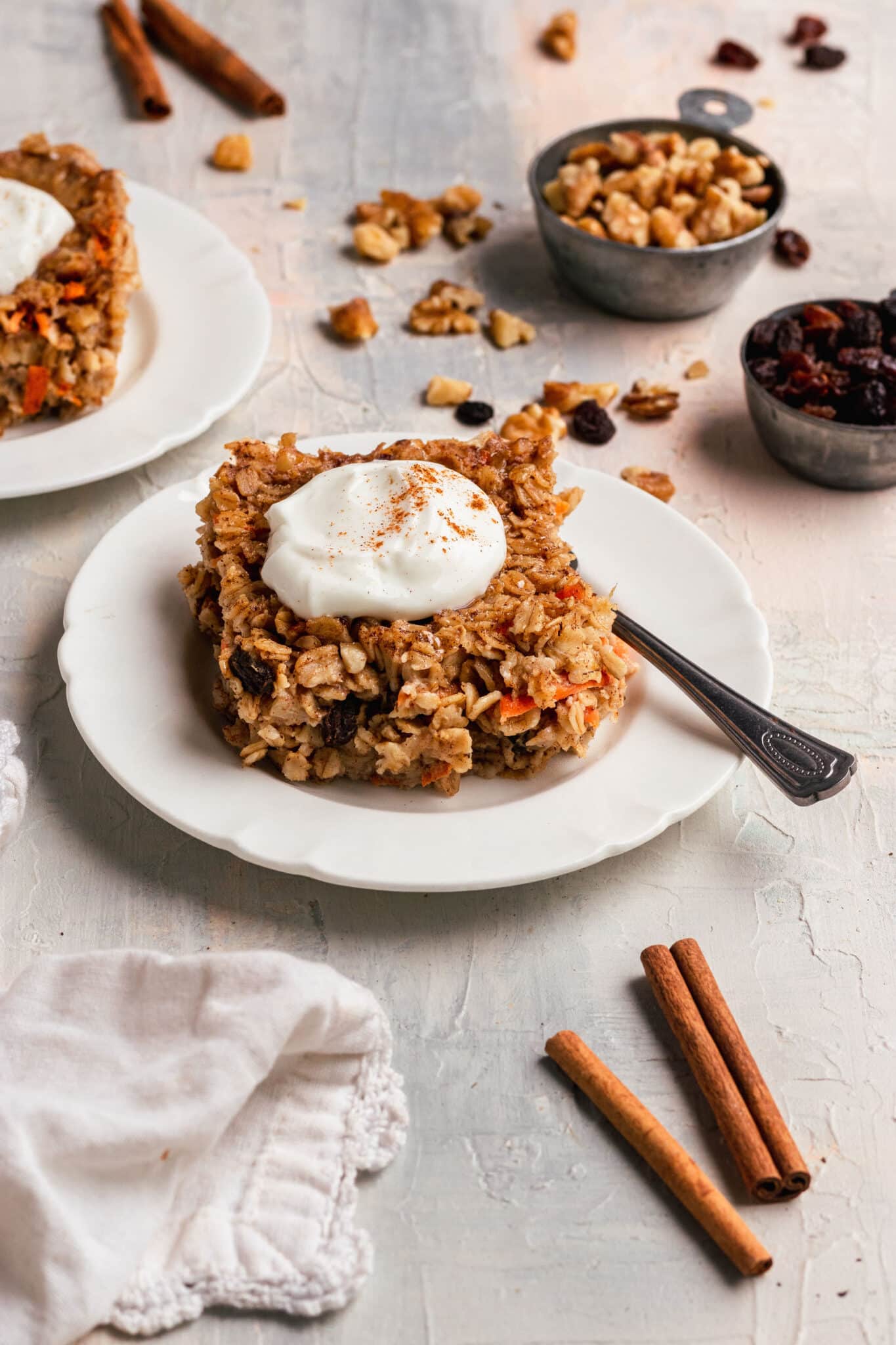 For the baked version of this recipe you will need 2 cups oats, 2 cups milk, 1 1/2 tsp. baking powder, 4 Tbsp. melted butter and 1 large egg in addition to the ingredients listed in the recipe below.
Preheat the oven to 375°F. In a large bowl, mix the old fashioned rolled oats with the shredded carrots, salt, raisins, cinnamon, allspice, walnuts, brown sugar and baking powder. Set aside.
In another bowl whisk together the milk, egg, melted butter, vanilla extract and pineapple. Stir the wet into the dry.
Spray an 8×8 inch baking dish with non-stick spray. Pour mixture into pan and bake for 40-45 minutes or until oats are lightly brown on top. Serve with maple syrup and a dollop of yogurt on top!
PS If you try this recipe, why not leave a star rating in the recipe card right below and/or a review in the comment section further down the page? I always appreciate your feedback! You can also follow me on Pinterest or Instagram. Sign up for my email list, too!
Before You Begin! If you make this, please leave a review and rating letting us know how you liked this recipe! This helps our business thrive & continue providing free recipes.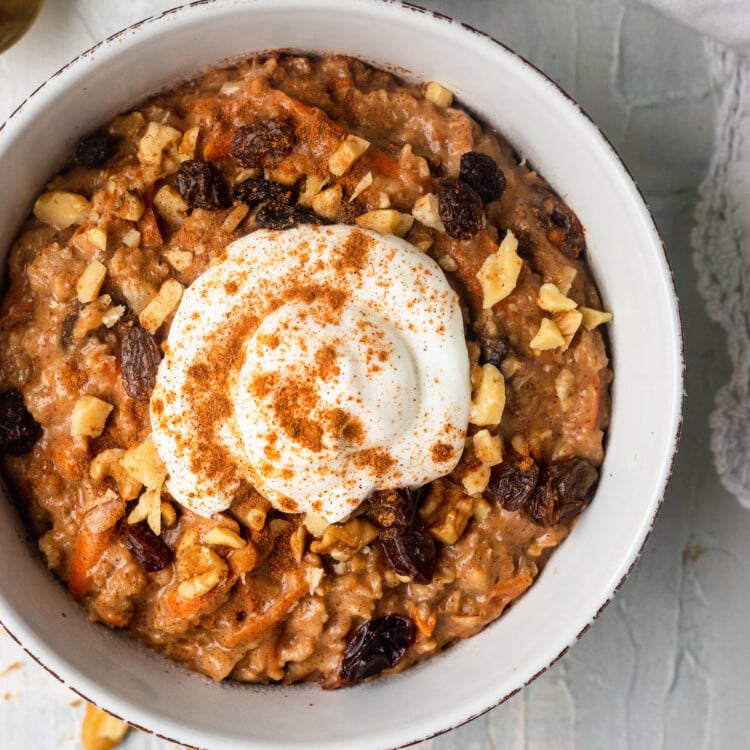 Carrot Cake Oatmeal is a healthy and easy breakfast recipe, tastes just like a carrot cake cookie or slice of carrot cake, and can easily be made vegan!
Ingredients
1/2

cup

carrots, finely grated

1

cup

water

1/4

tsp.

salt

1/2

cup

old fashioned rolled oats

1/3

cup

raisins

1 1/2

tsp.

ground cinnamon (or less if preferred)

1/2

tsp.

Allspice

2

tsp.

vanilla extract

1/4

cup

walnuts, chopped (plus more for garnish)

1/4

cup

crushed pineapple

2

Tbsp.

brown sugar (or honey) (plus more for garnish)

1/2

cup

milk (cows milk or non dairy option of your choice)
Last step! If you make this, please leave a review and rating letting us know how you liked this recipe! This helps our business thrive & continue providing free recipes.
Instructions
In a small saucepan over medium-high heat, add in the water, the finely grated carrots and salt. Bring to a simmer (this is to cook the carrots a little bit so they aren't crunchy in your oatmeal).

Once the water comes to a simmer, turn the heat down to medium and stir in the oats, raisins, cinnamon, allspice, vanilla extract, walnuts and crushed pineapple. Simmer the oats for ~3-4minutes, stirring frequently.

Stir in the brown sugar and milk until the oats are creamy and desired consistency of oats is reached. Simmer for another 1-2 minutes to heat milk.

Serve warm and top with more walnuts, cinnamon, brown sugar and a dollop of yogurt.
Notes
Make this recipe vegan but using your favorite non-dairy milk such as almond milk or coconut milk. Use maple syrup to sweeten the oats.
I've made this recipe with both a larger shred carrot and a fine shred. Both are delicious, but I like the finely shred carrot more. Use the smallest holes on your box grater or even a microplane.
Nutrition Information
Serving:
1
bowl
,
Calories:
394
kcal
(20%)
,
Carbohydrates:
35
g
(12%)
,
Protein:
8
g
(16%)
,
Fat:
13
g
(20%)
,
Saturated Fat:
2
g
(13%)
,
Polyunsaturated Fat:
8
g
,
Monounsaturated Fat:
2
g
,
Cholesterol:
7
mg
(2%)
,
Sodium:
304
mg
(13%)
,
Potassium:
624
mg
(18%)
,
Fiber:
8
g
(33%)
,
Sugar:
24
g
(27%)
,
Vitamin C:
7
mg
(8%)
,
Calcium:
184
mg
(18%)
,
Iron:
3
mg
(17%)
Nutritional information is provided as a courtesy and is automatically calculated. It should only be construed as an estimate rather than a guarantee. Ingredients can vary and Kroll's Korner can't make any guarantees to the accuracy of this information.