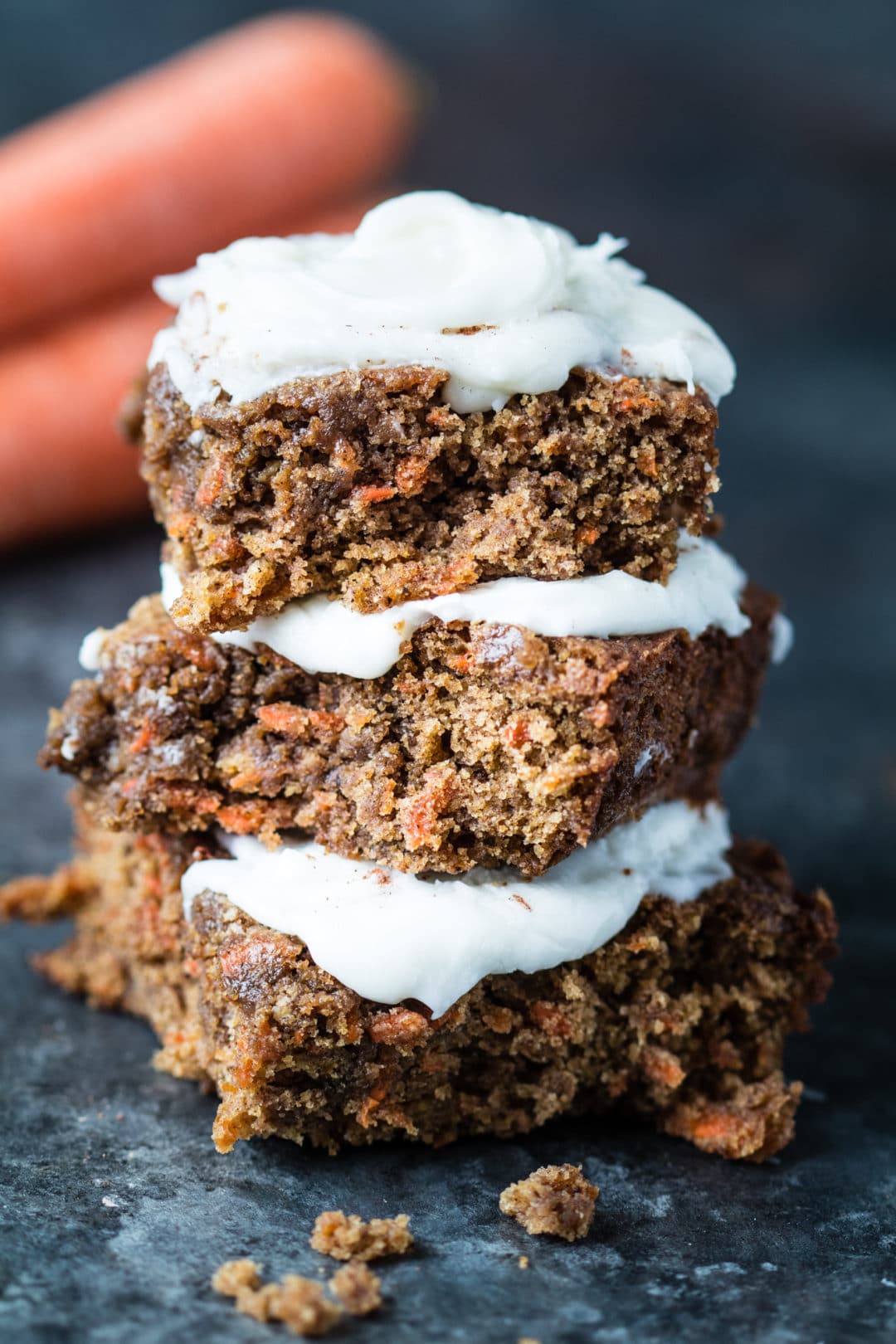 Nut Free Carrot Cake Bars! Allergy friendly carrot cake is a must for your Spring time festivities!
Isn't it fun making desserts with veggies? Or hiding vegetables in any type of dish and tricking people! I always think of carrot cake around Easter time…which is my excuse for making it because it is Easter. But making them into carrot cake bars is a great way to practice portion control and teaching your body not to over indulge. It is so easy to get overwhelmed by all of the food at a family gathering so it is important to keep in mind some tips before you go:
1. Have an action plan:
Before you go to your family gathering, maybe call the host and talk about the menu and see what is being served. This can give you somewhat of an idea what will be served and what foods you will choose. Making that conscious decision before you attend with help keep your from overindulging in any one thing.
2. Pick your favorites:
When you're at the party looking at all of the delicious foods, pick your favorites. Choose what you really really enjoy and have some of that. Maybe you have egg salad all the time so you won't choose that one, but if there is another casserole you haven't had before, choose that one instead of both. Little decisions like this will save you a lot of extra calories.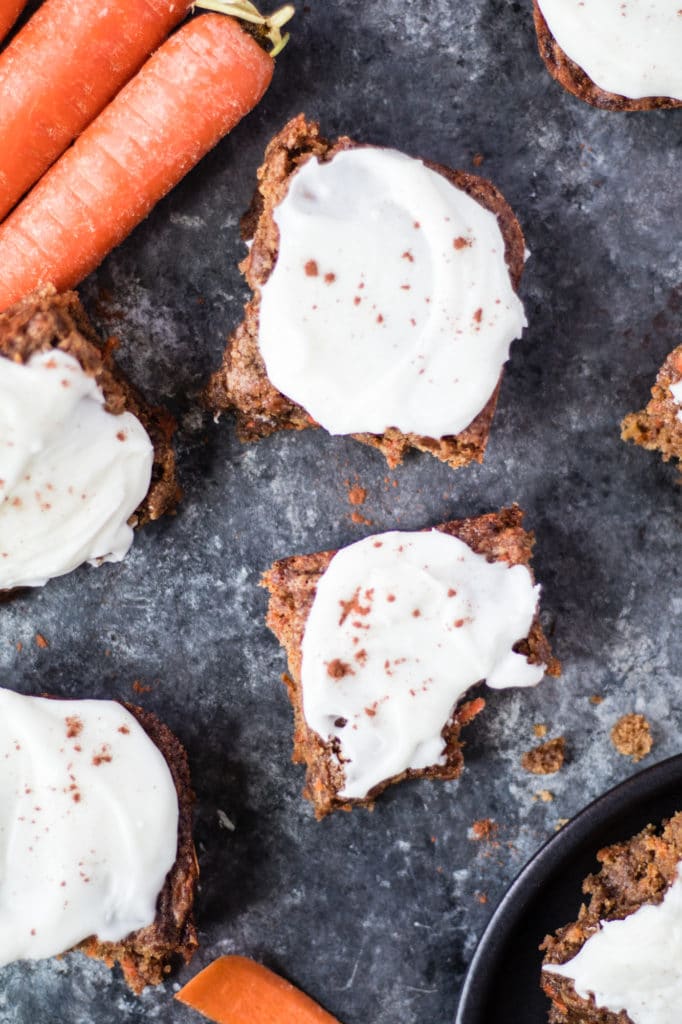 3. Eat something before you go:
This is simple, but works so well! It will curb your appetite before your present your self at the party and see all of the yummy foods. Try having a protein and a carb, preferably something with fiber. This will keep you full longer and halt some of your cravings.

I know this is ironic I am talking about these tips on a carrot cake blog post, but carrot cake is not "bad" for you. Like I mentioned earlier, these bars make for a great portion control treat and if you swap out something else in your diet to enjoy this as your dessert that is perfectly fine. All about moderation, right? Happy Easter!
[Tweet "Nut-Free Carrot Cake Bars – delicious and tasty treat. So moist & flavorful! |Krollskorner.com"]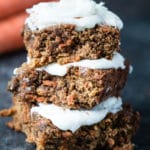 Nut-Free Carrot Cake Bars
Print
Ingredients
For the bars
1

stick

unsalted butter, melted ( 8 Tbsp.)

1

egg

1

cup

light brown sugar

packed

1

Tbsp.

vanilla extract

1

Tbsp.

cinnamon

1/2

tsp.

ground ginger

1/2

tsp.

cloves

1/2

tsp.

allspice

1/2

tsp.

nutmeg

1

cup

All-Purpose flour

1

tsp.

baking powder

1/4

tsp.

baking soda

1

cup

grated carrots

grate your own using cheese grater:)
For the glaze
2

cups

powdered sugar

2

Tbsp.

cream cheese

softened

1

Tbsp.

butter

Splash of milk
Instructions
Preheat oven to 350F. Spray an 8X8-inch baking pan with cooking spray; set aside.

In a large microwave-safe bowl, melt the butter.

Wait ~2 minutes before adding the egg so you don't scramble it. Add the egg, brown sugar, vanilla, cinnamon, ginger, nutmeg, cloves, allspice, optional salt, and whisk until combined.

Add the flour, baking soda, and baking powder. Stir until just combined; don't over mix.

Add carrots and stir to combine.

Turn batter out into prepared pan, smoothing the top lightly with a spatula.

Bake for about 26 minutes, or until a toothpick inserted in the center comes out mostly clean. Allow bars to cool in pan for about 30 minutes before glazing.

Cream Cheese Glaze - In a medium bowl, add 2 cups powdered sugar, cream cheese, butter, and milk. Whisk until smooth. Add/adjust ingredients as necessary to get desired frosting texture.
Recipe Notes
Add in nuts or raisins if desired.