Cozy Snickerdoodle Cookie Oatmeal
Breakfast | Published on Apr 24, 2017 | Last modified on Nov 9, 2019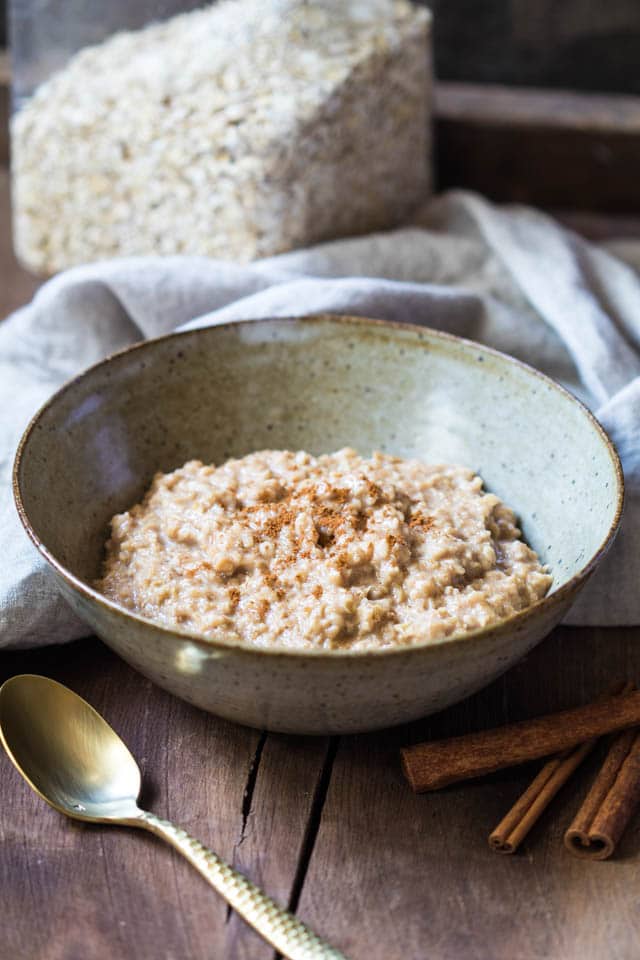 Calling all snickerdoodle cookie fans! This snickerdoodle oatmeal is for YOU! All of the same great flavors found in a snicker doodle, but for breakfast!
I love oatmeal because it can be made in several different ways and for its health benefits!
Oatmeal contains soluble fiber which stays in the stomach longer and helps you feel fuller, longer. This can prevent overeating or binge eating later on in the day, which may help you maintain a healthy weight.
This is another reason why eating breakfast is important. People may never feel hungry in the morning but I always like to remind individuals to "break the fast" with a small piece of fruit or just 1/2 cup of oatmeal.
Just like your car may need to warm up on a cold day, our stomachs need a warm up with some food within the first 1-2 hours of waking up.
Snickerdoodles for breakfast?! YES PLEASE! Grab this recipe on krollskorner.com today! #krollskorner
Click To Tweet
Personally, I do not have kids so I do not know how hard it is to get your kiddos to eat oatmeal. But I feel like I am pretty sure if you told them you're having snickerdoodle oatmeal for breakfast that would be love it.
This oatmeal obviously is not just for kids, but can be an occasional breakfast for adults. Since it contains brown sugar I would recommend to enjoy this oatmeal as a treat, and to not make it the star of the meal.
Have it with a boiled egg and fresh fruit…or cottage cheese and pineapple! Other ways you can enjoy your morning oatmeal is with dried cranberries, fresh blueberries, bananas, nuts and even stevia for extra sweetness. Adding these toppers will increase the fiber, antioxidants, heart healthy fats, and protein.
Also – make your oatmeal with whatever milk you enjoy! I personally like to make mine with whole milk. Using milk instead of water will add protein and calcium into the meal.
Pin this Cozy Snickerdoole Oatmeal recipe for later!
Although not pictured, I enjoy topping my oatmeal with ground flax and goji berries too!
You can also top with Stovetop Sautéed Cinnamon Apples! I like to cube up my apples, place in a small skillet on the stove with 1 Tbsp butter, 1/2 tbsp. brown sugar and a hefty sprinkle of cinnamon. Cook this for about 5 minutes or until the apples become tender!

I'd love to see what you made!!
Share it with me on Instagram or Facebook and tag me @krolls_korner or use the hashtag #KrollsKorner!