Easy Avocado Deviled Eggs
Appetizers & Snacks | Published Mar 29, 2018 | Updated Sep 18, 2019 | By Tawnie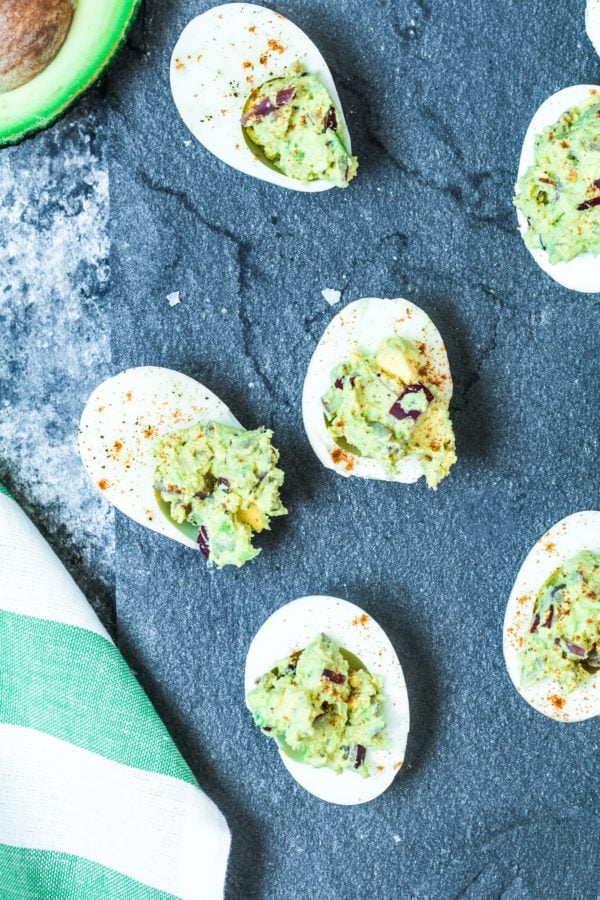 Crack into these delicious Avocado Deviled Eggs with your family and friends over the holidays!
Healthy avocado deviled eggs
Happy Tuesday! I did not get around to posting yesterday sooo how was everyone's weekend? Busy, I'm sure. I had a pretty relaxing weekend — didn't go anywhere or have anything planned to do around town. My brother and his wife had an impromptu BBQ on Saturday night and I brought these healthy deviled eggs…everyone seemed to really like them so I thought hey, might as well put them on the blog!
Two-bite appetizers like deviled eggs are typically high in calories, fat and sodium so I revamped my deviled eggs recipe by including the avocado and omitting the mayo. I am personally not a fan of mayo anyways so the classic deviled egg has never been appealing to me! This really is a healthful appetizer because it has healthful fats, vitamin A and B vitamins too. YUM!
I always thought deviled eggs were really hard to make. I am not sure why I had this thought but they just seemed "fancy" to me. In reality, deviled eggs are SO easy! The hardest part is probably boiling the eggs and making sure when you remove the shell the egg whites still look nice and pretty.
Avocado deviled eggs ingredients
To make these deviled eggs with no mayo, you'll need:
Hard-boiled eggs
Avocado
Lime juice
Garlic salt
Red onion
Dijon mustard
Salt and pepper
Paprika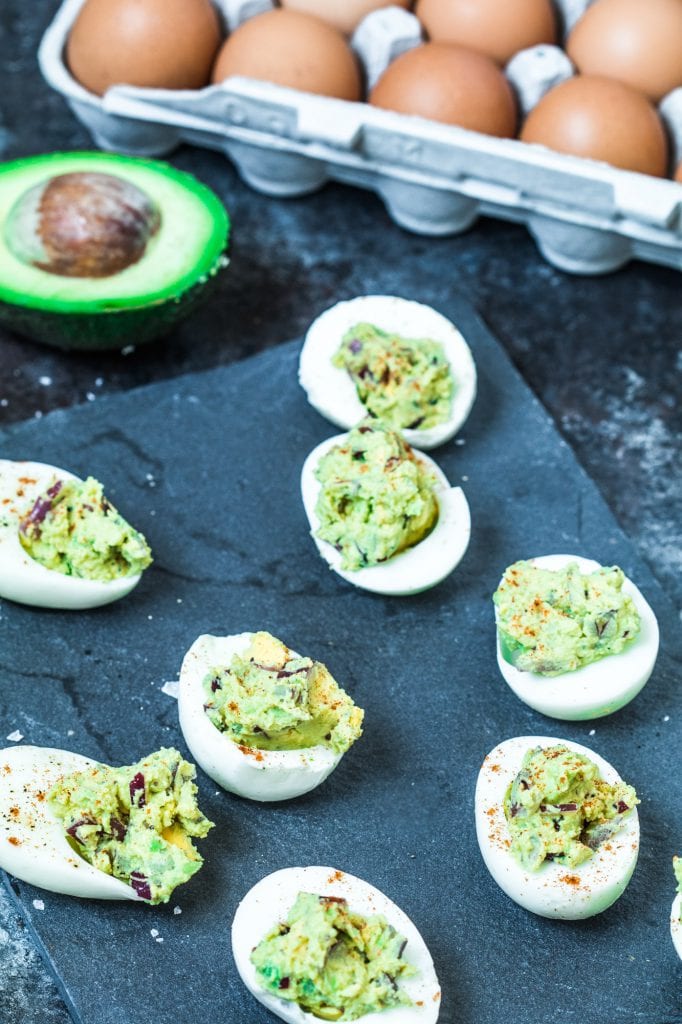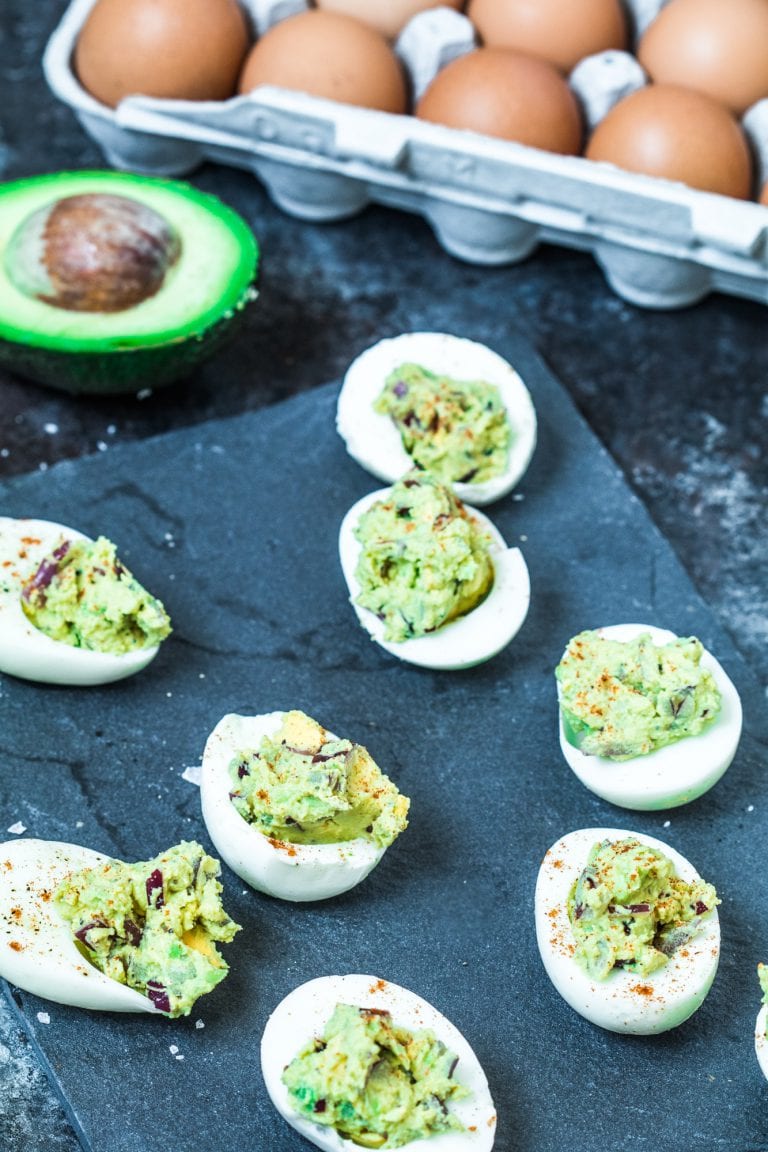 How to make avocado deviled eggs
These avocado deviled eggs are a cinch to make! Simply halve the hard-boiled eggs, then scoop the yolks into a bowl. Mash the avocado, yolks, lime juice, mustard, and seasonings together until smooth.
Spoon the yolk mixture into the egg white halves, then sprinkle paprika or chili powder on top for a nice pop of color.
How long to boil eggs for deviled eggs?
I wrote a post on how to make the perfect hard boiled egg every time that might help you out with this recipe! I usually bring my eggs to a rolling boil, then let them boil for 2 to 3 minutes before removing them from the heat and letting them sit in the hot water for an extra 12 minutes.
Once done, I immediately transfer the hard-boiled eggs to an ice bath to prevent them from cooking any further.
How long are deviled eggs good for?
These healthy avocado deviled eggs will last up to 2 days in the fridge. If desired, you can make them the day before you plan on serving them, then wrap them in plastic wrap in the meantime.
Tips for making avocado deviled eggs
For the best flavor and texture, you want to use a ripe avocado in these healthy deviled eggs. If the avocado is too hard, it won't taste great and it'll be tough to mash with the yolks.
I also recommend using freshly squeezed lime juice instead of the pre-bottled stuff. You wouldn't think it'd make a big difference, but it does.
I prefer using Dijon mustard in these avocado deviled eggs, but regular mustard will work too.
More easy appetizers: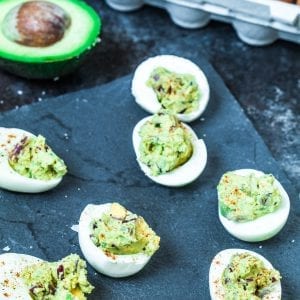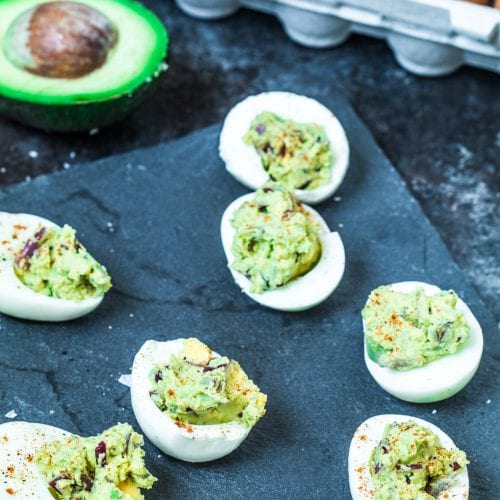 Easy Avocado Deviled Eggs
Crack into these delicious Avocado Deviled Eggs with your family and friends this Easter Sunday!
Ingredients
6

boiled eggs

1

large

avocado

Juice from 1/2 Lime

1/2

tsp.

garlic salt

2

Tbsp.

Silver Spring Foods Creamy Horseradish

1/4

cup

red onion, diced

1/2

tsp.

dijon mustard

Salt and pepper to taste

Paprika or chili powder, garnish
Instructions
Halve the boiled eggs and remove the yolks, carefully set the yolks in a bowl and place the egg whites on a platter.

Add the avocado to the bowl with the egg yolks and mash until mixed.

Mix in the lime juice, onion, mustard, horseradish, salt and pepper, garlic salt. Stir together to combine.

Spoon the mixture into the egg while halves and sprinkle chili powder or paprika on top for color.
Notes
Check out my tips on how to make the perfect hard boiled eggs for this recipe! https://krollskorner.com/recipes/make-best-boiled-eggs/
Nutrition
No time to look now? Pin this recipe for later!


What are you making this Easter? Any family traditions? I'd love to hear!
Did you make this recipe? Tag @krolls_korner on Instagram or send me a pic, I'd love to see!
Let's Connect!
Looking for easy and healthy recipes? Head over to my Pinterest page to get inspired!
Hi, I'm 
Tawnie

!

Welcome to my tiny "korner" on the Internet! I am a Registered Dietitian Nutritionist who loves cookies as much as kale. (OK, maybe I like cookies a little bit more but shh, don't tell anyone). I am so glad you're here! Follow along for hassle free, realistic and approachable recipes.

More about Tawnie

I'd love to see what you made!!
Share it with me on Instagram or Facebook and tag me @krolls_korner or use the hashtag #KrollsKorner!