Sweet Potato Sliders with Homemade Guacamole
Appetizers & Snacks | Published Feb 4, 2018 | Updated Aug 20, 2019 | By Tawnie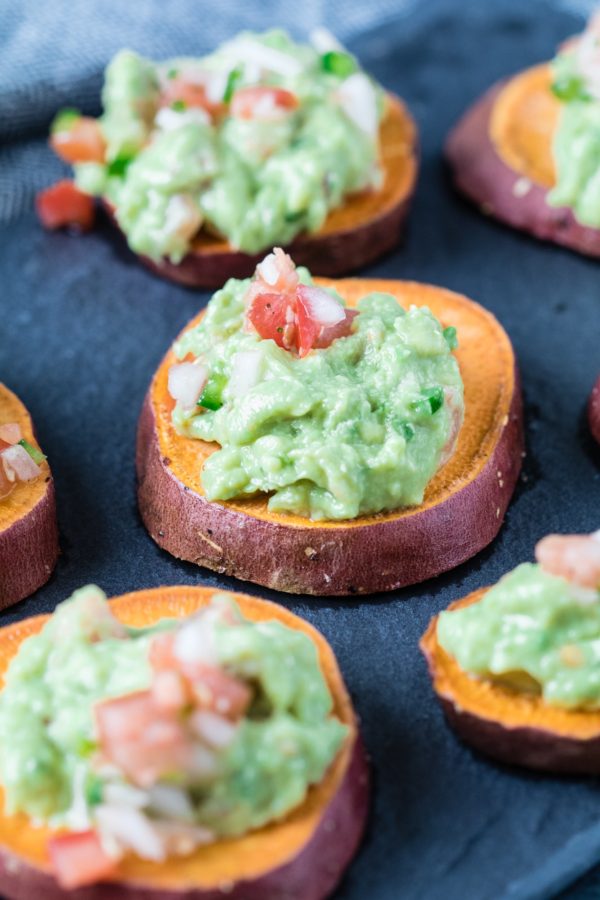 Sweet Potatoes with Guacamole – easy, healthy AND tasty, what more could you ask for!?
(This post was from 2015 originally) … I finally have a moment to sit down and do some blogging, yay! This past weekend was filled with happiness and a lot of celebrating. Last Friday, not only did I graduate from my dietetic internship with Fresno State…but on the same day got offered a job to work at Clovis Unified School District as their Nutritionist! I was one happy girl that day. Even though the title of the position is nutritionist, once I pass my exam I will still be an RDN working in a nutritionist position. There is a lot of room for growth with this district and I am so excited for this next chapter in my life! Now that all of the parties and sharing fun times with family and friends has come to an end, I spent some time in the kitchen creating these healthy and tasty sweet potato sliders with homemade guac. mmmm…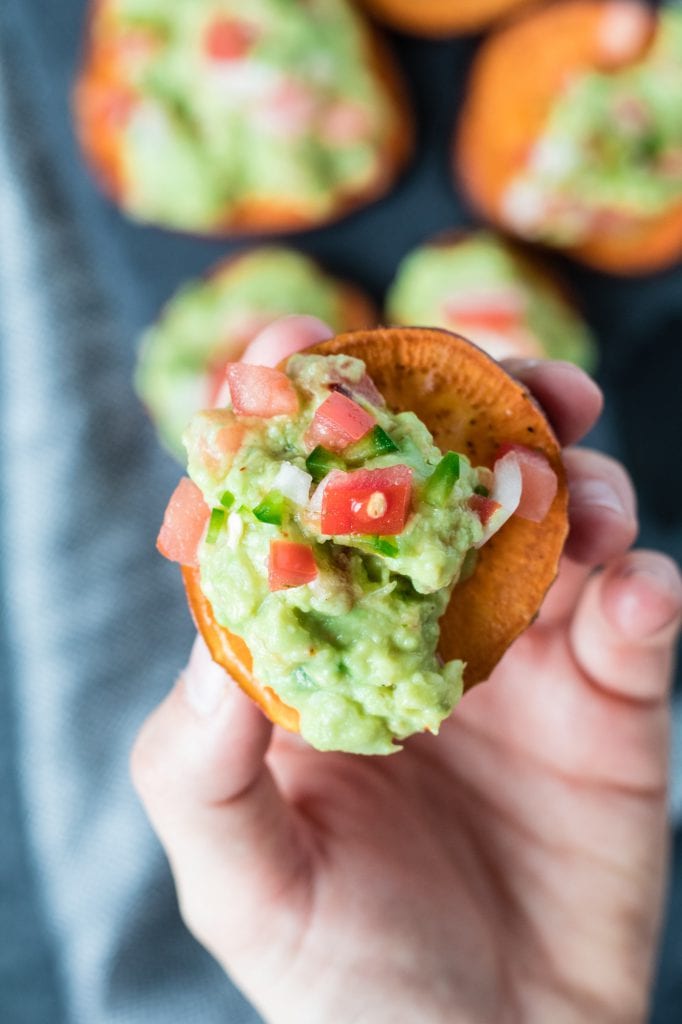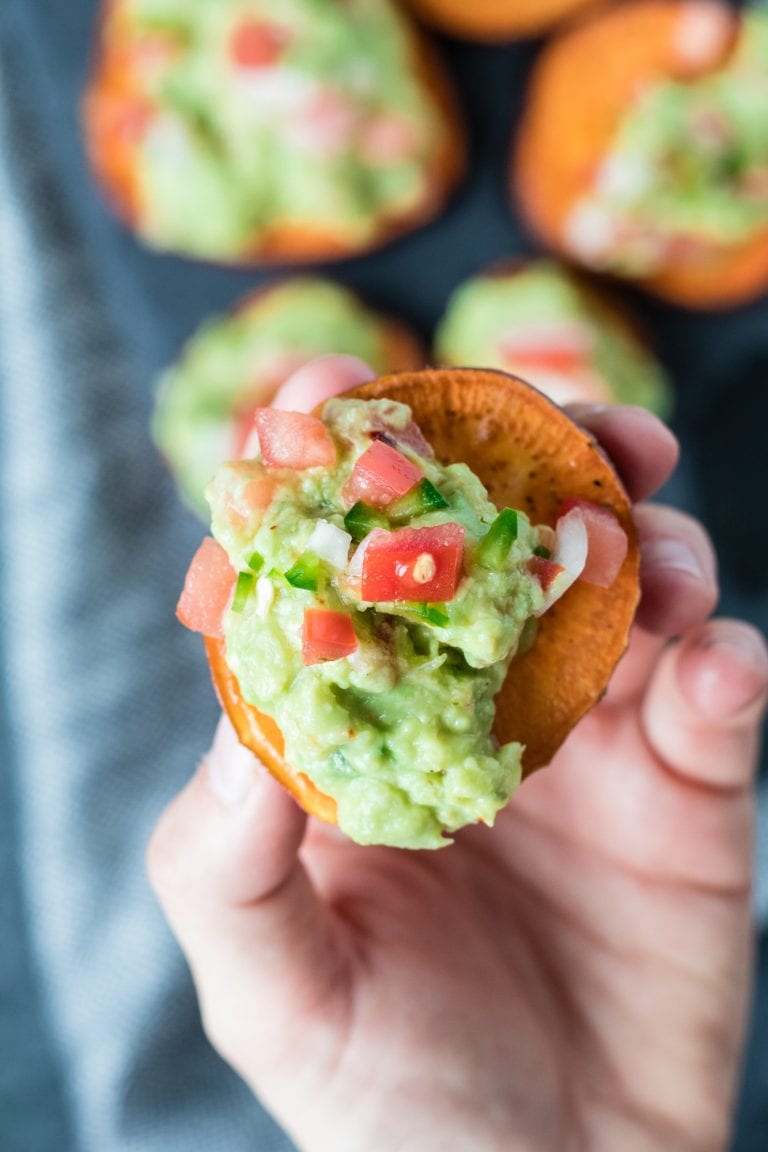 Inspo for this recipe came from Terri Fry @donetoatee. I love sweet potato, and I love guac…it beats me as to why I have never thought of this myself! Since I am still blogging for the Bar Method Fresno I made these for this weeks theme "Healthy BBQ idea" & also because Memorial Day Weekend is approaching. I am really burnt out on macaroni salad and all of those high fat sides… If you are too, try making these for your guests and see what they think!


[Tweet "Sweet Potato Sliders with Homemade Guacamole! https://krollskorner.com/recipes/sweet-potato-sliders-with-homemade-guacamole/"]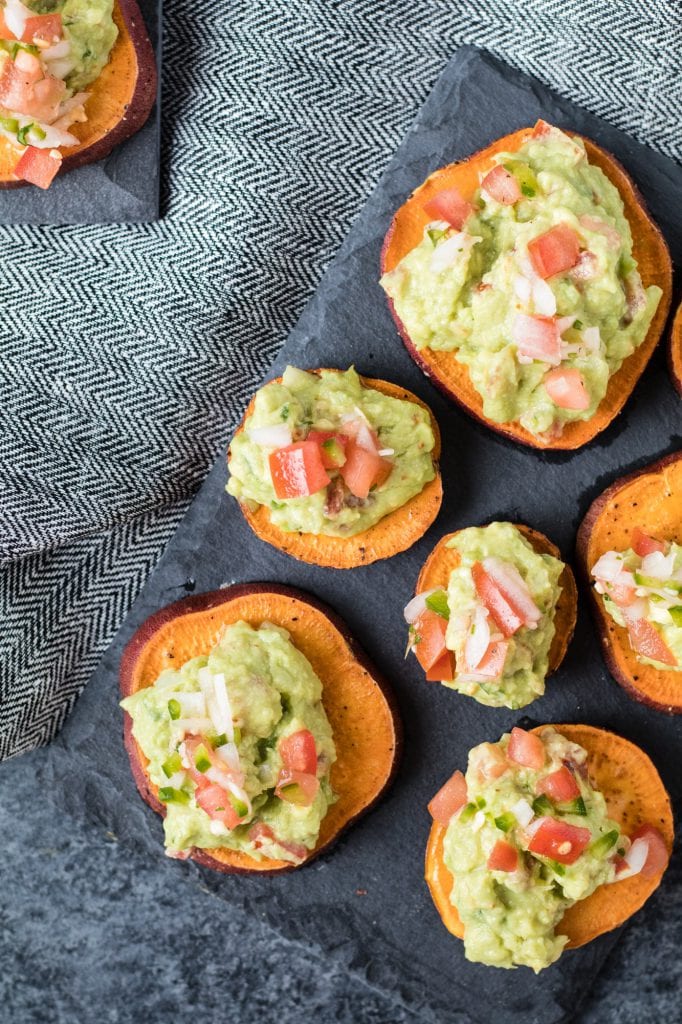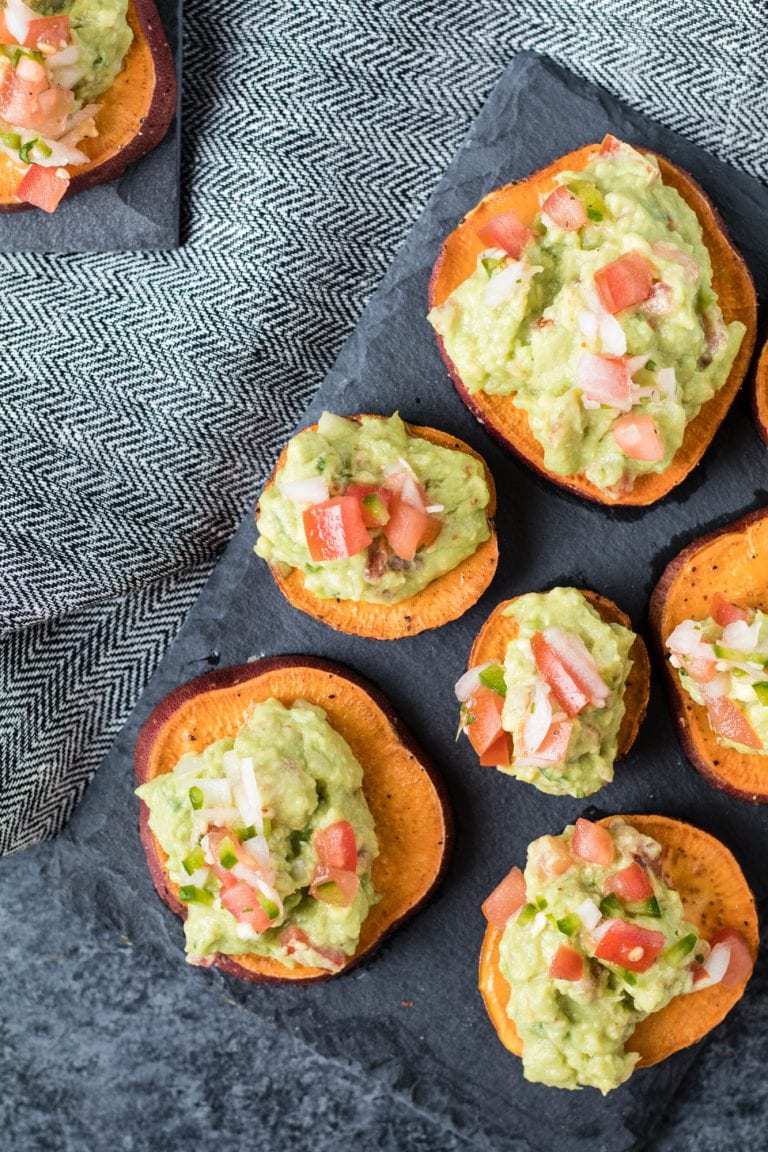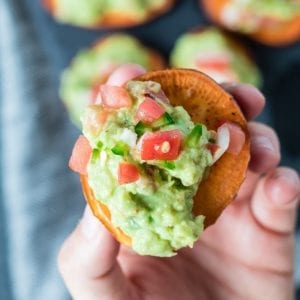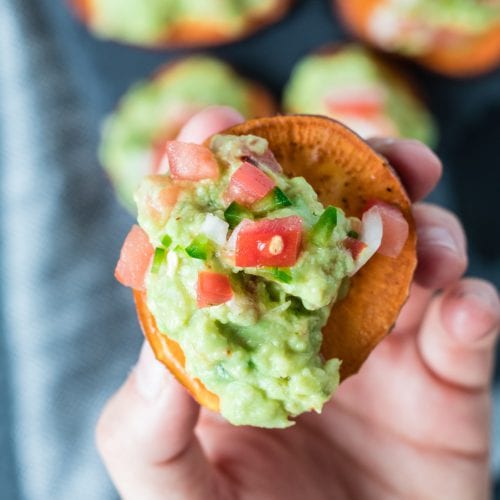 Sweet Potato Sliders with Homemade Guacamole
Use your sweet potato as a chip and top with guacamole!
Ingredients
For the sweet potatoes
2

Medium sized sweet potatoes

2

Tbsp.

EVOO

salt and pepper to taste
For the guac
5

Large avocados

2

roma tomatoes

diced, seeds removed

1/4

cup

red onion

diced

2

tsp.

fresh garlic

Lime of 1 juice

Juice of 1/2 naval orange

3

Tbsp.

chopped cilantro

1

jalapeno

diced

1/2

tsp.

cayenne pepper

salt and pepper to taste
Instructions
Preheat oven to 350 degrees F. Prepare a baking sheet lined with parchment paper.

Wash and slice sweet potatoes into 1 inch rounds. Mix the slices in a bowl with salt, pepper, and olive oil until rounds are lightly coated. Place on the baking sheet and bake for ~20-30 minutes, or until tender.

While sweet potatoes cook, Prepare the guacamole. Mash the avocados in a medium sized bowl and mix in all other ingredients. Adjust seasonings if desired.

Let the sweet potatoes cool slightly before placing guacamole on top. Top with fresh cilantro and tomato for garnish and serve immediately!
Notes
Adapted from Terri Fry - Donetoatee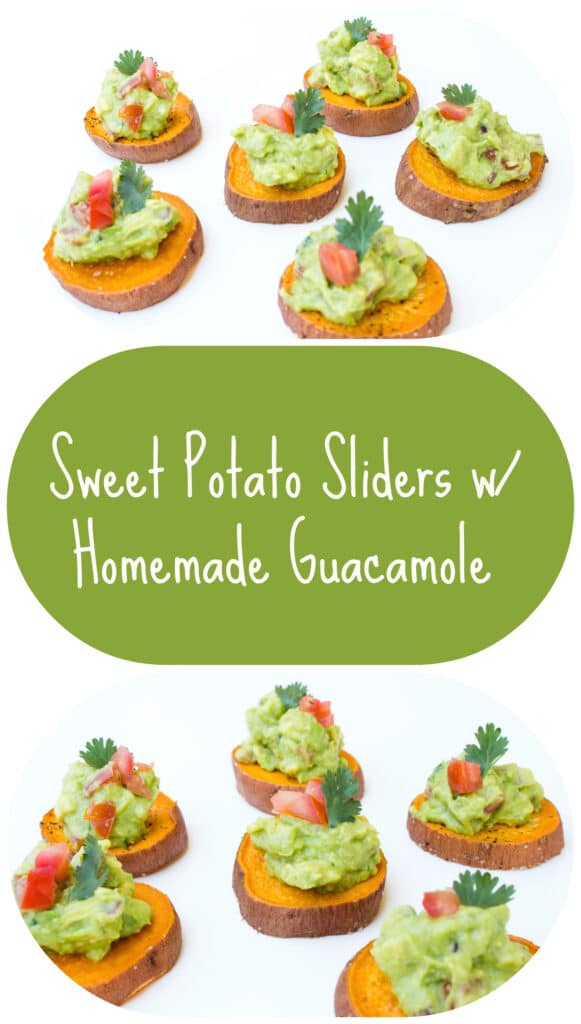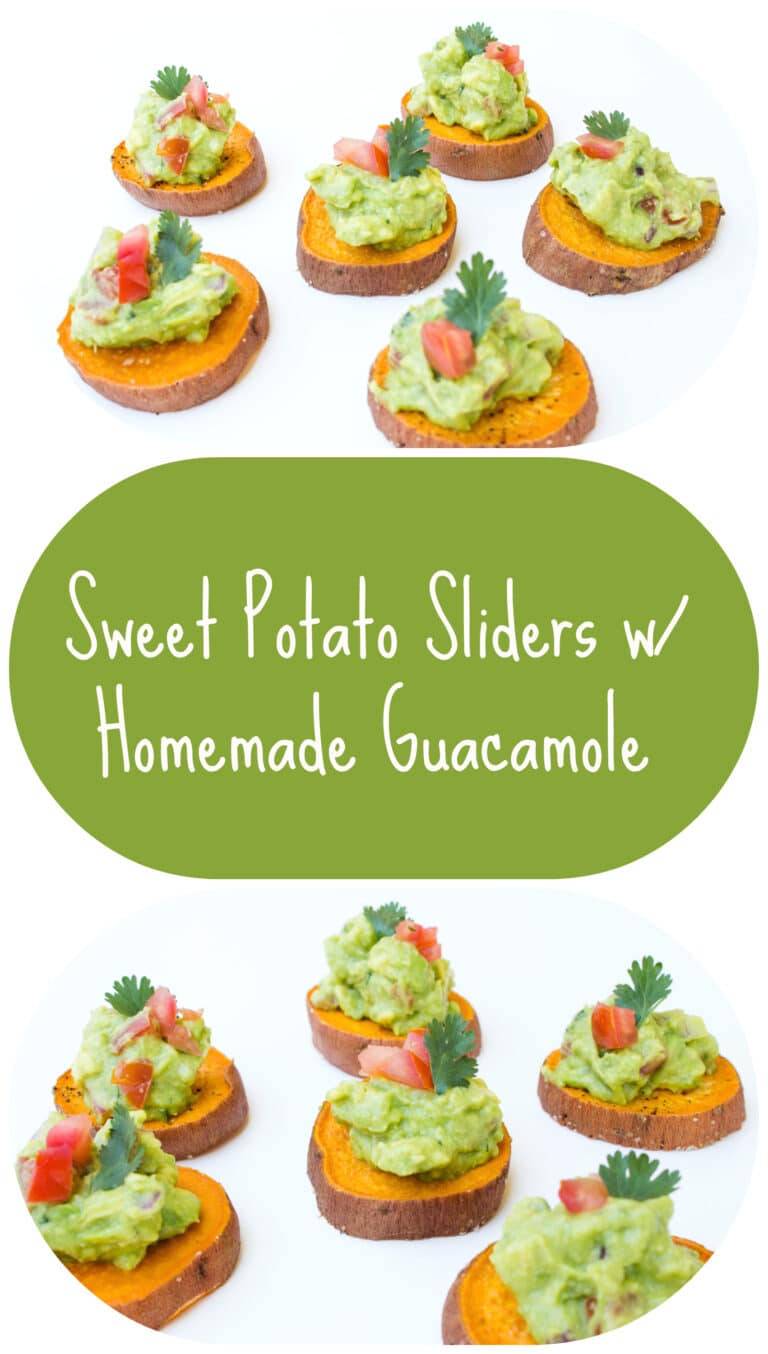 Hi, I'm 
Tawnie

!

Welcome to my tiny "korner" on the Internet! I am a Registered Dietitian Nutritionist who loves cookies as much as kale. (OK, maybe I like cookies a little bit more but shh, don't tell anyone). I am so glad you're here! Follow along for hassle free, realistic and approachable recipes.

More about Tawnie

I'd love to see what you made!!
Share it with me on Instagram or Facebook and tag me @krolls_korner or use the hashtag #KrollsKorner!