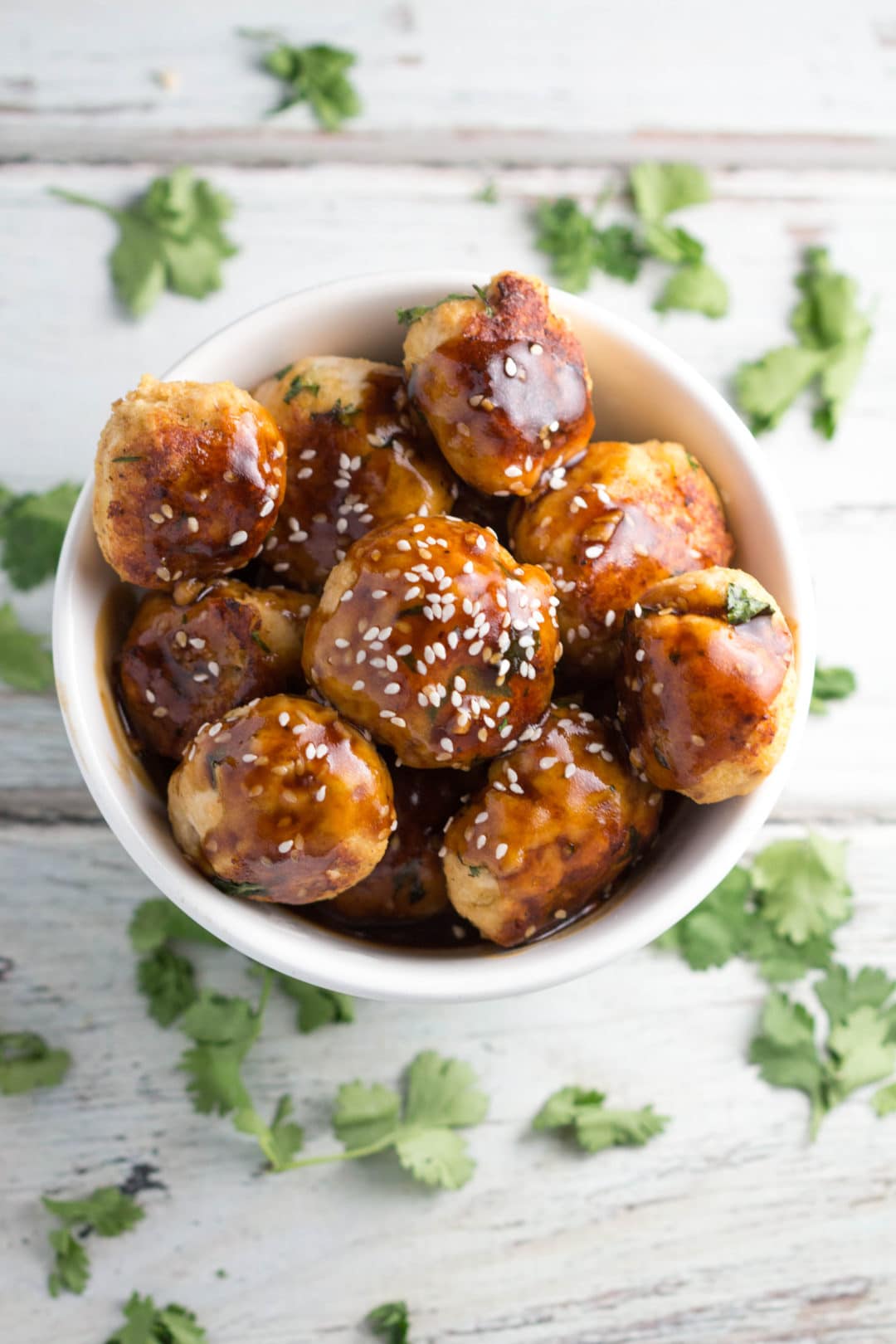 Sriracha Teriyaki Ground Turkey Meatballs…such an easy & delicious recipe!! Whip these bad boys up for an easy and delicious weeknight dinner!
Happy Saturday! These were by far one of the easiest and tastiest meatballs I have ever made before. I had some extra time yesterday before I had to go to an event so I figured I could whip something up in the kitchen first! For some, cooking may seem stressful, too hard, or boring…but for me I love it! It is my stress reliever and certainly never boring. I told someone the other day I wish I could literally spend every moment in the kitchen…and get paid for it. Maybe one day 😉
This recipe may seem like it has a lot of ingredients but most of them you should have in your fridge somewhere. As you will see I made my own teriyaki sauce as well. I chose ground turkey since it is a leaner meat, and because, I just never buy ground beef haha. While this recipe is not by any means "low in sodium" it is in my opinion a healthier option then getting frozen meatballs with a pre-made sauce. Plus it is fun to cook at home! Get your kids involved in rolling up the meatballs with you and teaching them different cooking techniques along the way.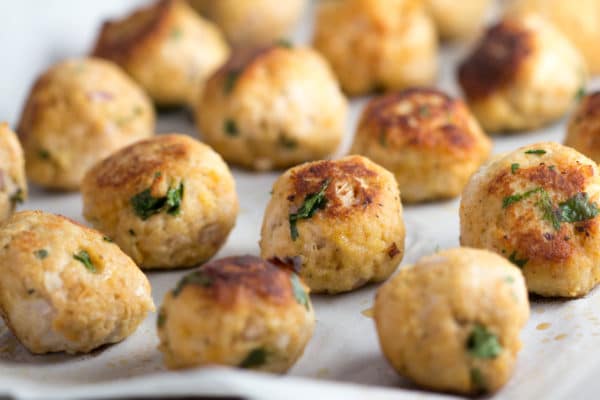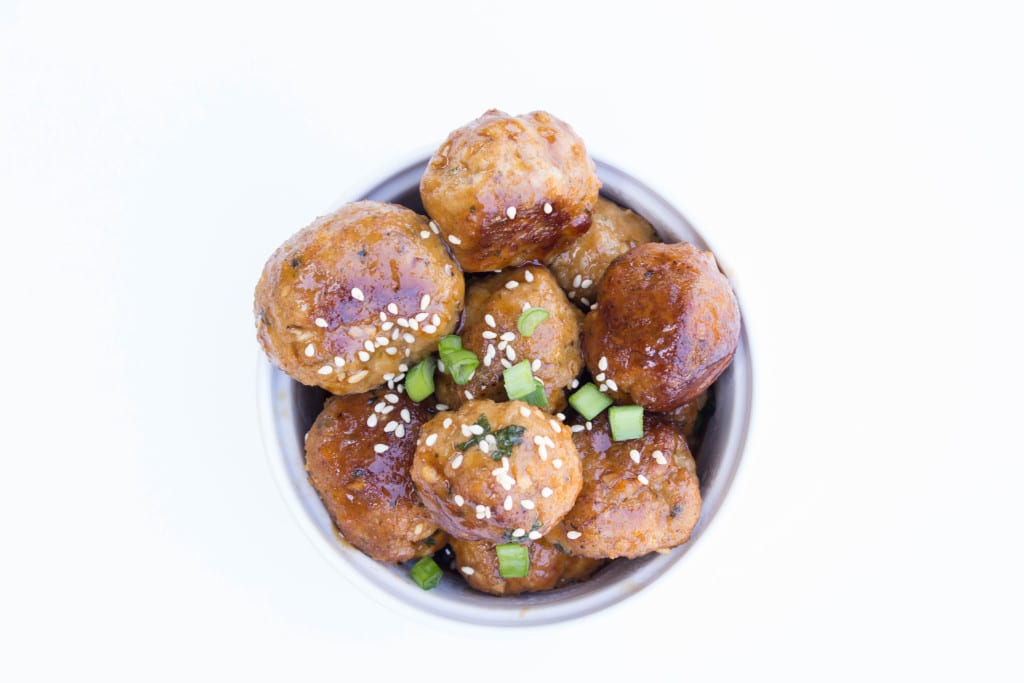 Sriracha Teriyaki Ground Turkey Meatballs
2015-04-18 07:08:41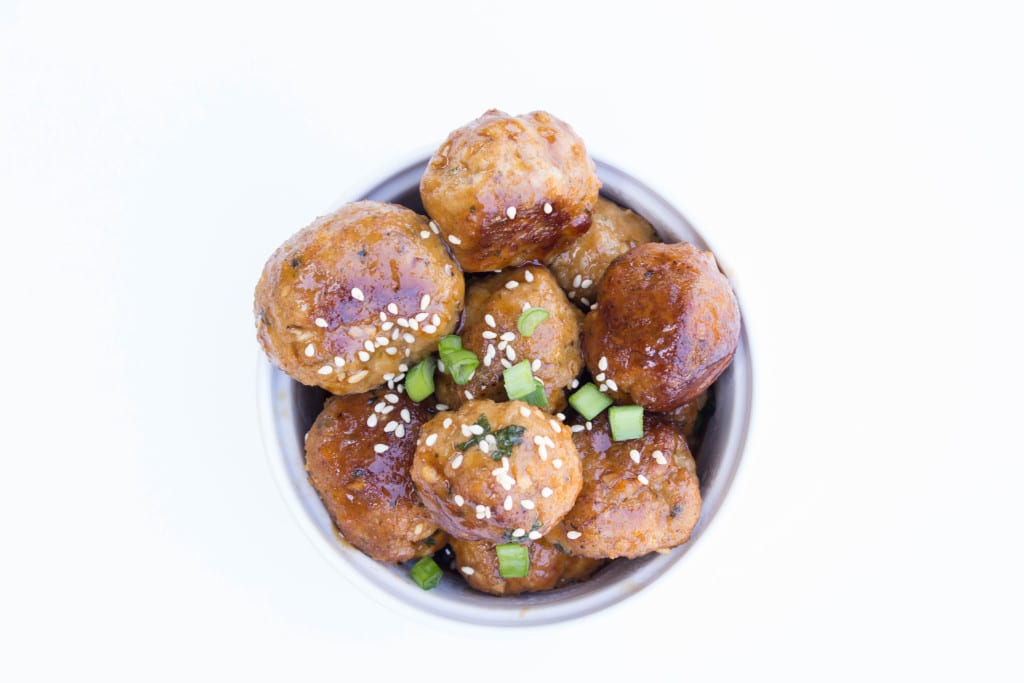 For the meatballs
1 package lean ground turkey meat
3 cloves garlic, minced
2 eggs
2 Tbsp. cilantro
2 Tbsp. Sriracha sauce
1.5 tsp. soy sauce
1 tsp. ginger, powdered or fresh
1 scallion, minced
1.5 cups panko bread crumbs
1 tsp. pepper
1 tsp. garlic powder
1/2 cup lukewarm water
3-5 Tbsp. EVOO (for frying, not to be put in the meat mixture)
For the sauce
3/4 cup low sodium soy sauce
1/3 cup honey
1/2 cup water + 3 Tbsp water, divided into separate dishes.
2 Tbsp. sesame oil (I used Chosen Foods Spicy Sesame Oil)
3 Tbsp Sriracha sauce
2 tsp. ginger, minced
3 tsp. corn starch
2 Tbsp. sesame seeds
For the meatballs
Preheat oven to 400 degrees F. Line a baking sheet with parchment paper and set aside.
In a large bowl combine all ingredients for the meatballs together. The mixture should be moist and able to form together into meatballs. If crumbly, add a little more water.
Heat 3 Tbsp. oil in a large skillet over medium heat and let oil get hot. You want the meatballs to simmer when you drop them in the oil. Form the meatballs while your oil is getting hot. Once hot enough, fry the meatballs in small batches. Cook the meatballs only 1-2 minutes on each side.
Place the semi-cooked meatballs onto the prepared baking sheet and bake for 12 minutes, or until fully cooked.
While the meatballs are baking you can make your sauce. Combine all of the sauce ingredients together (in a medium saucepan over low/medium heat), minus the cornstarch and 3 Tbsp. extra water. While the sauce is coming to a simmer, mix together the cornstarch and water in a small dish until combined. Slowly whisk in the cornstarch mixture into the sauce until sauce begins to thicken. Once thick, remove from heat and toss in the sesame seeds.
After you make the sauce, your meatballs should be done. Enjoy!
Adapted from Bakebynature
Adapted from Bakebynature
Krolls Korner https://krollskorner.com/