Heart Healthy Grilled Corn Salad {Whole Foods Market}
Dinner | Published on Aug 18, 2016 | Last modified on Aug 20, 2019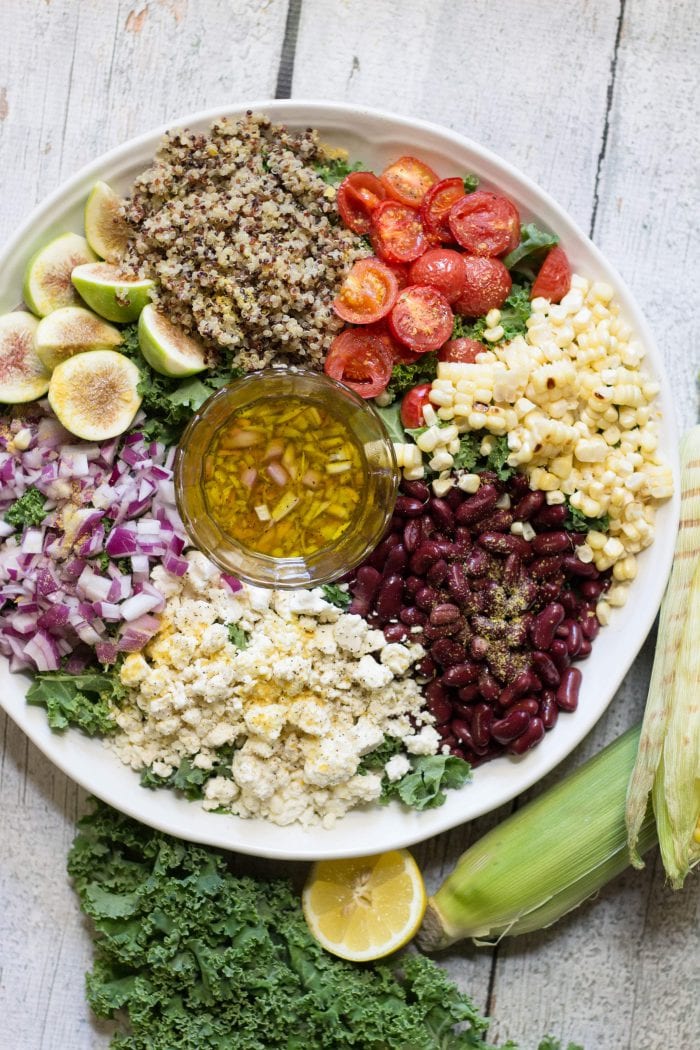 Disclosure: I was compensated for my time by the Whole Foods Market Marketing team for writing this post. All opinions expressed are my own.
I'm back again with another delicious Whole Foods Market Fresno recipe feature! This month I wanted to use grilled corn in a fun way and show you all how I used it on this beautiful heart healthy salad. There is something magical about walking into a Whole Foods Market produce department… I always feel so mesmerized by the feast of color, variety and freshness of produce before me. (I hope I am not the only weird-o who feels this way. Maybe it is a Registered Dietitian thing?!) Anyways, I was like a little kid in a candy store picking out the freshest produce for this salad. I kind of went overboard with what I wanted on it…but I could not resist everything in season from the figs to the beautiful stalks of corn. Mmmmm!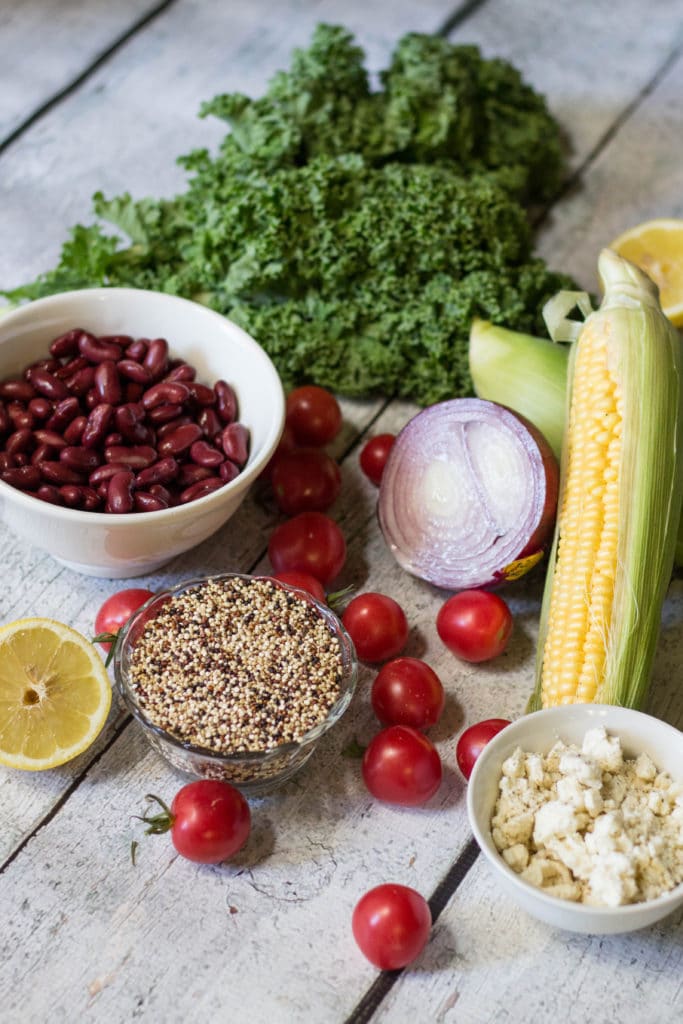 Whole Foods Market makes it easy to find something you like due to their abundance of fruits and vegetables. This makes it super easy to "taste the rainbow" and get the variety of nutrients we need in our daily diet. It is still warm in Fresno! Which means there is plenty of time to continue enjoying fresh summer salads and firing up the grill to grill with the freshest veggies in town! 🙂 I hope you enjoy this recipe. The homemade salad dressing recipe is one of my FAVORITE go to dressings because it goes with just about any salad. You can also swap white wine vinegar for red wine vinegar!
[Tweet "Heart Healthy Grilled Corn Salad – Whole Foods Market Fresno has the freshest ingredients! |Krollskorner.com"]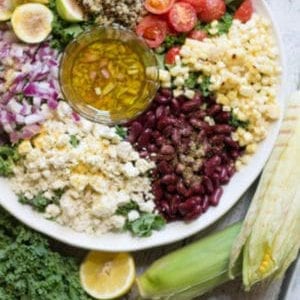 Heart Healthy Grilled Corn Salad
Print Recipe
Pin Recipe
Rate
Ingredients
For the salad
1

bunch fresh kale

stemmed, washed, and chopped

3

cups

baby spinach and arugula mix

1/2

red onion

diced

4-5

fresh figs

sliced

1

cup

red quinoa

cooked and cooled

1

stalk of corn

grilled

1

can of no-sodium kidney beans

drained and rinsed

4

oz.

feta cheese tossed

1

cup

fresh cherry tomatoes

I roasted mine, but it is just an option.

1-2

teaspoons

Nutritional Yeast
For the dressing
1/3

cup

white wine vinegar

1/2

large shallot

minced

2/3

cup

extra virgin olive oil

2

tablespoons

honey

2

teaspoons

coarse-grained Dijon mustard
Instructions
Directions
In a large bowl, toss chopped kale and baby spinach & arugula mix together. This is your base or bottom layer.

Start to build your salad in sections. Place red onion, feta, kidney beans, grilled corn (cut off of the cob after being grilled), cherry tomatoes (roasted option directions below), quinoa and fresh figs around the salad. Sprinkle nutritional yeast on top.

Whisk all ingredients for the dressing together and place onside or drizzle on top and serve immediately.

Optional Roasted tomatoes: Preheat oven to 375 degrees F. Meanwhile, halve tomatoes. On a lined baking sheet, toss tomatoes with 2 tablespoons avocado oil, salt and pepper. Roast in oven for 15 minutes, flipping tomatoes gently occasionally.

Click here to see what is on sale or for coupons at your nearest Whole Foods Market!

I'd love to see what you made!!
Share it with me on Instagram or Facebook and tag me @krolls_korner or use the hashtag #KrollsKorner!