Chocolate Banana Chia Seed Muffins
Appetizers & Snacks | Published on Feb 25, 2019 | Last modified on Mar 31, 2020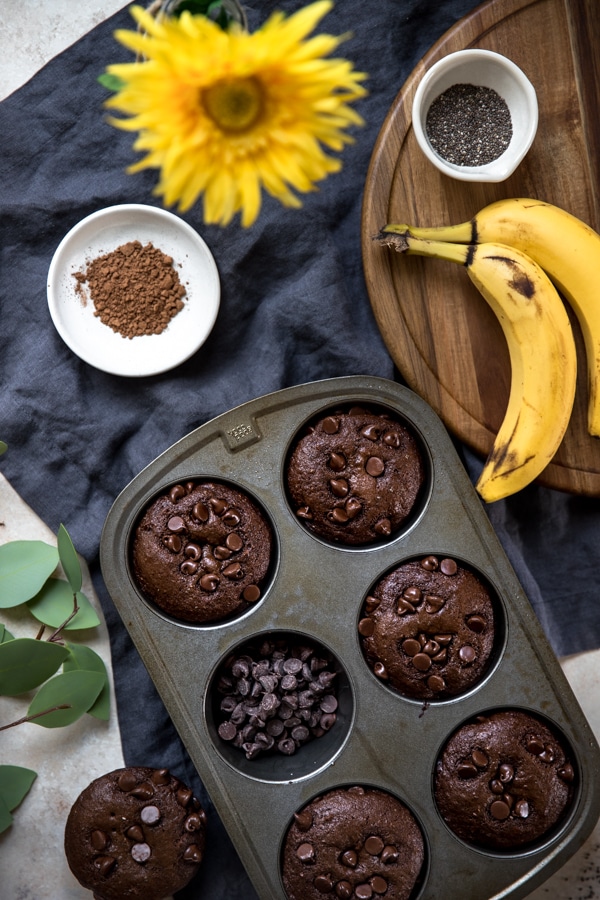 Chocolate Banana Chia Seed Muffins are packed with Omega-3s and fiber in addition to being moist and chocolatey!
These easy, moist and (somewhat) healthy chocolate muffins are a great way to use up your ripe bananas. If you are craving bananas bread but don't want to make an entire loaf these muffins will be your saving grace.
What is chia?
Chia is a flowering annual plant that produces small white or purple blossoms and can grow up to one meter in height.

What are chia seeds?
The Chia plank is primarily grown for its seeds, which are high in alpha-linolenic acid (ALA)—an omega-3 fatty acid—fiber, protein, minerals, and antioxidants, and are gluten-free. If you are familiar with chia seeds, you know the seeds are small , oval-shaped, and come in different colors: black, grey, white, or grey or white spotted with black.2
How to Quickly Ripen Bananas
One of the biggest questions when making chocolate banana muffins or banana bread is, "How can I quickly ripen my bananas?"
In the oven: Put unpeeled bananas on a baking sheet and place in an oven set to 300 degrees F. You know they're done when the peels become shiny and black.
In the microwave: take a fork or sharp knife and completely poke through the skin of the peel a couple of times on all sides. Place the banana in the microwave for 30 seconds. Let cool slightly and check if desired softness is met. If not, microwave for an additional 30 seconds. Continue this process until desired ripeness is obtained.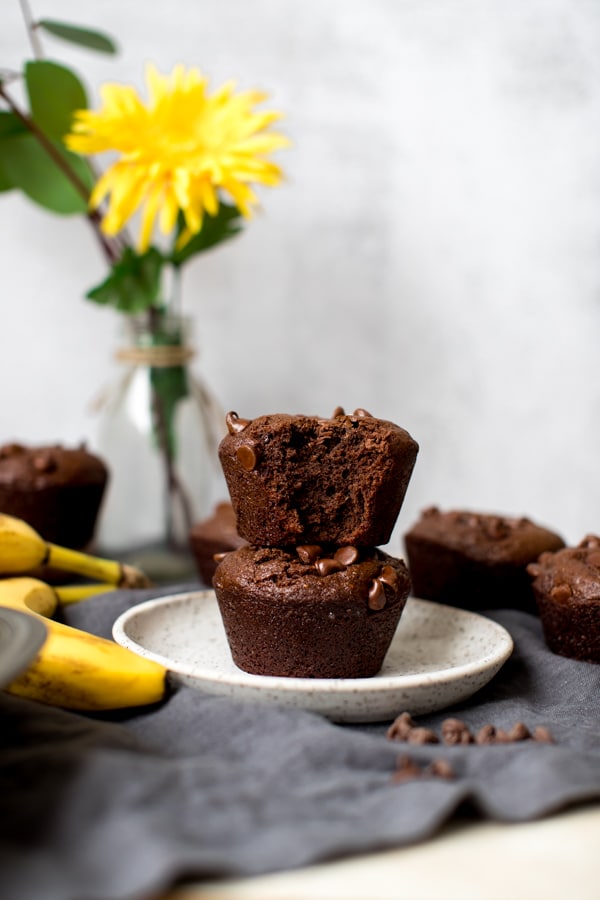 Think of these easy chocolate chia muffins as a grab and go breakfast with your morning coffee, a post workout snack or as a treat to enjoy after dinner.
Common questions about muffins:
Q. Why didn't my muffins rise?
A. You may have not had the oven temp hot enough. This recipe calls for the oven to be set at 350 degrees F. Be sure to preheat your oven before! Or you may have not mixed the batter enough.
Also, if using muffin liners be sure to use the correct size. For these chocolate muffins, I used large muffin cups so didn't use a liner, but use the cupcake liners if using a cupcake pan.
Q. What can I substitute for the coconut oil?
A. Instead of coconut oil, you can use vegetable oil, melted margarine, butter or shortening.
Q. What causes the muffins to be tough, heavy or rubbery?
A. It can either be too much egg or using a dark, nonstick pan. A large-size egg, about 1/4 cup, will give you the best results. Or have you ever tried baking with duck eggs? They work wonders in baked goods because of their large size!

Q. How can I make your muffins vegan or gluten-free?
A. It can be challenging to take non-vegan recipes and make vegan, or gluten-full recipes made gluten free. As of now, I have not made my recipe to be that way. There is a Bob's Red Mill Gluten Free 1-1- Baking Flour you can try (although I have never used it).
Jumbo, moist and ultra chocolatey banana chia seed muffins are great for on the go or a night time treat! #muffinmonday #krollskorner
Click To Tweet

Kroll's Korner on Pinterest
Tap here to pin recipes from Kroll's Korner for later! You'll find healthy (mostly) recipes that are realistic and easy to make. Happy Pinning! xo

Free eBooks: Muffin But Goodness & Instant Pot Dinner Recipes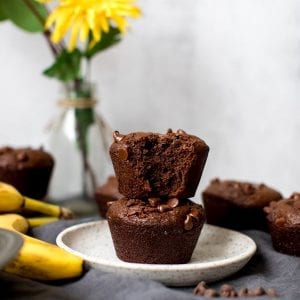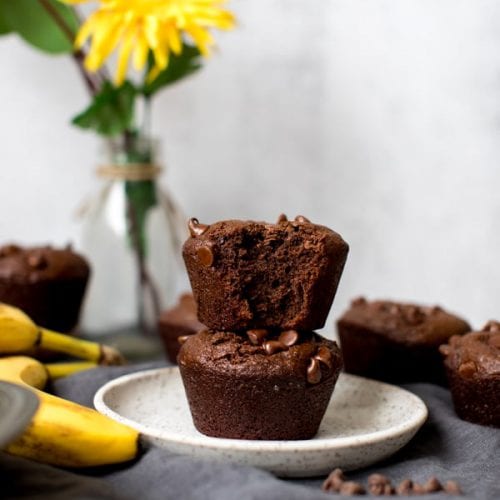 Chocolate Banana Chia Seed Muffins
Whether you choose to have these muffins for breakfast with your morning coffee or at your 3pm afternoon slump, these muffins will satisfy you with fiber, omega3s and all of the chocolatey goodness you're craving!
Print Recipe
Pin Recipe
Rate
Servings:
8
jumbo muffins
Ingredients
3

ripe

bananas, large

5

Tbsp.

butter, unsalted

1/2

cup

dark brown sugar, packed

2

cups

All Purpose Flour

1 1/2

cup

sugar

1/2

cup

cocoa powder, unsweetened

2

tsp.

baking powder

2

Tbsp.

chia seeds

1/2

tsp.

salt

2

large

eggs, room temperature

1/3

cup

milk

1/4

cup

coconut oil, melted (or vegetable oil)

1

tsp.

vanilla extract

1

cup

dark chocolate chips
Instructions
Preheat oven to 350 degrees F. Spray your muffin tin with a non stick spray and set aside.

Cook your bananas on the stove. Mash the bananas and place over medium heat in a medium to large frying pan. Then add in the butter and brown sugar. Whisk the ingredients together so the bananas can cook on the stove…bring the mixture to low and let simmer for 5 minute. Then remove from heat and let slightly cool.

Then in a medium sized mixing bowl, whisk together your dry ingredients: flour, sugar, cocoa powder, baking soda, chia seeds and salt. In a separate bowl, mix the eggs, oil and vanilla extract.

Whisk the cooled banana mixture into the egg/milk mixture. Then gently mix the wet ingredients into the dry. Fold in the chocolate chips. Use a ¼ cup measuring cup to measure in your banana bread batter into the prepared muffin cups. (Recipe will make 12-13 small muffins and 6-8 jumbo muffins) Sprinkle with more chocolate chips on top if desired.

Bake for 20-25 minutes, or until you insert muffins with a toothpick and it comes out clean. Enjoy!!
I know if you love these chocolate muffins, you'll also love my Ultimate Nutella Coffee Muffins and my Boozy Banana Bread Muffins!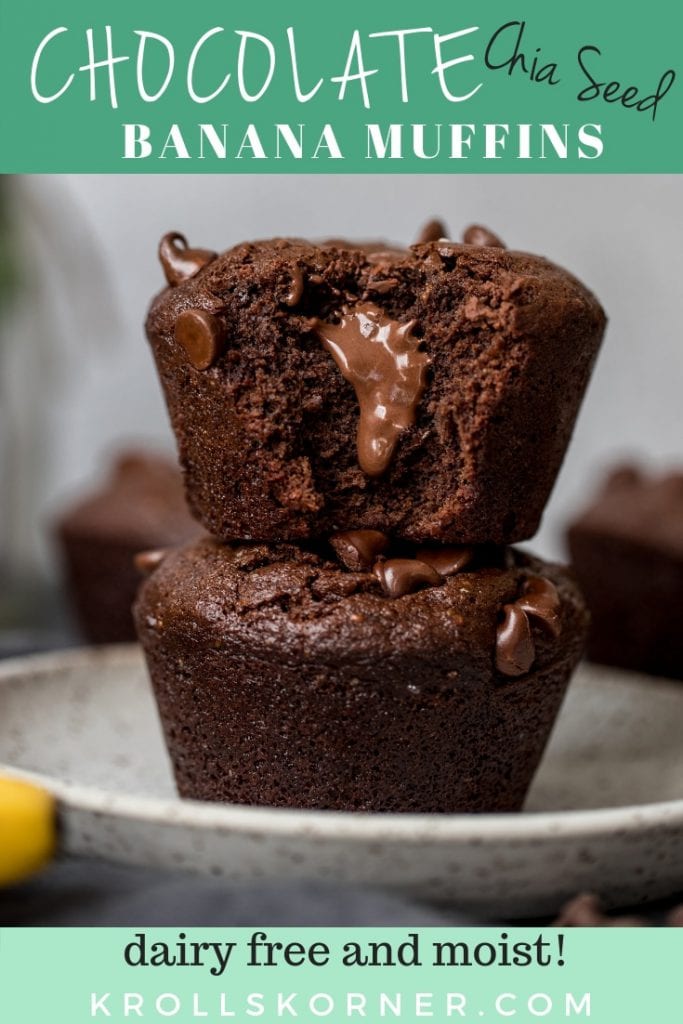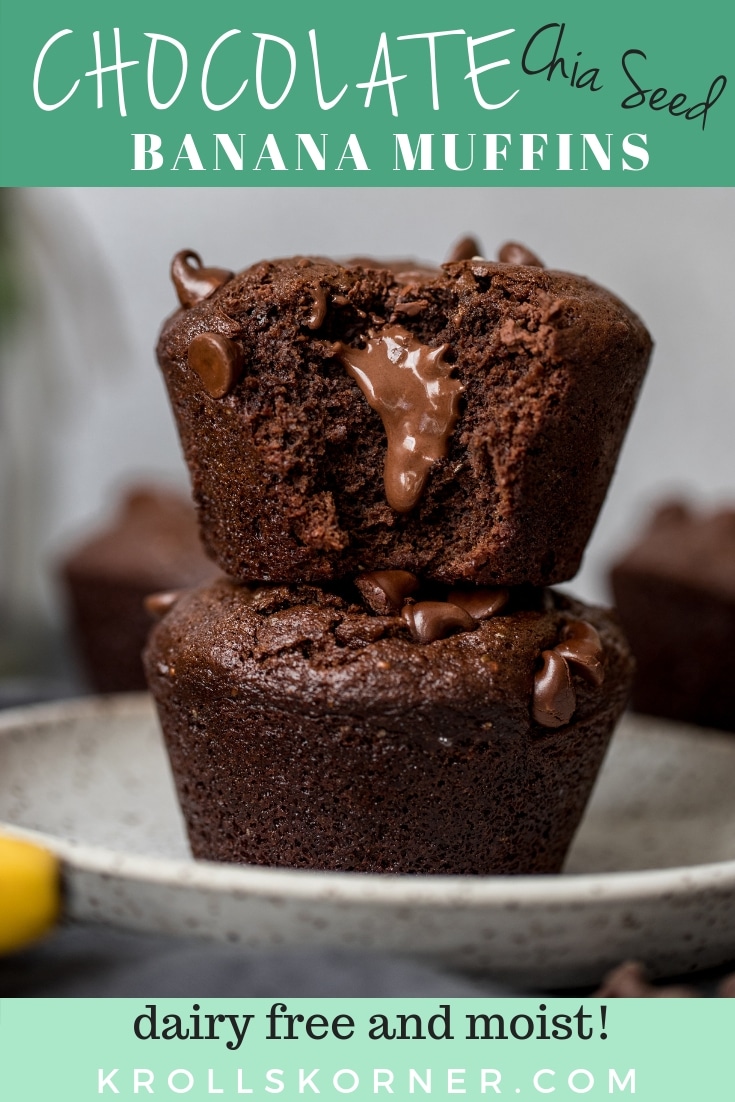 If you loved this recipe, please be sure to tag @krolls_korner on Instagram so I can see your creations!

I'd love to see what you made!!
Share it with me on Instagram or Facebook and tag me @krolls_korner or use the hashtag #KrollsKorner!