Breads
Flourless Greek Yogurt Pumpkin Muffin Bites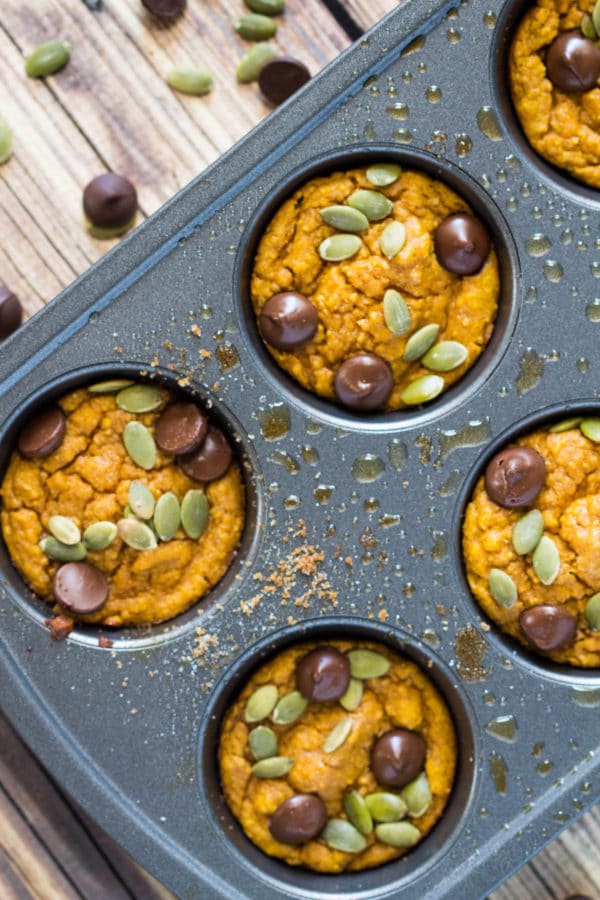 Flourless Greek Yogurt Pumpkin Muffin Bites are the perfect way to get acquainted with Fall and you'll be sure to FALL in love with them!
Confession: The reason why these are flourless is due to the fact my kitchen itself was flourless! What kind of a food blogger doesn't have All-purpose flour in her kitchen? Yeah, weird…I know. Using the food processor and making "oat flour" worked out perfectly for this recipe though! I mean, check out that moistness in the picture below!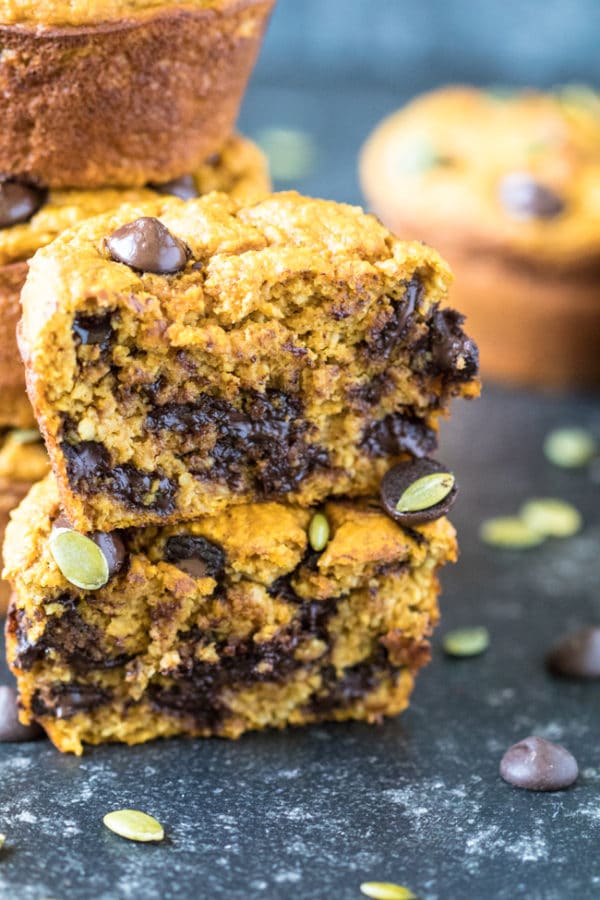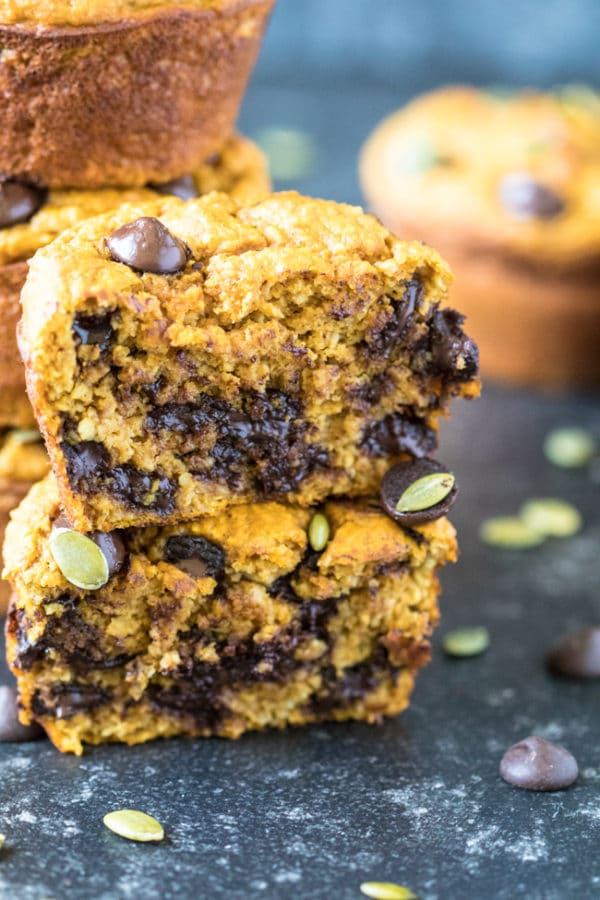 There muffins are a lightened up version of a typical muffin due to the Greek yogurt and using oats in place of All-purpose flour. I used pepitas and dark chocolate for my toppings for an extra nutritional boost! These bad boys even have turmeric in them! Who says muffins can't be healthy?! 🙂 These muffins have been such a hit this fall I am SO happy! I already can't wait to make them again!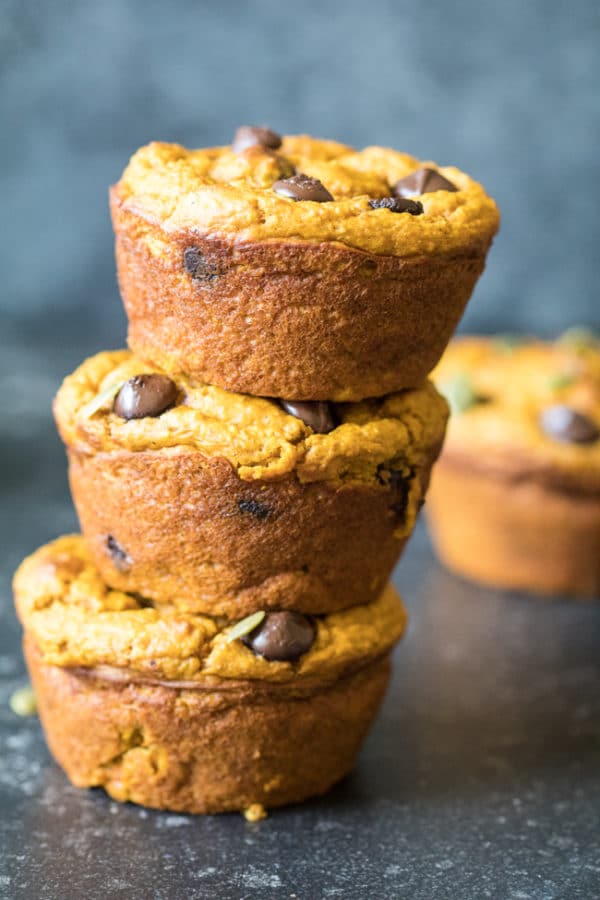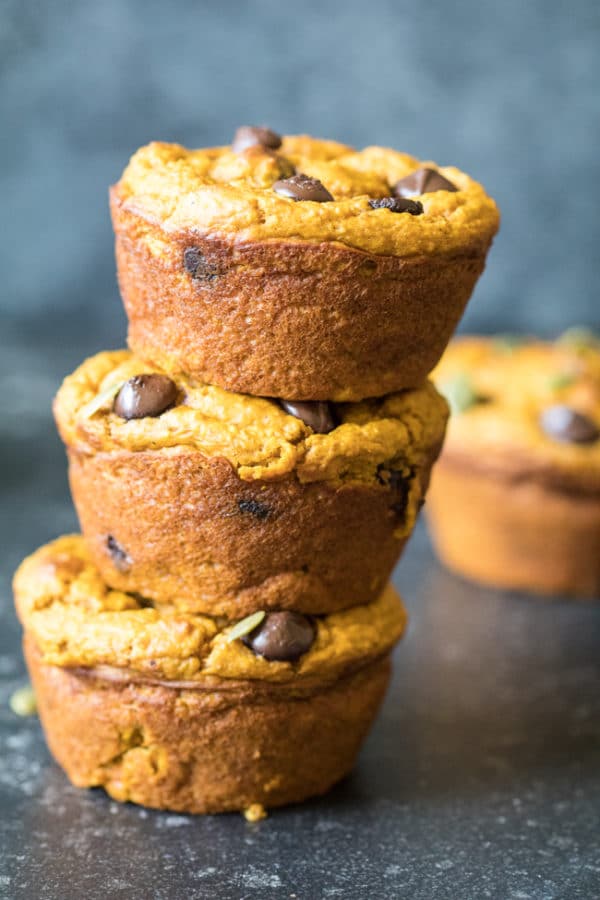 What is Fall without a little (I mean A LOT) of pumpkin?!
Why is pumpkin good for you anyways?
Pumpkin is a highly nutrient dense food, and is much more than just a cute prop to take a photo with at the pumpkin patch during Halloween! It contains potassium, vitamin C and A, and antioxidants which may be of benefit in reducing the risk of heart disease, high blood pressure and cancer.
Pumpkin Puree vs. Pumpkin Pie Filling
Check your label and be sure you are buying 100% canned pumpkin. People often mix up pumpkin puree with pumpkin pie filling. Pumpkin pie filling (or pumpkin pie mix) has been sweetened and has spices added like cinnamon and nutmeg.
Muffins vs. mini muffins
This recipe make 12 cupcake sized muffins OR 6 larger pumpkin muffins! See recipe below!
Is pumpkin good for weight loss?
Pumpkin is a great low calorie food. Many people think of it in baked goods, but it can also be used in delicious ways like in this Pistachio Pumpkin Soup! SO my answer: maybe. It depends on so many other factors than just pumpkin alone. It's a great food – maybe just don't eat it in dessert form every time you choose to eat it 🙂
Can pumpkin be good for my skin?
It does have vitamin C and A which are antioxidants known to help soften and soothe skin!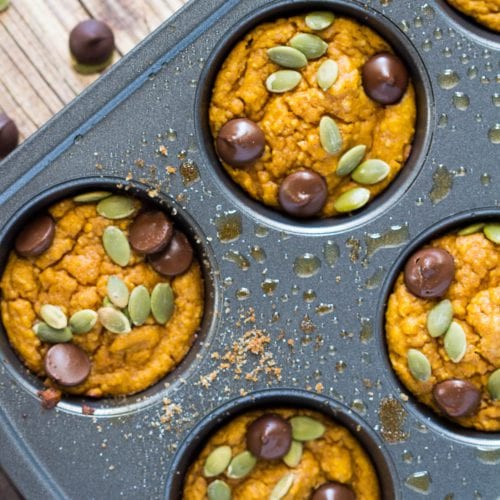 Flourless Greek Yogurt Pumpkin Muffins
These muffins give you protein punch from Greek yogurt, filling fiber from pumpkin, and thanks to turmeric and fall spices, these are healthy and delicious!
Print
Ingredients
1

cup

Greek yogurt

1

cup

canned pumpkin puree

2

eggs, large

2

cups

rolled oats

1/4

cup

vegetable oil

2

Tbsp.

honey

2

tsp.

baking power

1/2

tsp.

baking soda

1

tsp.

cinnamon

1/2

tsp.

nutmeg

1/2

tsp.

pumpkin spice

1/2

tsp.

salt

1/8

tsp.

turmeric

1

tsp.

vanilla extract

1

cup

dark chocolate chips

about 3/4 to mix in and the rest for topping!

Recommended toppings: pepitas
Instructions
Preheat oven to 425 degrees F and spray cupcake tin* (see notes) with Pam. Set aside.

Using a food processor, blend the oats for ~15 seconds. Then add in remaining ingredients (except pepitas and chocolate chips). Blend until creamy smooth. Fold in the 3/4 cup chocolate chips, and reserve the rest to sprinkle on top.

Pour into cupcake and or muffin tins - filling about half way. Sprinkle with pepitas and chocolate chips.

Bake for 15-18 minutes or until you can stick a toothpick in a muffin and it comes out clean. Let cool for a few minutes and enjoy!
Recipe Notes
Adapted from Running with Spoons
I used cupcake tin instead of a muffin tin because I wanted 'cupcake size' muffins, but you can make 6 large muffins or 12 cupcake size bites, OR ~25 mini muffins using a mini muffin tin.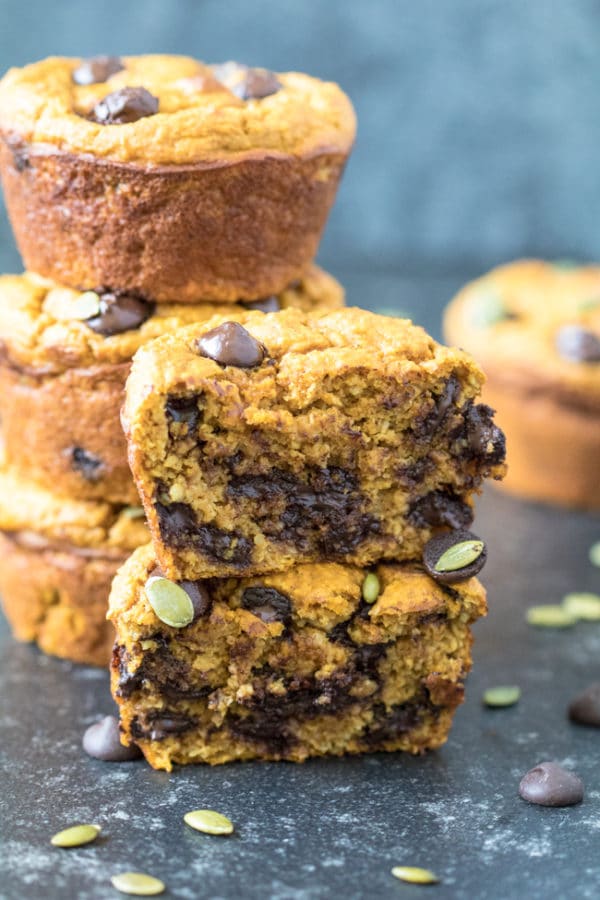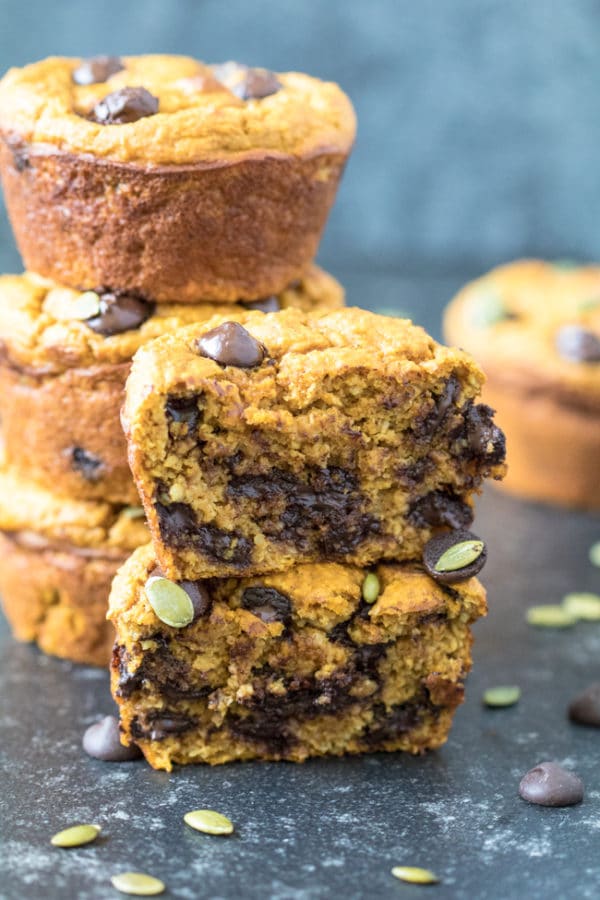 [Tweet "These Flourless Greek Yogurt Pumpkin Muffin Bites will curb you pumpkin cravings this Fall! #KrollsKorner"]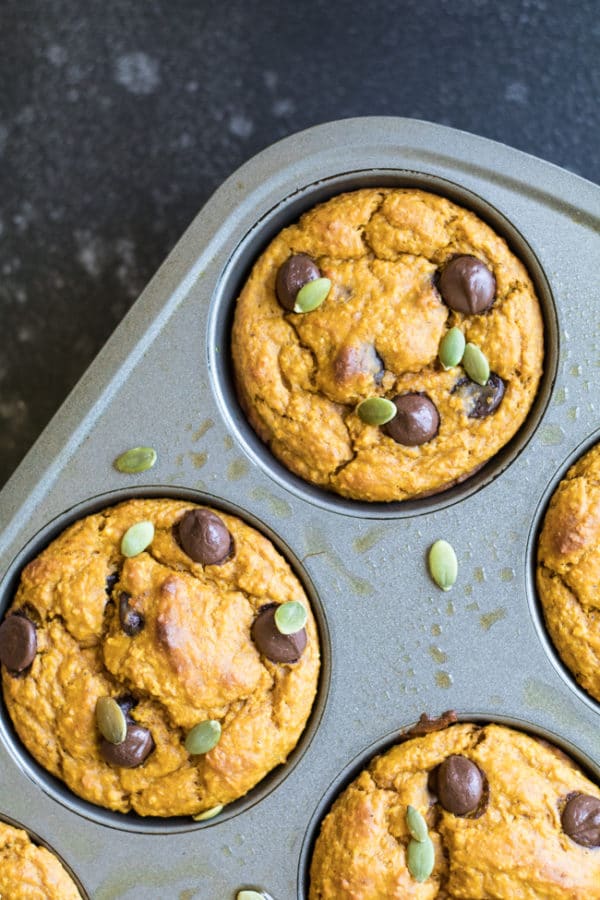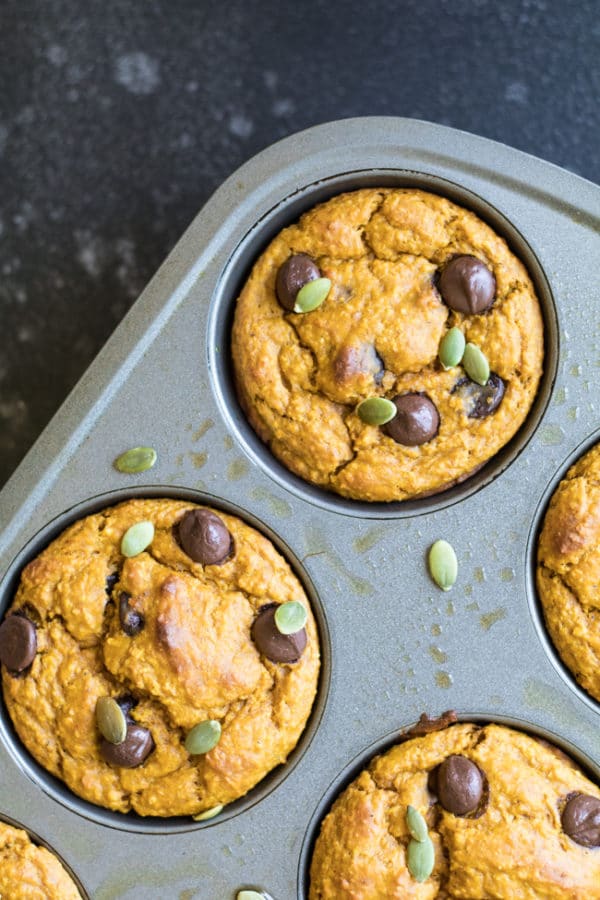 I'd love to see what you made!!
Share it with me on Instagram or Facebook and tag me @krolls_korner or use the hashtag #KrollsKorner!