Dinner
Fall Pistachio Pumpkin Soup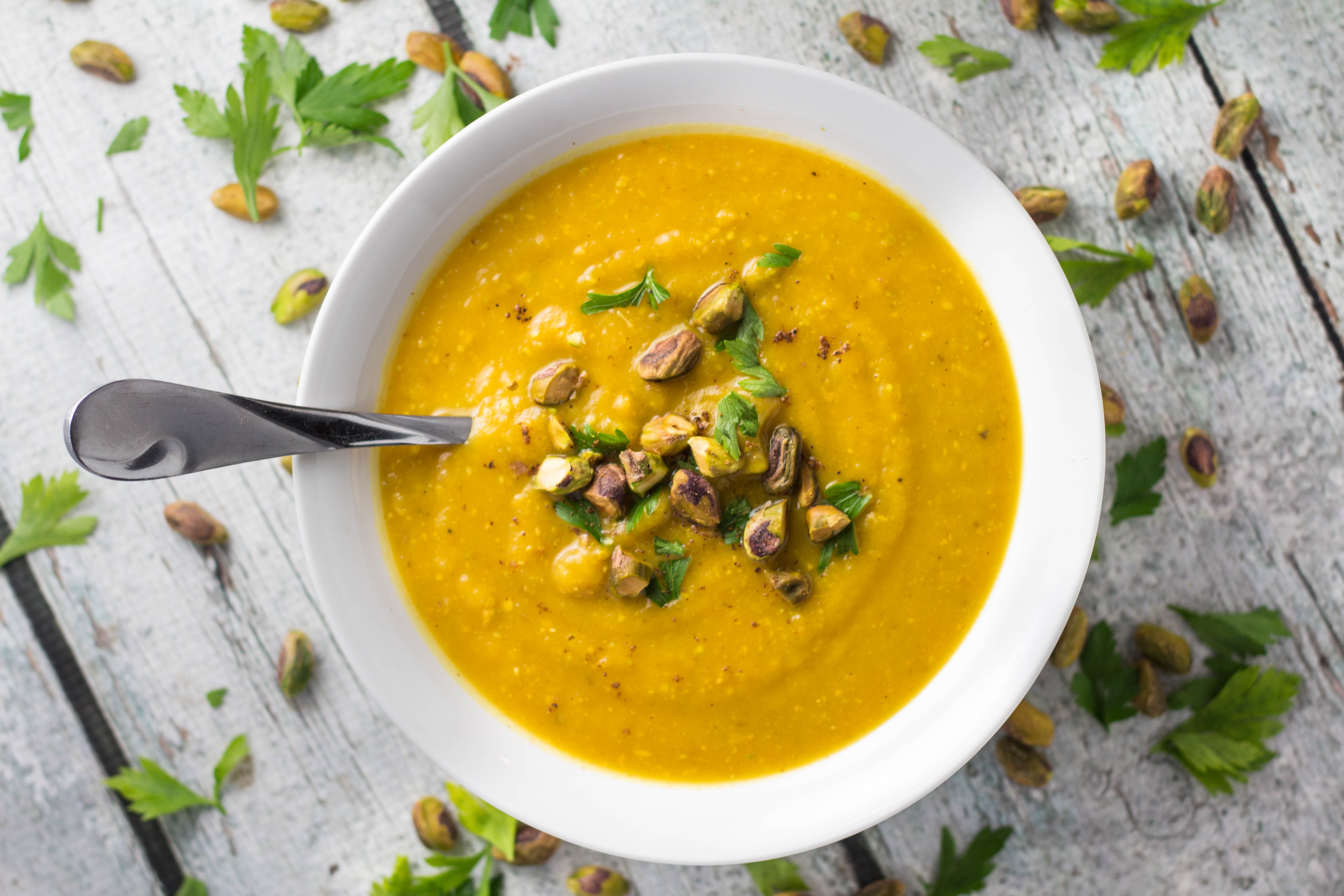 With flavors of pumpkin and a hint of nutmeg dancing on your tongue, this pistachio pumpkin soup is guaranteed to be a keeper! You will be sure to Fall in love with this Pistachio Pumpkin soup!
Disclosure: I was not compensated for writing this post.
I am finally home from Vermont and getting back in to the normal swing of things. The normal swing of things basically means working out, going to work, and cooking/blogging! Ohh the exciting life as a single 25 year old girl…
If you did not read my last blog post…I am doing an Instagram Takeover this week for the Old Town Clovis Pistachio Party happening this Saturday, Sept. 30th! It is going to be the last Farmer's Market of the year so it is going to be one you don't want to miss! (For all of my Clovis folk at least!)


I always seem to jump the gun with soup season…but I can't help it! I can't be the only one…who else is with me?! **Side note: I totally was snacking on the pistachios as I was making this recipe! I love pistachios for a portion controlled snack because it is a perfect way to to keep your metabolism going and maintain energy levels between meals! Or in my case…before meals 😉
[Tweet "With flavor of pumpkin and a hint of nutmeg dancing on your tongue, this pistachio pumpkin soup is guaranteed to be a keeper! You will be sure to Fall in love with this Pistachio Pumpkin soup! Krollskorner.com"]
How to make blender soup:
This recipe is easily made using a powerful blender. Once you boil off your potatoes and they are tender – you will essentially transfer all ingredients into the blender and blend well! I use a Vitamix for my blender soups.
Can you put hot soup in a blender?
Yes! Depending on the size of your blender, you may want to work in batches. The cool thing about the Vitamix is the friction of the blades can make steaming-hot soup in under 10 minutes, right in the container; chilled soups take even less time!
Which blender should you buy?
I am very partial to the Vitamix since it is the brand I own and I just ALWAYS hear foodies using the Vitamix. I however have heard great things about the Blendtec. With 1 Google search you can find many reviews on these items
I hope you fall in love with this pistachio pumpkin soup as much as I did. What are some of your favorite Fall inspired soup recipes! I'd love to hear!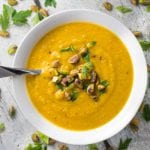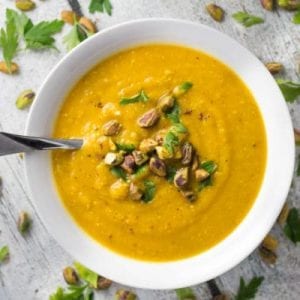 Fall Pistachio Pumpkin Soup
Vegetarian friendly pistachio pumpkin soup has notes of nutmeg and all things Fall! This soup is great for a cozy Fall night in or as an appetizer to dinner!
Print
Ingredients
2

Russet potatoes

1

small yellow onion

diced

3-4

cloves

garlic

minced

3

Tbsp.

unsalted butter

1/3

cup

unsalted

shelled pistachios

4

cups

low-sodium chicken broth

or vegetable broth

1

can pumpkin puree

15 oz.

1/4

cup

sour cream

1

tsp.

nutmeg

1/2

tsp.

cardamom

1/2

tsp.

turmeric

pinch

of paprika

salt and pepper to taste

parsley for garnish

or green onions

additional pistachios for garnish
Instructions
Directions
Wash a peel potatoes and cut into about 2-inch cubes. Bring 4 cups of broth to boil and place potatoes in the pot to boil potato cubes until you can stick a fork thru them. This takes about 10-15 minutes. Reserve broth from potatoes - it will reduce down to about 2 cups! (You will need this for the soup!)

While potatoes cook, saute the butter, onions, and garlic in a small pan on medium heat, until onions become translucent - about 5-8 minutes.

In a powerful blender, blend the pistachios first. Then, using a slotted spoon, place cooked potatoes in a food processor,then pour in the onion mixture. Caution: when mixing...the blender will get hot, since contents are hot! Add in all additional ingredients (except the sour cream) and blend until smooth.

Transfer this into a soup pot on the stove and let it come to a simmer. Then add in the sour cream. Adjust any seasonings if needed, or you may need to add water if you do not like the consistency.

Enjoy warm and top with parsley and crushed pistachios!

I'd love to see what you made!!
Share it with me on Instagram or Facebook and tag me @krolls_korner or use the hashtag #KrollsKorner!