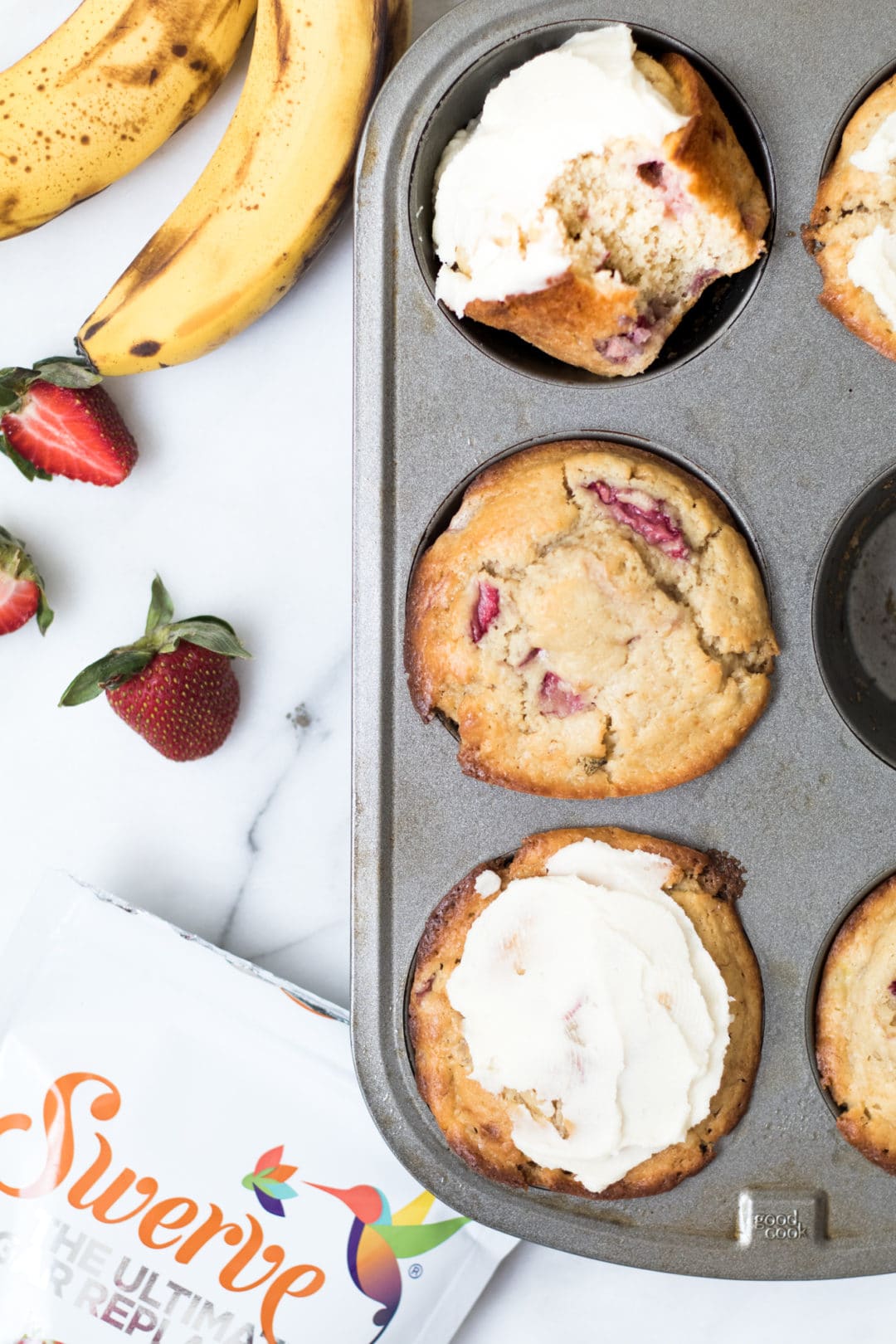 Well hello there! You just swerved your way in to the most delicious skinny strawberry banana muffin you'll ever have! Get your Swerve on and make these Skinny Strawberry Banana Muffins ASAP!
Disclosure: I received free samples of Swerve mentioned in this post. By posting this recipe I am entering a recipe contest sponsored by Swerve and am eligible to win prizes associated with the contest. I was not compensated for my time.
If you know me at all, you know I LOVE to bake. I bake cookies on a Tuesday morning just because "I feel like." I make brownies 1x a month because what beats a warm homemade brownie with a scoop of vanilla bean ice cream on top?!
As a Registered Dietitian Nutritionist (RDN) with a love for baking, I am personally always mindful of the added sugars being consumed. Instead of avoiding baked goods completely, I give my body what it's craving in moderation. However, others around me (my boyfriend, family members, coworkers, friends) often tell me they have trouble with consuming sweets in moderation. For example my co-worker the other day asked me, "How can you eat just ONE cookie?!" It's totally normal and easy to overeat the sweets. I get it! For those looking to indulge, but without a ton of added sugar (especially those with diabetes) these Skinny Strawberry Banana muffins are for you! And your friendly, loving RDN gal pal (AKA me) understands the importance of a healthy eating pattern low in added sugar so I've got your back. Let's find new ways to satisfy that sweet tooth without compromising your health 🙂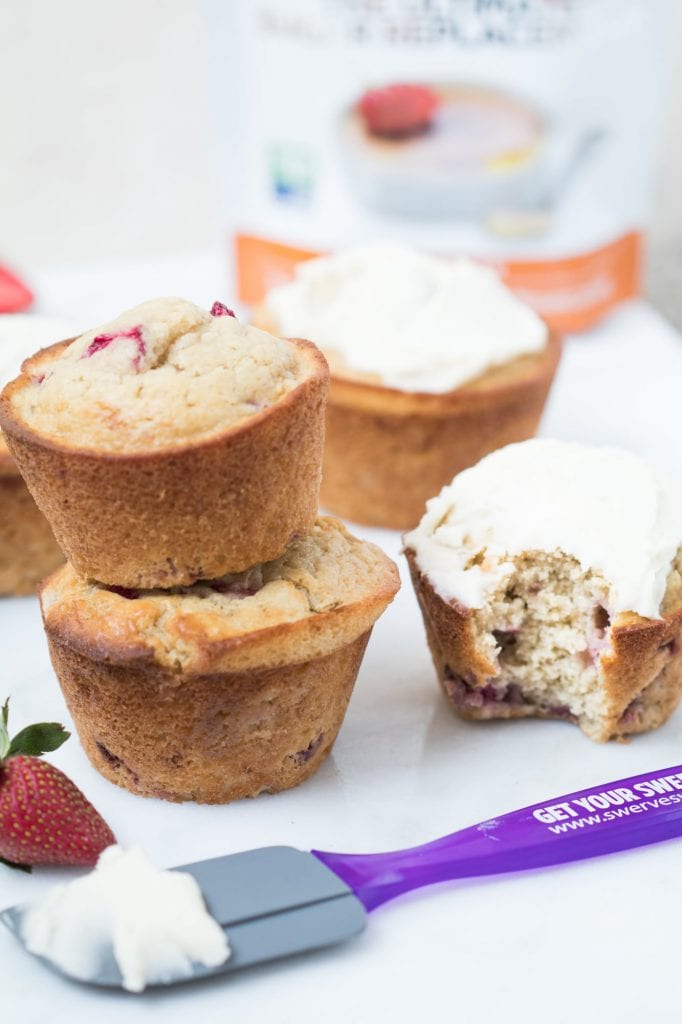 Swerve is a delicious natural sweetener that I used in this recipe. I love using it in my baking because it measures cup-for-cup just like regular sugar! ((No math for me please!))
Soooo what exactly is Swerve?! Swerve is made from ingredients found in select fruits and starchy root vegetables, and contains no artificial ingredients, preservatives or flavors. Anyone seeking a cleaner ingredient in their baking with a delicious natural sweetener would be blown away by Swerve. When I made these muffins I told my boyfriend to not make any faces when trying them because they have a sugar replacement in them. HE ATE THE WHOLE MUFFIN. You cannot even taste the difference, which is amazing!! Now you can indulge in your favorite muffin recipes using Swerve. (Starting right here with this Strawberry Banana Morning Muffin of course).
Swerve is available on Amazon too which is amazing!!!
[Tweet "#Sponsored Indulge in your favorite baked goods (like this muffin recipe!) using Swerve – a delicious natural sweetener! #TheRecipeRedux"]
Let's talk nutrition in Swerve…
ZERO NET CARBS. The ingredients in Swerve do not affect blood sugar (great for diabetics), so the carbohydrates it contains are considered non-impact.
Swerve contains ZERO CALORIES.
Swerve is made from all-natural ingredients. (Can I get an AMEN?!)
The main ingredient in Swerve is Erythritol – Erythritol has a high GI tolerance and does not cause the digestive issues associated with other sugar alcohols. (Can I get another AMEN?!!)
Swerve proudly sources all of their Non-GMO verified ingredients from North America and Europe!

Skinny Strawberry Banana Morning Muffins
Fall in love...eeeeek I mean Swerve into love with these Skinny Strawberry Banana Morning Muffins! #Sponsored #TheRecipeRedux
Print
Ingredients
12

Tbsp.

butter, unsalted,

softened (room temperature)

3/4

cup

Swerve, Granular

1/2

cup

Dark Brown Sugar

3

large

eggs

1/2

cup

2% milk

1 1/2

tsp.

vanilla extract

1

cup

Greek yogurt

2 1/2

cups

All-Purpose Flour

2

tsp.

baking powder

1/2

tsp.

baking soda

1/4

tsp.

salt

1 1/2

cup

strawberries, chopped

2

small

bananas (ripe, mashed)
Frosting:
3

Tbsp.

unsalted butter, melted

1

cup

Swerve, Confectioners

Splash of water
Instructions
Preheat your oven to 375 degrees F. Spray a muffin tin with PAM and set aside. (I used a large muffin tin, you may use a cupcake pan for smaller muffins!)

In a stand mix, cream together the softened butter and sugars. Add in the eggs, 1 at a time, until mixed well. Then add in the milk, yogurt, and vanilla extract. Mix well.

Remove bowl from stand mixer and using a sifter, sift in the flour, baking soda, baking powder and salt. Using a rubber spatula, fold the dry ingredients in gently.

Add in chopped strawberries and banana and fold in. Be careful - do not over mix muffin batter! Scoop the batter into prepared tins and baking for 22-25 minutes. The large muffins take longer so if you use a cupcake pan, I could check on muffins around 19/20 minutes.

Use a toothpick to see if they are done! While muffins cool, make your frosting. Melt butter, then add in Swerve, Confectioners sugar and just a small splash of water. Mix together with a spoon and frost muffins when cool. Enjoy!
Recipe Notes
Frosting tip:
If your frosting looks too thick, try adding in a tablespoon or 2 of milk instead of the splash of water!
If you do not have Greek yogurt, you may use sour cream!
Want to see more recipes using Swerve?! Click this Recipe Redux picture below!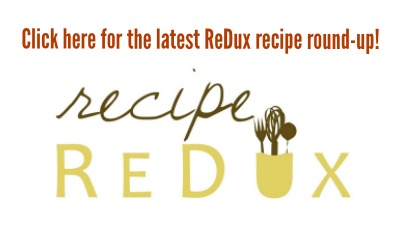 Let me know in the comments below what you think of this recipe! 🙂