Desserts
Lemon Blueberry Cheesecake Cookies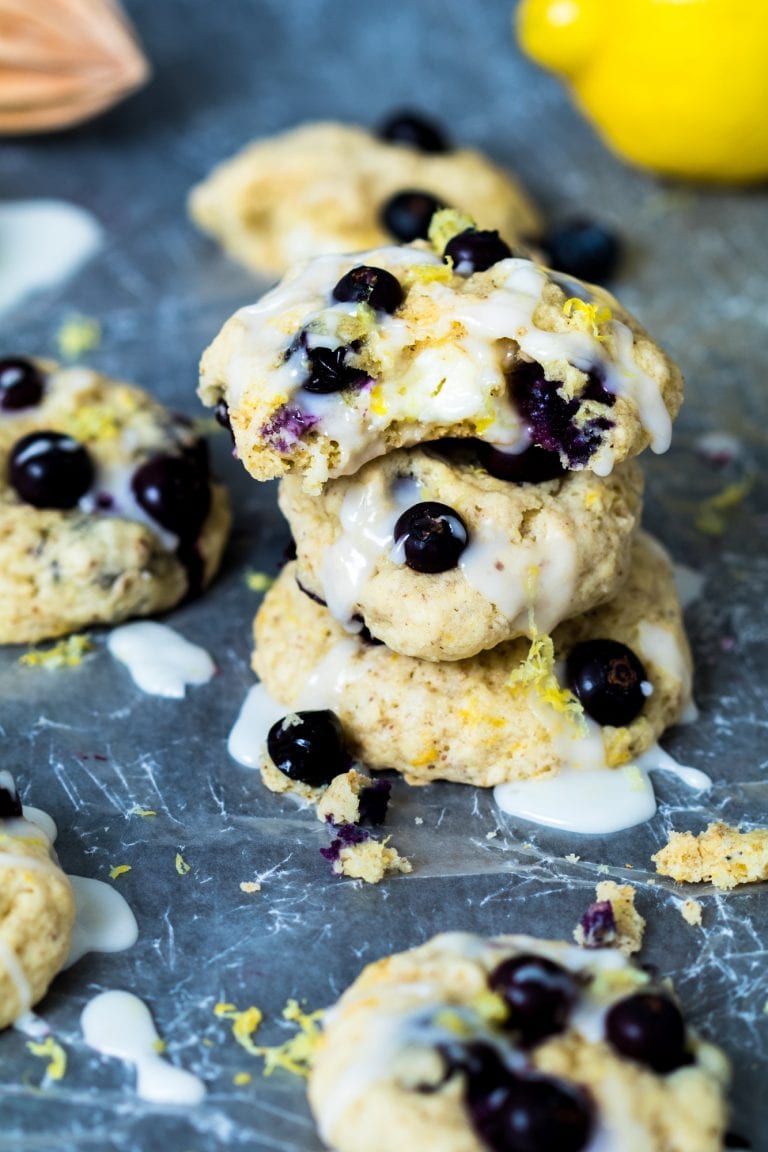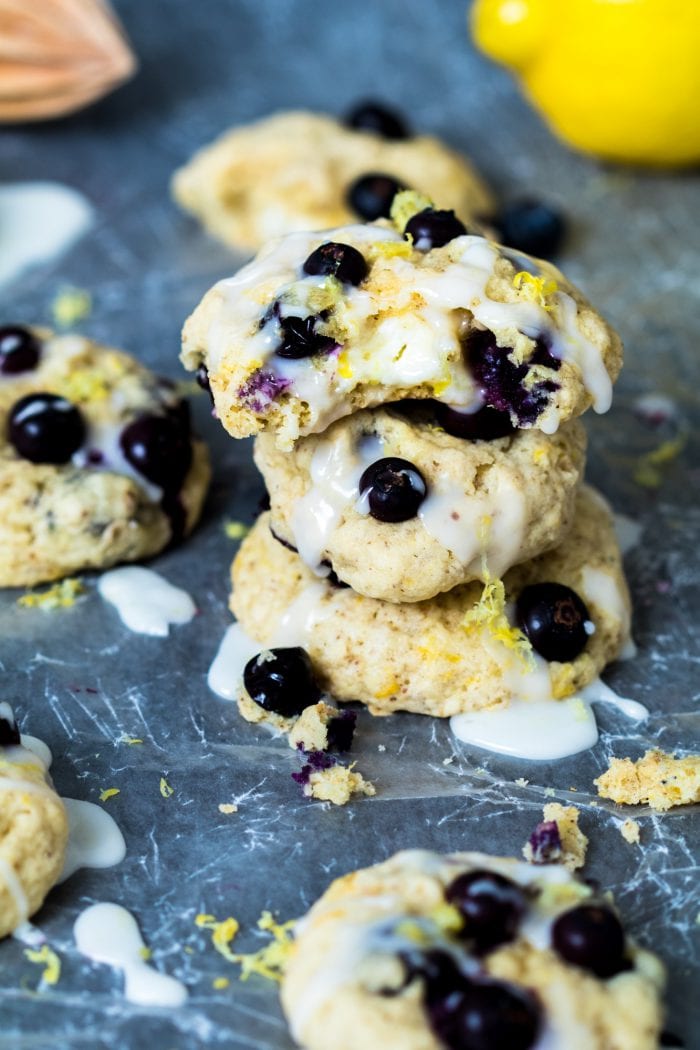 Lemon Blueberry Cookies baked to perfection with a ooey-gooey cream cheese filled center!
Blueberries are quite possibly one of my favorite fruits due to their obvious yummy-ness and their association with health benefits! Blueberries are jam-packed with antioxidants and phytochemicals that may help prevent and slow the progression of chronic diseases.
Blueberries and fresh lemon compliment each other SO well and the cream cheese center of these cookies adds a decadent creamy texture. Hashtag YUM!
I took these cookies over to a dinner party and everyone thought they were scones – which got me thinking, they kind of have a similar texture. Yet a little more soft and not as crumby. I like to top them with 3 fresh blueberries on top before baking because cmon, look how gorgeous they are even before you bake them!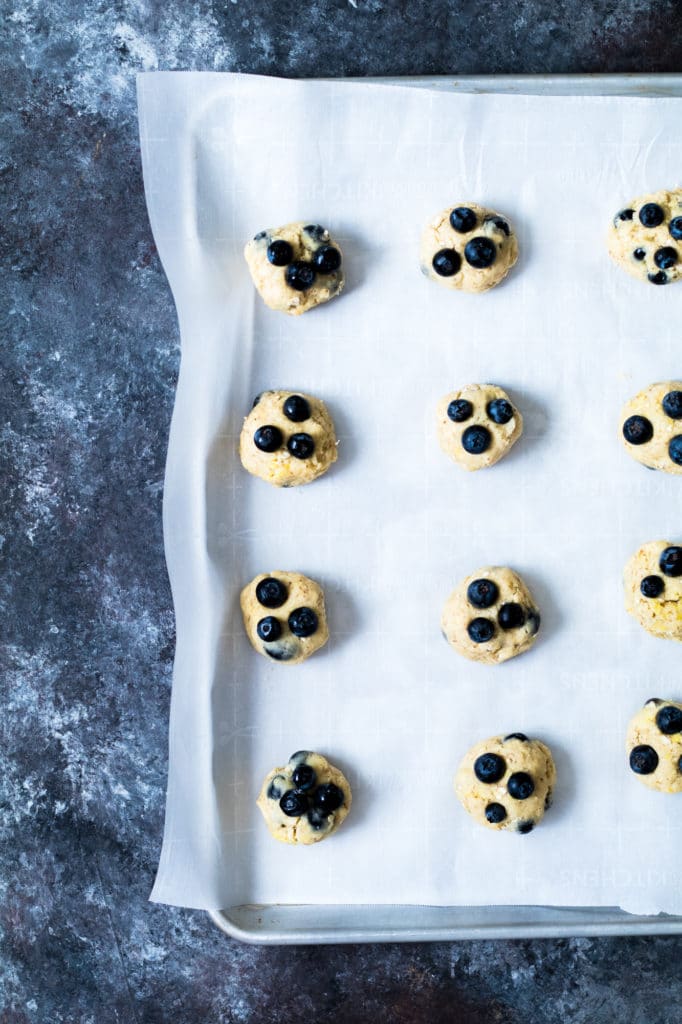 Once you make these, I would recommend enjoying a few of them right away them storing in the fridge (cream cheese cookies left on the counter or in a cookie jar = no good!)

I added in ground flax seed and quick 1-minute rolled oats for added nutrition and fiber. I had a friend the other day ask me the benefits/difference between the whole flax seed and ground. I like to purchase the milled flax seed because it's easier to work with and actually easier for you body to digest. Your body absorbs more fiber from milled flax seed and it is such a great addition to baked goods like these cookies, or to even top on salads, sprinkle in oatmeal or smoothies!
What's your favorite way to enjoy
I hope you enjoy!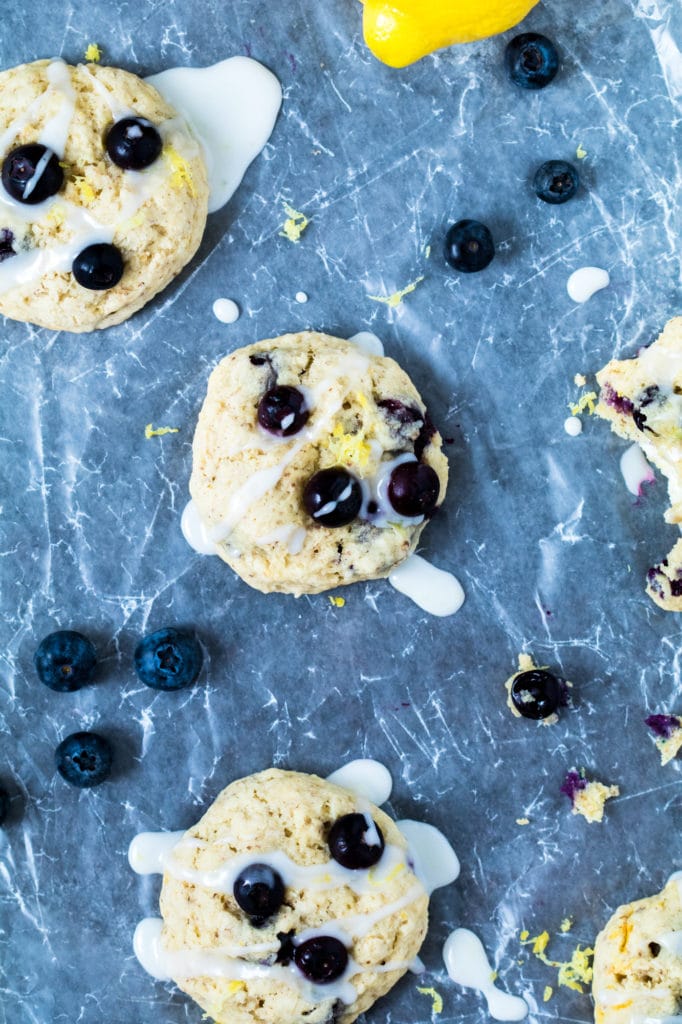 [Tweet "Lemon Blueberry Cookies…a light, fluffy, TASTY way to enjoy blueberries! 😉 |Krollskorner.com"]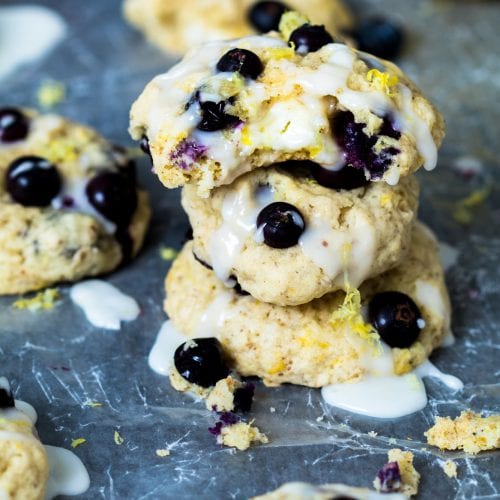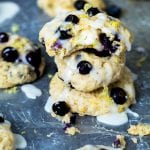 Lemon Blueberry Cookies
Lemon Blueberry Cookies baked to perfection with a ooey-gooey cream cheese filled center #krollskorner
Print
Ingredients
1

stick unsalted butter

room temperature

1/2

cup

oats

quick - 1 minute

1

cup

white granulated sugar

zest of 1 lemon

juice of 1 lemon

1

cup

fresh blueberries

2

eggs

1/2

tsp.

baking soda

1/2

tsp.

baking powder

1/2

tsp.

salt

2.5

cups

flour

2

Tbsp.

ground flax seed

1/2

package of cream cheese

softened

glaze: 1 cup powdered sugar

3 Tbsp. lemon juice
Instructions
Preheat oven to 350 degrees F. Line 2 baking sheets with parchment paper and set aside.

In the Kitchen Aid, cream together the butter and sugar until it is light a fluffy. Blend in lemon juice, lemon zest and 2 eggs.

In a medium bowl, whisk together the baking soda, baking powder, salt, flax seed, oats, and flour. Then mix in wet ingredients from the mixer bowl until combined.

Gently fold in 1 cup blueberries. Refrigerate dough for 15 minutes.

For each cookie, roll dough into a medium sized ball and then flatten a little. Place ~1 Tbsp cream cheese in the center of each cookie and form the dough around it. Place each cookie on parchment paper.

Bake 16 minutes.

While in oven, make glaze by mixing lemon juice and powdered sugar together. Once cookies have cooled for ~5 minutes, drizzle glaze over cookies.
Recipe Notes
Once you make these, I would recommend enjoying them right away or placing in the fridge. If left in a baggie on the counter there will be too much moisture and they cookies will get soggy. We don't want soggy cookies!


I'd love to see what you made!!
Share it with me on Instagram or Facebook and tag me @krolls_korner or use the hashtag #KrollsKorner!