The Fluffiest Greek Yogurt Strawberry Scones
Breakfast | Published May 4, 2019 | Updated Aug 26, 2019 | By Tawnie
The Fluffiest Greek Yogurt Strawberry Scones you'll ever bit into!
In high school I was obsessed with the Maple Oat Nut Scone from Starbucks. (Do they even sell those anymore?!) That's when I learned I LOVED scones.
Since I loved them so much I had to learn how to make them! The very first time I made scones was at my moms. Feel like is was just yesterday when we made these Lemon Poppyseed Scones and they were a hit (at least a hit between the two of us! haha)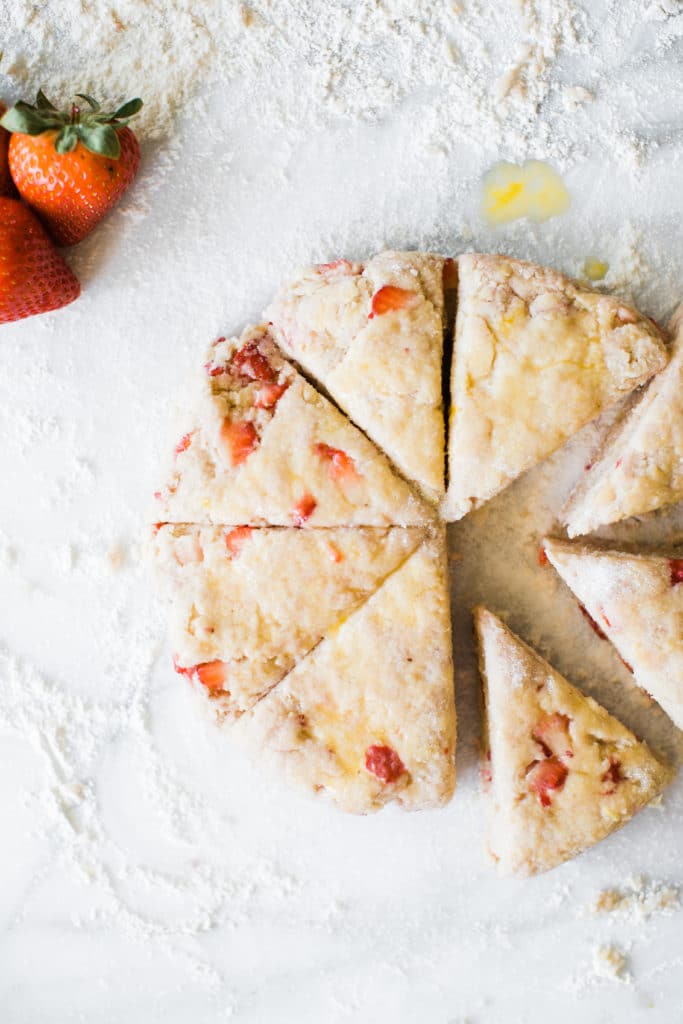 Why does the butter have to be VERY cold?
The point is to have the butter melt in the scones in the oven, not on the counter! When the butter is melting in the dough in the over, it helps create an air pocket which helps they dough rise, which ultimately helps create the fluffy scone, and not a dry/dense scone!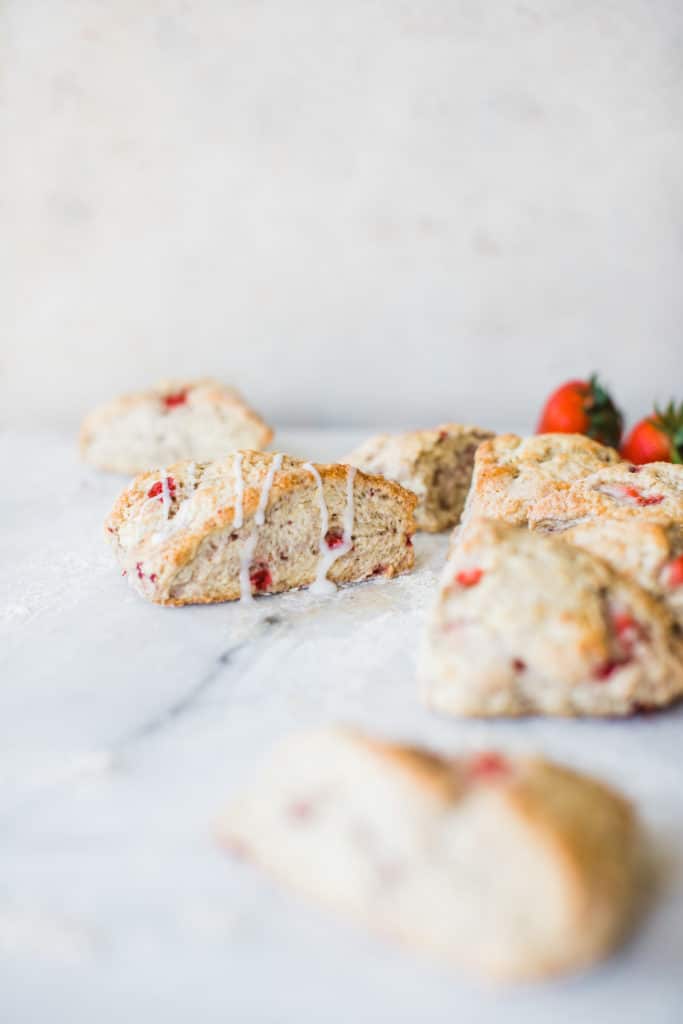 Do you have tips for how to incorporate/cut in the frozen butter?
Let be honest, working with cold or frozen butter is, well…hard. Many resources I read up on say to GRATE the butter into the dough mixture.
You can dice it up and mix in the your stand mixer too and blend it until the mixture resembles course meal or the size of peas.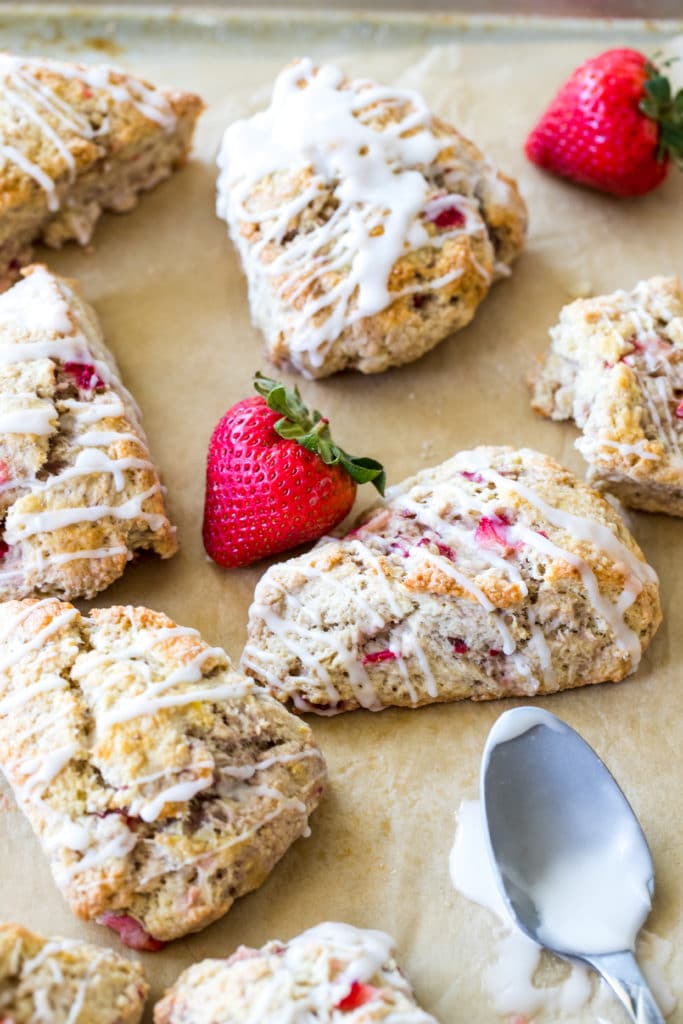 You can also use a food processor but just be careful not to over do it. Pulse a few times and then check for small, pea-sized pieces. You can even grate your butter in advance, have it in the freezer, and whenever you're ready to make scones you'll have your butter ready to go!
Fluffy and healthy Greek Yogurt scones made with NO BUTTER. #krollskorner
Click To Tweet
Why do you use Greek Yogurt instead of buttermilk?
I've found the combination of full fat yogurt and heavy cream together make a great scone. Buttermilk is a fine option as well though in place of heavy cream.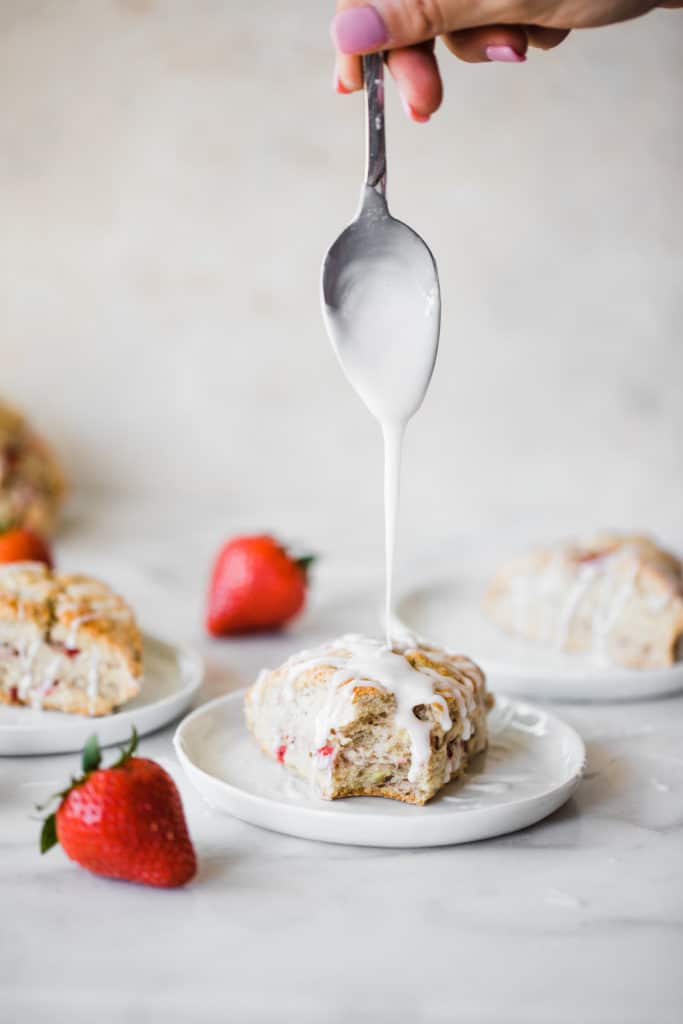 How do you get the tops to turn golden brown?
Before baking, whisk 1 egg with a little splash of milk or water and brush the mixture over each scone. Then add a pinch of sugar to the top & bake away! Mmmm…
Isn't 400 degrees F too high for baking scones?
I like the magic 400 degrees F for MY oven. Yours might be different. You could try 325 degrees F for a LONGER period of time. Mine took 21 minutes at 400. Some people are worried if you start at too high of an oven temperature the dough might not cook all the way on the side and the tops will become too brown. That didn't happen for me, but just keep an eye on them. Start at 18 minutes and then give them a little peak.
Will the fresh strawberries make the scones soggy?
Nope, not in this recipe! Be sure your berries are fresh, not mushy. And only use 1/2- 3/4 cup!
What can I make if I have leftover strawberries and don't think I can eat them all before they go bad?
The best summer salad ever of course. Like this Spinach Basil Strawberry Summer Salad! (hello tongue twister).
I hope you enjoy this recipe! Tag #krollskorner on Instagram if you make it, I'd love to see your pictures on the strawberry scones!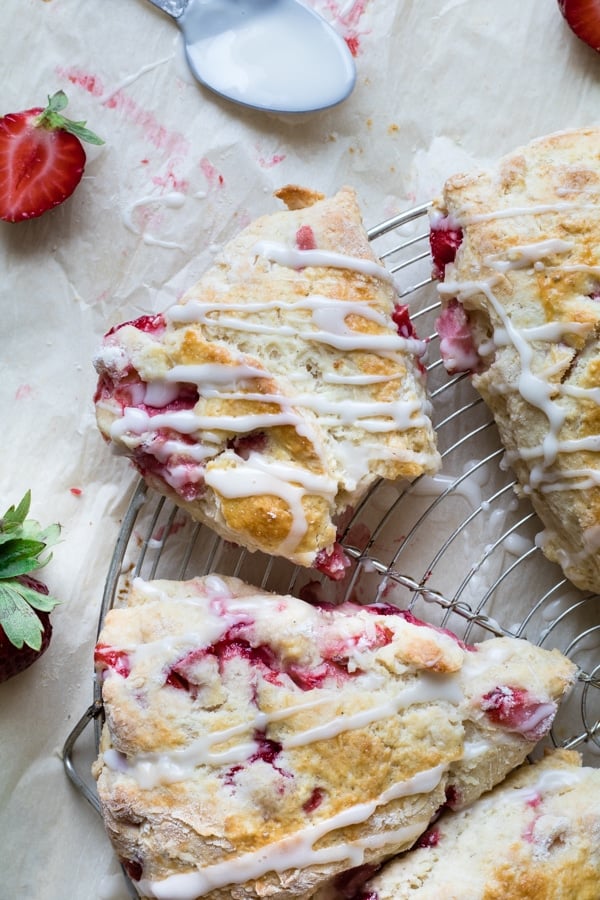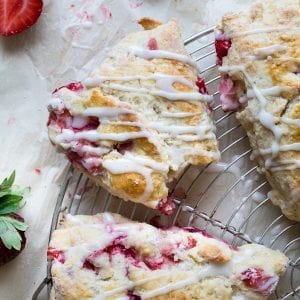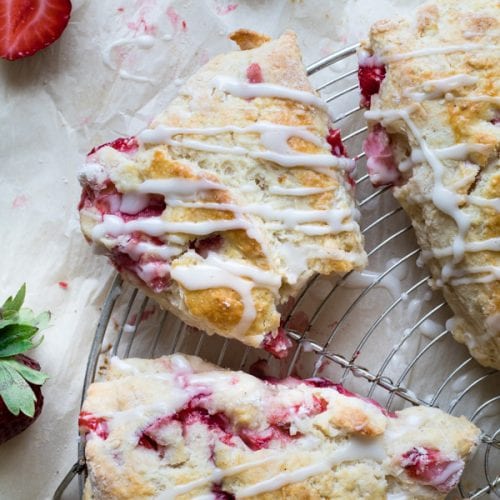 Fluffiest Greek Yogurt Strawberry Scones
You need these in your life, I promise!
Ingredients
2

cups

All-Purpose Flour

2

Tbsp.

sugar, granulated (plus a little extra for sprinkling on top before baking)

1

Tbsp.

baking powder

1/2

tsp.

salt

1/4

tsp.

cardamom

1

stick

butter, unsalted, diced (8Tbsp.)

3

large

eggs

one egg is for the egg wash

1/2

cup

whole milk (or cold heavy cream)

1/4

cup

Greek yogurt, full fat

1

tsp.

vanilla extract

1/2

cup

strawberries, fresh, diced (but I always like to add a little extra!)
For the glaze
1

cup

powedered sugar

3

Tbsp.

whole milk
Instructions
Preheat the oven to 400 degrees F. Line baking sheet with parchment paper. Set aside.

In the bowl of an electric mixer fitted with the paddle attachment, combine on low speed 2 cups flour, 2 Tbsp. sugar, baking powder, cardamom and salt. Blend in the cold diced butter at low speed until butter is in pea-sized pieces (about 30 seconds or so).

In a measuring cup, gently whisk 2 of the eggs with vanilla extract, milk (or heavy cream) and yogurt and pour into the flour mixture just until blended.

Toss the diced strawberries in 1/2 Tbsp. flour and then fold in the diced strawberries. The dough will be sticky.

On a flat surface, sprinkle 1/4 cup flour down so dough doesn't stick. You will want to add some flour to your hands too. Work the dough into a ball and then flatten into a round, making it about 3/4-1 inch thick. Cut the round into 8 wedges to make the scones. Then brush egg wash (egg wash is 1 egg whisked with 1 Tbsp milk or water) over each section, sprinkle with a little sugar.

Carefully transfer scones to the baking sheet. I like to use a spatula to help. Bake for 18-21 minutes, or until tops of scones are browned. Once the scones have cooled you can drizzle on the glaze by mixing the powdered sugar and milk together (optional).

If you are in a total baking mood here are more recipes for you to bake!
Cranberry-Orange Breakfast Bread – I love heating a slice of this in the microwave for about 30 seconds and enjoying with my morning coffee!
Chocolate Chip Muesli Cookies – Think chocolate chip oatmeal cookies but…a little more chewy and nutrient dense!
Gluten-Free Peanut Butter Blueberry Cookies – It's like a bite of heaven – and only 10 ingredients!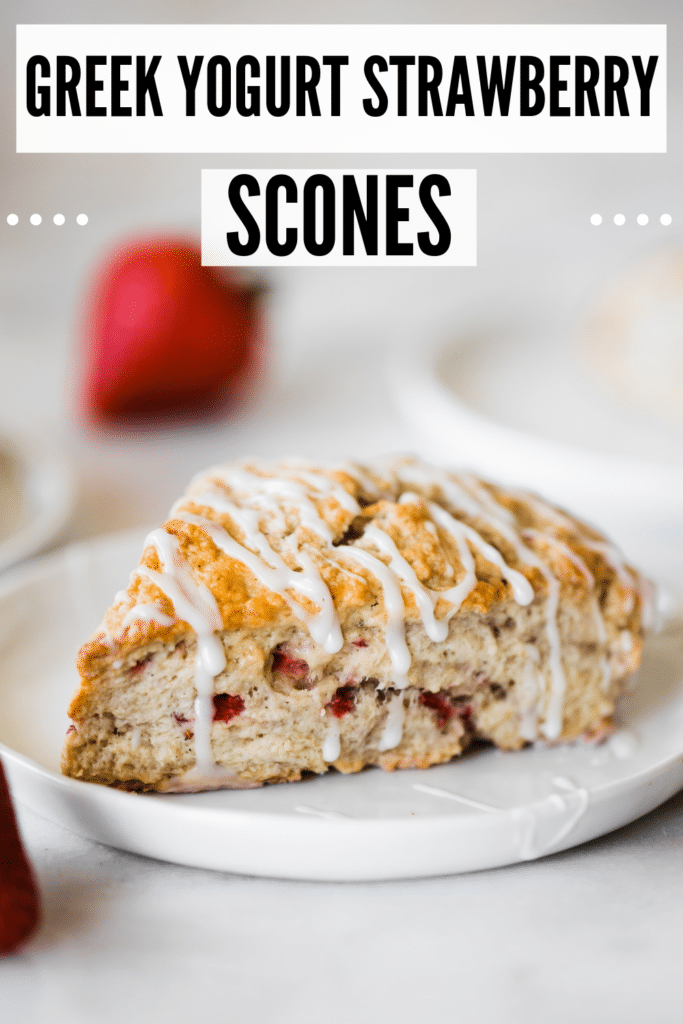 Hi, I'm 
Tawnie

!

Welcome to my tiny "korner" on the Internet! I am a Registered Dietitian Nutritionist who loves cookies as much as kale. (OK, maybe I like cookies a little bit more but shh, don't tell anyone). I am so glad you're here! Follow along for hassle free, realistic and approachable recipes.

More about Tawnie

I'd love to see what you made!!
Share it with me on Instagram or Facebook and tag me @krolls_korner or use the hashtag #KrollsKorner!