Chewy Pistachio Cranberry Cookies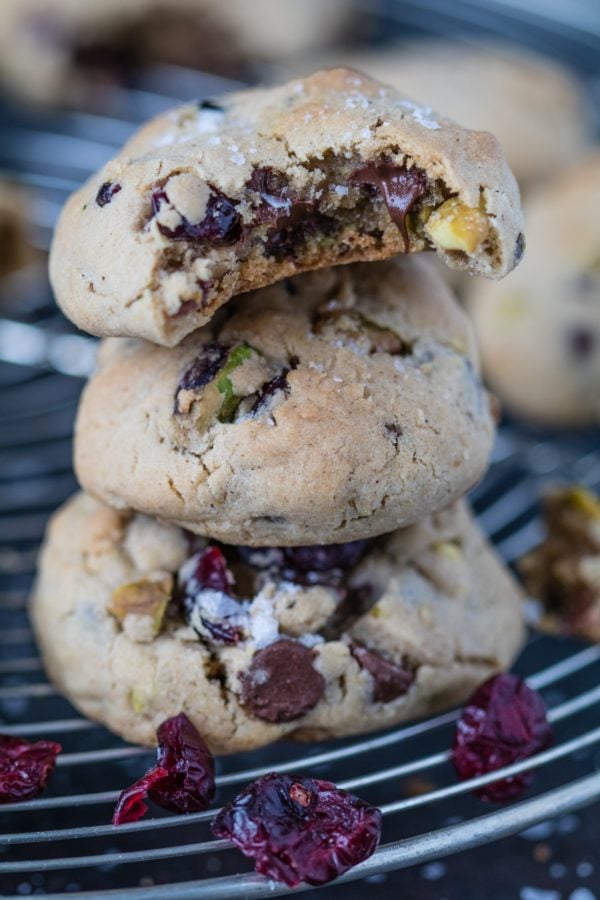 Christmas came early for me this year!!! Well…I actually spoiled myself. I bought the NEW MacBook Pro with the touch bar. I could not resist! I am using it right now!!! 🙂 I haven't had a new laptop since 2009, so I figured it's time. I had to justify the purchase somehow 😉 Plus…it'll help with blogging and editing photos!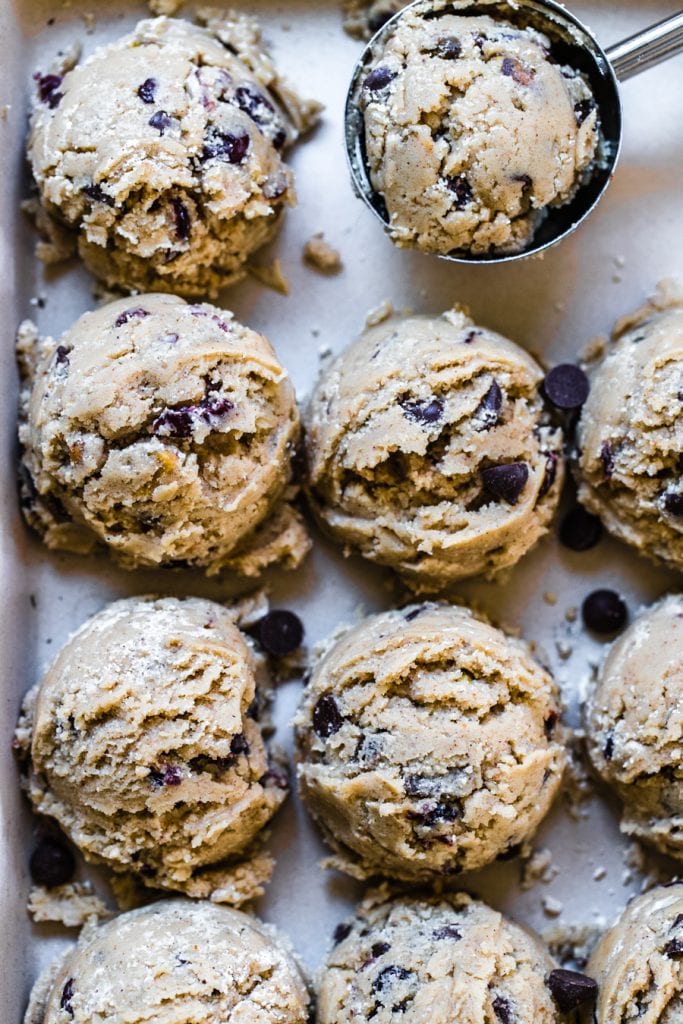 How is Thanksgiving already 1 week away? Literally time is zooming by. People tell me, "Just wait until you have kids, it goes by even faster…" ahhhhh good thing I am no where near that yet! haha. So, the past couple of years my mom has slowly started letting me take the reins for cooking the Thanksgiving feast.
I now truly appreciate and give mad props to my mom for doing this for our family and friends every year! It is serious work to get everything done!!
And on top of that everyone wants their "favorite green bean casserole" or the specific potatoes…and I feel like I end up with 3 different mashed potatoes and 5 different stuffings to please everybody! Who can relate to this madness?! By the time we sit to eat with everything on the table, I need a blanket and a pillow!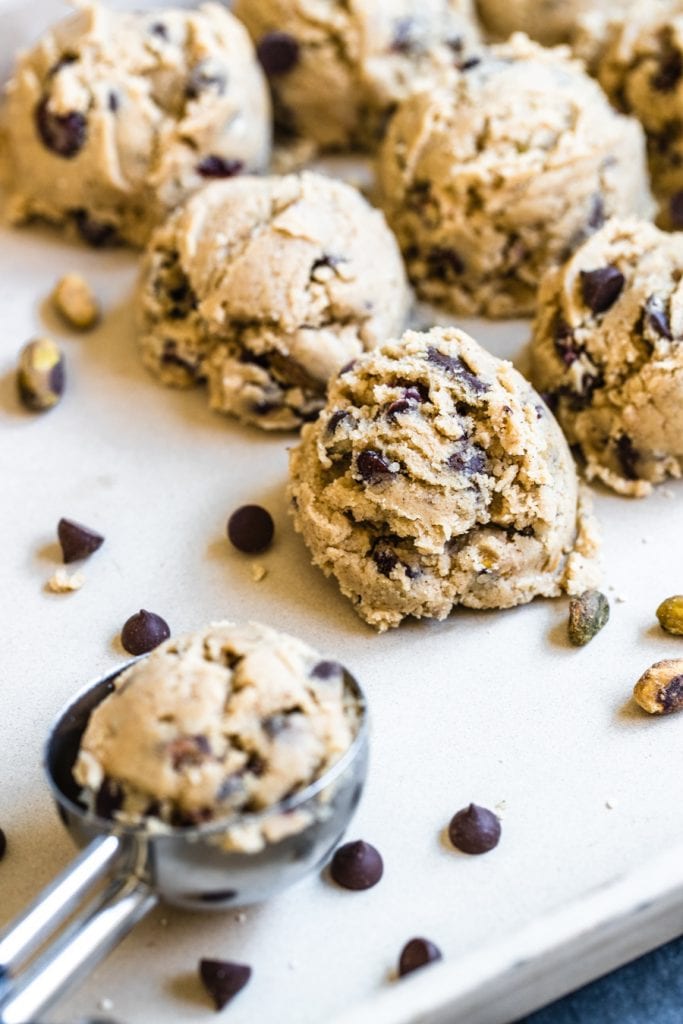 With that said…I am going to do the cooking again this year! I actually really do love it. There is something super special about making food and seeing people genuinely enjoy it. I should have my grocery list already made but I don't yet. I am sure I will be in the sea of people waiting in long lines at the store Tuesday and Wednesday night! I can't wait to smell the apple pie baking in the oven and take the first bite of stuffing to make sure it is "not poisonous." 😉
Certainly a pie is necessary around the table…but who doesn't love a good cookie? I made a batch of these one night just playing around in my kitchen and brought them into work the next day. Everyone was ranting and raving over how delicious they were so I knew I had to post it on the blog! Disclaimer: these are not "healthy" cookies. These are your, "I am going to enjoy a cookie so if I am going to have one it might as well be a real cookie, cookie."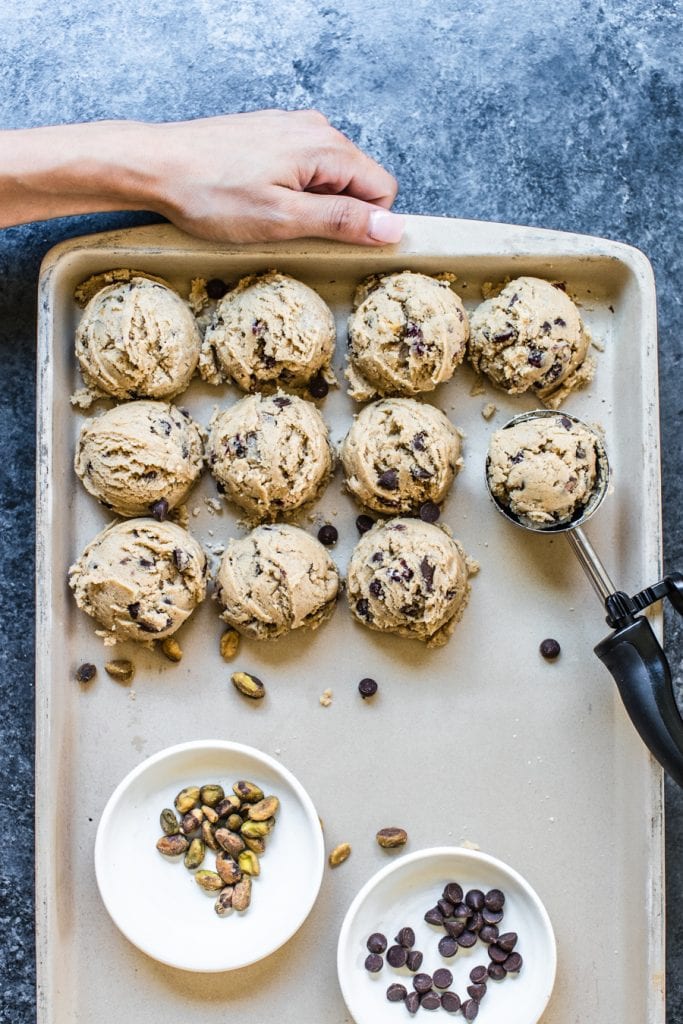 Now don't be a tough cookie and go get to makin' this recipe!
Before You Begin! If you make this, please leave a review and rating letting us know how you liked this recipe! This helps our business thrive & continue providing free recipes.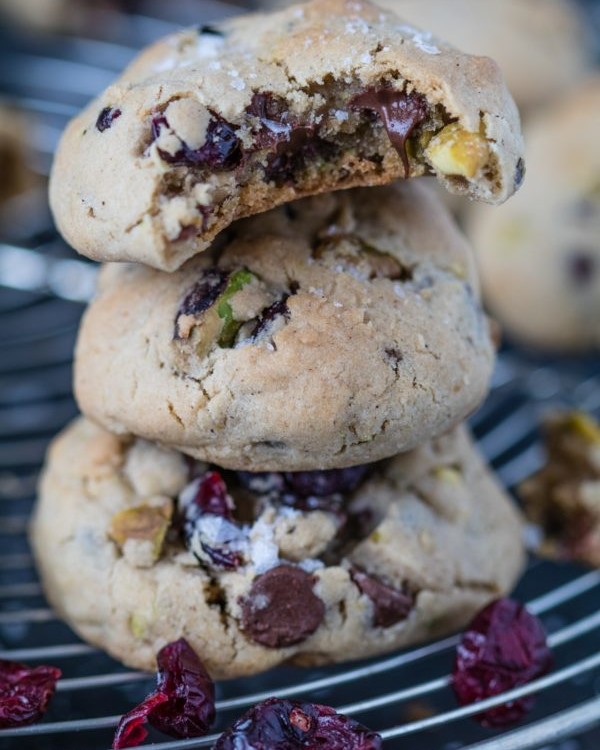 Christmas Cookies...Thanksgiving Cookies...whenever you want a cookie cookie...you decide! Either way, they are chewy and soft!
Ingredients
1

stick (8 Tbsp.)

unsalted butter, softened

1

cup

sugar

(I use 1/2 dark brown, 1/2 white, granulated)

1

large

egg

1

tsp.

vanilla extract

1 1/2

cup

All-Purpose flour

1/2

tsp.

baking soda

1/2

tsp.

ground cinnamon

1/2

tsp.

ground nutmeg

1/2

tsp.

salt

1

cup

dark chocolate chips

3/4

cup

pistachios, shelled & roughly chopped

1

cup

dried cranberries

PAM
Last step! If you make this, please leave a review and rating letting us know how you liked this recipe! This helps our business thrive & continue providing free recipes.
Instructions
Preheat oven to 375 F. Grease 2 cookie sheets and set aside. Or use a silpat.

Using a stand or hand mixer, mix softened butter and sugar(s) for ~2 minutes, or until mixed together well. Then mix in the egg and vanilla.

In a medium bowl, combine the next 5 ingredients. Pour the butter/sugar mixture into the dry ingredients and mix well. Then fold in the remaining 3 ingredients. Note: the mixture may seem crumbly, but once you form them into cookies and press the dough together it is fine!

Roll cookies into the size you want (I do about 2 Tbsp.) and place on the greased cookie sheets. Bake for 12-15 minutes. Enjoy!