Appetizers & Snacks
Boozy Banana Bread Muffins with Spiced Rum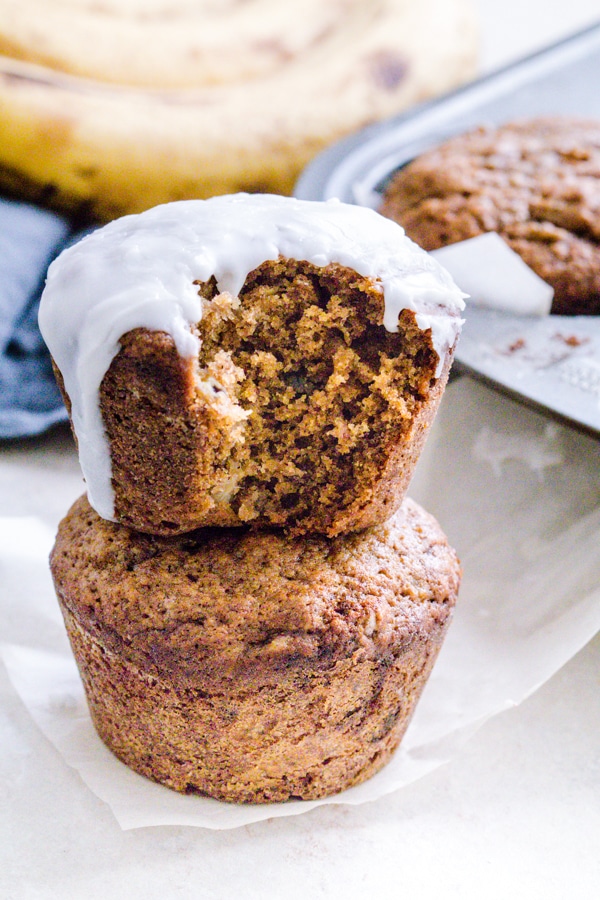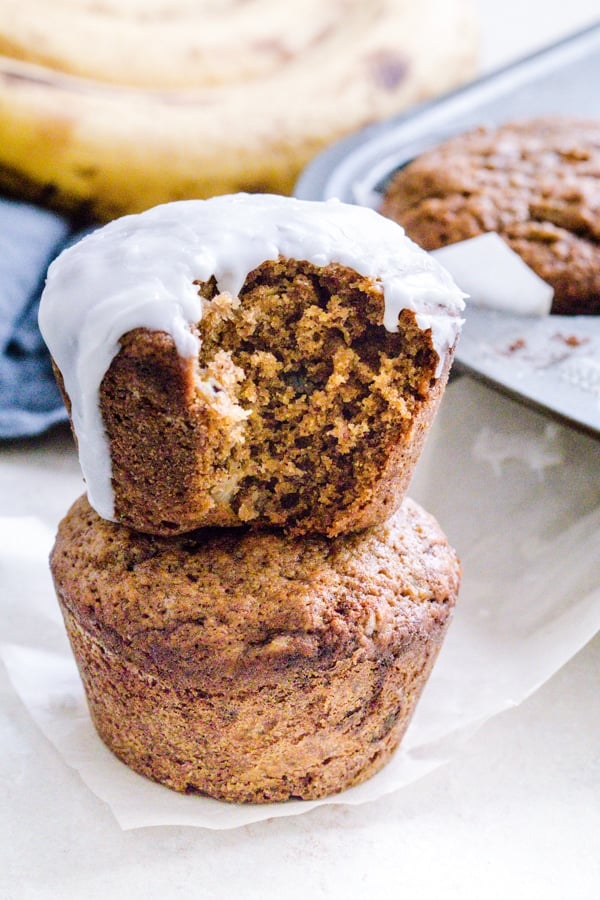 These Boozy Banana Bread Muffins are a perfect companion with your morning coffee or for a sweet afternoon snack!
I've been making a version of this recipe for many years – and it's always a favorite amongst family and friends! There is something about baking with Captain Morgan Spiced Rum that makes these muffins the best muffins ever!
Not only does this recipe get thumbs up from family and friends…but I've even had people tell their other friends who then reach out to me saying, "Hey Tawnie, I hear you make this really good banana bread…"
For a few years I've actually sold my banana bread (which is similar to this recipe) to those interested! I sell it mostly around the holiday's, so if you live near Fresno and are ever in need of delicious banana bread, I'm your girl! OR you can make these Boozy Banana Bread Muffins!
Most recipes I make are quick and easy. I like no-fuss recipes and I think you do too! However, I quick and easy doesn't have to compromise how healthy the dish is. Fast food doesn't always have to mean a drive thru fast food chain. Fast food to me can be this banana muffin recipe, a piece of fresh fruit!
My tips for making the best banana bread:
My trick to getting the banana bread muffins nice and moist is cooking the bananas on the stove. (Make sure you are using ripe bananas)! Here is what you do: mash bananas, place in a large skillet on the stove over medium heat and add in brown sugar, Captain Morgan rum, and butter! I have all of the measurements listed out below. This will simmer and create the most delicious mashed banana mixture you will ever taste.
Trust me. You won't want to grab a spoon because you might just stand over the stove eating it all!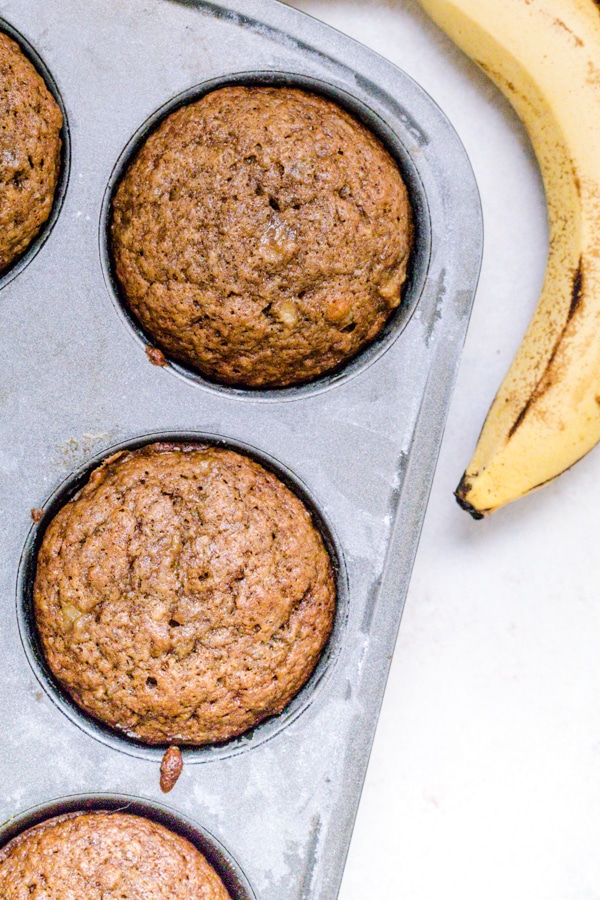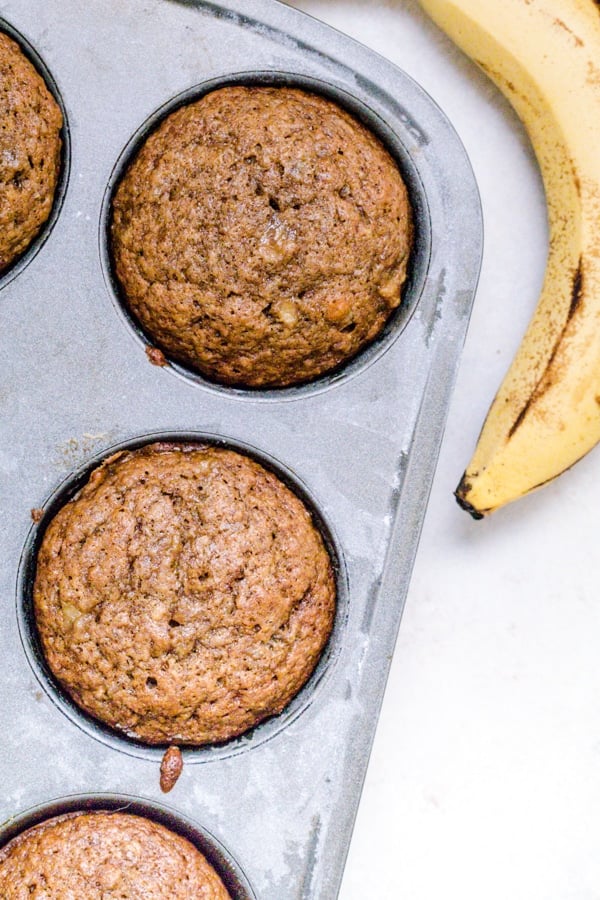 [Tweet "Easy to make and flavorful BOOZY Banana Bread Muffins with Spiced Rum! You'll love this for on the go breakfasts or brunch! krollskorner.com"]
My next tip is…
DITCH THE MIXER!
I have found using the stand mixer for my quick breads results in dense and flat muffins or breads. What I like to do instead is just gently mix and fold ingredients in myself.
The key is to not over mix, especially in this recipe! Plus, you'll get a bit of an arm workout while you're at it!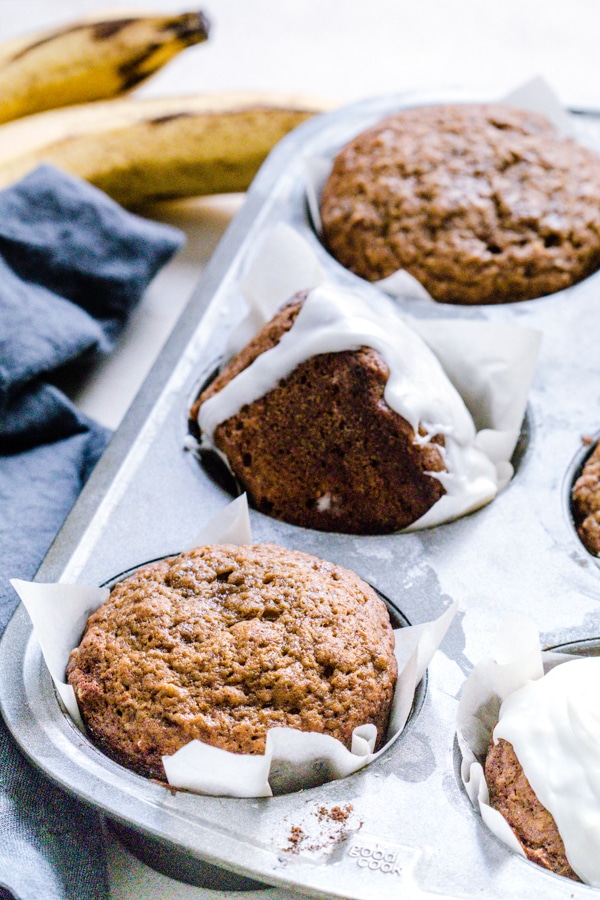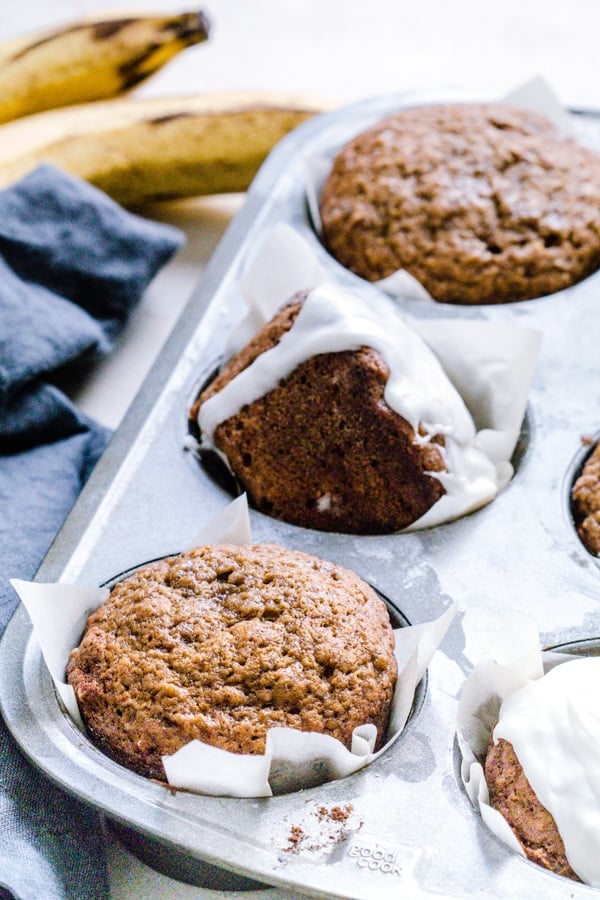 What if my bananas aren't ripe yet?
Bananas that are still greenish at the tips and along the ridges need further ripening.
Use the oven method! Preheat your oven 300°F and place your unpeeled bananas on a lined baking sheet and bake them for about 15-20 minutes. You'll know when the bananas are done because the peels will turn black! Let the bananas cool, then you can mash them and add them to the other ingredients to cook on the stove!
Another way to ripen, is to keep them uncovered at room temperature (about 70°F) OR for speedy ripening you can enclose bananas in a perforated brown paper bag. Ripe bananas can then be stored in the refrigerator for several days if you aren't ready to make the muffins yet!
Note: the peel will turn brown but the actually banana/flesh will remain unchanged.
For my recipe I always use 3 medium/large sized bananas. If the bananas are small, I will use 4!
What else can I make with ripe bananas?
You can use them for pancakes, for making cupcakes, toss them into smoothies, or use them to make "nice cream"!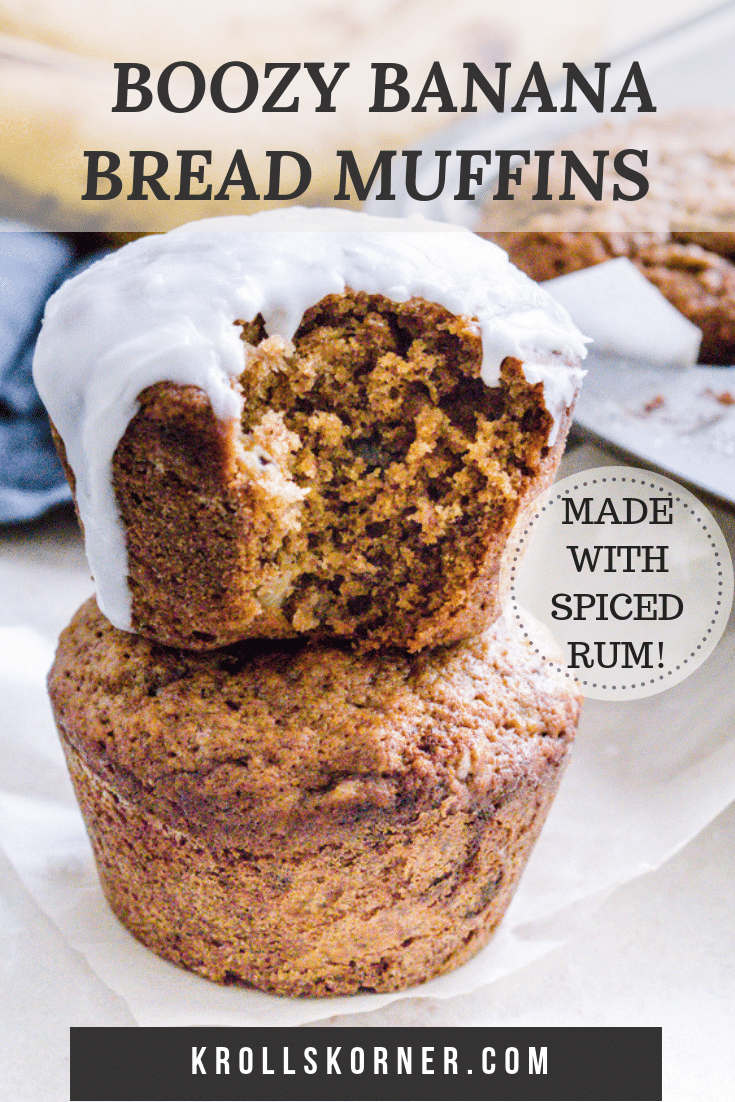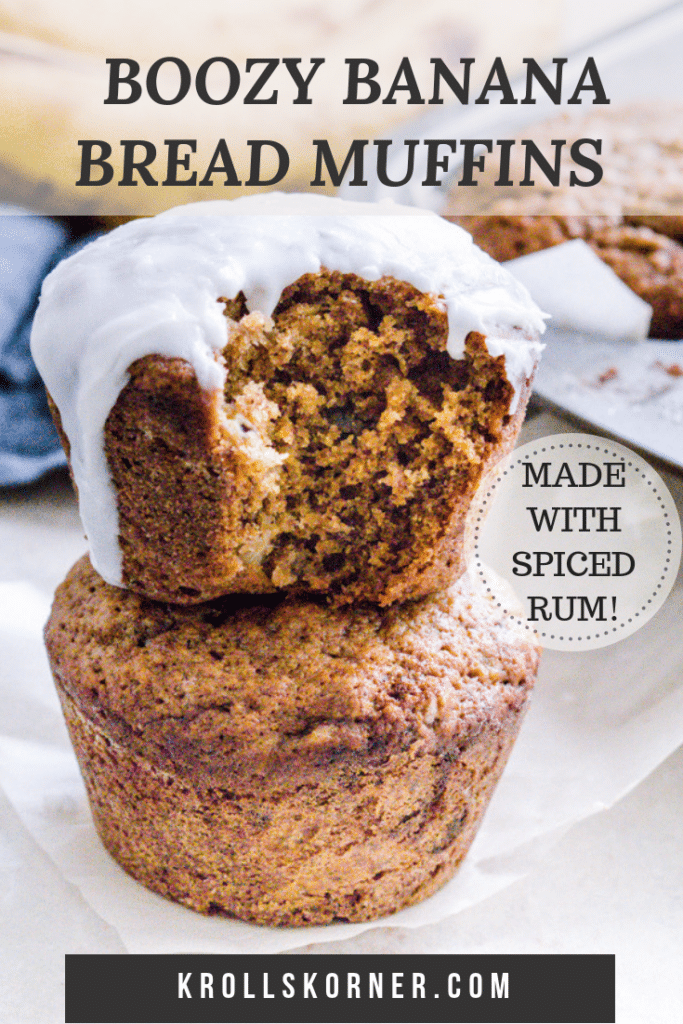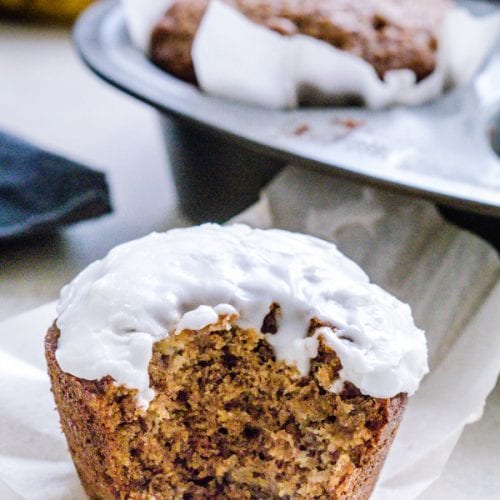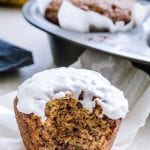 Boozy Banana Bread Muffins with Spiced Rum
Easy and delicious banana bread muffins made with Spiced Rum, full of banana flavor, and my favorite part is you don't even need a mixer!
Print
Ingredients
3

bananas, ripe

1/2

cup

dark brown sugar, packed

5

Tbsp.

unsalted butter

3

Tbsp.

dark spiced rum

1/3

cup

coconut oil, melted

1/4

cup

whole milk, or buttermilk

2

eggs

1

tsp.

vanilla extract

2

cups

All-Purpose Flour

1 1/2

cups

coconut sugar

can sub for granulated sugar

2

Tbsp.

ground flaxseed

1

tsp.

baking soda

1/2

tsp.

salt

1

tsp.

ground nutmeg

1/4

tsp.

cardamom

1/4

tsp.

ground cinnamon
For the Frosting:
1-2

cups

confectioners sugar

1-2

Tbsp.

rum

2

Tbsp.

unsalted butter
Instructions
Preheat oven to 325 degrees F. Lightly grease a muffin tin and set aside. (I use butter or Bak-Klene- you can get it on Amazon or Williams Sonoma). In a medium skillet, add the ripe mashed bananas, butter, brown sugar, and rum.

Cook and whisk banana mixture over medium heat until butter melts and it begins to simmer. Turn the heat down to very low and let simmer for 3-5 minutes. Remove from heat and let slightly cool. It does not have to cool all the way down, but just so it is not super hot.


In a large bowl, combine the eggs, coconut oil, whole milk and vanilla extract. Add the cooled down banana mixture to this and whisk together.


In a separate mixing bowl, combine the flour, coconut sugar, ground flaxseed baking soda, salt, nutmeg, cinnamon, and cardamom.


Add the dry ingredients to the wet banana ingredients and gently fold until combined. Pour this mixture into the prepared muffin tin filling about 3/4 of the way high. Bake for 20-25 minutes, or until a toothpick comes out clean from middle of the muffins!


While the muffins cool, you can prepare the frosting. Whisk powdered sugar, rum and butter together. Make sure your muffins are 100% cooled down before you frost them!! Enjoy!!!
Recipe Notes
For the frosting - add the amount of powdered sugar to the bowl to get the desired thickness you want. Start with one cup, then add in 1 Tbsp rum and 1 Tbsp. butter. Give it a nice whisk, and adjust until you get the desired consistency.
You can also bake these muffins using a cupcake tin and line with cupcake liners. Will make ~18 cupcake sized muffins.
Have you used spiced rum when baking before?
Also, what's your ALL TIME favorite muffin?! Let me know in the comments below!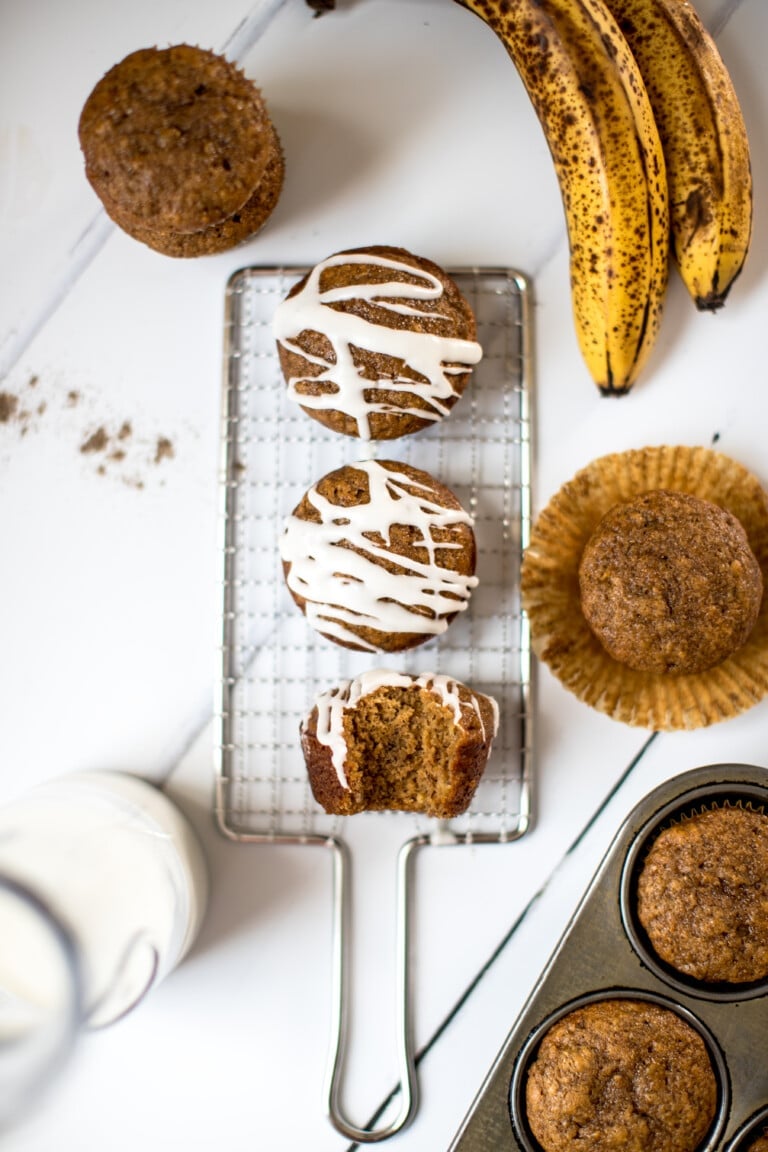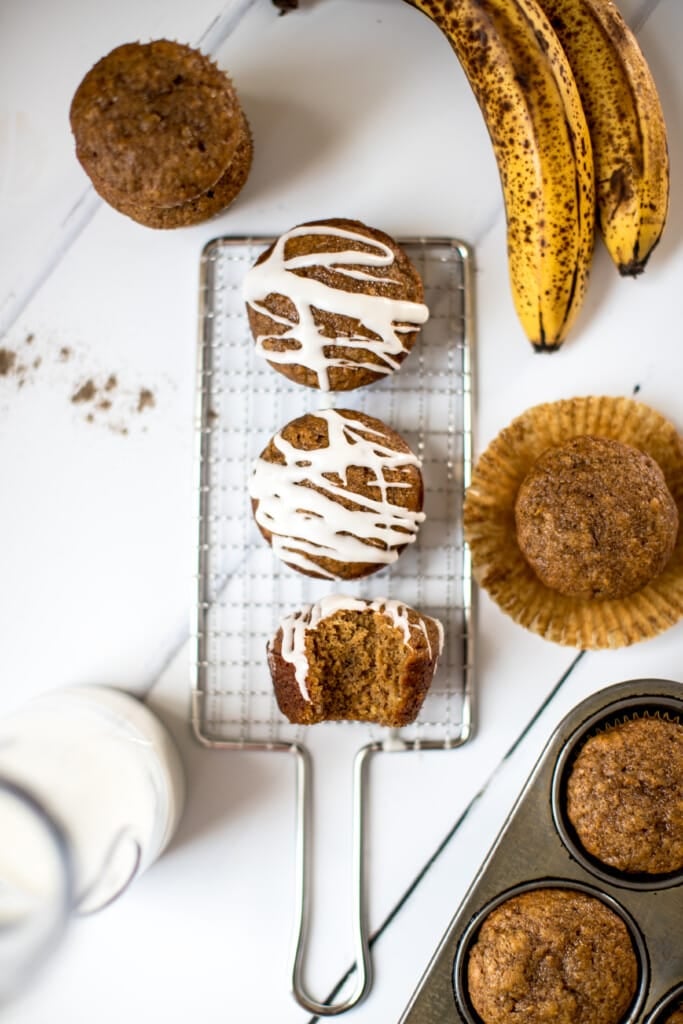 I'd love to see what you made!!
Share it with me on Instagram or Facebook and tag me @krolls_korner or use the hashtag #KrollsKorner!