Best Banana Bread Recipe Ever
Breads and Muffins | Published Aug 12, 2020 | Updated Sep 8, 2020 | By Tawnie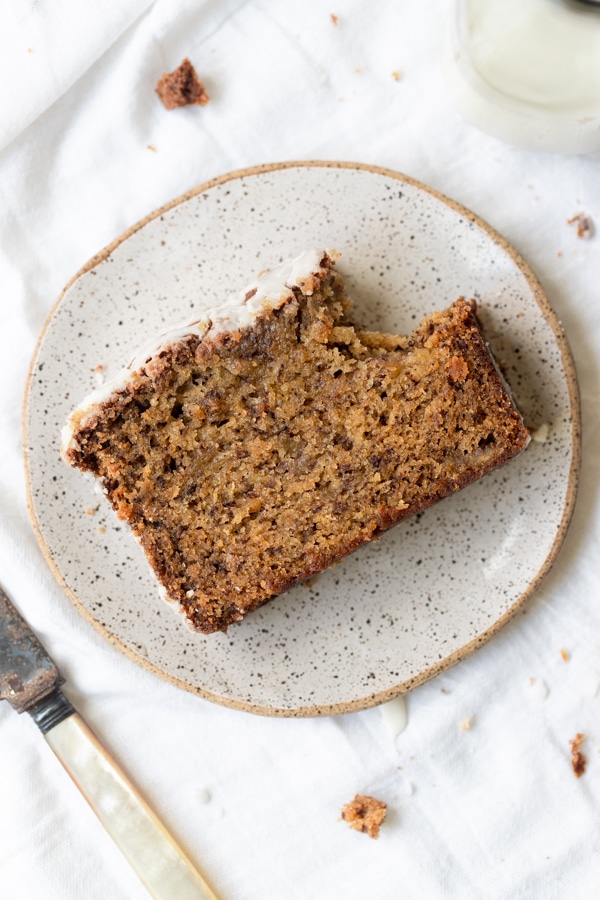 Calling this the Best Banana Bread Recipe Ever is such a bold statement, but hear me out!
I've been making this banana bread for family and friends for ~12 years now and everyone always comes back begging for the recipe.
It's a holiday staple and made on repeat in the Kroll's Kitchen over Thanksgiving and Christmas but ideally it's amazing year round!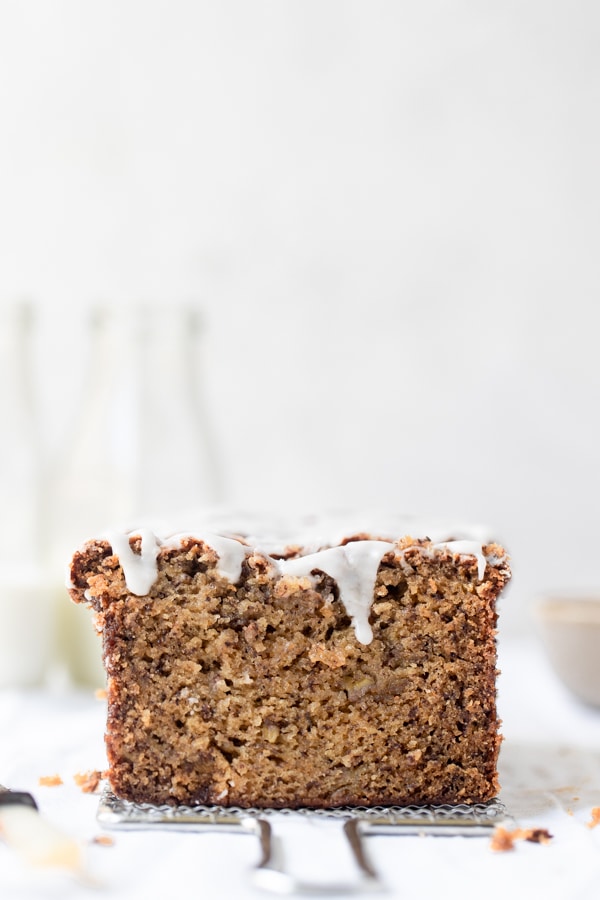 A few things to note about why this banana bread is so incredible:
It's perfectly moist and has a slightly crunchy top
The bananas are cooked on the stove. This really vamps up the overall flavor and enhances their sweetness and flavor.
It's delicious warm and delicious cold
Incredibly soft
It's made with rum!
It's tender, delicious and makes the most amazing loaf of banana bread every time. Promise!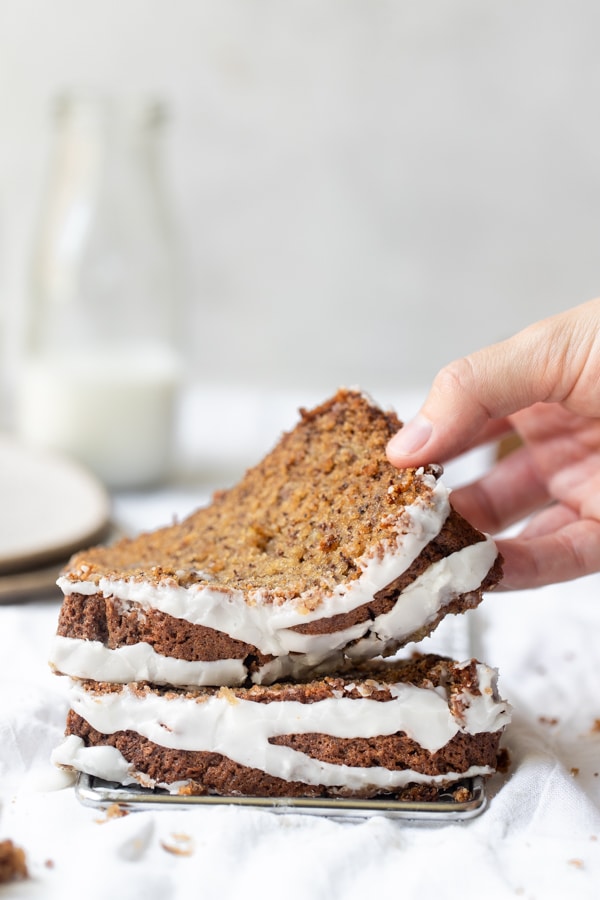 Ingredients you need to make banana bread
Over Ripe bananas: You'll want your bananas ripe enough for the best results, look for the brown spotty bananas. (No green on the peel). Freckled bananas = banana bread time!
Brown sugar: Dark or light brown both work well, I've made it with both. I love the flavor brown sugar adds to the bread!
Rum: I recommend a dark rum or spiced rum when baking for greater flavor. Nothing super fancy, I always use Captain Morgan Rum.
Butter: A little unsalted butter is used in the recipe and some for greasing the pan.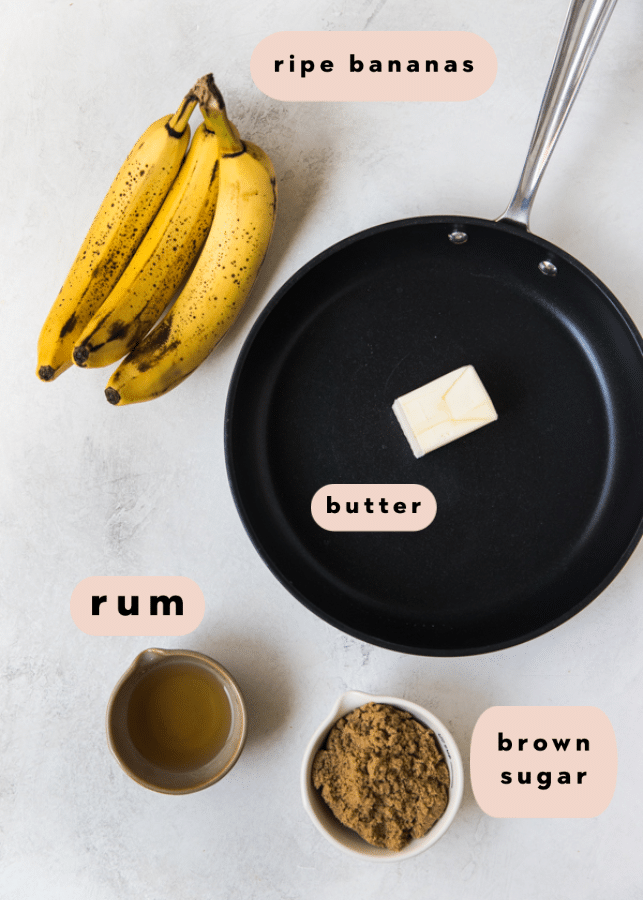 Buttermilk: Buttermilk adds extra moisture to ensure the bread stays soft and tender. You can sub with milk too but buttermilk is always best!
Oil: Vegetable oil is what I recommend, but you can also sub with melted coconut oil if you'd prefer. The oil add richness and moisture to the banana bread.
Eggs: The eggs help to bind ingredients as well as helping to make it rise! You'll need 2 room temperature eggs for this banana bread.
Dry Ingredients: flour, baking soda, granulated sugar, salt, nutmeg, cardamom and cinnamon.
How to make Rum Banana Bread
Mash the bananas and heat them in a skillet on the stove with the rum, butter and brown sugar. Let simmer and then remove from heat to cool.
Whisk the dry ingredients together in a medium sized bowl.
In a large bowl, whisk together the buttermilk, oil, eggs and vanilla.
Once the banana mixed has cooled enough, whisk it into the buttermilk mixture.
Fold in the dry ingredients.
Pour batter into prepared metal loaf pan (9×5 inch) and bake until toothpick inserted in the center comes out clean.
Bake time can very but it takes typically ~70-75 minutes.
This best ever banana bread really does have a perfectly moist texture and loaded with banana flavor.
I love that it's all made by hand (no mixers required) and made with simple, everyday ingredients.
Since the rum is the star of the show, I typically don't add any mix-ins to my banana bread but there are plenty of mix ins to take your banana bread to the next level!
Mix in ideas: walnuts, pecans, chocolate chips, or dried fruit. ~3/4 cup – 1 cup should be plenty to add in.
If you add in chocolate chips, make sure the banana mixture you cooked on the stove has cooled down so they don't melt in the batter.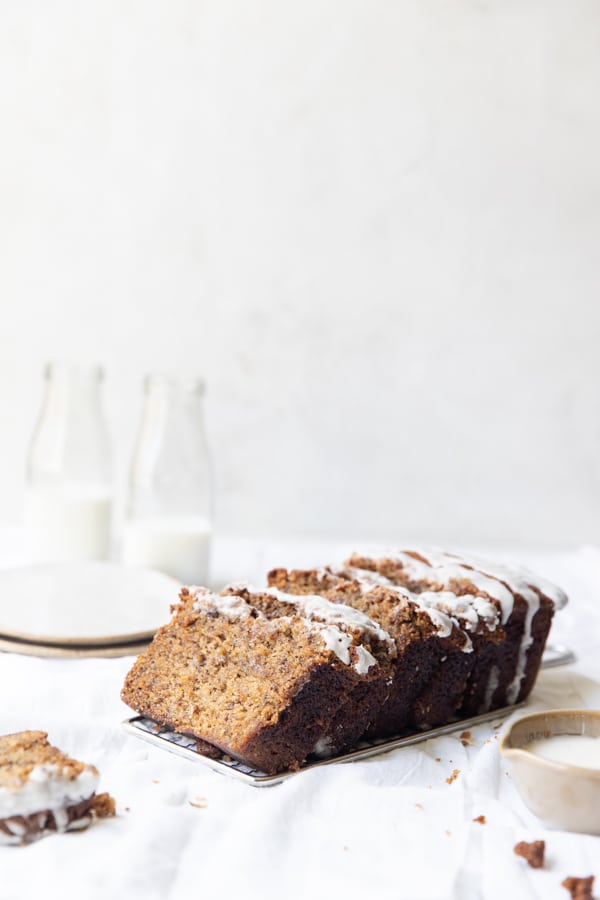 Does rum banana bread contain alcohol?
There is rum in the actual bread and a little mixed into the frosting. A lot of the alcohol cooks off during the baking and heating process so you should be OK.
If you are concerned if you are pregnant, I would recommend enjoying a slice without the frosting or you can always look into using a rum extract.
Tips for making the perfect loaf:
Properly grease your pan: Brush with softened butter and sprinkle an even layer of flour around the pan.
Mix ins: If you'd like to add in chocolate chips or any other mix ins that have the potential to melt, be sure the banana mixture you cooked on the stove has cooled so it doesn't melt the chocolate into the batter.
Don't over bake: There's nothing worse than dry banana bread, right? I always bake my bread around 75 minutes at 325°F. Be sure to check with a toothpick to ensure it's done.
Insert a toothpick into the middle and it should come out clean. Top will be brown in color. Hello best banana bread recipe ever!
Mashing the bananas: You can mash the bananas either with a fork and leave some chunks of bananas if that's your thing. Or you can use a mixer to make almost a banana puree for a smoother consistency.
Metal Loaf Pan 9×5 inch: Note a darker color metal loaf pan absorbs more heat and may result in a darker and thicker crust. Use a light colored aluminum loaf pan for a lighter more tender crust.
Bake time: Bake time can vary. In some ovens this bread takes a full 80 minutes, in others it takes ~75 minutes. I would check it around 70 minutes.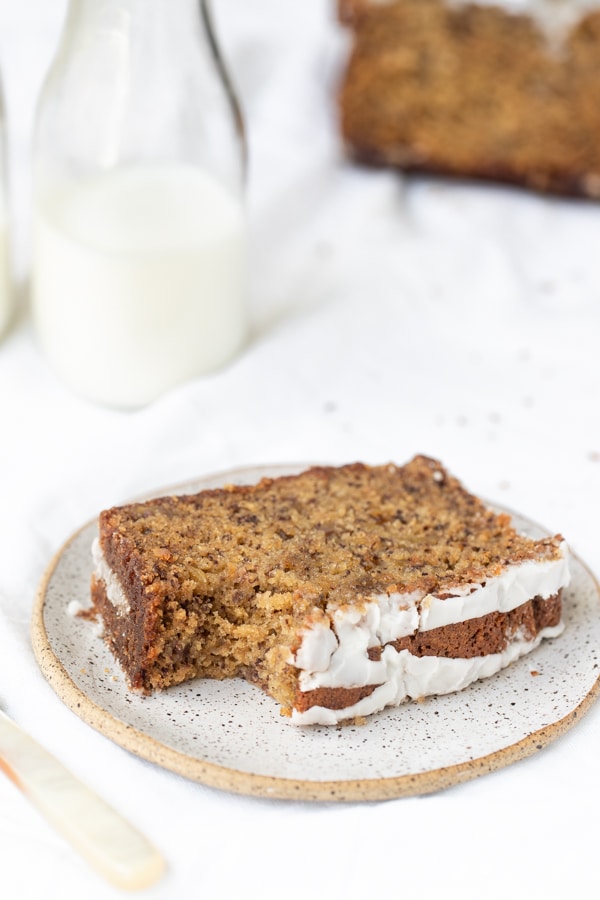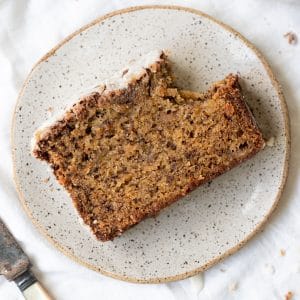 Best Banana Bread Recipe Ever (Made with Rum!)
Moist, soft and full of banana flavor, just how banana bread should be!
Ingredients
3

large

over ripe bananas, mashed (about 1 1/3-1 1/2 cups mashed)

1/2

cup

brown sugar, packed

5

Tbsp.

unsalted butter (plus 1 Tbsp. for greasing the loaf pan)

3

Tbsp.

Dark Rum or Spiced Rum

I use Captain Morgan

2

large

eggs

1/3

cup

vegetable oil

1/4

cup

buttermilk (or milk)

1

tsp.

vanilla extract

2

cups

flour

1 1/2

cups

granulated sugar

1

tsp.

baking soda

1/2

tsp.

salt

1

tsp.

ground nutmeg

1/4

tsp.

cinnamon

1/4

tsp.

cardamom
For the glaze:
1-2

cups

powdered sugar

1-2

Tbsp.

rum

2

Tbsp.

unsalted butter, melted
Instructions
Grease your metal 9×5 inch loaf pan: brush with softened butter and sprinkle an even layer of flour around the pan. Set aside.

In a medium skillet add the mashed bananas, butter, brown sugar, and rum. Cook and whisk banana mixture over medium heat until butter melts and mixture begins to simmer. Turn the heat down to low and let simmer for ~3-5 minutes, whisking occasionally.

Remove from heat and let slightly cool for about 10 minutes. It does not have to cool all the way, but just so it is not super hot. (If you are folding in chocolate chips into the batter you will want it to cool completely).

In a large bowl, combine the eggs, oil, whole milk and vanilla extract. Add the cooled down banana mixture to this and whisk together.

In a separate mixing bowl, combine the flour, sugar, baking soda, salt, nutmeg, cinnamon, and cardamom. Add the dry ingredients to the wet ingredients and gently fold until combined. Do not over mix the batter.

Pour this mixture into the prepared pan. Bake for ~70-75 minutes, or until a toothpick comes out clean.

While the bread cools, you can prepare the frosting. Whisk powdered sugar, rum and butter together. Make sure your bread is 100% cooled down before you drizzle the frosting over the bread. Enjoy!
Notes
For the frosting: add ~1 cup powdered sugar to a bowl, then add in 1 Tbsp rum and 1 Tbsp. butter. Give it a nice whisk, and adjust ingredients if needed. Add powdered sugar/melted butter/rum until you get the desired frosting consistency, either drippy for a glaze or more thick like a frosting.
Bake time can vary. In some ovens this bread takes a full 80 minutes, in others it takes ~75 minutes. I would check it around 70 minutes.
Nutrition
Serving:
1
thick slice
|
Calories:
597
kcal
|
Carbohydrates:
101
g
|
Protein:
6
g
|
Fat:
19
g
|
Saturated Fat:
13
g
|
Cholesterol:
68
mg
|
Sodium:
321
mg
|
Potassium:
244
mg
|
Fiber:
2
g
|
Sugar:
72
g
|
Vitamin A:
339
IU
|
Vitamin C:
4
mg
|
Calcium:
38
mg
|
Iron:
2
mg
Hi, I'm 
Tawnie

!

Welcome to my tiny "korner" on the Internet! I am a Registered Dietitian Nutritionist who loves cookies as much as kale. (OK, maybe I like cookies a little bit more but shh, don't tell anyone). I am so glad you're here! Follow along for hassle free, realistic and approachable recipes.

More about Tawnie

I'd love to see what you made!!
Share it with me on Instagram or Facebook and tag me @krolls_korner or use the hashtag #KrollsKorner!