Instant Pot Vanilla Bean Yogurt
Breakfast | Published on Oct 21, 2017 | Last modified on Sep 25, 2019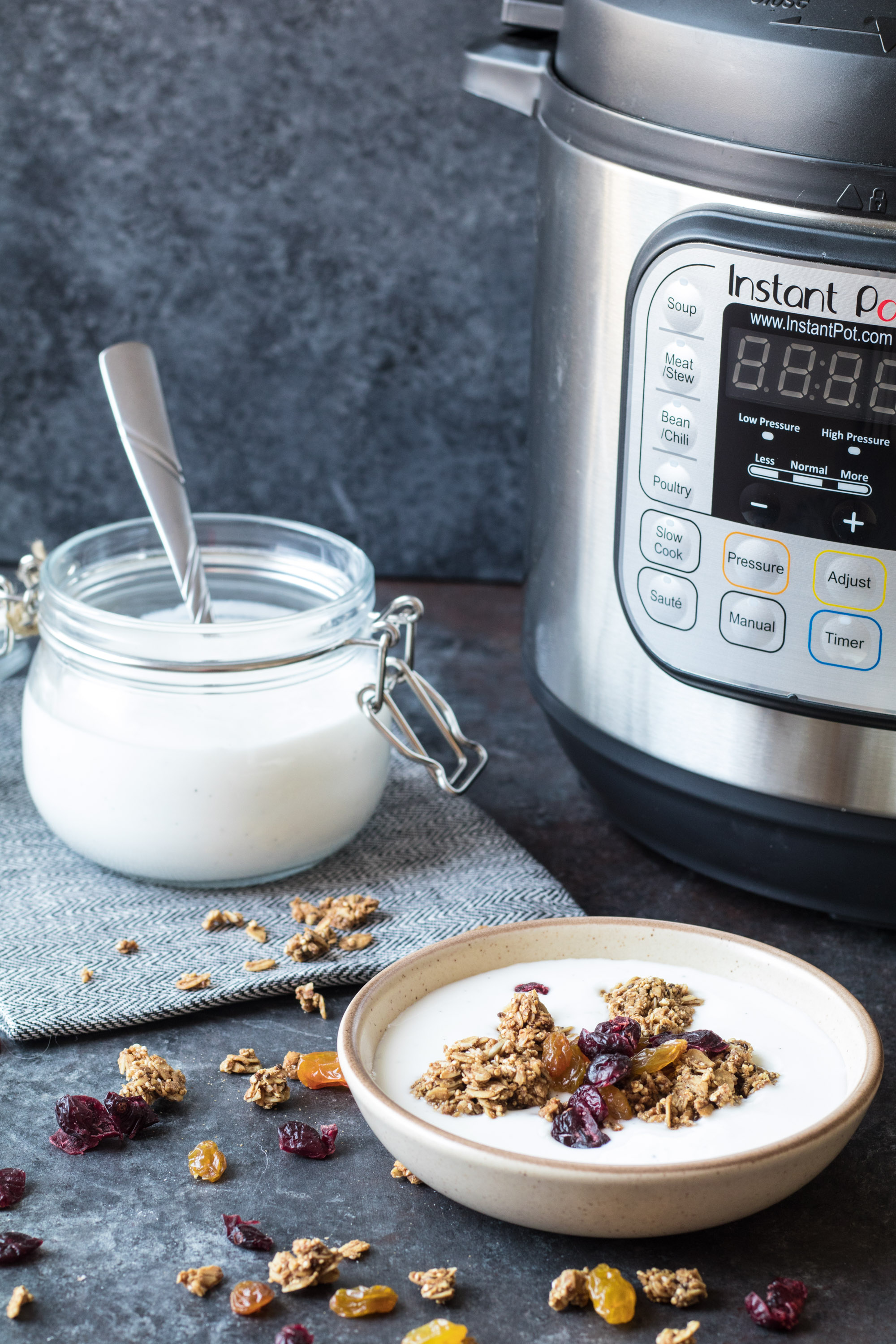 Homemade vanilla yogurt using the Instant Pot? Yup, making yogurt from scratch has never been easier thanks to this Instant Pot yogurt recipe
Making yogurt in an Instant Pot
I have had an Instant Pot now since last Christmas and I've only really used it for chicken, rice and soup. I figured it's time I start exploring other recipes I can make with the Instant Pot. When I first thought of the idea of making yogurt in the Instant Pot, I thought, wow, I can make yogurt in an hour? That's amazing!
Then I started digging into the research and I need to warn you, it takes longer than an hour. It takes 8 hours alone to make the yogurt, and that's not even including the first few steps. So while this Instant Pot yogurt recipe is easy, just know it does take 8+ hours of cooking in the Instant Pot!
Yogurt contains probiotics, which have proven to be beneficial for our gut health. I think a perk of making this from scratch is the satisfaction of making the yogurt yourself. Plus, this recipe yields about 7 cups of yogurt, making this Instant Pot yogurt a cost efficient recipe as well.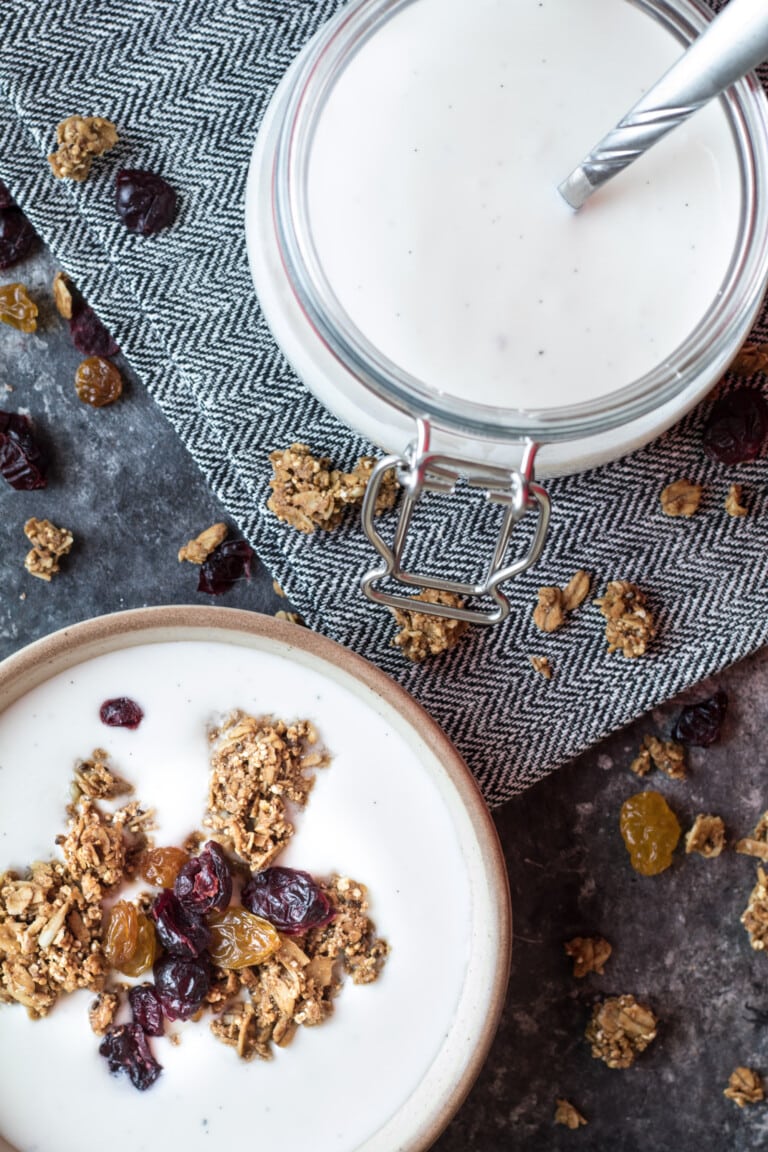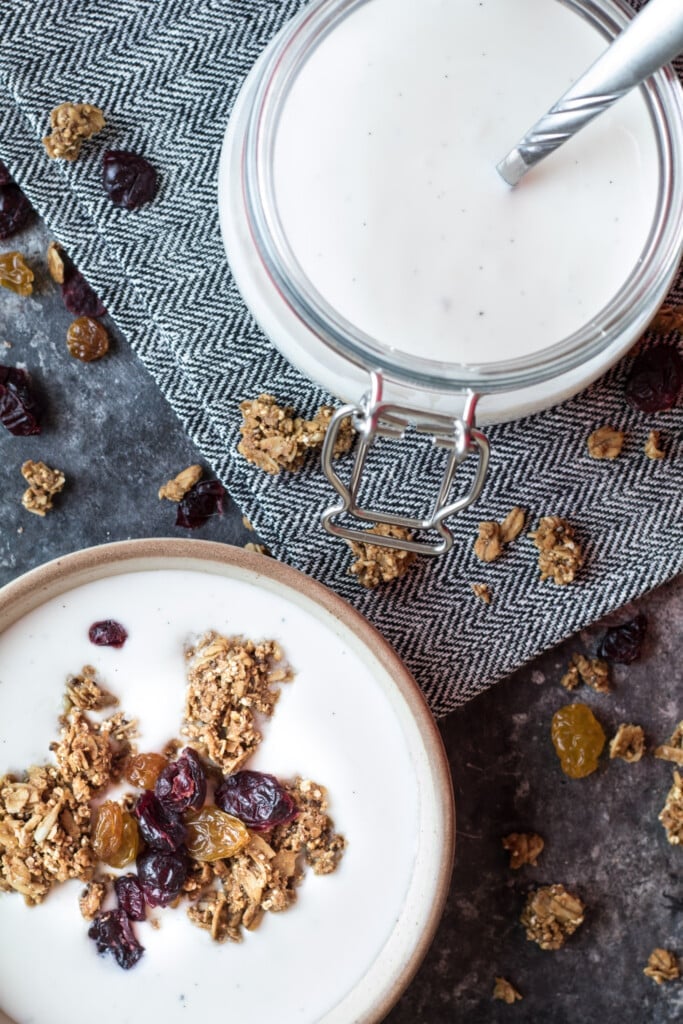 Instant Pot yogurt ingredients
Making yogurt in an Instant Pot requires just three simple ingredients: whole milk, pre-made yogurt, and a vanilla bean. No really, that's it!
How to make Instant Pot yogurt
Pour the whole milk into the Instant Pot. Lock the lid in place and turn the switch to sealed.
Plug in the Instant Pot and press "Yogurt."
Click "Adjust" and then "More." The Instant Pot should now read "Boil."
Let the Instant Pot heat to 185 degrees F. Once this step is done, unplug Instant Pot.
Next step is to cool the milk. Take the inner pot out and place in an ice bath until 110 degrees F is reached.
Whisk in 3 Tbsp. of the pre-made yogurt.
Put the mixture back into the Instant Pot, plug it in, secure the lid, and set it to sealing.
Press "Yogurt" (the time should read 8 hours. If not, bump it up to 8).
Once the Instant Pot yogurt is finished, you can strain it if desired or enjoy as is.
My favorite yogurt toppings
There are so many ways to dress up a plain bowl of vanilla yogurt. Here are a few of my favorite yogurt toppings I turn to each morning:
Honey or pure maple syrup
Cinnamon
Fresh fruit
Dried fruit
Toasted nuts
Toasted coconut flakes
Nut butters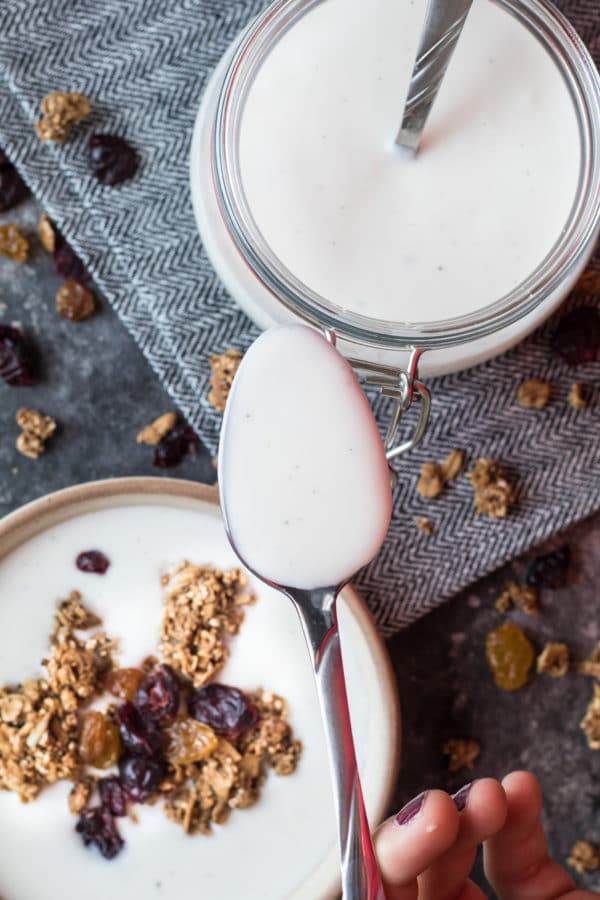 Yogurt starter FAQs
When making homemade yogurt — whether you're making an Instant Pot yogurt recipe or using a different method — you must use a yogurt starter. Figuring out what a yogurt starter is and what kind to use can be difficult if you're new to the world of yogurt making.
Here are some commonly asked questions I get about making Instant Pot vanilla yogurt. If I haven't addressed your question below, please leave me a comment at the end of this post and I'll help you as best I can!
What is a yogurt starter?
To put it simply, a yogurt starter helps transform your milk into yogurt. It contains live bacteria that helps this process along. 
What's the best yogurt starter to use?
This is heavily up for debate if you ask me. I'm sorry I can't give you a better answer on this one. I tried this Instant Pot yogurt recipe using other yogurts for my starter, and the batch that turned out best was when I used Siggi's yogurt.
Tips for making Instant Pot yogurt
You can stir the vanilla bean in after the Instant Pot yogurt is made, or before you let it cook for the 8 hours. If you strain your yogurt to remove the whey after it cooks, I think you should add the vanilla after you strain. However, if you don't want to strain, add it in before. It's up to you. I personally like a thicker, creamier yogurt so I add the vanilla in afterwards!
You'll want to use whole milk in this Instant Pot yogurt recipe for best results. If you use skim or 2% milk, I imagine your vanilla yogurt will be far less creamy.
I've yet to make Instant Pot Greek yogurt, so I can't speak to the best way to do that.
More Instant Pot recipes: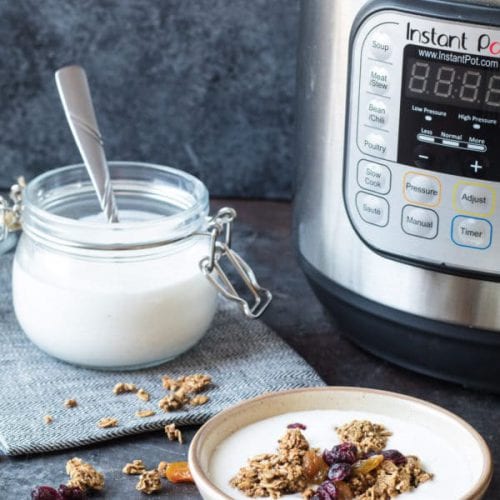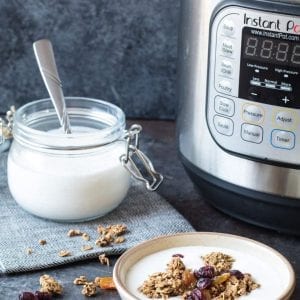 Vanilla Bean Instant Pot Yogurt
Homemade vanilla yogurt using the Instant Pot? Yup, making yogurt from scratch has never been easier thanks to this Instant Pot yogurt recipe
Print Recipe
Pin Recipe
Rate
Ingredients
1/2

gallon

whole milk

3

Tbsp.

yogurt with active cultures

(I used Siggi's)

1

vanilla bean

(split and cut in half with the beans scraped out)
Instructions
Take out your Instant pot and pour the entire 1/2 gallon of milk into the pot. Lock lid in place and turn the switch to sealed. (Although at this point, it doesn't really matter because we're just heating the milk in this first step).

Plug in the instant pot and press yogurt. Click adjust, more and instant pot should read "boil." Let instant pot heat to 185 degrees F – this should take about 30 minutes. Once this step is done, unplug instant pot.

Next step is to cool the milk. Take the inner pot out and place in an ice bath until 110 degrees F is reached. Or – if not in big hurry, let it cool to 110 degrees F naturally on its own. You'll want to use a candy thermometer or digital thermometer for this step.

Get your starter out (I used Siggi's vanilla bean yogurt) and whisk in 3 Tbsp. starter yogurt. Whisk well.

Now, put this back into the instant pot, plug it in, secure lid and set to sealing. Press yogurt – time should read 8 hours, if not – bump it up to 8. Now just let it do its thing! Note: time will count up – so you'll see 0:00 first, don't worry – you're doing it right!

After the 8 hours, you can strain your yogurt then stir in the 1 vanilla bean, or just stir it in without straining. It is up to your how creamy/thick you want it. I prefer to strain using a nut milk bag. Cut up then vanilla bean and mix it in well after straining. Then, store in fridge for 6+ hours before enjoying. Happy yogurt making!!
Notes
Note: Add in your favorite sweetener and mix ins to boost the flavor!
PIN this Instant Pot Vanilla Bean Yogurt for later!



I'd love to see what you made!!
Share it with me on Instagram or Facebook and tag me @krolls_korner or use the hashtag #KrollsKorner!