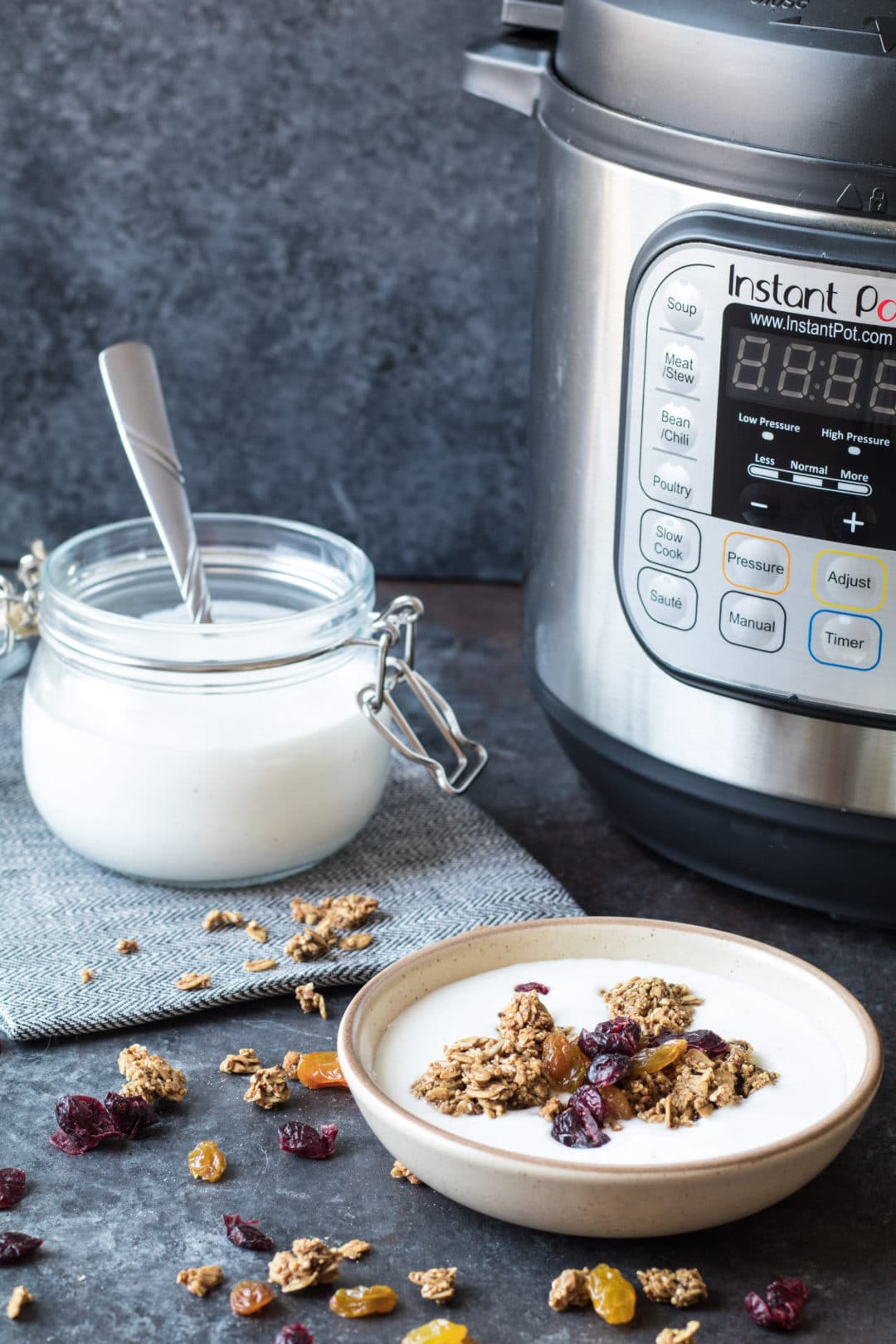 Homemade Vanilla Bean Yogurt using the Instant Pot? Yup, making yogurt from scratch has never been easier.
This months Recipe Redux Theme is…
October 2017 – Theme
Good Gut Health
With cold and flu season upon us, the best defense may be good gut health. Since much of our immune health begins in the gut, show us your healthy, delicious recipe to bolster gut health.
I have had an Instant Pot now since last Christmas and I've only really used it for chicken, rice and soup. I figured it's time I start exploring other recipes I can make with the Instant Pot. When I first thought of the idea of making yogurt in the instant pot, I thought wow, I can make yogurt in an hour that's amazing! But then I started digging into the research and be prepared, it takes longer than an hour. It takes 8 hours alone to make the yogurt, that's not including the first few steps. So while this recipe is easy, just know it does take 8+ hours of cooking in the instant pot!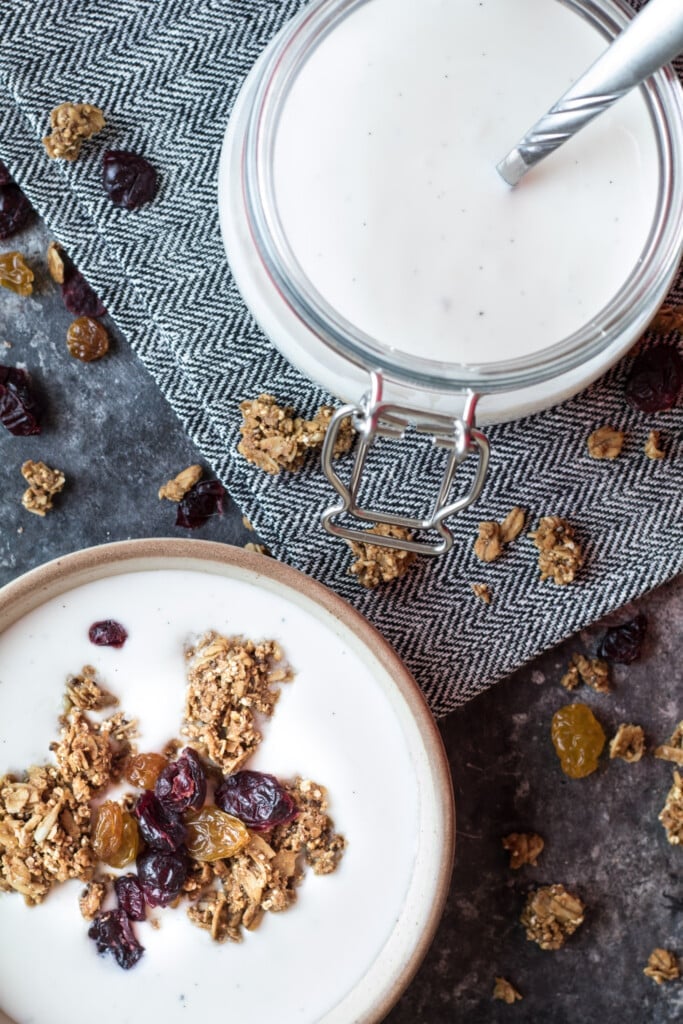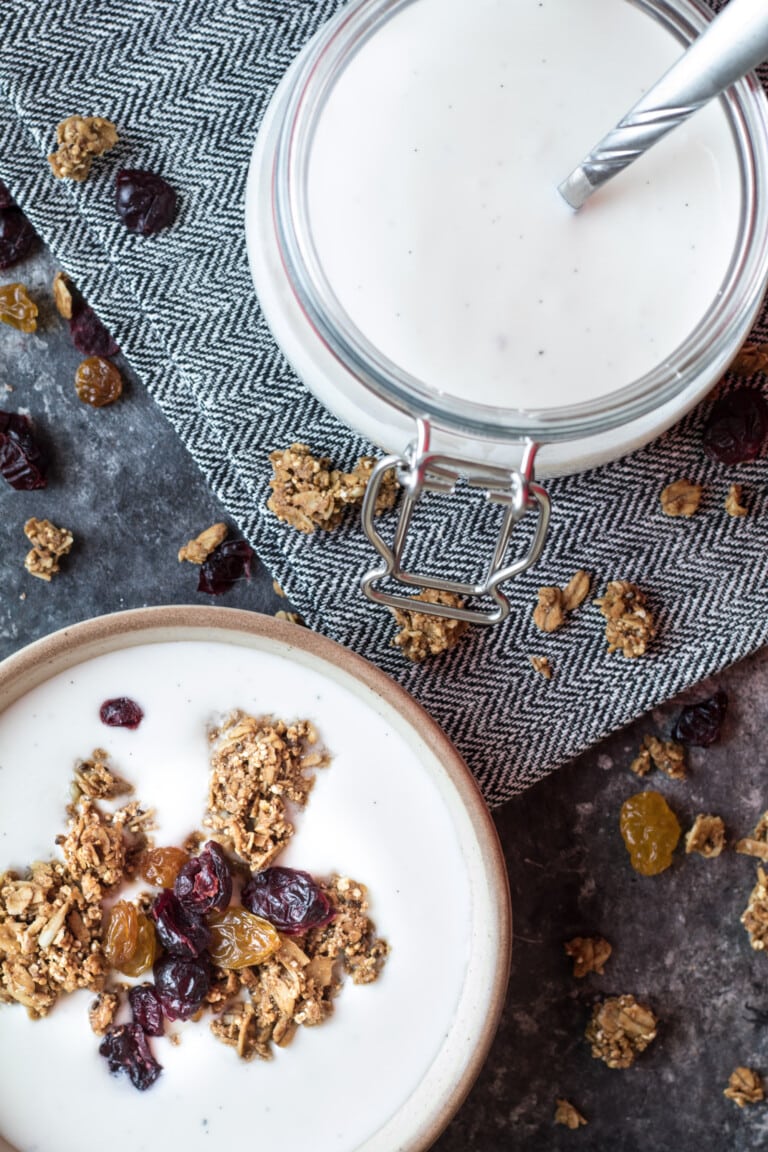 Yogurt contains probiotics which have proven to be beneficial for our gut health. I think a perk of making this from scratch is the satisfaction of making the yogurt yourself and also – this recipe yields about 7 cups of yogurt – making this a total cost efficient option as well.
You can stir the vanilla bean in after the yogurt is made, or before you let it cook for the 8 hours. I think if you strain your yogurt to remove the whey after it cooks – you should add the vanilla after you strain. However, if you don't want to strain, add it in before. It's up to you. I personally like a thicker, more creamy yogurt – so I add it afterwards!


Soooo what are you waiting for?! Grab the recipe below and get Instant Pot cookin'!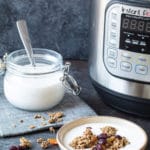 Instant Pot Vanilla Bean Yogurt
Homemade yogurt is easier than you may think, especially with an Instant Pot!
Print
Ingredients
1/2

gallon

whole milk

3

Tbsp.

yogurt with active cultures

1

vanilla bean
Instructions
Take out your Instant pot and pour the entire 1/2 gallon of milk into the pot. Lock lid in place and turn the switch to sealed. (Although at this point, it doesn't really matter because we're just heating the milk in this first step).

Plug in the instant pot and press yogurt. Click adjust, more and instant pot should read "boil." Let instant pot heat to 185 degrees F - this should take about 30 minutes. Once this step is done, unplug instant pot.

Next step is to cool the milk. Take the inner pot out and place in an ice bath until 110 degrees F is reached. Or - if not in big hurry, let it cool to 110 degrees F naturally on its own. You'll want to use a candy thermometer or digital thermometer for this step.

Get your your starter out and whisk in 3 Tbsp. starter yogurt. Whisk well.

Now, put this back into the instant pot, plug it in, secure lid and set to sealing. Press yogurt - time should read 8 hours, if not - bump it up to 8. Now just let it do its thing! Note: time will count up - so you'll see 0:00 first, don't worry - you're doing it right!

After the 8 hours, you can strain your yogurt then stir in the 1 vanilla bean, or just stir it in without straining. It is up to your how creamy/thick you want it. I prefer to strain using a nut milk bag. Cut up then vanilla bean and mix it in well after straining. Then, store in fridge for 6+ hours before enjoying. Happy yogurt making!!
Recipe Notes
Note: Add in your favorite sweetener and mix ins to boost the flavor! Yields 7 cups