Dark Chocolate Quinoa Granola
Breakfast | Published on May 4, 2018 | Last modified on Aug 20, 2019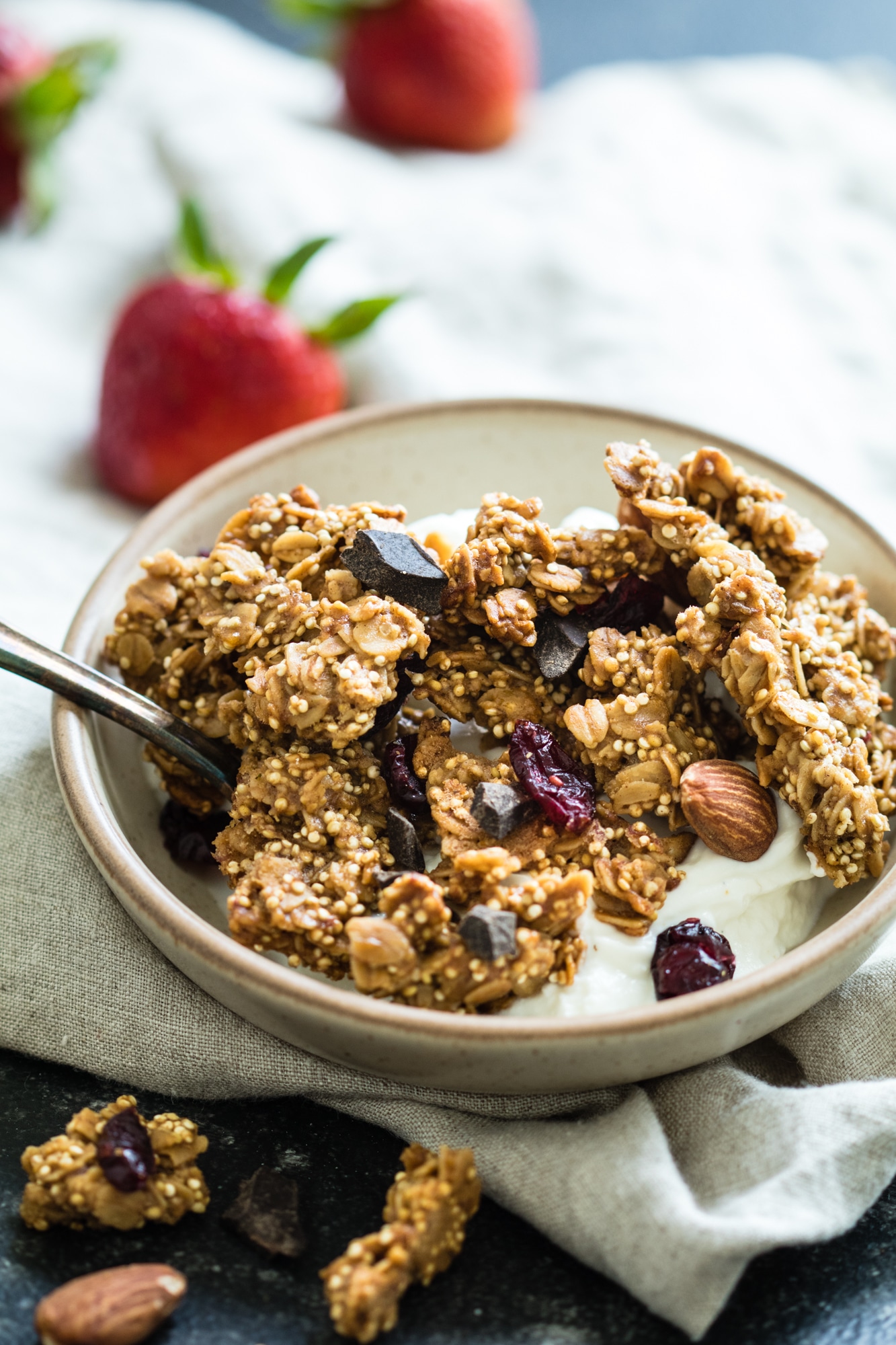 Dark Chocolate Quinoa Granola…not to sweet…not too salty…juuuust right!
(I've been spending a lot of time taking photos of older recipes on the blog, so the text in this blog post is very irrelevant since I wrote it in 2015 and retook pics May 2018! Doesn't mean the recipes has changed though!) mmm
Welcome to my very first official Recipe Redux blog post! The Recipe Redux is a blogging community started by 2 Registered Dietitians, and I am so honored to be a part of it. I am excited to share with you this months recipe –
Dark Chocolate Quinoa Granola.
Making homemade granola is so fun, easy, and versatile. What I personally like about making granola from home is you can add the amount of sweetness and sodium you want in it. With those portions in your control, you can make more mindful & healthy decisions. With Valentine's Day just recently passing us by…there may be some leftover chocolate laying around the house. Why not add a little bit into your granola for a little hint of sweetness? The quinoa in this recipe adds a nice crunch and provides an extra boost of protein. This granola may fall under more of the "dessert" category because I sweetened it up using brown sugar, honey, and banana. Omit the brown sugar if desired.
What are some of your favorite mix-ins with homemade granola? Let me know in the comments below!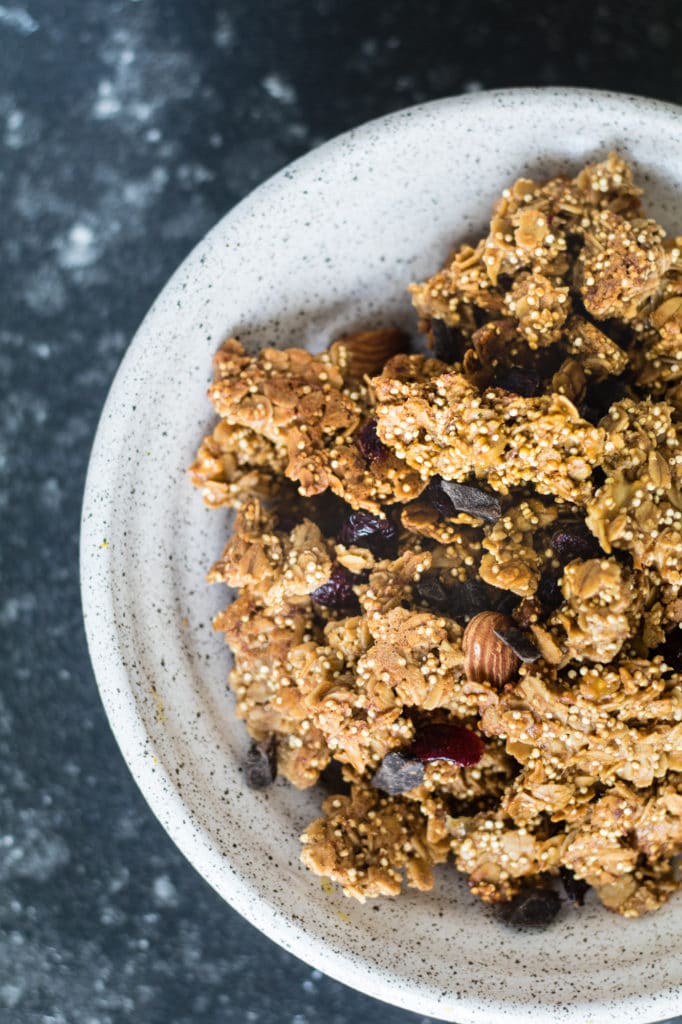 [Tweet "Dark Chocolate Quinoa Granola…not to sweet…not too salty…juuuust right! #krollskorner #granola #homemade krollskorner.com"]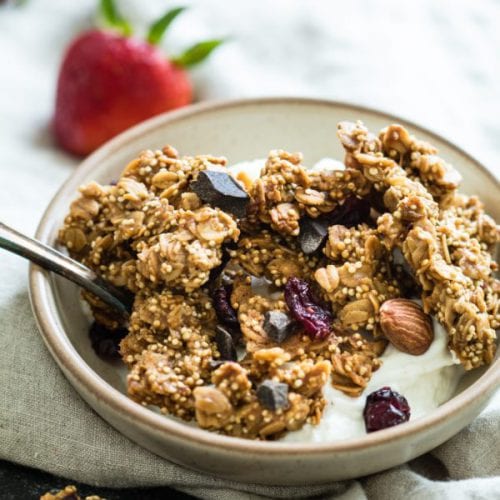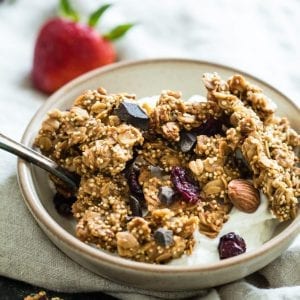 Ingredients
3

cups

rolled oats

1/2

cup

uncooked quinoa

1

medium

banana, fresh

2

Tbsp.

honey

2

Tbsp.

nut butter

I used peanut butter

1/2

cup

brown sugar

optional

2

Tbsp.

unsalted Butter

3

Tbsp

Avocado oil

OR Extra Virgin OR coconut oil

dash

salt

1

tsp.

vanilla extract

1

tsp.

ground cinnamon

1/4

cup

dried cranberries

1

cup

dry roasted almonds

5

oz.

roughly chopped dark chocolate
Instructions
Preheat oven to 325 degrees F. Spray a 9x13-inch baking dish with nonstick cooking spray.

Melt the brown sugar (optional), peanut butter, honey, butter, mashed banana, oil and vanilla extract in a small saucepan over low heat. Stir until well combined; remove from heat.

Combine the oats, quinoa, cinnamon, and salt in a large bowl. Pour the banana/honey mixture into dry ingredients and stir well to combine. Spoon onto the prepared pan; pat down gently and spread evenly. You will add the fixings in at the end once granola has cooled!

You will bake granola for 40-45 minutes. Bake in preheated oven for 20 minutes. No need to stir just flip pan around! Then bake for another 20 minutes. To get the bug chunks refrain from stirring! Let cool and then add in the dried cranberries, almonds and chocolate pieces. Place in air tight container or big zip lock baggie for up to 5 days. I like to store mine in the fridge!


I'd love to see what you made!!
Share it with me on Instagram or Facebook and tag me @krolls_korner or use the hashtag #KrollsKorner!