Mini Banana Oatmeal Muffin Cups
Appetizers & Snacks | Published Feb 4, 2019 | Updated Aug 20, 2019 | By Tawnie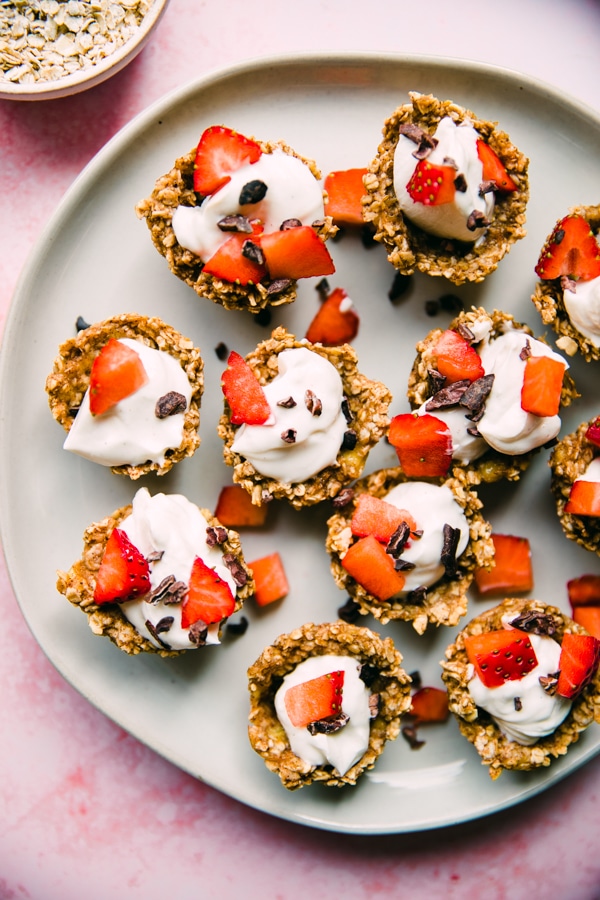 Mini Banana Oatmeal Muffin Cups are a great vehicle for yogurt and fruit! They are easy to make and fun since you can add a variety of toppings!
Happy Muffin Monday everyone. How was Super Bowl for everyone?! We had a low-key day at a friends and then enjoyed the night in together. I'm not too big into sports so I just enjoy the time hanging out with friends!
These Mini Banana Oatmeal Muffin Cups are:
Easily made gluten free
Fun for kids
Great for snack time
Can be made into healthy desserts – serve with a little ice cream in the oatmeal cup and top with sprinkles!
Only 5 ingredients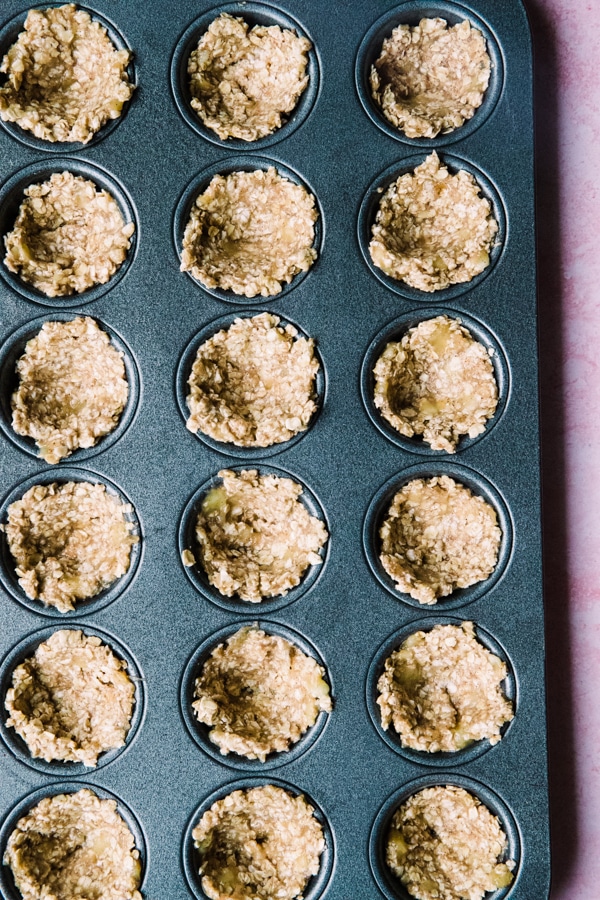 These can be a great little treat to have post meal time (breakfast, lunch or dinner, it doesn't matter!) I love how customizable the toppings are. You can add raspberries, strawberries or blueberries, bananas, peaches…really any fruit that you like with yogurt!
My favorite yogurt with these mini banana oatmeal cups is vanilla, but you can use whatever flavor yogurt you like!
Pro tip: Add in peanut butter into your yogurt and then into the muffin cup. Top with chocolate chips…such a yummy and healthy treat!
How to make these gluten free:
Can these be made vegan?
Yes! Simply buy a vegan yogurt to scoop into each mini banana oatmeal muffin cup
Where can I buy a mini muffin tin to make these?
Target, Walmart, Williams Sonoma, Sur La Table to name a few places. I got mine from Sur La Table for around $30 and Target or Walmart will be about half that price! 🙂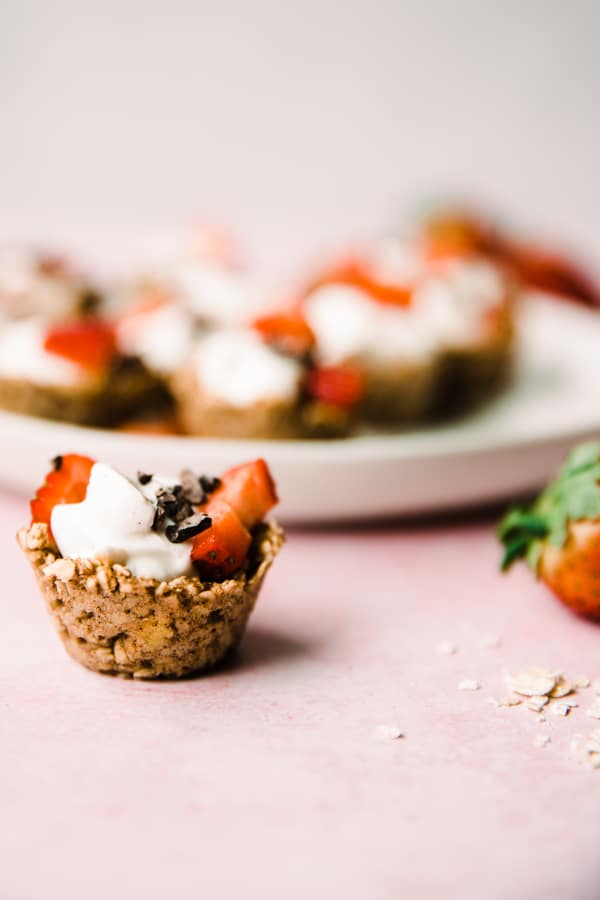 A few key nutrients in these Mini Banana Oatmeal Muffin Cups:
Whole grains
Fiber
Potassium
Zinc
Protein
Calcium
Vitamin B-12
The only lengthy part to this recipe includes placing the muffin cups in the fridge to set up for 30 minutes. Then you will bake at 350 degrees F for 15 minutes. Let them cool and then they are ready for you to scoop your yogurt into each cup and top with your favorite fruit or toppings!
If you like these muffins, I am sure you will enjoy these quinoa eggs muffins and these breakfast muffins made with an egg in the middle!
As always, I hope you love these Mini Banana Oatmeal Muffin Cups!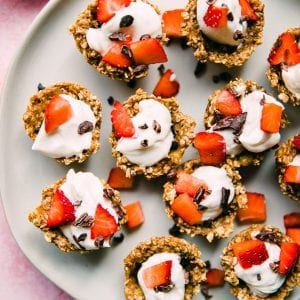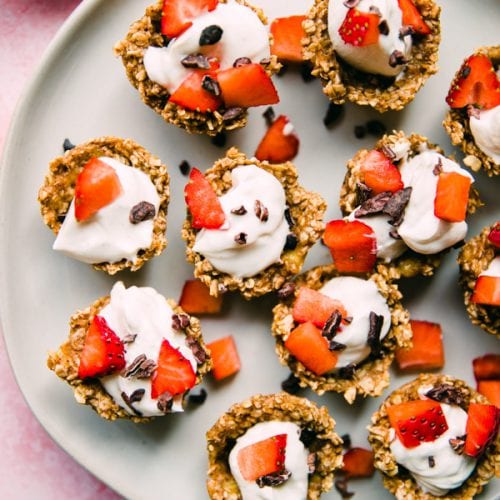 Mini Banana Oatmeal Muffin Cups
Fill these banana oatmeal muffin cups with yogurt and fresh fruit for a healthy snack, or top each muffin bite with a dollop of ice cream for a post dinner treat!
Ingredients
3

large

bananas

2

cups

quick oats (raw, not cooked)

2

Tbsp.

maple syrup

1.5

tsp.

vanilla extract

1

tsp.

cinnamon

1/4

tsp.

salt
Topping ideas:
Strawberries, blueberries, yogurt, ice cream, bananas, chocolate chips, cacao nibs.
Instructions
In a medium sized bowl, mash the bananas. Then add in the remaining ingredients and mix well. Spray a mini muffin tin with PAM and then press about 1 Tbsp. into each muffin cup.

Use the back of a spoon to press the oat mixture down and slightly up around the edges creating a mini cup!

Place in the fridge for 30 minutes, and then bake in the oven at 350 degrees F for 15 minutes. Let cool slightly and then add in your yogurt and favorite toppings!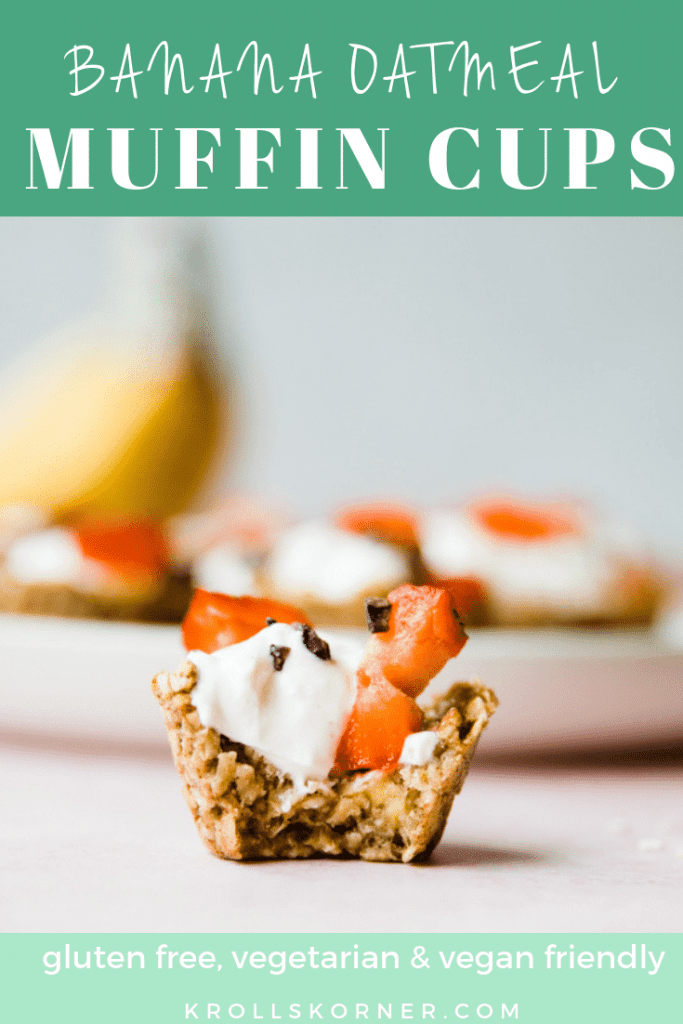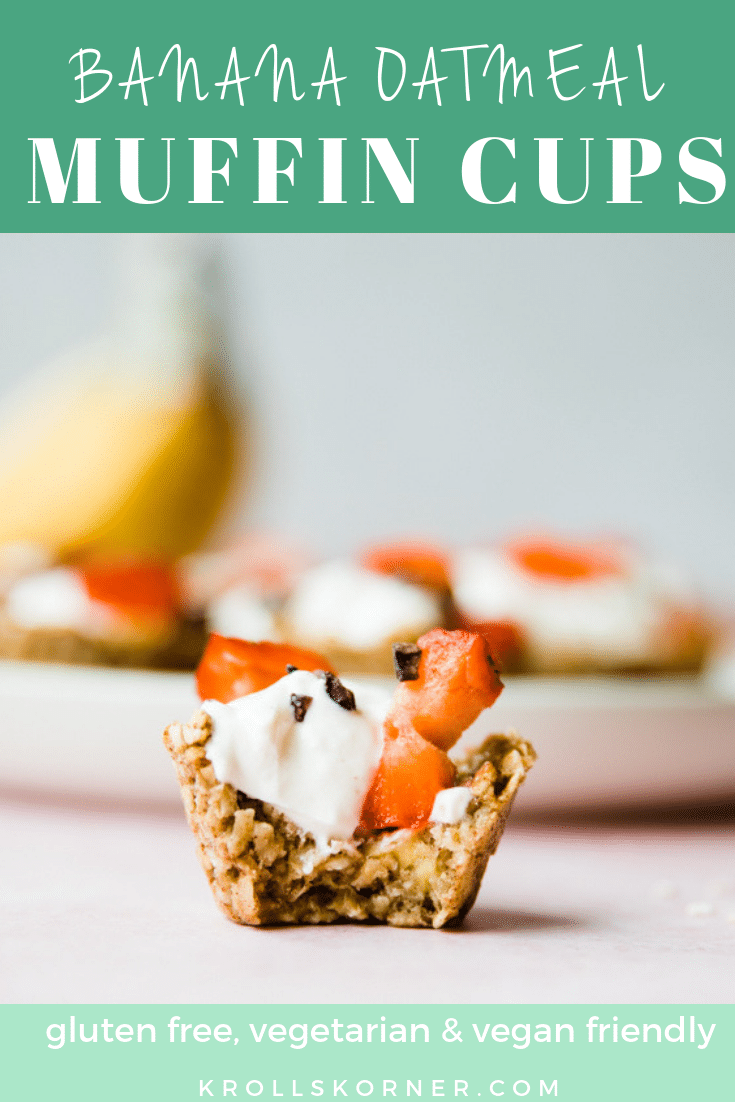 Hi, I'm 
Tawnie

!

Welcome to my tiny "korner" on the Internet! I am a Registered Dietitian Nutritionist who loves cookies as much as kale. (OK, maybe I like cookies a little bit more but shh, don't tell anyone). I am so glad you're here! Follow along for hassle free, realistic and approachable recipes.

More about Tawnie

I'd love to see what you made!!
Share it with me on Instagram or Facebook and tag me @krolls_korner or use the hashtag #KrollsKorner!