Appetizers & Snacks
5-Ingredient High Protein Energy Bars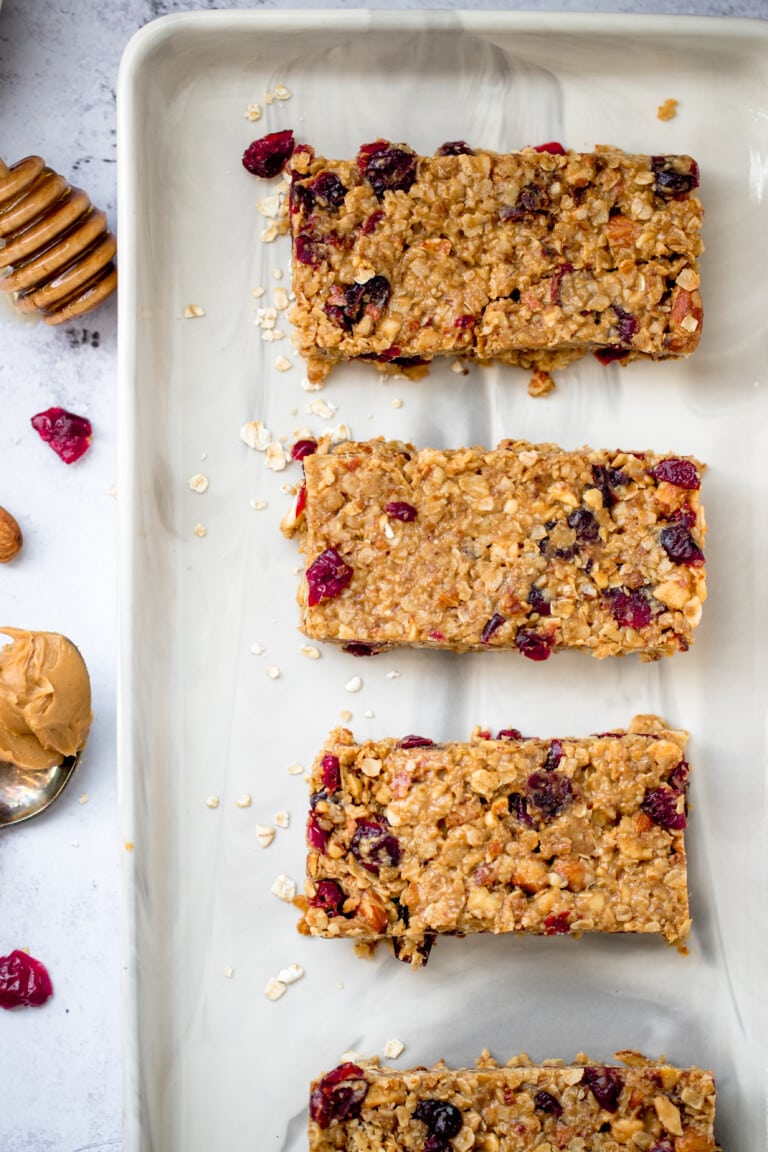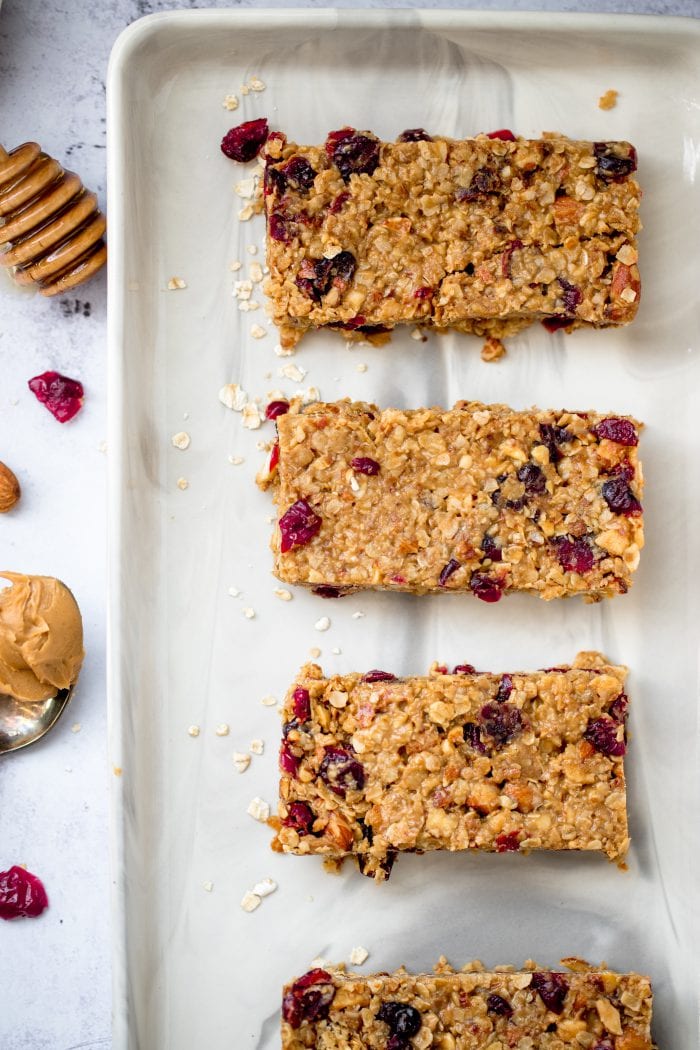 These 5-Ingredient High protein Energy Bars are super delicious and packed with protein, antioxidants, Vitamin E, fiber and unsaturated fats. This recipe is perfect to enjoy as an energy bar or even crumbled up as granola.
Nothing beats making an energy bar from scratch!
When running from one thing to the next it's easy to rely on convenient foods or energy bars from the store. But these bars are so simple to make and then you'll have 8 bars on hand to have for snacks, pre or post workouts, and breakfast.
One of the perks of making your own high protein energy bars at home is being in total control over the ingredients you add in. This recipe was so easy and took me all of 20 minutes to put together. And the mix in's are totally customizable.
You do need to keep the energy bars in the fridge after making to form and firm up for 2-3 hours (or overnight) so they are perfect for making before bed and enjoying with breakfast in the AM!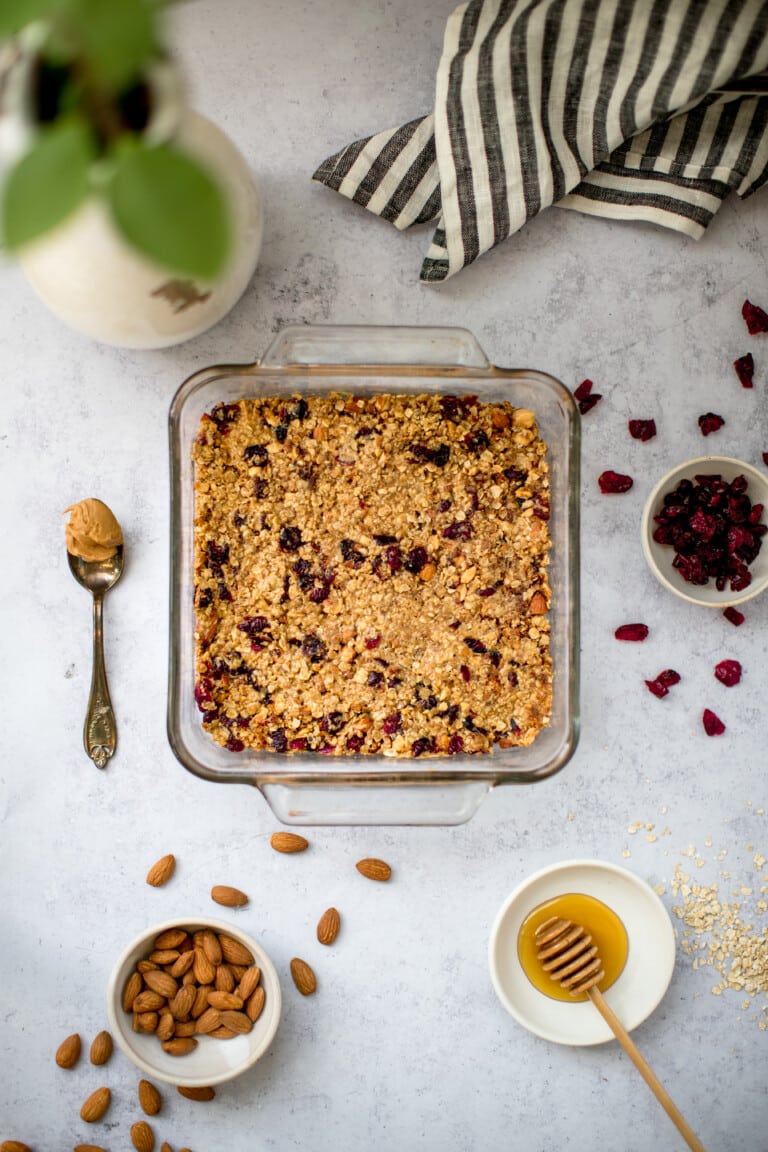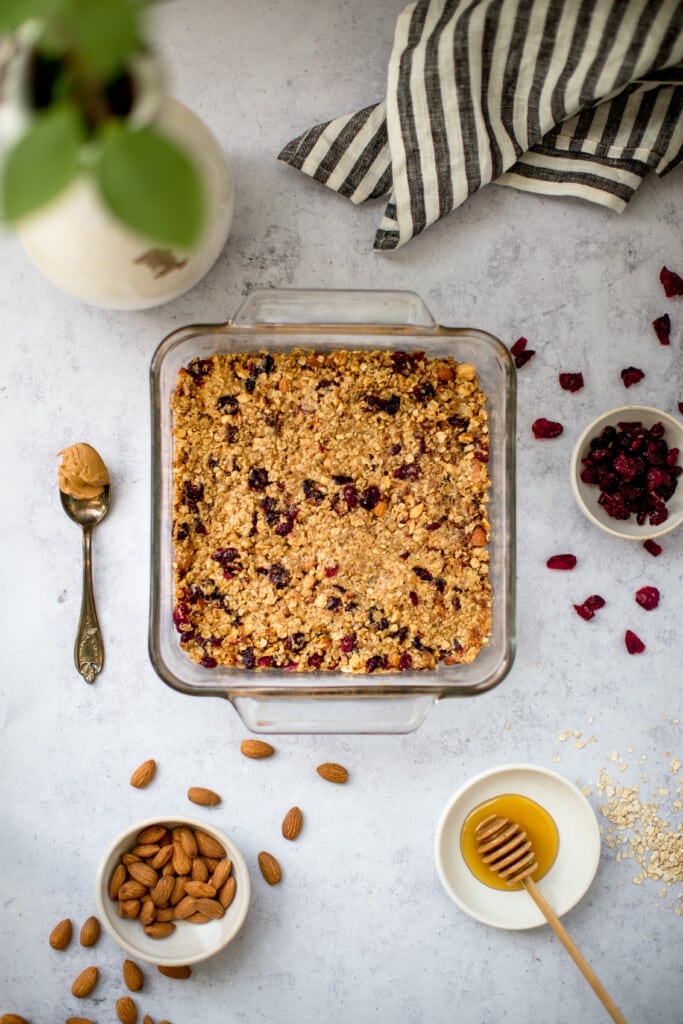 What you'll need for these energy bars:
Quick 1-minute oats
Almond butter or peanut butter
Coconut oil
Honey
Almonds
Optional mix ins: dried cranberries, chocolate chips, sliced dried apricots, coconut flakes, other nuts, etc.
Health benefits of nut consumption:
It's been proven time and time again from research the positive impact nut consumption has on our overall heart health. They are tasty, convenient and make for the perfect snack so you can easily incorporate them into your diet.
Peanuts are a good source of Vitamin E, Magnesium, Folate, Copper, and phosphorus. These energy bars are also rich in fiber, which adds bulk to the diet and helps you feel full longer, while aiding in digestion.
If you have an allergy to nuts, try using soy nut butter or sunflower seed butter to replace the nut butters!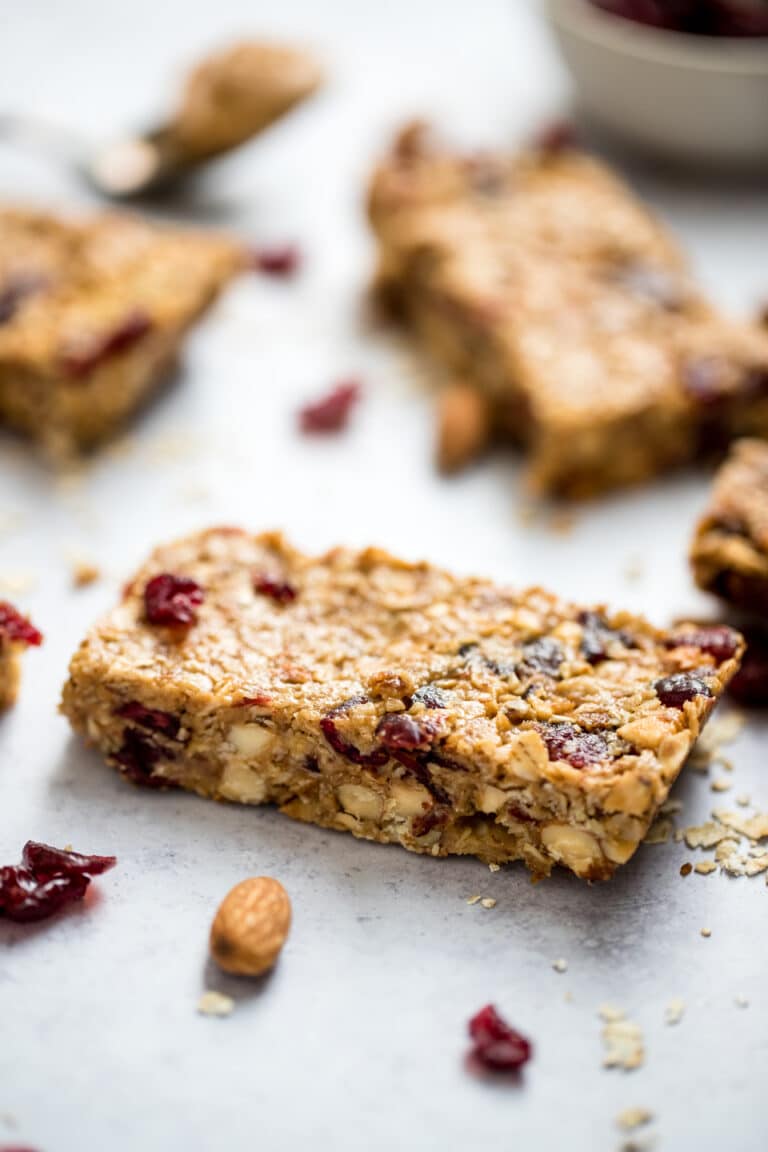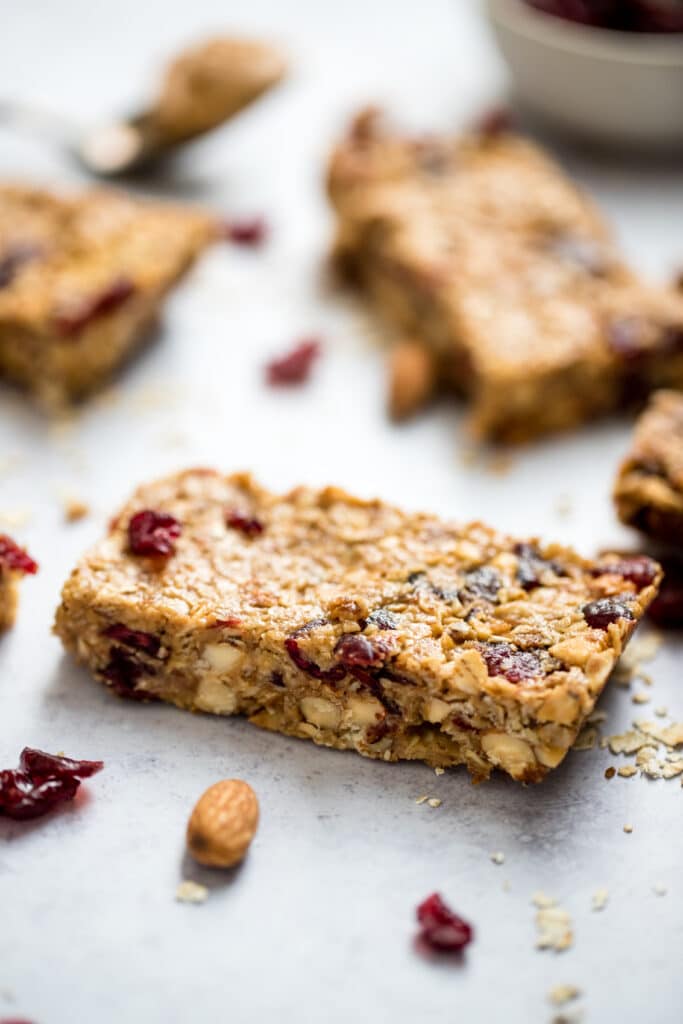 Are these energy bars gluten free?
Be sure to purchase gluten free oats or oats not processed in a facility with gluten, then yes!
Are these energy bars vegan?
Swap the honey for maple syrup, then yes!
How to make homemade high protein energy bars:
You'll gather all of your ingredients.
Mix the pulsed almonds, oats and cranberries in a large bowl.
Then melt honey/maple syrup and peanut butter/almond butter in a saucepan over medium heat. Then you mix the honey mixture into the oats, stir and press into a 8×8 in baking dish.
Store in the fridge for 2-3 hours or overnight and then cut into 8 bars!
How long do they last? Can I freeze them?
They can last up to 3 days in the fridge.
Yes – you can freeze! Wrap each bar individually in plastic wrap and then place in a freezer baggie. Press out all of the air and then store in the freezer until ready to eat. Will stay fresh for up to 1 month.
These 5-Ingredient energy bars are super delicious, packed with protein and antioxidants, are low in sugar and high in fiber! #krollskorner
Click To Tweet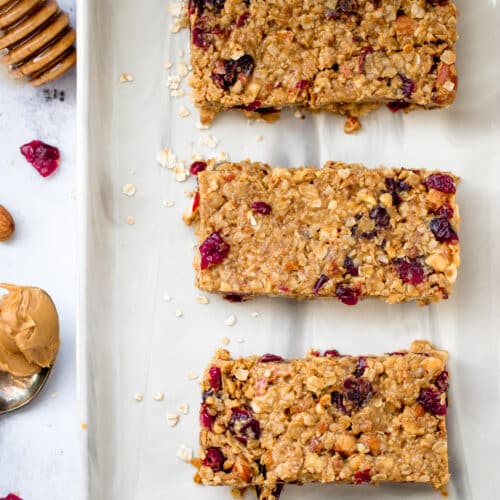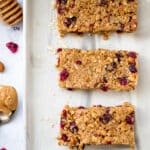 5-Ingredient Energy Bars
Perfect energizing snack for on the go, or pair with a piece of fruit for breakfast!
Print
Ingredients
1

cup

almonds*

pulsed

1.5

cup

quick 1-minute oats, uncooked

1/2

cup

honey (or maple syrup)

1

cup

almond butter

2

Tbsp.

coconut oil, melted

1/2

tsp.

salt (optional)
Mix ins:
1

cup

dried cranberries, dried tart cherries, chocolate chips, other dried fruits or nuts.
Instructions
Place almonds, oats, and cranberries (or other mix ins) in a bowl. Heat the honey, coconut oil and nut butter in a small saucepan over low heat until mixed. Pour over oat and almond mixture and stir together.

Once mixed, transfer to an 8x8 baking dish and flatten into a 1 inch thick square. Cover with plastic wrap and place in the fridge overnight or for 2-3 hours. Then, cut and store in an airtight container. Will stay good for up to 5 days.
Recipe Notes
May sub peanut butter for almond butter.
May sub honey for maple syrup.
*I pulsed my almonds in my food processor a couple times before mixing.
I also like to break up the bars and use as granola!
Makes 14-16 bars
Simple, whole, nutritious ingredients! Have fun making these bars and be sure to tag @krolls_korner on social media so I can see your creations!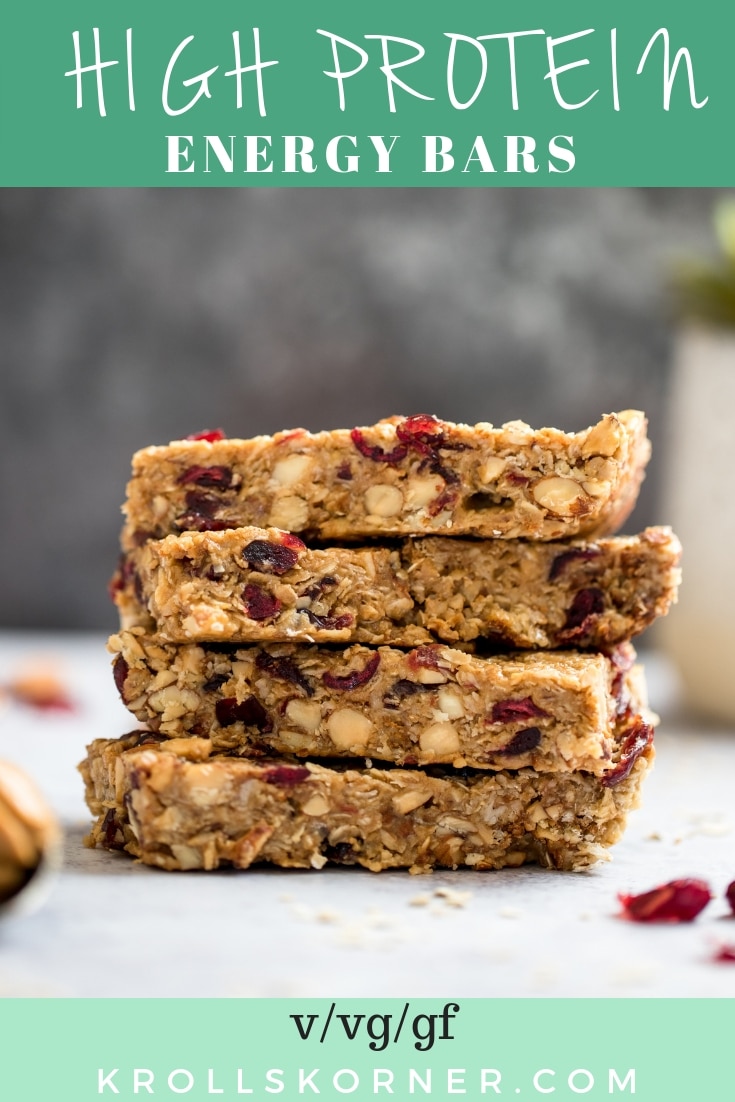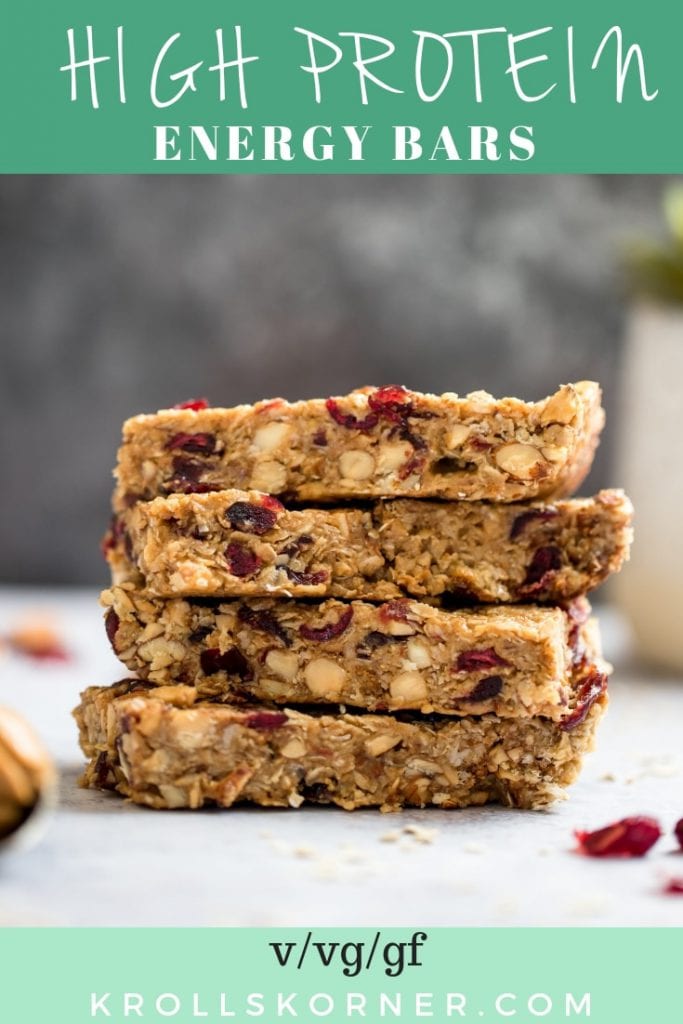 If you love these energy bars, please comments and rate the recipe! Be sure to tag @krolls_korner on Instagram too, I love to see your creations!

I'd love to see what you made!!
Share it with me on Instagram or Facebook and tag me @krolls_korner or use the hashtag #KrollsKorner!