It has been 7 days since I have posted a new recipe…where has the time gone?! This past week has been busy for me because I was planning a big surprise party for my Mom! And guess what? She had NO IDEA! It was the first surprise party I had ever thrown and I was so happy no one spilled the beans – pun intended 😉 Besides the 106 degree weather here in Clovis the party was a success. The whole day we had her thinking we were just going out for a girls day and then come back home to have a family BBQ. (hehe)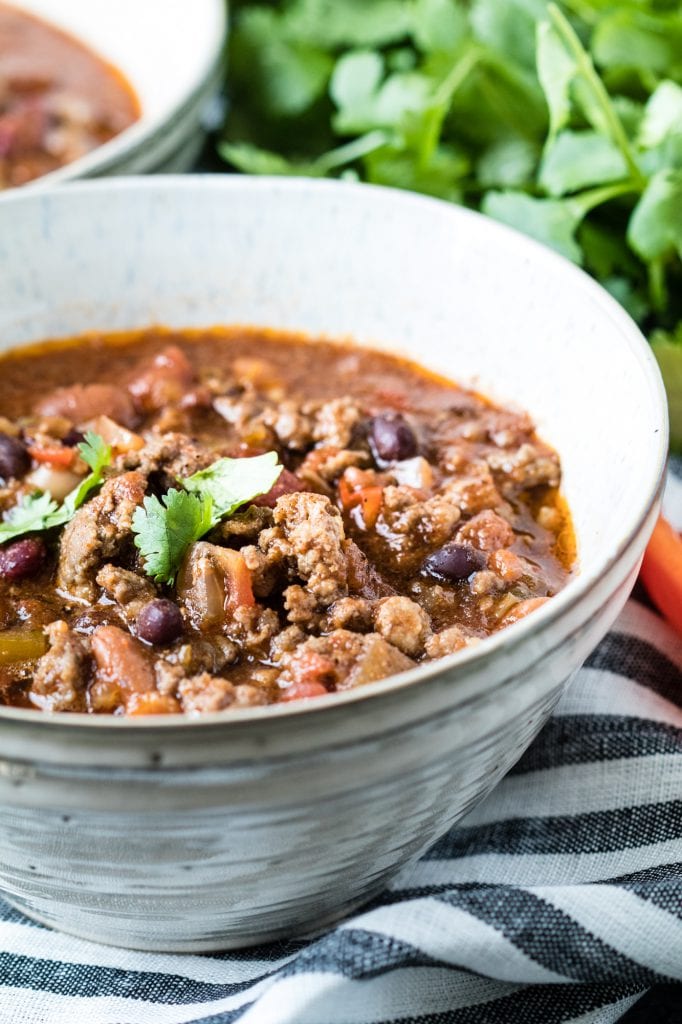 While I was cranking out all of the final details for the party, I was also fighting a mean cold…which is another reason I have been slacking on blogging. I went on a cruise for 3 days, so go figure I caught a cold. Besides that, this post dietetic internship life has been great. I have been studying, working out and enjoying life while I can before I start my new job at Clovis Unified School District – YAY! Speaking of working out…the Bar Method Fresno has asked me to come on board with them to be their food blogger! All very positive things in life right now and I couldn't be more excited to tackle this next chapter in life.
We are a little over 2 weeks away from July 4th so I started thinking of some yummy recipes to make for the gatherings and parties. Typically every year my mom makes chili so I had to share it. It is a lot different from a traditional chili but it is SO yummy. Letting all of the flavors mix together over a 4-6 hour time period in the crock pot is essential to the bursting flavor. You won't want to miss this recipe at your parties this year! I hope you enjoy as much as my family does!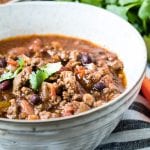 Four Bean Spicy Crockpot Chili
4 bean Spicy Crock Pot Chili - full of flavor and SPICE!
Print
Ingredients
1

pound

Italian sausage

spicy

1

pound

ground turkey

(16oz.) extra lean

2

Tbsp.

fresh garlic

2

Tbsp.

olive oil

1

small

red onion, diced

1

cup

diced red bell pepper

1

can

diced tomato

15 oz

5

ounces

Ortega green chilies

1

Habanero pepper

diced

1

Jalapeno

diced

1

cup

thick and chunky salsa

any brand is fine

1

can El Pato tomato sauce - 4 oz.

12

oz.

IPA beer

1/2

bottle of red wine

2

Tbsp.

green taco sauce

any brand

2

Tbsp.

red taco sauce

any brand

12

oz.

chili sauce

Heinz

2

Tbsp.

chili powder

1

Tbsp.

garlic powder

1

Tbsp.

onion powder

1

Tbsp.

Worcestershire sauce

1

Tbsp.

sugar, granulated

1

Tbsp.

cumin

1/2

Tbsp.

dry mustard

1

Tbsp.

coriander

1/2

Tbsp.

white pepper

1

Tbsp.

cayenne pepper

1 15

oz.

can cannellini beans

drained

1 15

oz.

can black beans

drained

1 15

oz.

can pinto beans

drained

1 15

oz.

can kidney beans

drained

1/2

cup

chopped cilantro
Instructions
In a large frying pan, brown sausage and ground turkey with fresh garlic and olive oil over medium-high heat. Once cooked, pour into bottom of crockpot (crock pot does not need to be turned on yet).

Turn the heat to medium and sauté onions and bell pepper for ~5 minutes. Stir for 1 minute and then transfer to crockpot.

Pour all remaining ingredients onto the meat/onion mixture into the crockpot. Stir all ingredients together and set crockpot on low for 4-6 hours. Stir occasionally.
Recipe Notes
Prep the seasonings the day before, or in advance, so it makes it easy to pour all seasonings in at once!
This recipe was inspired from "Jack Daniels buffalo cactus Chili" from the Fresno Bee newspaper